Baked Chicken Caprese Recipe
This Baked Chicken Caprese recipe is a perfect keto-friendly dinner! Chicken breast, garlic, tomatoes, fresh basil, and mozzarella make this a meal full of protein and healthy fats that you will love.
Serve this yummy dish with your favorite mixed greens or roasted broccoli for a complete meal full of nutrients that keeps you satisfied.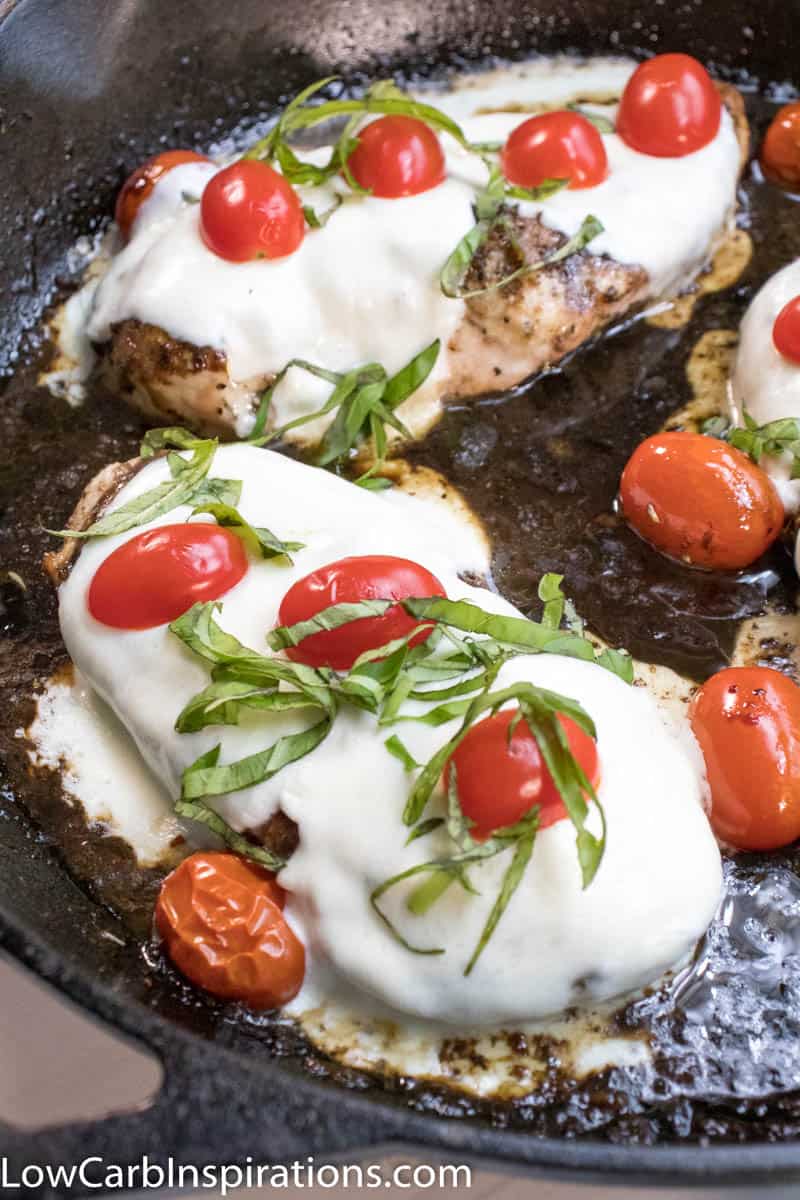 Baked Chicken Caprese Recipe
For years I have loved the flavors in a traditional Caprese salad. It is a great option on a ketogenic diet, but it isn't always enough to satisfy. That's where this baked chicken Caprese becomes a new favorite on the keto diet. A chicken breast seasoned and cooked in a healthy oil then covered with melty cheese, fresh basil, and slightly roasted tomatoes will become a new favorite meal.
If you are new to the keto lifestyle, make sure to check out our How to Start Keto post along with our tips for How to Start Intermittent Fasting for Weight Loss.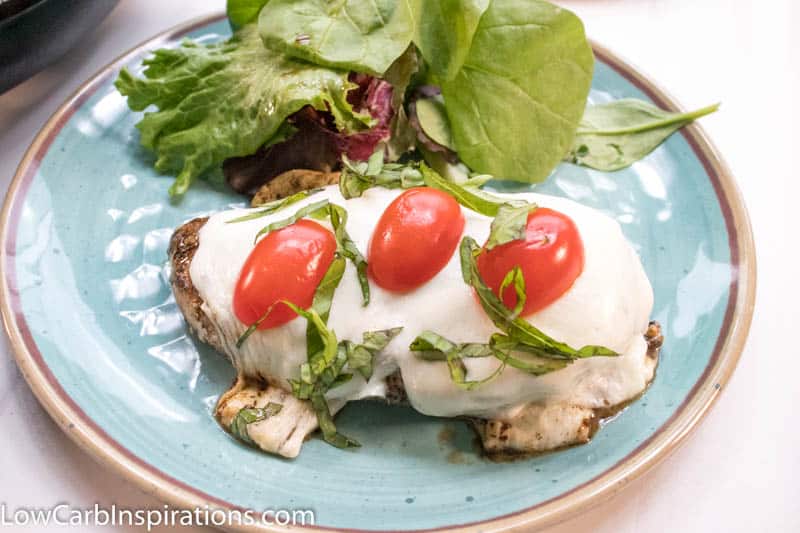 What are the best tomatoes for baked chicken Caprese
Nothing is more iconic than a fresh ripe tomato in a Caprese salad. For this chicken Caprese recipe, you want to use equally ripe and delicious tomatoes. To make it fast and easy to prepare, I usually grab some ripe cherry tomatoes. If you prefer, you can dice a Roma tomato instead.
The key to great Carpese is the fresh basil along with fresh tomatoes that are ripened. Pick the tomato you prefer, and roast in the pan as directed for amazing flavor.
Can I make this a chicken Caprese sandwich?
You sure can! A chicken sandwich is easy to make using a Chaffle or even a 90-Second Bread. It may be a bit too much to have the entire chicken breast when you are also adding a keto-friendly bread. If that is the case, just cut the chicken in half, or even in quarters for sliders.
For some, keto bread options aren't the right texture or flavor. It's hard adjusting, and you will never find a bread substitute that is exactly like a carb-laden version. Instead, if you make a keto-friendly bread, toasting it before serving is a great way to add a bit of texture and help make the flavor more tolerable.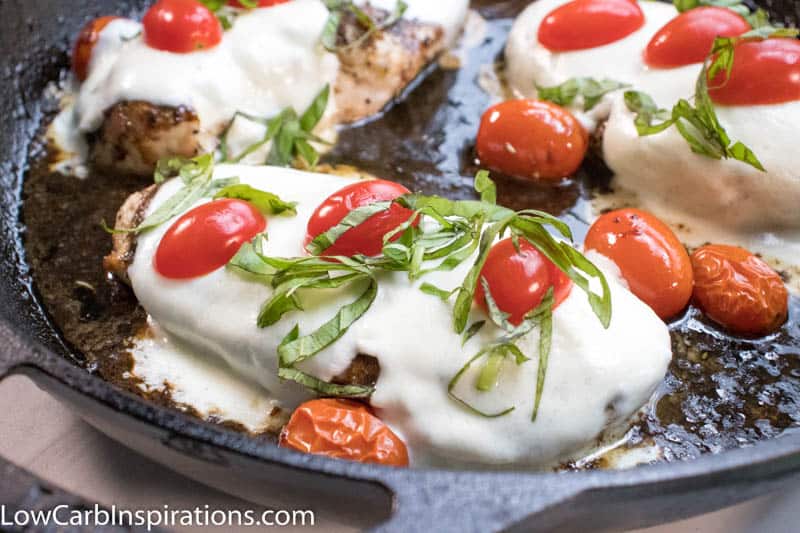 What to serve with Caprese chicken
As mentioned above, you will want to add some veggies to this recipe to make a complete meal. I love a nice big salad. Almost every day there will be salad greens on my plate at some point. Dark leafy greens like kale and spinach are best for adding nutrients that you need. Add some sliced red onion, fresh tomato, and a favorite low-carb salad dressing like a full-fat ranch to round it out.
Depending on your preferences, this Low Carb Antipasto Salad is a great option. If you prefer something more traditional, my Keto Cauliflower with Pesto is really flavorful and reminds many of mashed potatoes in texture. For more ideas, check out the Low Carb Diet Foods list to see more vegetables that are low in carbohydrates.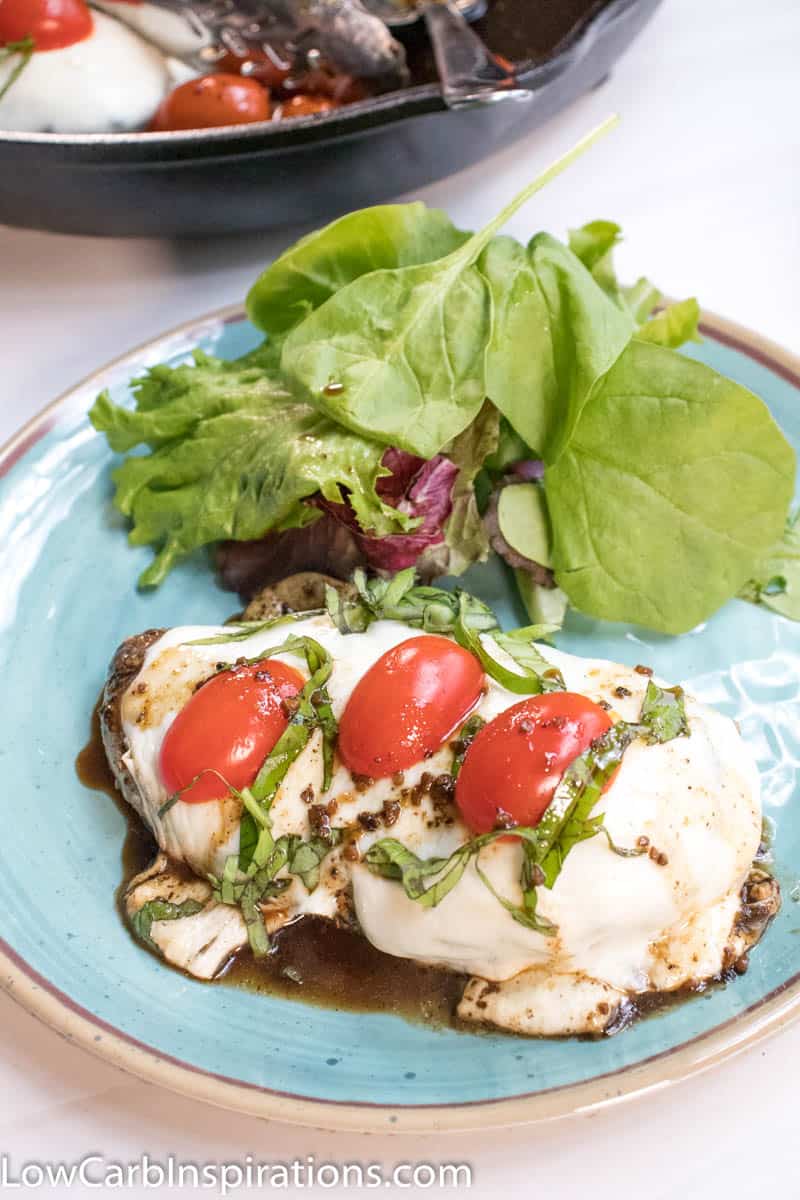 Easy Healthy Chicken Recipes for the Keto diet
Chicken is a staple protein in most menu plans. It can, however, get a bit boring at times. That's why I am always looking to create fun new recipes that are keto-friendly and really satisfying. Below are a few more of my favorite healthy chicken recipes that fit on the keto diet.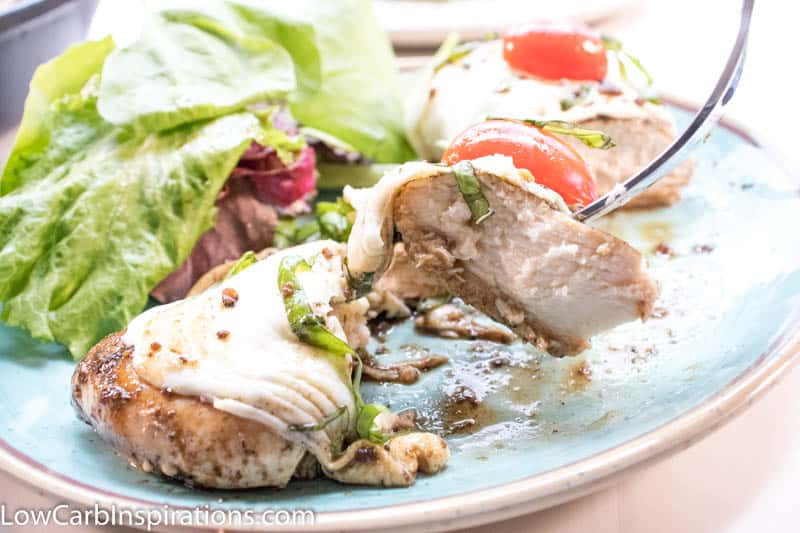 Ingredients for Baked Chicken Caprese
Chicken breasts
Salt
Pepper
Garlic clove
Brown sugar substitute
Tomatoes
Mozzarella cheese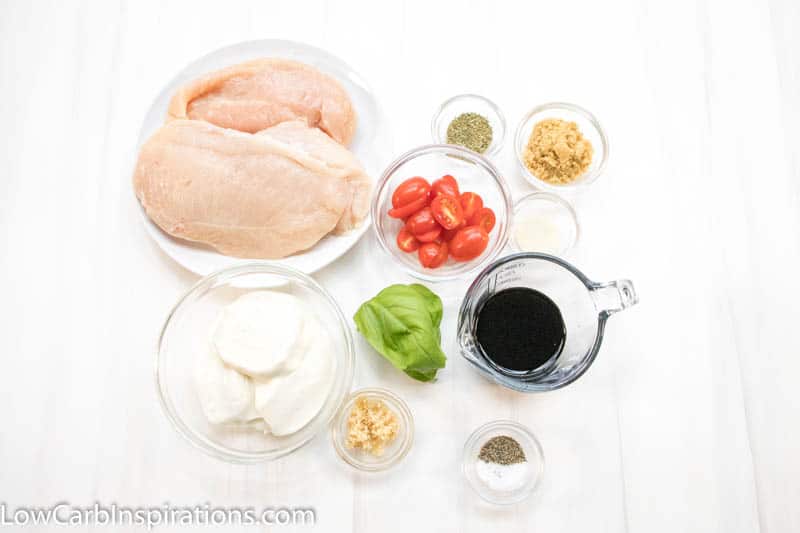 How to make chicken Caprese recipe
Begin by preheating your oven for baking to finish. Next, you will heat olive oil in your oven-safe skillet (I prefer cast iron for this). Add your chicken to the skillet and season as directed.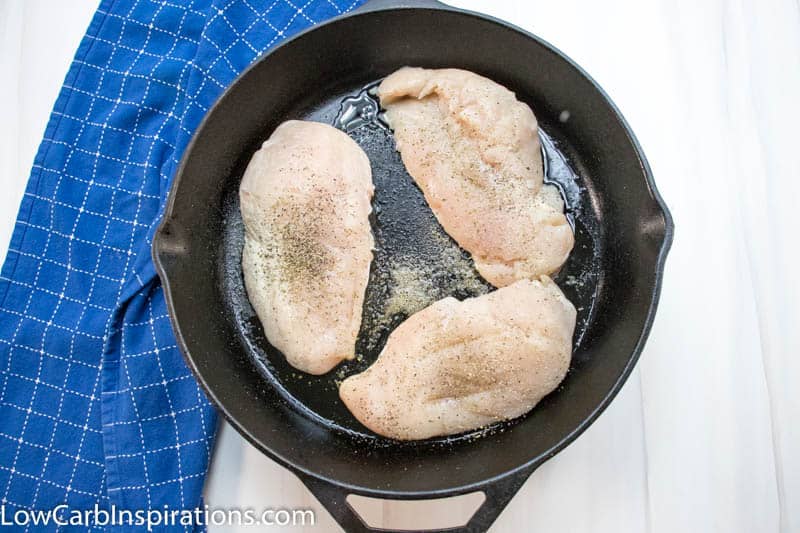 Cook until browned on both sides then remove the chicken and set aside.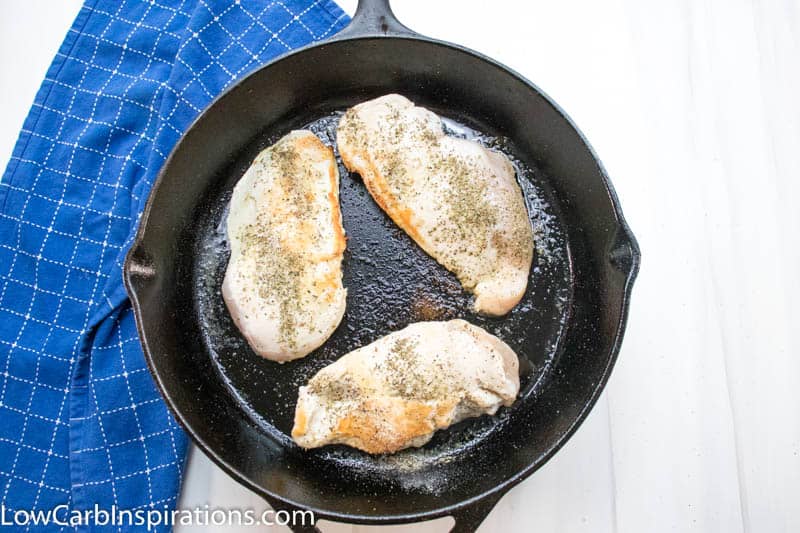 Cook garlic before adding in vinegar and sweetener and cooking until thickened.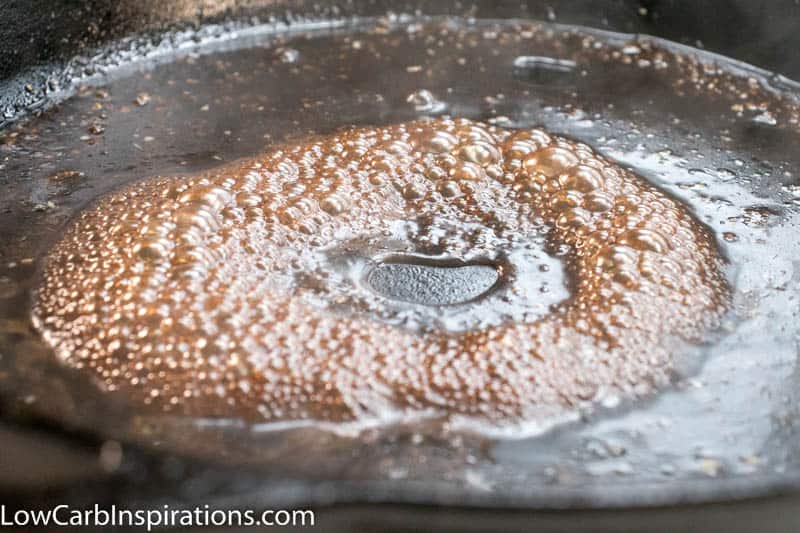 Place the chicken back into the skillet and spoon glaze over the top.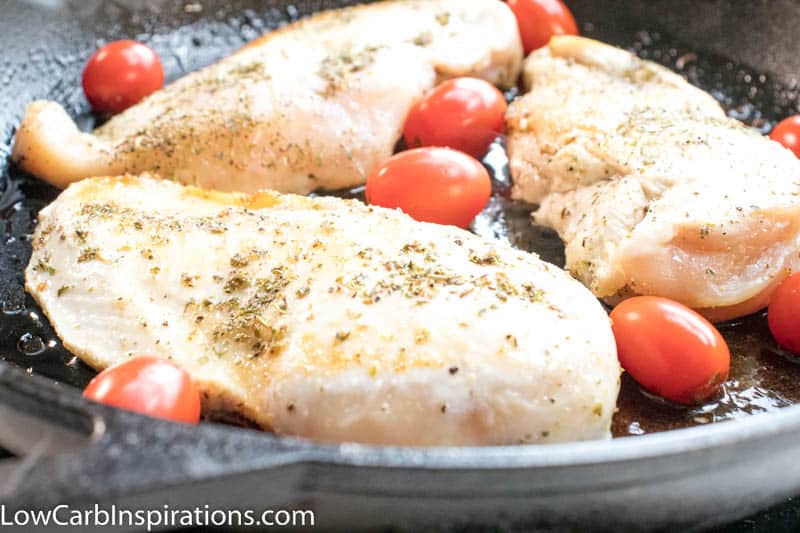 Add in tomatoes and bake as directed.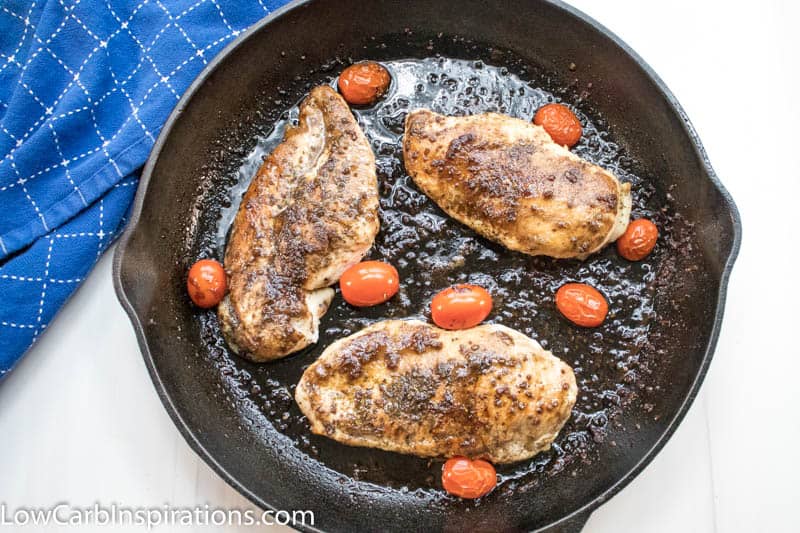 Remove from the oven and top with mozzarella and basil.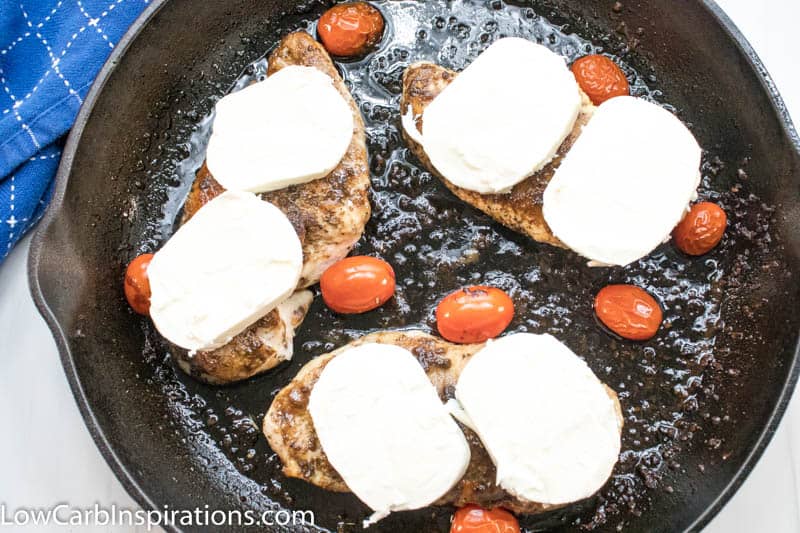 Place back into the oven for an additional few minutes to melt the cheese.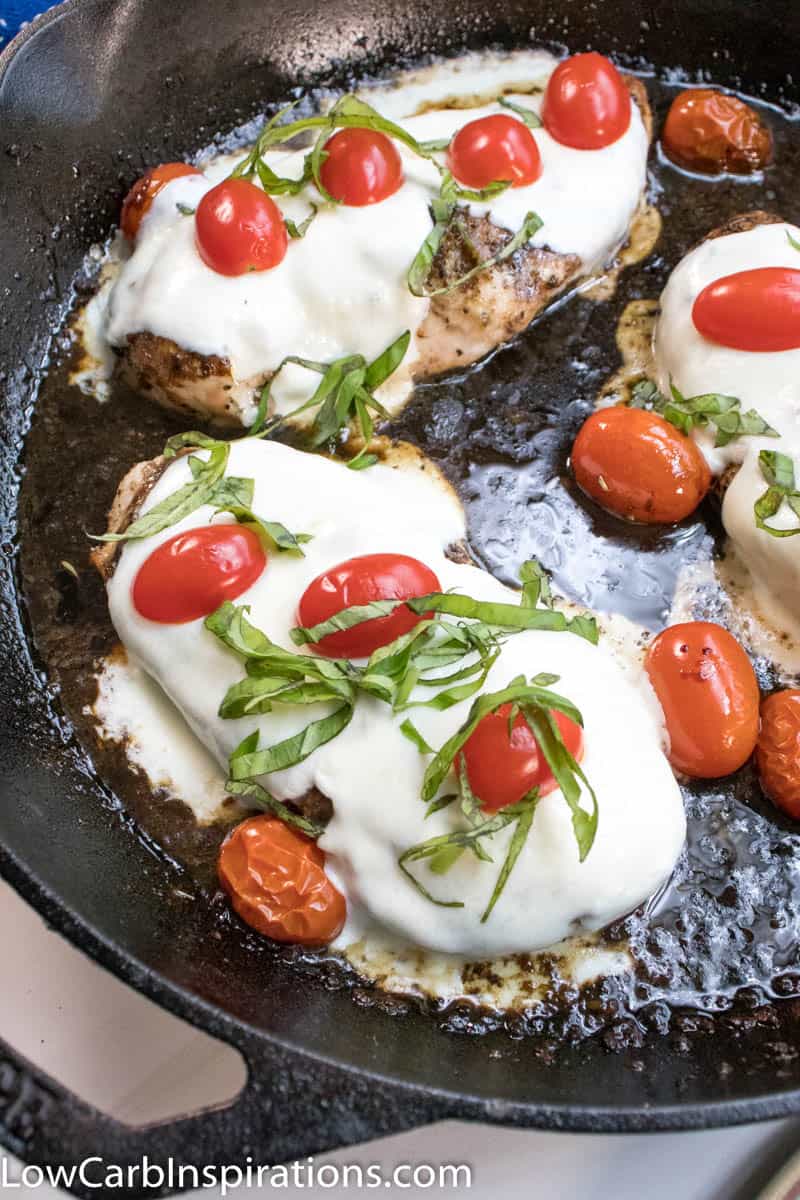 New to Keto? Check out the Keto Starter Guide!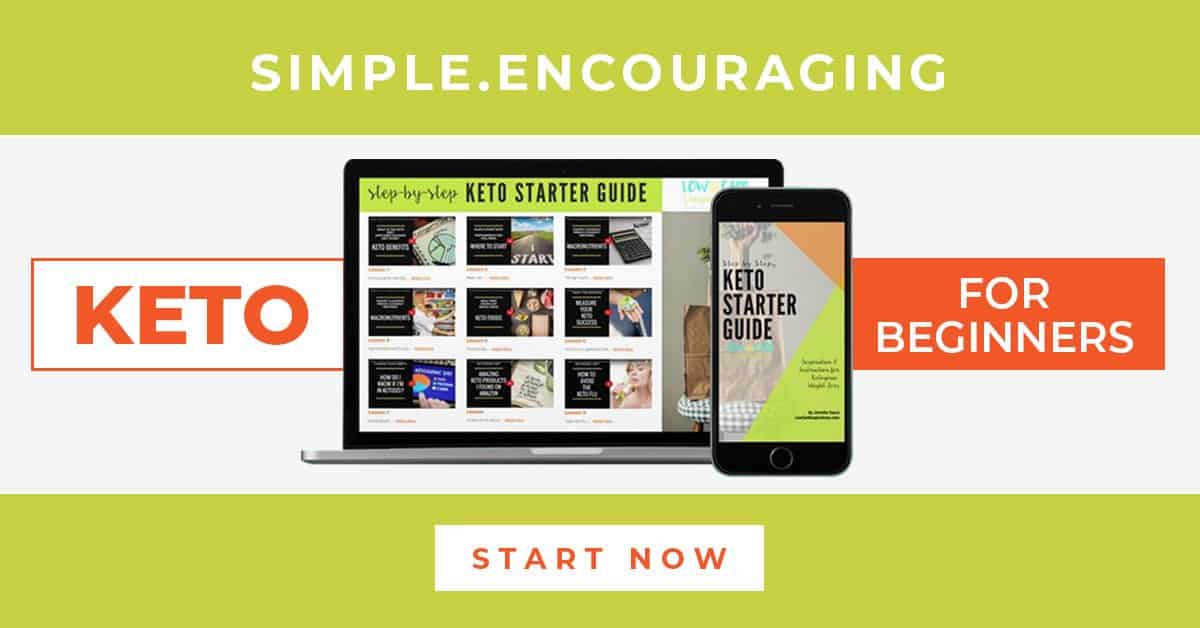 The Keto Starter Guide is an amazing resource as you get started on your keto/low carb journey. This guide has everything you need to get started in 9 simple video lessons and also includes workbooks with step by step instructions for beginners.
What's a macro and why do I count them?
How do I find the best recipes?
What is ketosis and how do I get my body there?
What fruits are allowed on a ketogenic diet?
Will I get "Keto Flu" and what do I do about it?
Get the Keto Starter Guide today!
Baked Chicken Caprese Recipe Nutrition
Serves 4
Calories 247, Total C 11g, Fiber 2.4g, Net C g, Sugar 5g, Fat 3.1g, Protein 42.9g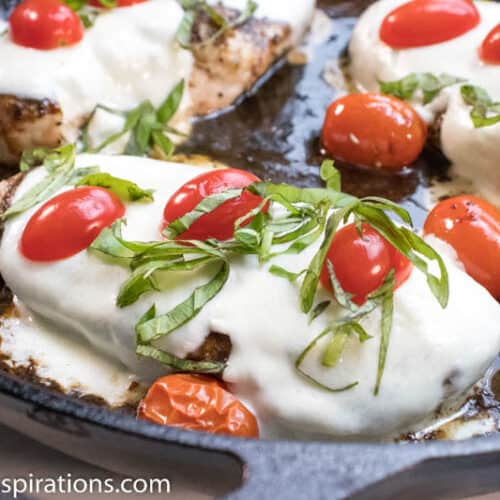 Baked Chicken Caprese Recipe
This Baked Chicken Caprese recipe is a perfect keto-friendly dinner!  Chicken breast, garlic, tomatoes, fresh basil, and mozzarella make this a meal full of protein and healthy fats that you will love.  
Instructions
Preheat oven to 375°In a large skillet, heat over medium heat.

Pour olive oil in a skillet to coat

Place chicken into the skillet and season both sides with onion powder, Italian seasoning, salt, and pepper.

Allow to brown on both sides for 3-5 minutes per side, remove and set aside.

Add in garlic and allow to cook for about a minute

Stir in balsamic vinegar and brown sweetener. Allow it to thicken for 5-6 minutes, ensuring to stir every couple minutes.

Place chicken back into the skillet and coat both sides with the glaze.

Next, place whole cherry tomatoes into the skillet and bake for 25-30 minutes.

Remove from the oven and top with mozzarella

Place back in the oven until cheese has melted, about 7-8 minutes

Top with halved cherry tomatoes and basil.
Nutrition
Serving:
1
serving
|
Calories:
247
|
Carbohydrates:
11
g
|
Protein:
42.9
g
|
Fat:
3.1
g
|
Fiber:
2.4
g
|
Sugar:
5
g
Nutrition facts are provided as a courtesy. Have a question about our calculations or why you got a different result? Please read our
nutrition policy.