Keto Chaffle Recipe (Popular recipe shared by THOUSANDS of people already!)
I am about to introduce you to a Keto Chaffle recipe that will blow your mind! It's a crazy easy recipe that can be whipped up in just a few minutes too. No more bunless burgers or breadless sandwiches while doing keto!
It's basically cheese and a waffle! However, I believe the word started with chicken and waffles. In keto, it's a cheese and egg waffle!
This is basically a cheese bread recipe. This is not new but it has taken on the keto groups like a wildfire! In fact, if you need to join the best group on the internet: www.facebook.com/groups/chaffles
Check out all the chaffles I've made. I can easily hold the title for Keto Chaffle Queen!! Let me show you how to perfect the chaffle!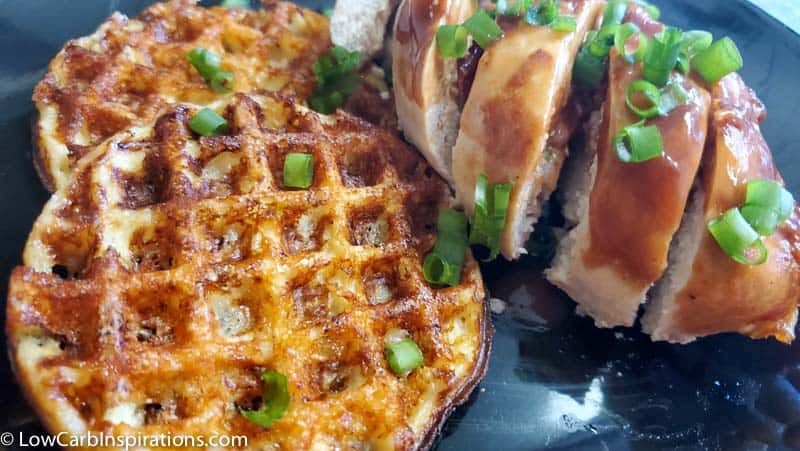 What is a Chaffle?
A chaffle is a waffle but made with a cheese base. Basically it's shredded cheese and an egg mixture. Sometimes for more fluffier recipes, it's a cream cheese base instead of shredded cheese. It's the trendy new keto-friendly bread because it's low in carbs and it won't spike your insulin levels causing fat storage.
How to Make a Chaffle?
EVERYONE is going looney tunes, asking "How do I make these?!" This is the deal- The very basic recipe on what and how. The basic recipe includes shredded cheese and an egg but there are tons of add-ins you can use to change the flavor! You will create a simple chaffle batter and cook it in a waffle maker!
To make a chaffle recipe you will simply mix together a few ingredients and cook it in a waffle maker to create a masterpiece everyone will love!
What Type of Waffle Maker Do I Need to Make a Chaffle?
Most people really like to use a Dash Mini Waffle Maker but you can use any waffle maker you have. There are all kinds of waffle makers. In fact, you probably have one in the back of your kitchen cabinets that you haven't used in ages. Most people who don't have a waffle maker might even find one at a Goodwill or Salvation Army. There's no shortage of these handy kitchen gadgets in these second-hand stores.
New to Keto? Check out the Keto Starter Guide!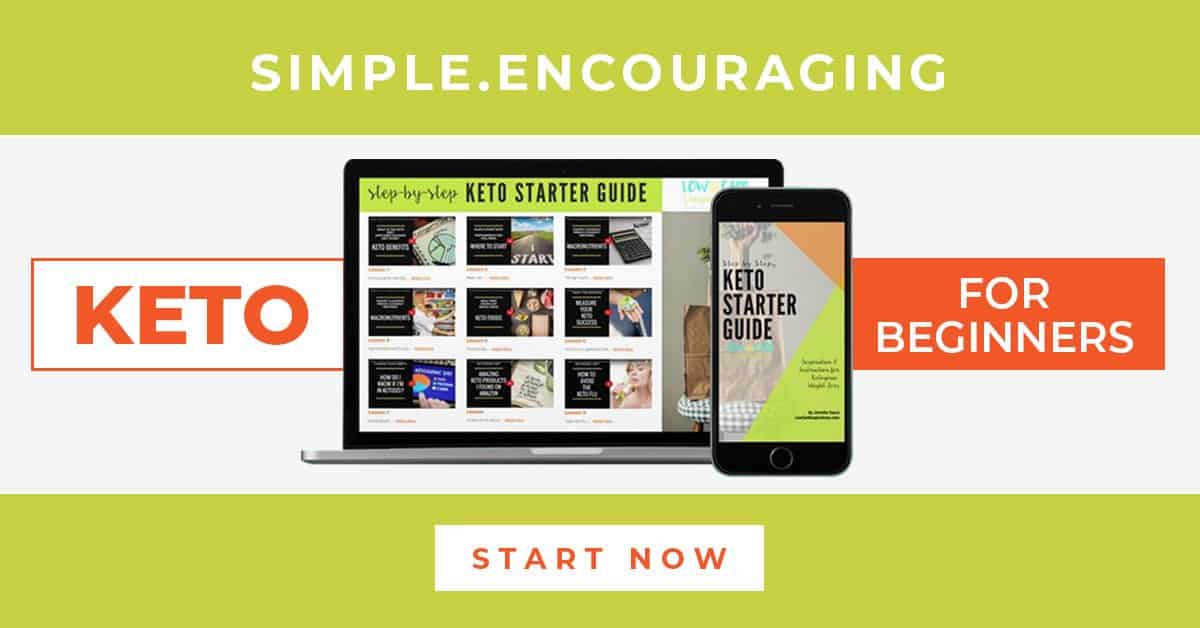 The Keto Starter Guide is an amazing resource as you get started on your keto/low carb journey. This guide has everything you need to get started in 9 simple video lessons and also includes workbooks with step by step instructions for beginners.
What's a macro and why do I count them?
How do I find the best recipes?
What is ketosis and how do I get my body there?
What fruits are allowed on a ketogenic diet?
Will I get "Keto Flu" and what do I do about it?
Get the Keto Starter Guide today!

Is there a Chaffle Cookbook I Can Purchase?
Yes! We've created our very first KETO CHAFFLE RECIPES ebook COOKBOOK!!! It has over 50 recipes!! We've had so many of our readers ask us to create a chaffle cookbook and we did it just for you! You can grab your copy in the Low Carb Inspirations SHOP here. This is an ebook. After you purchase it, we will send you the download instantly. You can simply print it off and have it right at your fingertips. I took my copy to a local print shop and added a spiral bound to it for only $5!
If you prefer to have a printed copy of the Keto Chaffle Recipes Cookbook you can grab a copy here on Amazon! This one is not a spiral-bound copy but you can do the same thing I did and take it to a print shop to have a spiral-bound added if you want.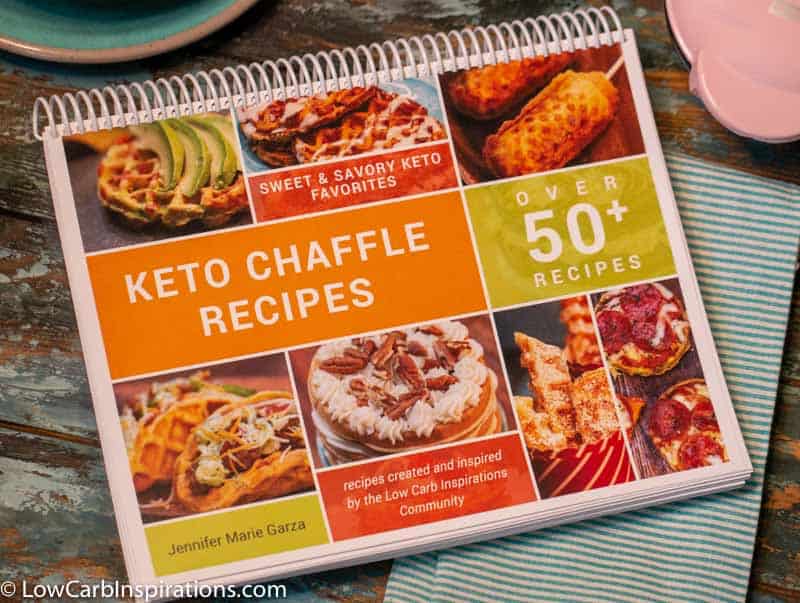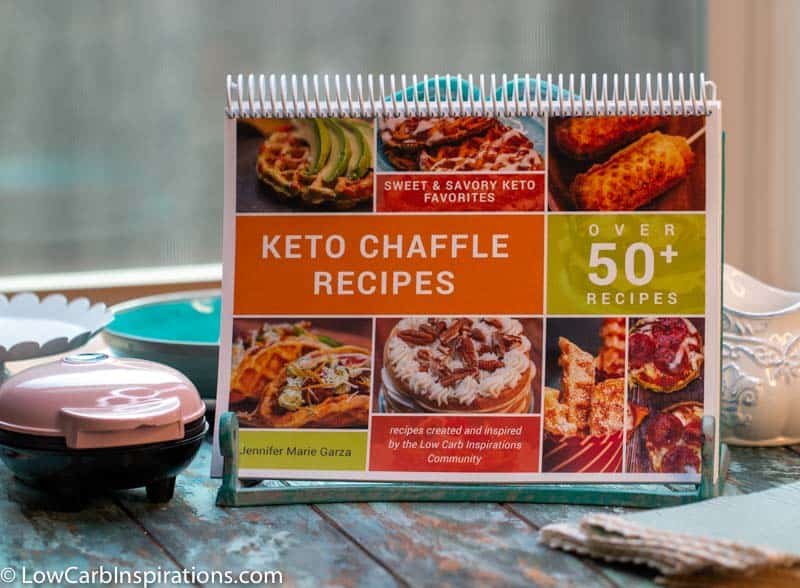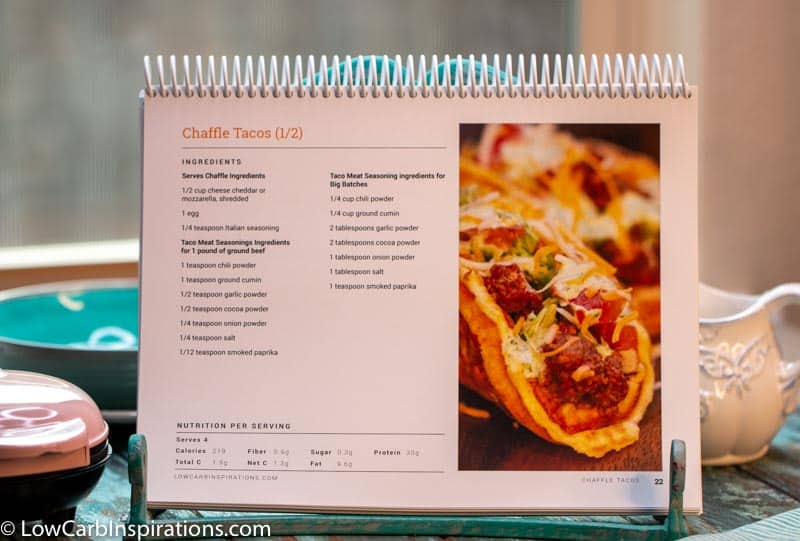 Keto Chaffle Recipe
Makes: 2 waffle slices
Keto Chaffle Recipe Ingredients
1 large whole egg
1/2 cup shredded cheese
Pinch of salt
Seasoning to taste
Keto Chaffle Recipe Instructions
Preheat the mini waffle maker. (I used this mini waffle maker I purchased from Amazon)
In a small bowl- whisk the egg until beaten.
Shred the cheese (any flavor or combination you like).
Add the cheese, salt and seasoning to the egg, then mix well.
Scoop half of the mixture on the waffle maker, spread evenly.
Cook 3-4 minutes, until done to your liking (crispy).
Pull it off and let cool.
Add the rest of batter and cook the 2nd waffle.
Enjoy!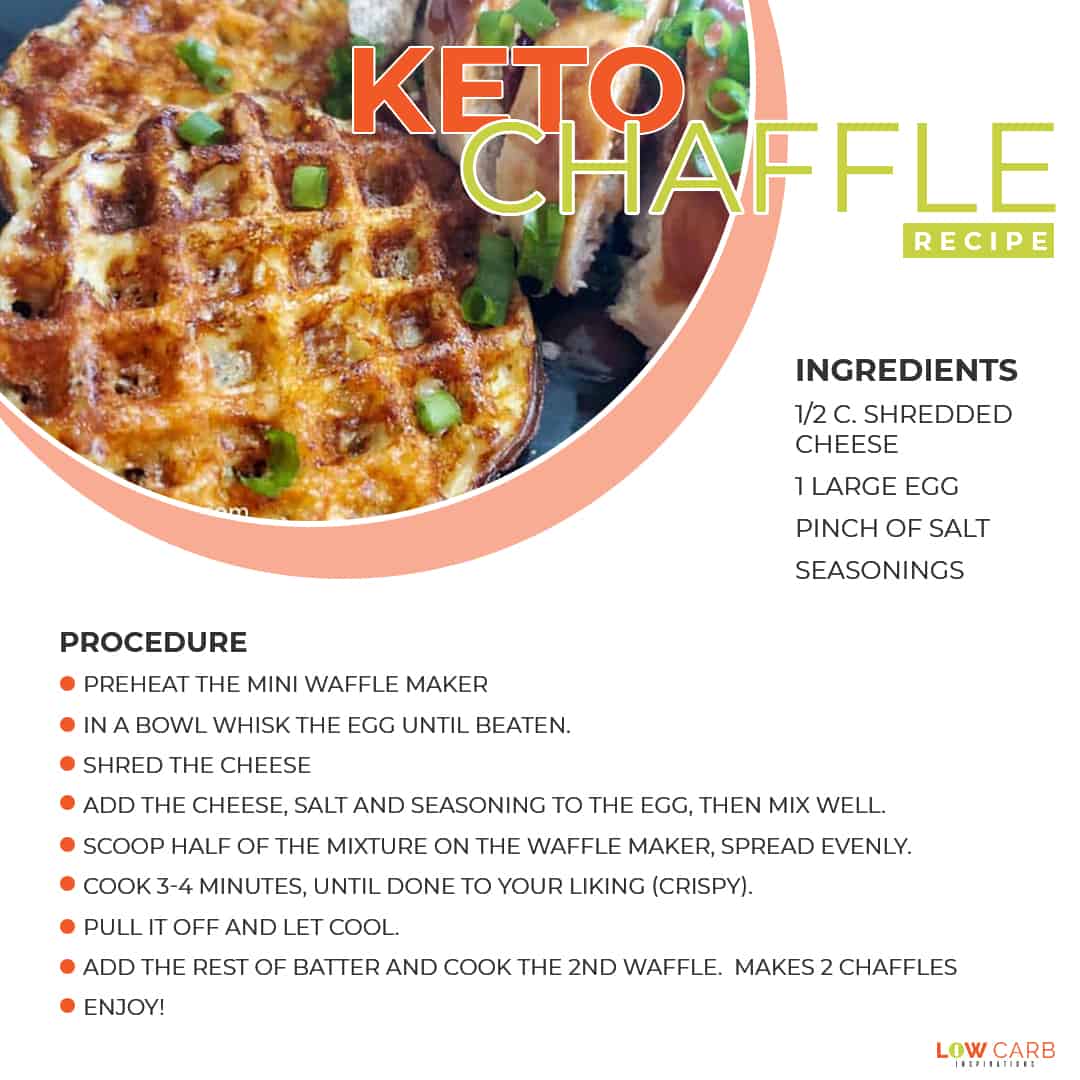 Upon testing- adding a sprinkle of shredded cheese on the hot waffle maker first, then batter, then a bit more over top will help make a super crispy waffle.
This recipe can be made in a standard size waffle make, BUT they cook perfectly in this Mini Waffle Maker! They are super budget friendly, consider grabbing 2!
Keto Chaffle Recipe Nutrition
Say what you will, do or do not. But these cheese and egg waffles are crazy good! The possibilities are seriously endless. I had read a few posts and mentions on this wild creation and didn't pay any mind to it at first. BIG mistake!
90-second breads are good, don't get me wrong.. This Keto 90 Second Bread French Toast Recipe is my favorite! I've played around with many of the easy bread recipes, and the french toast is extremely tasty! But whoa…
No wonder the chaffle went viral like overnight. If you know anything about Keto/Low Carb, then you know eggs and cheese are a core staple (unless you are allergic, then there are other options).
How are these so incredibly stupid easy, yet such a huge hit?! I just don't even know how to react with this right now. Get yourself one (or 4) of these Mini Waffle Makers now and start testing out every flavor your creative self desires!
What Can I Serve with a Chaffle?
Chaffles can be used as a keto-friendly bread or you can serve it as a dessert! I love to create dessert chaffle recipes and top them with my favorite ChocZero Honest Syrups! Any flavor would be amazing for a sweet chaffle.
What Type of Sweeteners Can I Use in a Chaffle Recipe?
You will definitely want to use a keto-friendly sweetener but this answer will depend on your taste preference.
I really like these Keto-Friendly Sugar Substitutes:
Swerve Brown
Pyure Organic Stevia Blend
I use all of these sweeteners in many different recipes. Sometimes I will even mix a few of these sweeteners in one recipe so lesson the cooling effect or aftertaste of one particular sweetener.
I also like the Lakanto Maple Syrup blends too. Hello Chaffle French Toast!!
Can I use a regular waffle iron?
Yes, you can use a regular waffle iron to make waffles. However, if you are looking for a smaller size or more control over crispness and variations, you might consider using a mini waffle iron instead. The regular waffle iron typically produces standard-sized waffles, while a mini waffle iron allows you to make smaller, bite-sized waffles.
If you are using a regular waffle maker, it will be the equivalent of 2 servings so keep that in mind if you are tracking calories, carbohydrates/net carbs, protein, and/or fiber.
4 Different Basic Keto Chaffle Recipes
We have all the best keto chaffle recipes with new recipes being created daily! In our new, Keto Chaffle Recipes eBook Cookbook, you will get over 50+ sweet and savory keto recipes for every flavor palette.
Basic Chaffle Recipes
Savory Chaffle Recipes
Sweet Chaffle Recipes
Chaffle Cake Recipes
Get the Keto Chaffle Recipes eBook Cookbook today and say 'hello' to a new Keto meal idea!!
Here are some ideas to try, see what you like and go nuts!
Basic Chaffle Recipe 2:
Sweet and Spicy Chaffle Recipe:
1 large egg
1/2 cup mozzarella
1/2 teaspoon salt
1/2 teaspoon smoked paprika
Pinch of spicy pepper (ie: red cayenne)
Savory Herb Chaffle Recipe:
1 large egg
1/4 cup shredded mozzarella
1/4 cup shredded parmesan
1/2 tablespoon butter, melted
1 teaspoon herb blend seasoning
1/2 teaspoon salt
Double Chocolate Chaffle Recipe:
Tips for Chaffle Recipes
Is your chaffle tasting too eggy? Switch out the egg and use two egg whites instead. This will change the taste and texture and make the chaffle recipe taste less eggy.
Don't check your chaffle before it's done cooking! You must have patience. This is super important! If you lift up the cover before the cheese has time to form a crust, it will be a big gooey, sticky mess! Leave the cover of the waffle maker closed until the time is up.
If you want a crispy chaffle crust, be sure to add 1 tsp of shredded cheese and heat it for 30 seconds before you add the chaffle mixture to the waffle maker. This will form a nice crispy crust! This technique is perfect for pizza recipes too.
Are you looking for a more fluffy chaffle recipe? A fluffy chaffle recipe will use a cream cheese base instead of shredded cheese. Cream cheese will always make your chaffle fluffy. These make the perfect dessert chaffles! My favorite recipe using a cream cheese base like this is this Keto Chocolate Waffle Cake Recipe.
How to Freeze Chaffles?
Make any chaffle recipe ahead of time and make sure it's cooled completely before you freeze it.
Add the cooled chaffles to an airtight container to freeze them. They will freeze for up to 3 months! You can also keep them in the refrigerator for up to 4 days! We often make a big batch of chaffles and keep them into the refrigerator for the week and freeze the extras.
How to Reheat Chaffles That Have Been Frozen?
Defrost the chaffles by laying them out on the counter for a few hours. You can also remove them from the freezer the day before you plan to use them and place them in the refrigerator to defrost overnight.
You can use an air fryer, toaster oven or Ninja Foodie on the crisper mode to reheat your chaffles. They create a nice crust that has a bit of crispiness to it! It's pretty amazing!! I love to do this when I make our Keto Pizza Chaffles ahead of time! I swear the flavors are way more intense the day after and it makes a world of difference in the flavor. It's totally worth it!
If you love chaffles as much as we do, check out how huge list of Keto Chaffle Recipes all in one place!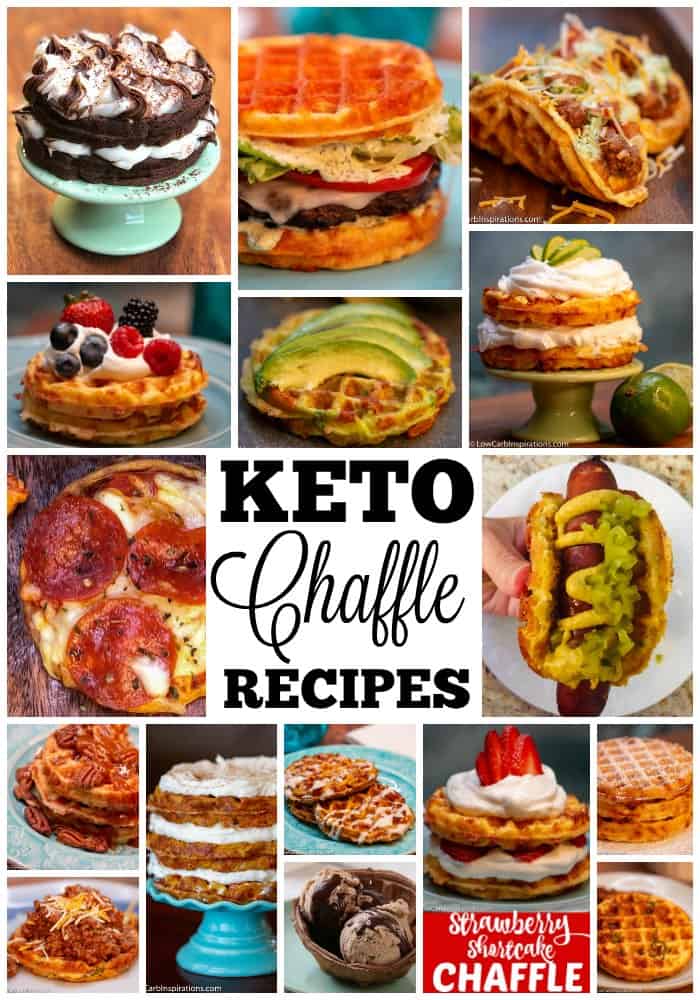 Here's a Keto Churro Chaffle Recipe you will love!
Here's a Keto Pizza Chaffle Recipe you will love too!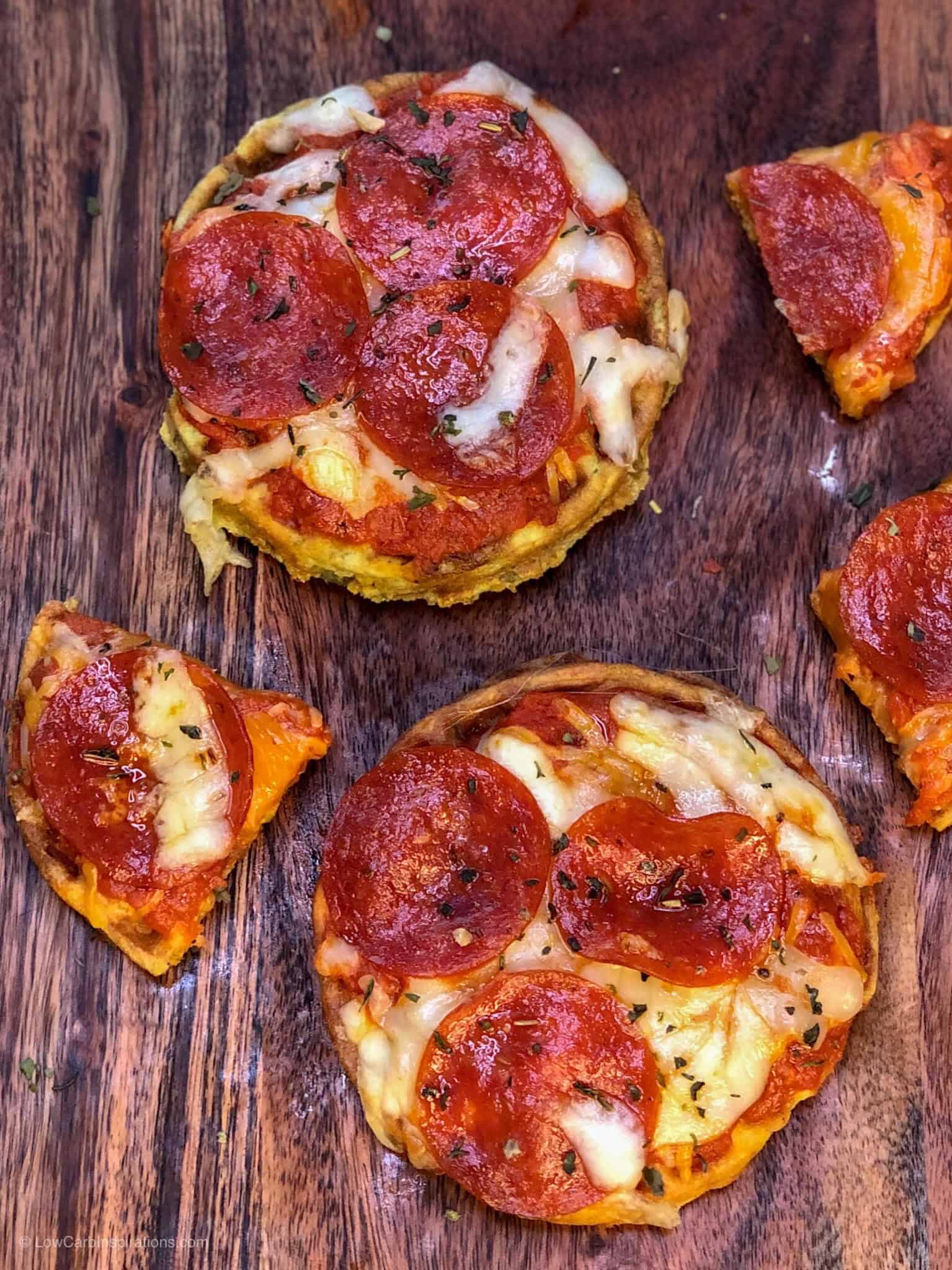 Be sure to join the KETO CHAFFLE RECIPES GROUP on Facebook!!!!
Don't forget to pin it on Pinterest for later!!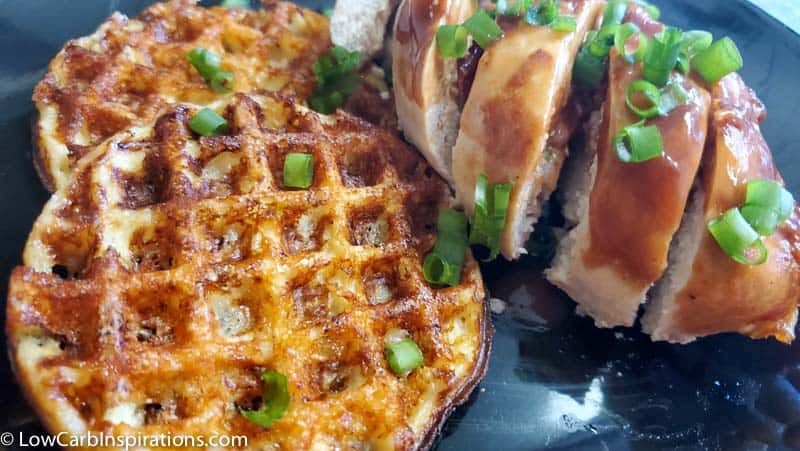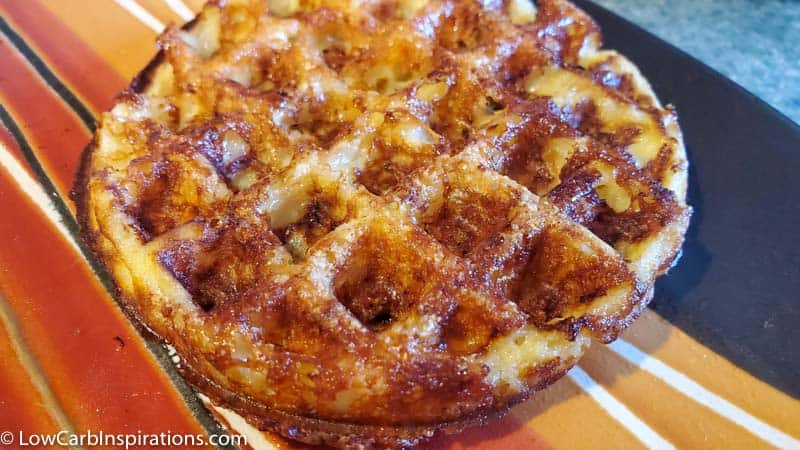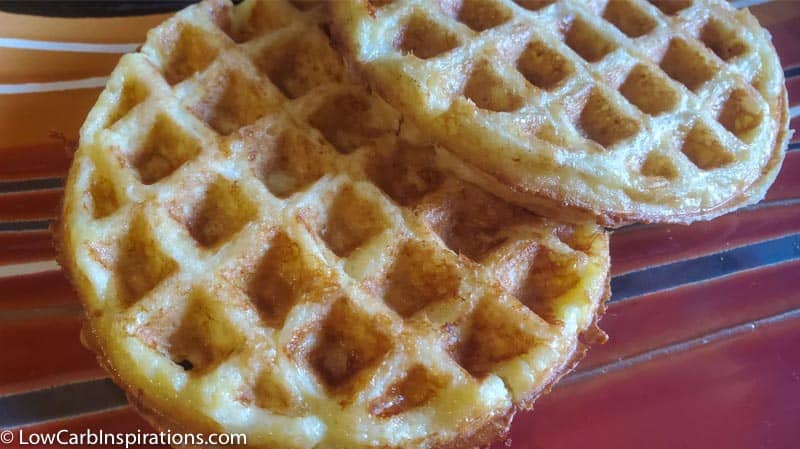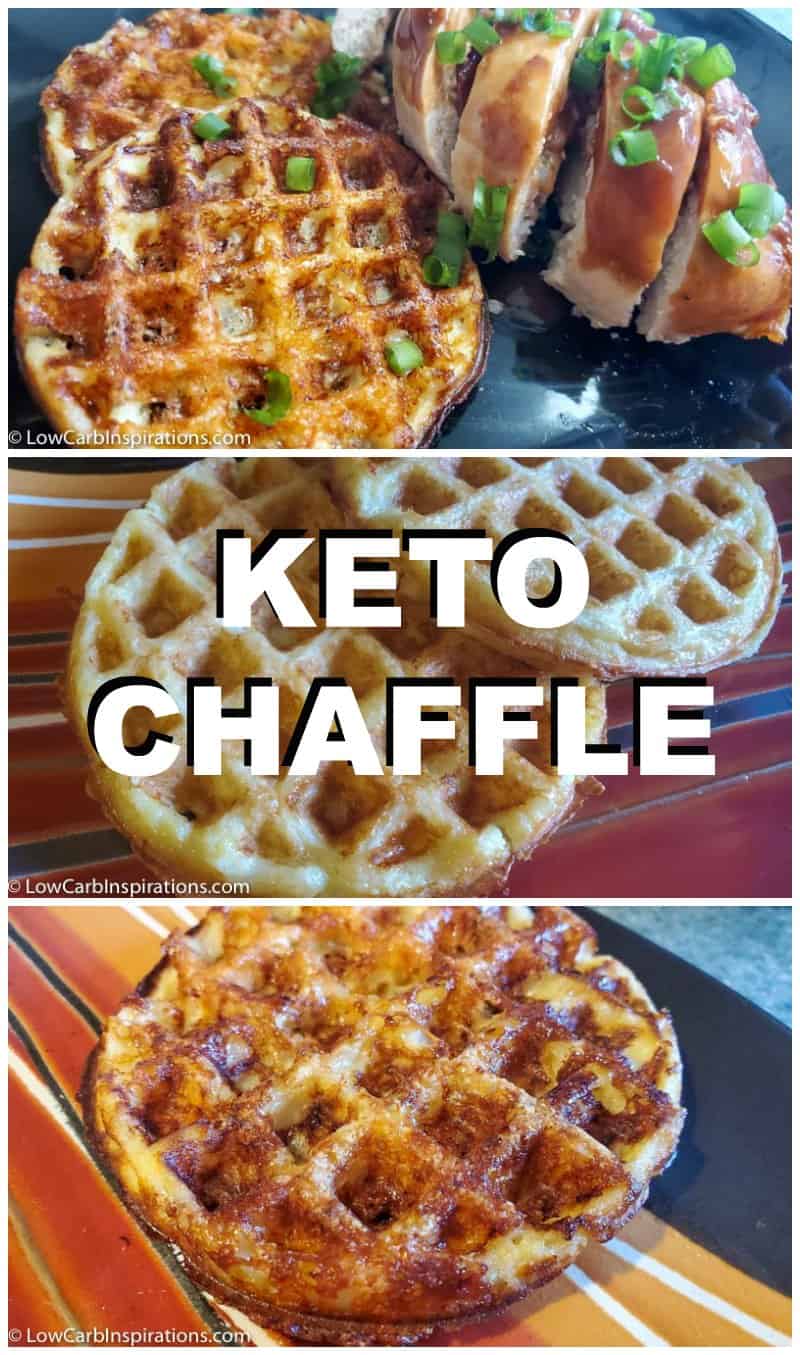 Frequently Asked Questions about Chaffles
What is a chaffle?
A chaffle is a waffle made with a cheese base.
How to reheat chaffles?
The best way to reheat chaffle is to use an air fryer, toaster oven, or Ninja Foodie.
How to make crispy chaffles?
Add 1 tsp of shredded cheese to the waffle maker and cook it for 30 seconds before adding the chaffle batter.
Can you freeze chaffles?
Yes. Freeze chaffles in an air tight container for up to 3 months.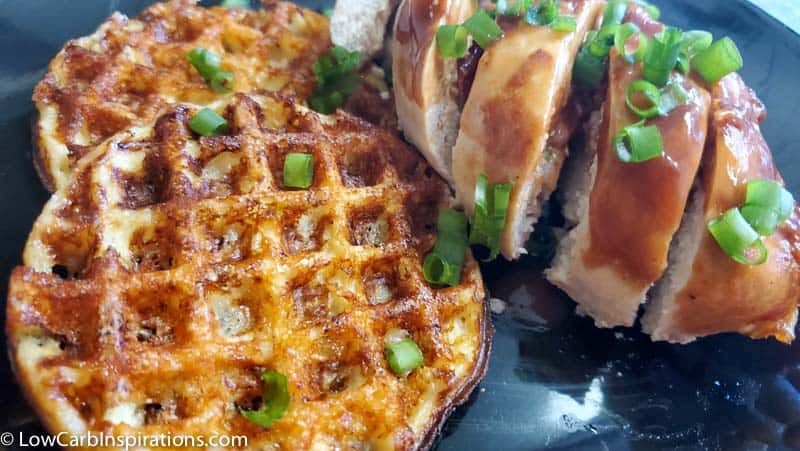 Keto Chaffle Recipe
Ingredients
1

large egg

1/2

c.

shredded cheese

Pinch

of salt

Seasoning to taste
Instructions
In a bowl- whisk the egg until beaten.

Shred the cheese (any flavor or combination you like).

Add the cheese, salt, and seasoning to the egg, then mix well.

Scoop half of the mixture on the waffle maker, spread evenly.

Cook 3-4 minutes, until done to your liking (crispy).

Pull it off and let cool.

Add the rest of batter and cook the 2nd waffle.

Enjoy!
Nutrition facts are provided as a courtesy. Have a question about our calculations or why you got a different result? Please read our
nutrition policy.