It's all about the CHAFFLE! Yes, this Keto Chaffle Recipe is the newest, craziest EASY recipe, it is going to blow your mind. So stinkin easy, how can you not make a TON of these?!  It's basically cheese and a waffle!  However, I believe the word started with chicken and waffles.  In keto, it's a cheese and egg waffle!  I did not invent this technique…  I heard about it in all the Keto groups!  Feel free to join the best group on the internet:  www.facebook.com/groups/lowcarbinspirations
CHECK IT MY CHAFFLE!!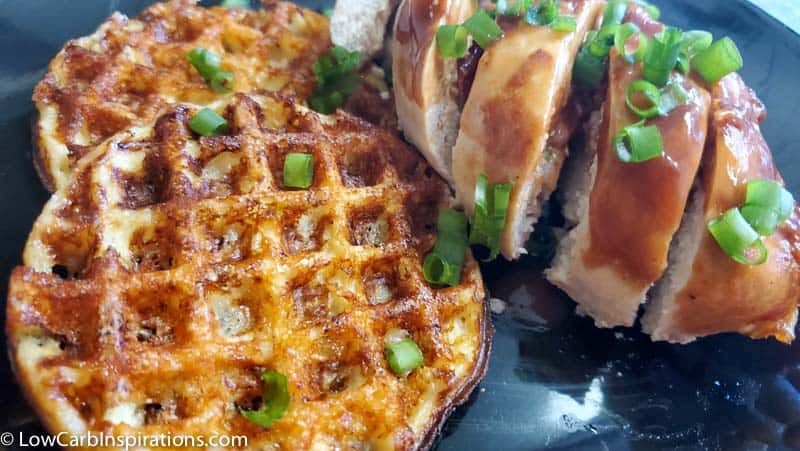 EVERYONE is going looney tunes, asking "How do I make these?!" This is the deal- The very basic recipe on what and how. Read further below for some awesome examples of other add-in's and flavors!!
Keto Chaffle Recipe
Makes: 2 waffle slices
Keto Chaffle Recipe Ingredients
1 large egg
1/2 c. shredded cheese
Pinch of salt
Seasoning to taste
Keto Chaffle Recipe Instructions
Preheat the mini waffle maker.  (I used this mini waffle maker I purchased from Amazon)
In a bowl- whisk the egg until beaten.
Shred the cheese (any flavor or combination you like).
Add the cheese, salt and seasoning to the egg, then mix well.
Scoop half of the mixture on the waffle maker, spread evenly.
Cook 3-4 minutes, until done to your liking (crispy).
Pull it off and let cool.
Add the rest of batter and cook the 2nd waffle.
Enjoy!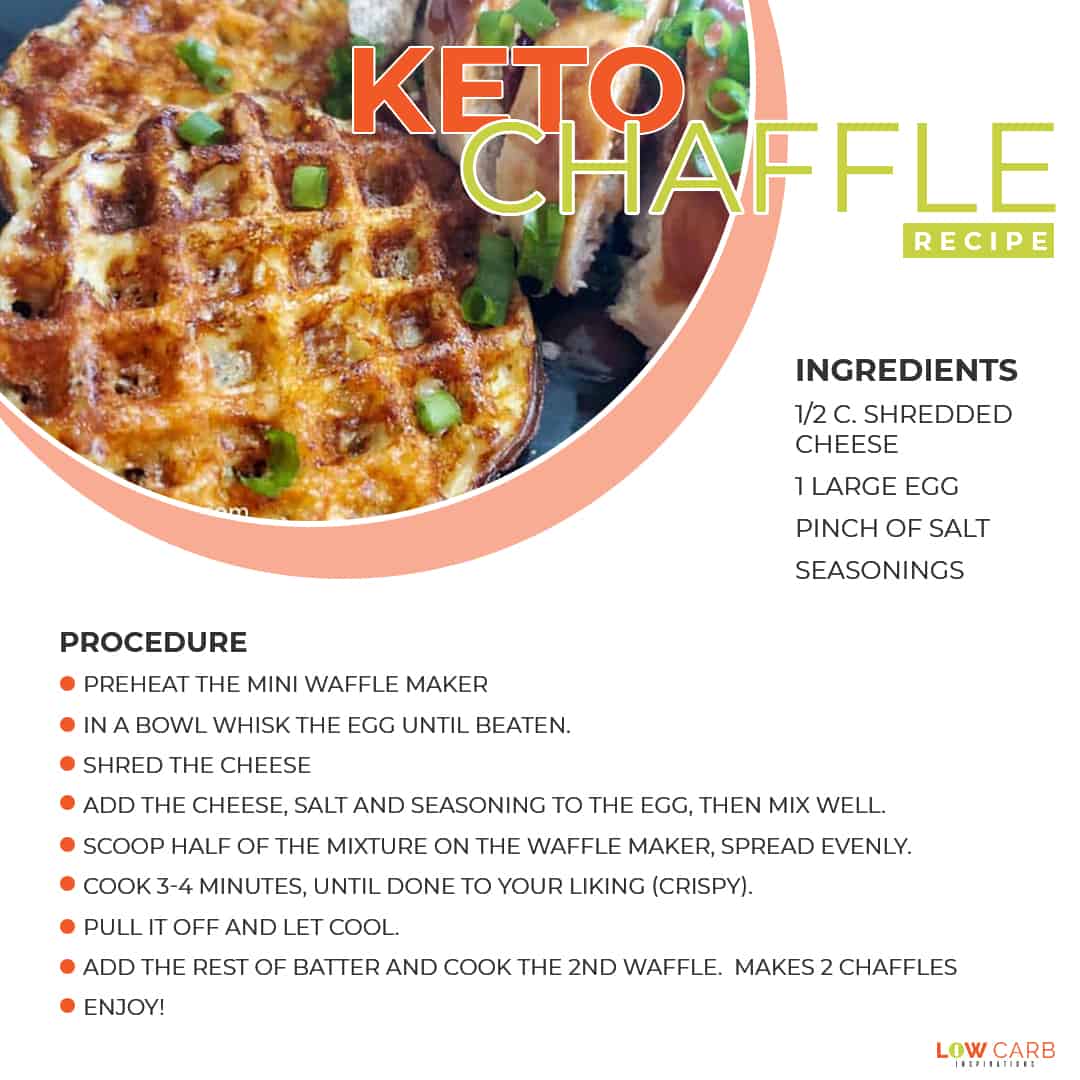 Notes:
Upon testing- adding a sprinkle of shredded cheese on the hot waffle maker first, then batter, then a bit more over top will help make a super crispy waffle.
This recipe can be made in a standard size waffle make, BUT they cook perfectly in this Mini Waffle Maker! They are super budget friendly, consider grabbing 2!
Keto Chaffle Recipe Nutrition
Say what you will, do or do not.. But these cheese and egg waffles are crazy good! The possibilities are seriously endless. I had read a few posts and mentions on this wild creation and didn't pay any mind to it at first. BIG mistake!
90 second breads are good, don't get me wrong.. This Keto 90 Second Bread French Toast Recipe is my favorite! I've played around with many of the easy bread recipes, and the french toast is extremely tasty! But whoa…
No wonder the chaffle went viral like overnight. If you know anything about Keto/Low Carb, then you know eggs and cheese are a core staple (unless you are allergic, then there are other options).
How are these so incredibly stupid easy, yet such a huge hit?! I just don't even know how to react with this right now. Get yourself one (or 4) of these Mini Waffle Makers now and start testing out every flavor your creative self desires!
Oh, and I have to mention (anyone that knows me, KNOWS) I'm obsessed with ChocZero Honest Syrups!
Any flavor would be amazing for a sweet chaffle.
As far as a sweetener goes- I prefer:
Lakanto Confectioners, Swerve Brown or Pyure Organic Stevia Blend.
I use all of these frequently for many different applications.
I really enjoy Lakanto Maple Syrup as well (as mentioned in the french toast breads)
Here are some ideas to try, see what you like and go nuts!
Basic Chaffle Recipe 2:
1 large egg
1/2 c. shredded mozzarella
1 tbs of almond flour
1 tsp vanilla
1 shake of cinnamon
1/2 tsp baking powder
Sweet and Spicy Chaffle Recipe:
1 large egg
1/2 c. mozzarella
2 tbs Lakanto Maple Syrup
1/2 tsp salt
1/2 tsp smoked paprika
Pinch of spicy pepper (ie: red cayenne)
Savory Herb Chaffle Recipe:
1 large egg
1/4 c. shredded mozzarella
1/4 c. shredded parmesan
1/2 tbs butter, melted
1 tsp herb blend seasoning
1/2 tsp salt
Double Chocolate Chaffle Recipe:
1 large egg
1 oz. cream cheese, softened
1 tbs ChocZero Chocolate Syrup
1/2 tsp vanilla
1 tbs sweetener of choice
1/2 tbs cacao powder
1/4 tsp baking powder
Here's a Keto Churro Chaffle Recipe you will love!
Here's a Keto Pizza Chaffle Recipe you will love too!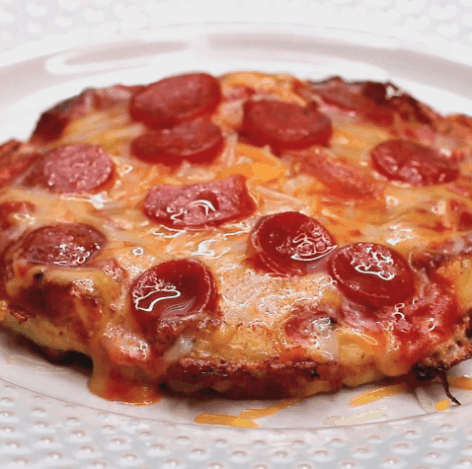 Be sure to join the KETO CHAFFLE RECIPES GROUP on Facebook!!!!
Don't forget to pin it on Pinterest for later!!