Love biscuits and gravy? Then you are going to love these Low Carb Biscuits and Sausage Gravy! They go together like two peas in a pod. Fluffy keto biscuits topped with a flavor packed sausage gravy…what more could you ask for!?!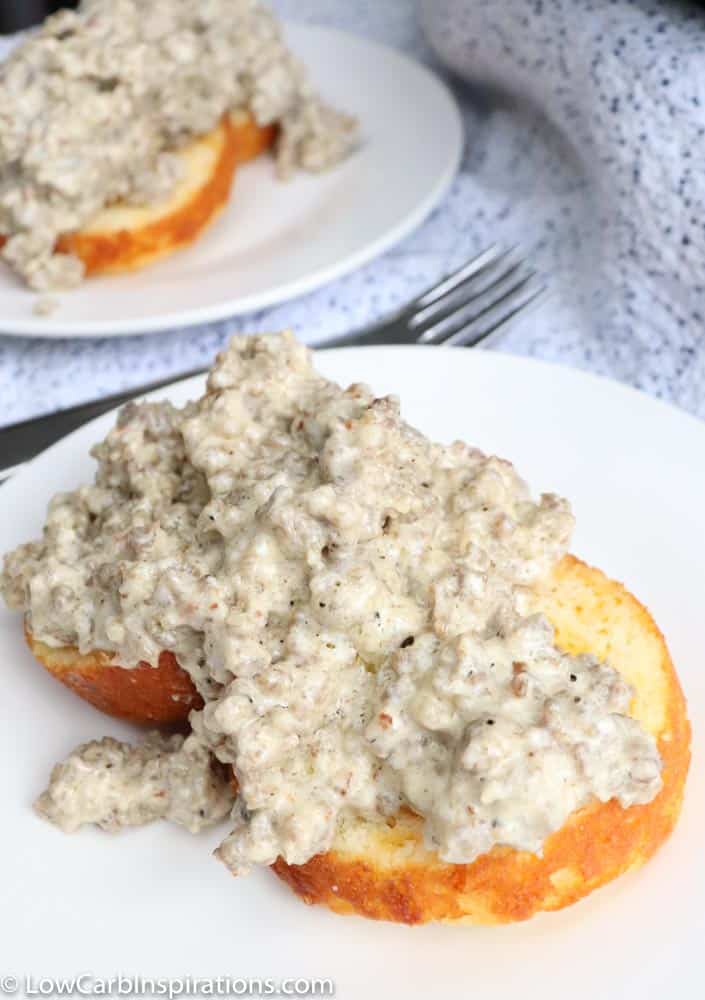 You can even have this biscuits and gravy recipe for dinner…who doesn't love breakfast for dinner?
Low Carb Biscuits and Sausage Gravy Recipe
Low Carb Biscuits Ingredients
Get the fluffy keto biscuits instructions here
Sausage Gravy Ingredients
1 pound Sausage
3 ounces cream cheese
1 cup of heavy cream
2 tablespoons water
1 teaspoon Xanthan powder
Optional:  Salt and pepper to taste (I only added pepper)
Low Carb Biscuits and Sausage Gravy Recipe Instructions
The full instructions are listed in the printable recipe card below.
Low Carb Biscuits and Sausage Gravy Recipe Nutrition
Serves 10
Calories 296, Total C 6.8g, Fiber 0.9g, Net C 5.9g, Sugars 1.4g, Fat 21g, Protein 8.8g
Here is a video we made to show you how to make this low carb breakfast recipe.
New to Keto? Check out the Keto Starter Guide!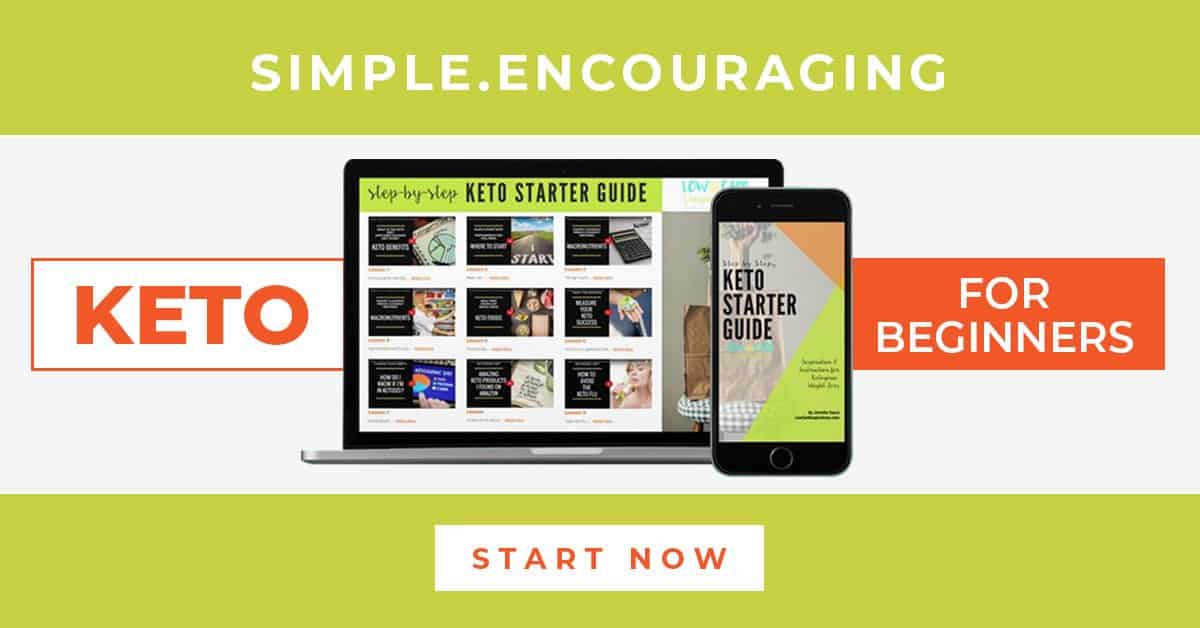 The Keto Starter Guide is an amazing resource as you get started on your keto/low carb journey. This guide has everything you need to get started in 9 simple video lessons and also includes workbooks with step by step instructions for beginners.
What's a macro and why do I count them?
How do I find the best recipes?
What is ketosis and how do I get my body there?
What fruits are allowed on a ketogenic diet?
Will I get "Keto Flu" and what do I do about it?
Get the Keto Starter Guide today!
I used to think Keto pancakes or Keto waffles was my favorite breakfast but I'm pretty sure the whole family agrees that this recipeis #1!  It doesn't even taste like it's a diet recipe.  The flavor of this gravy far exceeds any regular flour type gravy recipe out there.  Yes, it's that good!
My oldest daughter, who is college age, gave me the best compliment ever.  She told me that she enjoys the Ketogenic ketogenic diet but only because I make the best food!  My heart melted!  My kids are picky eaters, so this compliment is huge! HUGE!
Questions others have asked
What to serve with biscuits and gravy
Keto biscuits and gravy go hand in hand and to be honest they are are perfectly fine by themselves, but you can add a side of scrambled or fried eggs if you want something more. Or you can add Keto Fried Chicken too! Just a couple options to add to this already southern classic recipe!
How long does cooked sausage gravy last in the fridge?
Sausage gravy can be stored in an airtight container for 3 to 4 days in the refrigerator.
Can sausage gravy be reheated?
Yes it can! Reheat it slowly and use a little heavy cream to thin the gravy since it will be thickened after cooling. This can be done on the stovetop or in the microwave.
What can I put sausage gravy on?
You can put sausage gravy on chaffles like we did with this Chaffles and Gravy recipe or you can add sausage gravy over eggs, cauliflower mash, or over toast (use this amazing keto bread recipe). The options are endless really.
Here are a few photos we took while making this amazing recipe.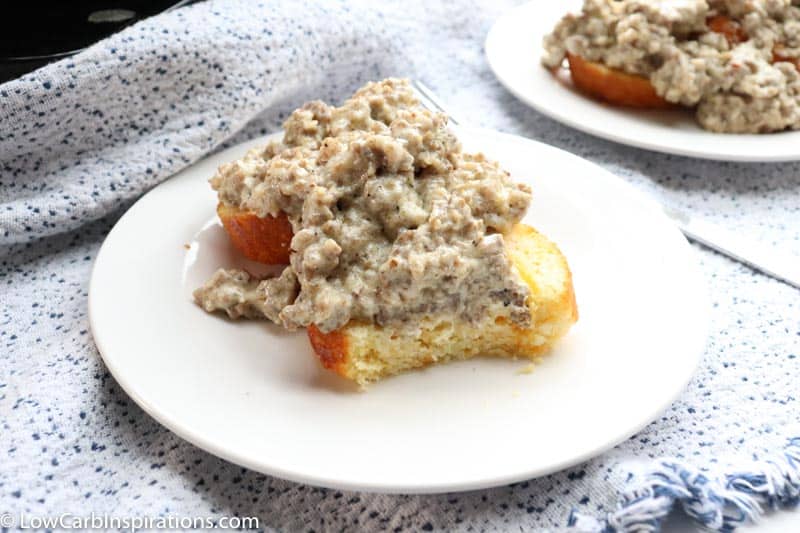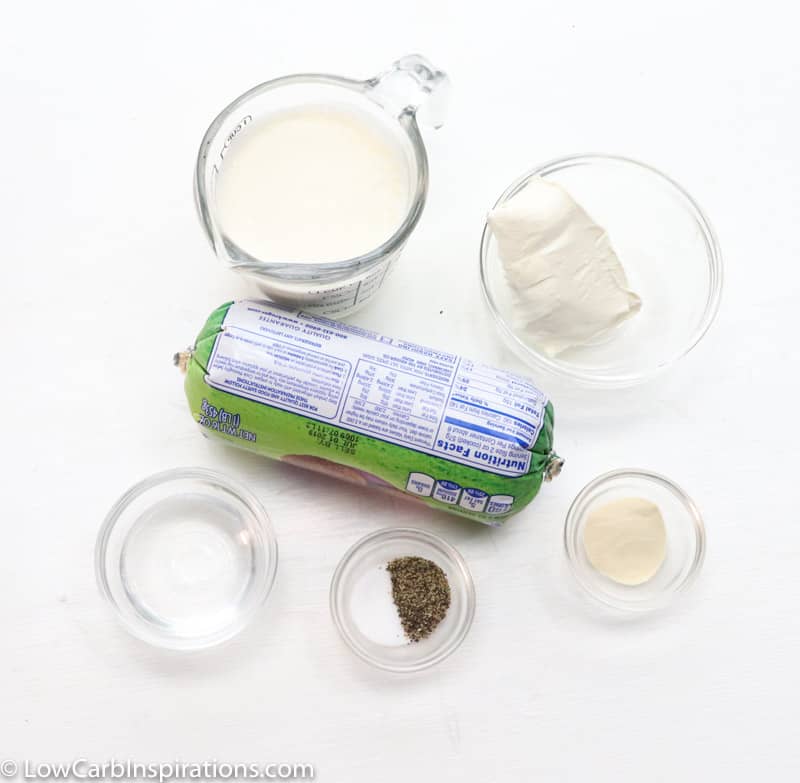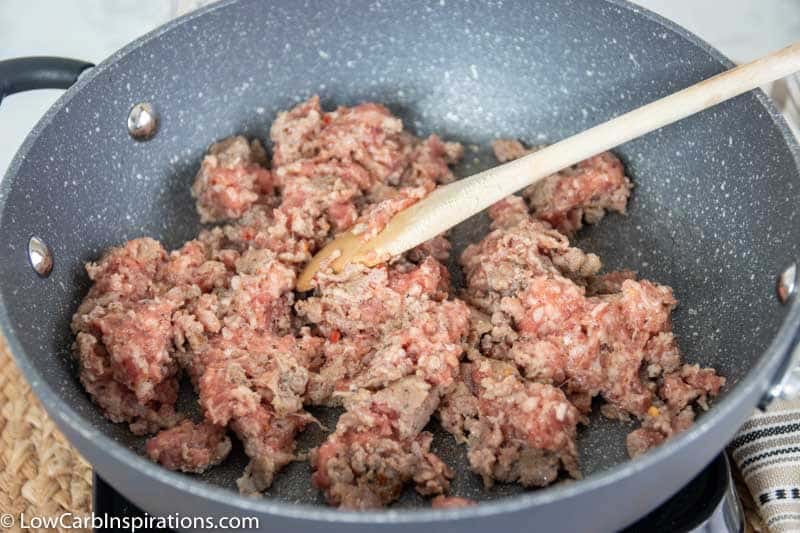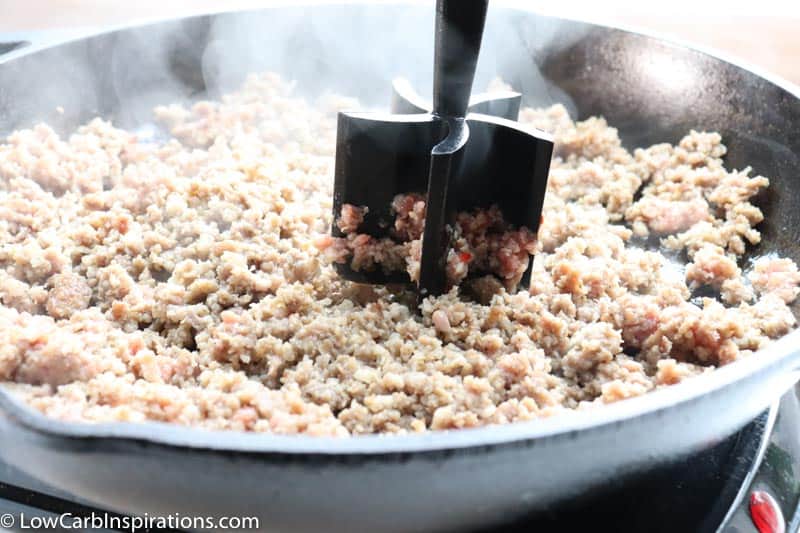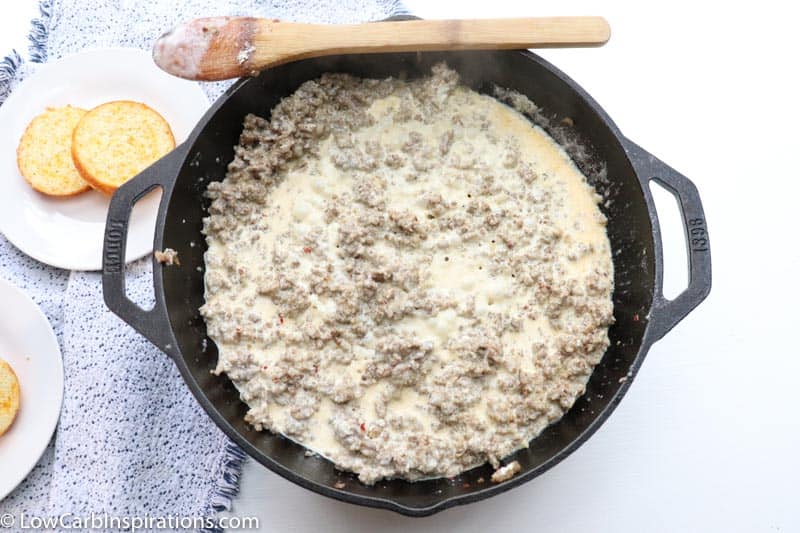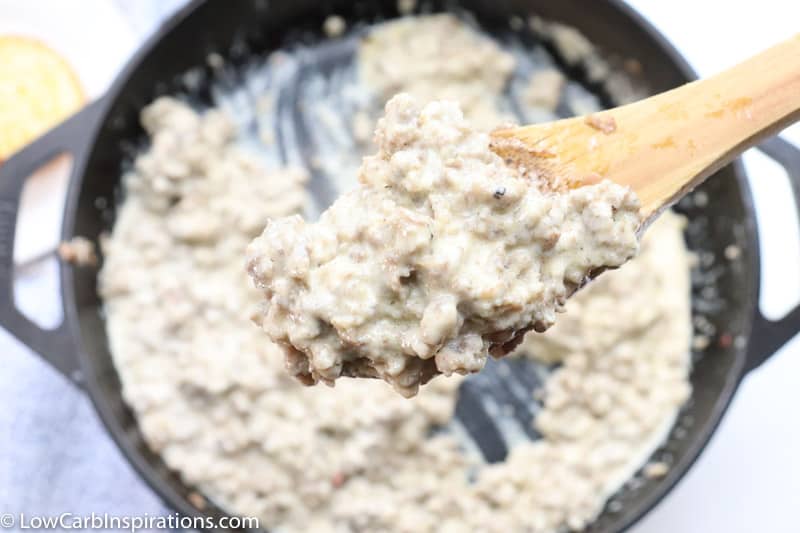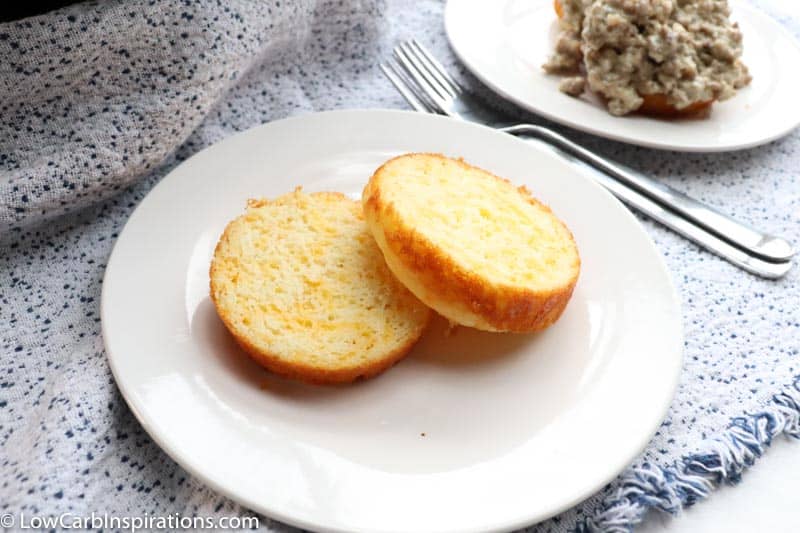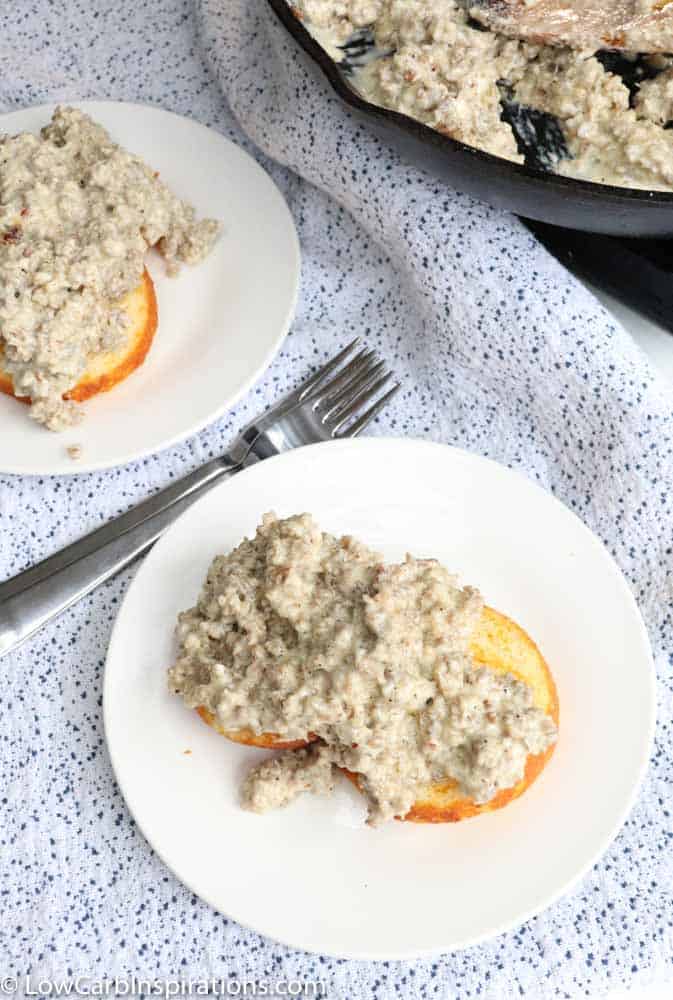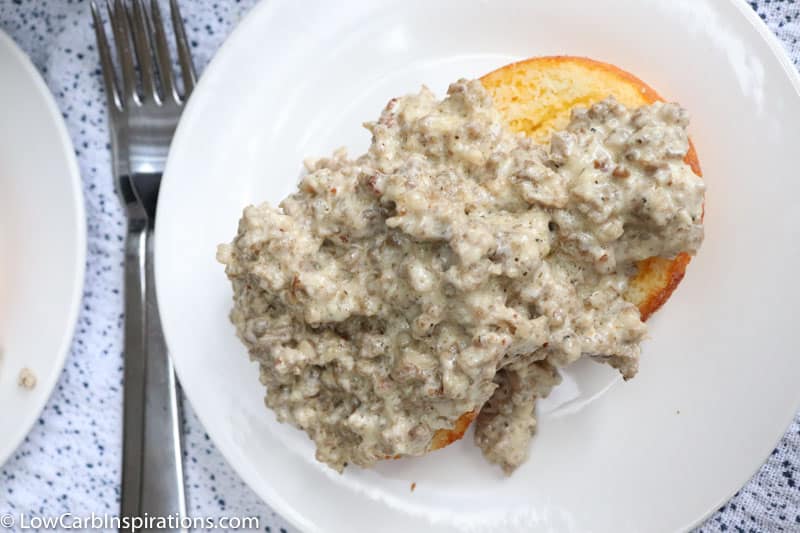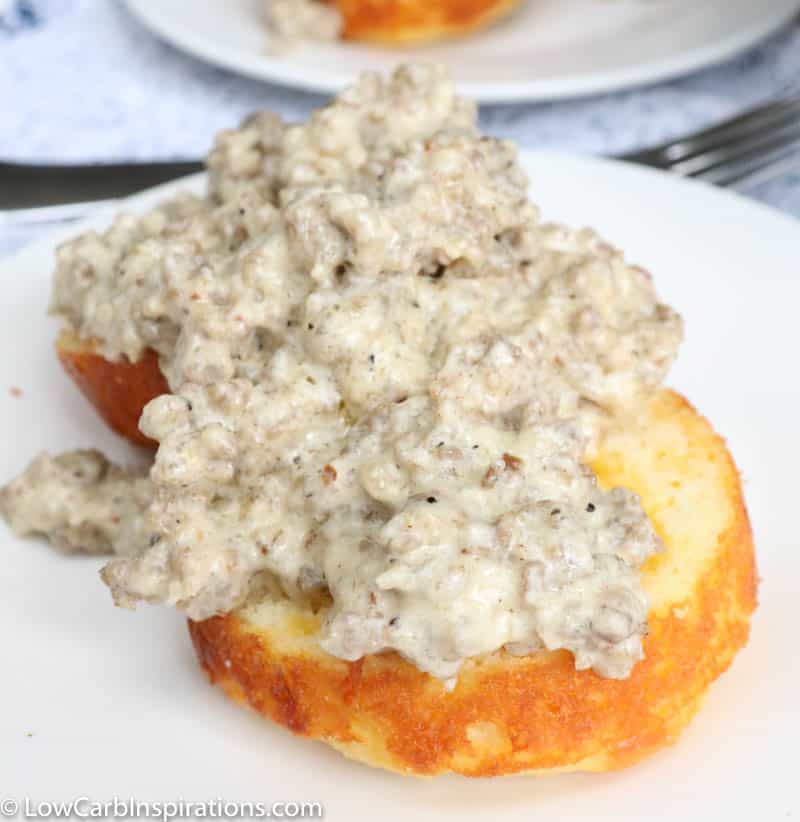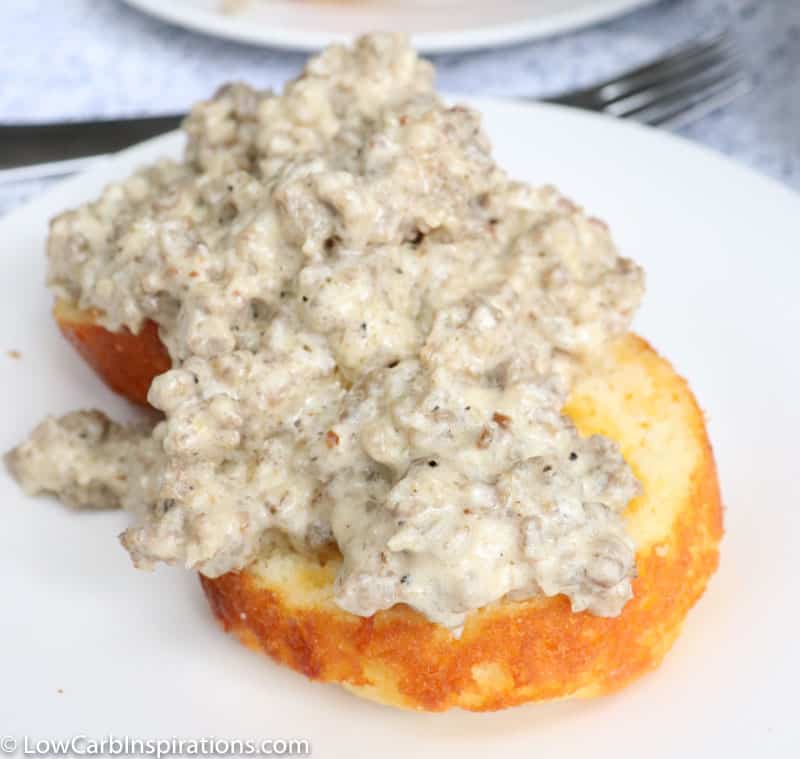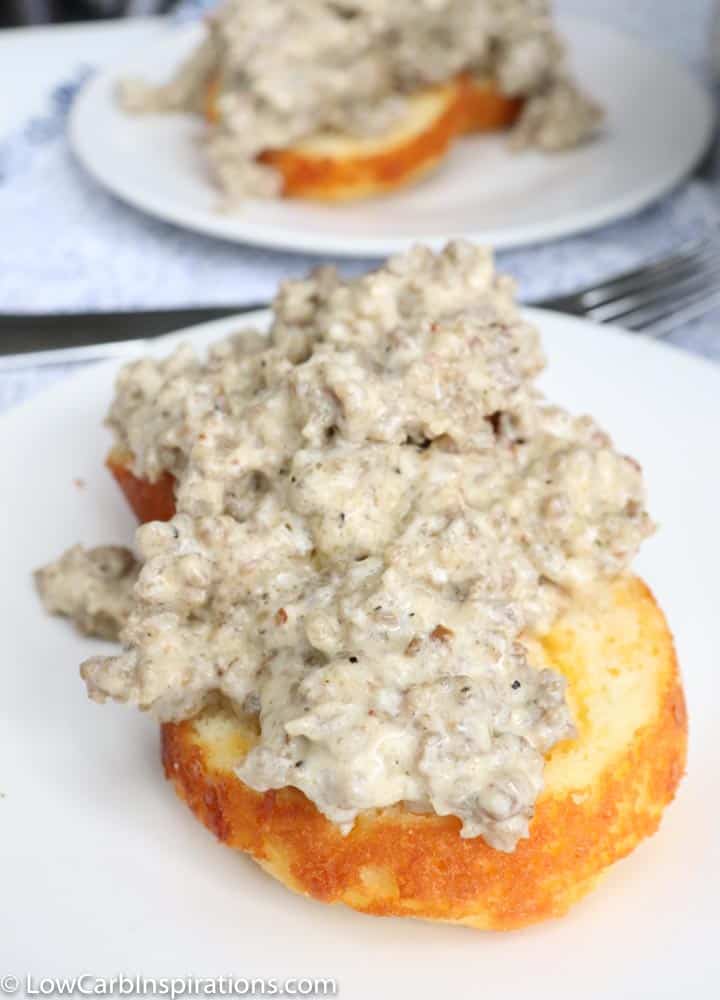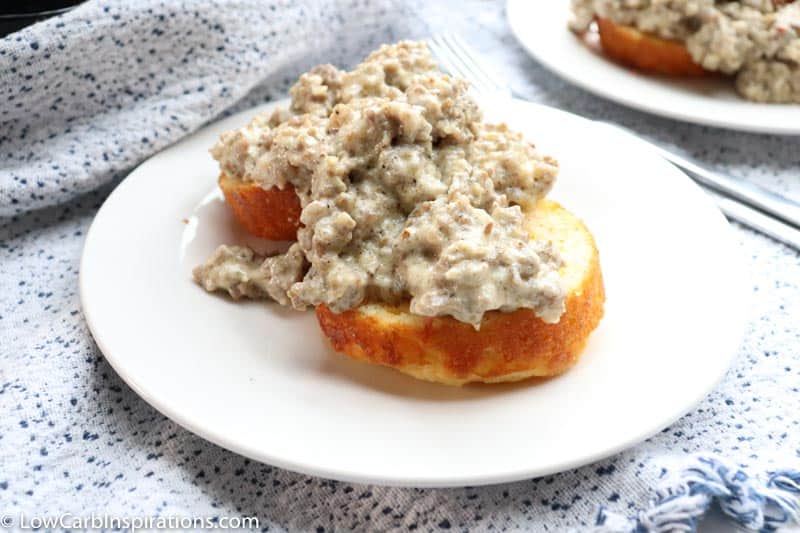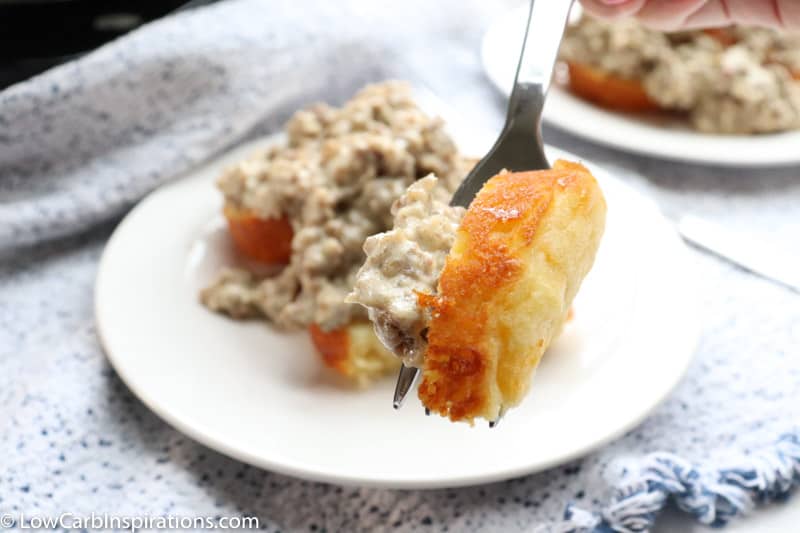 Don't forget to pin this for later!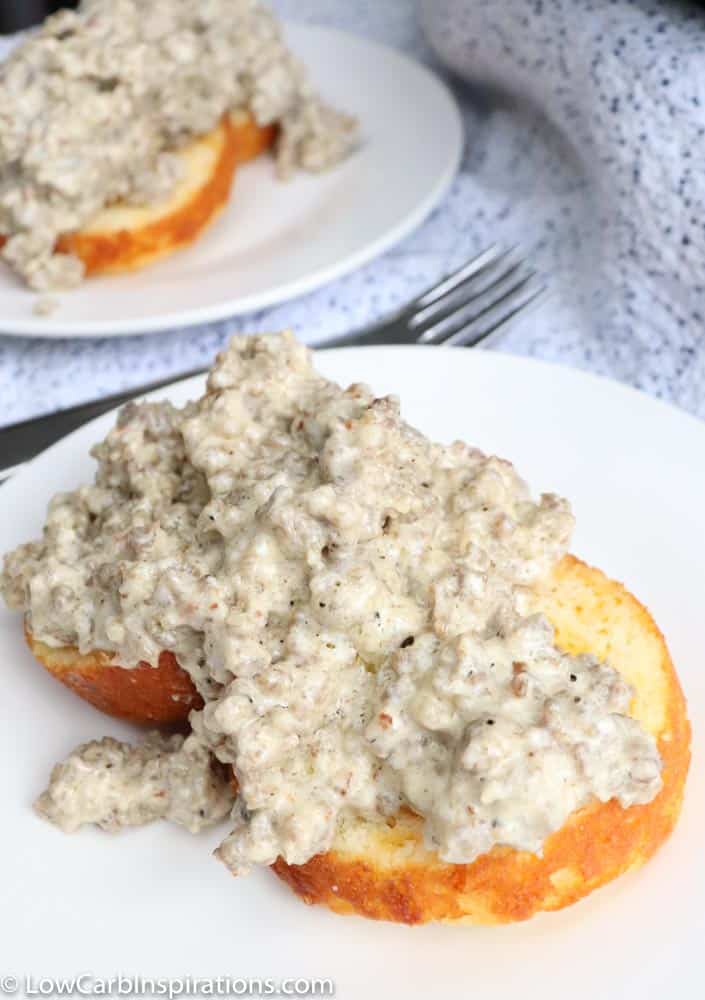 Here's a printable version of this Low Carb Breakfast Recipe:
Ingredients
Low Carb Biscuits Ingredients
Sausage Gravy Ingredients
1

pound

Sausage

3

ounces

cream cheese

1

cup

of heavy cream

2

tablespoons

water

1

teaspoon

Xantham powder

Optional: Salt and pepper to taste

I only added pepper
Instructions
Sausage Gravy Instructions
Start off by frying the sausage until it's browned.  Don't drain the fat.

Add 3 ounces of cream cheese and stir until it's melted and combined.

Add 1 cup of heavy cream and bring it to a simmer.  I had the gas top set at medium heat and this didn't take but maybe 5 minutes for it to start simmering.

Next, add about 2 tablespoons of water and 1 tsp of Xantham powder to thicken the gravy to your taste.  If you think the gravy is thick enough, you can omit this step.

Add salt and pepper to taste.  I did not add salt to my gravy because the sausage brought enough flavor to the mixture.

By the time the gravy was done, the biscuits were ready!

Break open a biscuit and top it with some delicious gravy!

Serve it warm and enjoy.
Get biscuit instructions in post
Video
Nutrition
Serving:
1
serving
|
Calories:
296
kcal
|
Carbohydrates:
6.8
g
|
Protein:
8.8
g
|
Fat:
21
g
|
Fiber:
0.9
g
|
Sugar:
1.4
g
More Low Carb/Keto Breakfast Ideas to Try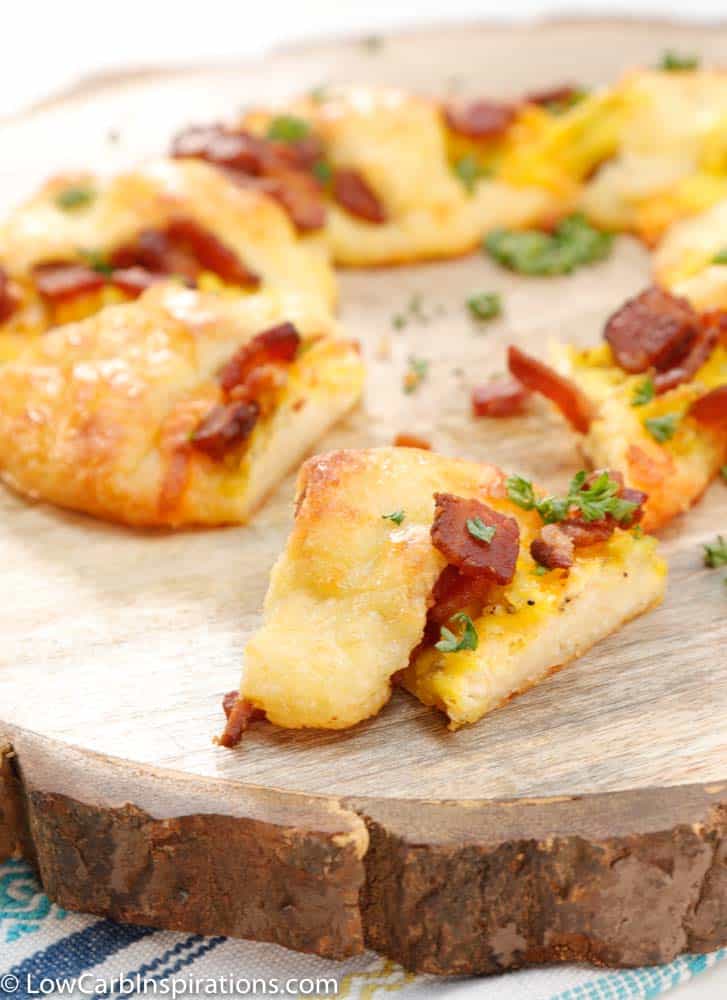 Keto Bacon, Egg and Cheese Breakfast Wreath Recipe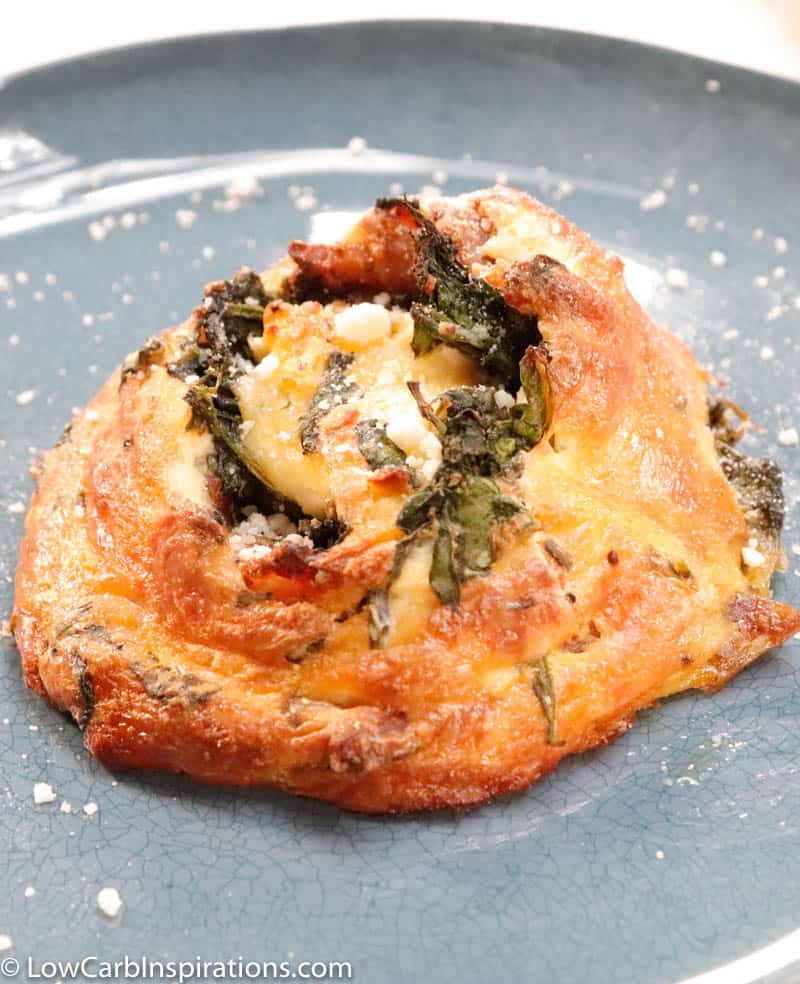 Keto Breakfast Pinwheels with Bacon, Spinach, and Feta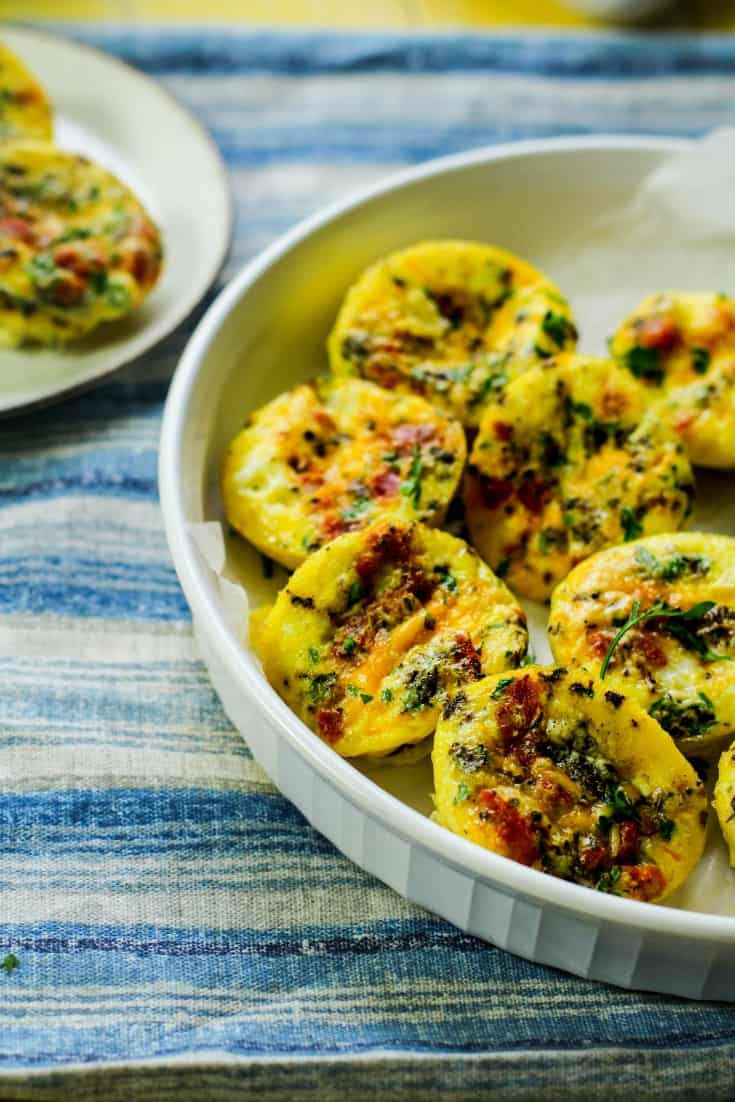 Keto Friendly Chorizo Breakfast Egg Muffins Recipe