Sugar Free Homemade Snow Cone Syrup Recipe
I talk a lot about various savory foods on the keto and low carb way of eating. What about that sweet tooth that you want to satisfy? This Homemade Snow Cone Syrup recipe is sugar-free and keto-friendly, but it's also delicious.
Even your non-keto friends will enjoy this. It's easy on the waistline and low in calories, which is just what we need!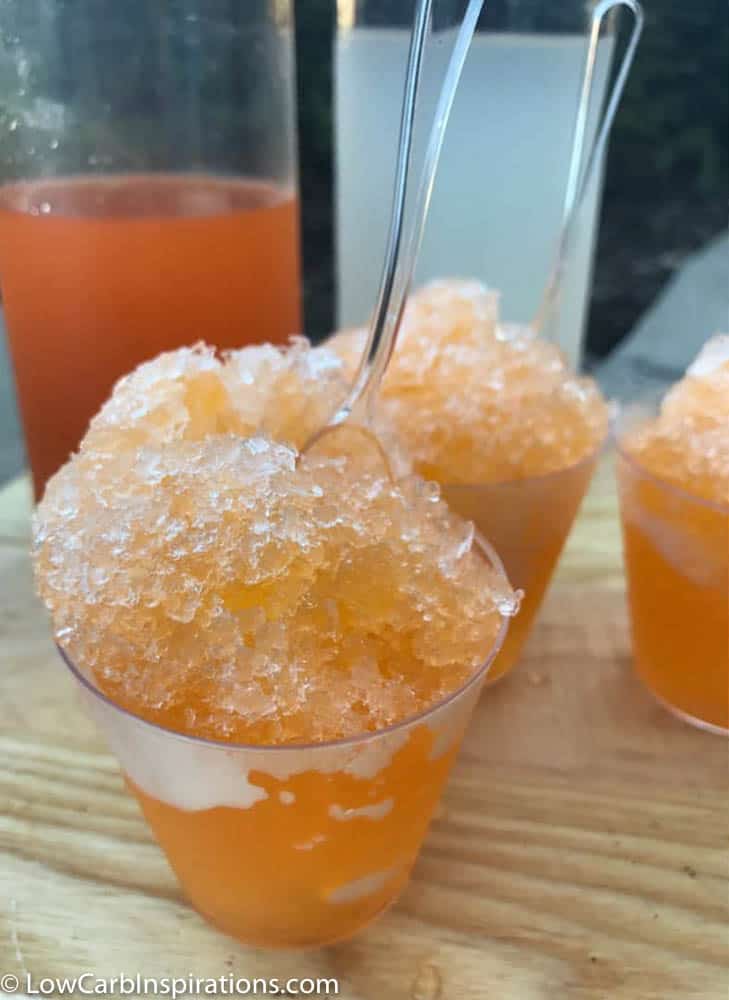 I love snow cones! My family loves snow cones! They are the love of summertime for me and my kids. You know those expensive commercial snow cone machines that use a huge block of ice to disperses snow? Yeah, I HAVE ONE!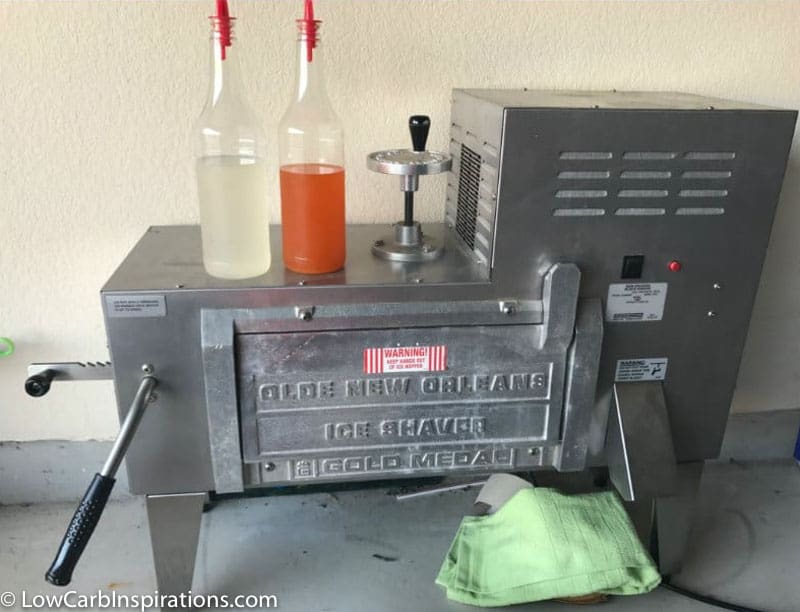 See, I told you! I love snow cones! I was on a mission to make my own sugar free snow cone syrup recipe but it didn't come easy. I have redone this recipe 3 times already because of a few failed attempts.
If you've ever had homemade snow cone syrup, you will know that nothing tops it. I can tell the difference in a homemade syrup from a store-bought syrup any day. Syrups can taste stale too.
This recipe I'm about to show you is super simple and delicious without that weird sugar-free after taste that you sometimes get with certain sugar substitutes. Plus, it doesn't require any cooking on the stovetop either!
Most syrups, you need to heat the water and sugar for it to dissolve properly, but not with this recipe. We use a blender for this one! I should call this a sugar free blender snow cone syrup!
They make some really inexpensive snow cone machines nowadays but you can get crushed ice from your blender too! I used my Nutri Ninja blender…that little machine is super powerful! It can handle crushing ice. Don't let the small size fool you.
Also, I'm not sure if you notice or not but in the photo where I measured out the 1 teaspoon of Xantham Gum, I used a long handled wooden spoon. These Long Handle Wooden Measuring Spoons were given to me as a gift just about a year ago and I use them all the time!
You might keep them in mind for a holiday gift for someone who loves to cook or bake. They are amazing!
Homemade Snow Cone Syrup Recipe Ingredients
Optional:
Note: You should be able to find most of these ingredients at your local grocery store. Swerve tends to sell out pretty fast because of its popularity. I've had to order Sweve from Amazon a few times. I've learned to stock up. The Lorann flavor oils can be found at your local hobby store too. These will be found in the candy making section. Keep in mind that these oils are super potent. A little bit goes a long way.
Homemade Snow Cone Syrup Recipe Instructions
The full instructions are listed in the printable recipe card below.
Homemade Snow Cone Syrup Recipe Nutrition
Serves 10
Calories 0, Total C 0.4g, Fiber 0g, Net C 0.4g, Sugars 0g, Fat 0g, Protein 0g
New to Keto? Check out the Keto Starter Guide!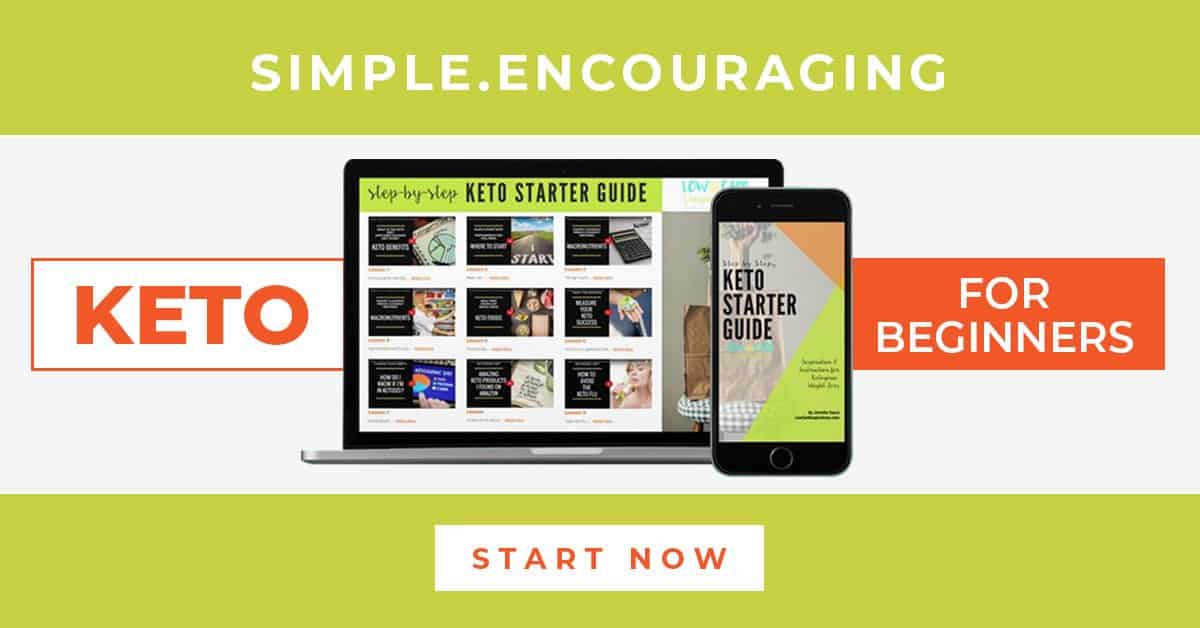 The Keto Starter Guide is an amazing resource as you get started on your keto/low carb journey. This guide has everything you need to get started in 9 simple video lessons and also includes workbooks with step by step instructions for beginners.
What's a macro and why do I count them?
How do I find the best recipes?
What is ketosis and how do I get my body there?
What fruits are allowed on a ketogenic diet?
Will I get "Keto Flu" and what do I do about it?
Get the Keto Starter Guide today!
The Lorann oils come in so many different flavors! Oh, the flavors you can combine!
Here are a few of our favorite Lorann Oils:
Cotton Candy
Coconut
Pineapple
Strawberry-Kiwi
Tropical Punch
Peach
Orange Cream
Watermelon
Cheesecake (this one mixes well with others too!0
Green apple
Coffee
Cookies and Cream
Lemon Oil
Grape
Root Beer
Vanilla Butternut
English Toffee
Marshmallow
Peach/Mango
Peanut Butter
Tutti Frutti
Pina Colada
Oh my gosh, the list could go on and on! Just look at all the different Lorann flavors they sell here.
Questions Others Have Asked
How Do I Store Snow Cone Syrup?
This is one of those scenarios that could go both ways. After you make this snow cone syrup recipe, you can put it in the fridge. You can also leave it on the counter. The choice is yours!
The good news is that you can store it in an airtight container in a cool dark place and you can easily use it for the next time you need it.
How Much Syrup Do You Put in a Snow Cone?
If you're going to make a snow cone, then you may be wondering how much you need to put in a snow cone. When you have around a 6.5-ounce snow cone, you will need around 1.5 ounces of syrup.
It may sound like a lot but the syrup can disappear really fast in the ice. Of course, when something is sugar-free, you can always use a little more and not feel guilty about it.
What Can I Do With Leftover Homemade Snow Cone Syrup?
After you've made this Homemade Snow Cone Syrup recipe, you might be wondering what you can do with the leftovers. I simply store it for the next time I want to use it.
However, you could also use it as ice cream flavoring or even to flavor your water. If you're in the mood for a sweet treat, then why not give it a try?
Here are a few photos we took while making this amazing recipe.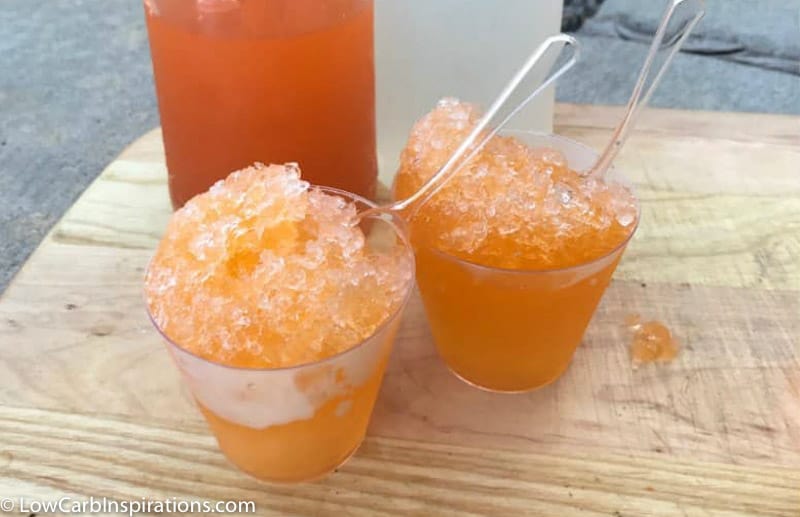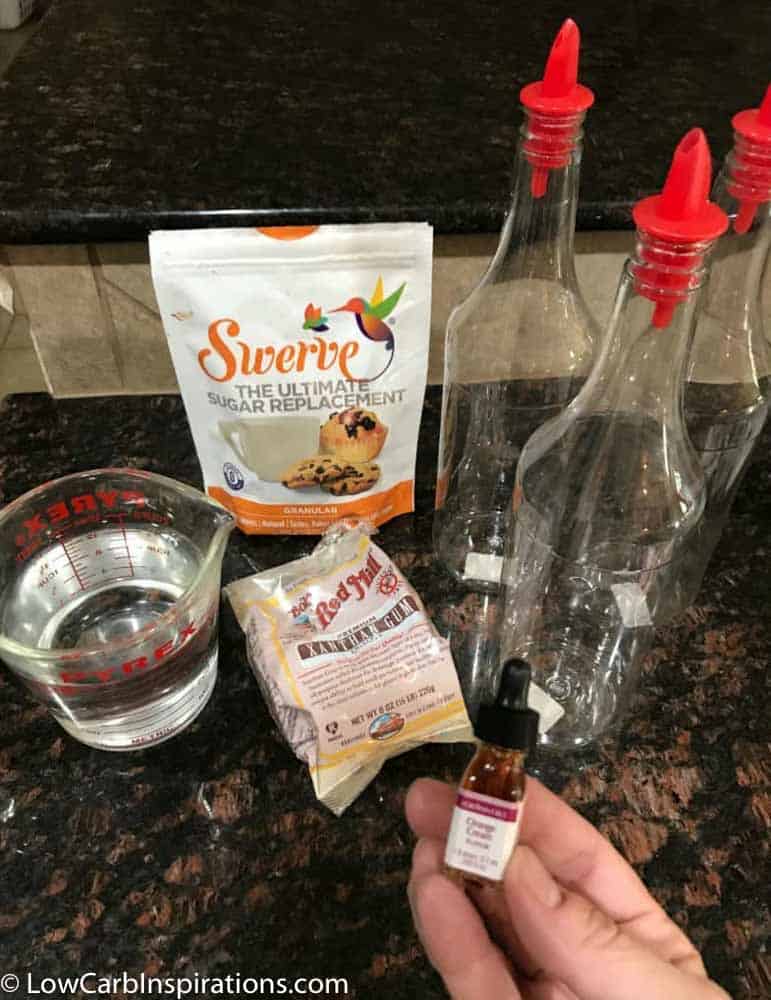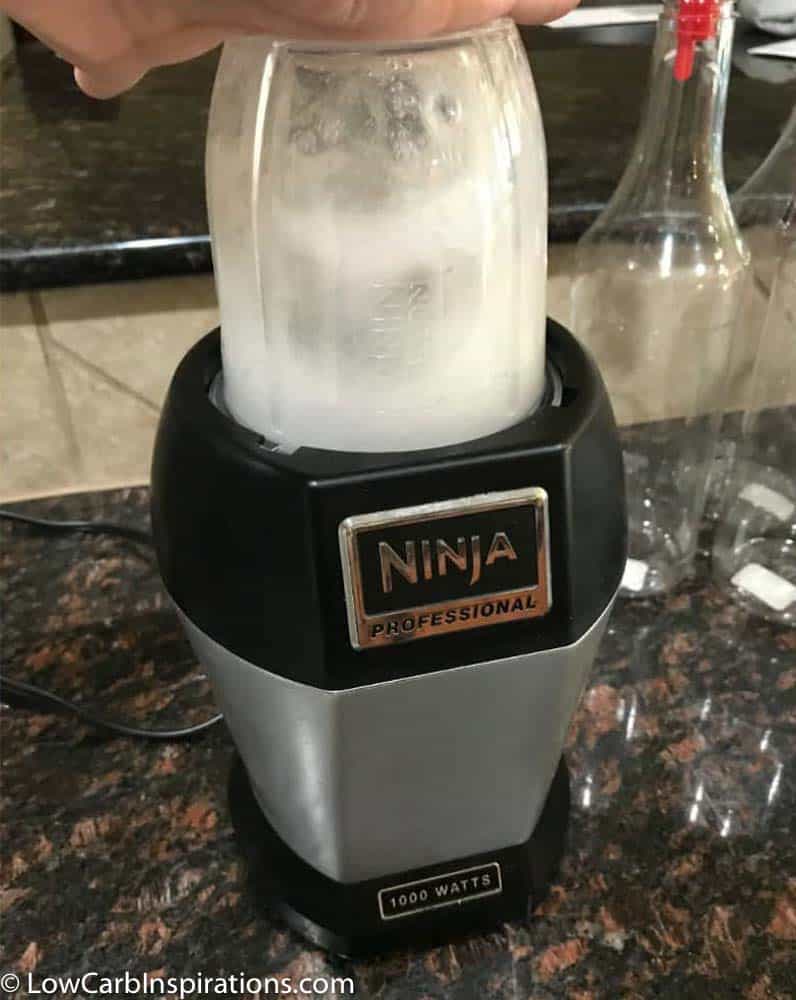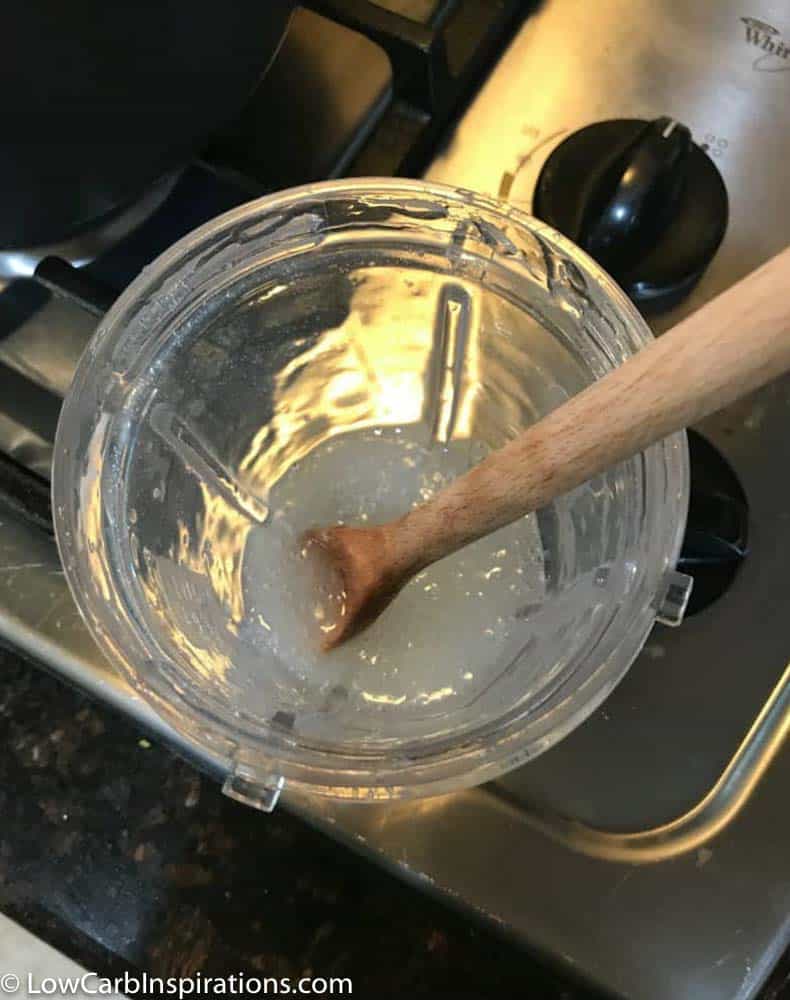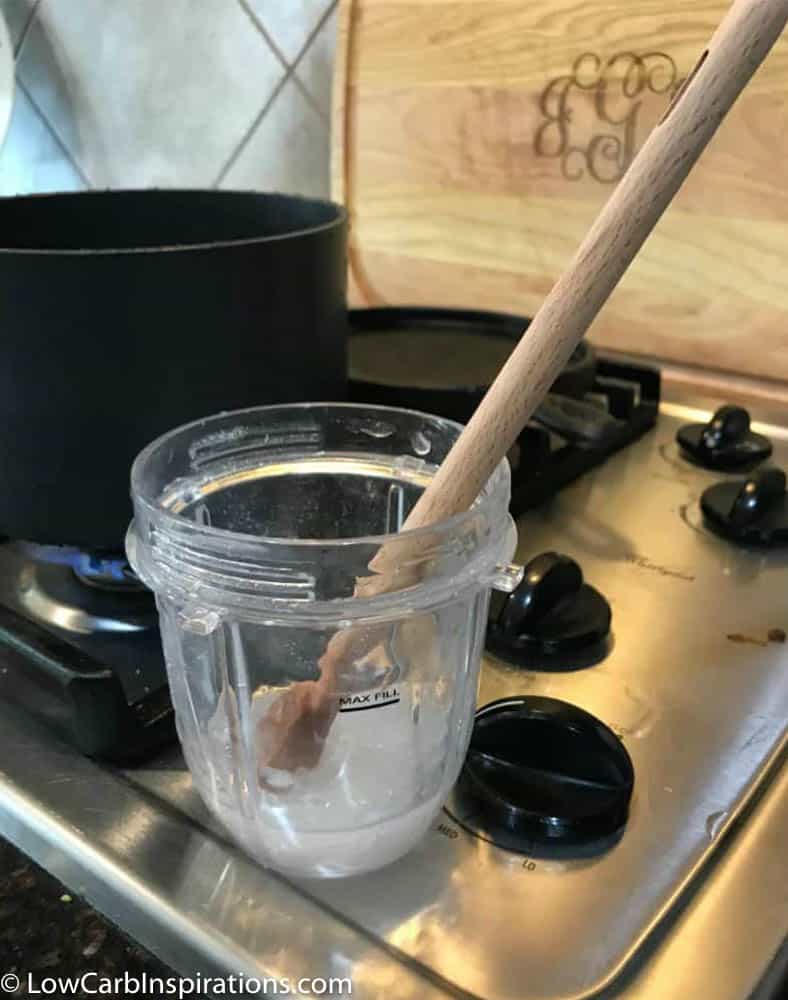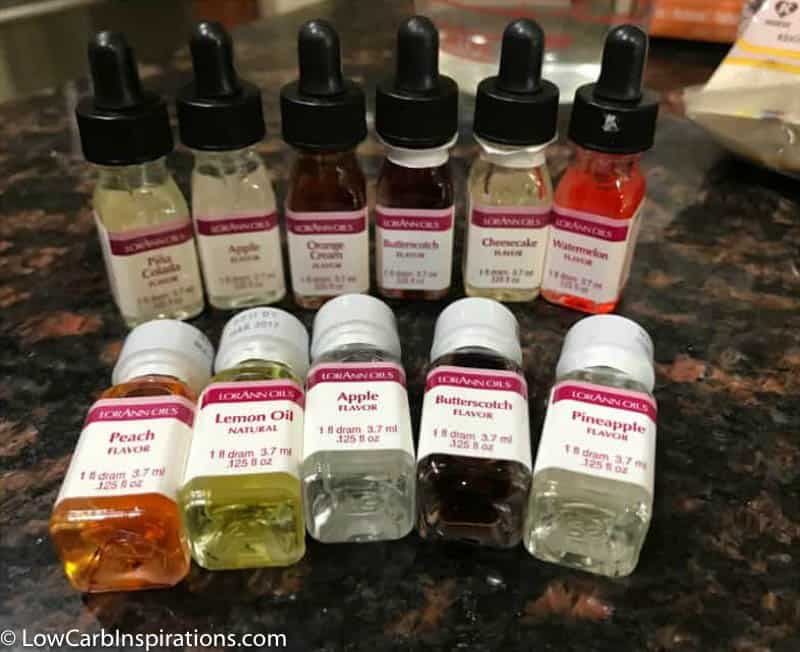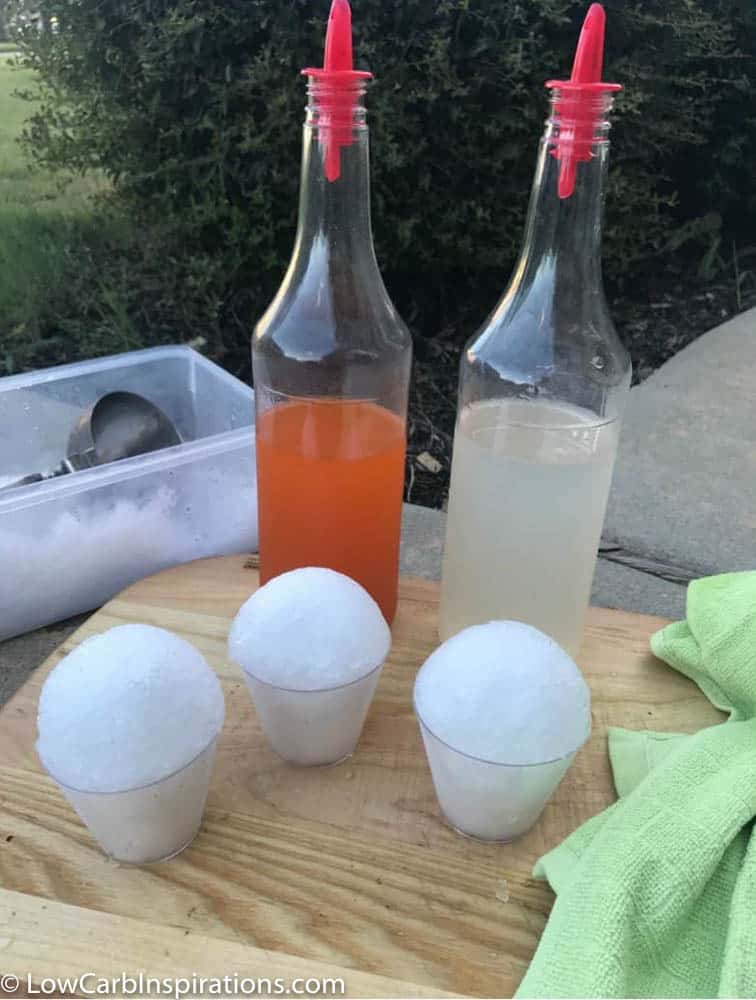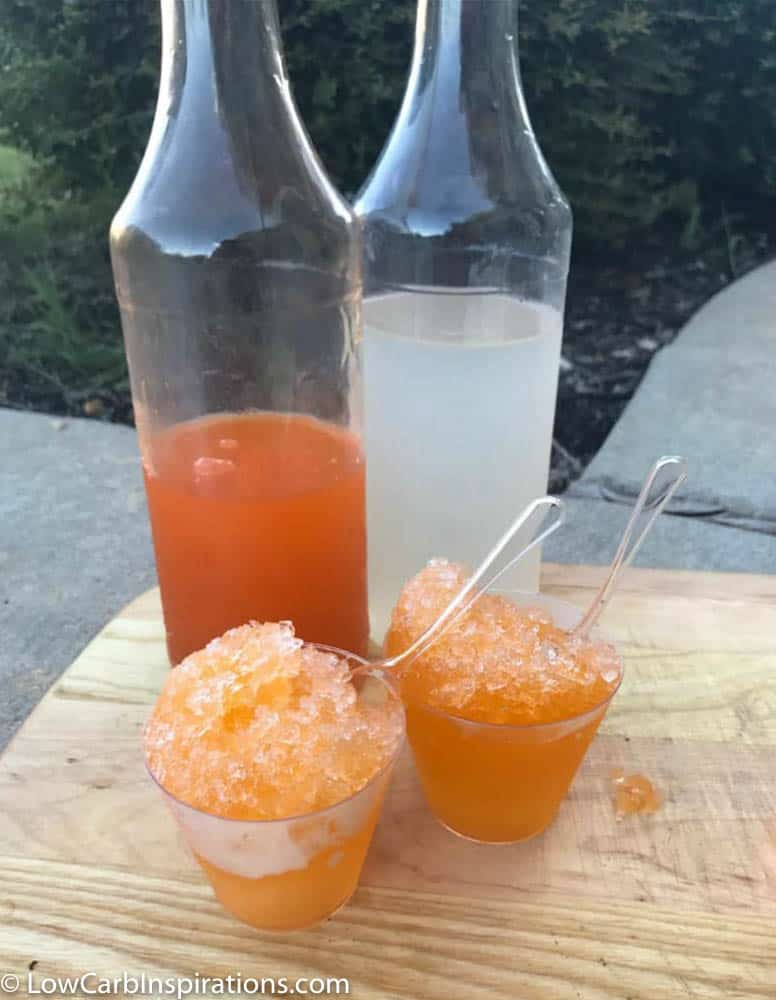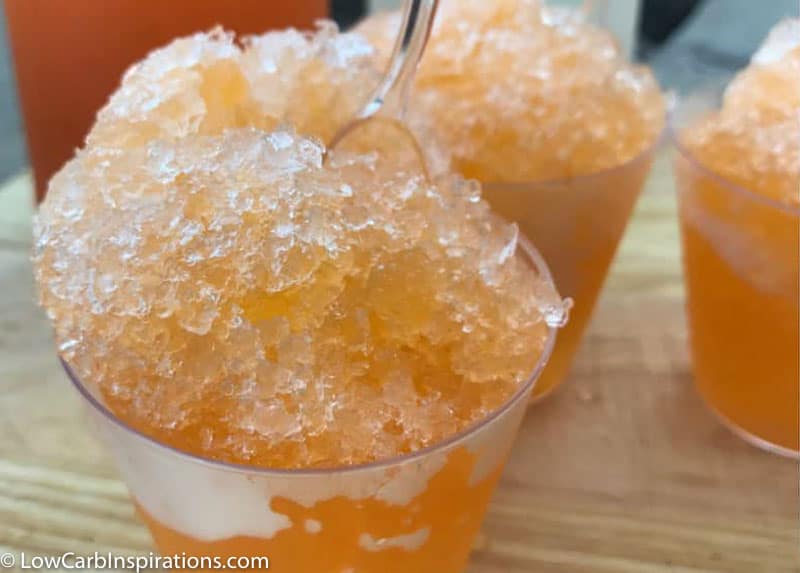 Don't forget to pin this for later!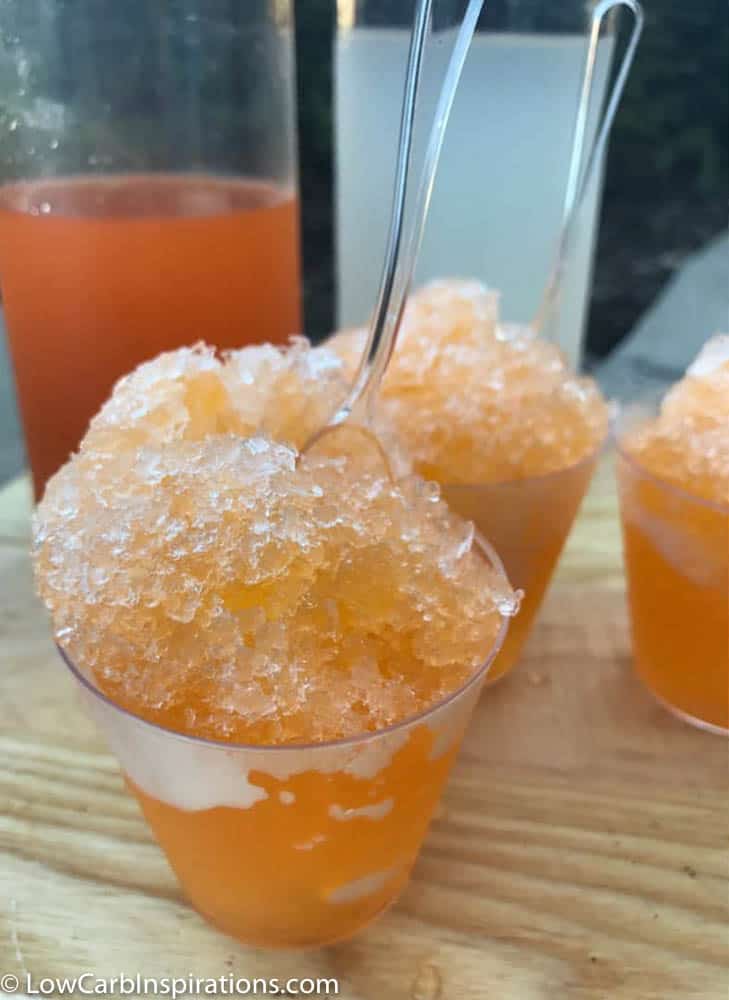 Here's a printable version of this sugar-free snow cone syrup recipe: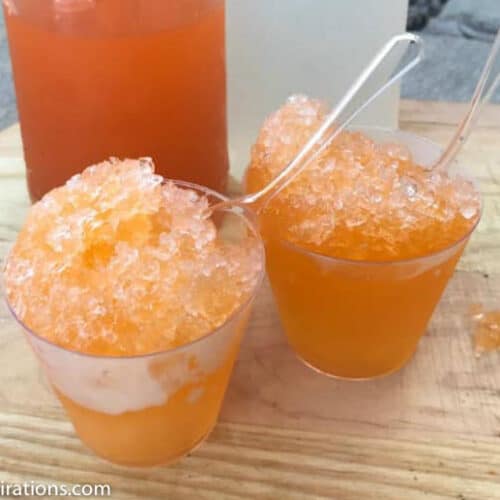 Sugar Free Snow Cone Syrup Recipe
This Homemade Snow Cone Syrup Recipe is easy on the waistline and low in calories, which is just what we need! Even your non-Keto friends will enjoy this.
Instructions
Add 1 teaspoon of xanthan gum to 1/4 cup of water. Blend these ingredients on high speed until it has fully combined. This is what creates the thickness in the syrup. You can see what it looks like in the video I've attached. It's very important you do this step first. The xanthan gum must dissolve in the water to create the thick syrup before you add the remaining ingredients.

Next, add the remaining ingredients to the blender (1 3/4 cups water, swerve sweetener, and Lorann Flavor oils)

Blend all the ingredients on high for a few minutes until they all combine fully. It's good to note that the combination of these ingredients will create a super white foam like mixture. It will become clear as the ingredients settle.

You can add a bit more of the Lorann flavor oils if you prefer. I find some of them to be really powerful and some to be less powerful than others. Be sure to take a little taste of your syrup to determine if you need to add a few more drops to adjust it to your liking.

Normally the snow cone syrups I make have no food coloring in them. I prefer not to add extra coloring if I don't have to. I did add an orange food coloring just for the visual effect to show you that you can add it if you want to but you don't have to. As you can see in the photos, I have one clear and one orange color.

This snow cone syrup recipe doesn't require any heating of liquids at all. They do require you keep them refrigerated to preserve them. I have had it in my refrigerator for two weeks and it still tastes amazing!
Notes
This recipe makes about 10 servings! It might be a bit different to you depending on how much syrup you prefer to add and how big you make your snow cones. The beauty of this recipe is that it only takes a few minutes to make a new batch with no wait time what so ever.
Nutrition
Serving:
1
serving
|
Carbohydrates:
0.4
g
Nutrition facts are provided as a courtesy. Have a question about our calculations or why you got a different result? Please read our
nutrition policy.
More Keto/Low Carb Ice Cream Recipes to Try