Easy Low Carb Stuffed Bell Peppers with Ground Beef
We just made the best low carb stuffed bell peppers with ground beef and riced cauliflower. To be honest, you wouldn't even know the difference between this recipe and the regular carb loaded bell peppers recipes.
This easy recipe is loaded with flavor that everyone enjoys!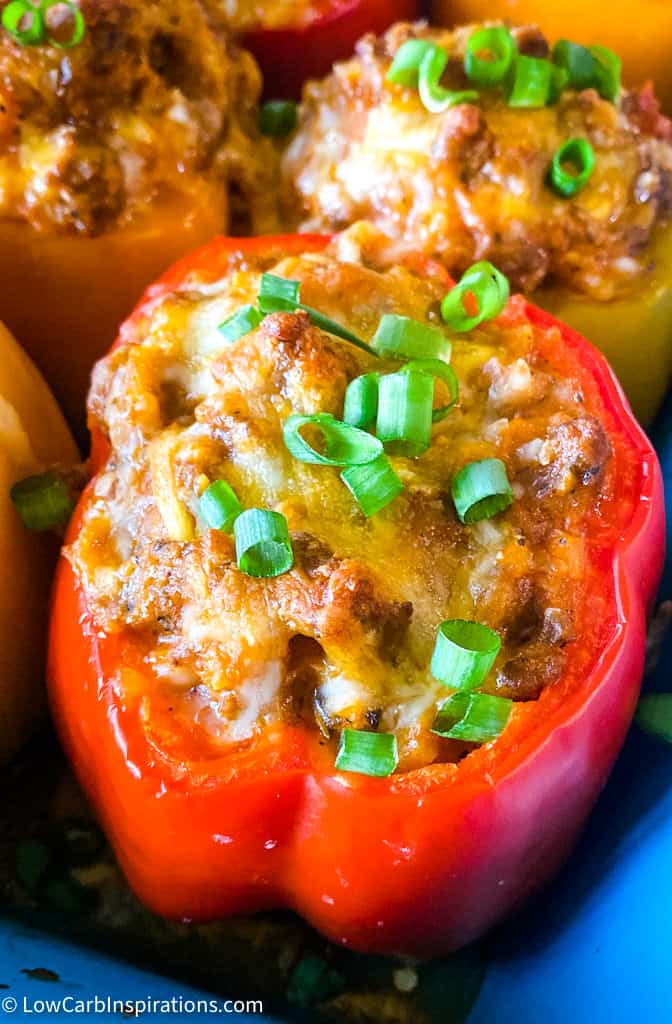 This stuffed bell peppers is not like any other recipe. This recipe uses ground beef and ground pork for added flavor.
We also add riced cauliflower in place of regular rice to save on the carbs. You wouldn't even know the difference because the texture is the same and the seasonings are on point!
This recipe easy but it does require a little bit of prep. You need to make sure the meats are defrosted. The cauliflower also requires preparation but there is an easier way. You can purchase the frozen riced cauliflower and just microwave it before you use it. That saves on prep time too.

Why We Love this bell peppers recipe (and you will too!)
The whole family loves it!
Easy to make a big dish!
Healthy and delicious!
Makes great leftovers for lunch the next day too!
Frequently Asked Questions
How do you make the bell peppers stand up straight in the pan?
We cut a small sliver off the bottom of each bell pepper so it sits perfectly in the pan and holds the stuffed filling!
We don't waste those trimmings though… we dice them and add them to the stuffing mix before baking it.
Is there a difference in the color of the bell peppers when you taste them?
Actually, yes! The green bell peppers tend to have a bitter tastes to them.
The yellow and orange bell peppers have a mild taste and slightly citrusy.
The red bell peppers are somewhat sweet! I really like the red ones!
Can you tell it's made with cauliflower?
No! Cauliflower tends to take on the flavors of the seasonings and this recipe has the perfect amount of seasonings.
Are the bell peppers crunchy or soft?
The bell peppers have a slight crunch with softness when you bite into them. If you want them softer, you can cook them longer.
What do you do with the tops of the bell peppers?
We dice them up and add them to the filling before cooking it.
You can also add them as tops before cooking them too. Just remove the stem before consuming them.
They are yummy both ways!
Quick Recipe Overview
Why this is the best Low Carb Stuffed Bell Peppers recipe ever: it's easy to make and packed with tons of flavor.
Number of servings: Serves 6 to 8! You can make as many or as little as you want.
How Long It Takes: about 45 minutes from start to finish!
Equipment You'll Need: baking dish and frying pan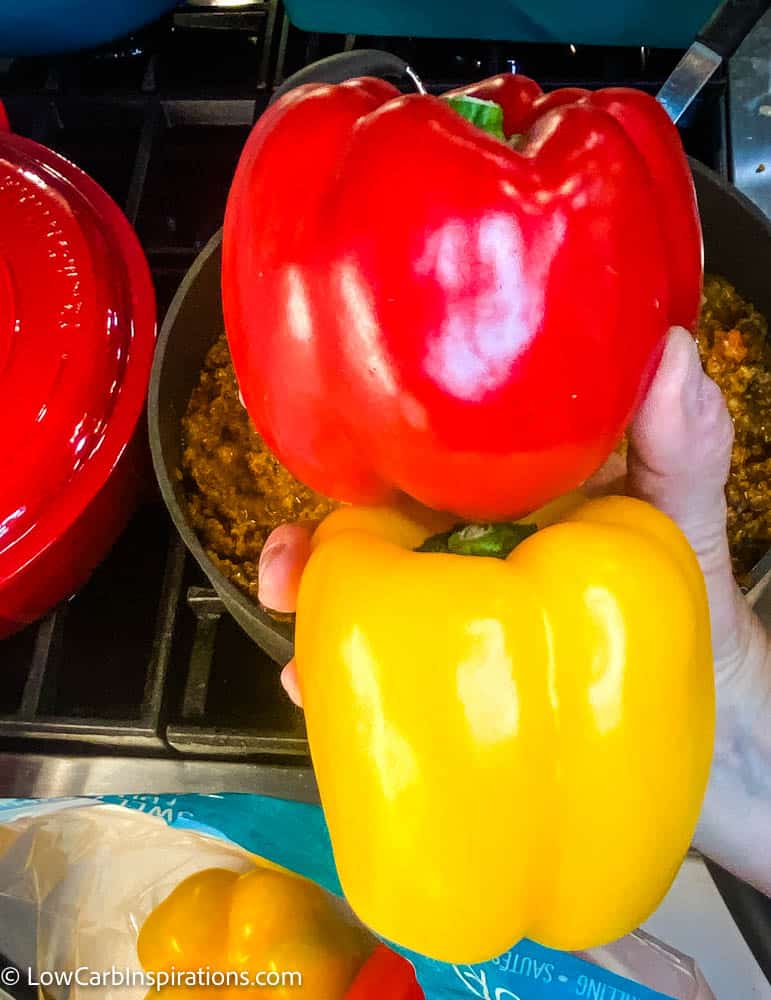 Ingredients You'll Need
6 Medium bell peppers, any color
1 medium onion, diced
1 lb ground beef
1 lb ground sausage
1 tbs garlic, minced
2 tsp Italian seasoning
1 tsp salt
1 tsp pepper
1 tbs Sriracha sauce
2 cups (or 10 oz frozen bag) precooked cauliflower rice
1 cup marinara sauce (sugar free)
1/2 cup cheese, shredded + plus more for final topping
Optional topping: Chives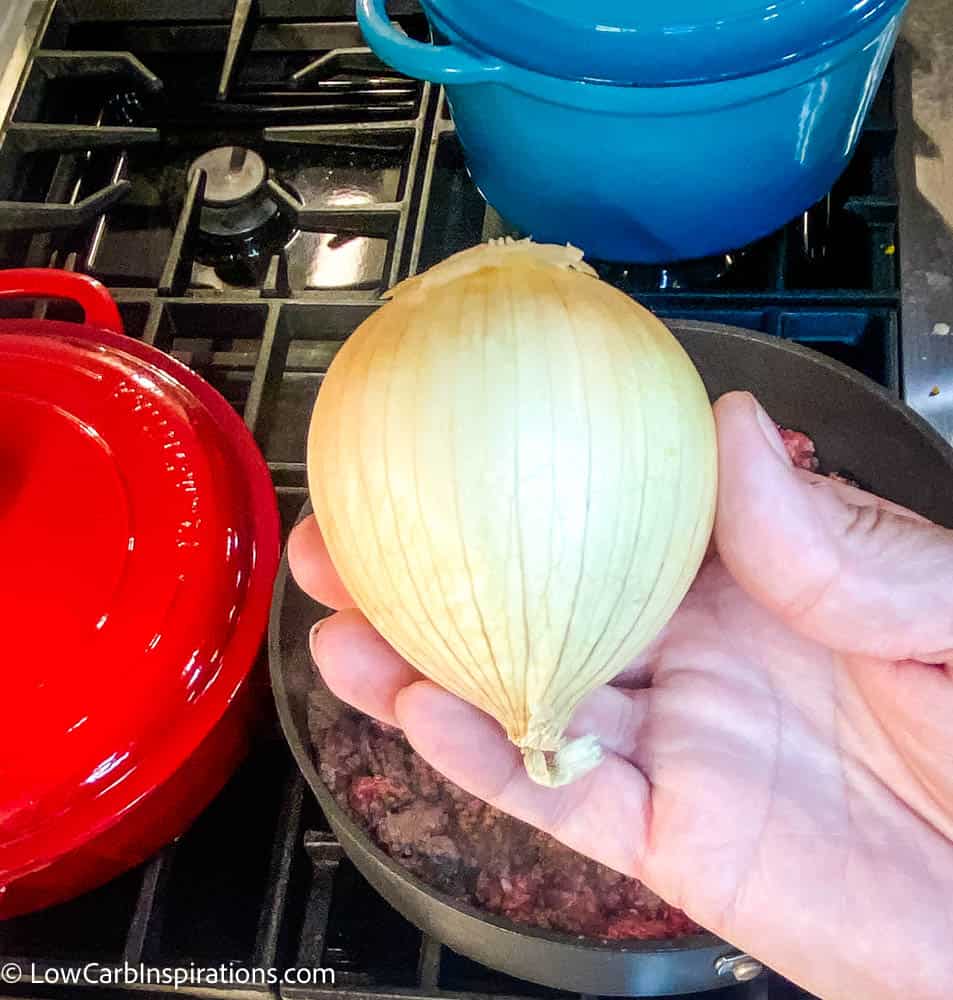 How to Make/Prepare these low carb stuffed bell peppers:
Step 1 – Prepare the vegetables and brown the ground beef and pork.
Defrost the ground beef and ground pork the morning of making this recipe. Gather all the ingredients needed to make this recipe before you start.
Dice the onion and set aside.
Cut the tops off of each bell pepper and set aside. Place the bell peppers in a deep baking dish. If they don't sit level in the baking dish, slightly cut off a small portion of the bottom without making a whole in the bell pepper.
When you are ready to start preparing your meal, brown the ground beef and pork together like this: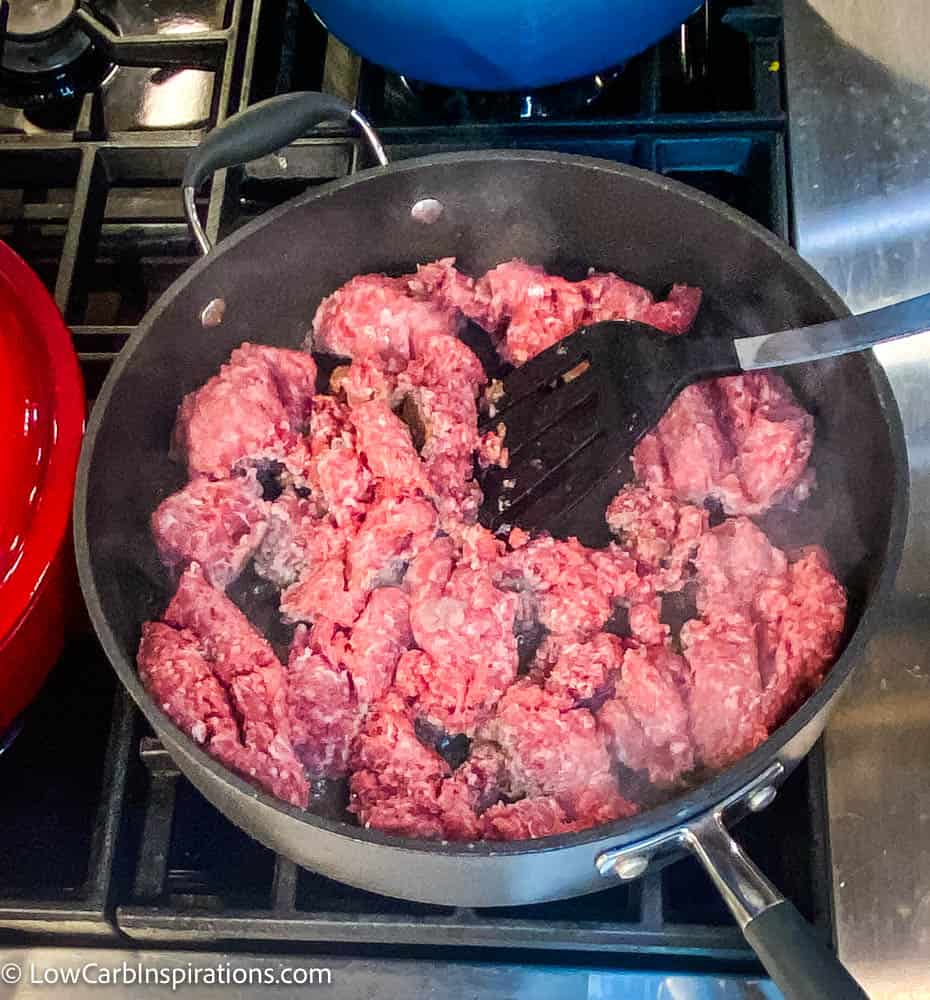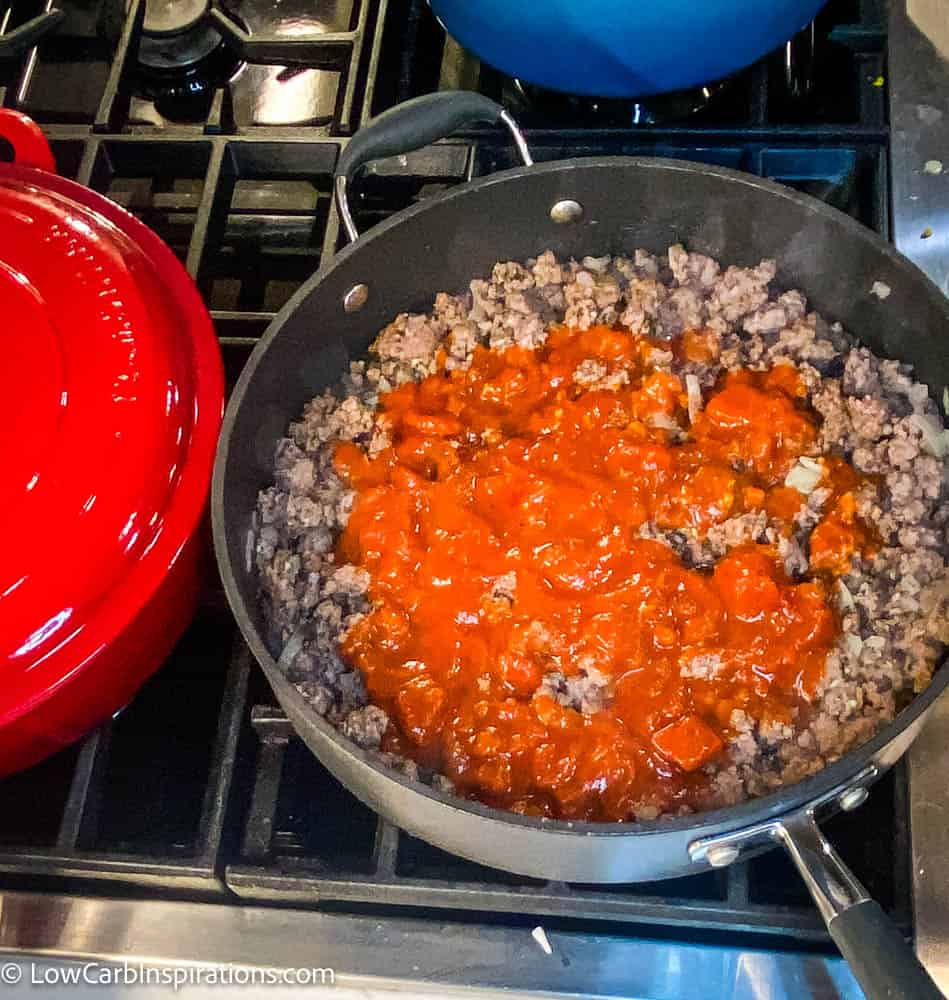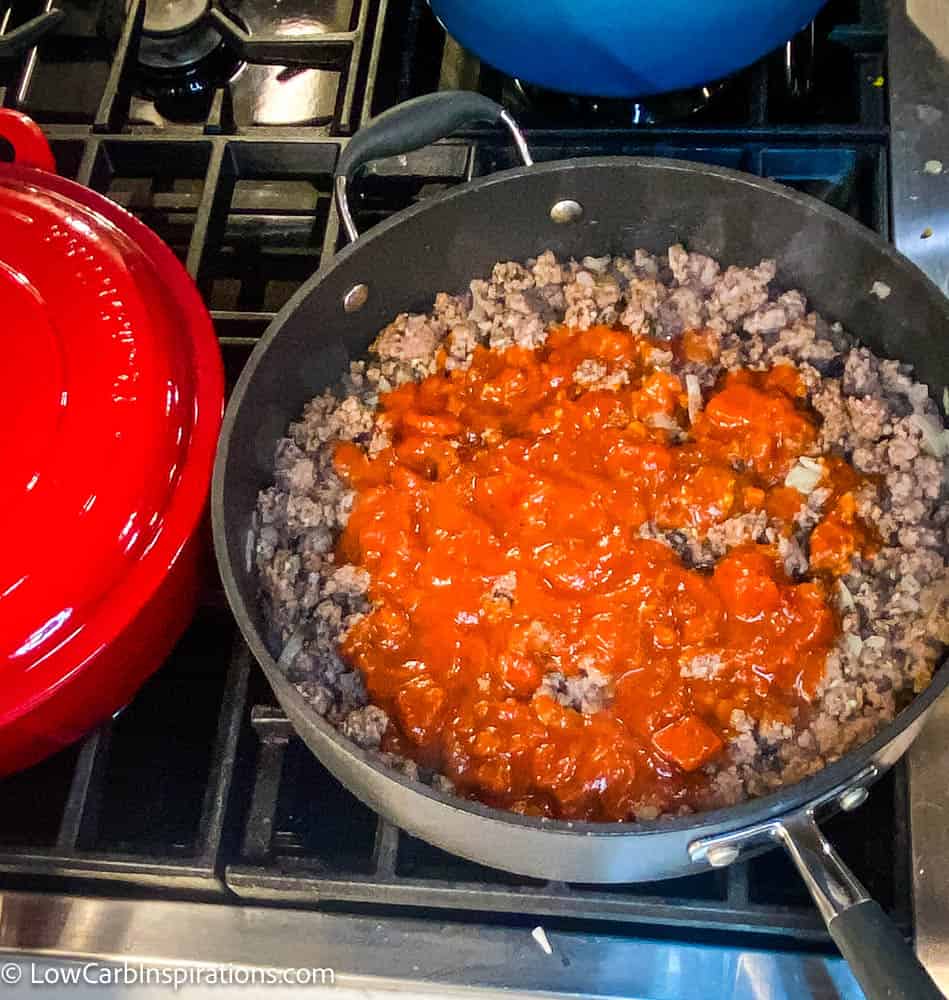 You will microwave the frozen riced cauliflower and add it right after adding the sauce mixture. The riced cauliflower is optional but so worth adding it!
Now it's time to stuff the bell peppers.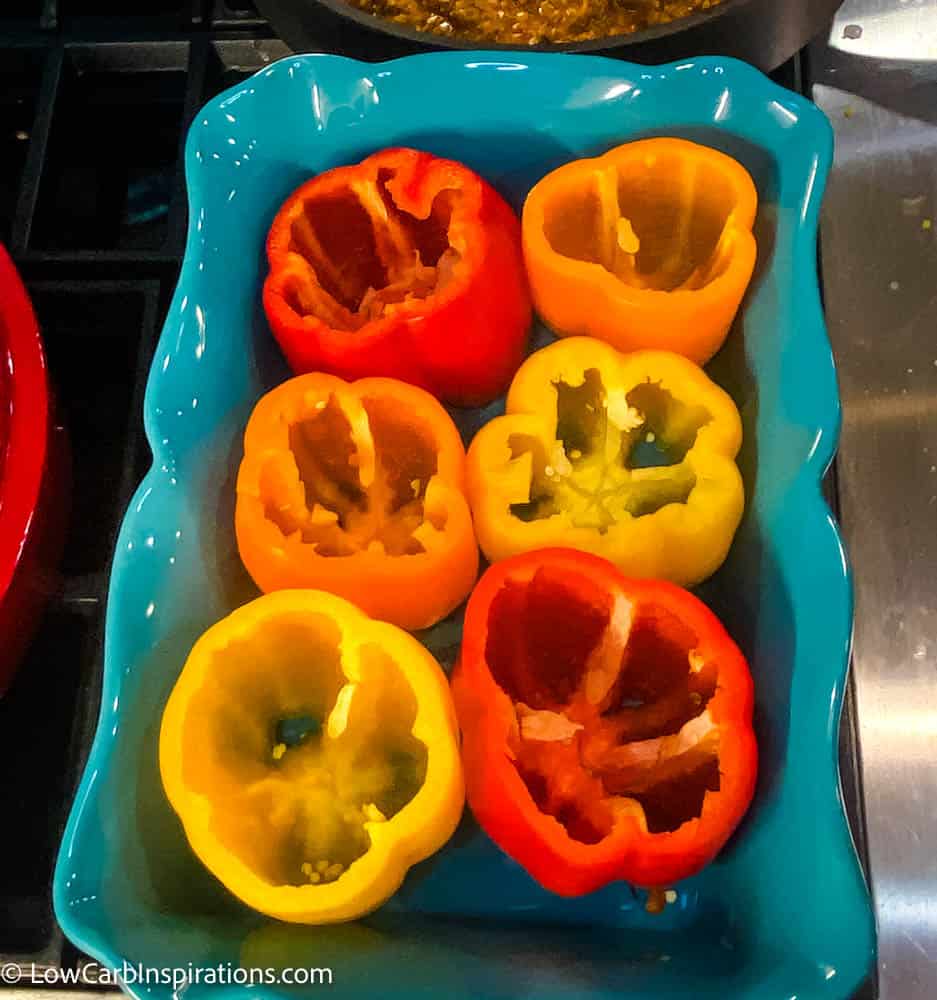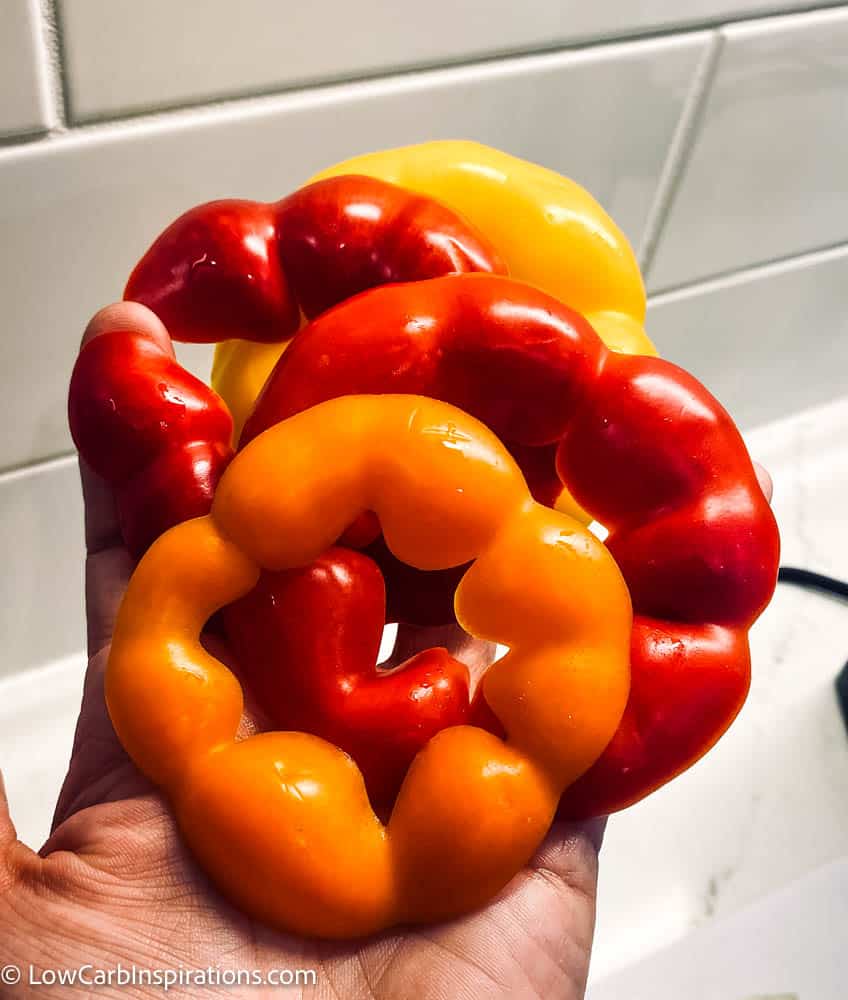 Step 2 – Assemble the bell peppers
Combine all the ingredients except the 1/2 cup of the shredded cheese to reserve for the topping.
Stuff them completely to the top and then top with the remaining shredded cheese.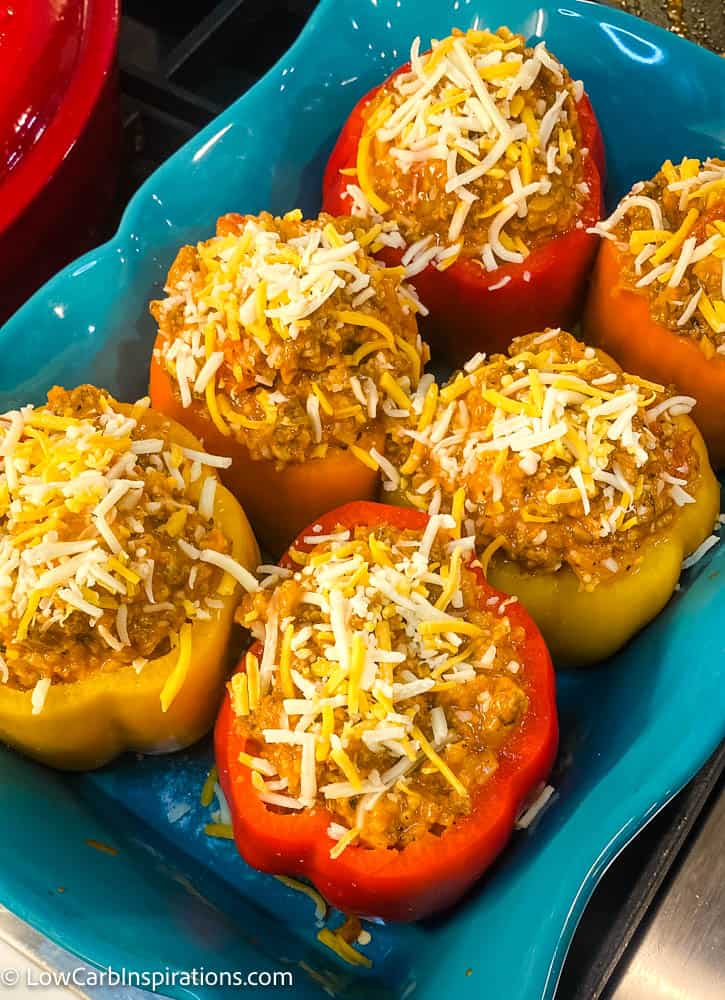 Now it's time to bake them. Put them in the oven uncovered.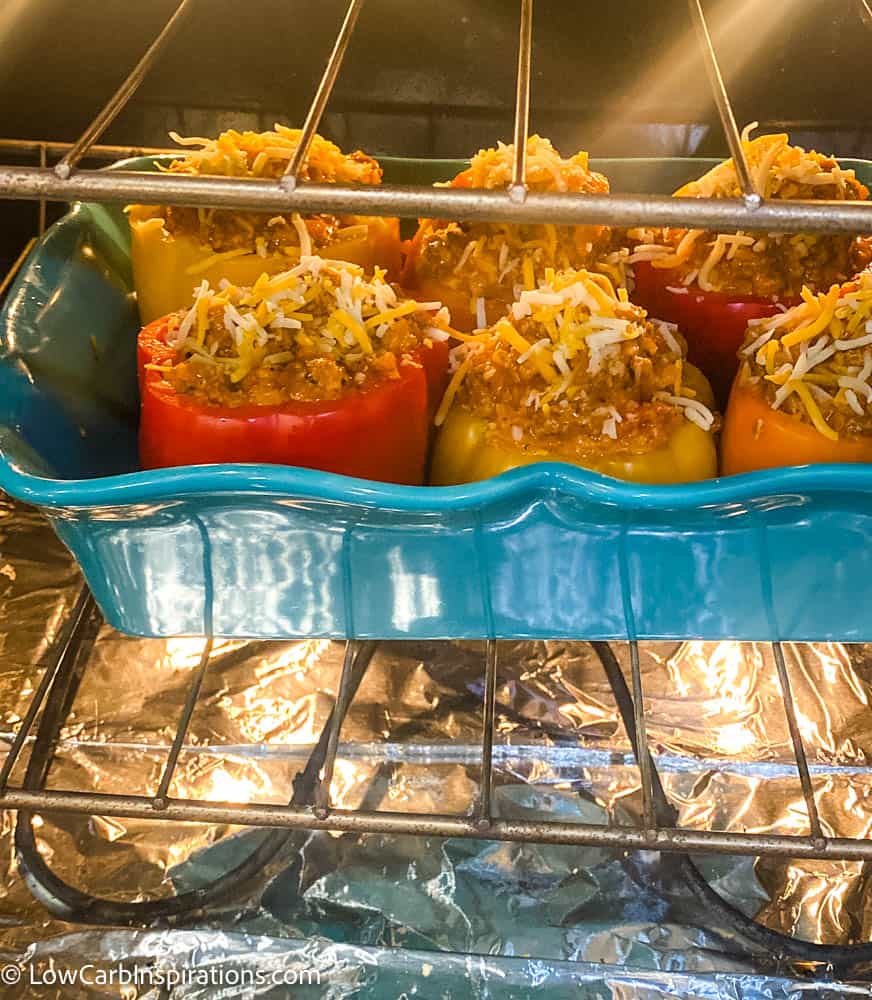 They come out perfect every single time!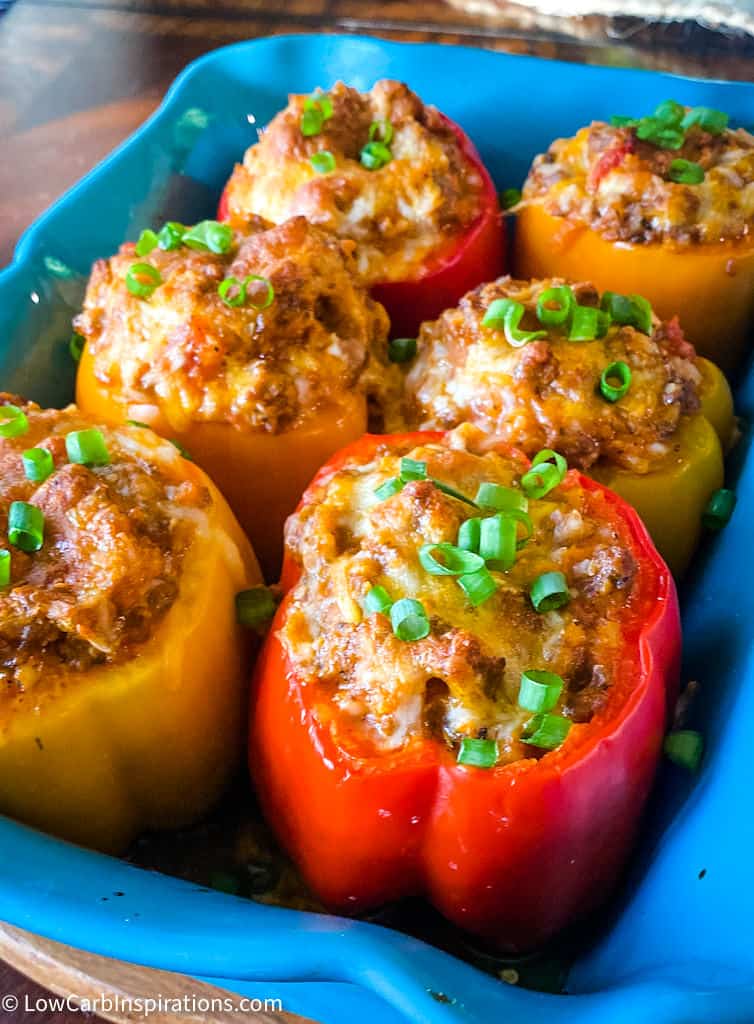 Bake them and then add diced chives right before serving.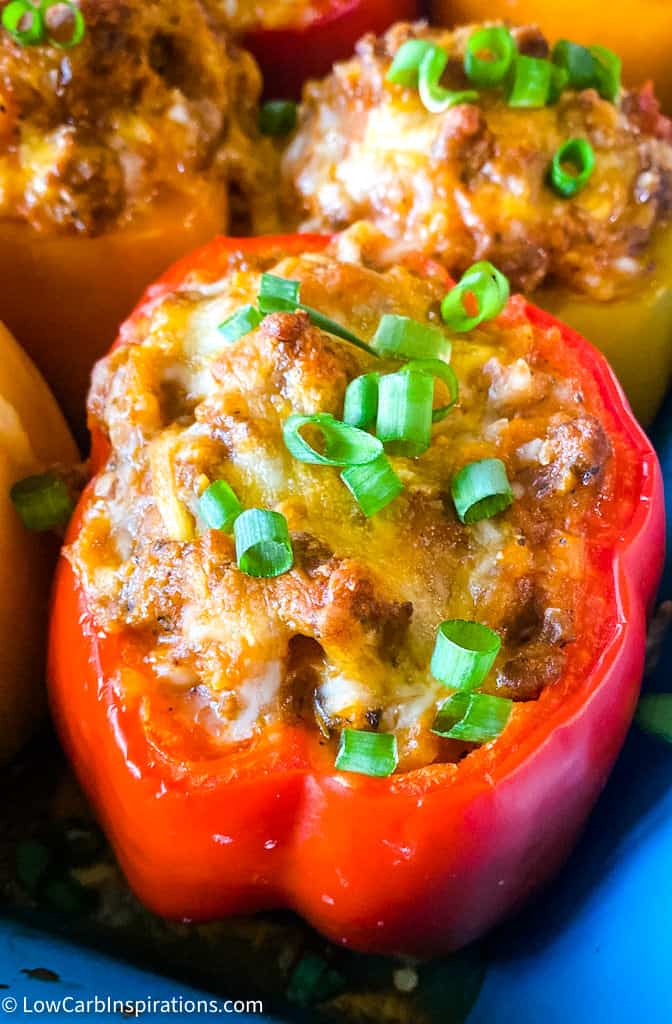 Step 3 – Serve warm and enjoy!
Use extra as leftovers as needed too.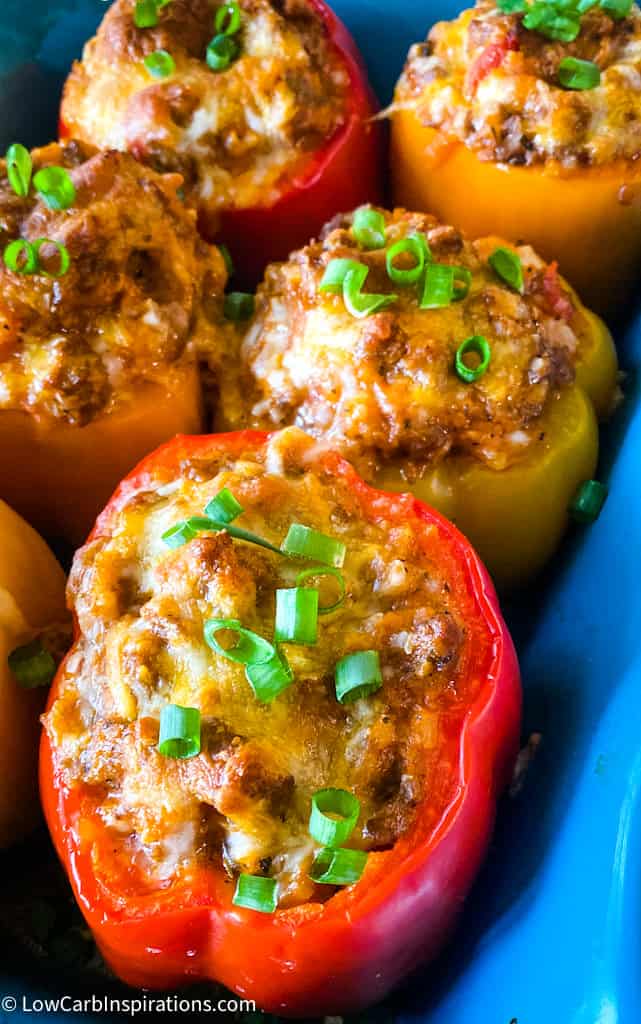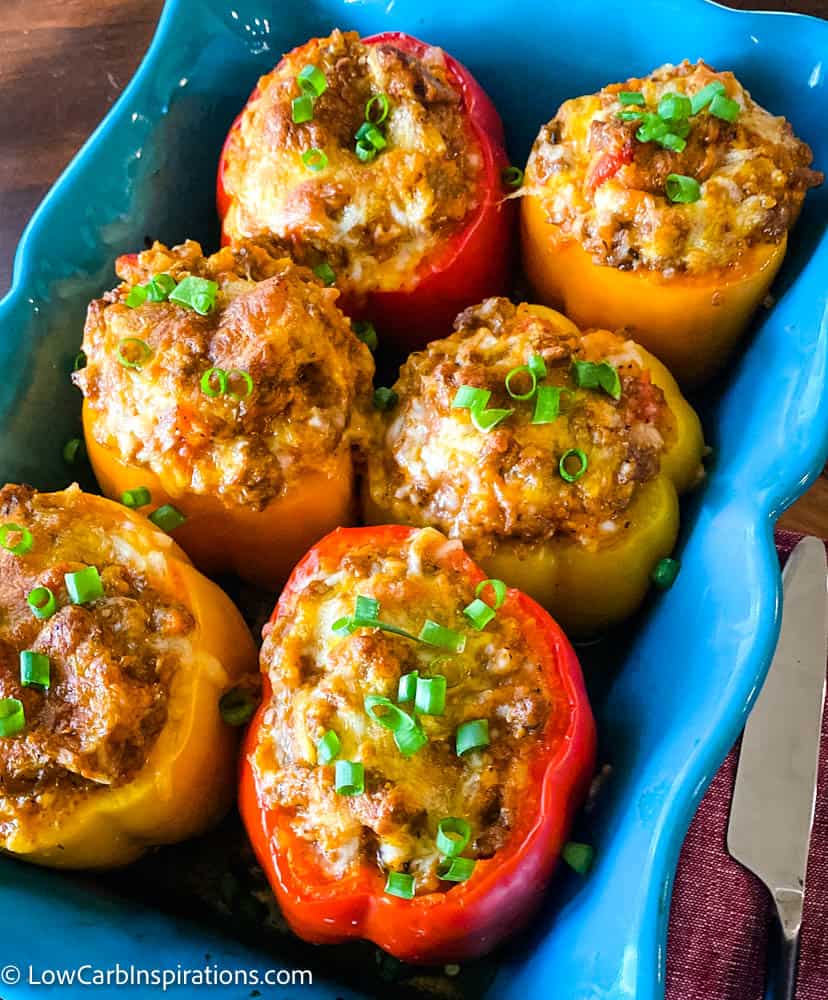 Stuffed Bell Peppers Nutrition
Serving: 1serving | Calories: 394 | Carbohydrates: 9g | Protein: 22g | Fat: 30g | Fiber: 3g | Sugar: 4g | Net Carbs: 6g
New to Keto? Check out the Keto Starter Guide!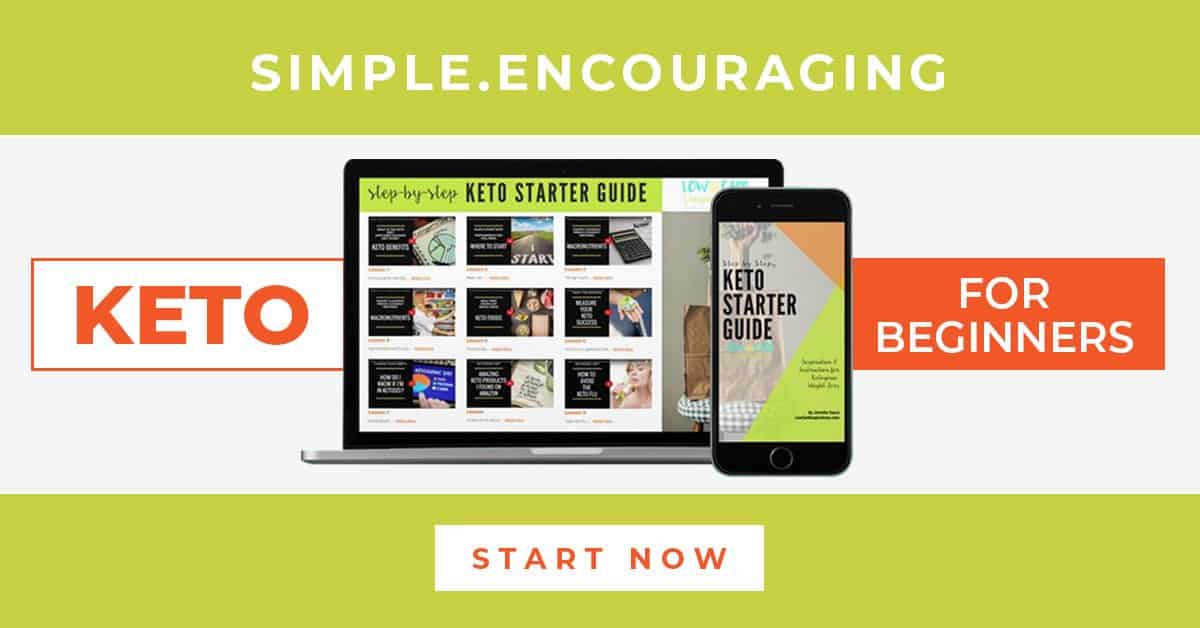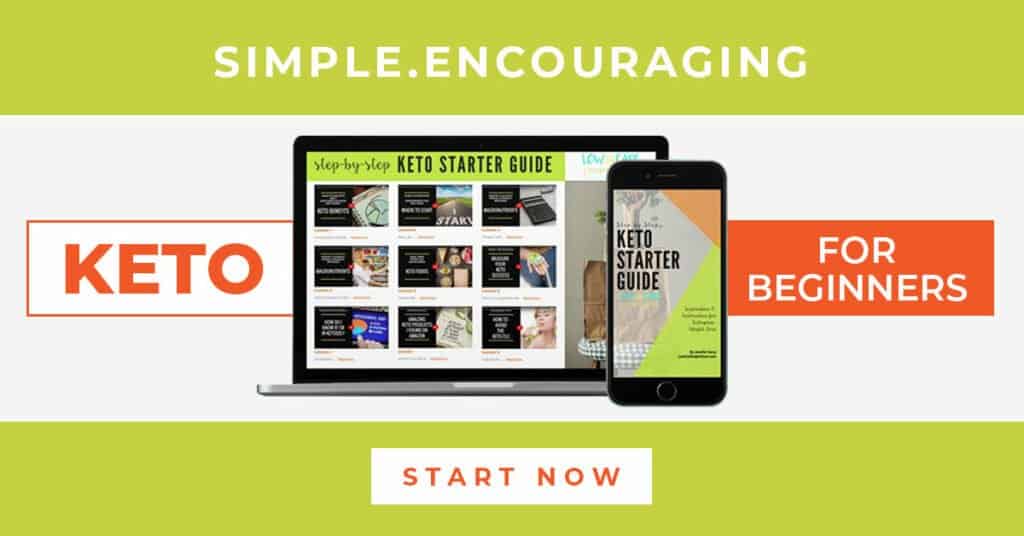 The Keto Starter Guide is an amazing resource as you get started on your keto/low carb journey. This guide has everything you need to get started in 9 simple video lessons and also includes workbooks with step by step instructions for beginners.
What's a macro and why do I count them?
How do I find the best recipes?
What is ketosis and how do I get my body there?
What fruits are allowed on a ketogenic diet?
Will I get "Keto Flu" and what do I do about it?
Get the Keto Starter Guide today!
Don't forget to pin this amazing low carb dinner meal recipe for later!
Love this low carb recipe? Make sure you leave a 5-star rating and a review below! I can't wait to hear how much you loved it!

Also – if you loved this easy recipe, be sure to try our amazing Spinach and Ricotta stuffed peppers below! If you have any questions, I'm here to help!

Keto Spinach and Ricotta Stuffed Peppers Recipe
Here's a printable version of this KEYWORD: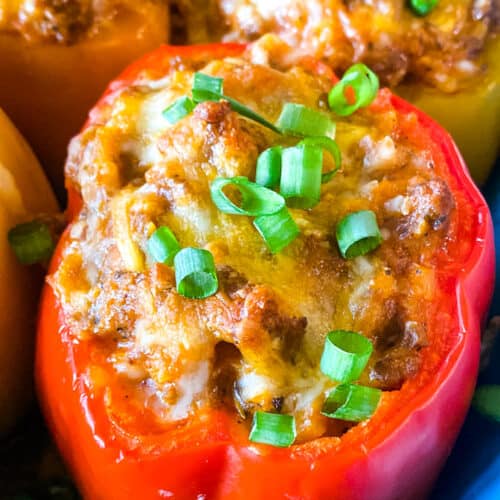 Low carb stuffed peppers without rice
Easy dinner idea that everyone loves!!
Ingredients
6

Medium bell peppers

1

medium onion

diced

1

lb

ground beef

1

lb

ground sausage

1

tbs

garlic

minced

2

tsp

Italian seasoning

1

tsp

salt

1

tsp

pepper

1

tbs

Sriracha sauce

2

cups

precooked cauliflower rice

1

cup

marinara sauce

sugar free

1/2

cup

cheese

shredded + plus more for final topping

Optional topping: Chives
Instructions
Preheat oven to 350 degrees

In a medium to large size frying pan, brown beef and pork. Drain excess fat.

Dice onions and add them to the ground beef mixture. Cook until translucent.

Add the garlic, salt, pepper,

Italian seasoning

, Sriracha sauce and mix until fully combined.

Add the precooked cauliflower rice,

marinara sauce

and 1/2 cup shredded cheese.

Once the mixture is done, set aside and then start to prepare your bell peppers.

Slice the top off the bell peppers.

If the bell pepper doesn't sit in the pan level, slightly trim the very bottom of each bell pepper so it sits level in the pan. This will keep the stuffing in the bell pepper without it falling over.

Scoop out the center membrane of each bell pepper and discard it.

Place each bell pepper open side facing up in a deep dish baking pan.

Stuff each bell pepper with the stuffing mixture until it's completely full.

Top with a small amount of shredded cheese.

Bake at 350 degrees for 30 minutes or until the bell peppers are tender.

This will depend on the size of the bell peppers if you need to cook them longer for tenderness.
Notes
Makes 6 to 8 servings depending on bell pepper size
ONLY 6 net carbs per serving!
Nutrition
Serving:
1
serving
|
Calories:
394
|
Carbohydrates:
9
g
|
Protein:
22
g
|
Fat:
30
g
|
Fiber:
3
g
|
Sugar:
4
g
|
Net Carbs:
6
g
Nutrition facts are provided as a courtesy. Have a question about our calculations or why you got a different result? Please read our
nutrition policy.