Keto Cornucopia Bread Recipe
I just made a super fun Keto Cornucopia Bread Recipe that is perfect for the holidays. I was testing this keto bread recipe so that I could use it in an easy charcuterie board I plan to display at a holiday party. I wanted a beautiful and keto friendly bread as the centerpiece and it worked! It freakin' worked! I'm so excited to share this creation with you. Following a keto lifestyle doesn't have to be boring. This recipe is proof!
What is the meaning of a cornucopia? A cornucopia is a representation of a goat's horn overflowing with fruit, flowers, and grain, signifying prosperity. I will take the prosperity part and maybe a little bit of keto friendly fruit options and make it keto approved! We added rosemary stems but you can add flowers or fruit as you wish. I really enjoyed the rosemary stems because I have a rosemary bush planted in my front yard. It smells absolutely amazing too. so fragrant!
Now, let me start off by telling you that this is not your normal Keto FatHead Dough recipe like we've made before. It tastes just as good but it's made with a bit more butter, no cream cheese and a small amount of coconut flour so it will keep it's shape. The really needed it to taste good and hold up to the shape I needed to make this happen.
The first question you are probably asking is… "What did I use for a cornucopia mold?" Am I right? No extra molds to buy because I made my own! I've made so many keto bread recipes that I know which textures will hold up, which textures are fluffy, with textures are sticky, etc…. This recipe has mozzarella cheese in it so, that means that it will absolutely stick to any pan you use. It's very important to use parchment paper or silicone mats when you use any recipe that has cheese in it. If not, you will have a ruined, sticky mess.
Here's how I made the cornucopia bread mold. I used aluminum foil and parchment paper together. Nothing else. Just those two items. I took about 4 long sheets of aluminum foil (about 3 ft long) and lightly pressed each sheet into the shape of a cornucopia (aka goat horn). It was about 12 inches long and about 6 inches wide at the opening. I twisted the ends of the parchment paper so it would hold together at the ends.
The reason why I lightly shaped the aluminum foil is for two different reasons.
First, I didn't want to waste a bunch of aluminum foil. The dough is not real heavy so simple bread mold with a small amount of aluminum foil would hold the shape I needed.
Second, because when it's done cooking I need to be able to press the aluminum foil together to make it smaller than the keto cornucopia bread so it can remove easily without pulling the bread apart.
This bread is a pull apart bread recipe that can be used with any keto friendly charcuterie board. Speaking of which, do you know how to pronounce the charcuterie board?
Charcuterie!
Say it with me shär-koo͞″tə-rē′
Kinda like "cooter" at least this is the way I remember it without having to look it up each time. LOL!

Keto Cornucopia Bread Recipe Ingredients
2 cups Mozzarella cheese, shredded
4 tbs Butter
1 egg
1 3/4 cup Almond Flour
1/4 cup Coconut Flour
1 Tsp baking powder
1/2 Tsp salt
1/2 Tsp garlic powder
1/2 teaspoon onion powder
1 tbs parsley (or 1 tsp rosemary if you prefer)
1 egg (for egg wash)
You will need:
Mixing bowl (microwave friendly)
parchment paper
aluminium foil
rolling pin
pizza cutter or a knife
spatula
brush
baking sheet lined with parchment paper or a silicone mat
Keto Cornucopia Bread Recipe Instructions
The full instructions are listed below in the printable Keto Cornucopia Bread Recipe card.
Here are a few photos we took while making this Keto Cornucopia Bread Recipe!
It turned out amazing!!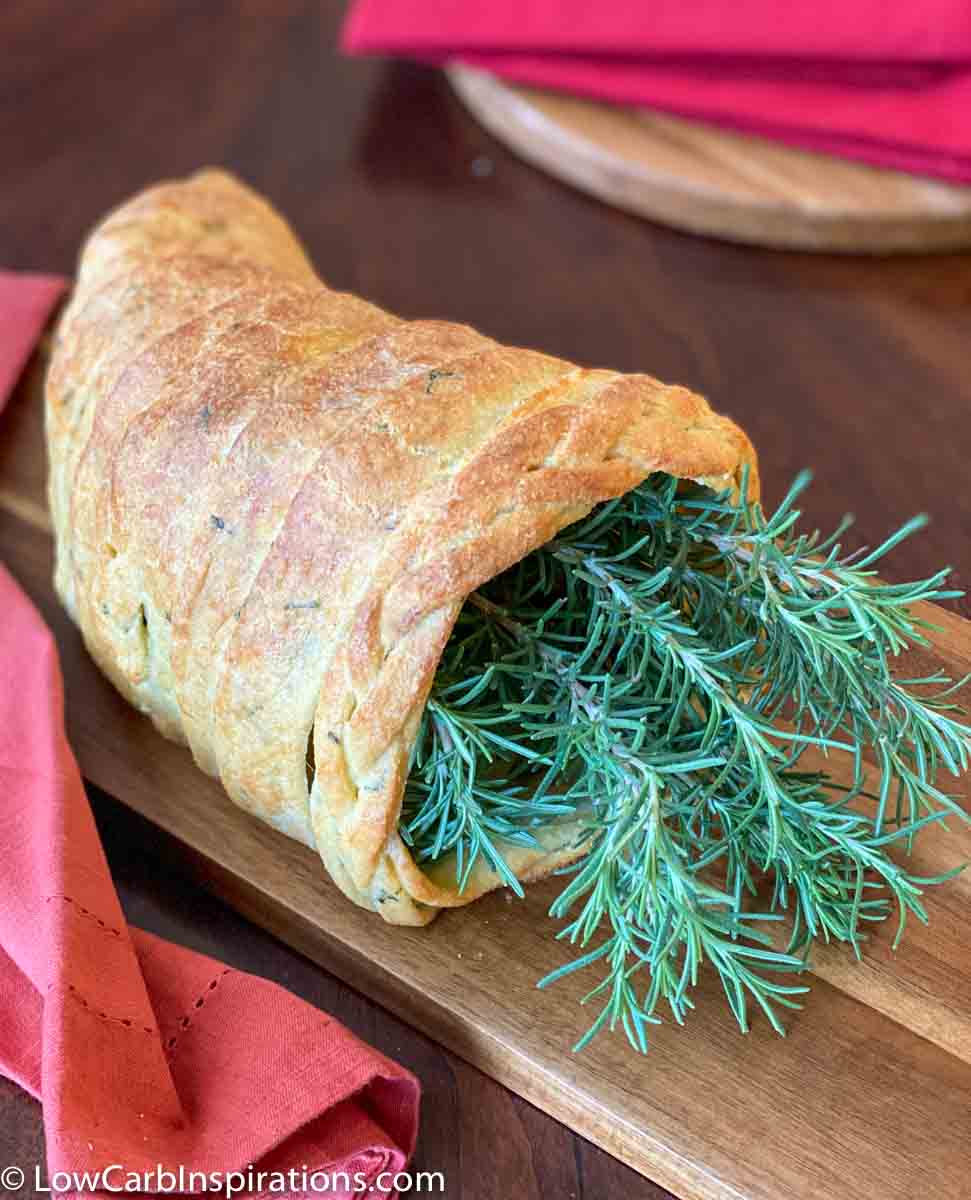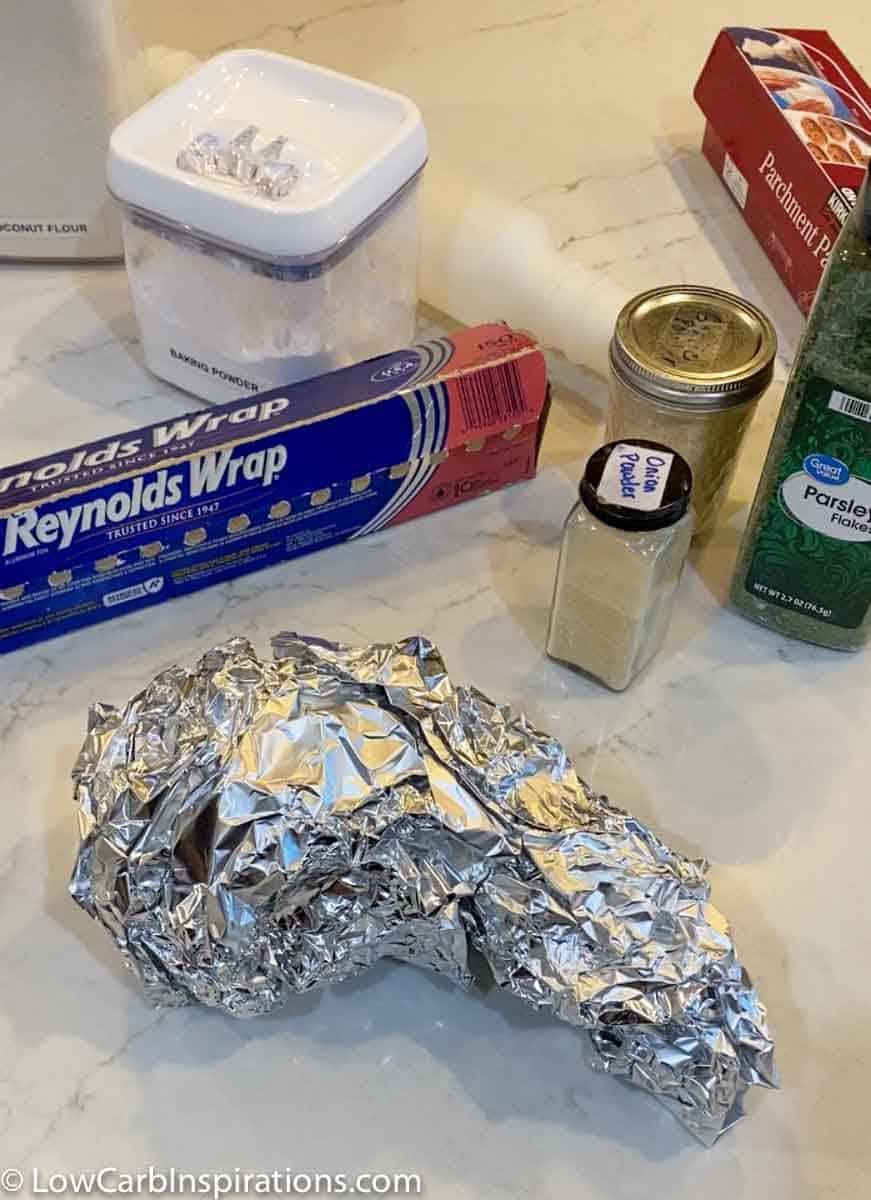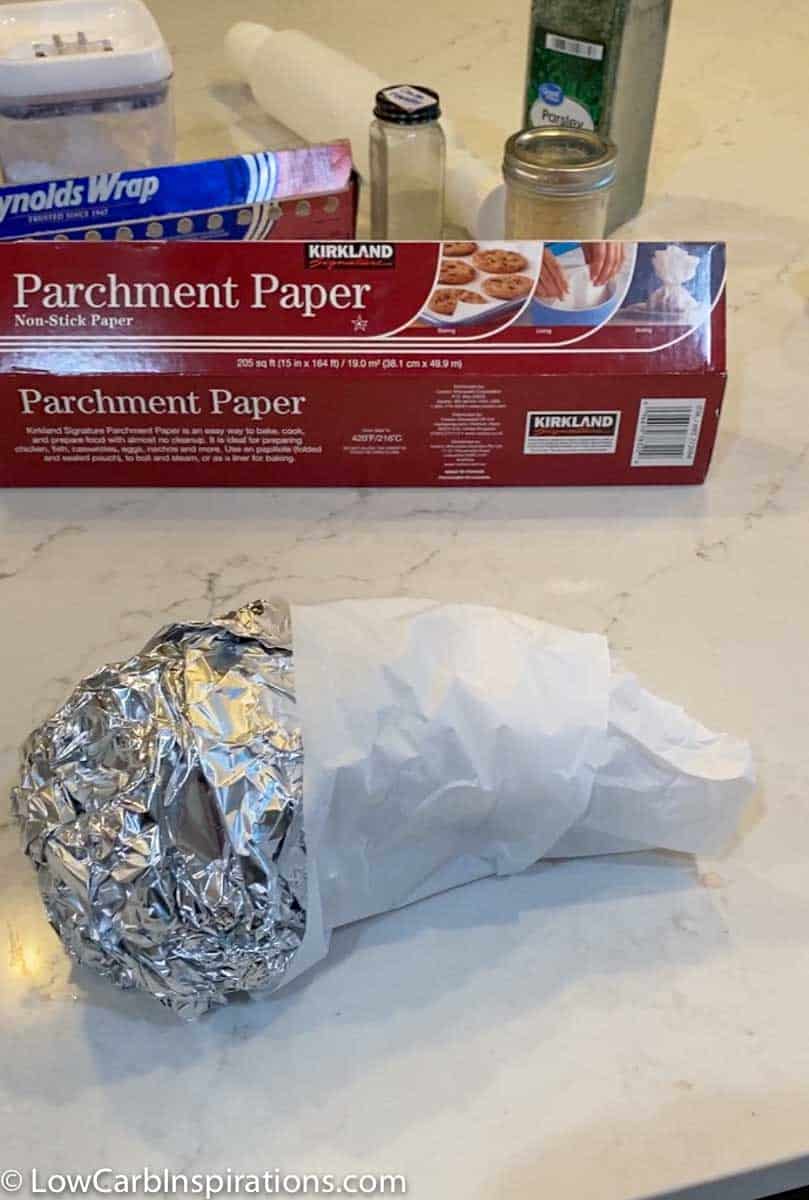 I didn't use any tape at all. I twisted the parchment paper ends to make it stay in place. Just like this: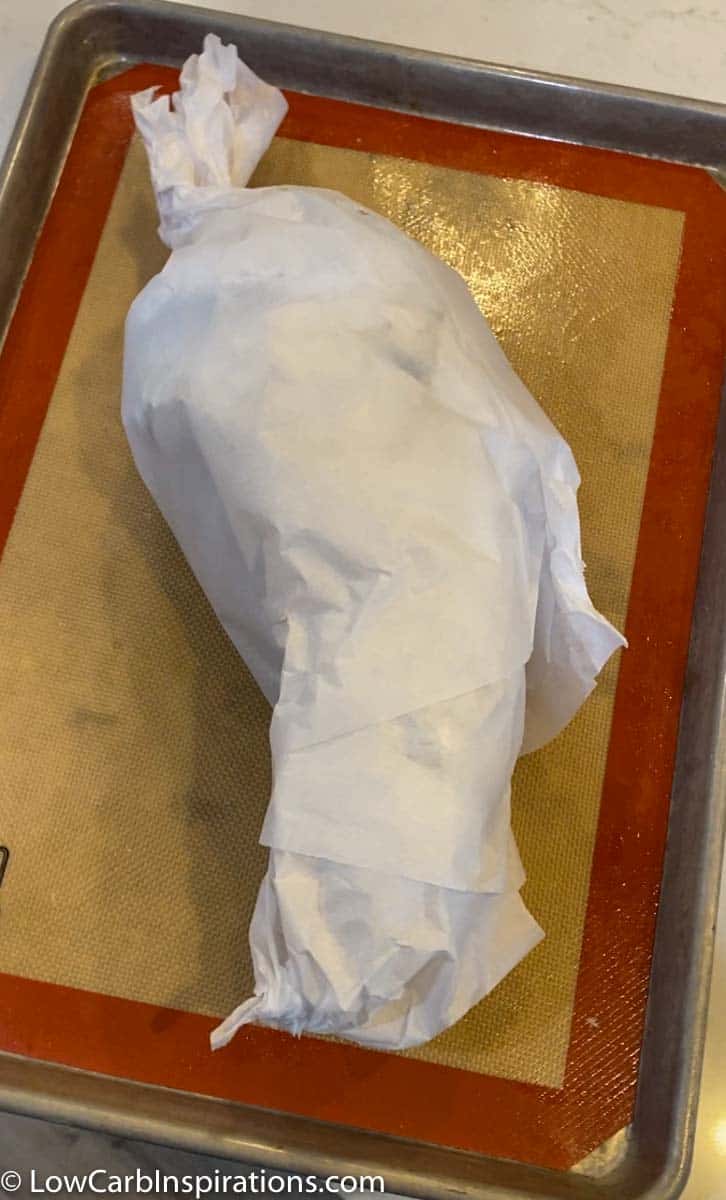 After the mold is shaped and ready, you want to start making the dough.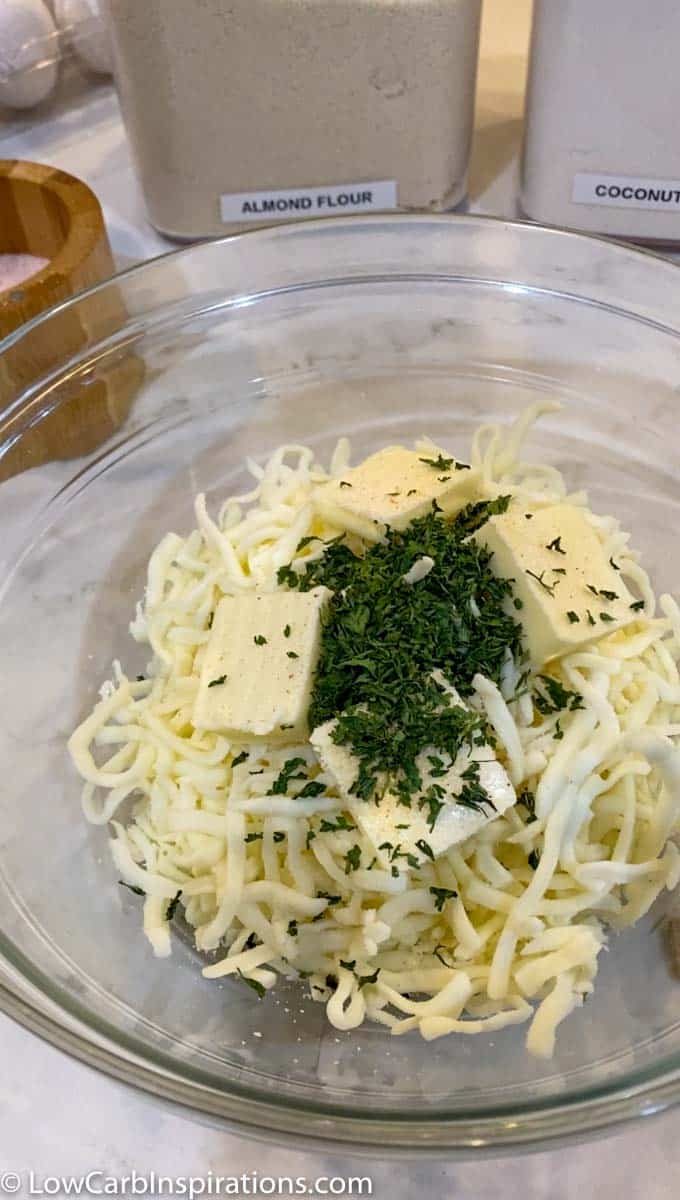 Make sure your cheese is fully melted. It might seem a bit watery but you are going to add the dry ingredients and it won't be wet like this for very long.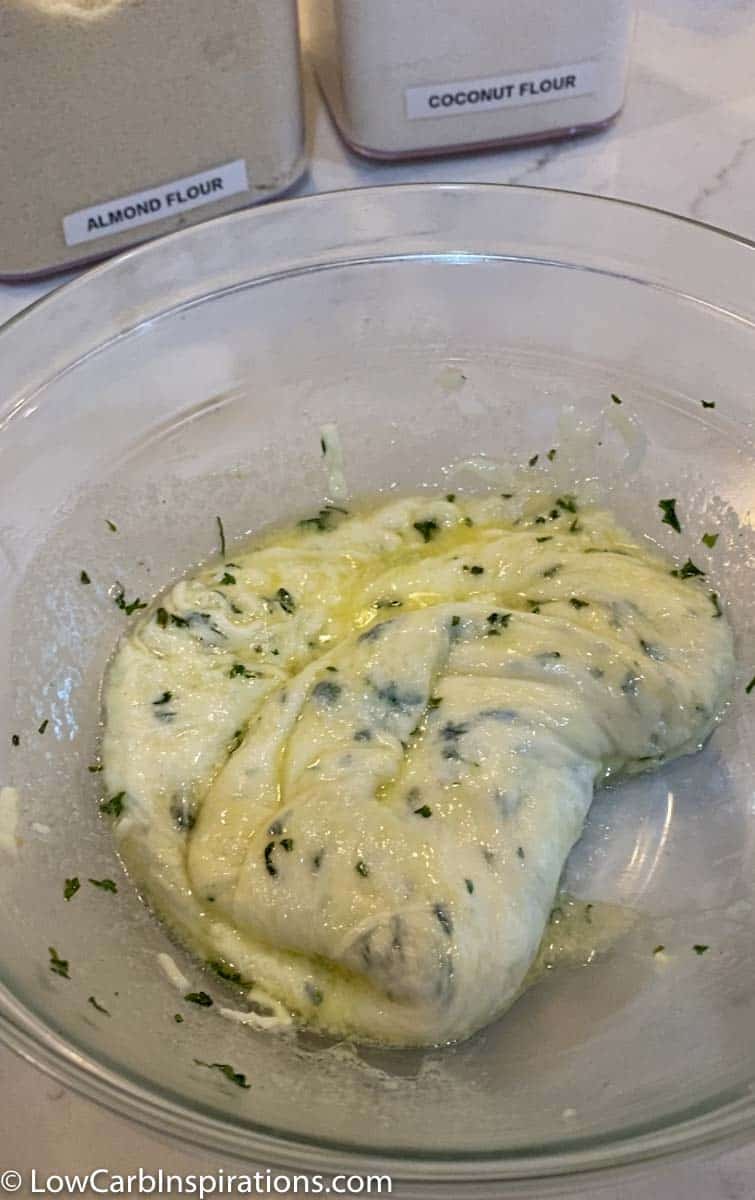 Knead the dough until all the flours absorb into the cheese, just like this! Your dough should still be warm at this point. If it's not, it will be harder to roll out really thin. You can reheat this dough for 20 to 30 seconds to get it soft if it cooled down.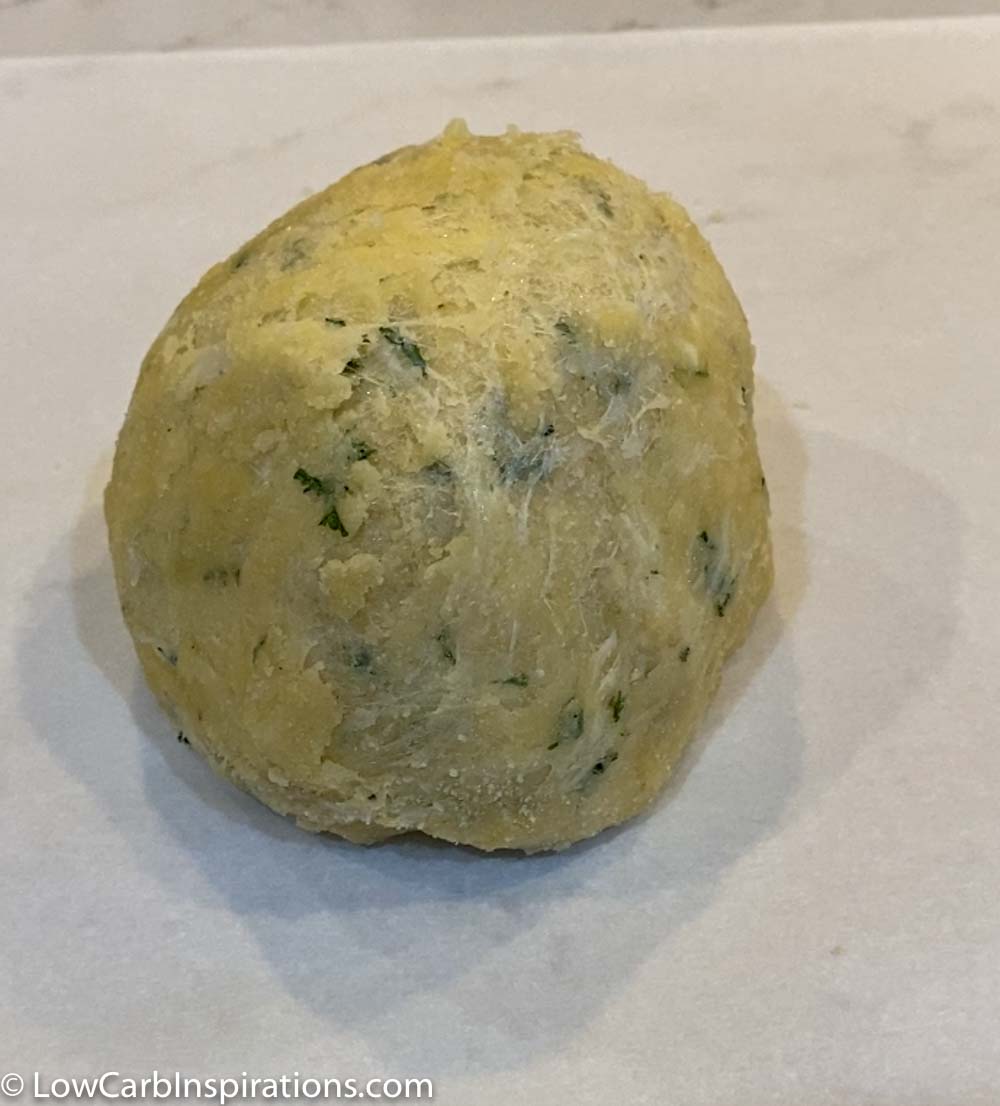 Use a pizza cutter to cute 1 inch strips in the long sheet of dough after it's rolled out. Then wrap the strips of dough around your mold.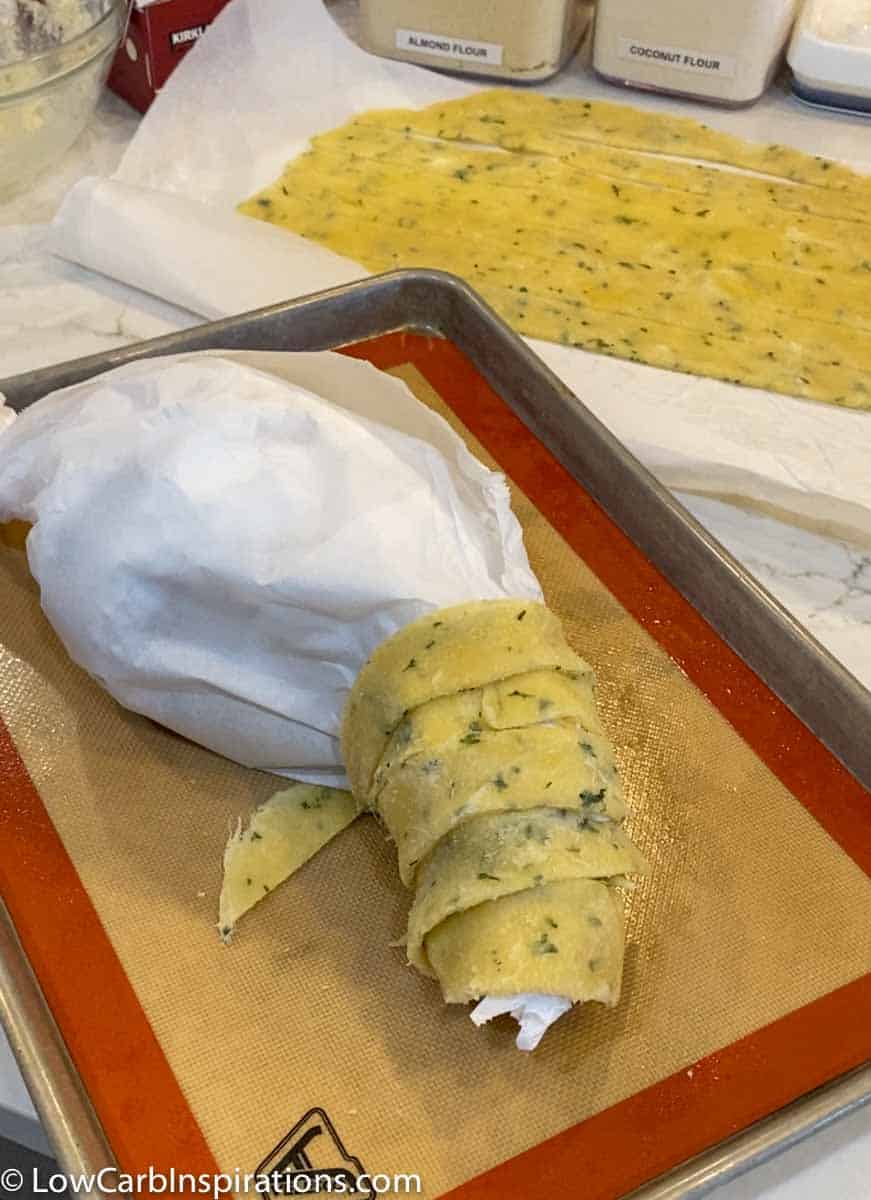 You can pinch the dough strips together when needed. It doesn't have to be perfect either. It bakes nicely and looks really pretty when it's done.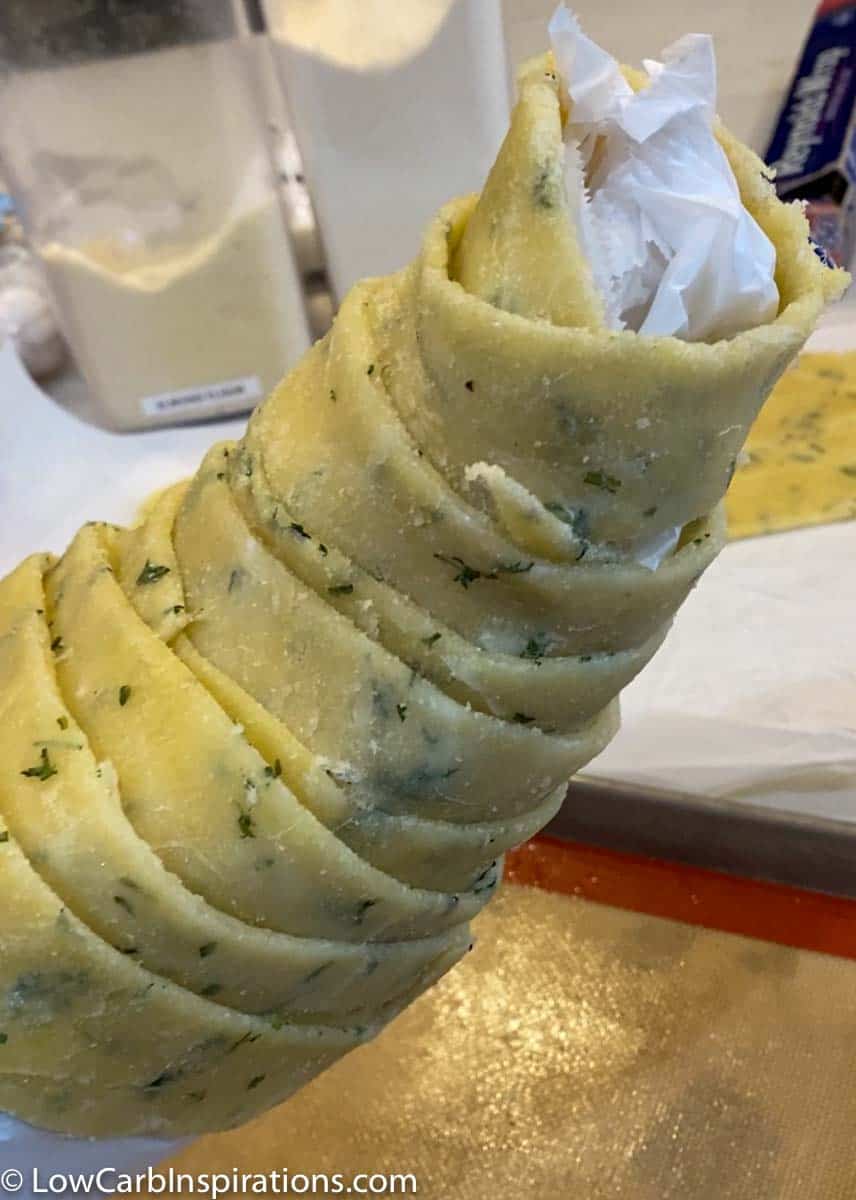 You can make it as big or as small as you want it. You can even cut this recipe into two and make two mini cornucopia's if you wanted! The last strip of dough you want to create a braid just like this.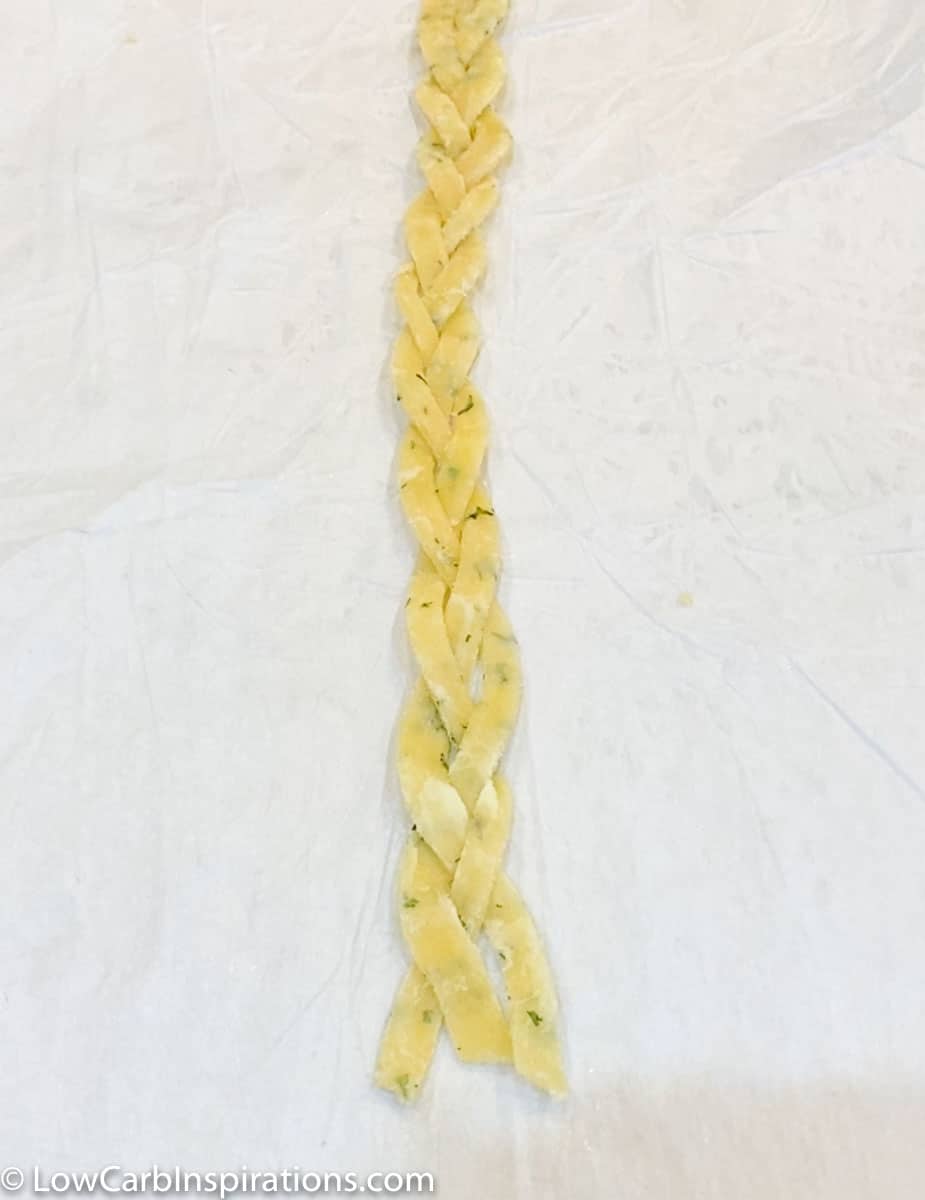 The braid adds a little extra to the edge.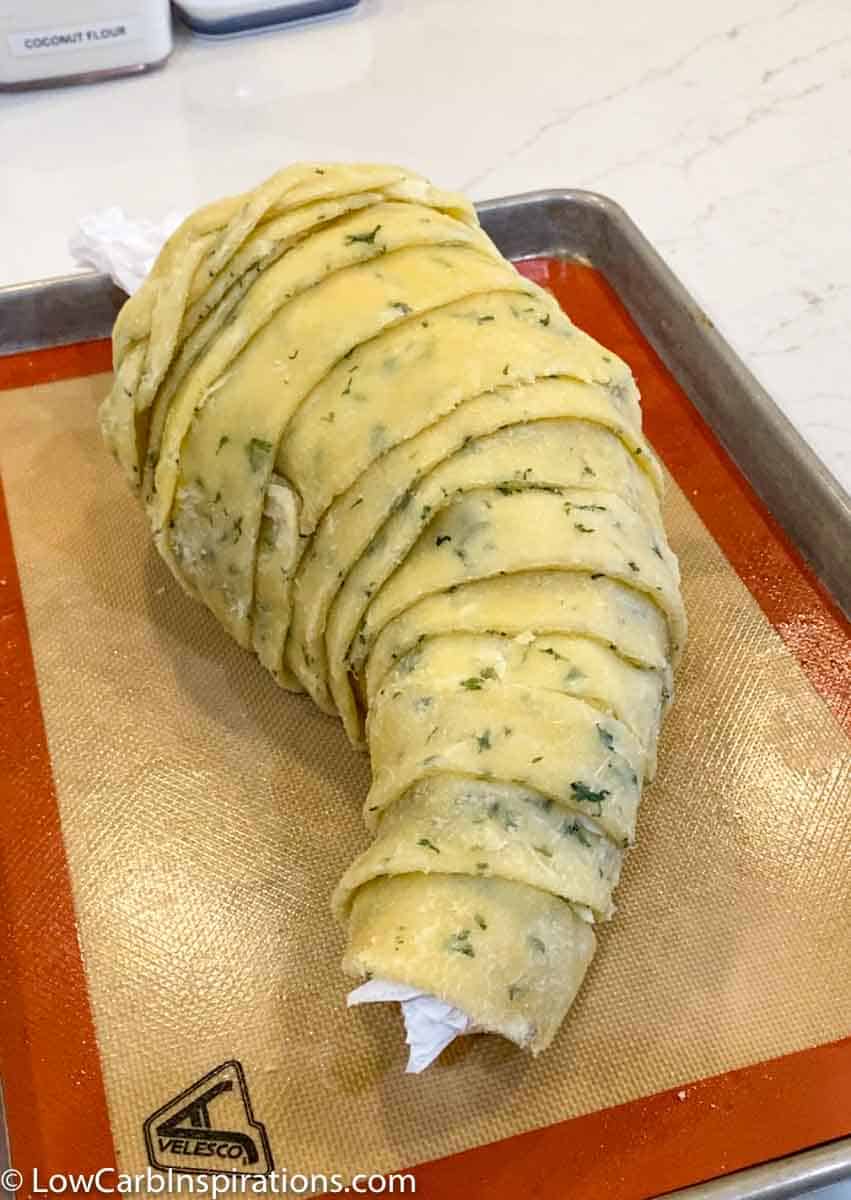 Now it's time to add the egg wash.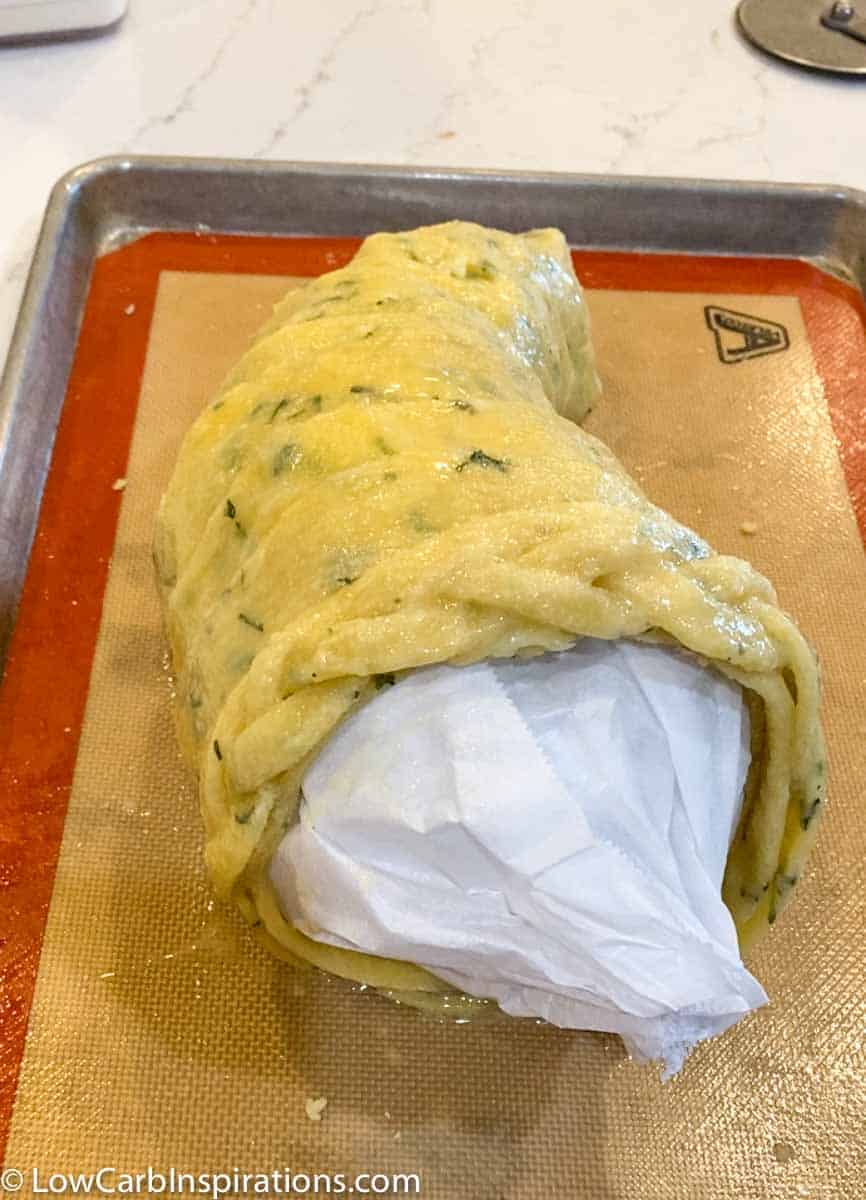 This is what it looks like when it's been cooked and cooled completely. We were able to remove the aluminum foil and parchment paper from the keto cornucopia bread without it sticking at all! The shape holds nicely too!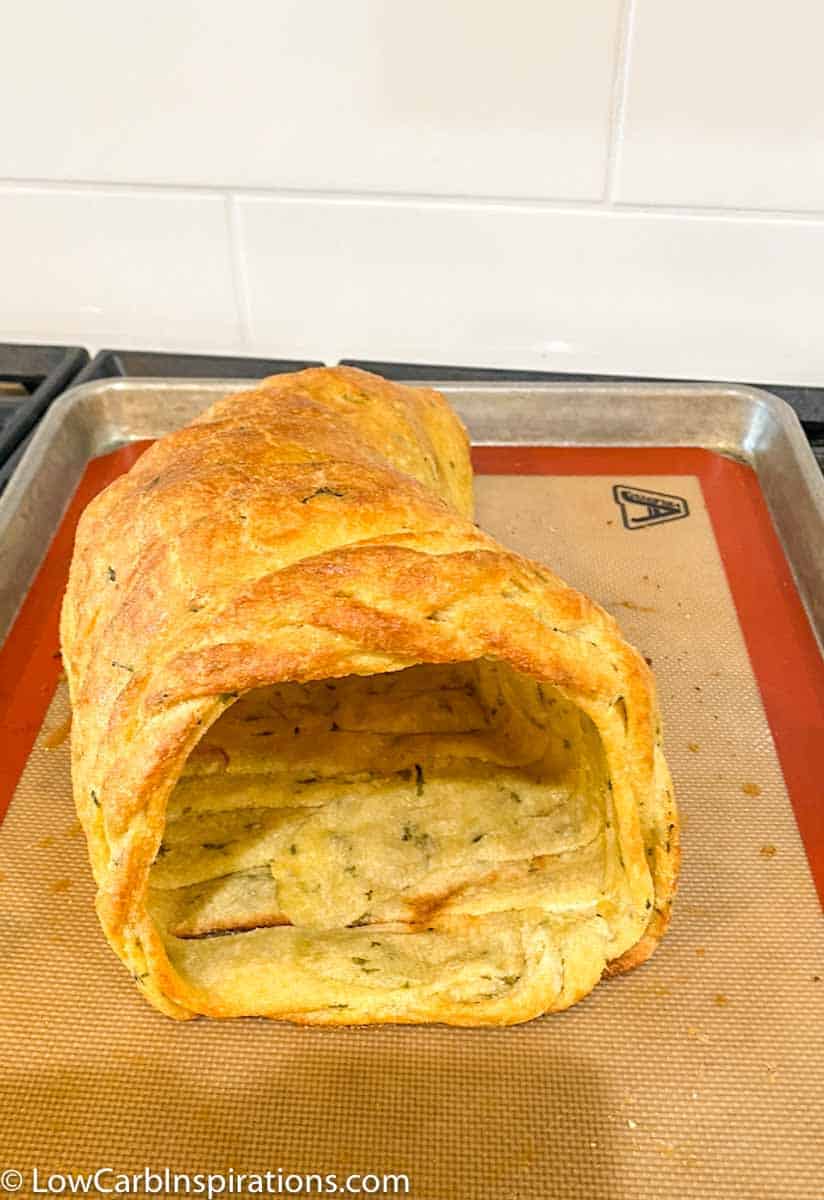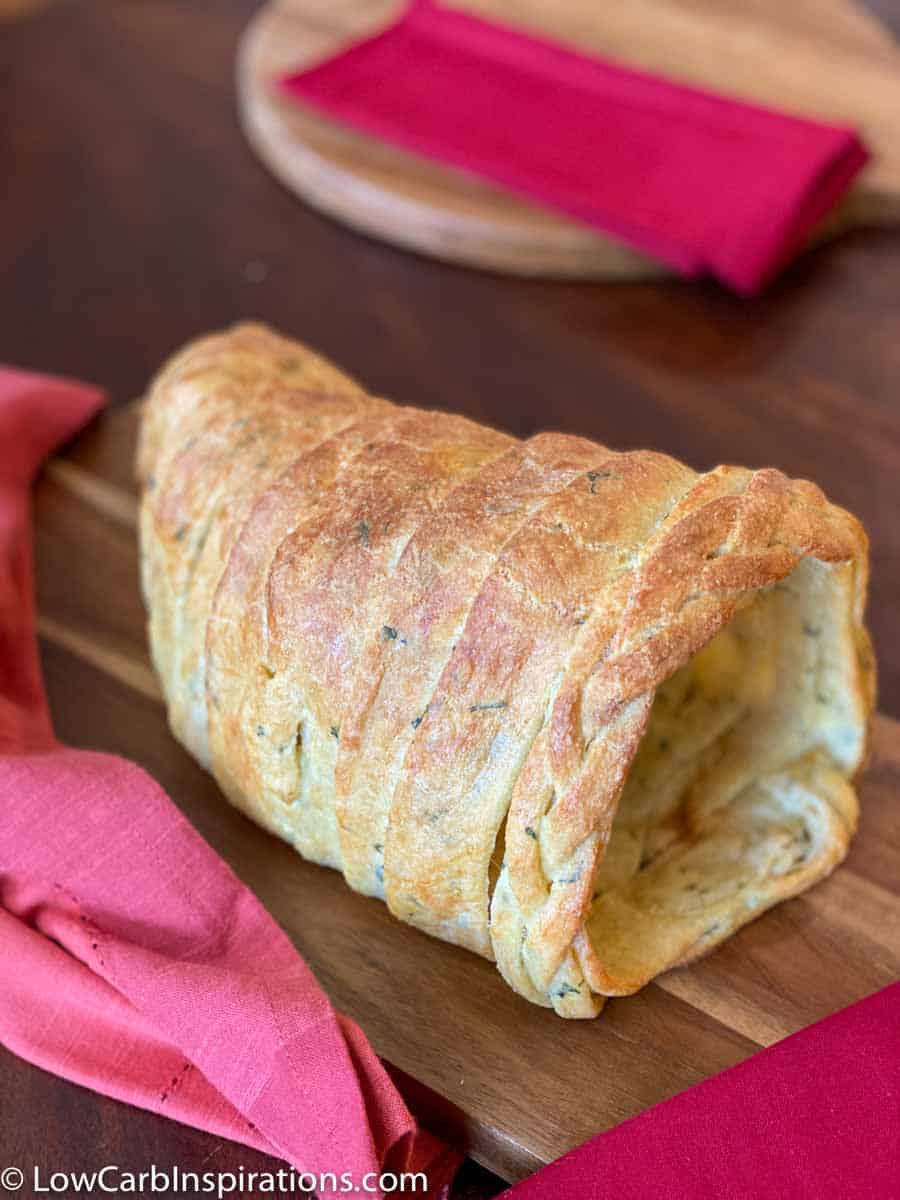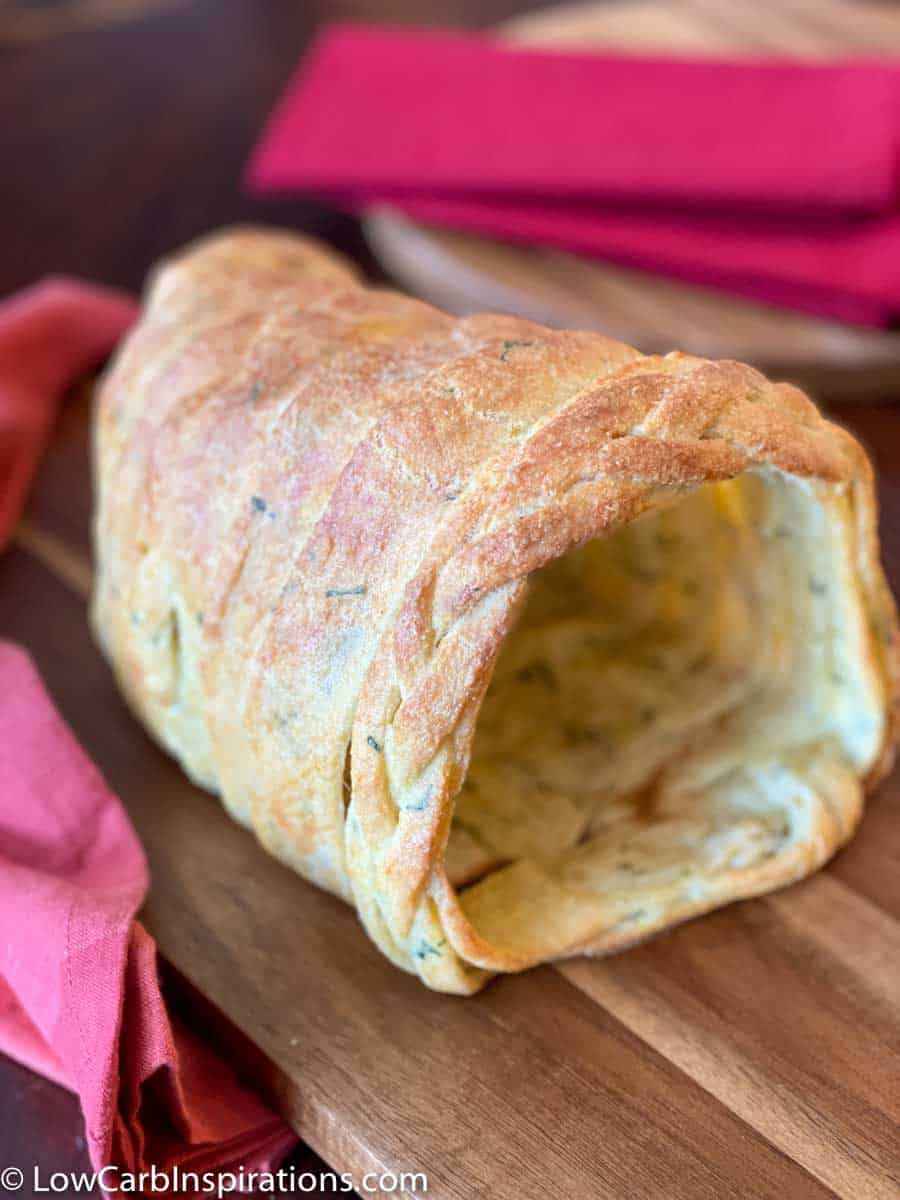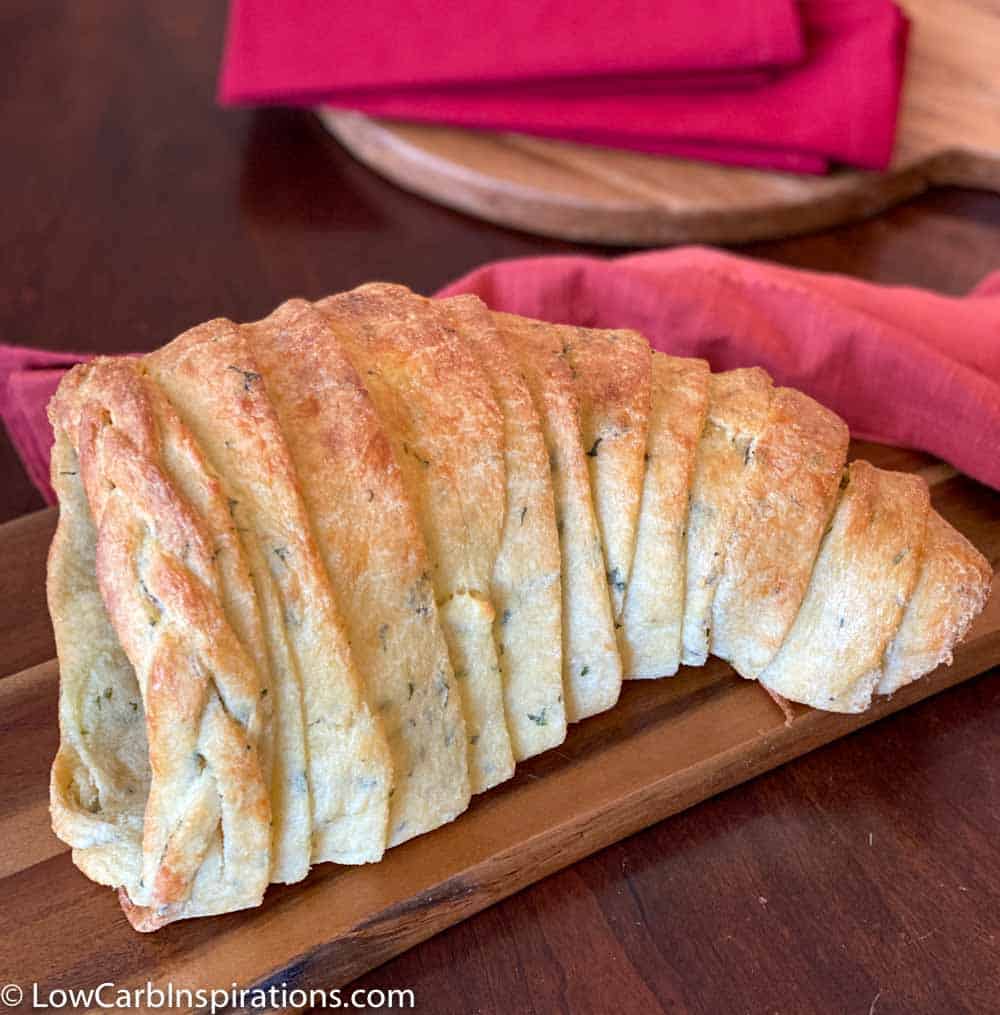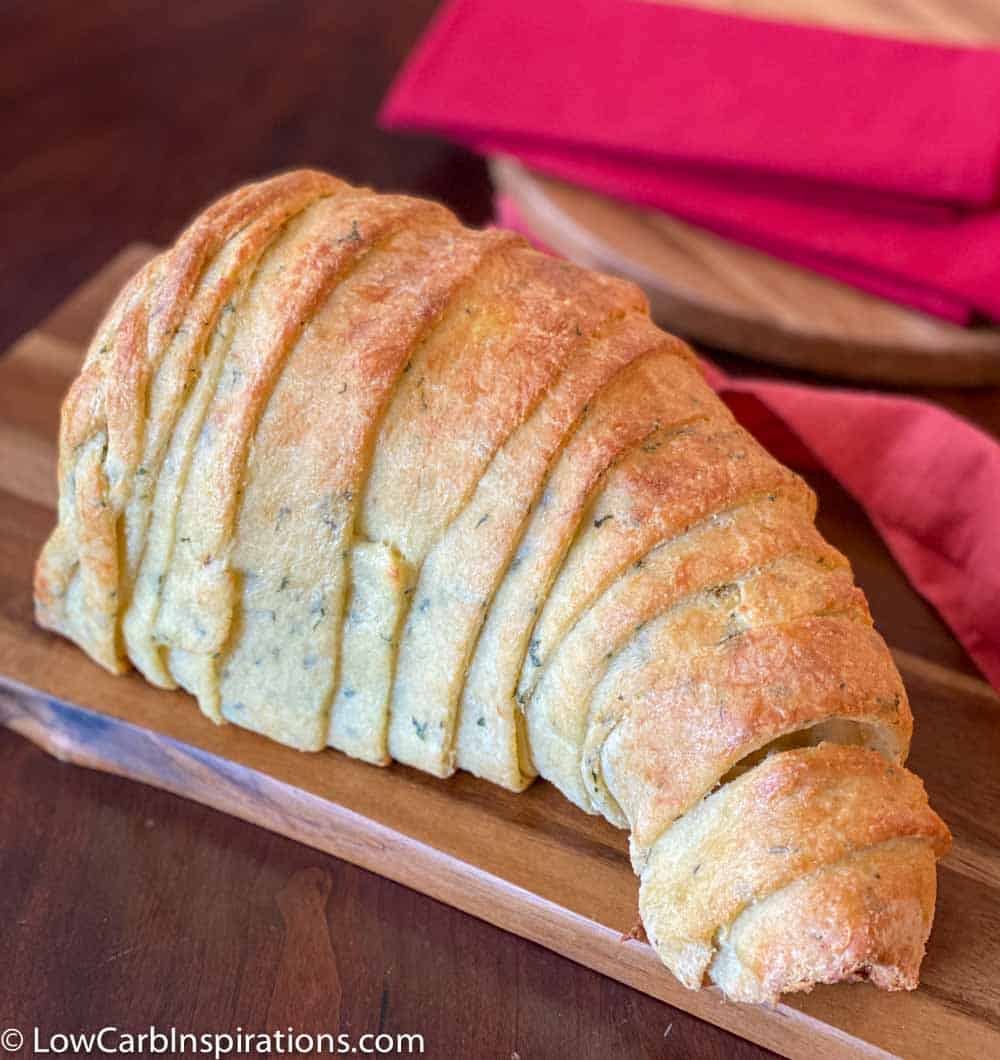 We plan to use this bread on a charcuterie board so we added some fragrant fresh rosemary stems for color! I love fresh rosemary!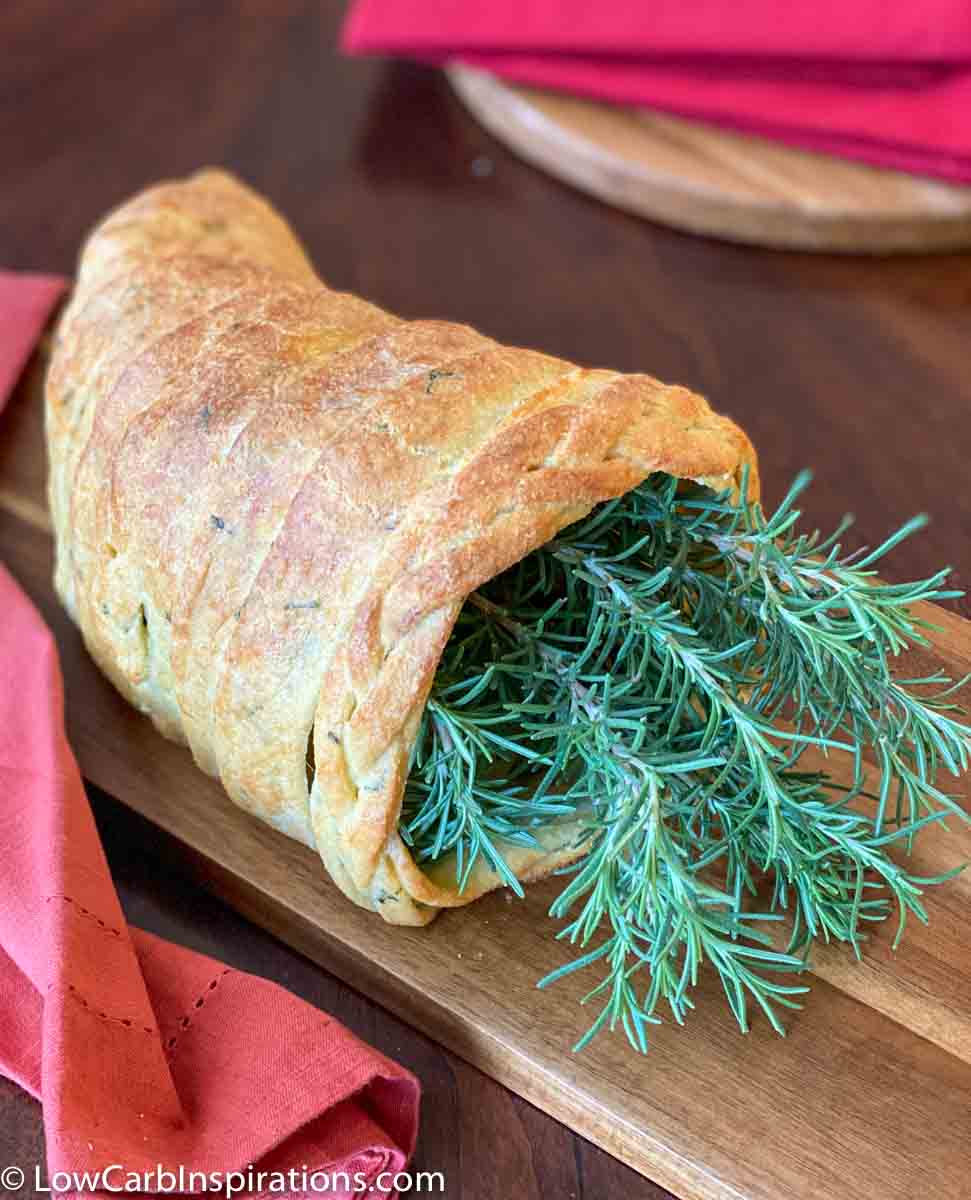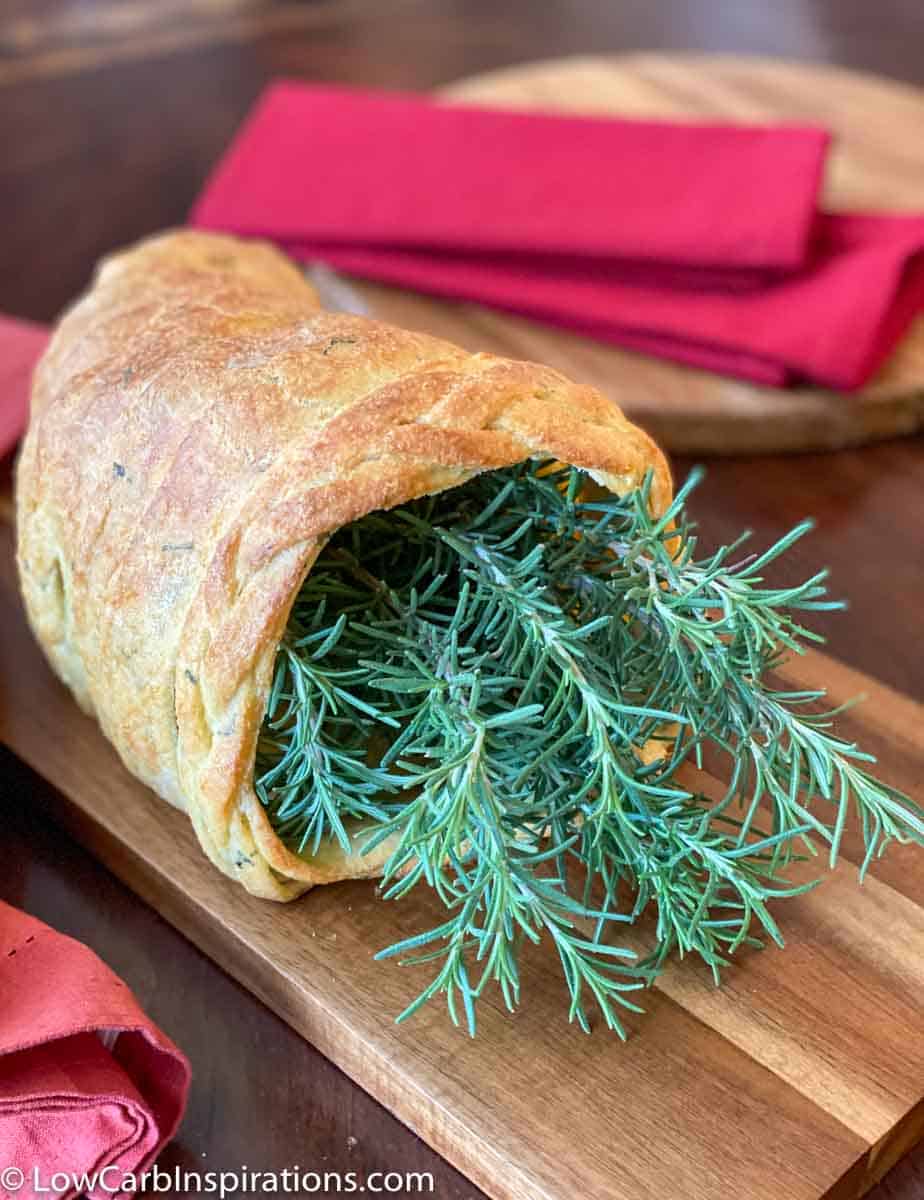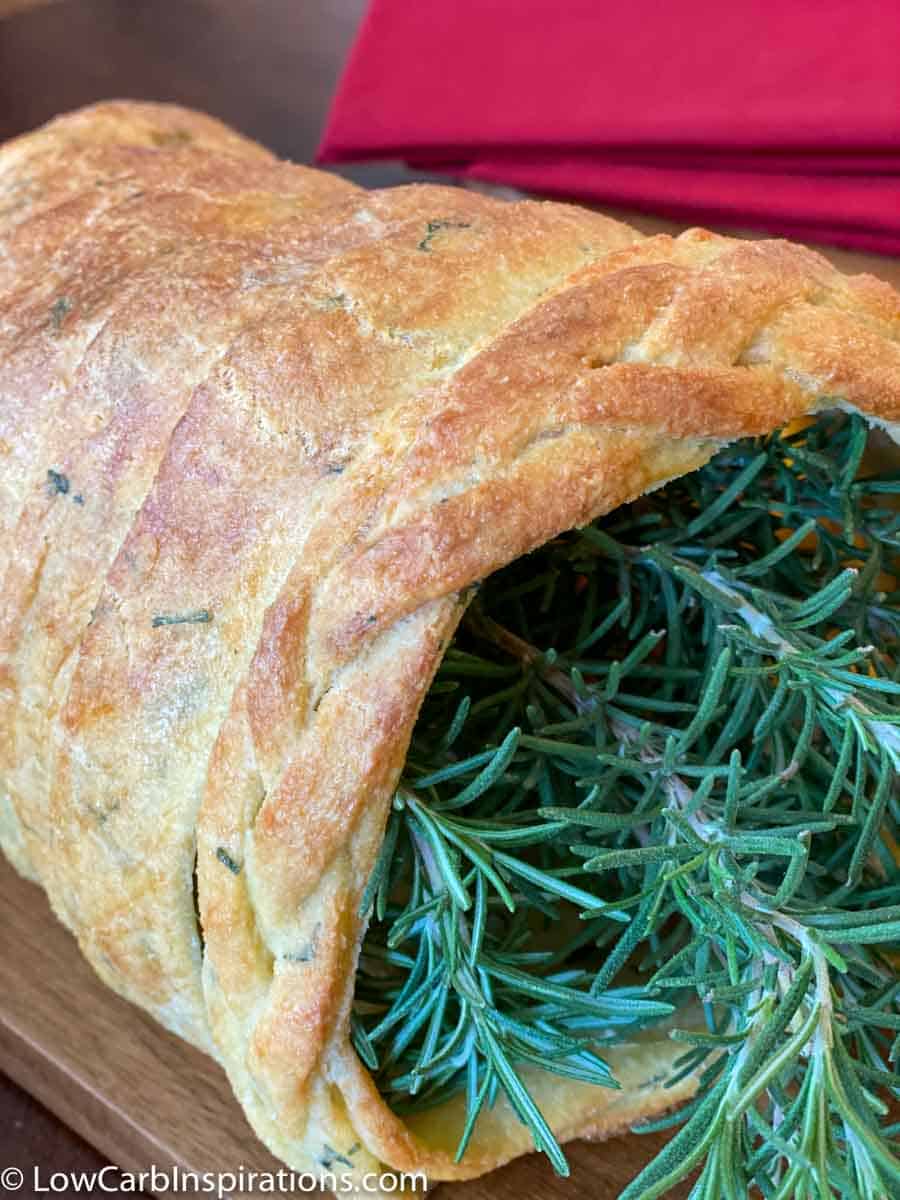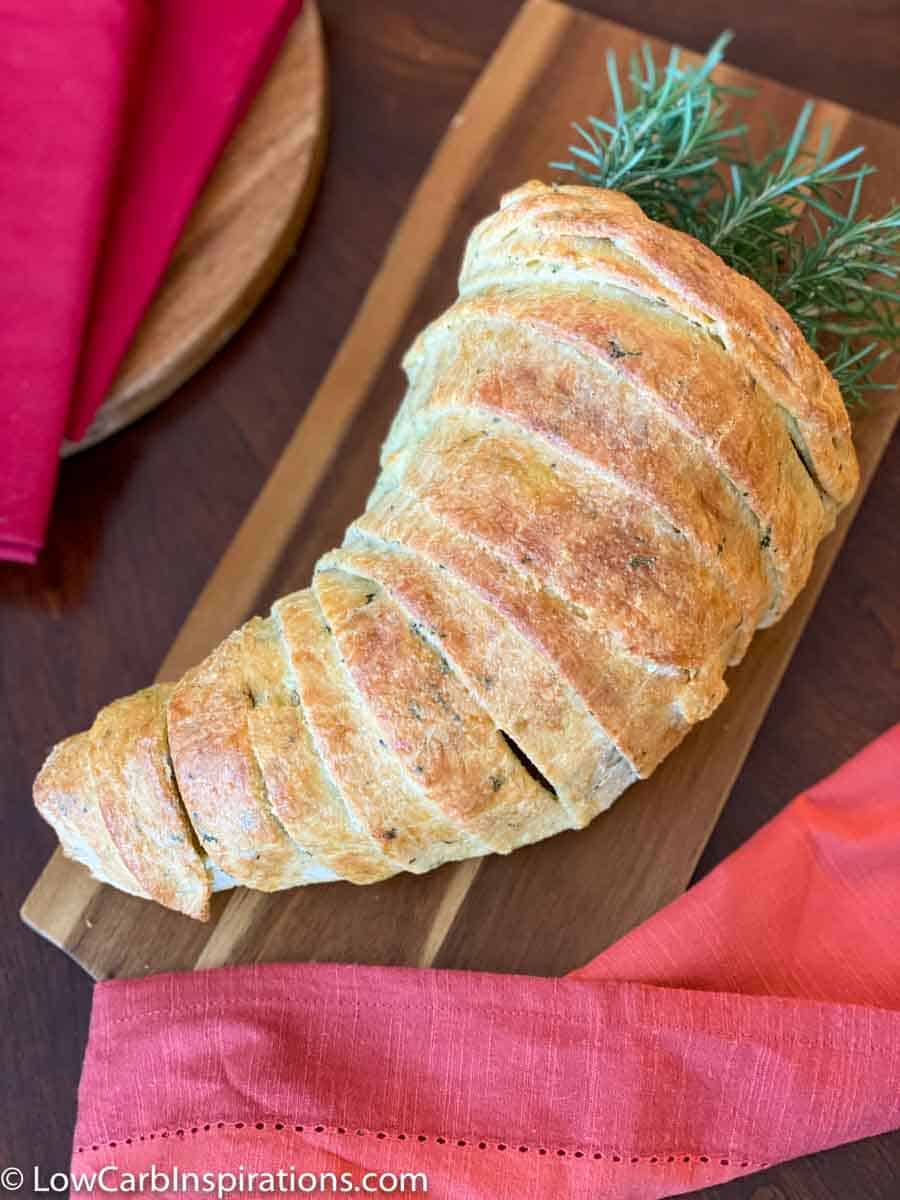 If you make this recipe be sure to tag us in your masterpiece! We love this recipe for special occasions and holidays! We hope you love it too!
Don't forget to pin it on Pinterest for later!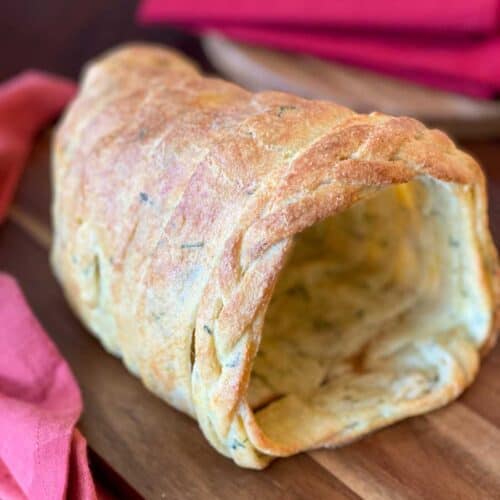 Keto Cornucopia Bread Recipe
Keto bread recipe that would look perfect on a charcuterie board!
Instructions
Make the cornucopia mold using aluminum foil and parchment paper before you start making this recipe.  Instructions and photos above in the blog post.

Preheat the oven to 350 degrees.

You can choose to microwave the cheese to melt it or do it over the stove top.

Stove top method:  You will need a small saucepan and a medium size bowl.

In the medium size bowl, combine the mozzarella cheese, butter, salt, garlic powder, onion powder, and parsley or rosemary.

In a small saucepan, start to melt the mozzarella cheese mixture over low heat.

Microwave method:  In a medium microwave safe bowl, add the mozzarella cheese, butter, salt, garlic powder, onion powder, and parsley or rosemary.

Heat the mixture in 1 minute increments until the cheese has fully melted. Be sure to mix the ingredients in between each minute blast in the microwave. Mine took about 2 minutes.

Once the cheese has melted using whichever method you choose, add almond flour, coconut flour, baking powder and egg to this mixture.  Mix it until all the flour has completely incorporated into the wet cheese ingredients.

Note:  You will need to work fast at this point because once the cheese mixture cools it becomes hard to roll out with a rolling pin.  If this happens to you, reheat the dough in the microwave for about 15 to 20 seconds until it's warm again.  Also be careful not to heat it too much that you can't handle it with your hands.  You can always reheat this dough in bursts to make it soft again.

Pour the dough mixture on to a silicone mat or parchment paper (I prefer the parchment paper so I can make long strips of dough for this recipe.)

Gently roll the warm dough out into a long rectangle shape that's as thin as you can get it.

Use a knife or a pizza cutter to cut one inch strips of dough.

Take one of the long strips of dough and cut it into 3 smaller strips.  Then braid those strips of dough.  This is the cornucopia braided bread that will be placed over the last strip of dough at the opening of the cornucopia.  It's decorative but also gives it an extra thick opening piece to hold it together.

Place the strips of dough around the cornucopia shaped mold (even on the bottom).

You can pinch the dough together to make a continuous strip to wrap the whole mold.

Add the last braided strip over the top of the flat dough you finished it with.  Slightly press it together at the bottom so it holds nicely.

Whip up one egg in a small bowl.  Use a brush and brush on the egg wash over the whole keto cornucopia bread loaf.

Finally, bake it for about 18 to 20 minutes or until it's golden brown.

Allow the dough to completely cool (for about 30 minutes or longer) before you remove the center mold.
Notes
Serving: 1 slice | Calories: 99kcal | Carbohydrates: 2.2g | Protein: 3.3g | Fat: 9.2g | Cholesterol: 32.9mg | Sodium: 190.8mg | Fiber: 0.6g | Sugar: 0.4g
Nutrition facts are provided as a courtesy. Have a question about our calculations or why you got a different result? Please read our
nutrition policy.