Keto Choco Taco Ice Cream Sandwich Recipe
We just made a fantastic Keto Choco Taco Ice Cream Sandwich Recipe!! Do you remember the Choco Tacos you used to get from the ice cream truck back in the day? Those were my favorite ice cream of all time!!
My friend Vanessa text me the other day with this wonderful idea that brings back so many childhood memories. She attempted a low carb Taco Choco with our famous Keto OREO Chaffle recipe! That recipe is perfect for a chocolate taco shell for sure!! She ended up making the OREO Chaffle in the mini waffle maker just as it instructed the recipe but after it came off the waffle maker while it was still warm, she used a rolling pin to flatten it out! Then she created a make shift mold using a paper towel to fold it over. She says this works for a taco mold or a mini ice cream cone too! GENIUS!!! We've attached all the photos below so you can see exactly what she did.
This got me to thinking. I do love the chocolate taco shell but I have a fantastic Keto Cannoli recipe that makes a perfect taco shell with a slight tweak to the ingredients, so I tried that and HOLY MOLY! It turned out fantastic! Absolutely wonderful! Better than I could have ever imagined! You guys remember that popular Easy Keto Cannoli recipe that was viral, right?!!
After taking that recipe and making sweet taco shells out of it, then we made this Keto Magic Shell Ice Cream Topping Recipe to coat the Keto Choco Tacos with! Worked like a charm! Perfect way to indulge in a sugar free dessert!
The key to making these sweet taco shells perfectly is to use a pizzelle maker. You can make sweet tacos, ice cream cones, and sweet crispy keto cookies with it too! I have not found one that is sold at any of our local stores though. I had to order this Pizzelle Maker on Amazon.com. You might do a shout out to your friends to see if anyone has one you can borrow. I've loaned mine out to friends who wanted to try this recipe. They always end up ordering their own when they realize how much they will use it.
If you don't have a Pizzelle Maker, you can always use my friend Vanessa's idea and just roll out a soft chaffle recipe pretty flat and mold it while it cools. It's slightly thicker but will still taste amazing. Careful not to use a chaffle recipe that has cheese in it though because those recipes are not as soft as the Chaffle Cake recipes made with cream cheese. Those roll out much thinner which is what you want for this purpose.
Here are some Soft Chaffle Recipes made with Cream Cheese that you can use:
Those are the main flavors and super soft chaffle recipes that would be perfect for you to use. Just pick your favorite flavor!
Keto Choco Taco Ice Cream Sandwich Recipe Ingredients
Keto Choco Taco Filling Options
Optional Toppings
Sugar Free Chocolate Chips
Strawberries, Blueberries, Blackberries, Raspberries, etc…
Keto Choco Taco Ice Cream Sandwich Recipe Instructions (Printable recipe card below)
Preheat the pizzelle maker first by plugging it in. No need to spray it with a non-stick cooking spray if your maker is already non-stick.
In a microwave-safe coffee mug, melt the butter for about 20 seconds or until fully melted.
Combine the remaining keto choco taco ingredients and mix well.
Use a cookie scoop to scoop out the dough and place it in the center of each pizzelle design. The cookie scoop measures about 2 tablespoons of batter which is perfect for each sweet taco.
Press the lid down and lock it. Cook it for about 1 minute to 1 1/2 minutes or until the cookie is slightly golden brown.
Use a knife to lift the hot taco shell off of the press and quickly shape it in the taco shape by folding it over. Hold it for a few seconds to allow it to harden and stay that shape while it cools. You can place the hot taco shell circle over a spoon to create the taco shape also.
This recipe makes 4 or 5 sweet tacos so repeat the steps above to create the remaining taco shells.
Allow to shells to cool completely. You can place them in the freezer for about 5 to 10 minutes to speed this process up if needed.
While the sweet taco shells are cooling down removing the ice cream from the freezer. You might need to microwave it for about 10 seconds to make it soft enough to scoop into a well cooled taco shell. Make sure they are completely cooled first!
Spoon the ice cream into each taco shell and immediately place it back in the freezer to freeze again.
While those are freezing in the freezer, make the Keto Magic Shell Ice Cream Topping recipe if using.
Remove the frozen sweet tacos filled with ice cream from the freezer and coat the top of the Keto Choco Taco with the Keto Magic Shell Ice Cream topping.
Then immediately place the Keto Choco Tacos back in the freezer to allow the Keto Magic Shell Ice Cream Topping to harden up. This will only take a few minutes.
Enjoy!
Keto Choco Taco Storage Instructions
Enjoy these Keto Choco Tacos now or you can keep them stored in the freezer. If you keep them stored in the freezer for longer than an hour I would highly suggest you place them in a freezer ziplock baggie or a sealed container to keep the freshness of the Keto Choco Tacos. You don't want that dessert to pick up any odors from the other ingredients stored in your freezer.
Recipe Notes
makes 4 to 5 Sweet tacos depending on the size you use
Here are a few photos to show you how we made them: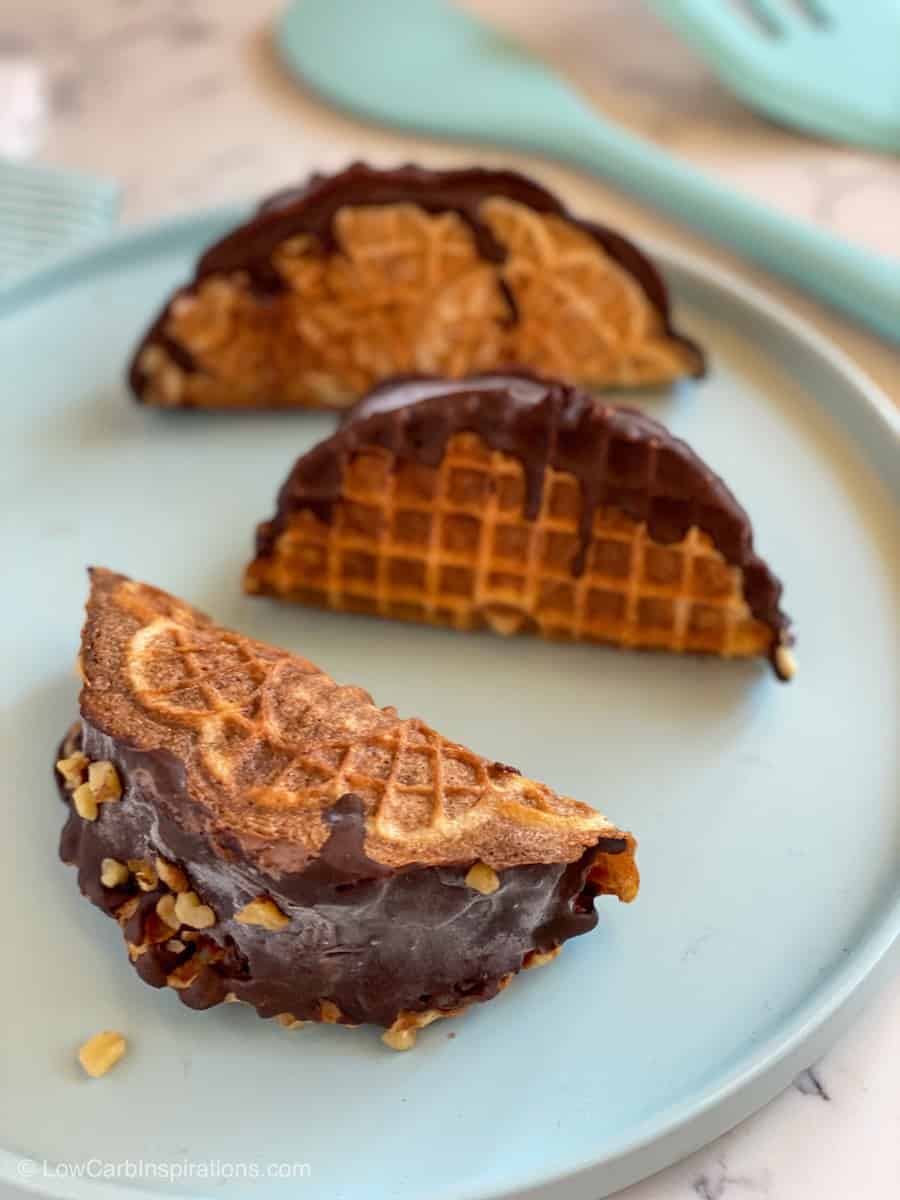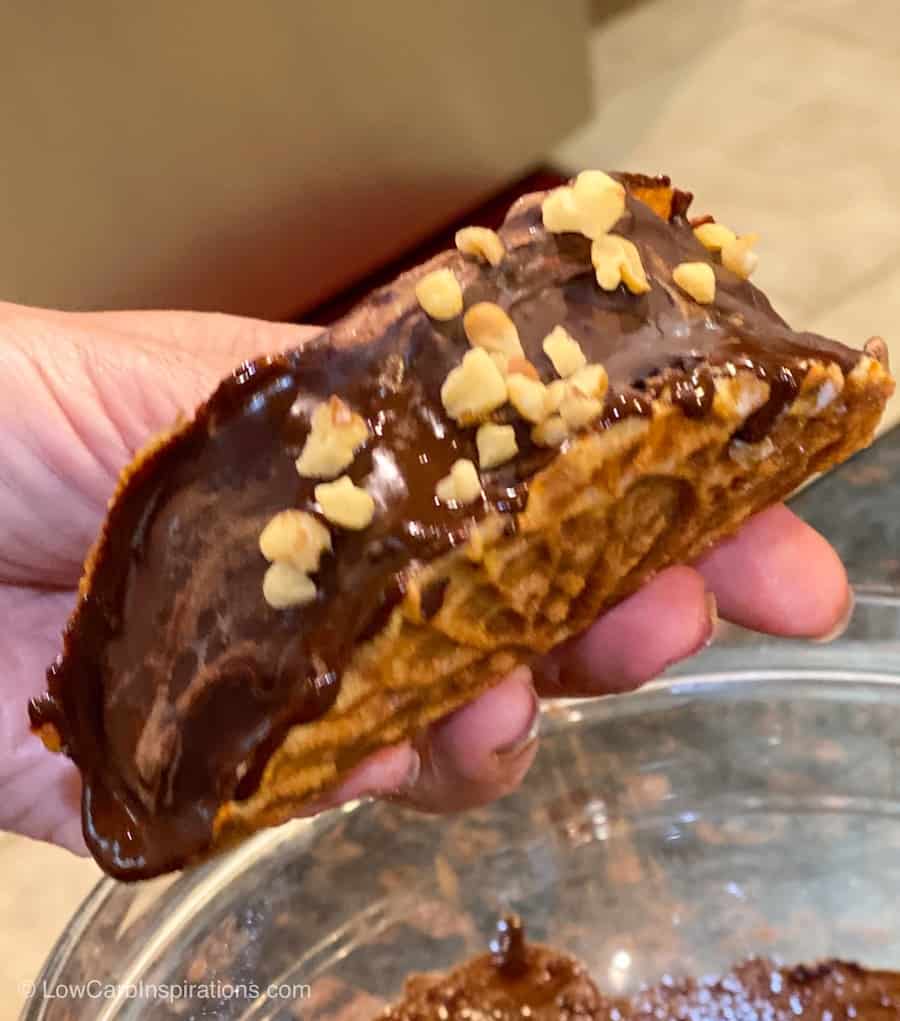 This is what the batter looks like just before you bake it in the Pizzelle Maker.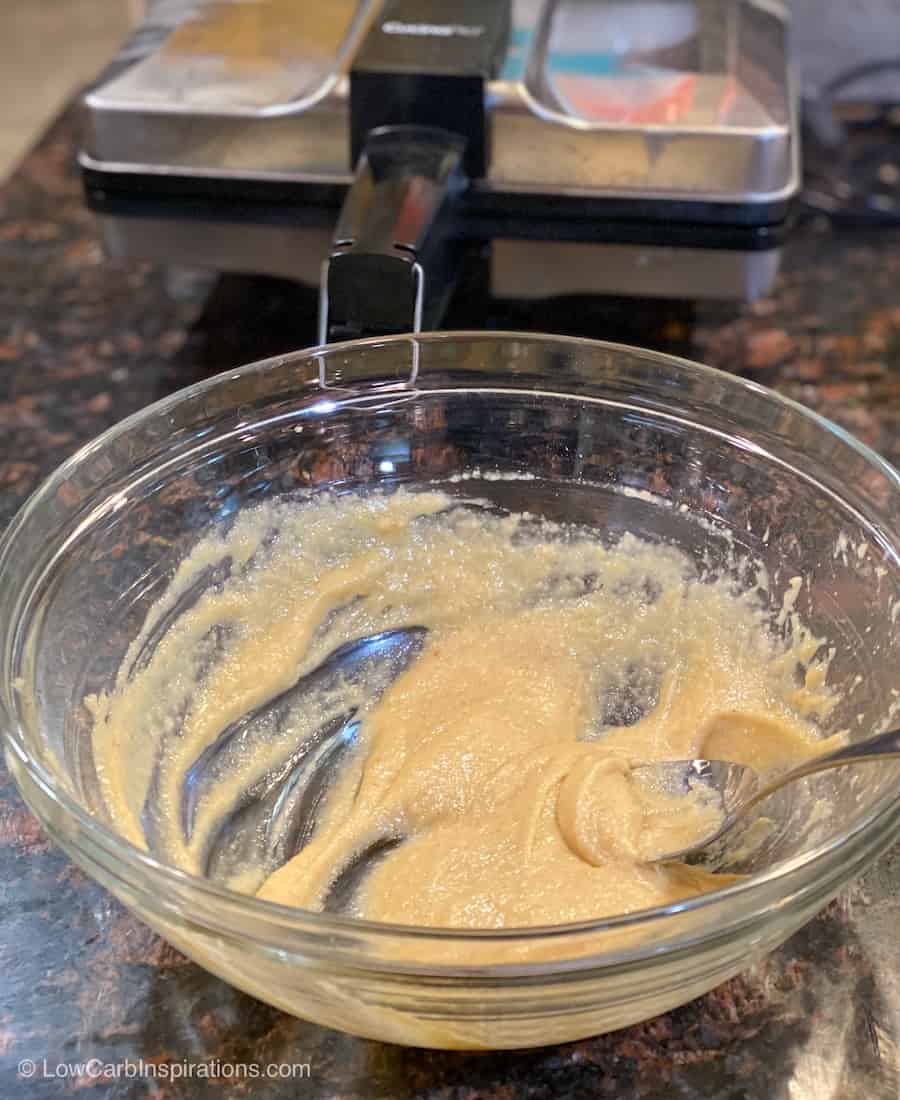 You pour a cookie scoop worth of batter into the center of the pizzelle maker like this: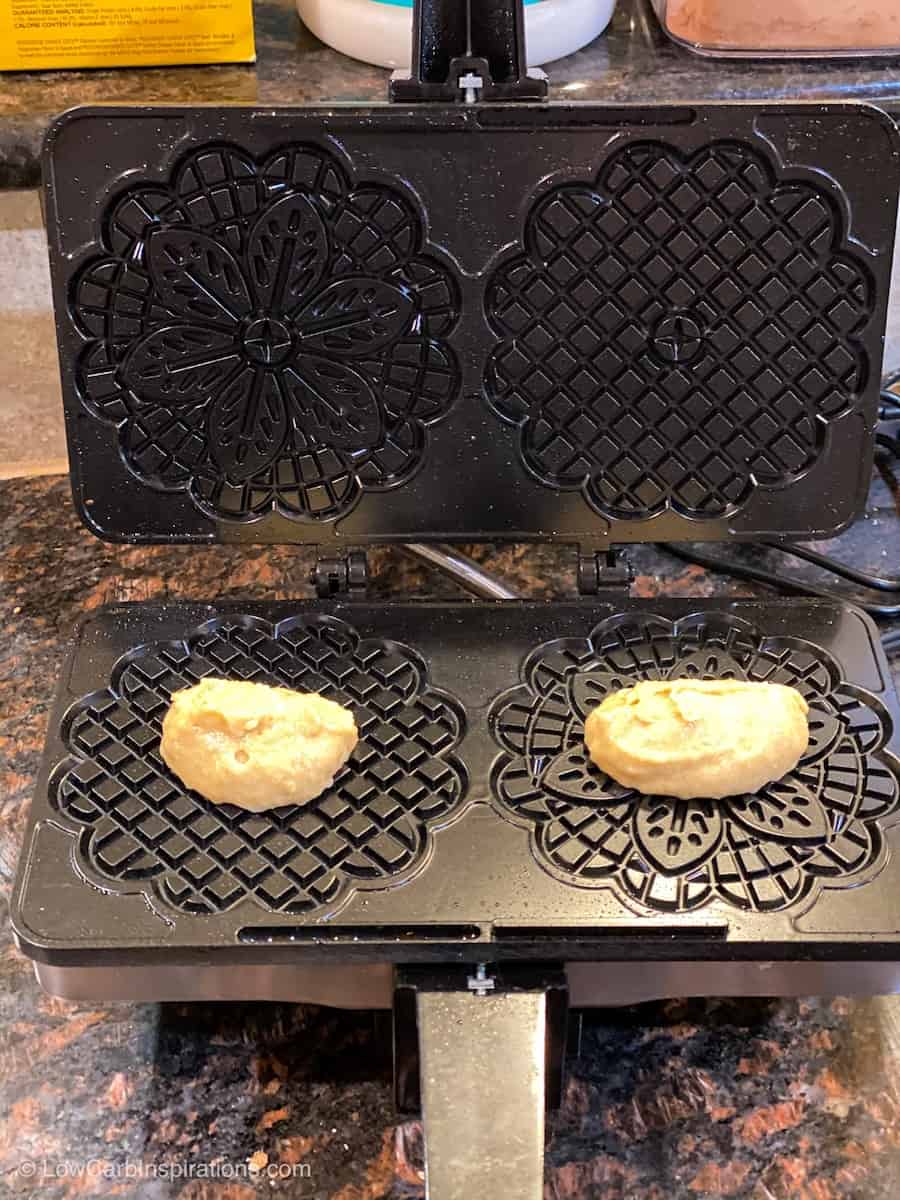 Perfect sweet taco shells!! The longer you cook them the more crispy they become.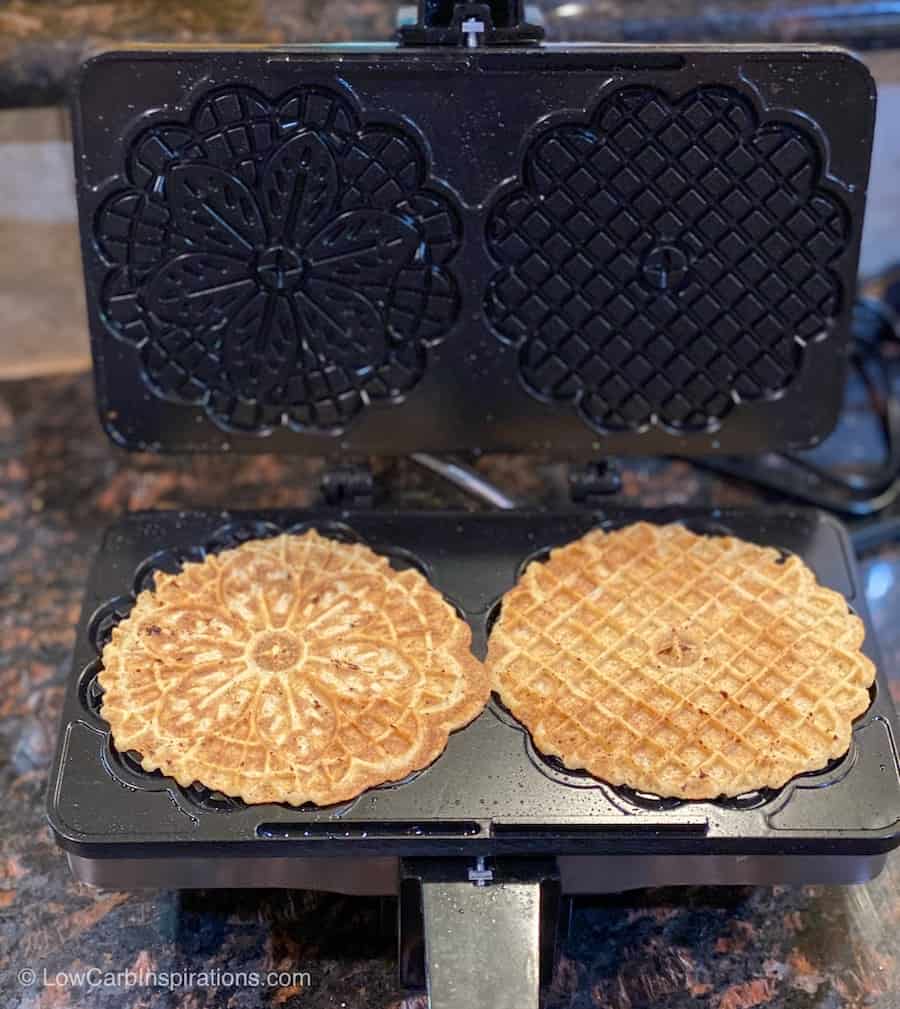 Fold the hot shell over a spoon handle or use taco holders to form a taco shape like this: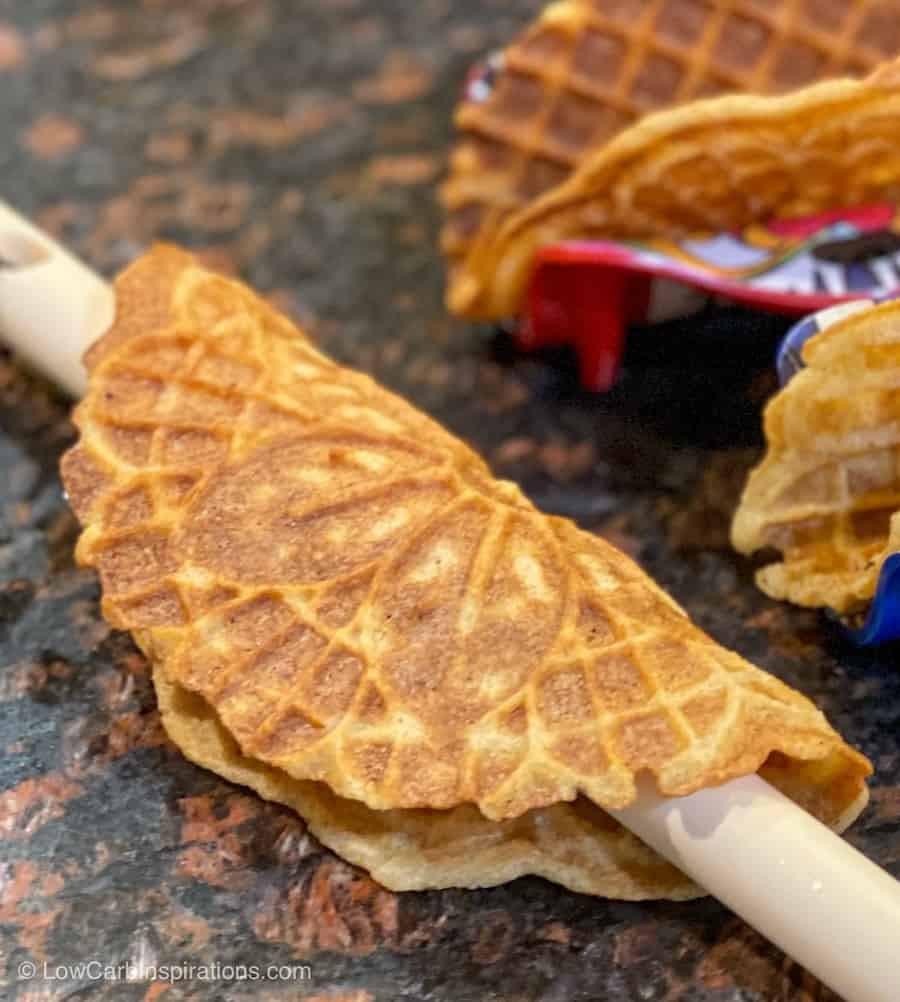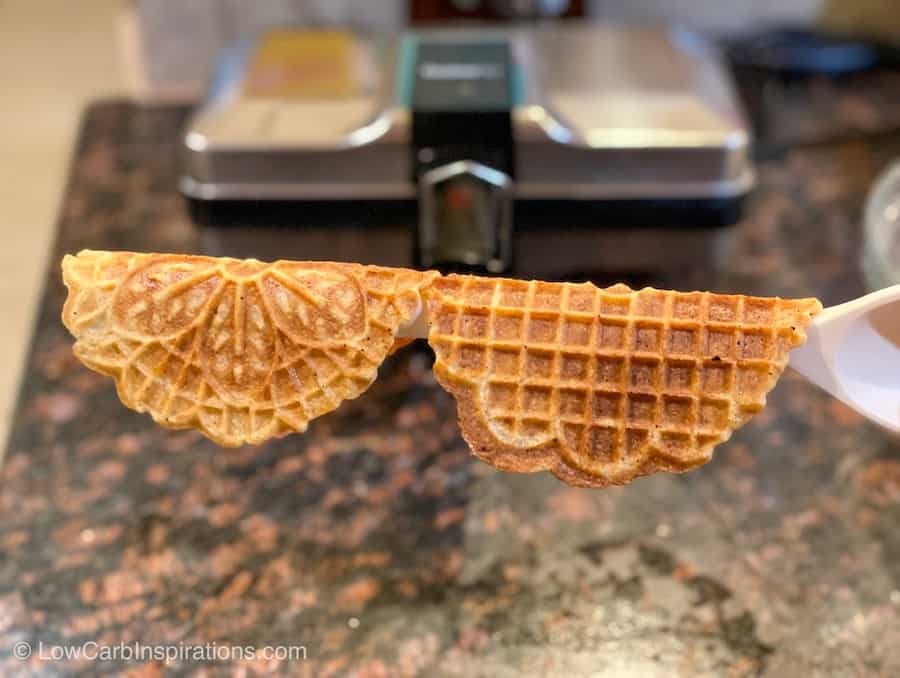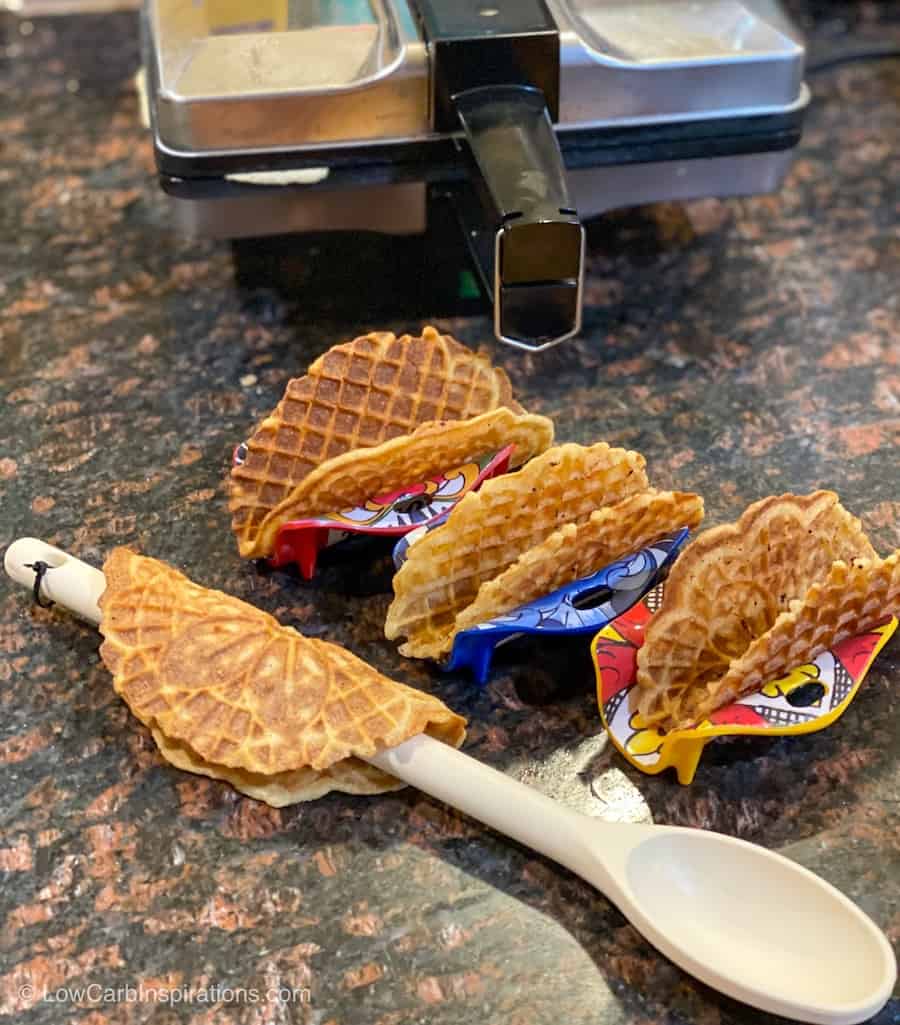 After they cool, they really hold their shape!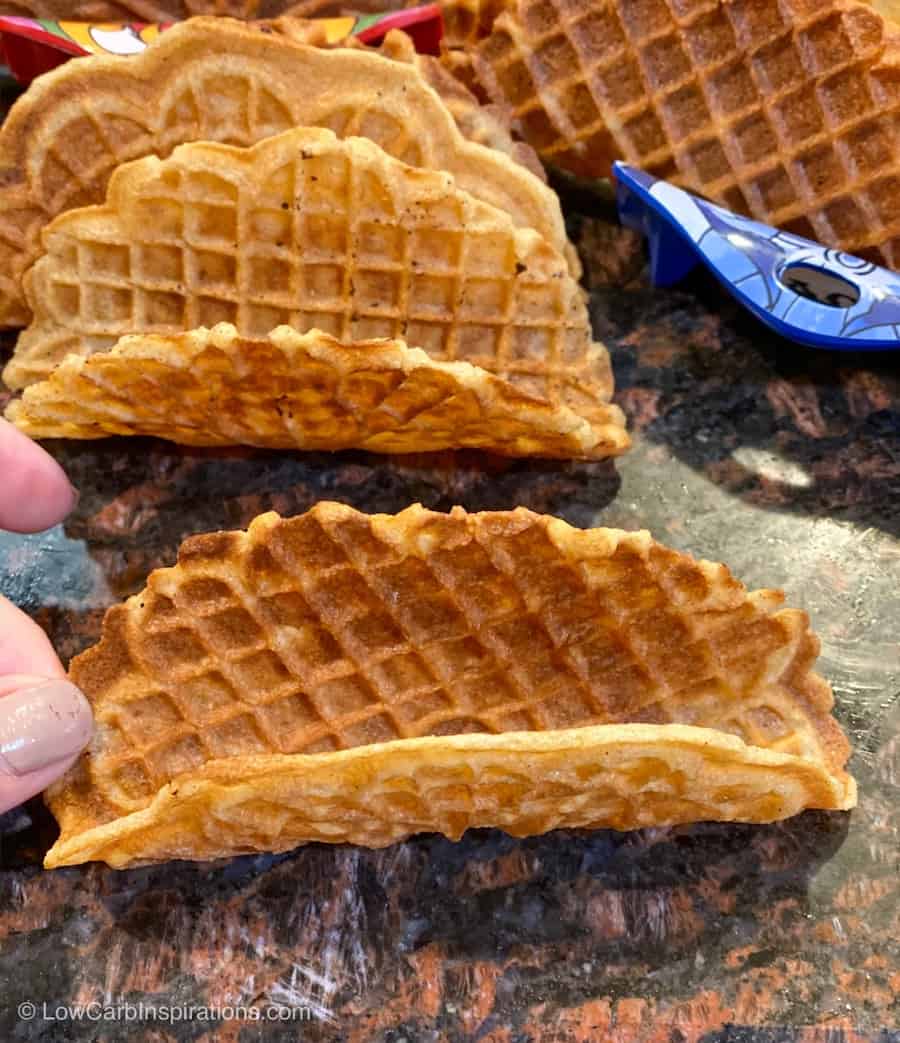 These sweet taco shells are beautiful!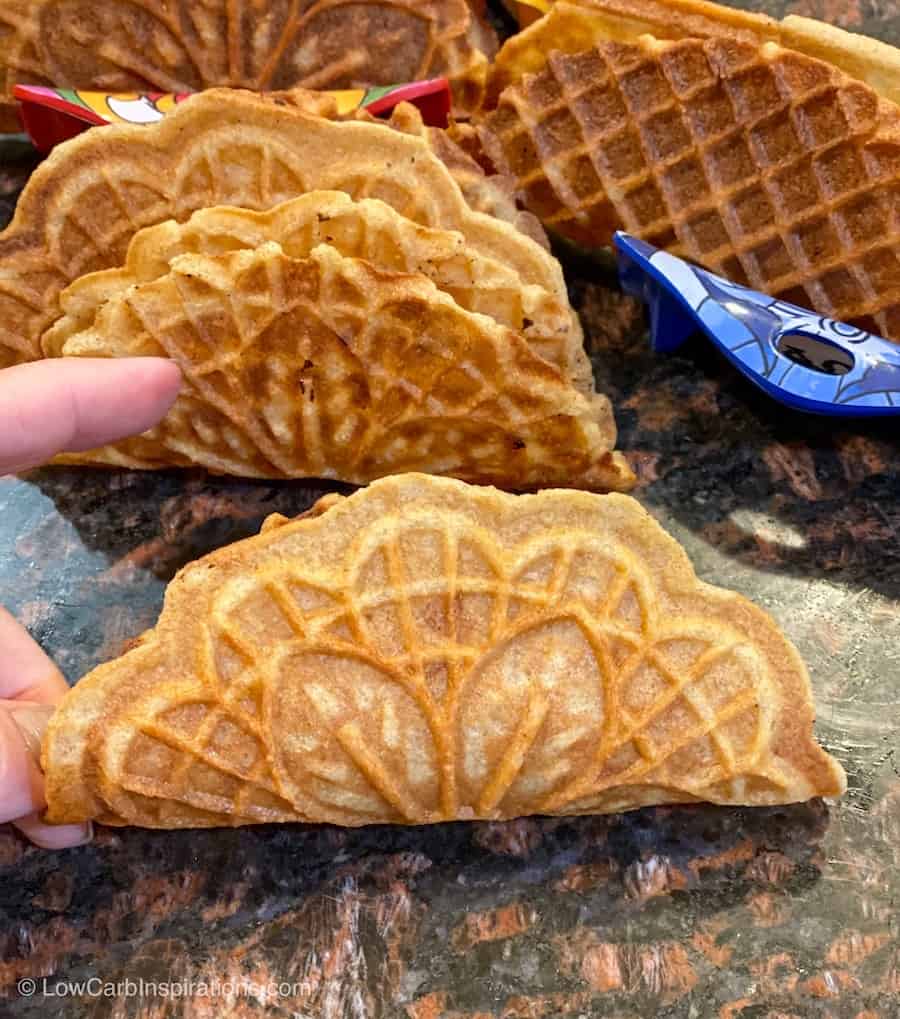 Delicious!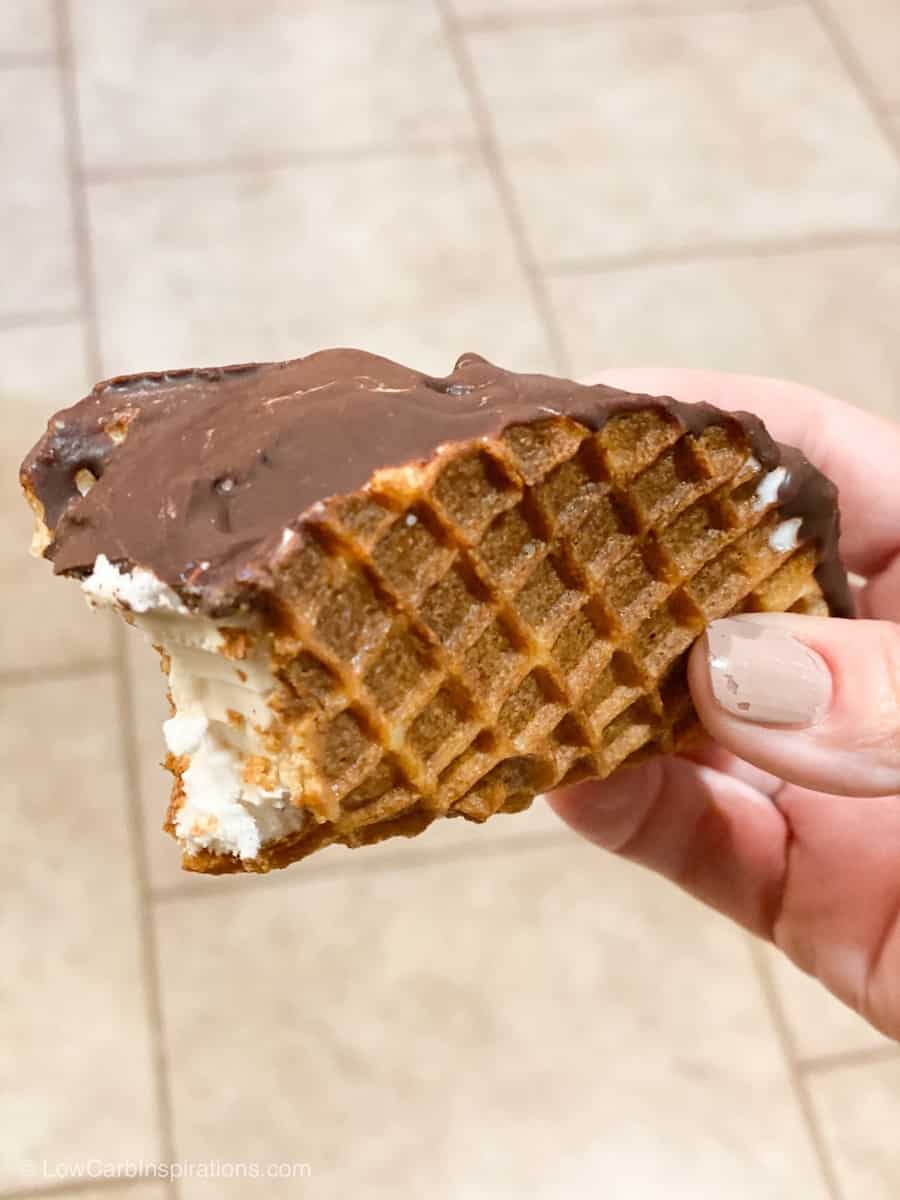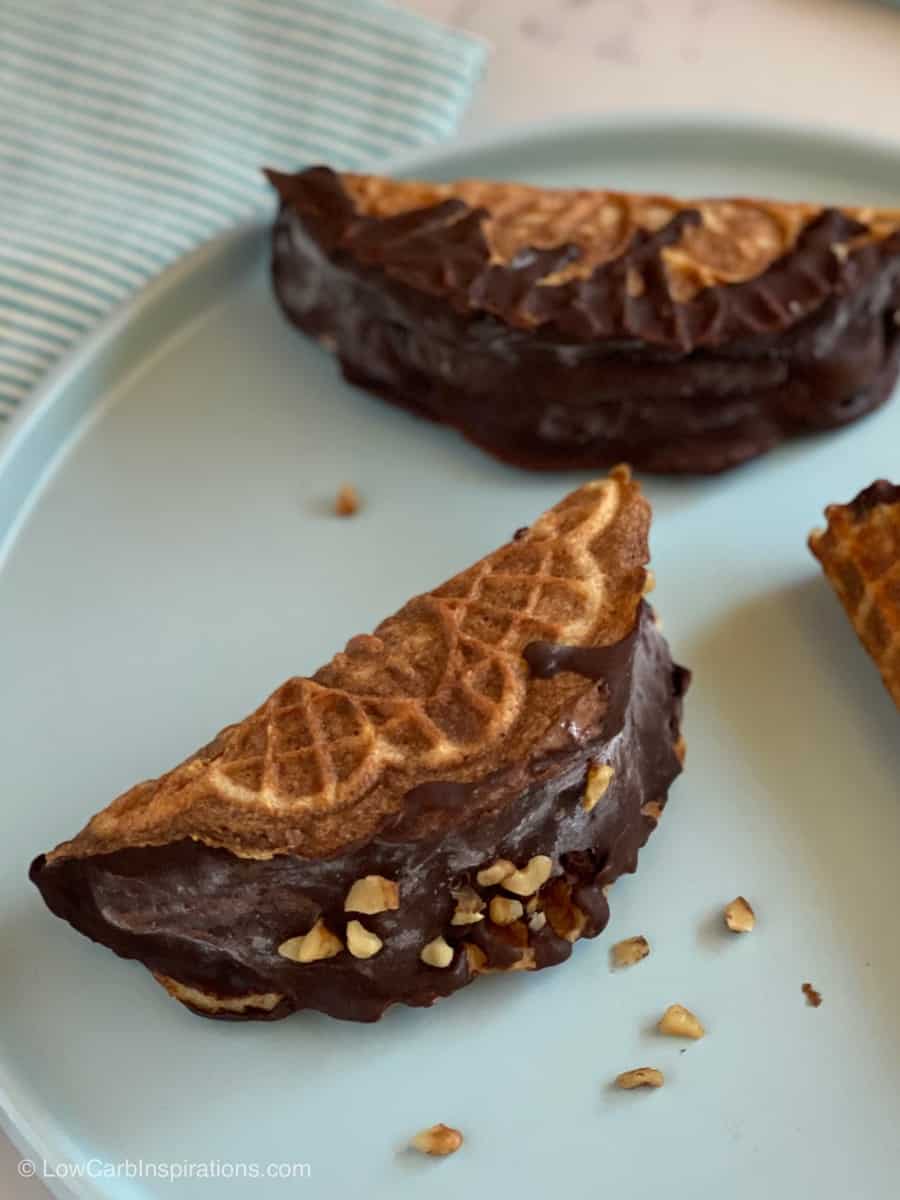 This photo was taken right after I drizzle the Keto Magic Shell ice cream topping over the top of the Choco Taco! I put it in the freezer right after this.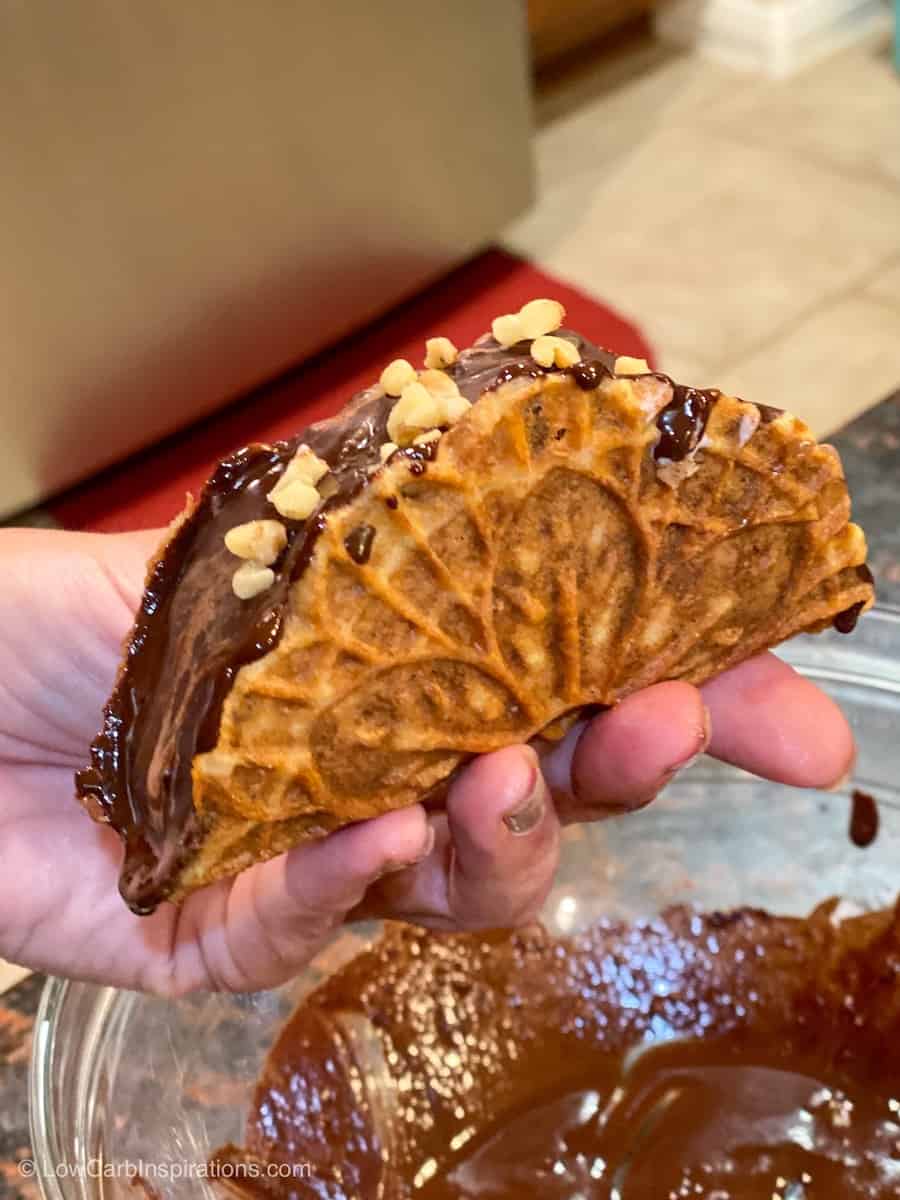 This shows you how the Keto Magic Shell Ice Cream topping really hardens as it should!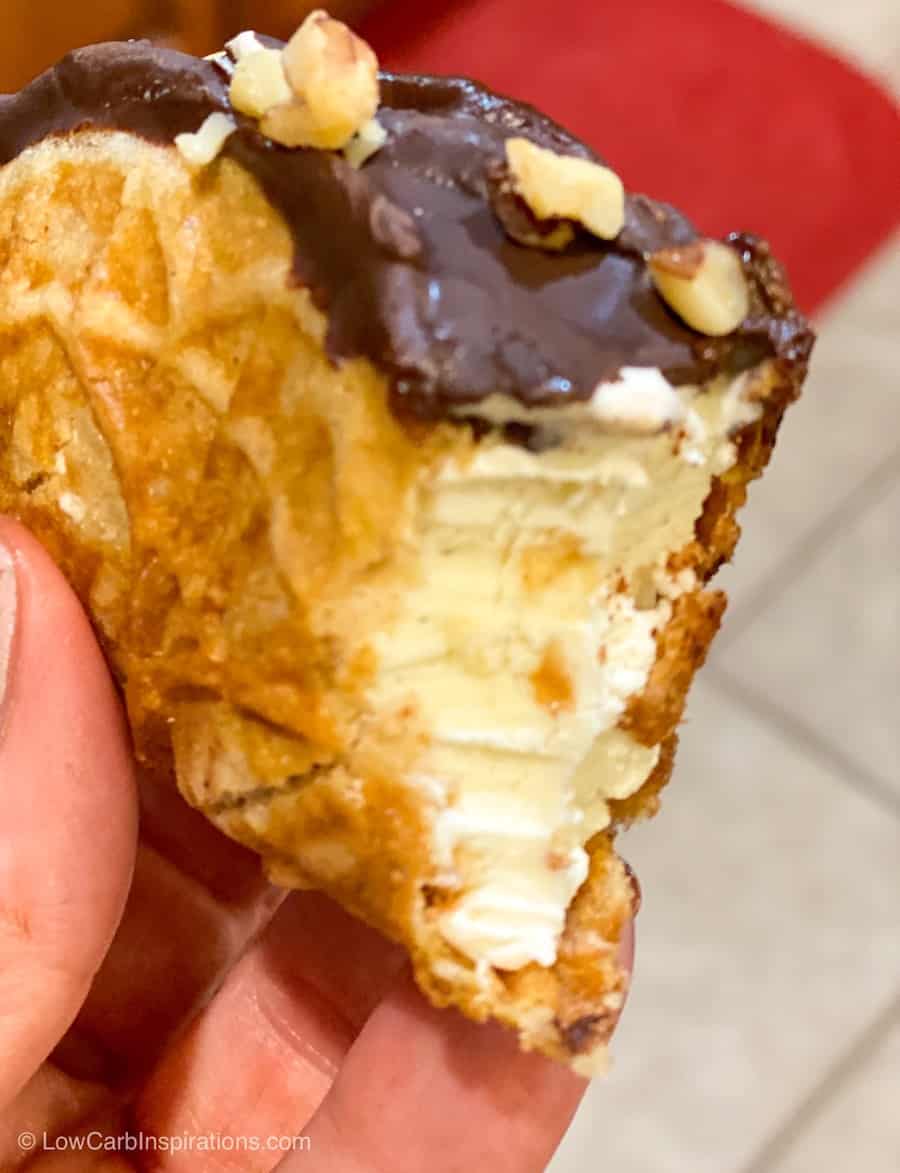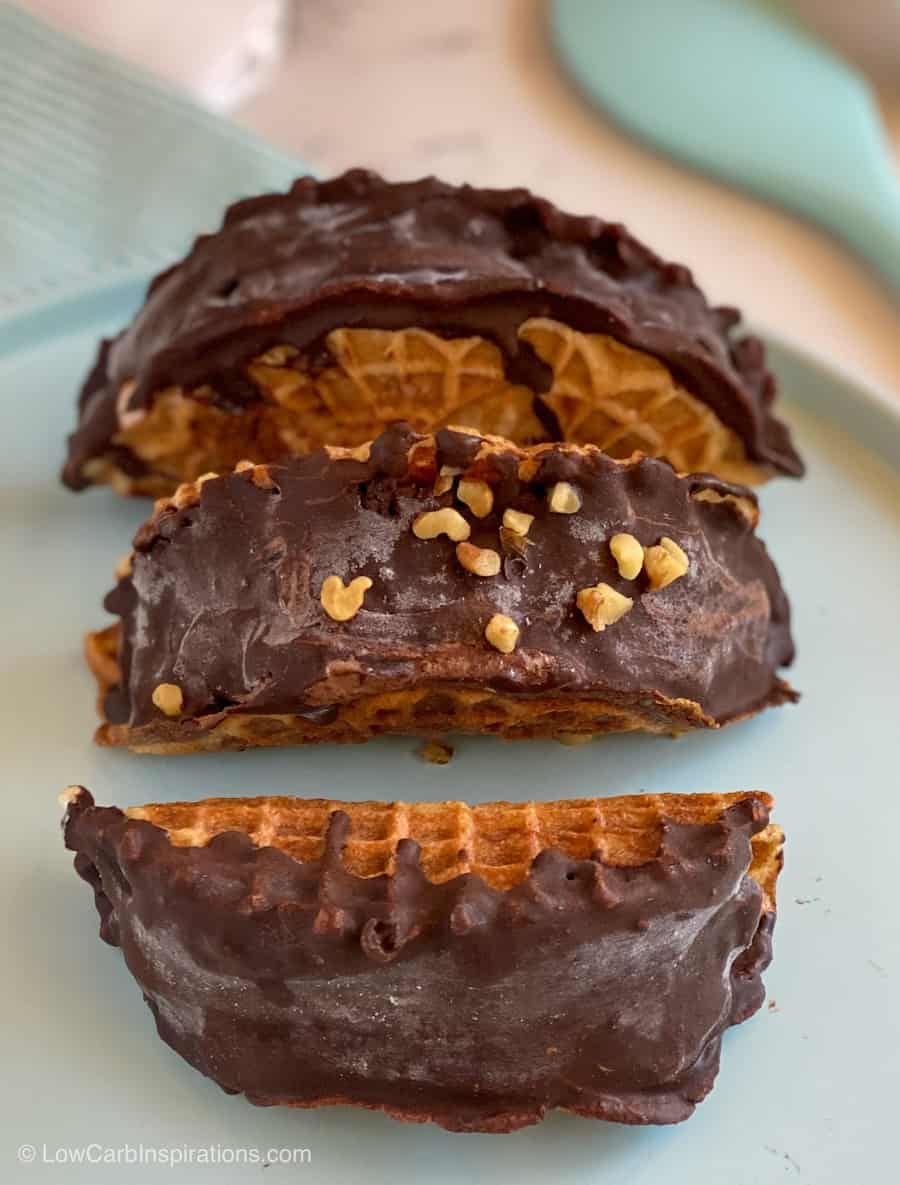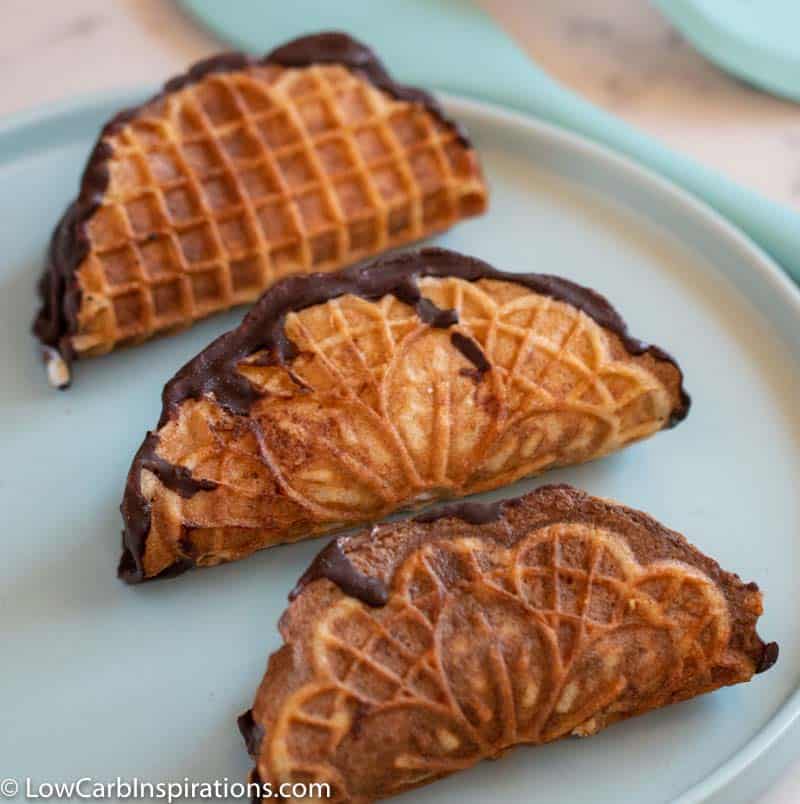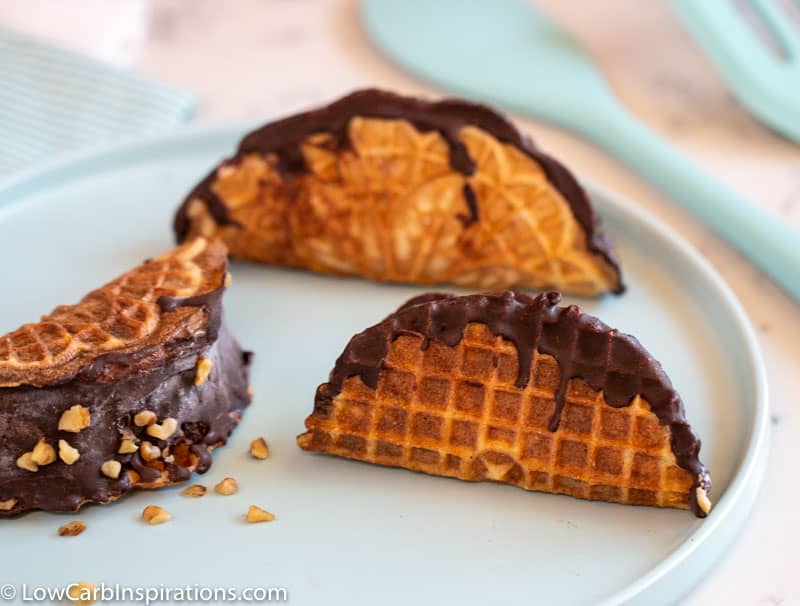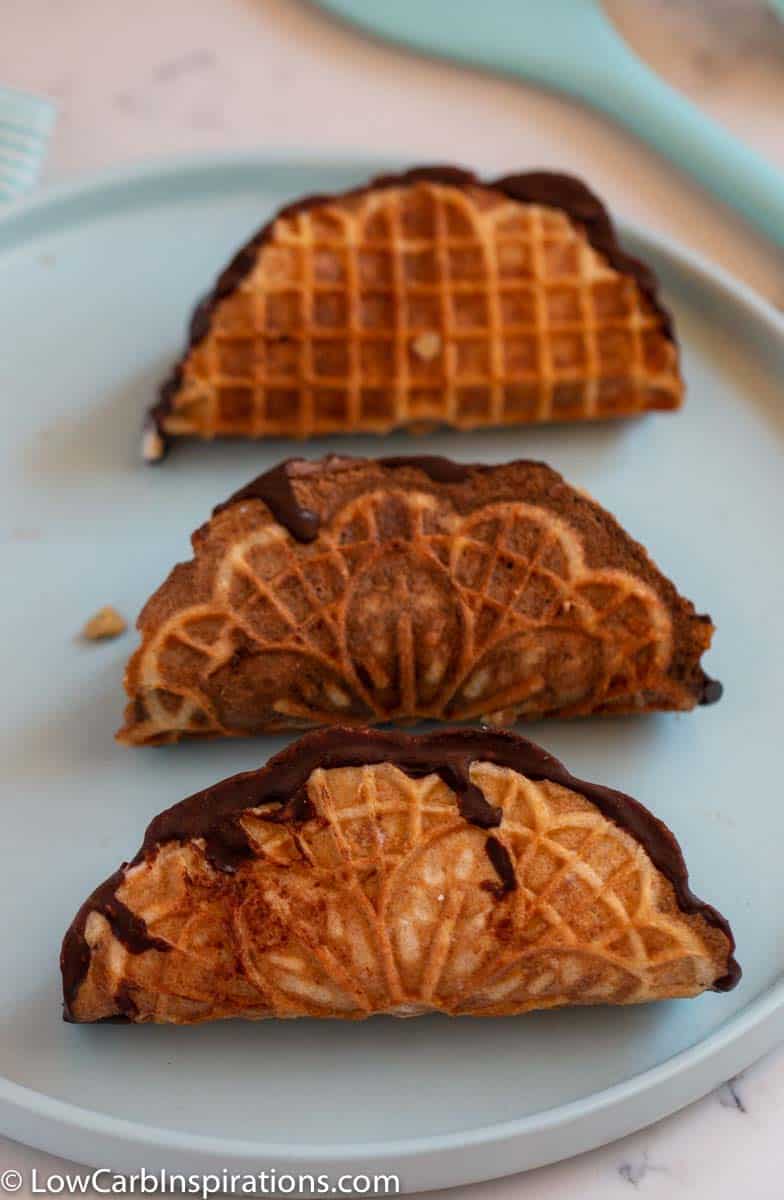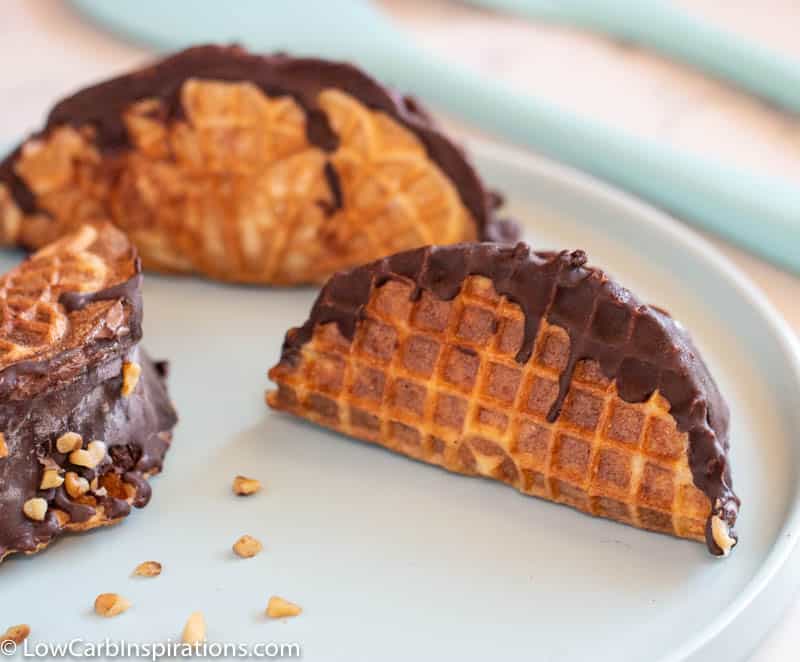 Top it with your favorite toppings too!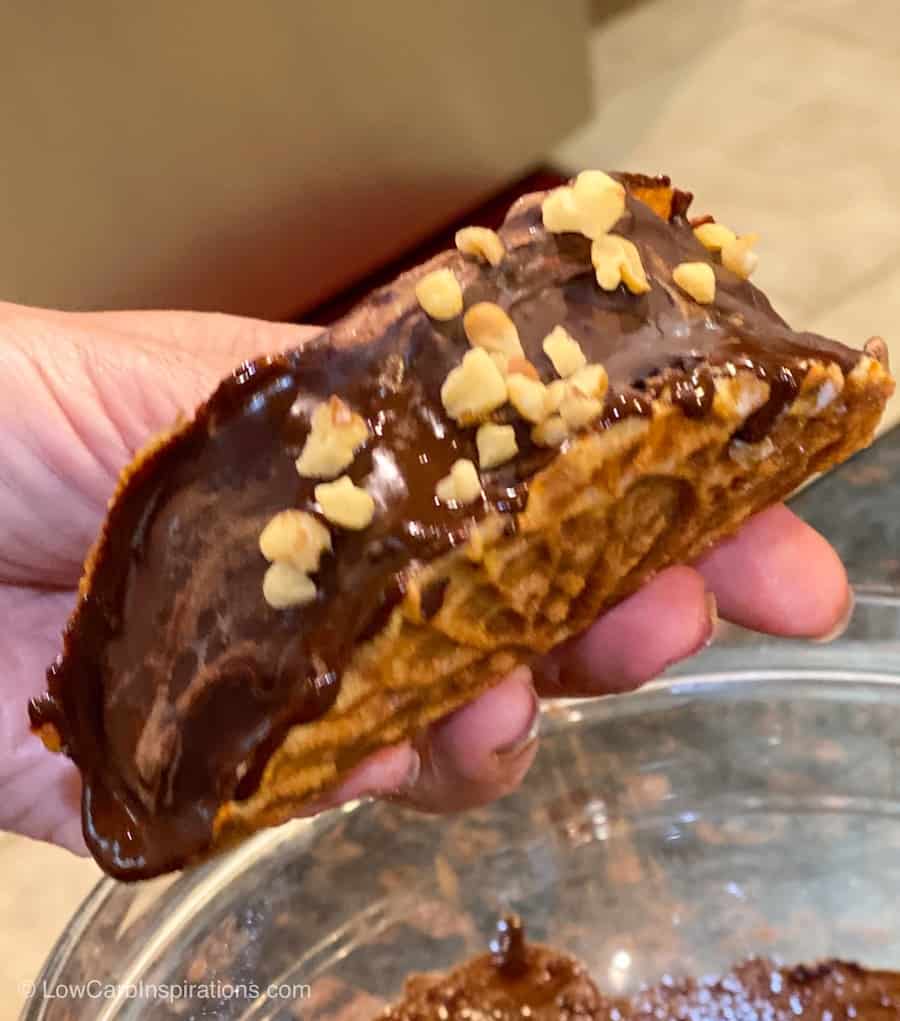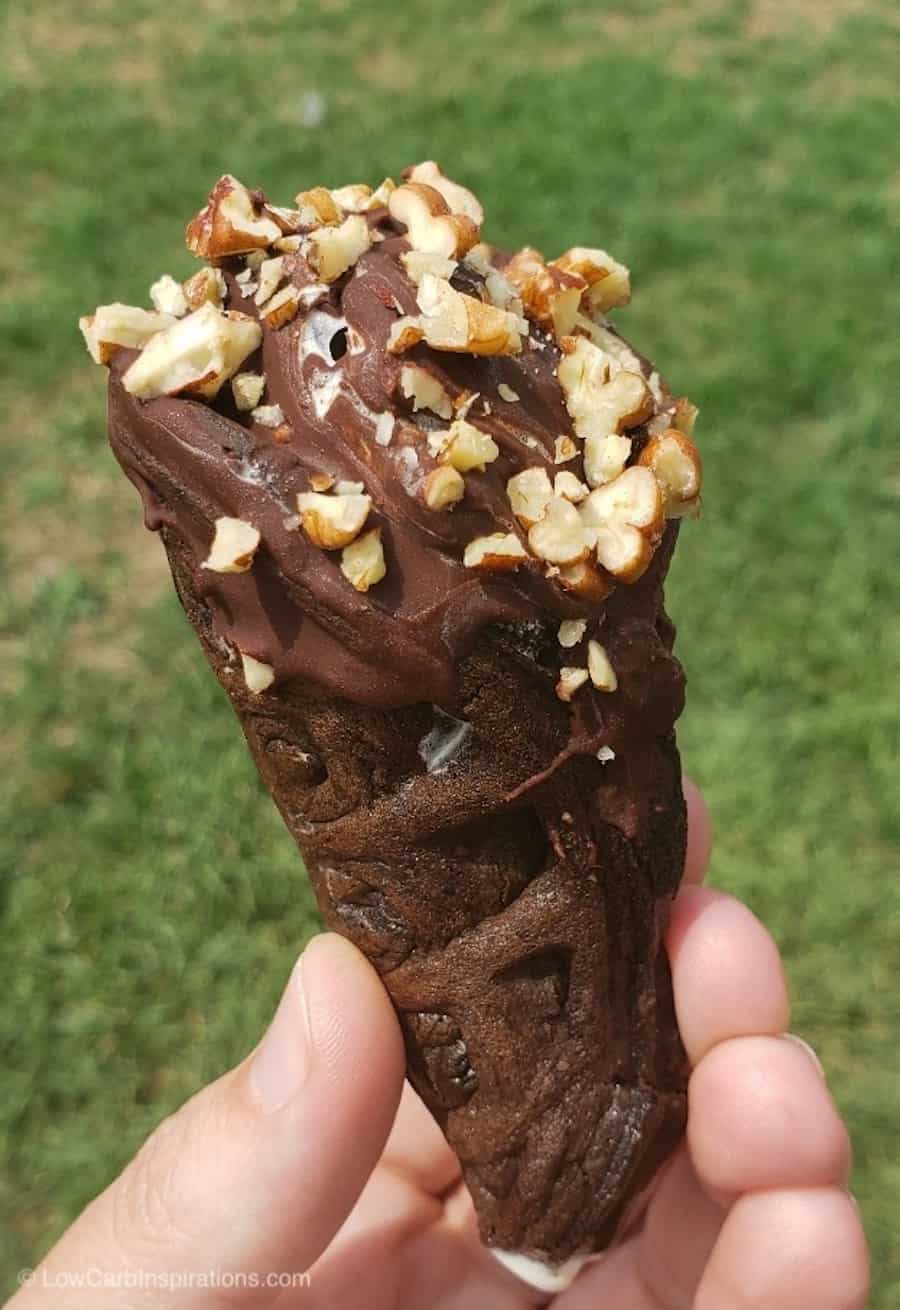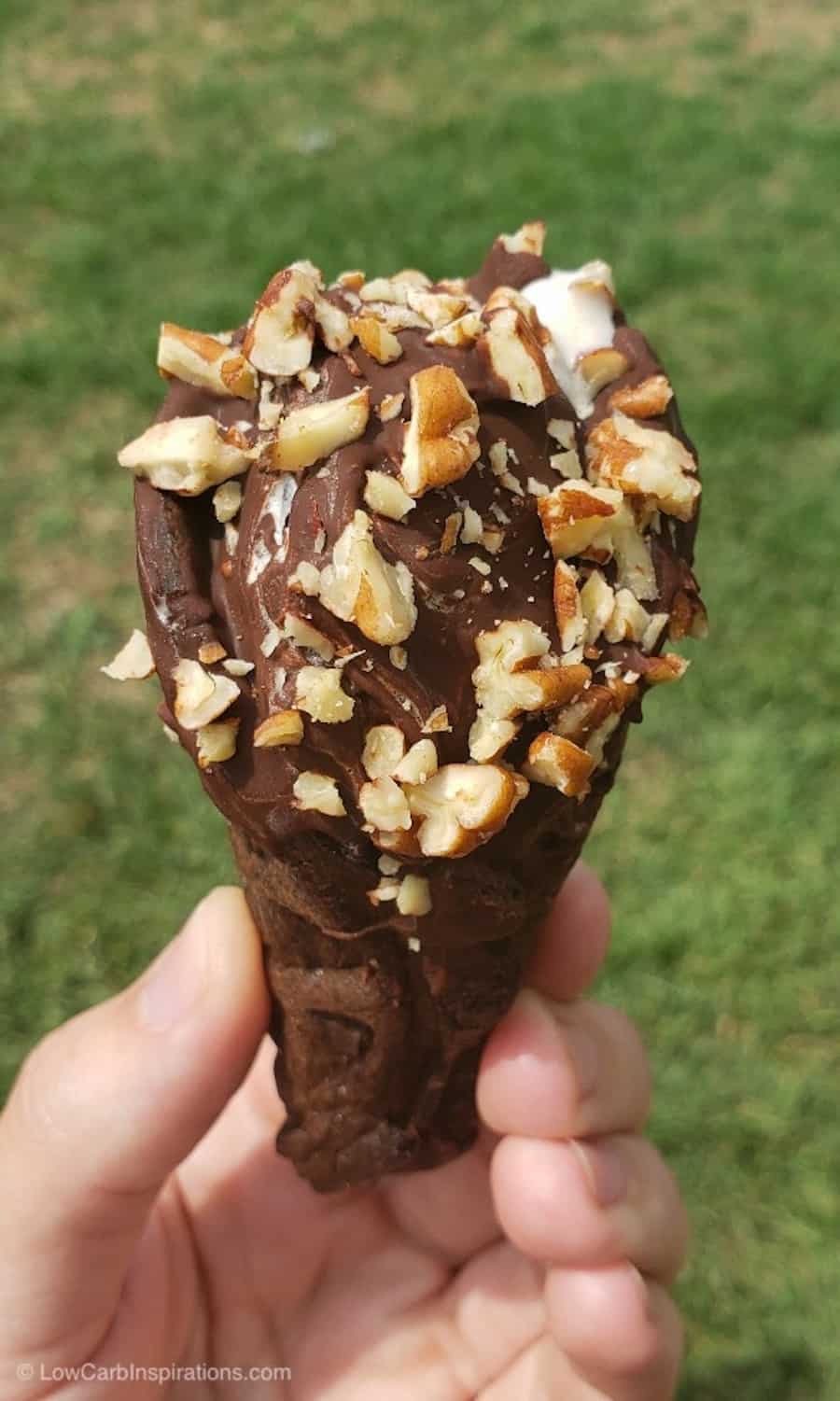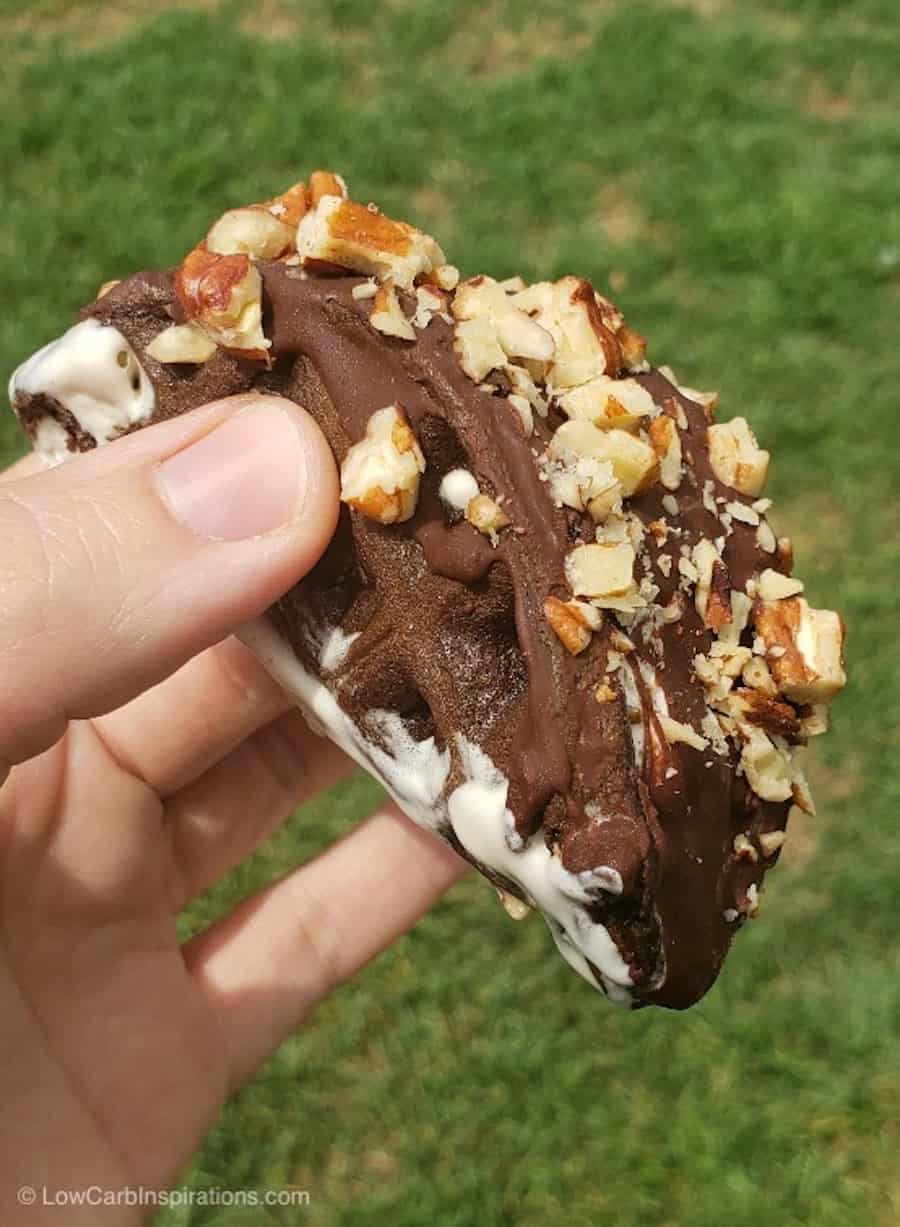 Printable Keto Taco Choco Ice Cream Sandwich Recipe
WP Recipe Maker #301053

remove

Keto Choco Taco Ice Cream Sandwich Recipe

Amazing sugar free and keto dessert idea for summertime!

Course: Dessert

Cuisine: American

Keyword: Keto Choco Taco Ice Cream Sandwich Recipe

Prep Time: 5m

Cook Time: 15m

Servings: 5 Choco Tacos

– Pizzelle Maker

Keto Choco Taco Ice Cream Sandwich Recipe Ingredients

– 2 tbs butter

– 1/4 cup almond flour – 1/2 tsp baking powder

– 1 egg

– 1/2 tsp xanthan gum

– 1/4 tsp salt

– 2 tsp water

– 1/2 tsp vanilla extract

– 1 tbs monkfruit confectioners

Keto Choco Taco Filling Options

– Keto Ice cream you buy from the store

Rebel brand is pretty good

– Keto Soft Serve Vanilla Ice Cream Recipe

– Keto Soft Serve Chocolate Ice Cream Recipe

– Low Carb Strawberry Chocolate Ice Cream Recipe

Easy to make

Optional Toppings

– Keto Magic Shell Topping recipe

– Sugar Free Chocolate Chips

– Sugar Free Sprinkles

– Strawberries

Blueberries, Blackberries, Raspberries, etc…

1) Preheat the pizzelle maker first by plugging it in. No need to spray it with a non-stick cooking spray if your maker is already non-stick.

2) In a microwave-safe coffee mug, melt the butter for about 20 seconds or until fully melted.

3) Combine the remaining keto cannoli ingredients and mix well.

4) Use a cookie scoop to scoop out the dough and place it in the center of each pizzelle design. The cookie scoop measures about 2 tablespoons of batter which is perfect for each sweet taco.

5) Press the lid down and lock it. Cook it for about 1 1/2 to 2 minutes or until the cookie is slightly golden brown.

6) Use a knife to lift the hot taco shell off of the press and quickly shape it in the taco shape by folding it over. Hold it for a few seconds to allow it to harden and stay that shape while it cools. You can place the hot taco shell circle over a spoon to create the taco shape also.

7) This recipe makes 4 or 5 sweet tacos so repeat the steps above to create the remaining taco shells.

8) Allow to shells to cool completely. You can place them in the freezer for about 5 to 10 minutes to speed this process up if needed.

9) While the sweet taco shells are cooling down removing the ice cream from the freezer. You might need to microwave it for about 10 seconds to make it soft enough to scoop into a well cooled taco shell. Make sure they are completely cooled first!

10) Spoon the ice cream into each taco shell and immediately place it back in the freezer to freeze again.

11) While those are freezing in the freezer, make the Keto Magic Shell Ice Cream Topping recipe if using.

12) Remove the frozen sweet tacos filled with ice cream from the freezer and coat the top of the Keto Choco Taco with the Keto Magic Shell Ice Cream topping.

13) Then immediately place the Keto Choco Tacos back in the freezer to allow the Keto Magic Shell Ice Cream Topping to harden up. This will only take a few minutes.

14) Enjoy!

Keto Choco Taco Storage Instructions Enjoy these Keto Choco Tacos now or you can keep them stored in the freezer. If you keep them stored in the freezer for longer than an hour I would highly suggest you place them in a freezer ziplock baggie or a sealed container to keep the freshness of the Keto Choco Tacos. You don't want that dessert to pick up any odors from the other ingredients stored in your freezer. Nutrition: The nutrition facts are for the Sweet taco shell only. The ice cream or toppings are not included.

calories 88

carbohydrates 2

protein 2

fat 8

saturated_fat 3

cholesterol 45

sodium 179

potassium 63

fiber 1

sugar 1

vitamin_a 189

calcium 38

iron 1