The combination of chocolate and coconut is always popular, but these Almond Joy Fat Bombs are going to satisfy that craving with zero guilt. The combination of simple ingredients like coconut, keto-friendly sweetener, and sugar-free chocolate make this a recipe you can whip up at any time.
Chocolate fat bombs with delicious coconut and almond filling will become a go-to treat that helps you stay on track with your keto lifestyle!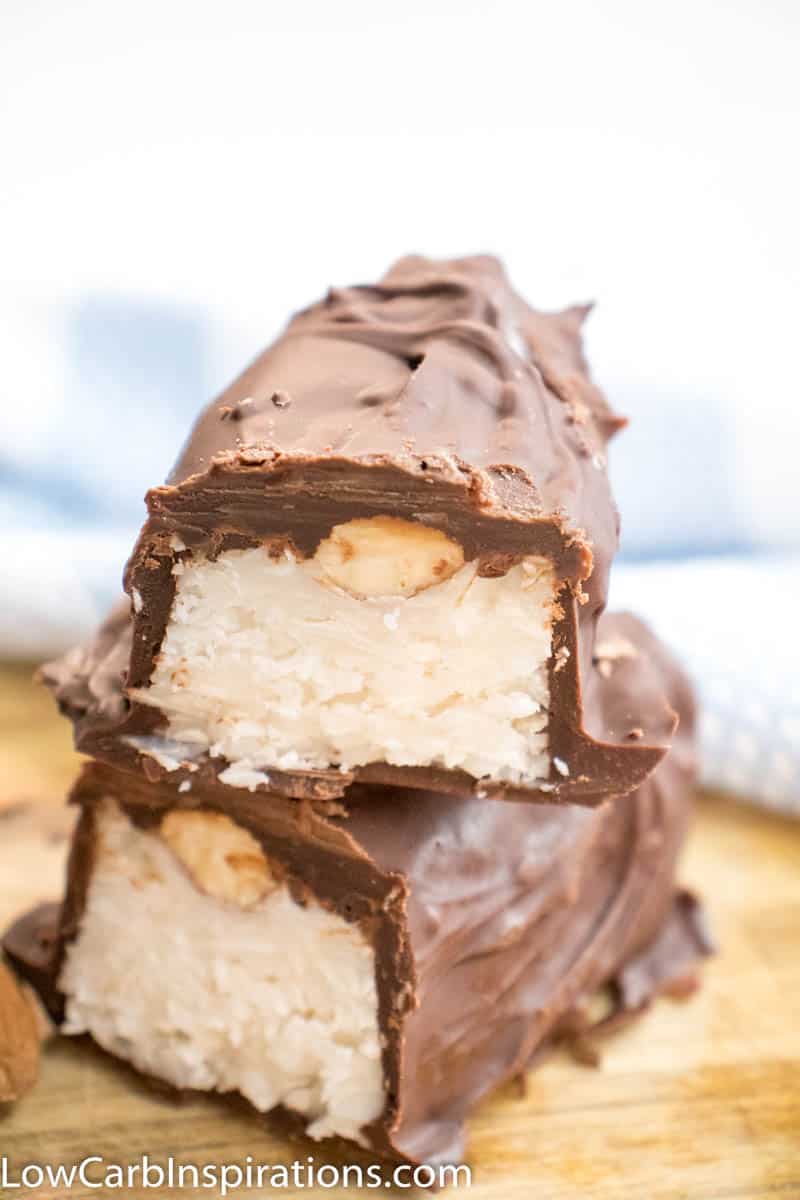 Almond Joy Fat Bombs
This recipe is a great option to make in a short amount of time. Mixing up the ingredients takes just 2-3 minutes, and the process of freezing and dipping into chocolate is really only another 15-20 minutes. At most, you will spend 30 minutes on this fat bomb recipe, and that makes it ideal if you are short on time but still want to enjoy something chocolate.
If you are new to the keto lifestyle, you may want to check out our post on How to Deal with Dessert on the Keto Diet.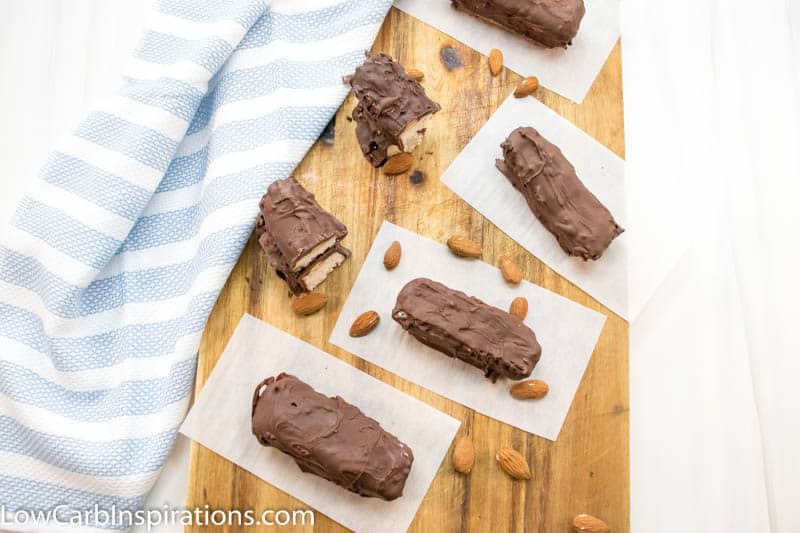 Why should I be eating Fat Bombs?
Since beginning the keto lifestyle, one of the most popular and suggested foods I see mentioned are fat bombs. The question is, why are they so popular and recommended? There are three most common reasons why eating a fat bomb should be considered.
Fats take longer to break down in your digestive tract. This means that your blood glucose levels are slower to rise, and you will stay full for longer.
Since fat bombs are a concentrated amount of fat in one bite, they are ideal for those who aren't meeting their fat macros with just meats or cheeses throughout their day. If you are struggling to meet your fat macros, a fat bomb is a great choice.
They satisfy the craving for a dessert that is sugar-laden and high in carbohydrates.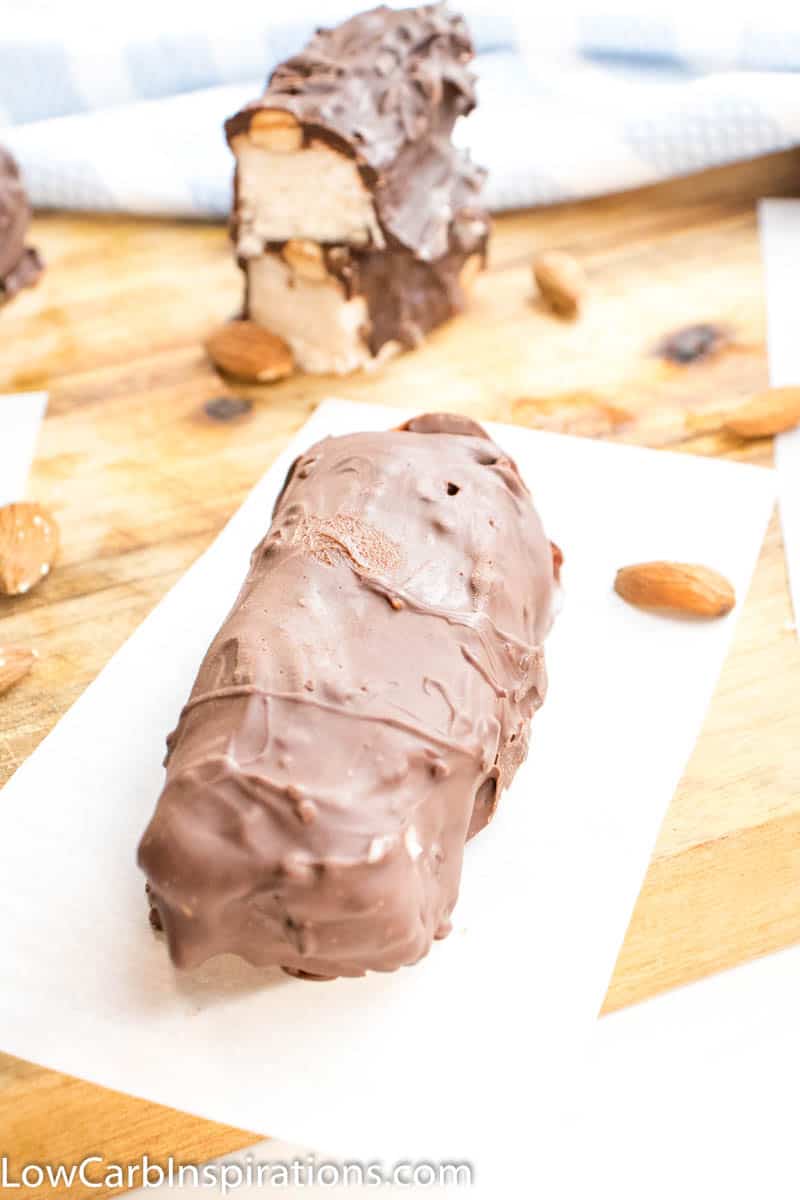 What is the best-powdered sugar substitute?
If you have seen many of my recipes already, you know that my preferred sugar substitute in the keto lifestyle is monk fruit. Monk fruit sweetener can typically be substituted 1:1 in recipes, which makes it much easier to adjust traditional recipes to the ketogenic lifestyle. My preferred brand of monk fruit sweetener is Lakanto.
Another popular option that measures 1:1 in recipes is erythritol. This can be found in the popular brand, Swerve. Both are excellent options that typically do not create issues for those in ketosis.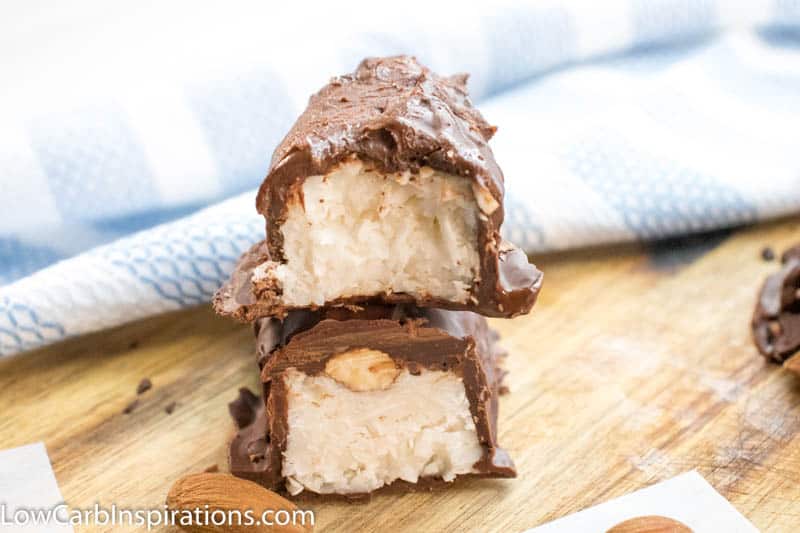 More Fat Bomb Recipes
We are not strangers to fat bomb recipes! There are so many variations out there to try. Whether you prefer something with chocolate or a fruit-based recipe, I have options below that you are sure to love. Make sure to give these a try and let us know which are your favorites!
Ingredients for Almond Joy Fat Bombs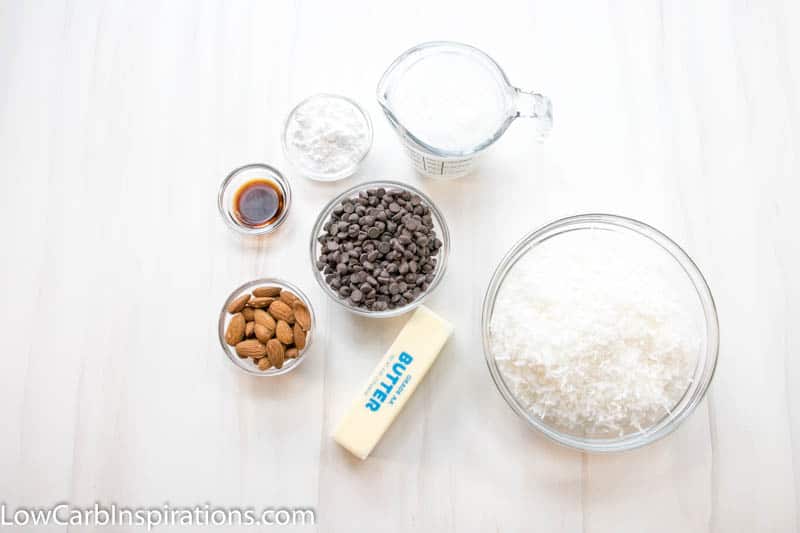 How to Make Almond Joy Fat Bombs
To make this recipe for chocolate fat bombs with coconut and almonds, you will want to gather your ingredients and supplies. I prefer to prepare my square pan with parchment paper before I mix together my ingredients. In a bowl, you will mix together the coconut oil, butter, vanilla extract, and coconut flakes.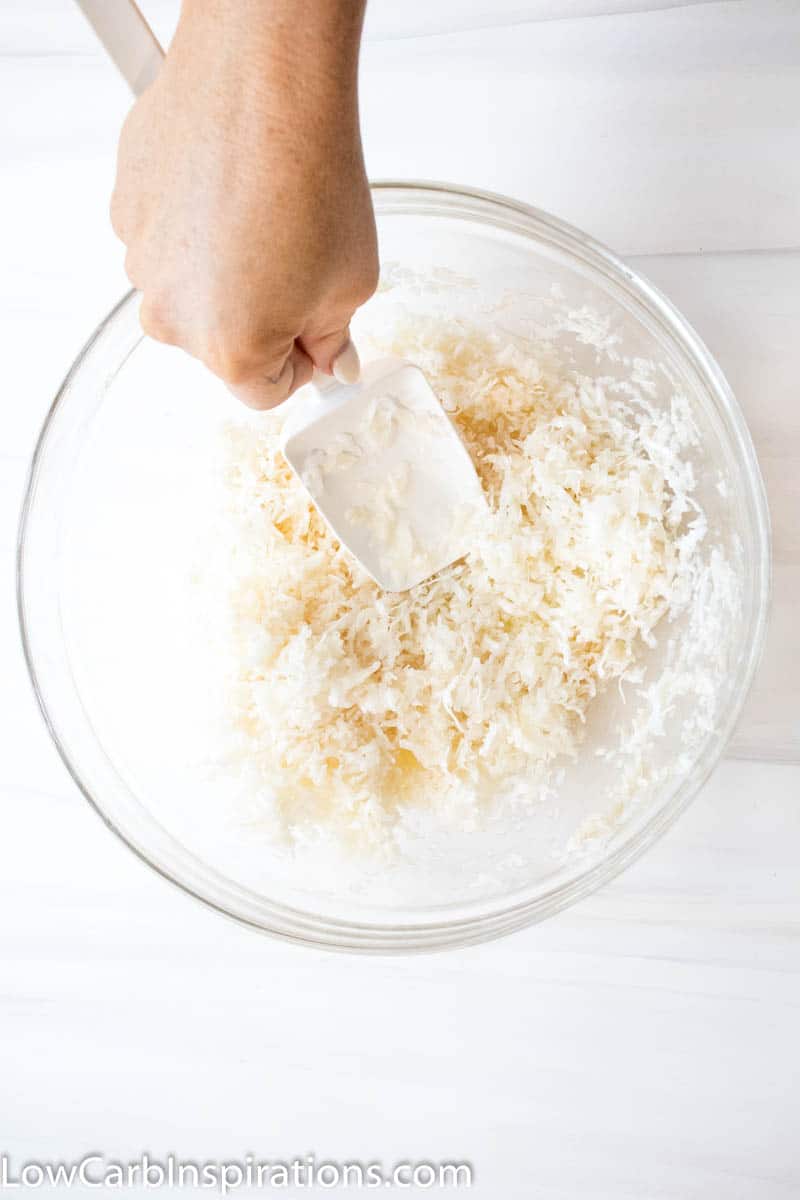 Softening the butter in advance is a must, but you do not want it or the oil melted. Add in the powdered sweetener as directed, then place the almonds on top before freezing to harden.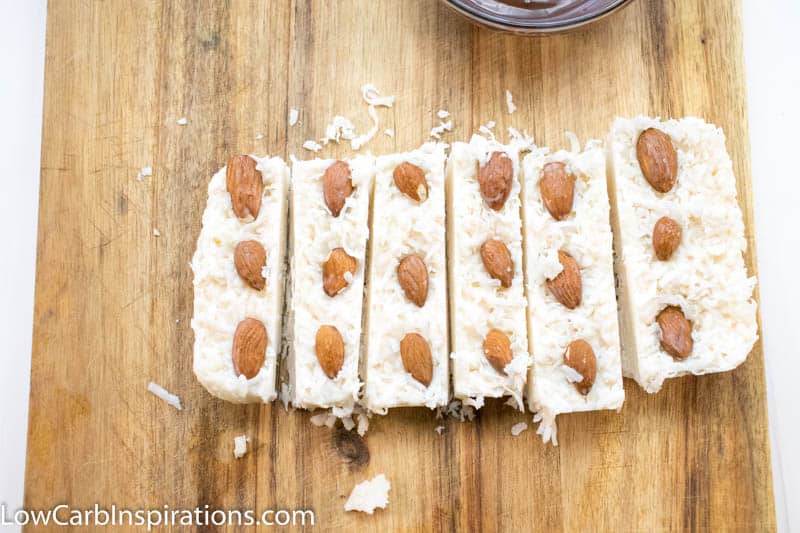 Once the mixture has hardened, you will remove from the pan, cut into squares.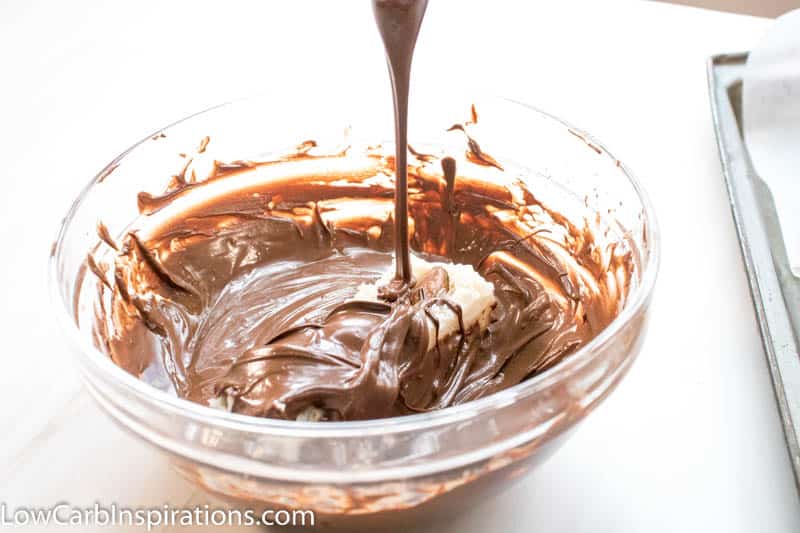 Next, you will dip into melted chocolate. Before serving, allow to cool and harden completely. You may wish to keep these in the freezer in an airtight container until ready to serve.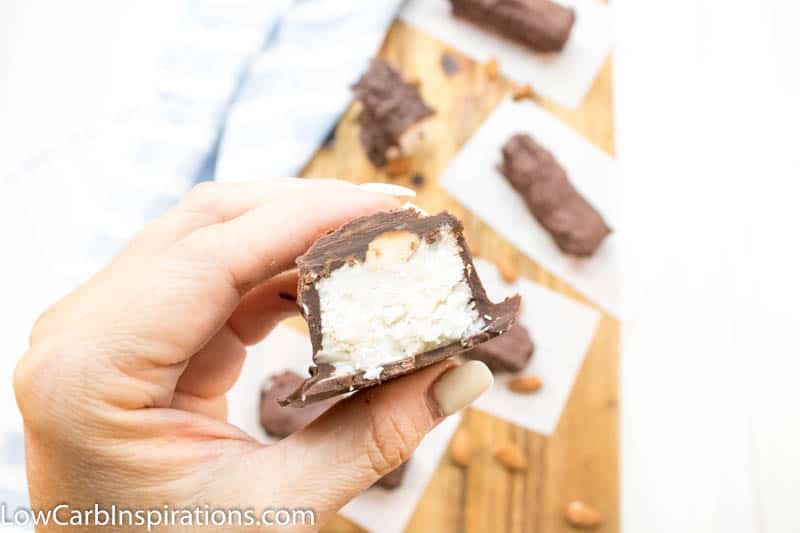 Almond Joy Fat Bombs Recipe Nutrition
Serves 6
Calories 749, Total C 12.9g, Fiber 5.8g, Net C 7.1g, Sugar 2.9g, Fat 79.8g, Protein 3.6g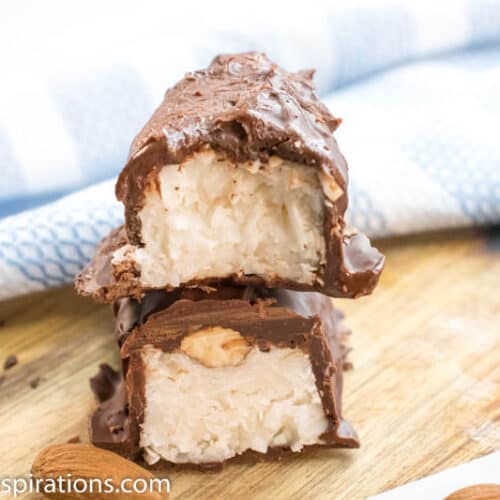 Almond Joy Fat Bombs
Almond Joy Fat Bombs combine unsweetened coconut, sugar-free chocolate, and almonds to make a delicious and keto-friendly treat everyone loves.
Instructions
In a large bowl, combine coconut flakes, coconut oil, butter and vanilla extra. Stir to combine.

Sprinkle powdered sweetener over the top of the mixture and stir until fully incorporated.

Using an 8x8 square pan or bread loaf pan, line with parchment paper for easy removal to cut into bar

Place mixture in the pan in a smooth and even layer.

Place 3 almonds in a line so that there will be 3 almonds in each bar.

Freeze for 15-30 minutes.

Remove from the freezer and cut into bars or almond bites (1 square per almond).

Place parchment paper on a baking pan and melt chocolate

Dip bar (or bites) into chocolate, coating entirely. I found it easier to use a fork to pick up with and remove any excess chocolate.

Place bar (or bites) onto parchment paper and allow to harden. If you are short on time, you can freeze for about 10 minutes.Enjoy!
Nutrition
Serving:
1
serving
|
Calories:
749
|
Carbohydrates:
12.9
g
|
Protein:
3.6
g
|
Fat:
79.8
g
|
Fiber:
5.8
g
|
Sugar:
2.9
g
Nutrition facts are provided as a courtesy. Have a question about our calculations or why you got a different result? Please read our
nutrition policy.