We just made a Low Carb Tortilla Recipe that's also keto friendly and it turned out fantastic!  This recipe took many tries too perfect.  I almost gave up on a corn tortilla because nothing really substitutes corn on the keto diet.
The key to to making a pliable tortilla recipe is the amount of time you fry the tortilla over the stove top and the amount of Xanthan gum you use in this Keto corn tortilla recipe!  If you don't have Xanthan gum, don't even bother trying.  I wouldn't substitute it for anything else.
This recipe uses a combination of almond flour and coconut flour but it's extremely important to mention that is does not have a coconut flour taste!  I know some of you hate the taste of coconut and I feel that's important enough to mention.  This recipe is not too heavy either.  It creates a light and pliable low carb tortilla that is pliable!  This tortilla recipe would go perfectly with any recipe that requires a tortilla!
My husband is hispanic and totally approves!  This is a huge deal because tortillas are life when you grow up with traditional hispanic cooking of beans, rice, and tortillas!  He missed tortillas!  He is beyond excited to have this flour tortilla substitute.
The Low Carb tortillas or the carb smart tortillas in the store are okay.  They definitely help reduce the carbs in your keto diet but the ingredients can be inflammatory.  These homemade low carb tortillas will fit your low carb and keto lifestyle much better because they have higher quality ingredients that won't trigger that inflammation in the store bought low carb tortillas.  This was extremely important for my husband who suffers in pain with any food that causes inflammation.
We've tested our keto tortilla recipes so much that we have a couple different variations.
The other tip to this recipe is using the proper tools to make this low carb tortilla recipe come out perfect every time! We use a tortilla press! Best investment ever! You get a perfect circle and the dough is always evenly distributed. You can use a rolling pin to roll the keto tortilla also. It just takes a bit more work. If you make homemade tortillas as often as I do, you will want a tortilla press. I promise!
This recipe makes 5 keto tortillas. You can double or triple the recipe as needed.
It's best to consume these tortillas fresh as you make them. They taste best fresh in my opinion. However, I have made way too many before and the kids always reheat them for 10 seconds in the microwave, add butter, cinnamon and keto friendly sweetener to them as a quick dessert. Have you ever rolled a warm tortilla after you've added a bit of butter and sweetness to it? It's fantastic!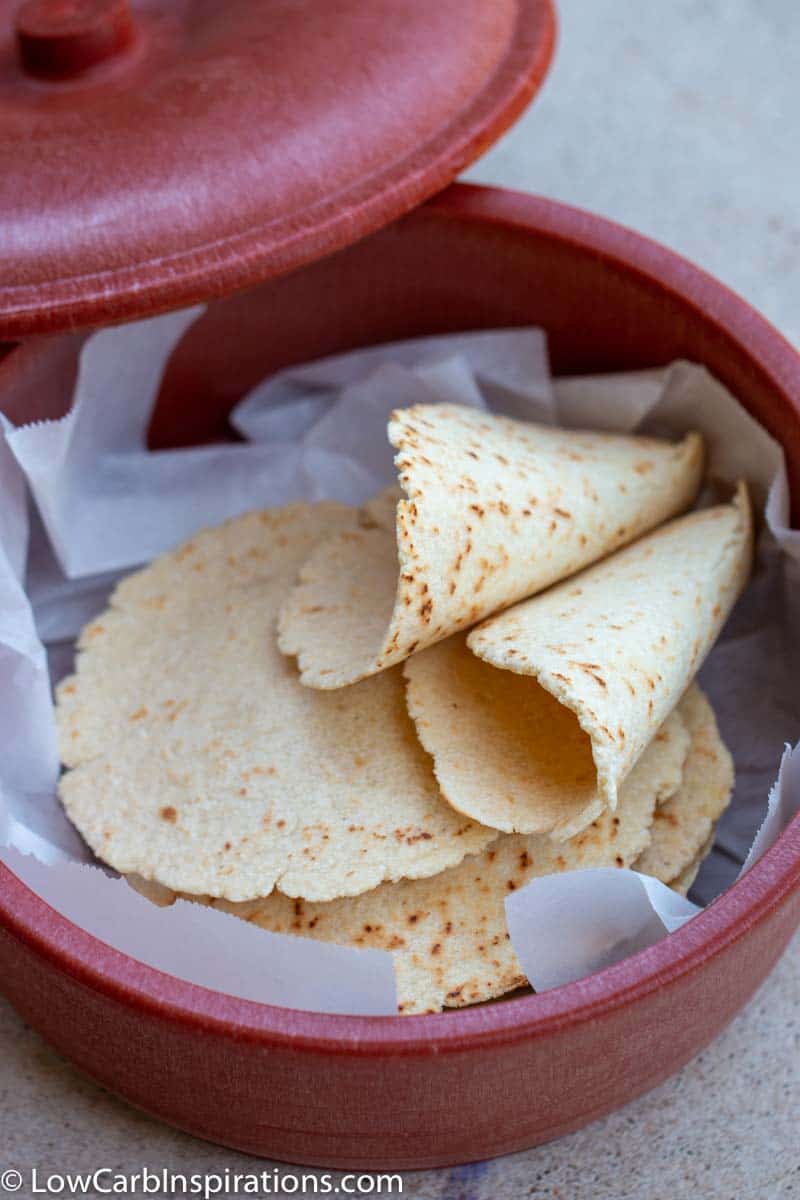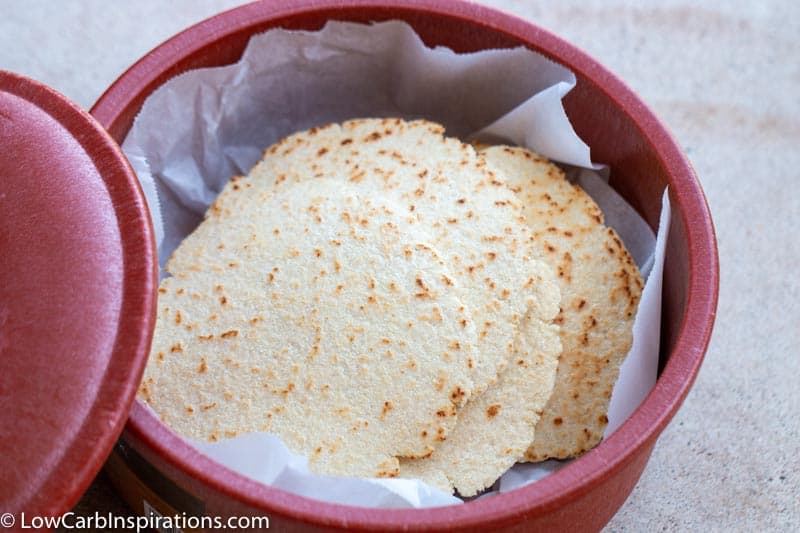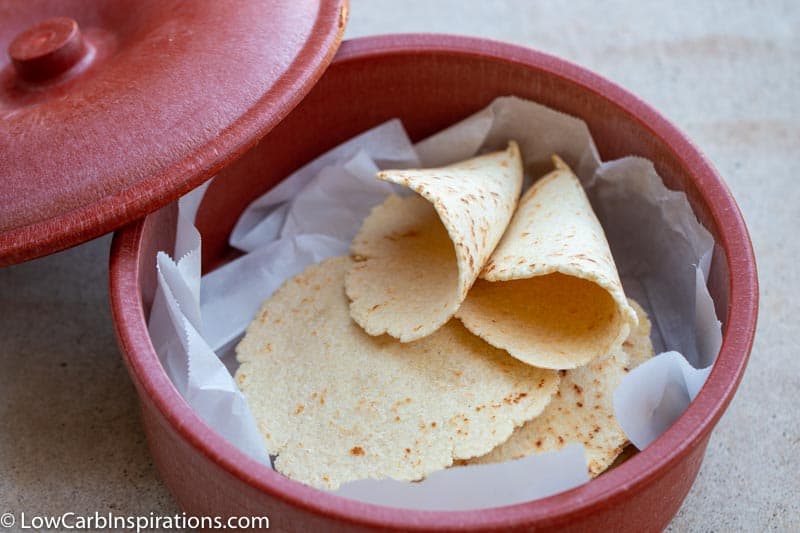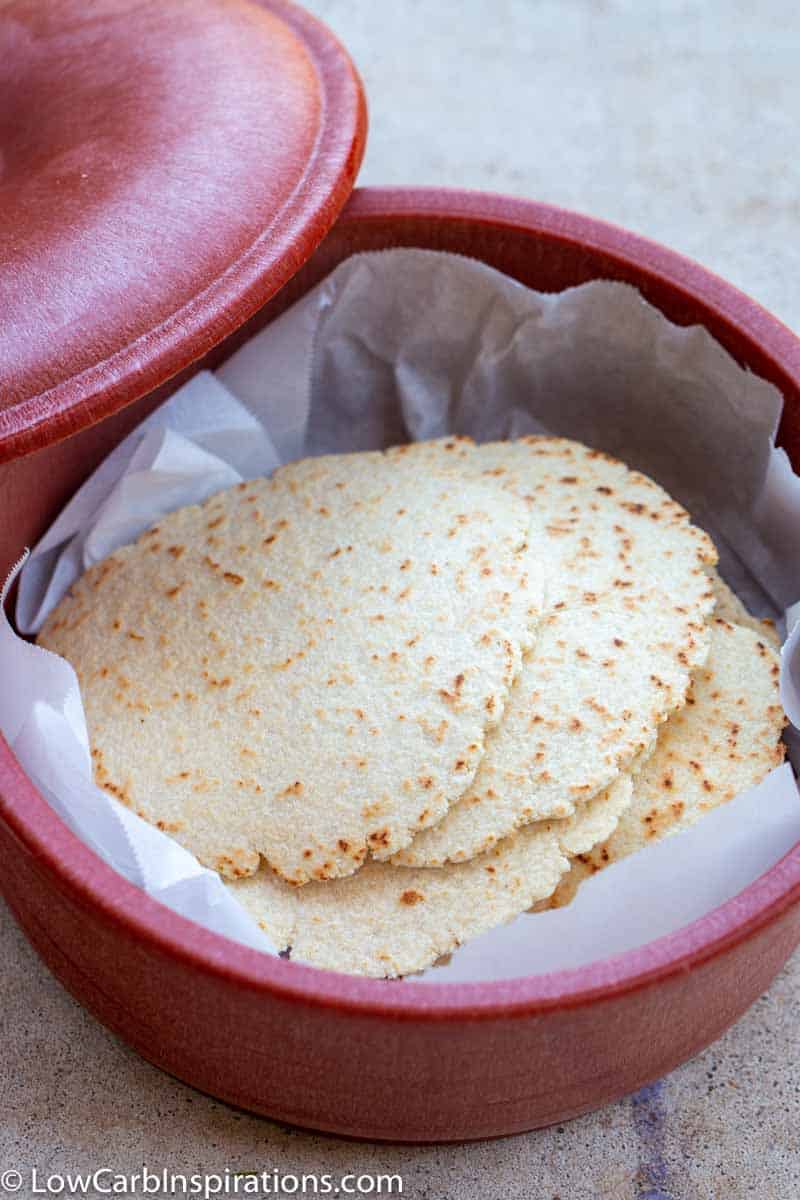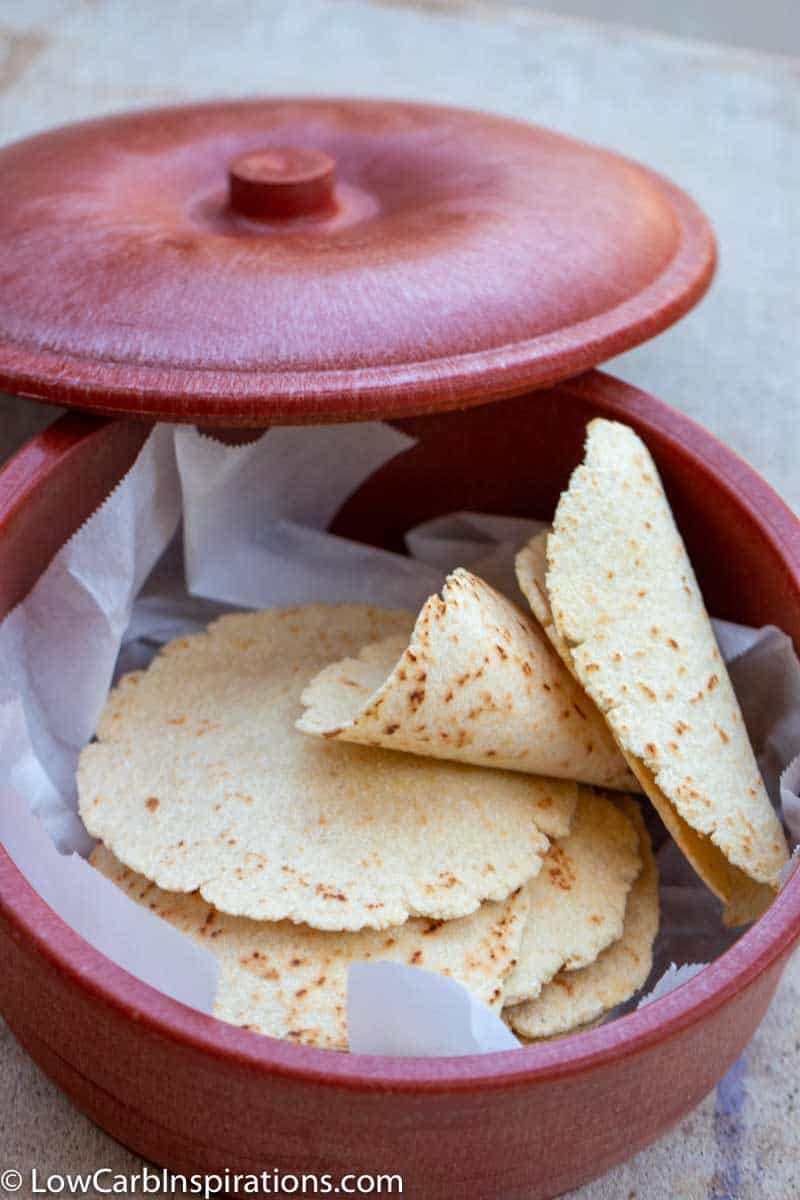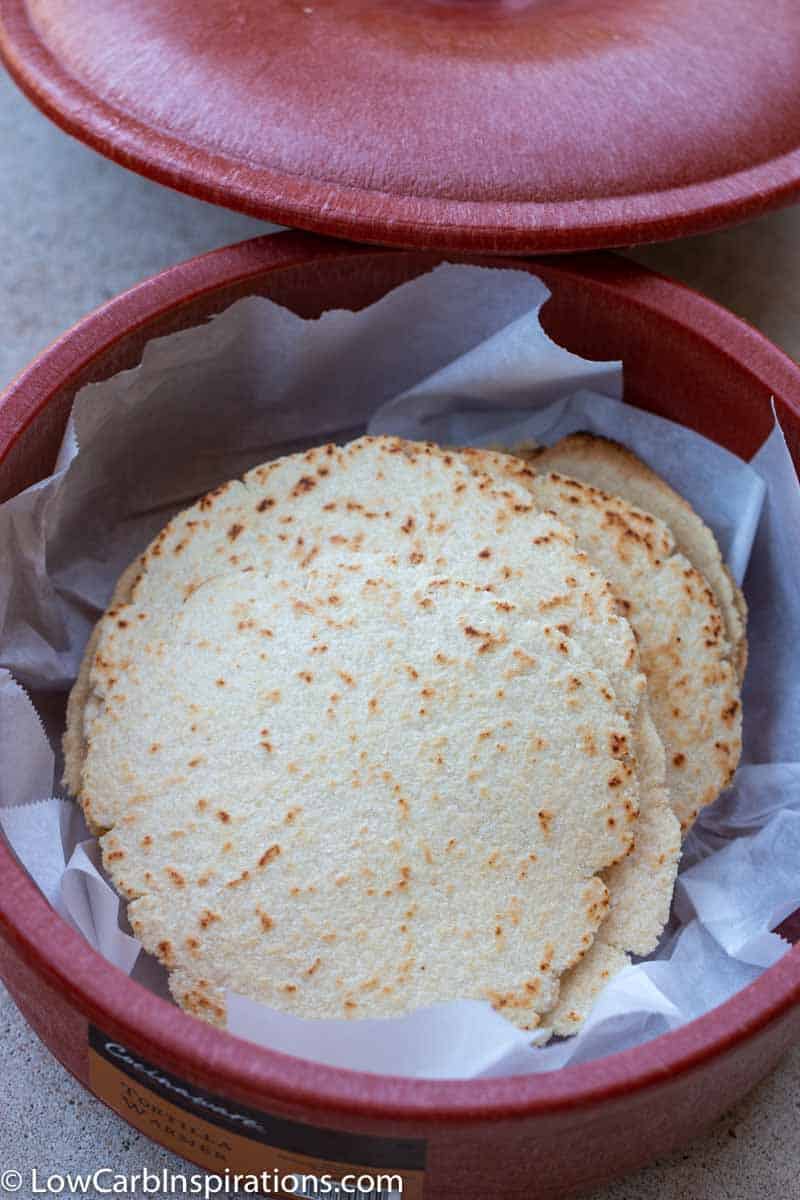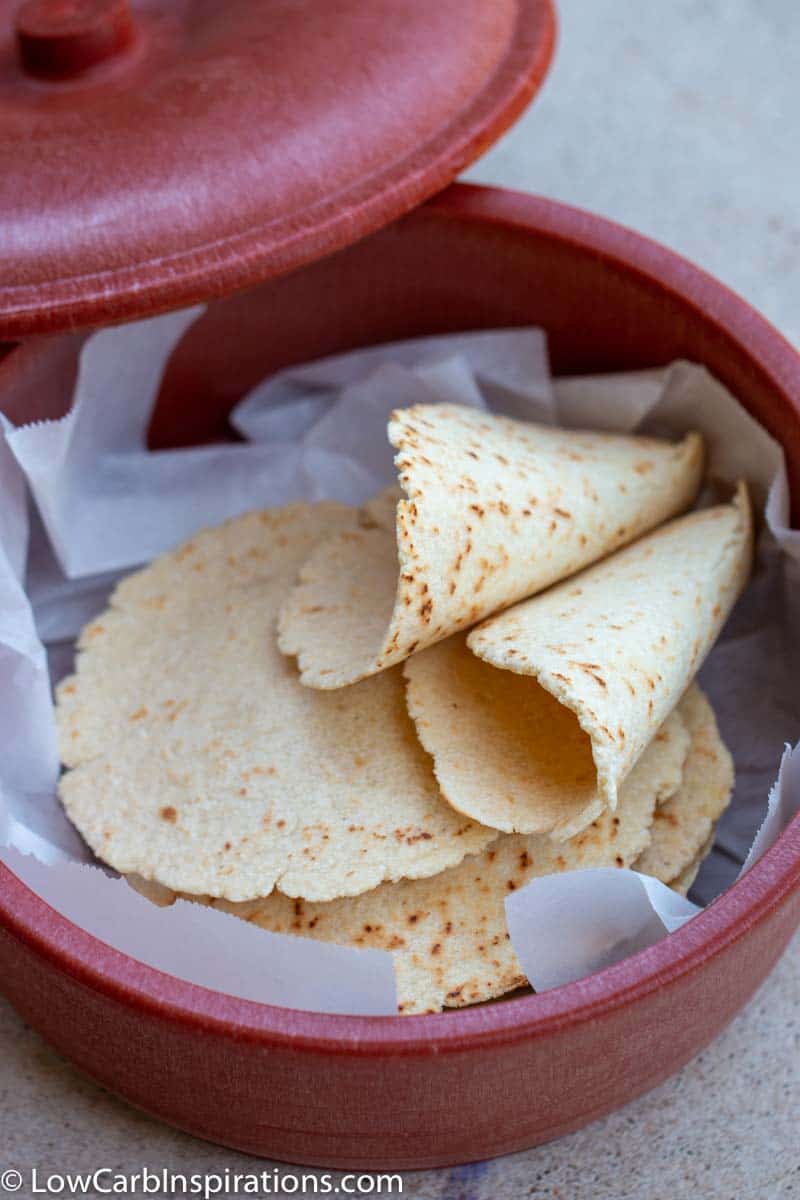 Low Carb Tortilla Recipe Ingredients
3/4 cup almond flour
1/4 cup coconut flour
2 tsp xanthan gum
1/4 tsp salt
1/2 tsp baking powder
1 egg
1 tbs water
1/2 tsp apple cider vinegar
Low Carb Tortilla Recipe Instructions
Make the tortilla dough
Add all the ingredients to a food processor and blend it on high until the dough forms a ball.  This only takes about 15 to 20 seconds pulsed on high in the food processor.
Take the dough out of the food processor and use your hands to knead the dough together to make sure all the ingredients are fully combined.
The dough will seem a bit sticky at first. Kneading it together helps to form the dough.
Roll out the dough using the rollin pin method
Remove the dough and split it equally into 5 pieces.
Roll each piece into a ball.
Place two small sheets of parchment paper down. Place the ball of dough between the sheets of parchment paper and roll the dough out in a very thin 6-inch round circle using a rolling pin. You can use a bowl to create a perfect circle shape if needed. Place the bowl over the rolled out dough and cut off the edges outside of the bowl.
Create tortillas using the tortilla press method.
Cut off one large sheet of parchment paper. The paper should be long enough to fold in half and cover the tortilla press shape.
Open the tortilla press and place the parchment paper on top of the press.
Place the ball of dough on the parchment paper in the very center of the press. Press the ball down slightly so you know it will stay in the center when you press it down.
Shut the top lid on the tortilla press and use the handle to press it completely down all the way. See photos and video below.
Open the tortilla press and uncover the top layer of parchment paper.
You will see a perfect tortilla circle every time!
Cook the tortillas
Using a small frying pan with no oil. Heat the pan over medium heat.
You will cook these tortillas for a small amount of time. It's basically cooking them just long enough to cook the egg in them.
Once the pan is hot, add the tortilla to the pan and set a time for between 30 and 45 seconds. I use my Amazon Alexa to help set a timer to cook these perfectly every time.  If my pan is super hot on high heat, it cooks in only 30 seconds.  Lower temperatures and it cooks in 45 seconds.  This is the difference in cooking times.  Don't cook them longer than that or else they won't be pliable. You will see a slight brown color on the cooked side of the tortilla.
Flip the tortilla and cook the opposite side for only 15 seconds.  I always count to 15 so I don't lose tract of time.   The opposite side won't be as golden brown as the first side but it will be fully cooked.
Place the cooked tortillas in a tortilla warmer container until you are ready to serve them.
You can reheat the tortillas in a frying pan or microwave as needed. You will only need to use 10 seconds in the microwave and about 30 to 40 seconds on the stove top using a hot frying pan with no oil.
Note:  You can make this dough ahead of time.  It will keep in the refrigerator for up to 4 days sealed in an airtight container or a ziplock baggie with all the air taken out.
We love using these recipes in our Keto Barbacoa Tacos recipe!
A little information about how this recipe came about:
In the beginning of our journey we used to purchase the low carb tortillas you can find in the stores.  Those were way better than eating the regular tortillas that are loaded with carbs!  But, the longer we've been on keto we realize the more important it is to use non inflammatory ingredients.  This is the reason we took so long to perfect a keto tortilla recipe.  My husband grew up eating tortillas and it was the one thing he missed the most on keto!  These Keto Tortillas are only 3 net carbs (subtract the fiber from the total carb count in the nutrition label).  They won't cause inflammation!
The Mission Carb Balance tortillas along with many other store bought tortillas are made with WHEAT!!!  Here's the nutrition I pulled from the Mission website:  Water, Modified Wheat Starch, Enriched Bleached Flour (Wheat Flour, Niacin, Reduced Iron, Thiamine Mononitrate, Riboflavin, Folic Acid), Wheat Gluten, Vegetable Shortening (Interesterified and Hydrogenated Soybean Oils), Wheat Gluten Isolate, Contains 2% or Less of: Salt, Baking Soda, Sodium Acid Pyrophosphate, Cellulose Gum, Distilled Monoglycerides, Natural Flavor, Sucralose, Fumaric Acid, and Calcium Propionate and Sorbic Acid (to Maintain Freshness). CONTAINS: WHEAT
This keto tortilla recipe we created is delightful and you won't miss tortillas if you try it!