Keto Strawberry Cake Chaffle Recipe
We just perfected the best Keto Strawberry Cake Chaffle Recipe that would be perfect for Valentine's Day! Moist, fluffy and low carb perfection!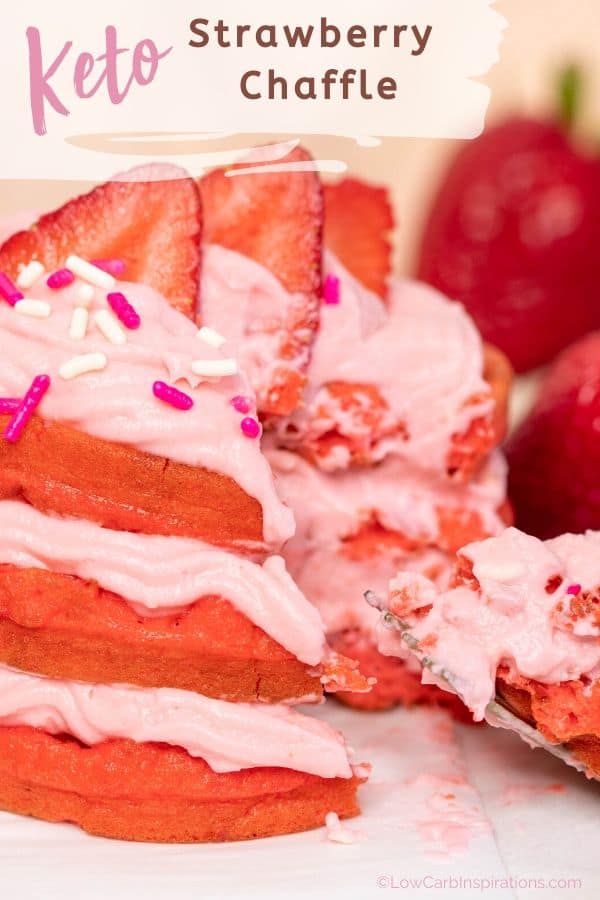 This recipe takes very little effort but you do need to have the extracts purchased ahead of time. I really like the Louann extracts or the OOOFlavor extracts. I have a big collection of them. I also used 2 drops of red dye in the recipe but you can omit that because it doesn't change the taste at all.
I will tell you what not to do though. Don't puree strawberries in this dough because it will be too thin and it won't have a cake-like texture when it's done. The batter becomes too watery. Instead, use the extracts to create the strawberry flavor and top the cake with heart-shaped strawberries to complete the cake! It's amazing!
I purchased the cake plate at a Tuesday Morning store. You can find plenty of small cake plates on Amazon. I've seen the same small cake plate at Target too!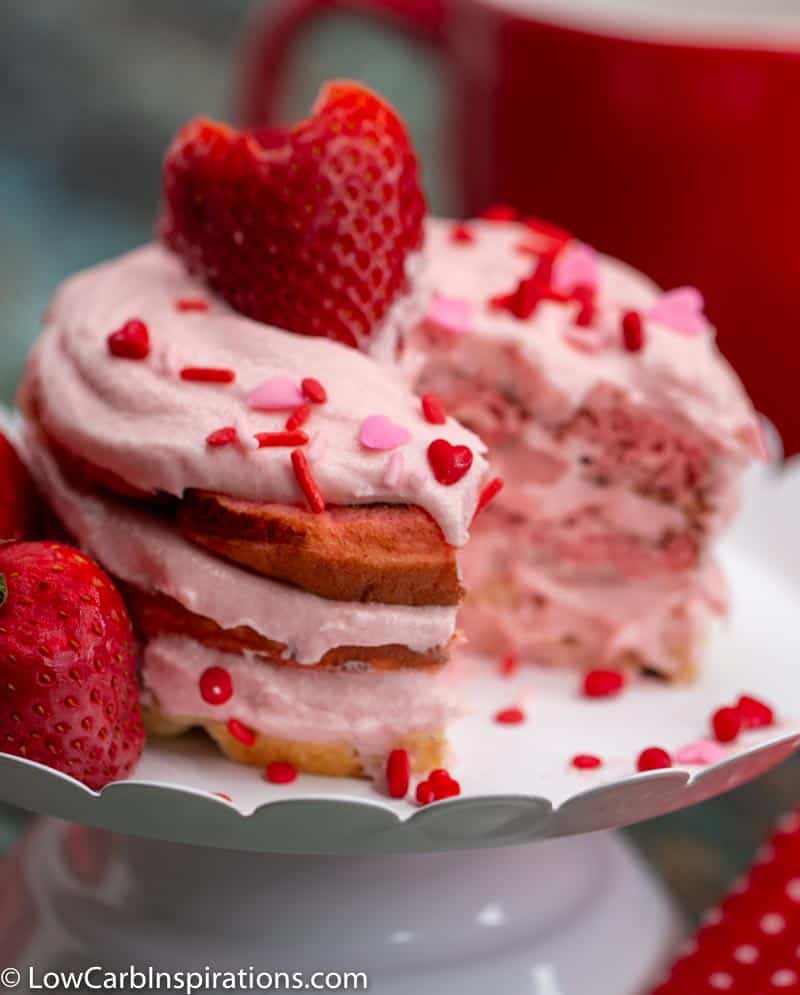 Keto Strawberry Cake Chaffle Recipe Ingredients
Makes 2 chaffles
Strawberry Frosting
NOTE: The printable recipe is below with the full instructions!
Here is a video we made to show you how to make this Strawberry Chaffle Cake recipe.
Keto Strawberry Cake Chaffle Nutrition
(doesn't include the frosting)
Serves 2
Calories 108, Total C 2.7g, Fiber 0.1g, Net C 2.6g, Sugars 0.9g, Fat 7.9g, Protein 4.5g
New to Keto? Check out the Keto Starter Guide!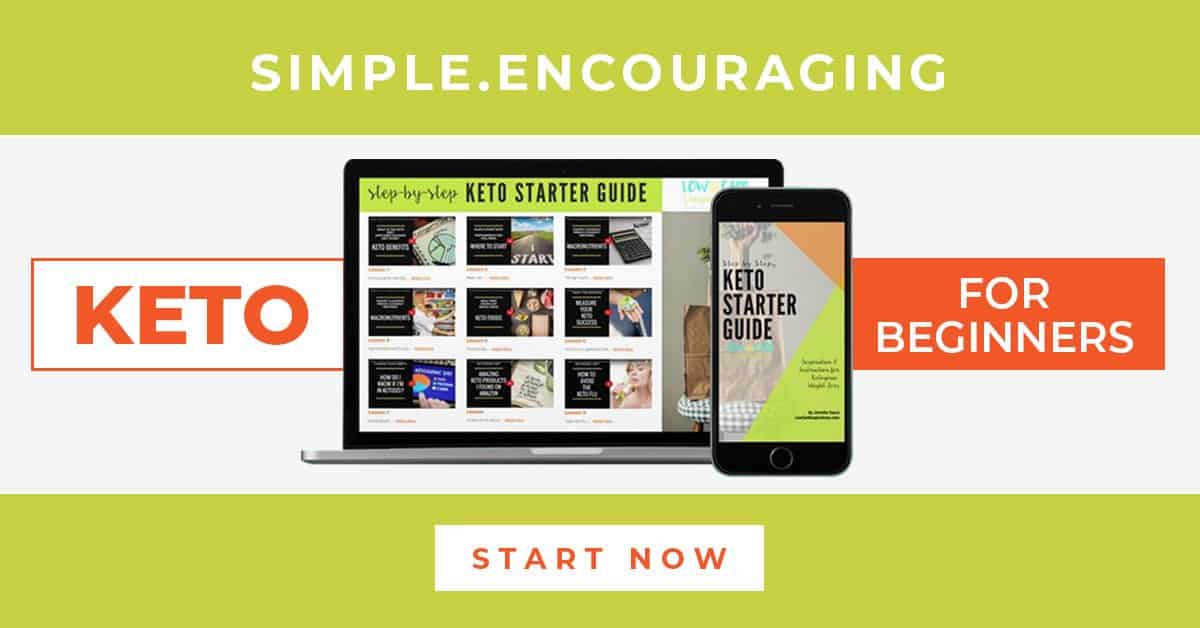 The Keto Starter Guide is an amazing resource as you get started on your keto/low carb journey. This guide has everything you need to get started in 9 simple video lessons and also includes workbooks with step by step instructions for beginners.
What's a macro and why do I count them?
How do I find the best recipes?
What is ketosis and how do I get my body there?
What fruits are allowed on a ketogenic diet?
Will I get "Keto Flu" and what do I do about it?
Get the Keto Starter Guide today!
If you are new to the Keto Chaffle craze, here is everything you need to know about them!
Why is it called a chaffle?
It's called a chaffle because cheese + waffles = Chaffles! It's just a clever name that someone in the keto community invented. Pretty cute, huh?!!
What kitchen gadget do you use to make chaffles?
I love my little Mini Waffle Maker and I use it all the time. You can use a full-size waffle maker, just be sure you double the recipe in most cases.
Can you freeze chaffles?
Yes, they freeze well! Just be sure to wrap them tightly in an airtight container to keep them fresh longer. You can freeze them for up to a month. I haven't tested any longer than that.
Can you make chaffles for a whole week at one time?
You can also prep ahead of time and make fresh chaffles for the week. They will stay fresh as long as you keep them refrigerated. To reheat them, simply pop them in the microwave or air fryer to heat them up. The air fryer tends to get them nice and crispy if that's what you are going for!
Here are a few more photos we took of this recipe! It's absolutely delicious!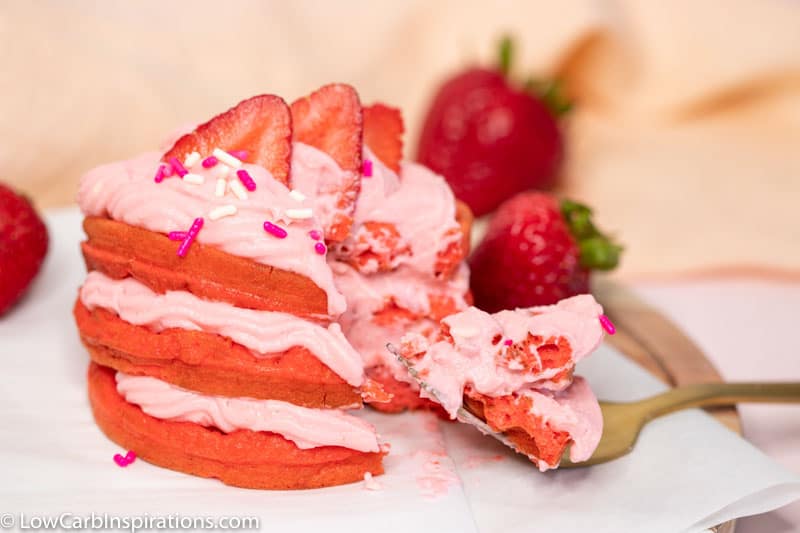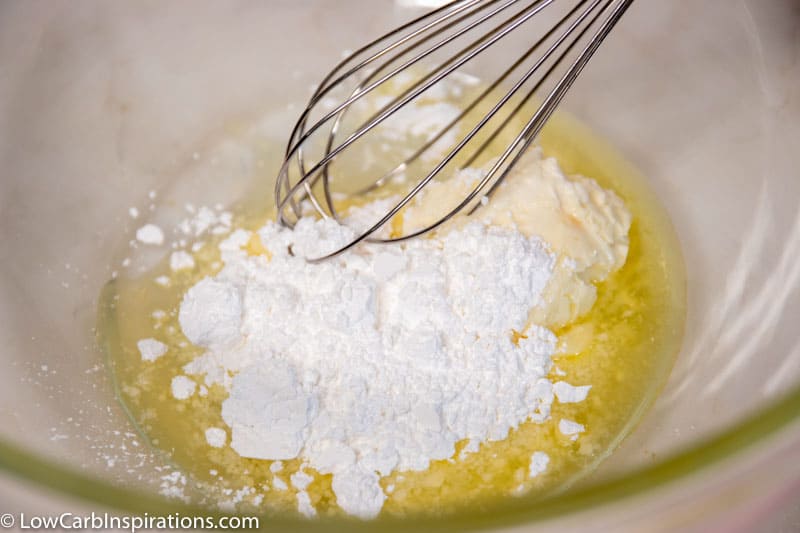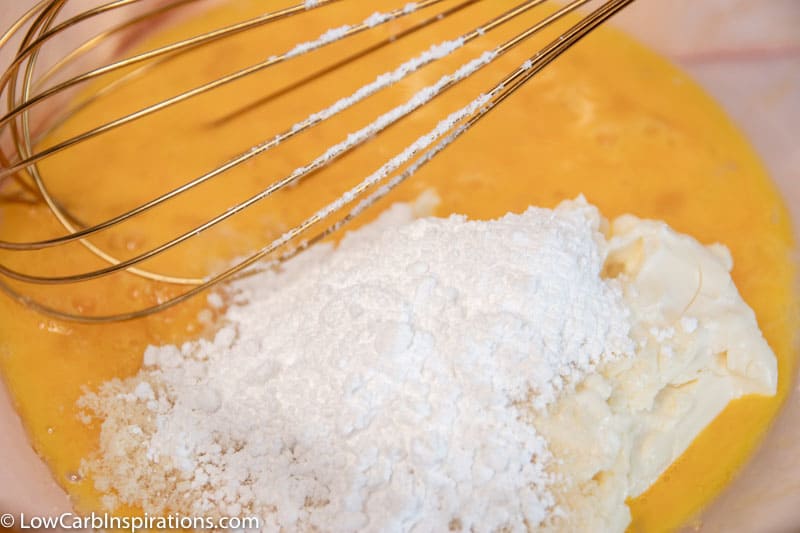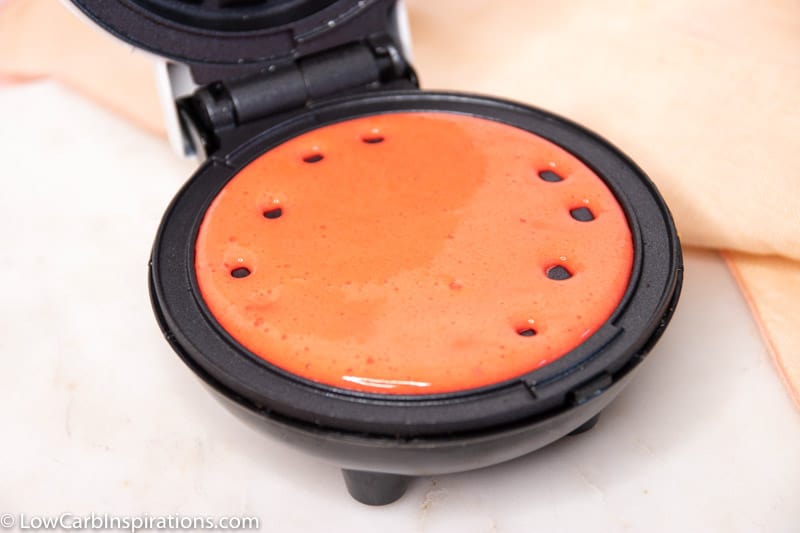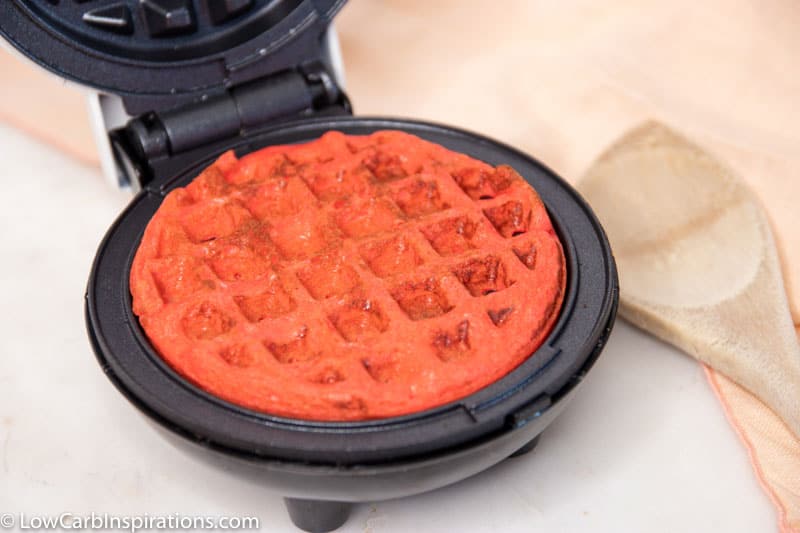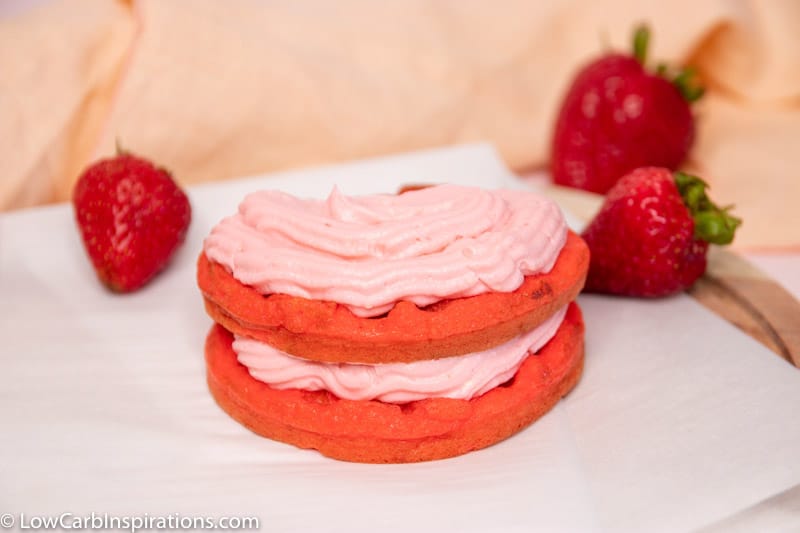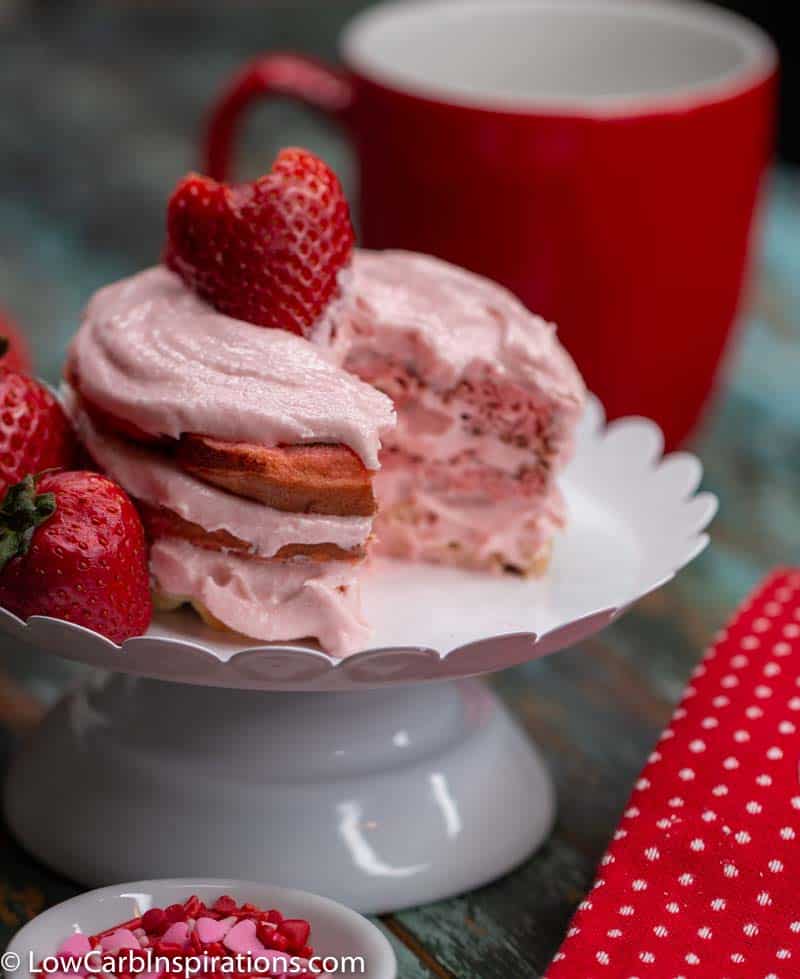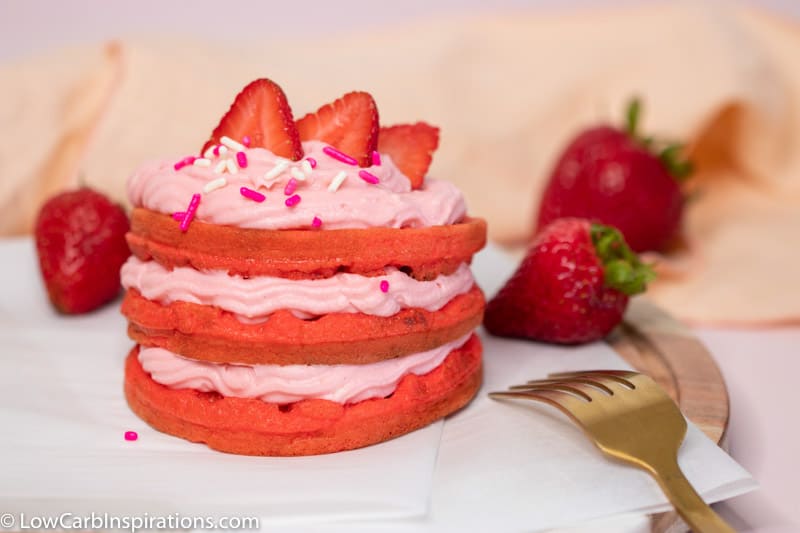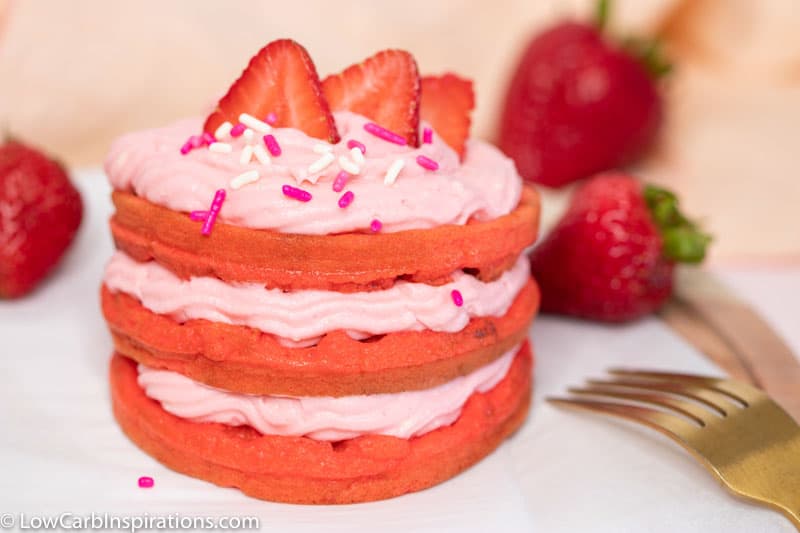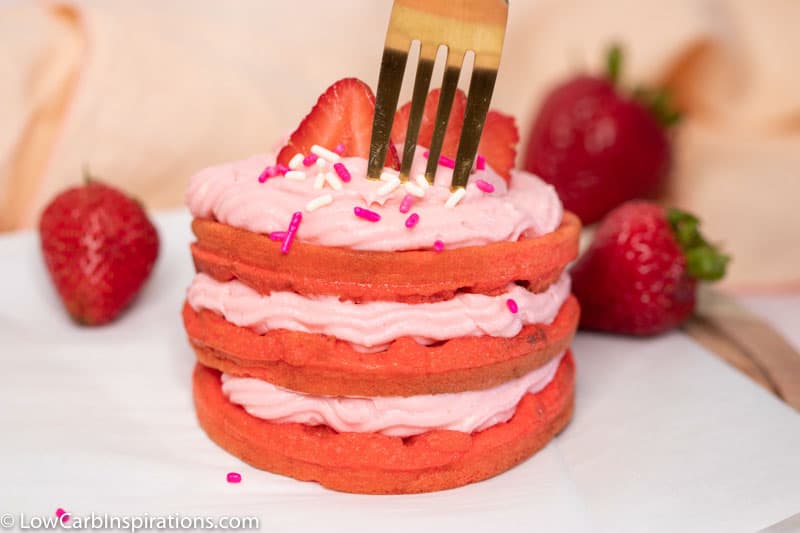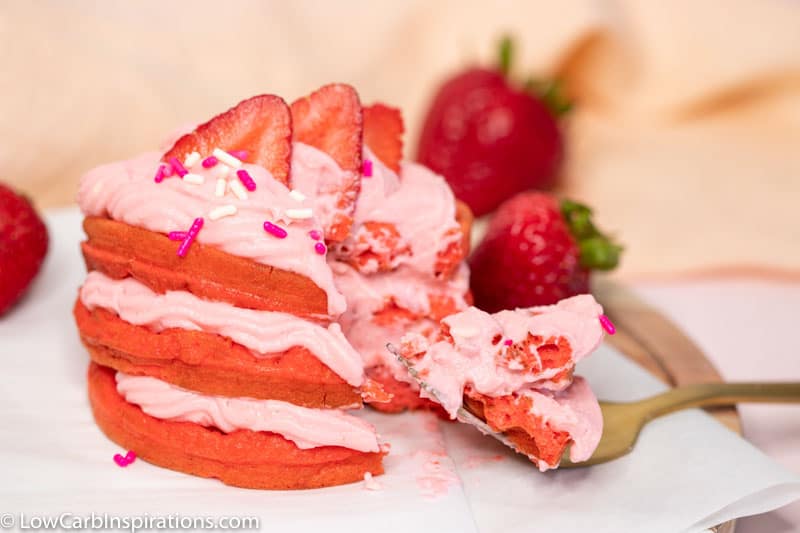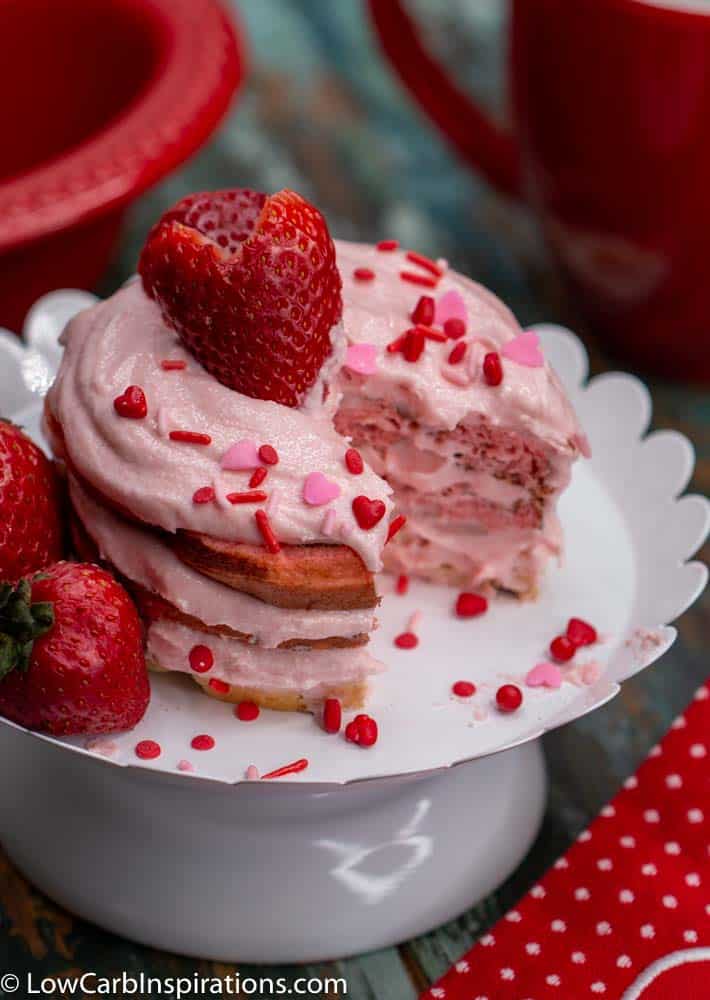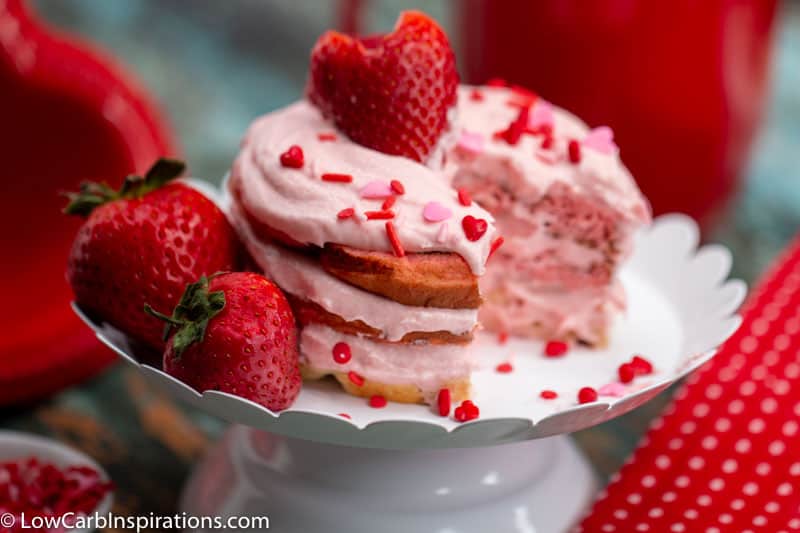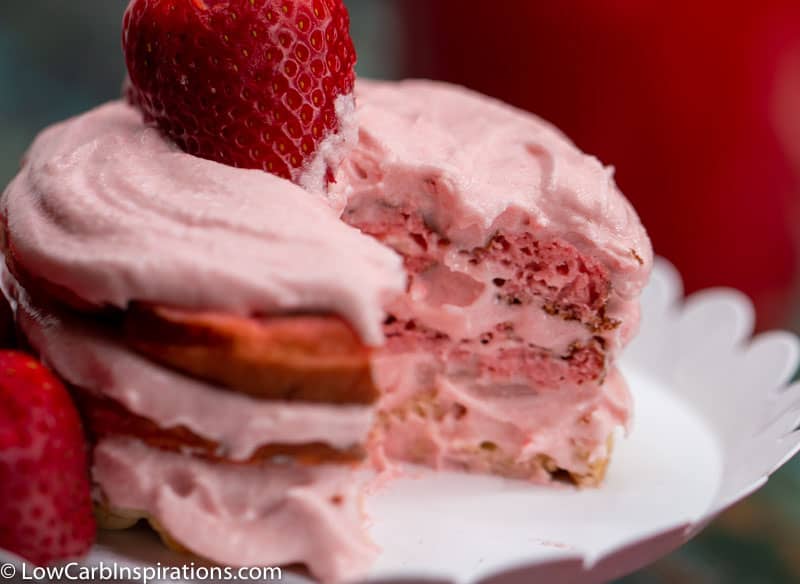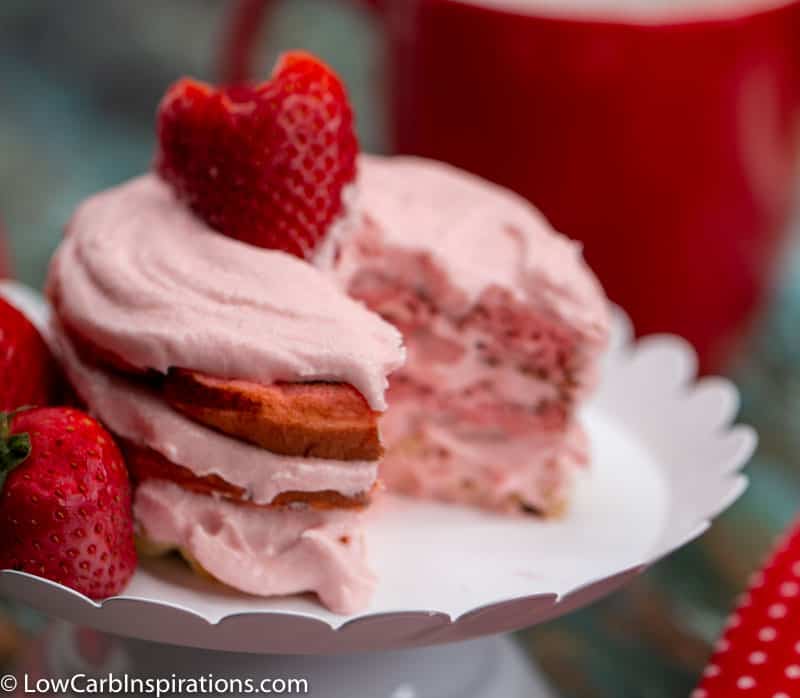 Don't forget to pin this for later!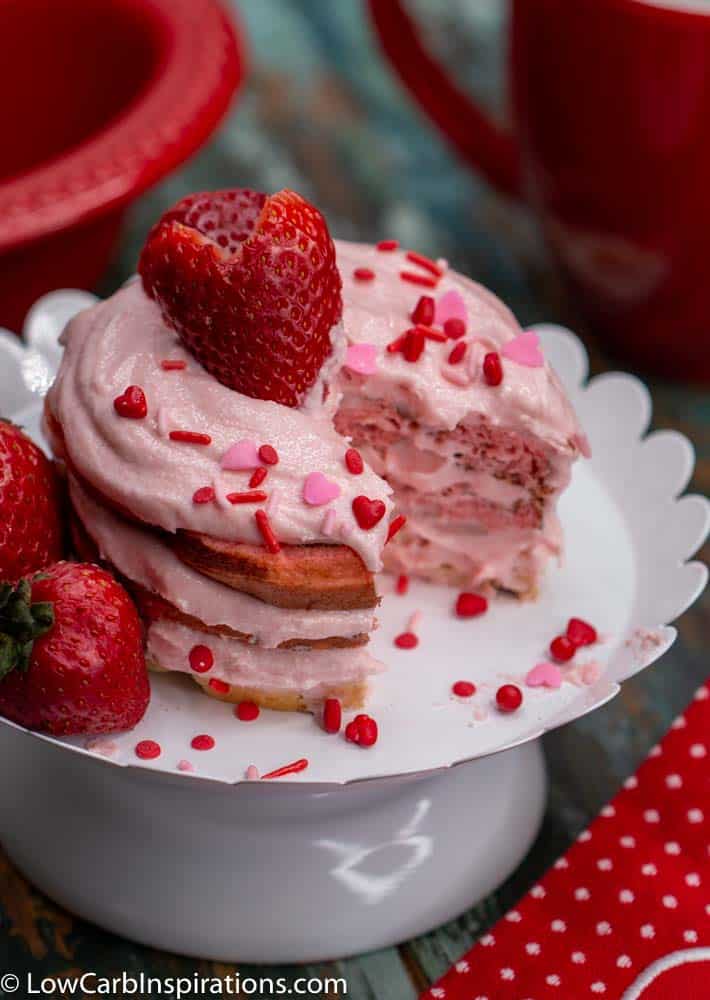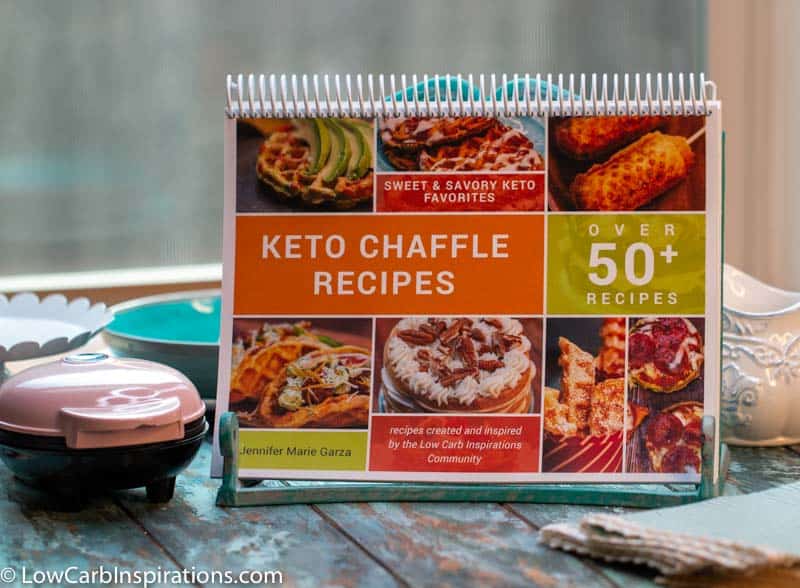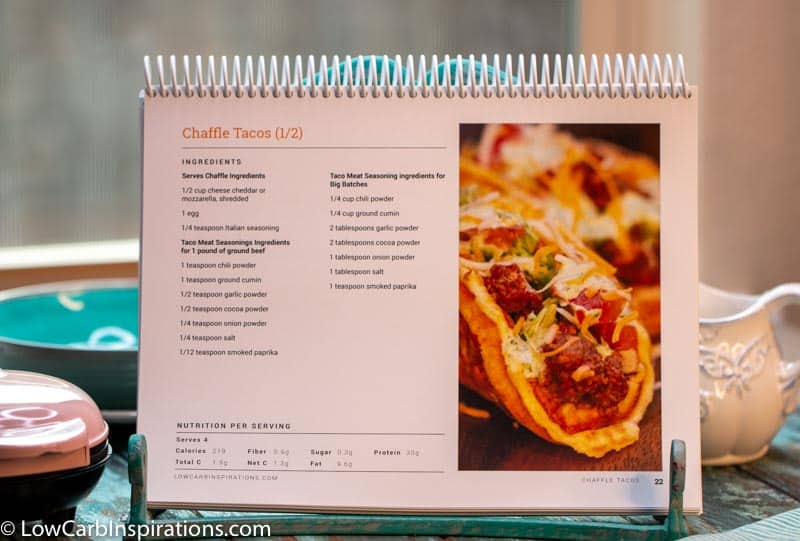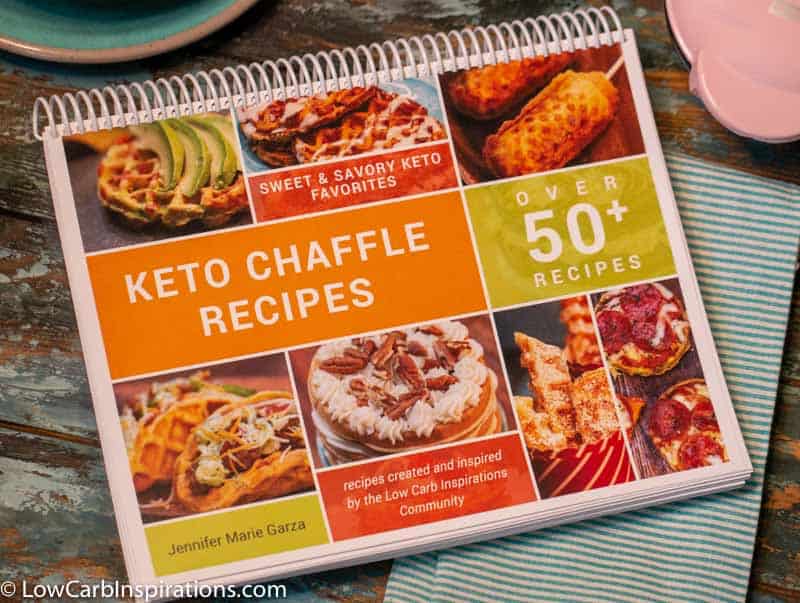 Looking for Keto Chaffle Recipes? Here ya go!!!!
We have all the best keto chaffle recipes with new recipes being created daily! In our new, Keto Chaffle Recipes eBook Cookbook, you will get over 50+ sweet and savory keto recipes for every flavor palette.
Basic Chaffle Recipes
Savory Chaffle Recipes
Sweet Chaffle Recipes
Chaffle Cake Recipes
Get the Keto Chaffle Recipes eBook Cookbook today and say 'hello' to a new Keto meal idea!!
Be sure to pin this for later!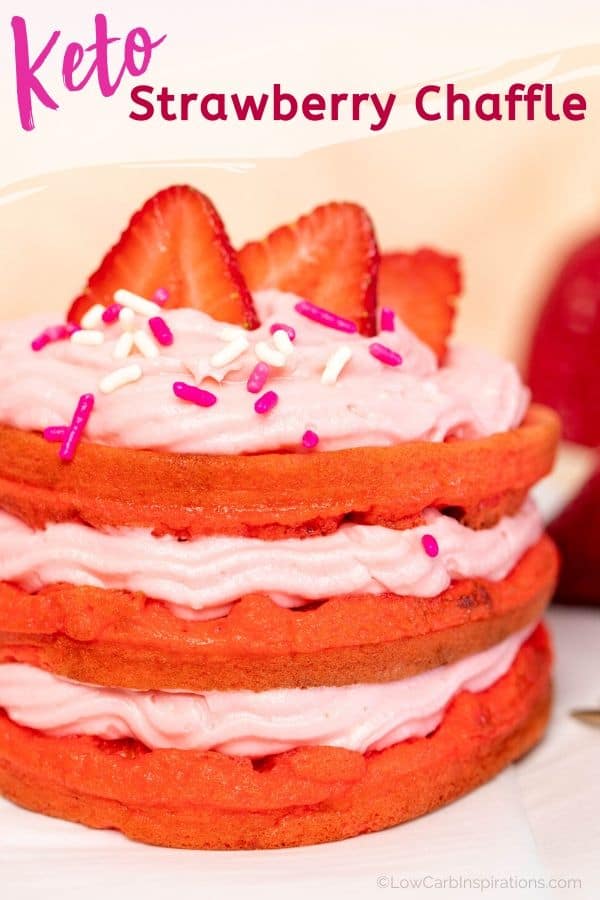 Here's a printable version of this Keto Strawberry Cake Chaffle Recipe: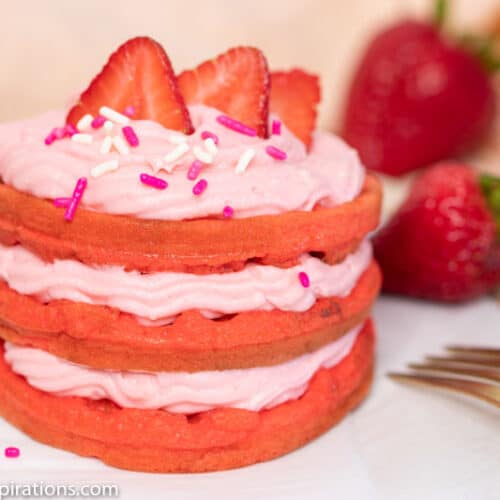 Keto Strawberry Cake Chaffle Recipe
Moist, fluffy and low carb perfection...this is the best Keto Strawberry Cake Chaffle on the internet!
Ingredients
Chaffle ingredients
1

egg

1

ounce

cream cheese

1/2

tsp

vanilla

1

tbs

almond flour

2

drops red food coloring

optional

Top with sliced strawberries

optional
Strawberry Frosting ingredients
1

tbs

cream cheese

room temp

1

tbs

butter

room temp
Instructions
In a small bowl, add the egg and use a hand whisk to mix it until fluffy.

Add the remaining ingredients and mix well until it's all fully combined.

Preheat the mini waffle maker.

Pour half the mixture into the mini waffle maker (or pour all of the mixture into a large waffle maker) and cook it for about 3 minutes until it's done.

Repeat that step to cook the other strawberry cake chaffle.

Allow both chaffle cakes to cool before frosting them.

Double the recipe to make a tall cake!

Make the strawberry frosting while the chaffles are cooling.

In a small bowl combine all the ingredients and mix it with a small hand mixture.  This recipe can be doubled or tripled if you prefer more frosting.

Frost the cooled cake and top with strawberries!

Enjoy!
Nutrition
Serving:
1
serving
|
Calories:
108
|
Carbohydrates:
2.7
g
|
Protein:
4.5
g
|
Fat:
7.9
g
|
Fiber:
0.1
g
|
Sugar:
0.9
g
Nutrition facts are provided as a courtesy. Have a question about our calculations or why you got a different result? Please read our
nutrition policy.
More Low Carb/Keto Valentine's Day Recipes to Try