Keto Strawberry Pretzel Salad Recipe
Dessert is often the hardest thing to duplicate on a ketogenic diet. This Keto Strawberry Pretzel Salad Recipe is a great substitute for a favorite fun dessert. A classic cream cheese filling, strawberry gelatin topping, and a wonderful fake pretzel crust made with pecans give you the tastes and textures without the carbohydrates.
Remake a classic potluck dessert using my easy pecan based crust for a keto-friendly option everyone will enjoy!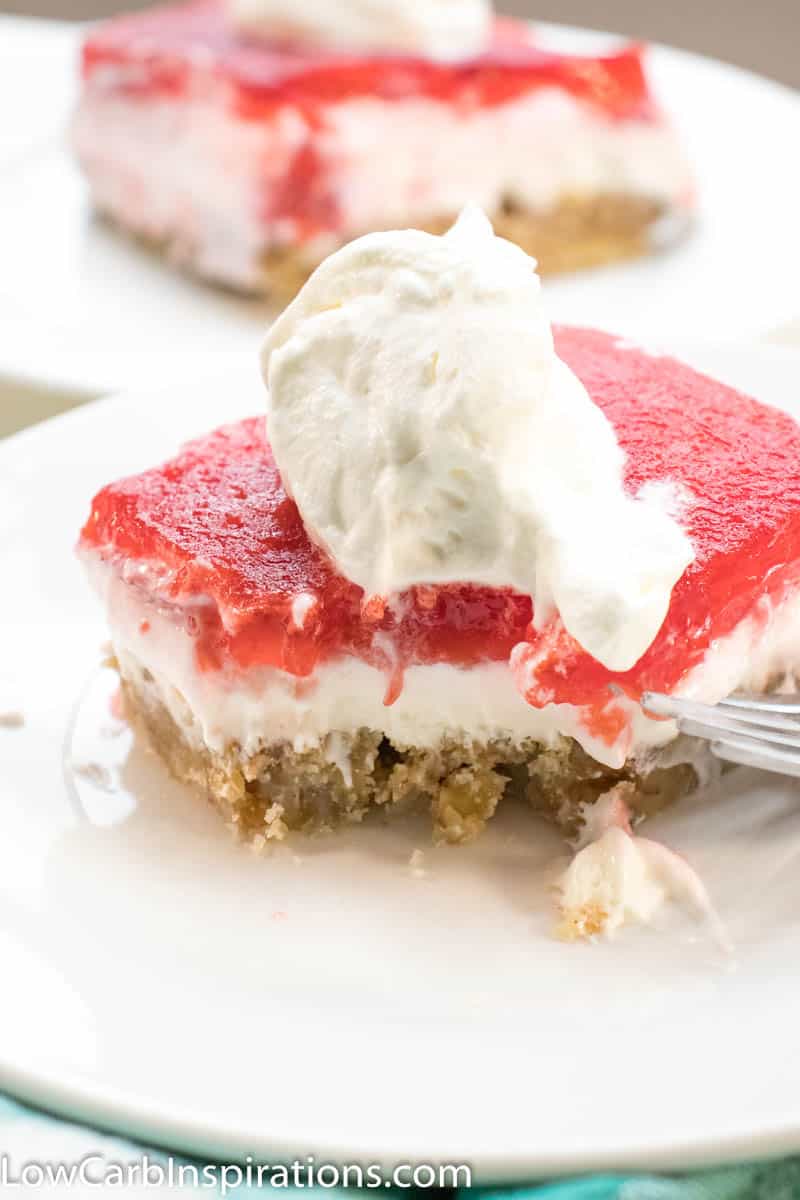 Keto Strawberry Pretzel Salad Recipe
If you've ever been to a Southern summer potluck or barbecue, you have likely seen this yummy "salad" on the dessert table. I'm not sure why it has been referred to as a salad since it is more of a layered dessert, but the name really doesn't matter. It's all about that combination of a crunchy crust with a cream cheese filling and bright strawberry top.
If you are just beginning the ketogenic lifestyle, you should begin with our How to Start Keto guide!
Here's a video that shows how we made this Keto Strawberry Pretzel Salad recipe! You will love it!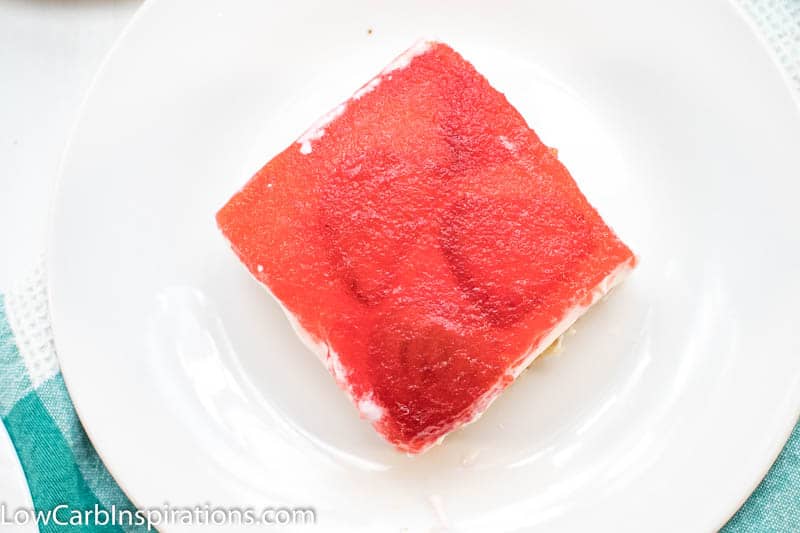 Do I have to use fresh strawberries?
The ingredients list for this recipe typically indicates you should use fresh strawberries. I know that they just aren't always available or affordable. If strawberries are not in season, or you simply can't find quality berries in your region, frozen unsweetened berries work just fine.
I recommend, if using frozen unsweetened strawberries in this recipe, that you allow them to thaw and drain any excess liquid before mixing into the gelatin. This will make sure it isn't too soggy and sets as it is supposed to do for the recipe.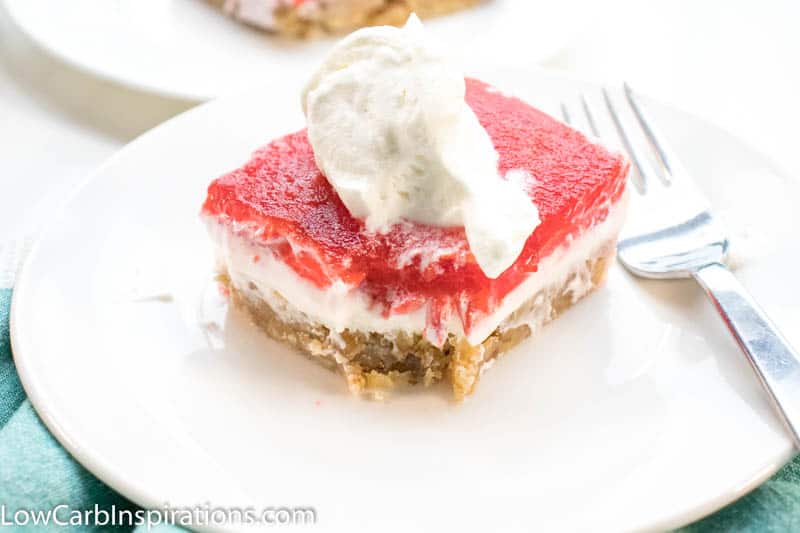 What is the best low carb sugar substitute?
If you have been following me for long you know that I prefer using a monk fruit sweetener over others in most recipes. My favorite brand is Lakanto, and it is readily available online. Not only does it work in a 1:1 measurement with traditional sugar in most instances, it typically does not raise glucose levels like other sweeteners.
Other options that are popular and loved by many are Swerve (made from erythritol), and Stevia which is derived from a plant. These are both low-carbohydrate options. If you decide to test these out in recipes, be aware that in some individuals they cause stomach upset and a spike in glucose levels.
For this recipe, you will be using a combination of both liquid stevia and your preferred sugar substitute. I chose Swerve.
Always start slowly and monitor when testing out any new sugar substitute. Insulin resistance is a huge part of storing body fat, and sugars are a trigger. To learn more about this, check out this post on Insulin Resistance and What You Should Know.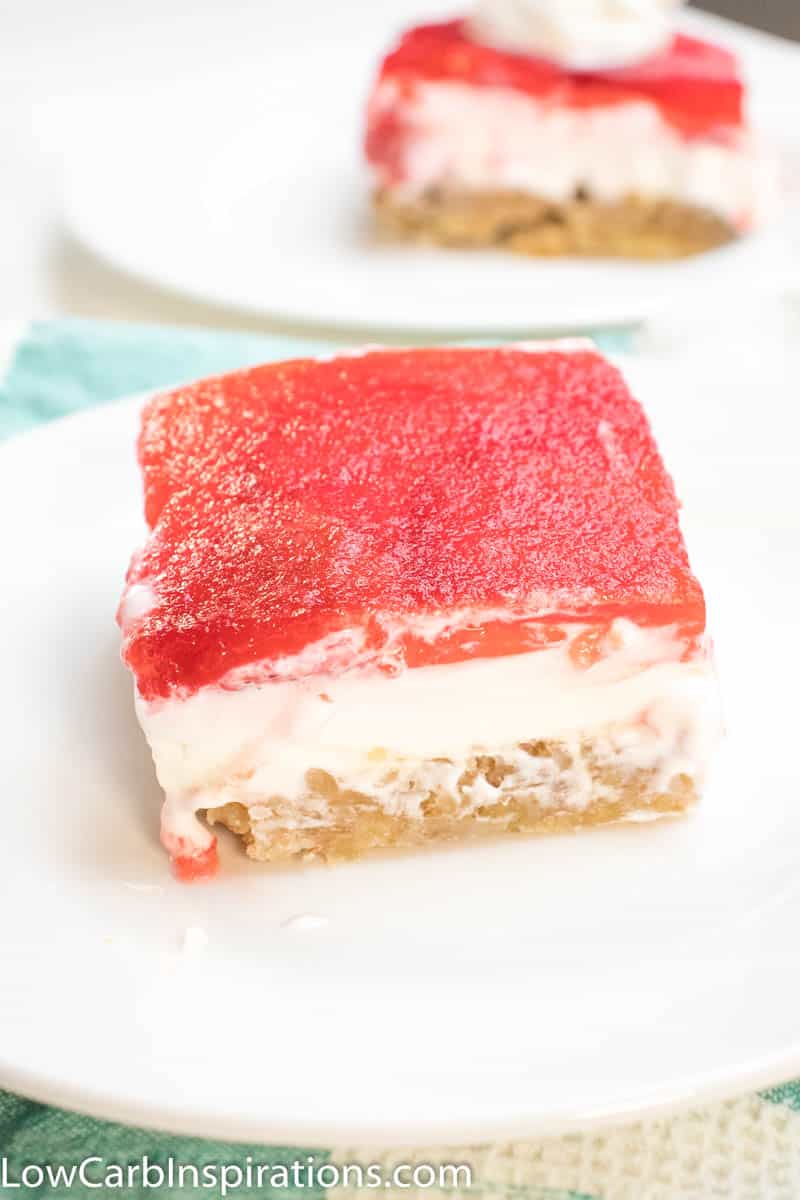 Can I freeze this Pretzel Jello Salad?
The simple answer to this question is no. It is not advisable to freeze this recipe in a fully prepared form. Gelatin does not thaw well, and the consistency after freezing will be unpleasant and often watery.
Should you need to make this recipe in advance for some reason, you can, however, prepare and freeze the crust and cream cheese filling layers. This would leave you with just the gelatin layer to mix and allow to set up in the refrigerator before serving.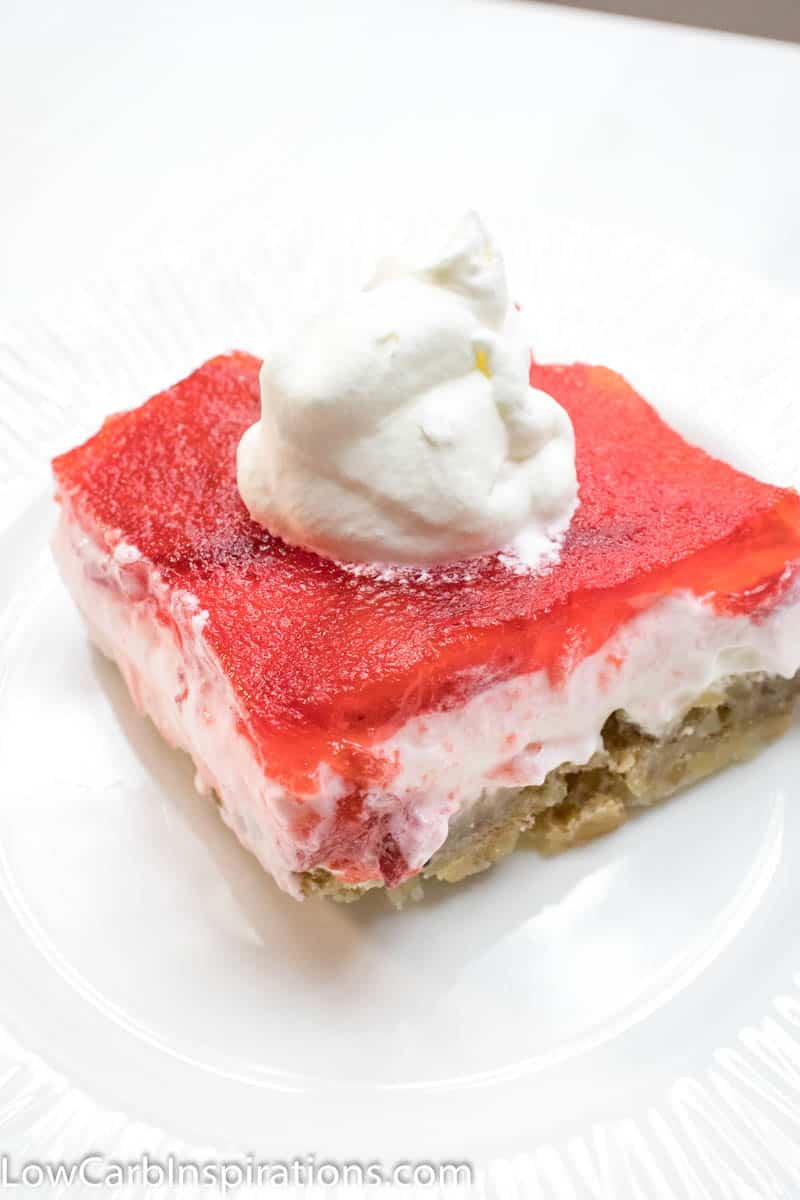 How to make a pecan crust to substitute in this pretzel dessert
Pecans are a wonderful source of healthy fats and protein. Not only are they great for general consumption, but they are also a perfect candidate to provide that crunchy texture you want in a dessert crust. Using them in place of the traditional pretzels in this pretzel salad recipe is genius!
To crush pecans for this recipe, you will likely wish to use a blender or food processor. You can buy pecans that are already chopped or in pieces, but these are still a bit too large for the crust. Pulsing in a blender or food processor for a few seconds allows you to get a finer grain that lends itself to combining with butter to form a crust.
When baking this "crust", be careful of your oven heat and cook time. While it typically takes 10-12 minutes, pecans can burn very fast. If your oven cooks hotter than most, definitely cut back on the cooking time.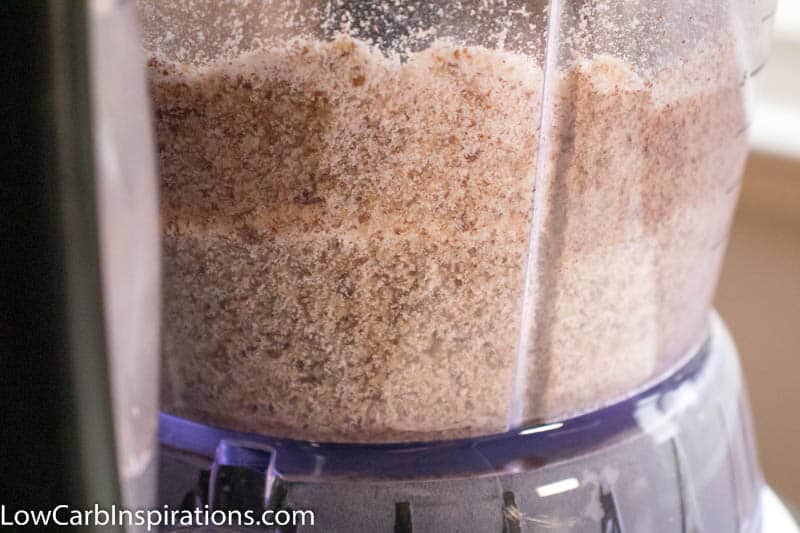 Ingredients for Strawberry and Pretzel Salad Recipe
Water
Strawberries
Butter
Cream Cheese
Vanilla Extract
Heavy Cream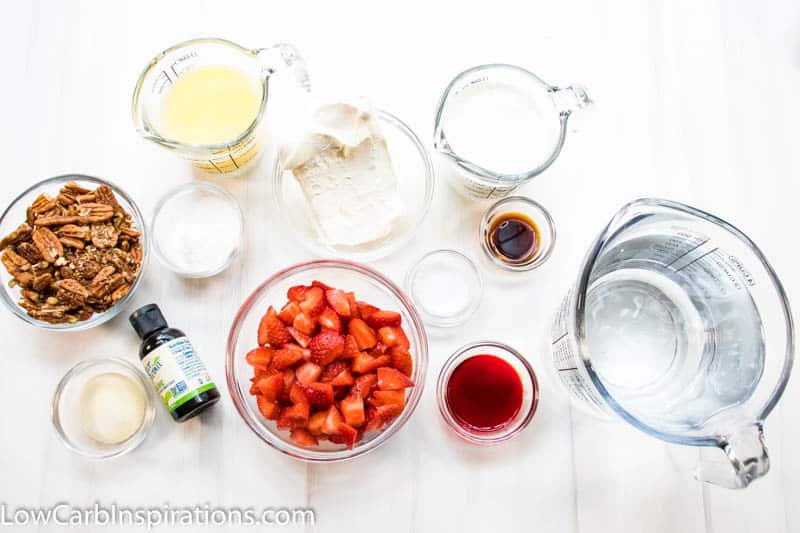 How to Make A Strawberry Salad Recipe with Keto Crust
To begin making this keto strawberry pretzel salad recipe, you will want to prepare your pecan crust as directed. Pulsing the pecans in a food processor along with butter and sweetener makes this task fast and easy.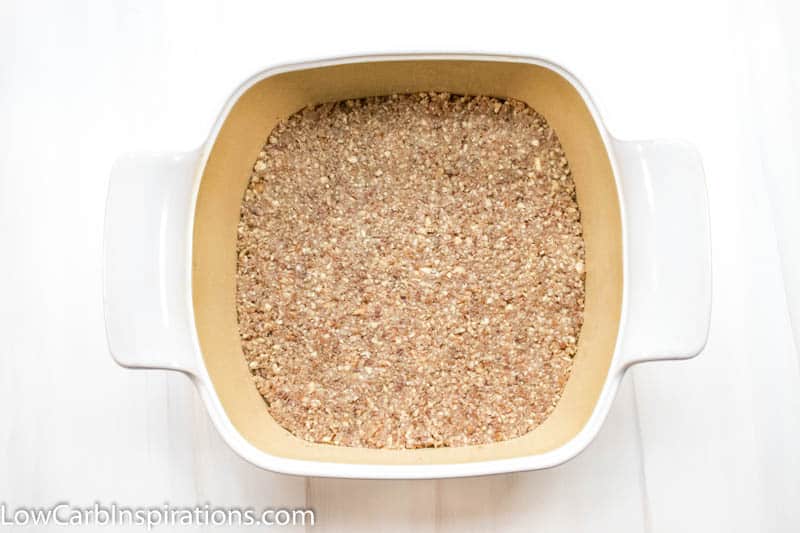 Once your crust has baked and cooled, you will combine your cream cheese and sweetener to create the middle layer.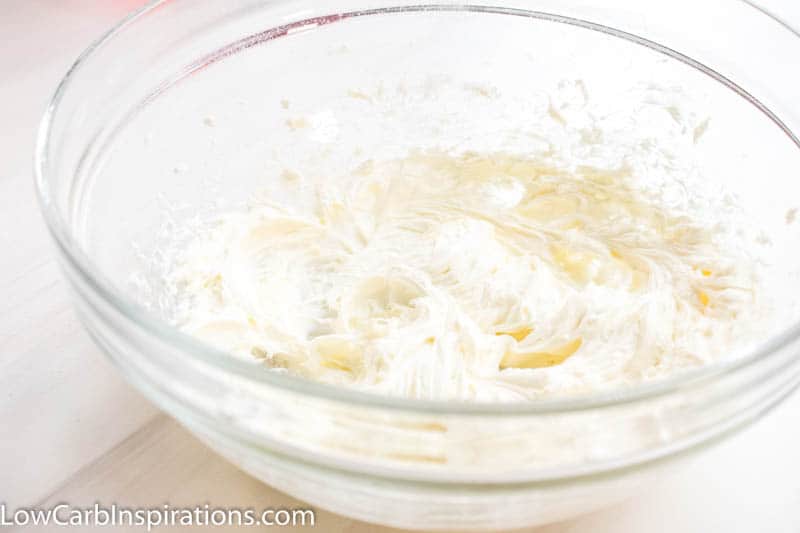 Spread the cream cheese filling over the prepared and cooled pecan crust layer.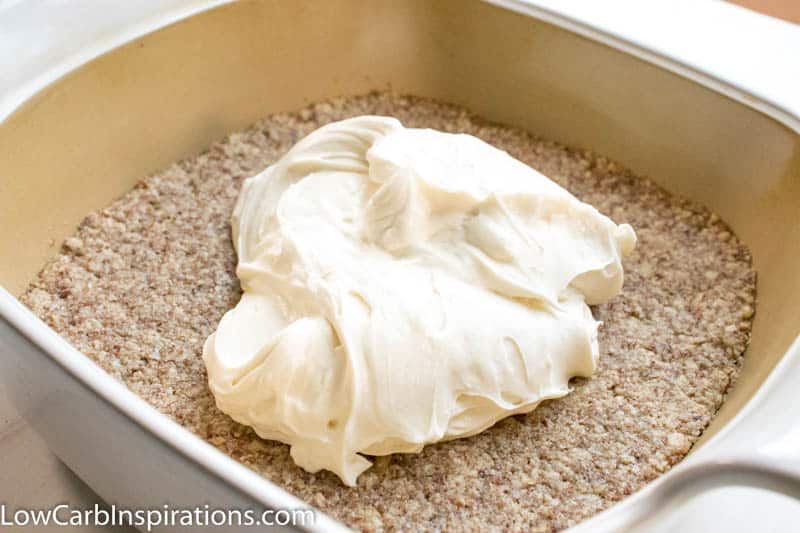 Top this layer with the sliced or diced strawberries.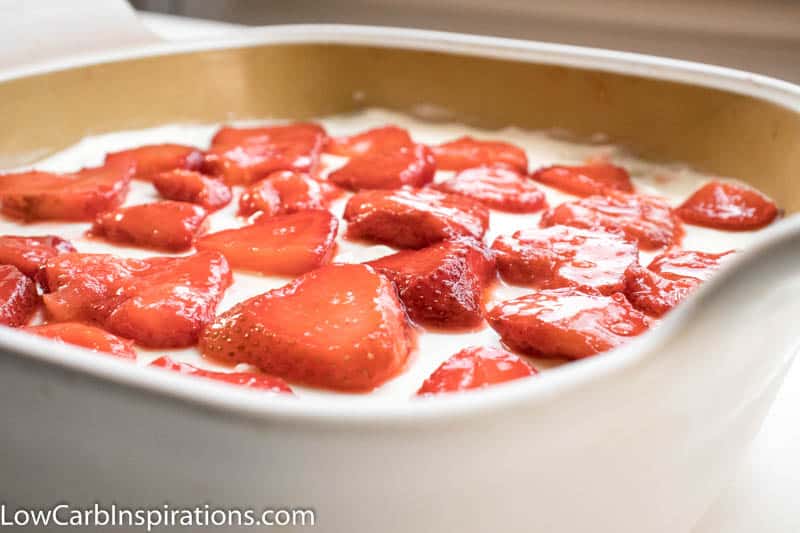 Your final layer is the gelatin mixture.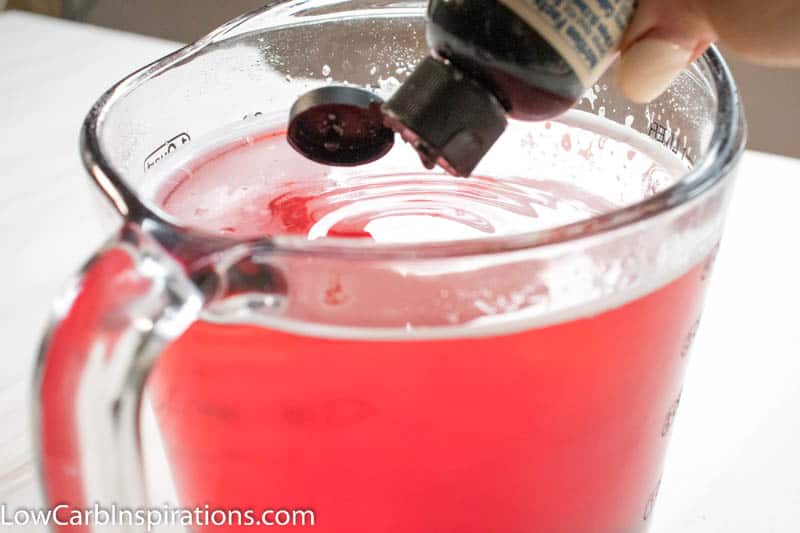 Pour it over the top, and refrigerate until set and ready to serve.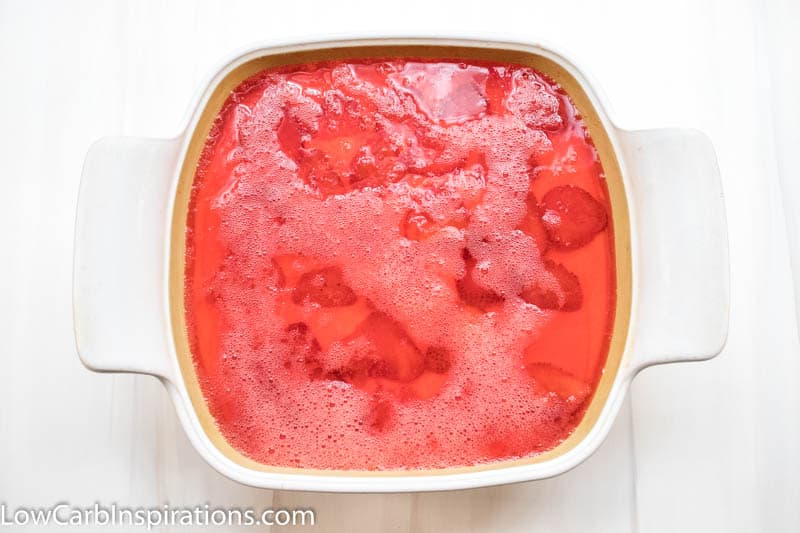 You may also wish to make a batch of low carb whipped cream to top this dessert with before serving.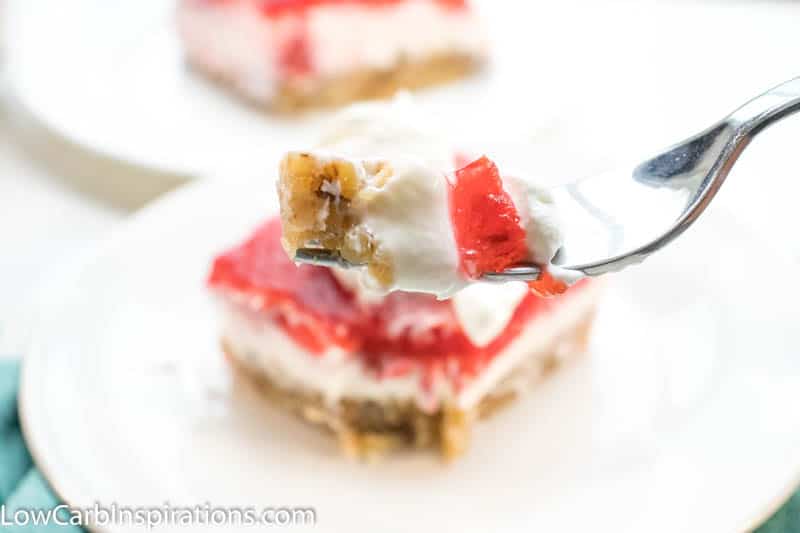 Keto Strawberry Pretzel Salad Recipe Nutrition
Serves 8
Calories 545, Total C 9.6g, Fiber 3.2g, Net C 6.4g, Sugar 5g, Fat 55.7g, Protein 6.8g
New to Keto? Check out the Keto Starter Guide!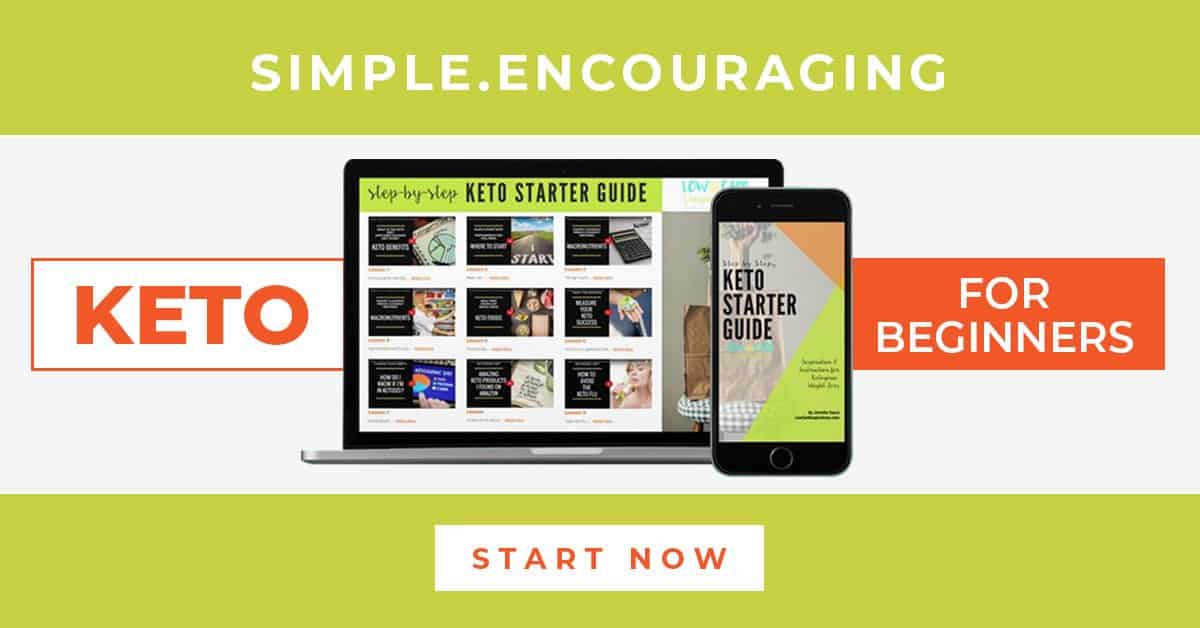 The Keto Starter Guide is an amazing resource as you get started on your keto/low carb journey. This guide has everything you need to get started in 9 simple video lessons and also includes workbooks with step by step instructions for beginners.
What's a macro and why do I count them?
How do I find the best recipes?
What is ketosis and how do I get my body there?
What fruits are allowed on a ketogenic diet?
Will I get "Keto Flu" and what do I do about it?
Get the Keto Starter Guide today!
Don't forget to pin this for later!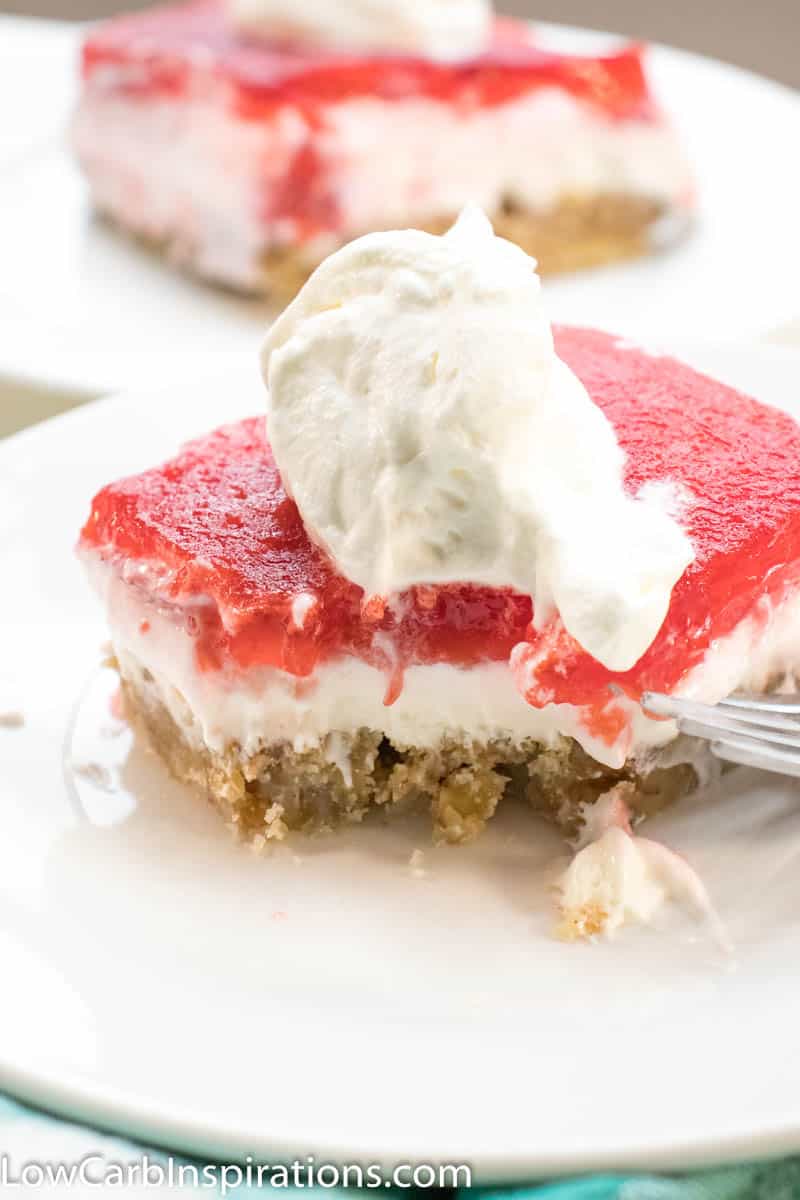 Keto Strawberry Pretzel Salad Recipe
This Keto Strawberry Pretzel Salad Recipe has a rich cream cheese filling, strawberry gelatin topping, and a wonderful fake pretzel crust made with pecans that gives you the tastes and textures of the classic without any carb guilt.
Ingredients
Instructions
Mix together crushed pecans, butter, and sweetener until mixed well.

Place in an 8x8 baking dish and bake for 10-12 minutes. Remove from oven and allow to cool.

In a medium bowl, mix together cream cheese and sweetener.

In a large bowl with tall sides, mix together heavy cream, vanilla, and sweetener.

Fold in Homemade Whipped Cream into the cream cheese mixture until smooth and incorporated.

Spread the mixture evenly on top of the pecan crust.

Top cream cheese mixture with strawberries in an even layer.

Refrigerate for 20-30 minutes.

Pour the Strawberry Gelatin over the top and refrigerate until set.
Nutrition
Serving:
1
serving
|
Calories:
545
|
Carbohydrates:
9.6
g
|
Protein:
6.8
g
|
Fat:
55.7
g
|
Fiber:
3.2
g
|
Sugar:
5
g
Nutrition facts are provided as a courtesy. Have a question about our calculations or why you got a different result? Please read our
nutrition policy.