If you are craving Twix and on the keto diet, this Keto Twix Cookies recipe is just what you are looking for! Buttery shortbread cookie with caramel and chocolate on top, these will definitely melt in your mouth and leave you wanting more!
Remember Twix candy bars? Way before I started keto I used to love a good Twix! I refuse to let my keto way of life make me for left out or deprived of anything I want. So, I decided to make a Keto Twix cookie that won't spike your blood sugar levels.
This recipe isn't necessarily counted as one of my typical easy recipes because it will take time to make the cookies, make the caramel, and then make the chocolate ganache for the top. That's three different recipes! But, I can promise you that all that work is totally worth the effort.
This keto sugar cookie recipe is my go-to base recipe for most of the cookies I make. The texture and sweetness are perfect!
Caramel is pretty simple to make. I've been making this for years! In fact, you can find the main Salted Caramel Sauce recipe on page 240 of the Easy Keto For Busy People Cookbook!
You will always find a mason jar filled with caramel sauce stocked in my fridge but most likely hidden in the very back behind the mayo because if the kids see it they will devour it all and leave me an empty jar. I hope I'm not the only one that hides food from my kids.
I wanna talk about one ingredient in this recipe. It's the tapioca starch. We know that this recipe is high in carbs and totally not strict keto. I use such a small amount but that small amount really adds to the texture of a real sugar cookie without the glucose spike.
The tapioca starch ingredient is optional and you can leave this out but it will change the texture slightly. This ingredient did not kick me out of ketosis. When you've been doing keto as long as I have you tend to test everything with your handy dandy blood glucose monitor.
Now let's talk about the keto chocolate ganache instructions below. Be sure to follow those instructions to a tee! Keto ganache is not easy to make. Don't add any extra sweetener to it because it will seize the chocolate, meaning the chocolate will harden and stop not come together.
This is exactly why I like using Lily's chocolate chips because they are already sweetened with the perfect about of stevia.
You can adjust the amount of heavy cream in the ganache recipe to adjust the thickness. Less cream equals a thicker ganache that's perfect for truffles. More liquid makes a pourable ganache that would be great over a chocolate cake.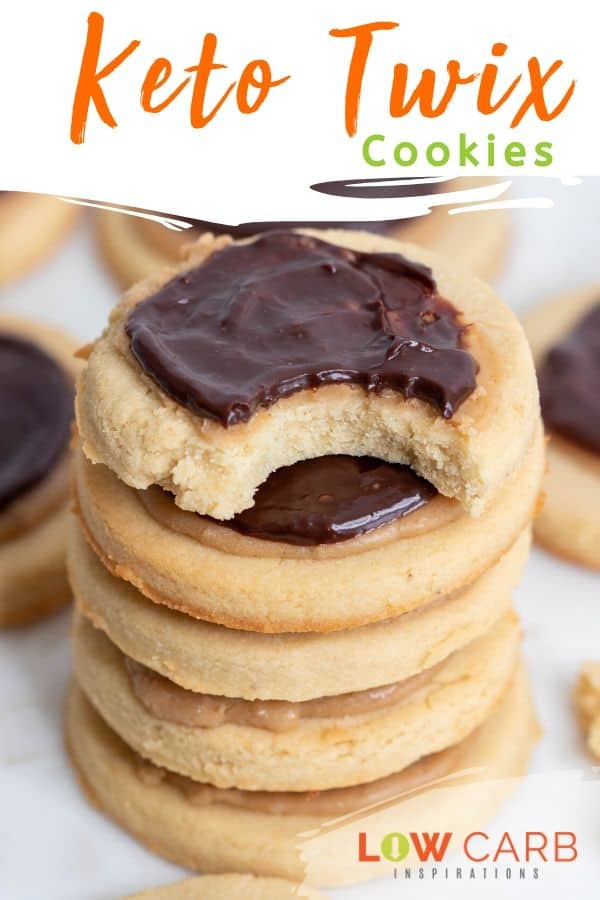 I have always had a soft spot and a taste bud for Twix candy bars, but I can no longer have them since they will take me out of ketosis. Because of this, making keto Twix cookies from scratch was a must for me.
These copycat Twix cookies were spot on. When I first thought through making these, I thought about making them into Twix Cookie Bars. You know… so I could enjoy the left and right Twix like I used to!
Keto Twix Cookies Recipe Ingredients
Sugar Free Cookie Ingredients
Sugar Free Caramel Sauce Ingredients
Optional
Chocolate Ganache Ingredients
1/2 cup heavy whipping cream
Keto Twix Cookies Recipe Instructions
The full instructions are listed in the printable recipe card below.
Other Equipment Needed
Keto Twix Cookies Recipe Nutrition
Serves 22
Calories 191, Total C 4.3g, Fiber 0.8g, Net C 3.5g, Sugars 1.2g, Fat 15.5g, Protein 2.4g
Here is a video we made to show you how to make this Keto Cookies recipe.
New to Keto? Check out the Keto Starter Guide!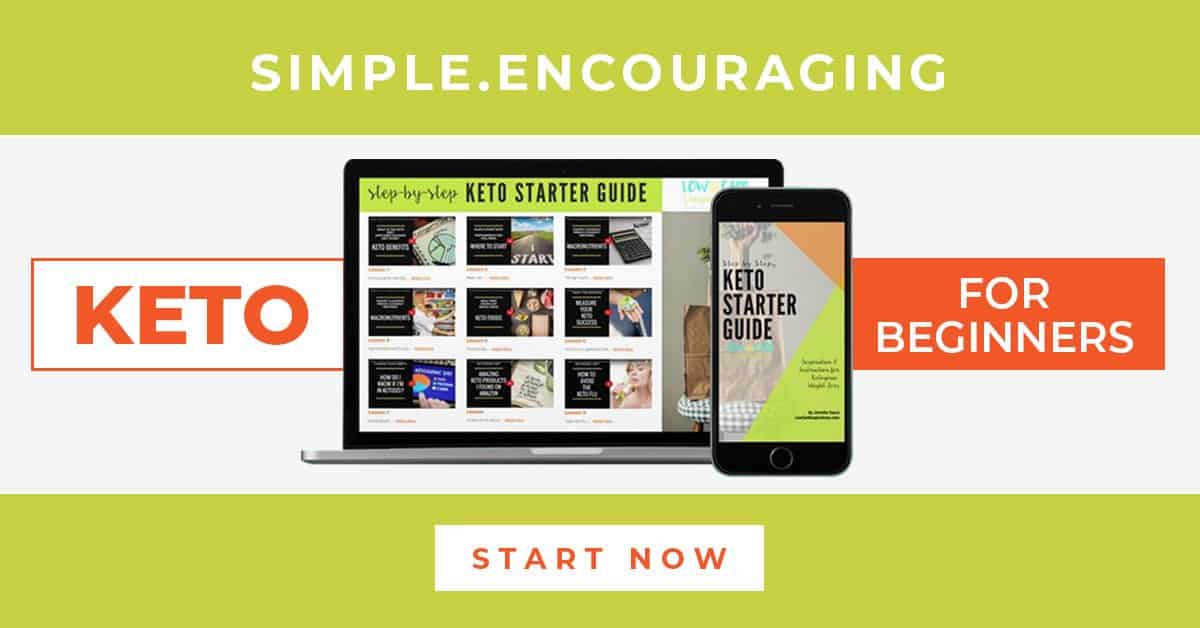 The Keto Starter Guide is an amazing resource as you get started on your keto/low carb journey. This guide has everything you need to get started in 9 simple video lessons and also includes workbooks with step by step instructions for beginners.
What's a macro and why do I count them?
How do I find the best recipes?
What is ketosis and how do I get my body there?
What fruits are allowed on a ketogenic diet?
Will I get "Keto Flu" and what do I do about it?
Get the Keto Starter Guide today!
Can you eat Twix on keto?
No. Traditional store-bought Twix candy bars are full of sugar, carbs and other ingredients that are not sustainable on the keto diet. BUT…you can have these copycat sugar free Twix on keto!
Can I eat dark chocolate on keto?
In moderation…yes! If you do eat chocolate on the keto diet, dark chocolate can be eaten. We love the Lily's brand Dark Chocolate Chips or you can make homemade sugar free chocolate chips using a few simple ingredients at home.
How do I store these cookies? How long do they last?
You can store homemade Twix at room temperature on the counter, in the refrigerator or freezer in an airtight container. While storing them at room temperature is the shortest lifespan of the cookies, you can expect them to last about a week or two at the most. In the refrigerator or freezer, they will last anywhere between 3 and 6 months.
Can I freeze Twix cookies?
You sure can! While you can store these homemade Twix cookies at room temperature, I've found that the best way to enjoy them is directly from the refrigerator or slightly thawed from the freezer.
Here are a few photos we took while making this amazing recipe.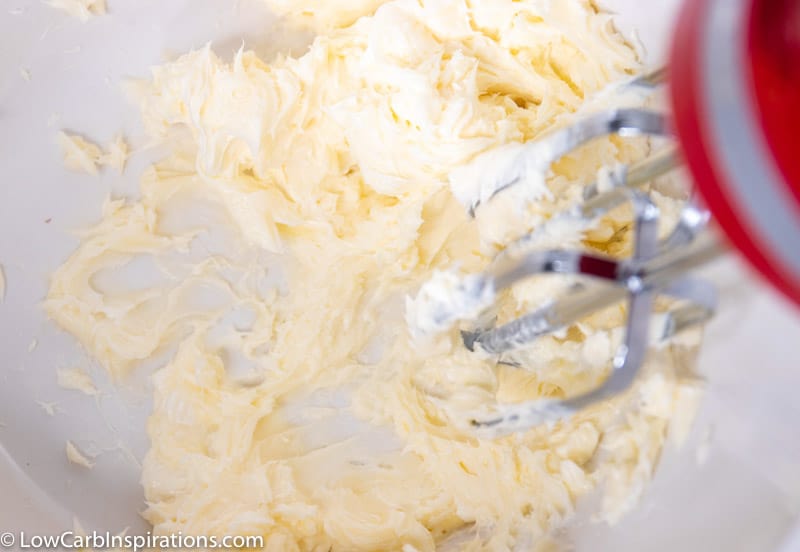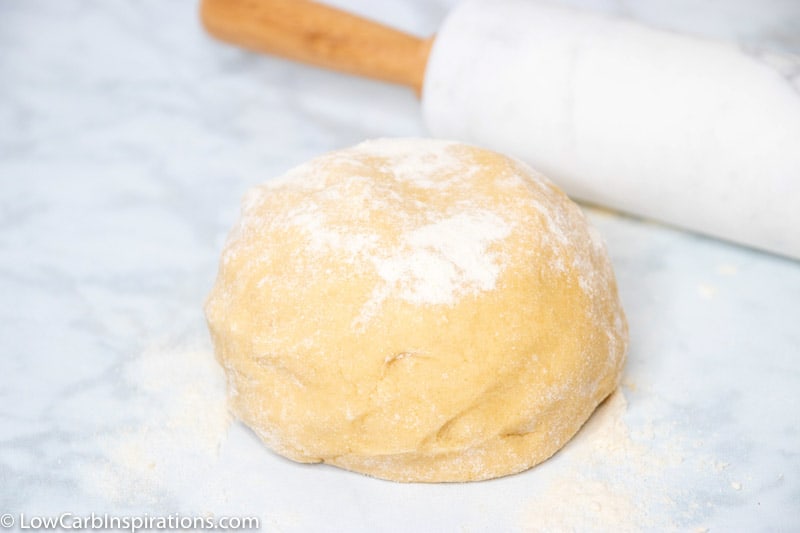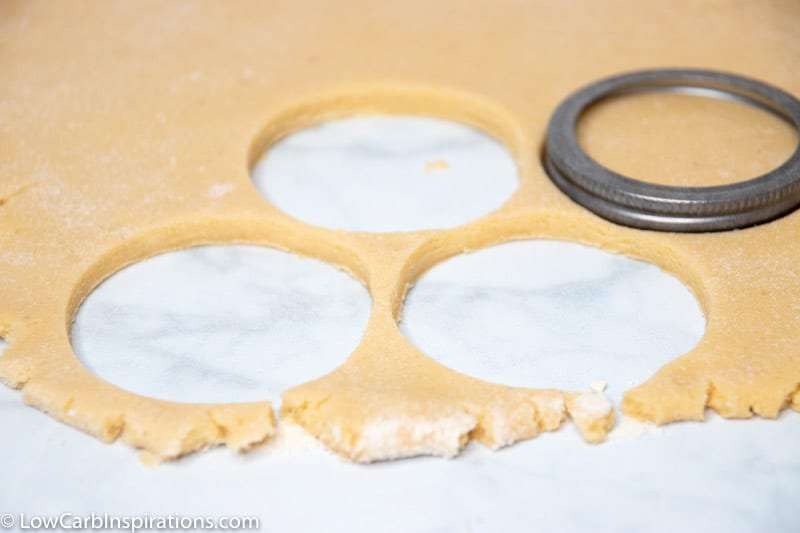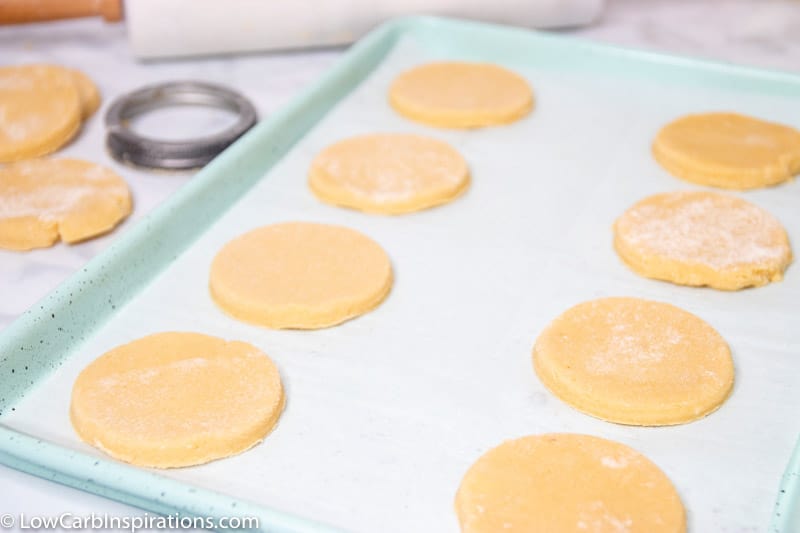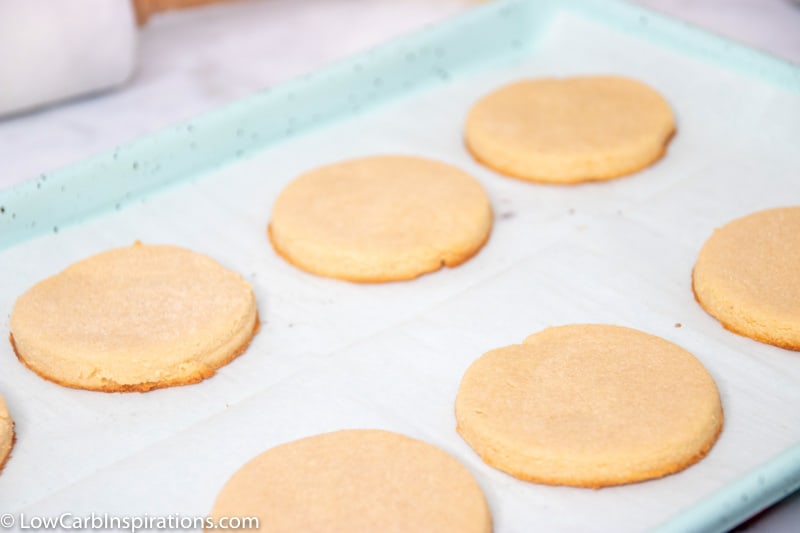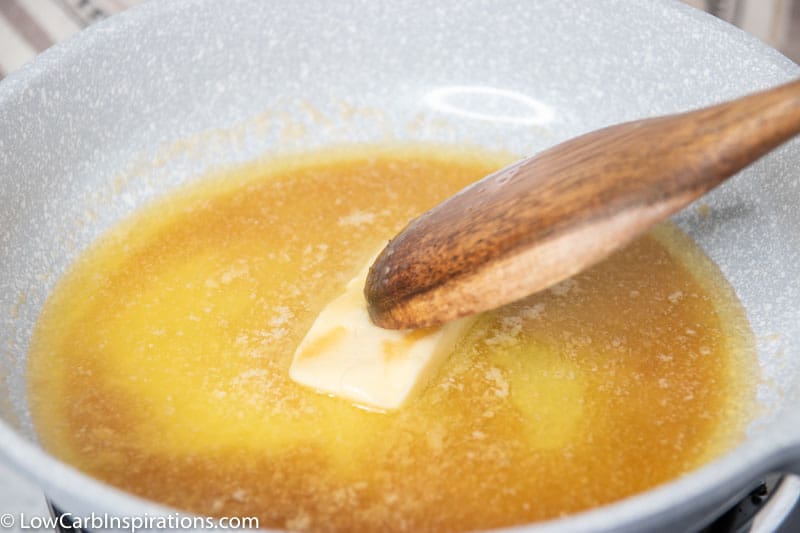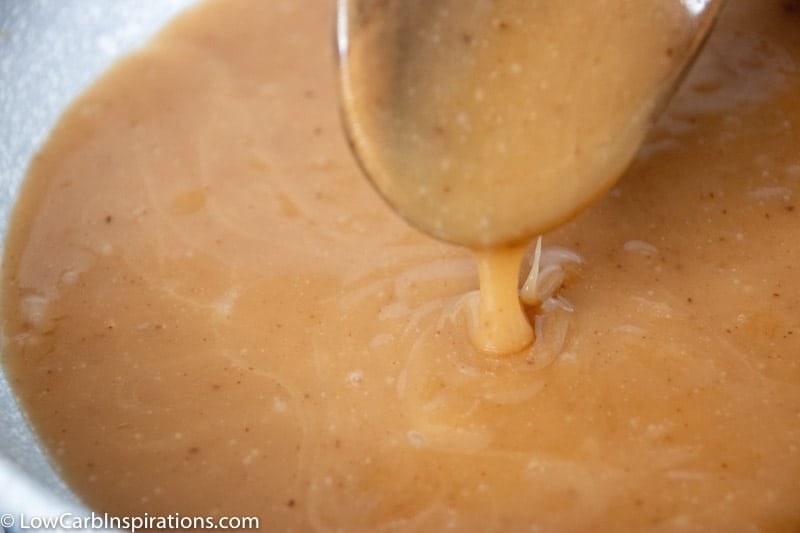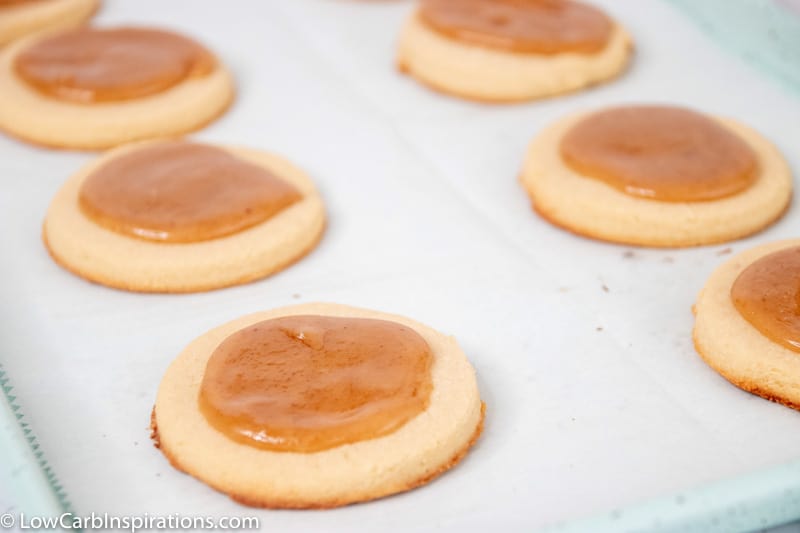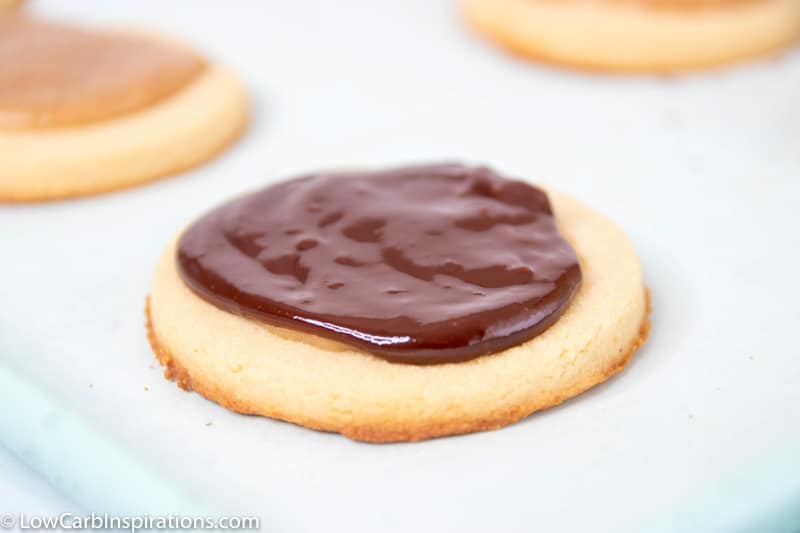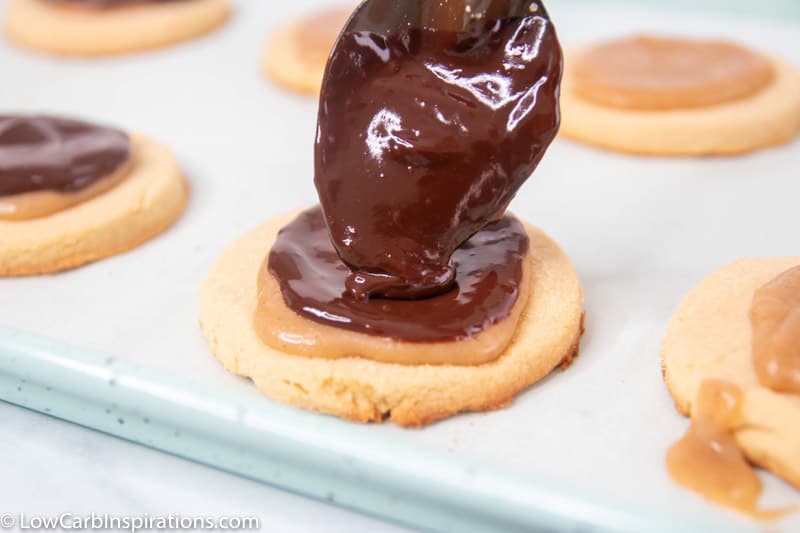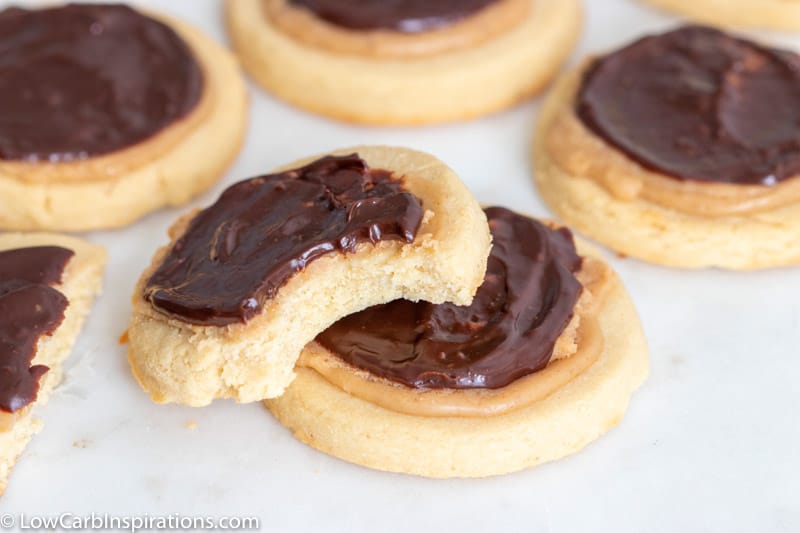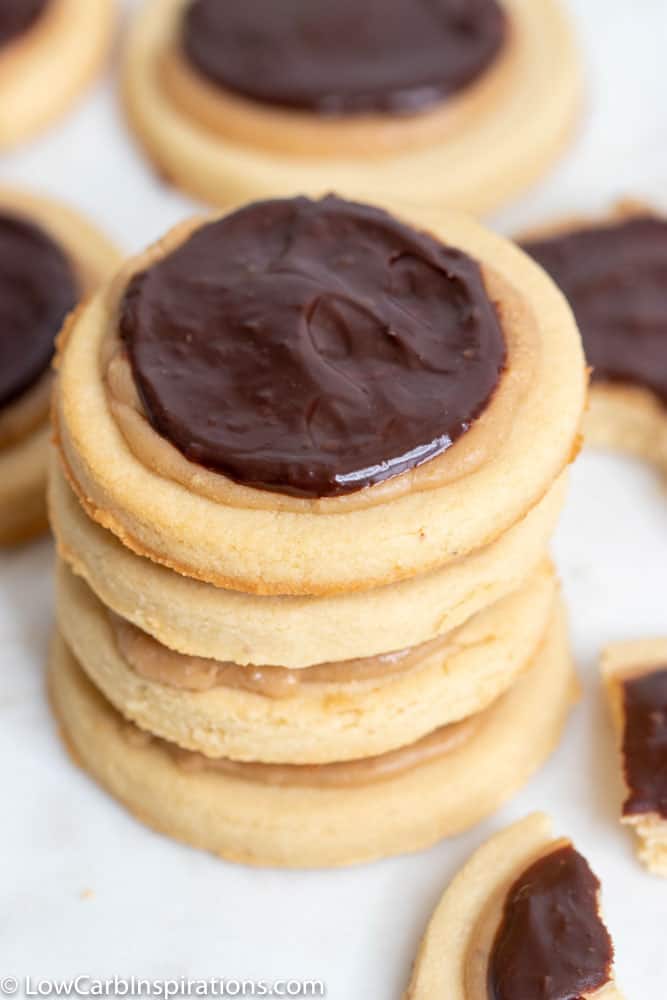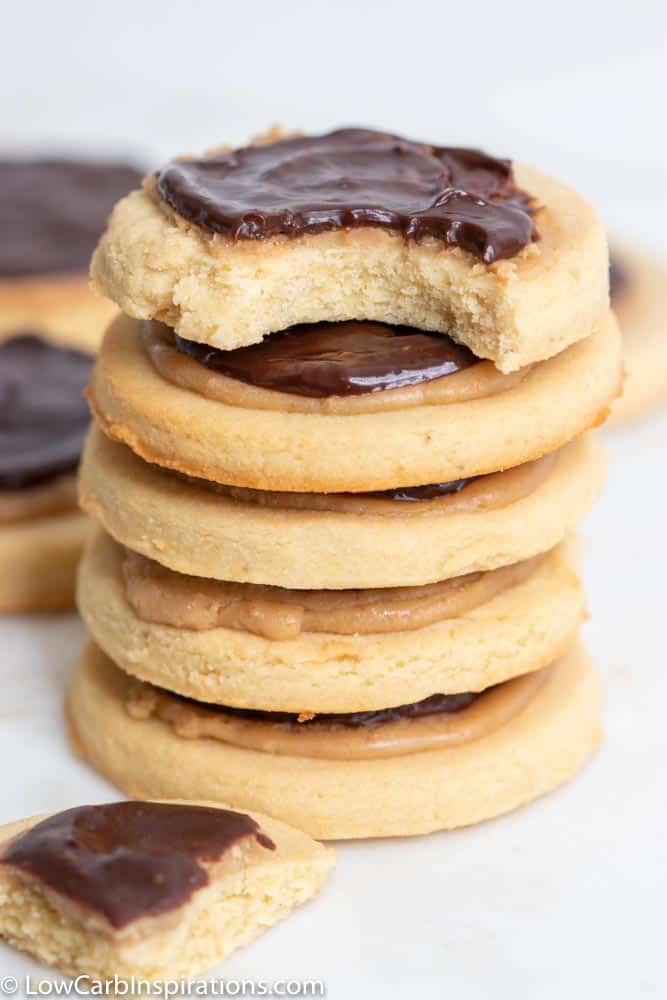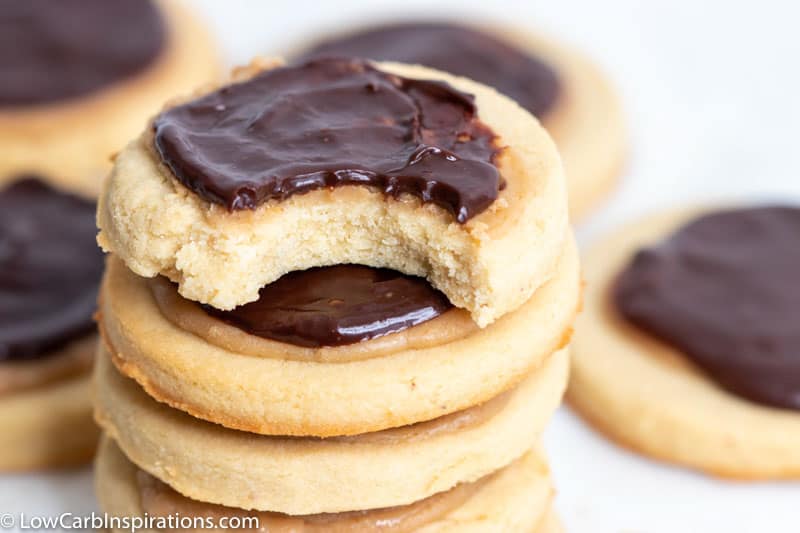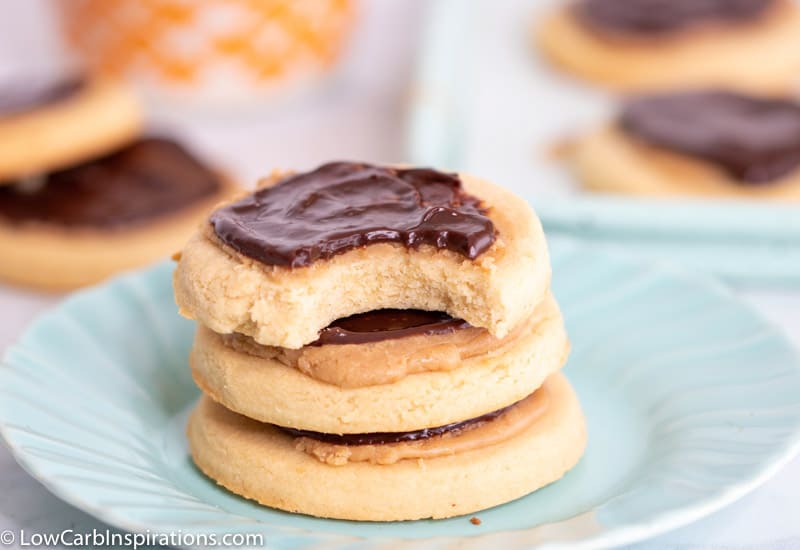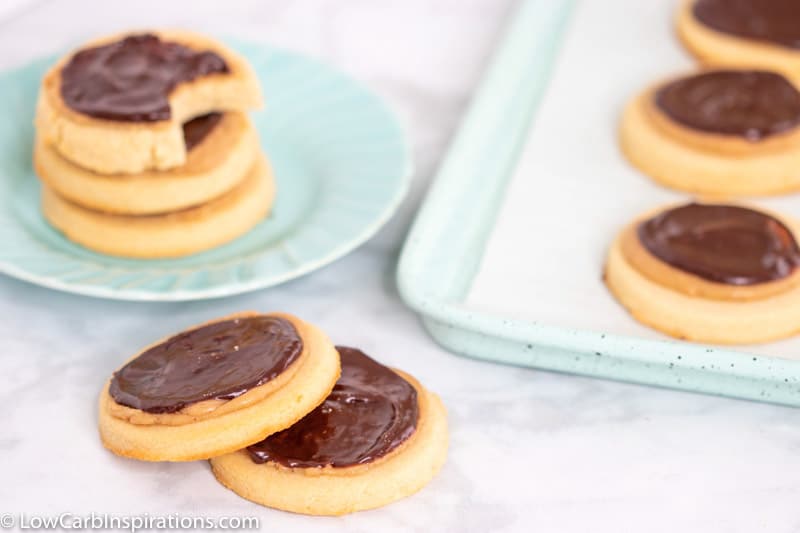 Don't forget to pin this for later!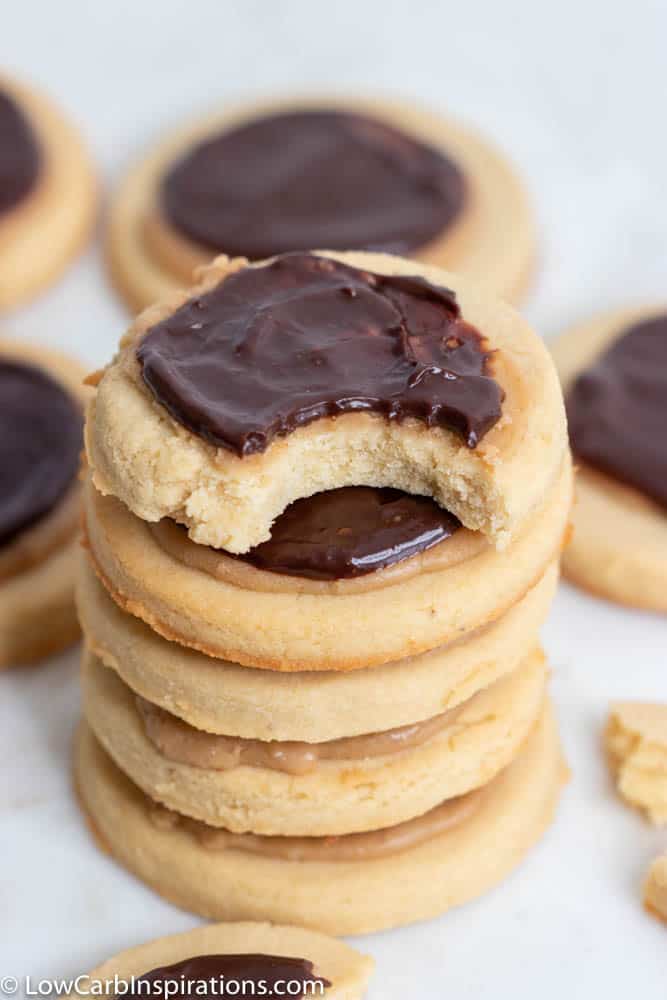 Here's a printable version of this Keto Cookies Recipe: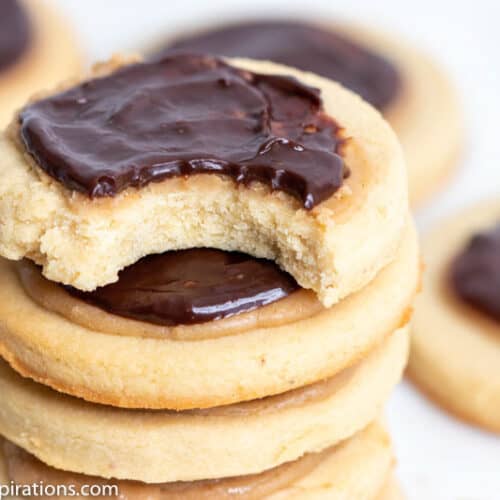 Keto Twix Cookies Recipe
Buttery shortbread cookie with caramel and chocolate on top, these will definitely melt in your mouth and leave you wanting more!
Ingredients
Sugar Free Cookie Ingredients
Sugar Free Caramel Sauce Ingredients
Chocolate Ganache Ingredients
1/2

cup

heavy whipping cream
Instructions
Sugar Free Cookie Instructions
In a large bowl, cream together the butter and cream cheese with a hand mixer until smooth.

Add the egg, powdered sugar, stevia, salt, and vanilla, and mix well.

Add the remaining dry ingredients to the mixture and mix well.

Chill the dough for a minimum of 4 hours but preferably overnight.

Dust the countertop with coconut flour and roll out the dough 1/4 inch thick.

Use a cookie cutter to cut the cookies.

Place the cut cookies on a cookie sheet lined with a silicone mat. Place the cookies about 1/2 inch apart. (The cookies will not change their shape when cooking)

Bake the cookies for about 8 to 9 minutes.

Cool the cookies on a wire rack for 30 minutes to 1 hour.
Sugar Free Caramel Sauce Instructions
In a medium-size frying pan over medium heat, melt the butter and Monkfruit sweetener together until the mixture starts to bubble up.

Slowly add the heavy cream while whisking the ingredients. The mixture will bubble up a bit but will go back down after all the cream has been added.

Add the vanilla.

Keep whisking the ingredients for another 4 to 5 minutes until the sauce turns a nice caramel color and thickens up. It will nearly double in size when it starts to boil.

Turn off the heat and continue whisking the mixture until it stops bubbling.

Pour the mixture in a pint-size mason jar and allow it to cool at room temperature.
Sugar Free Ganache Recipe Instructions
Heat 1/2 cup of heavy cream in the microwave for 30 seconds. The temperature of the liquid should be between 90 and 110 degrees. Don't go over that because it will scold the cream.

Remove it from the microwave and add 1/2 cup of sugar-free Lily's dark chocolate chips.

Cover the bowl with plastic wrap and let it sit for 2 full minutes to allow the cream to melt the chocolate.

Remove the plastic and start to slowly mix the chocolate and cream together with a whisk.

After about a minute of stirring start to vigorously mix the chocolate to all it to come together.
Notes
Note: Ganache stays good in the refrigerator for up to two weeks.
Nutrition
Serving:
1
serving
|
Calories:
191
|
Carbohydrates:
4.3
g
|
Protein:
2.4
g
|
Fat:
15.5
g
|
Fiber:
0.8
g
|
Sugar:
1.2
g
Nutrition facts are provided as a courtesy. Have a question about our calculations or why you got a different result? Please read our
nutrition policy.