Easy Keto Chia Pudding Recipe (thick & creamy)
I'm super excited to share this Easy Keto Chia Pudding Recipe with you today! My husband loves this recipe so much. He eats this for breakfast and as dessert. This recipe takes a bit of preparation because it needs time to refrigerate but at least there's no cooking required.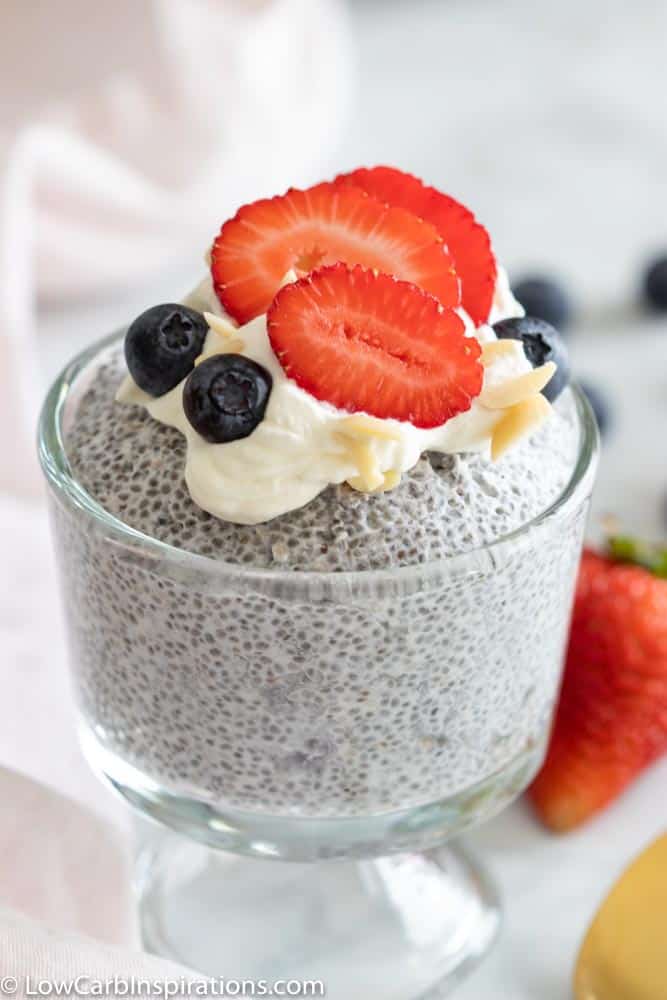 This recipe is way different than any other recipe out there today. This one is made with coconut cream, not coconut milk. There's a huge difference. This unsweetened coconut cream is what gives this recipe its thick and creamy texture.
We made this recipe with Thai Kitchen's Coconut cream (unsweetened). Sometimes you can find this at your local grocery store if you are lucky. Be very careful to get the unsweetened blend and the cream, not the milk. Both cans look almost identical. In fact, this is how I came up with this recipe. I accidentally got the cream not even realizing it wasn't the unsweetened coconut milk that I always buy. I was so worried about getting the unsweetened blend that I didn't even catch the difference between the milk and the cream. Lucky for me though, because after that mishap, I always buy the cream now. I must prefer this recipe thick & creamy. It's a total game changer!
We topped this recipe with a delightful keto blueberry sauce recipe. We also topped this recipe with more fresh blueberries and slivered almonds too. Here's where you can get creative. You can use any type of keto-friendly fruit you want. We've tried raspberries, blackberries, and even strawberries. All the versions are fantastic! This sauce recipe is perfect to make right before your fruit is about to go bad. It will allow you to keep the fresh fruit for longer. Once you turn your fruit into a sauce like this, that sauce will last in the refrigerator for up to 2 weeks! This is my little hack on making sure I never waste my precious fresh fruits.
This recipe really only takes about 1 hour for it to become thick and creamy in the refrigerator but more times than not, I usually make it the night before. This way my family can have it for breakfast if they choose.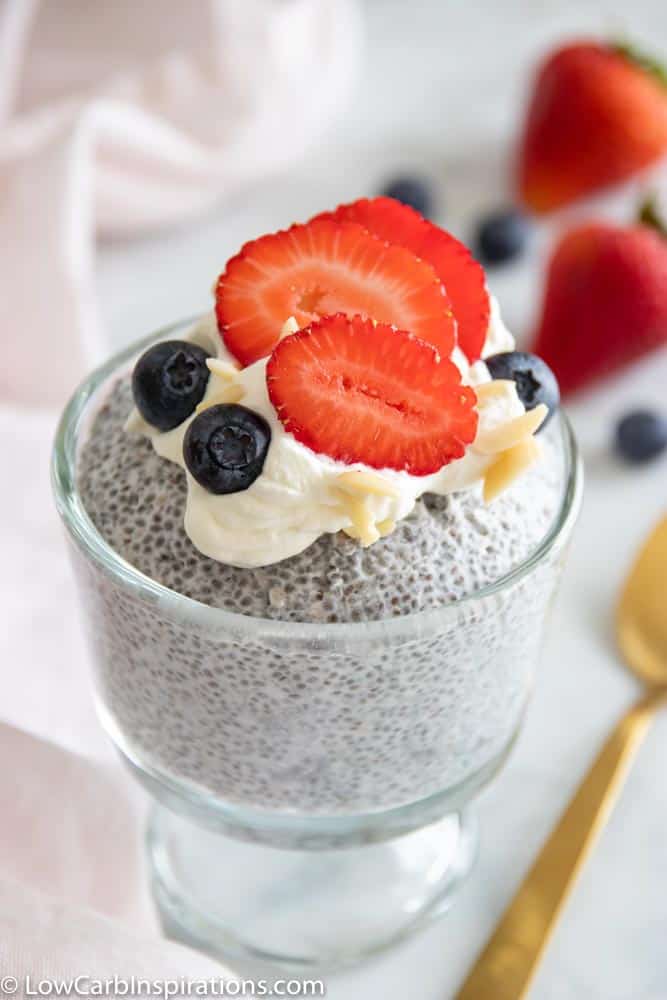 Easy Keto Chia Pudding Video step by step guide
Easy Keto Chia Pudding Recipe ingredients
This recipe can be doubled or tripled as needed. In the step by step video tutorial we created, we made a double batch! This is what I usually make for the week for my own family.
Instructions
Get the full instructions below along with the printable recipe card.
Optional Topping ideas
Coconut shreds, toasted coconut, nuts, peanut butter, almond butter, blueberry sauce, whipped cream, Lily's chocolate chips, etc…
Here is a video we made to show you how to make this chia pudding recipe.
Here are a few photos we took while making this delightful treat!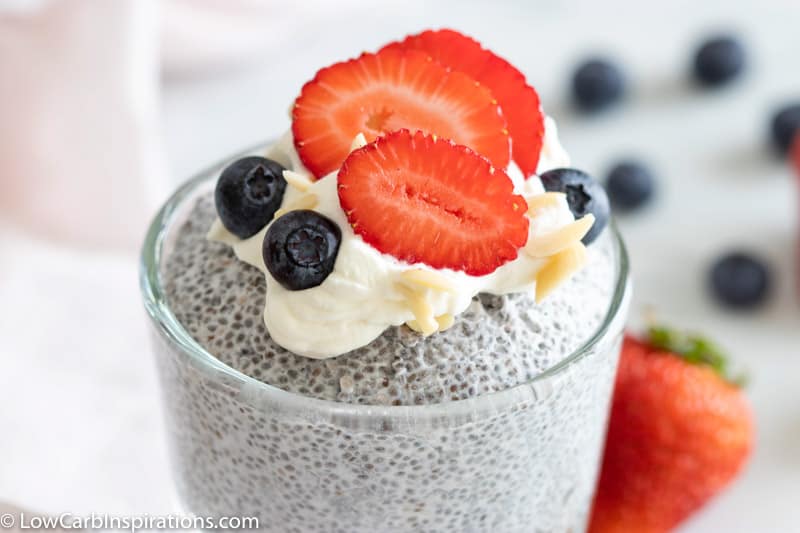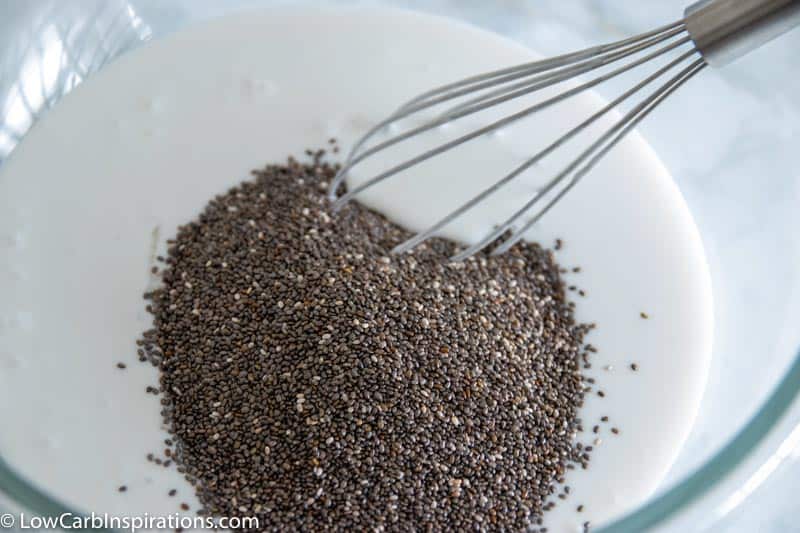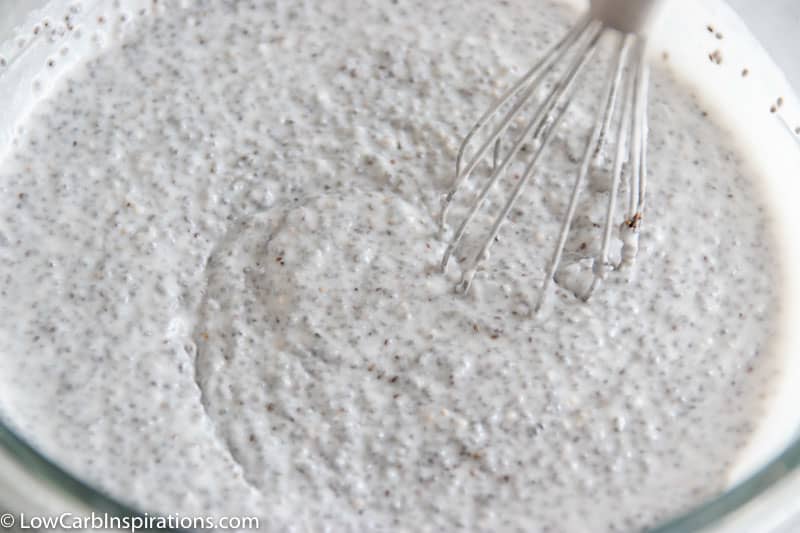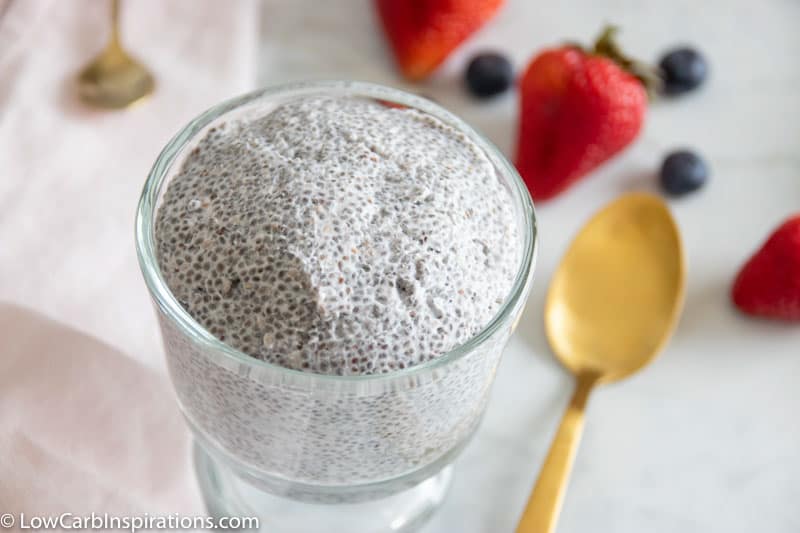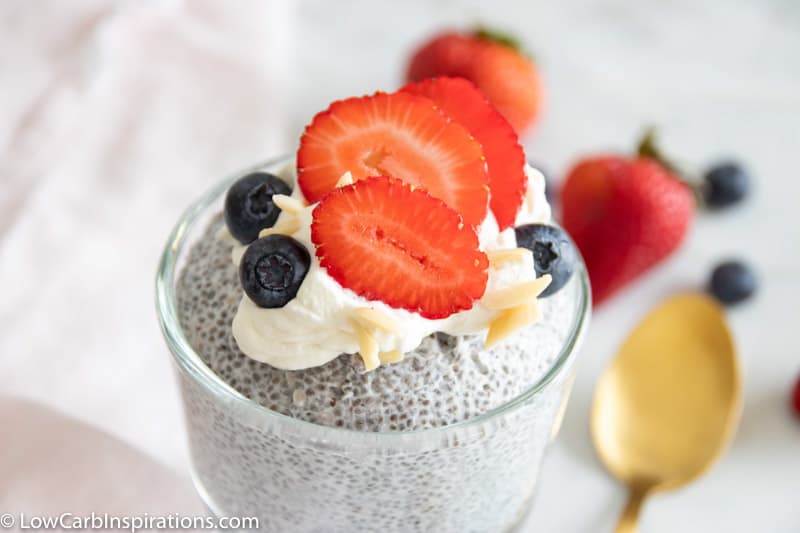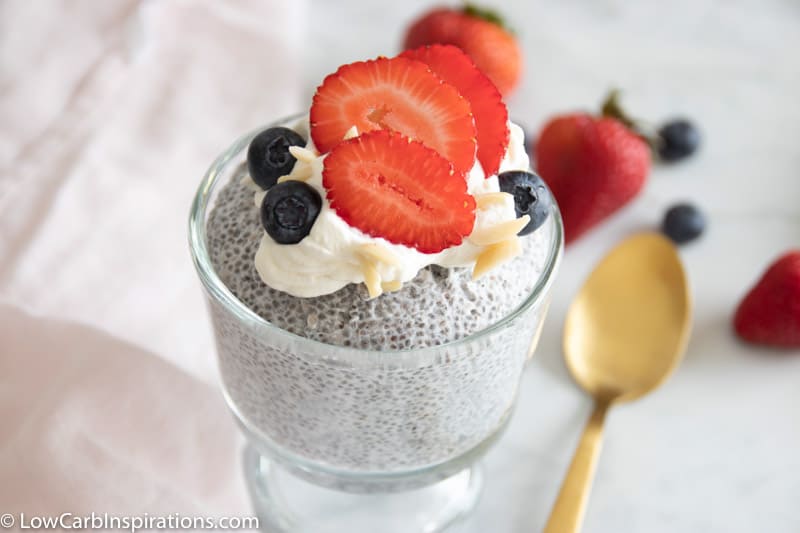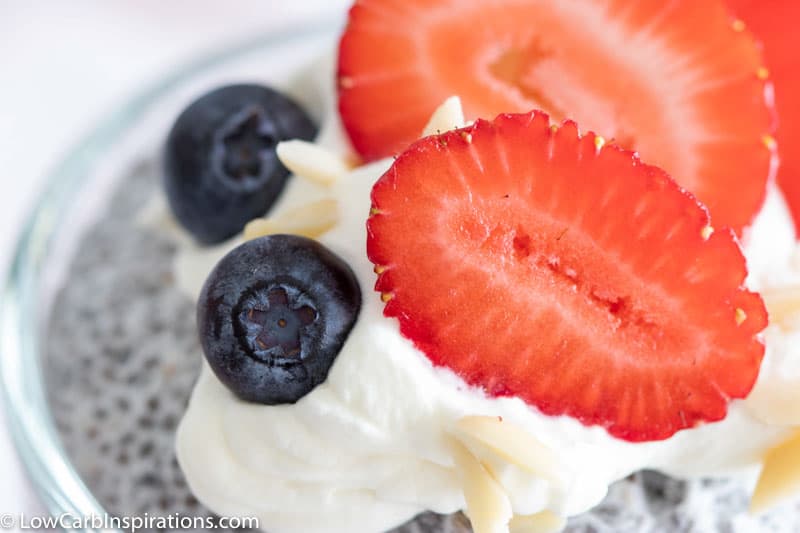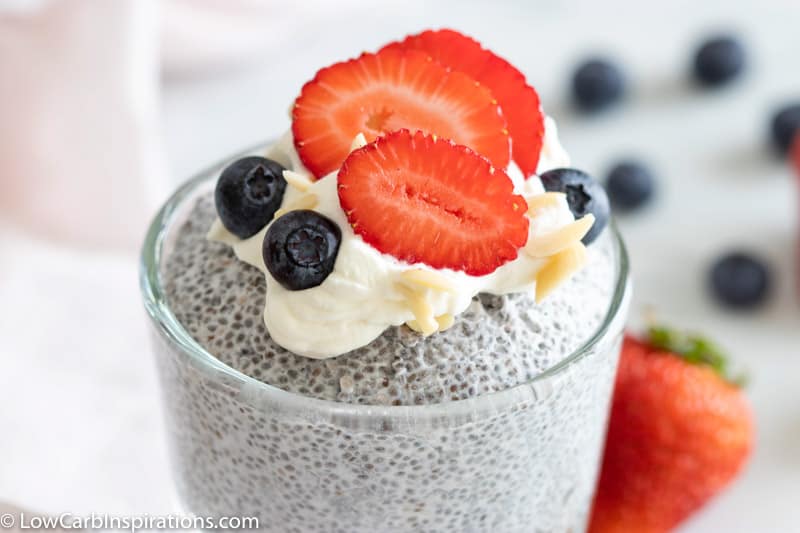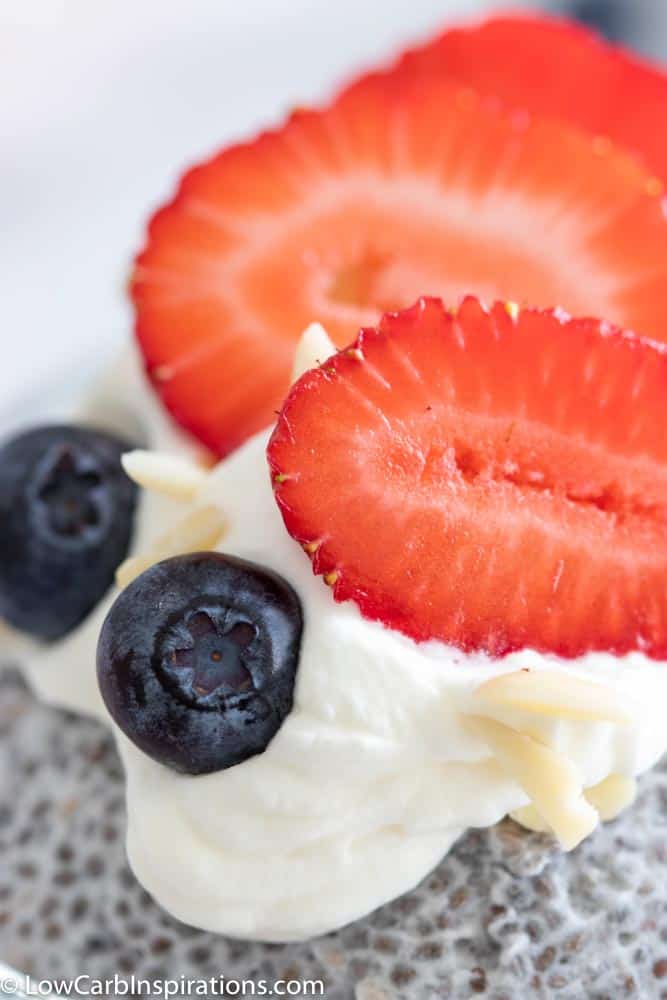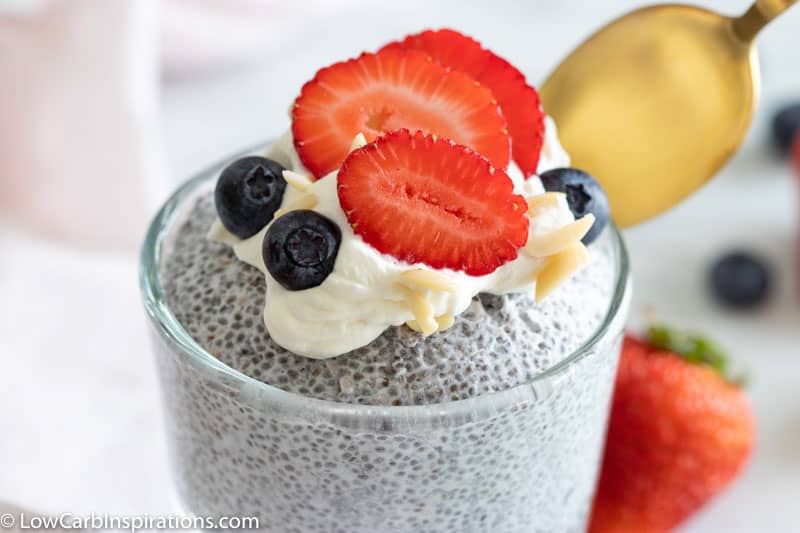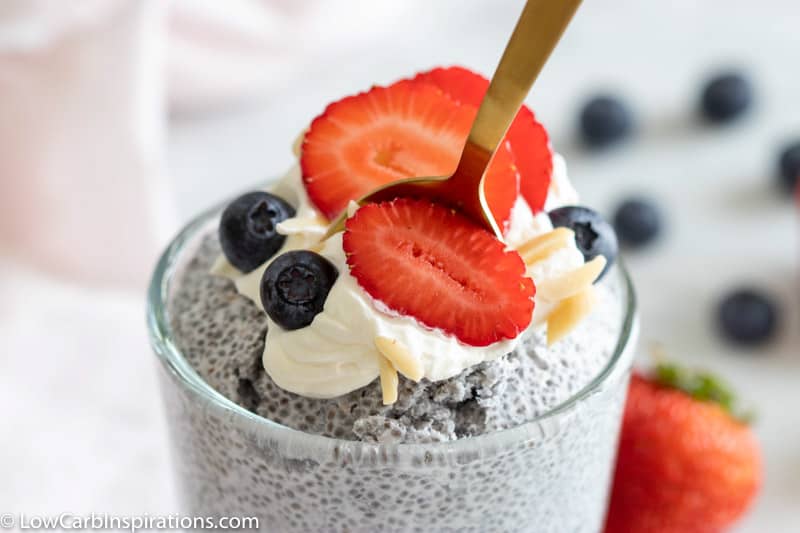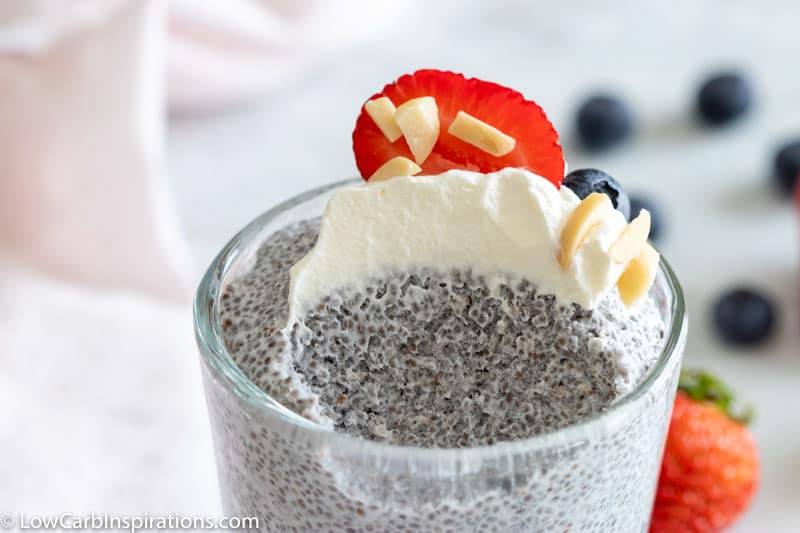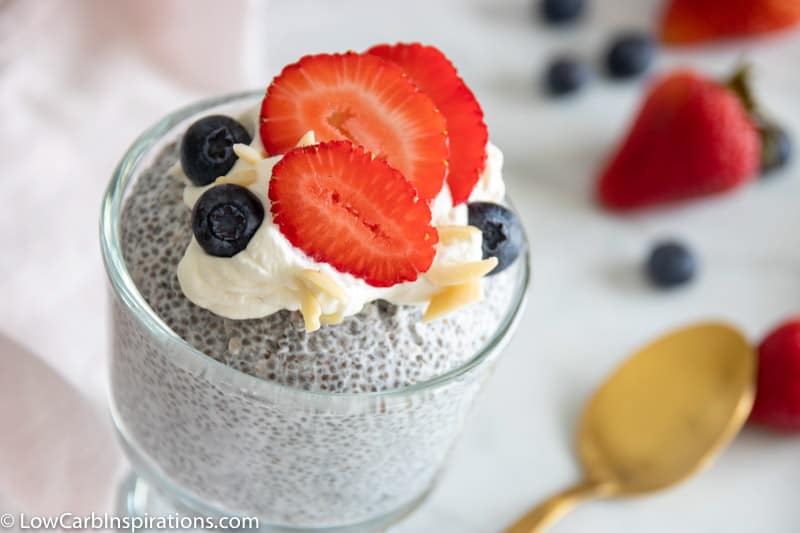 Be sure to pin this for later!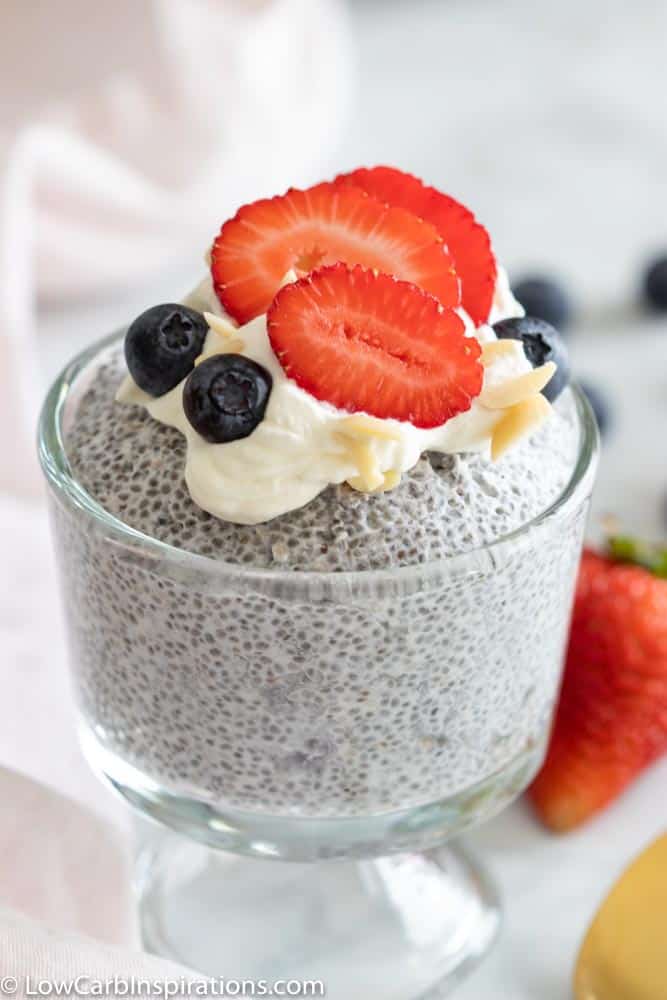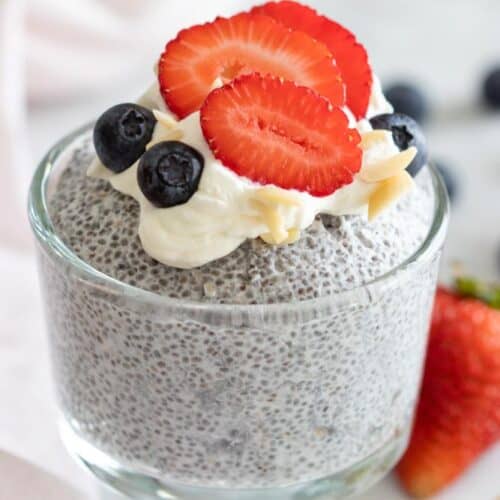 Easy Keto Chia Pudding Recipe
Fantastic keto breakfast or keto dessert idea!
Instructions
Open the can of unsweetened coconut cream.

Dump the cream and coconut liquid into a medium-size bowl.

Mix the cream with a hand mixer to get it nice and smooth.  This will only take a minute or two.

Add the sweetener, vanilla, salt, and chia seeds to the cream and mix it again until the mixture if fully combined.

Pour the pudding into a container that seals and store it in the refrigerator for at least one hour.

Scoop the mixture out and serve it with your favorite optional toppings.

Serve it cold.

Enjoy
Notes
This recipe can be doubled or tripled as needed.  In the step by step video tutorial we created, we made a double batch!  This is what I usually make for the week for my own family.
Nutrition
Calories:
71
|
Carbohydrates:
6
g
|
Protein:
2
g
|
Fat:
4
g
|
Fiber:
5
g
|
Sugar:
1
g
Nutrition facts are provided as a courtesy. Have a question about our calculations or why you got a different result? Please read our
nutrition policy.