We just made a fantastic Low Carb Alfredo Chicken Pasta Recipe with Healthy Noodles we found at Costco!  These noodles are zero net carbs because they are loaded with fiber!
This is really exciting for me because I never really did like the texture of the Shirataki noodles.  Those noodles that are made out of mushrooms have a rubbery texture.  They don't really taste like anything which is a huge benefit because they will taste however you season them.
The texture in the Healthy Noodles we found at Costco, have a light and real noodle like texture.  They taste great hot or cold!  I've tried them!
You can find these low carb noodles in the specialty cheese refrigerated section at Costco back in the back of the store near the meat department.
This is really exciting for pasta lovers who are doing low carb or the keto diet.  This is the best way I have found to enjoy what feels like real pasta noodles without the high carb guilt.
We added precooked grilled chicken to our Low Carb Alfredo pasta because we always try to add plenty of protein to all of our meals because it really does help aid in weight loss.  This is really good information to know if you are on a weight loss journey.
The other thing I really like about this dish is that it only messes up one pan.  It's a low carb one pot meal!  Love that!
The hero ingredient in this recipe is the cream cheese.  Cream cheese takes on a delightful savory flavor when paired with parmesan cheese and garlic.
The cream cheese also makes this sauce thick and creamy without the use of keto thickeners.  It's a win-win!
Here's how we made this keto and low carb dinner idea!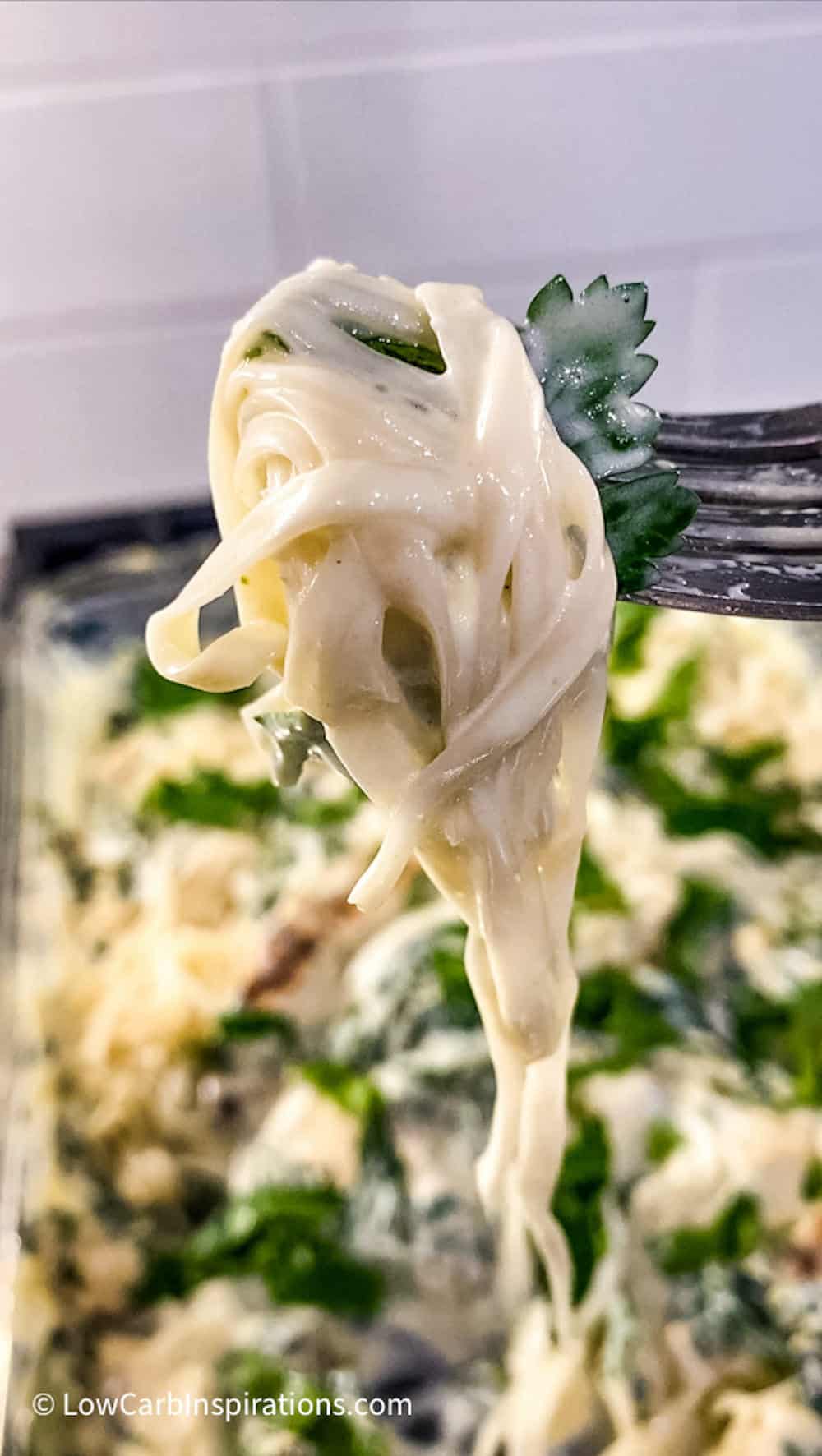 Low Carb Alfredo Chicken Pasta Recipe Ingredients:
8 to 10 oz fresh spinach
1/4 cup olive oil
1 tbs minced garlic
8 oz cream cheese
1/2 cup heavy cream
8 oz grilled chicken (precooked and cubed)
1 cup parmesan cheese
2 tsp pink salt
4 tbs butter, melted
1/4 cup chopped Fresh parsley
2 packages Healthy Noodles
Get the full instructions in the printable recipe carb below.
Enjoy!
Here are a few photos we took to show how we made this Low Carb Alfredo Chicken Pasta Recipe!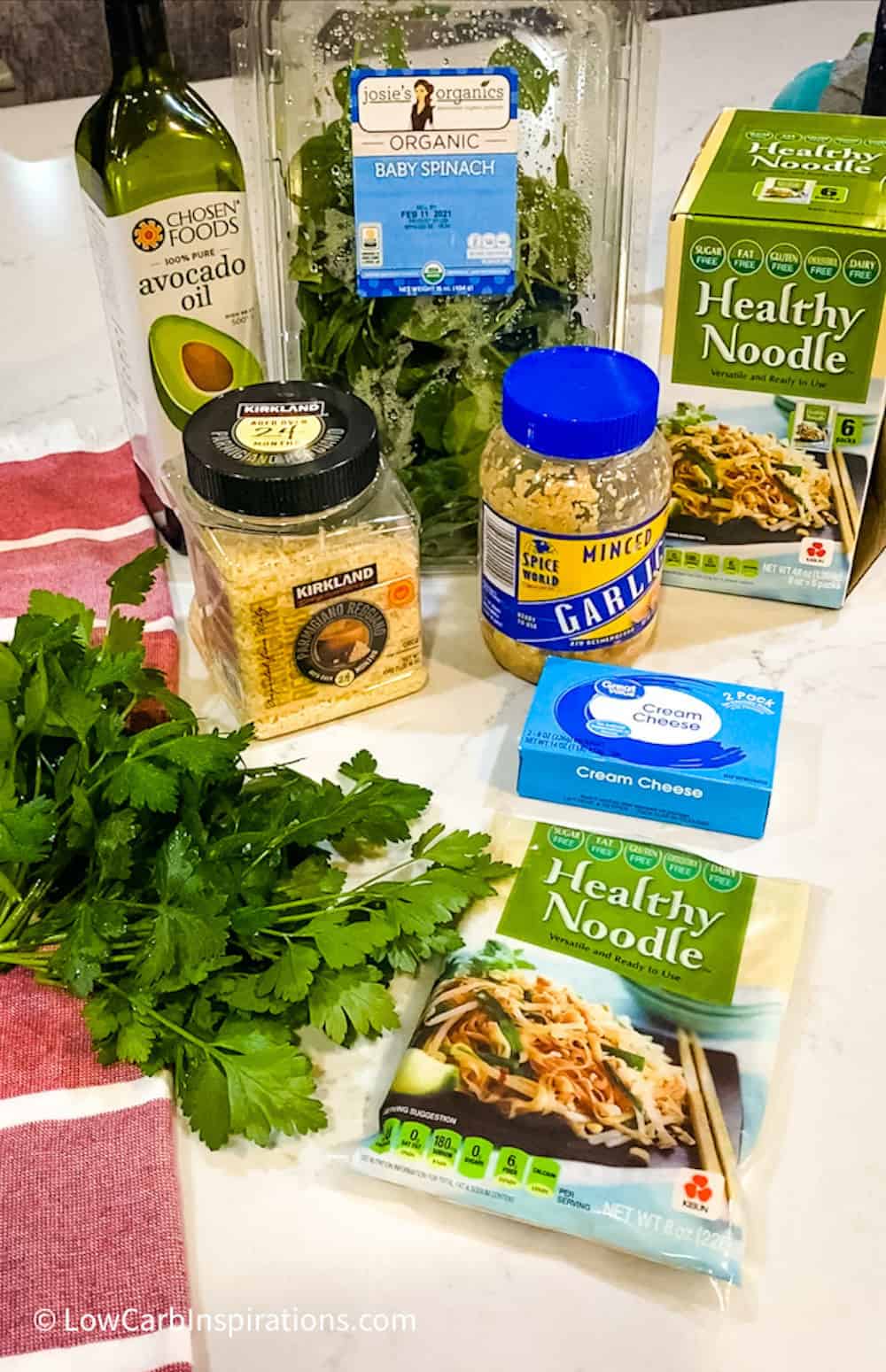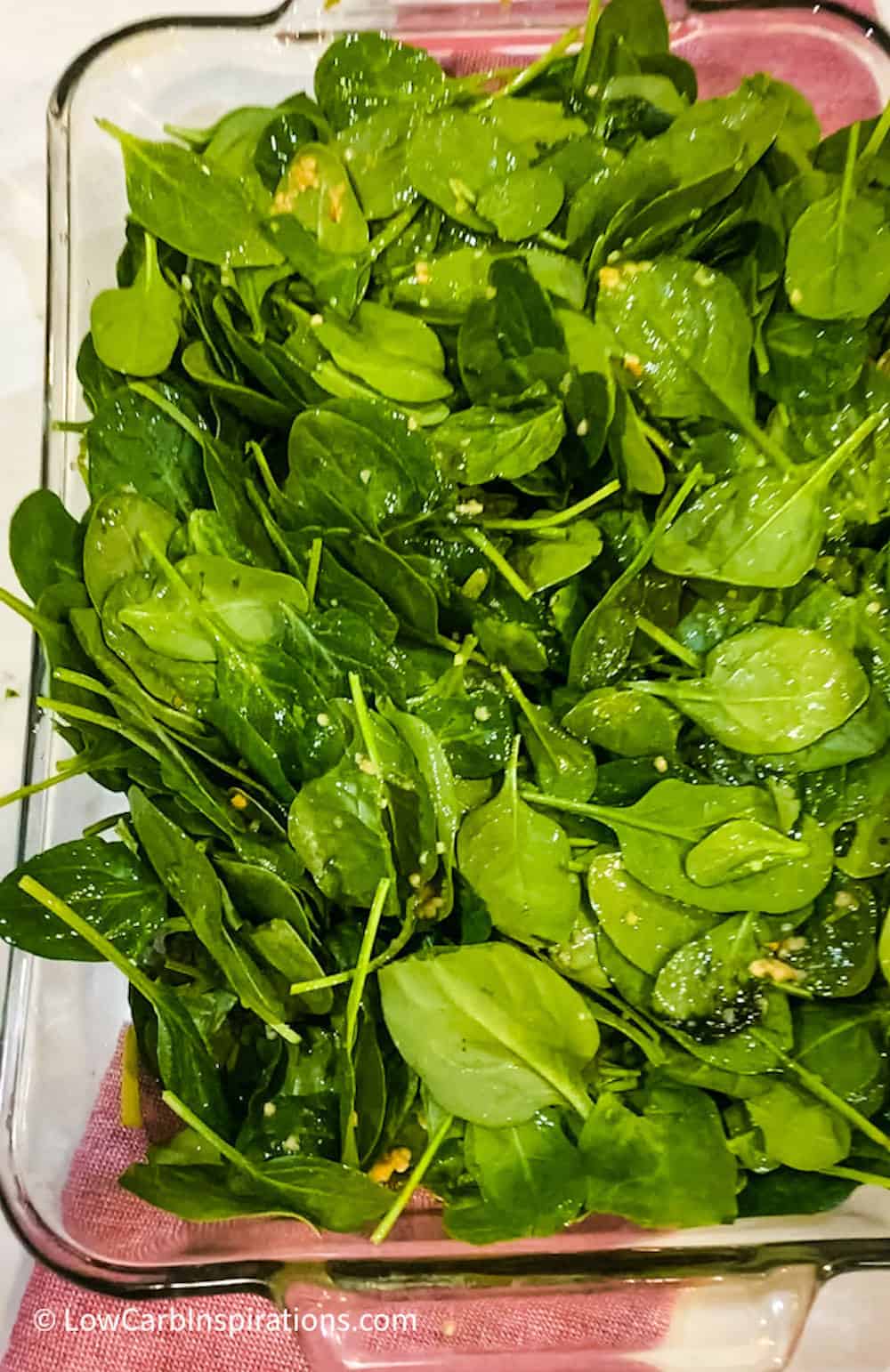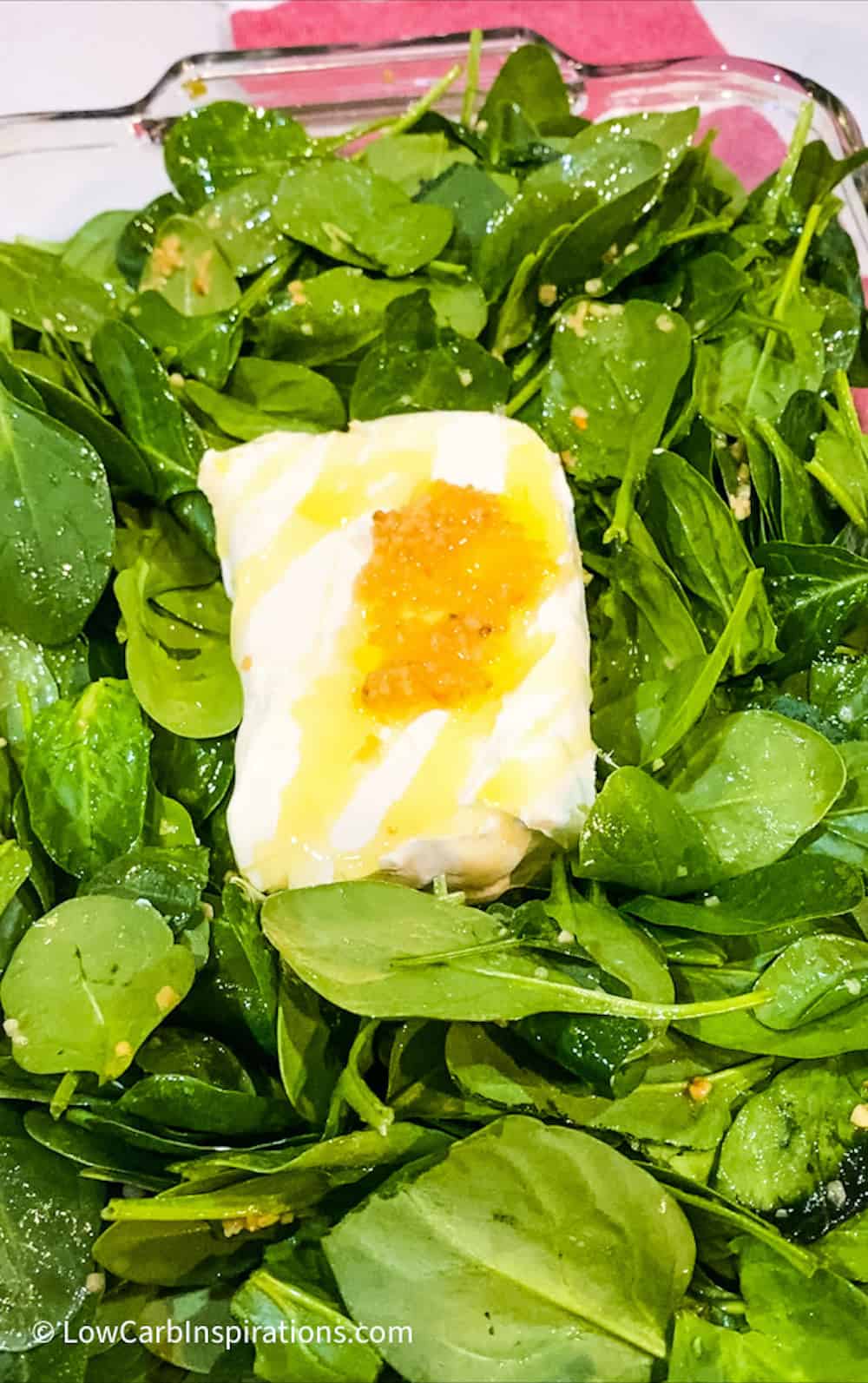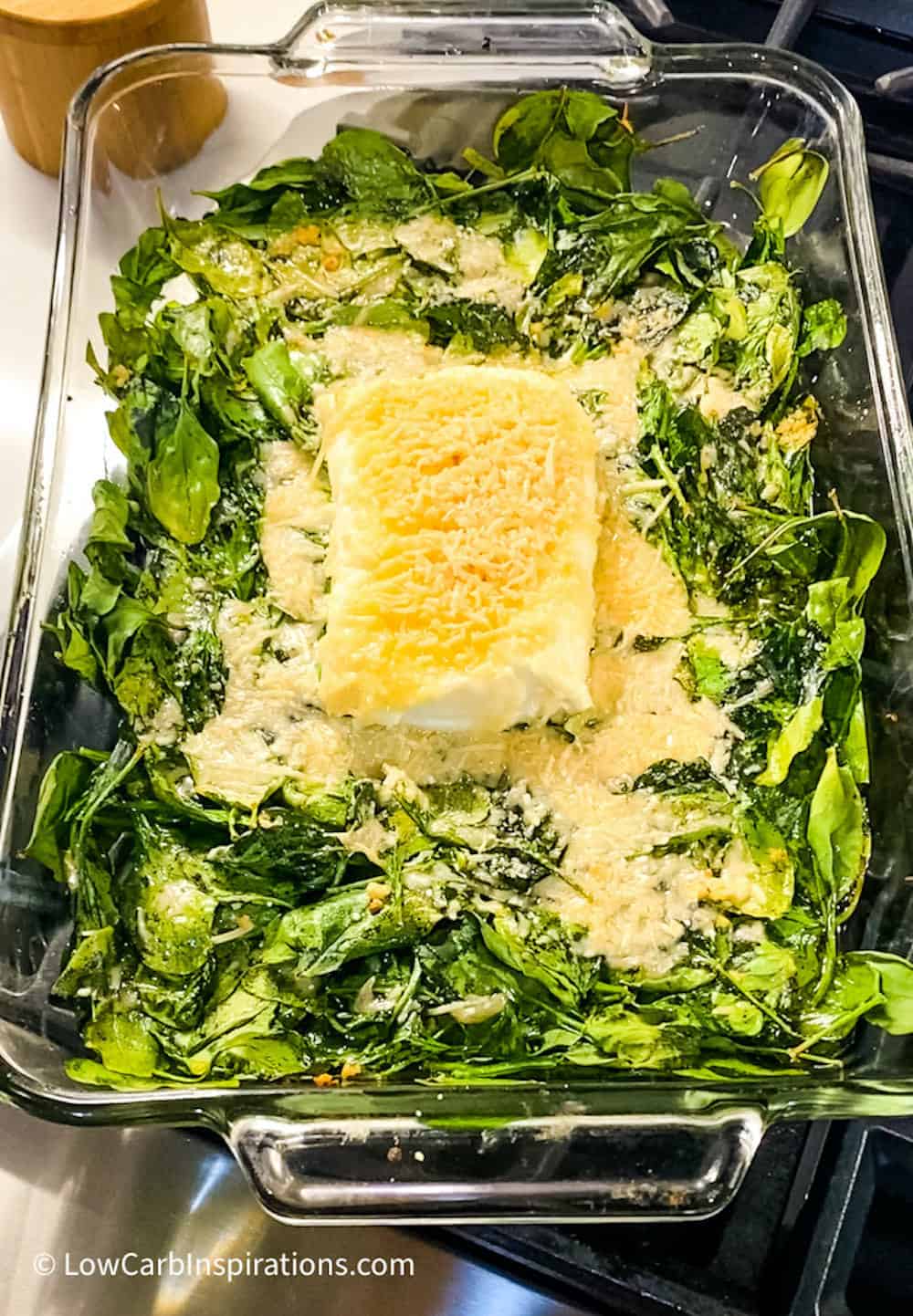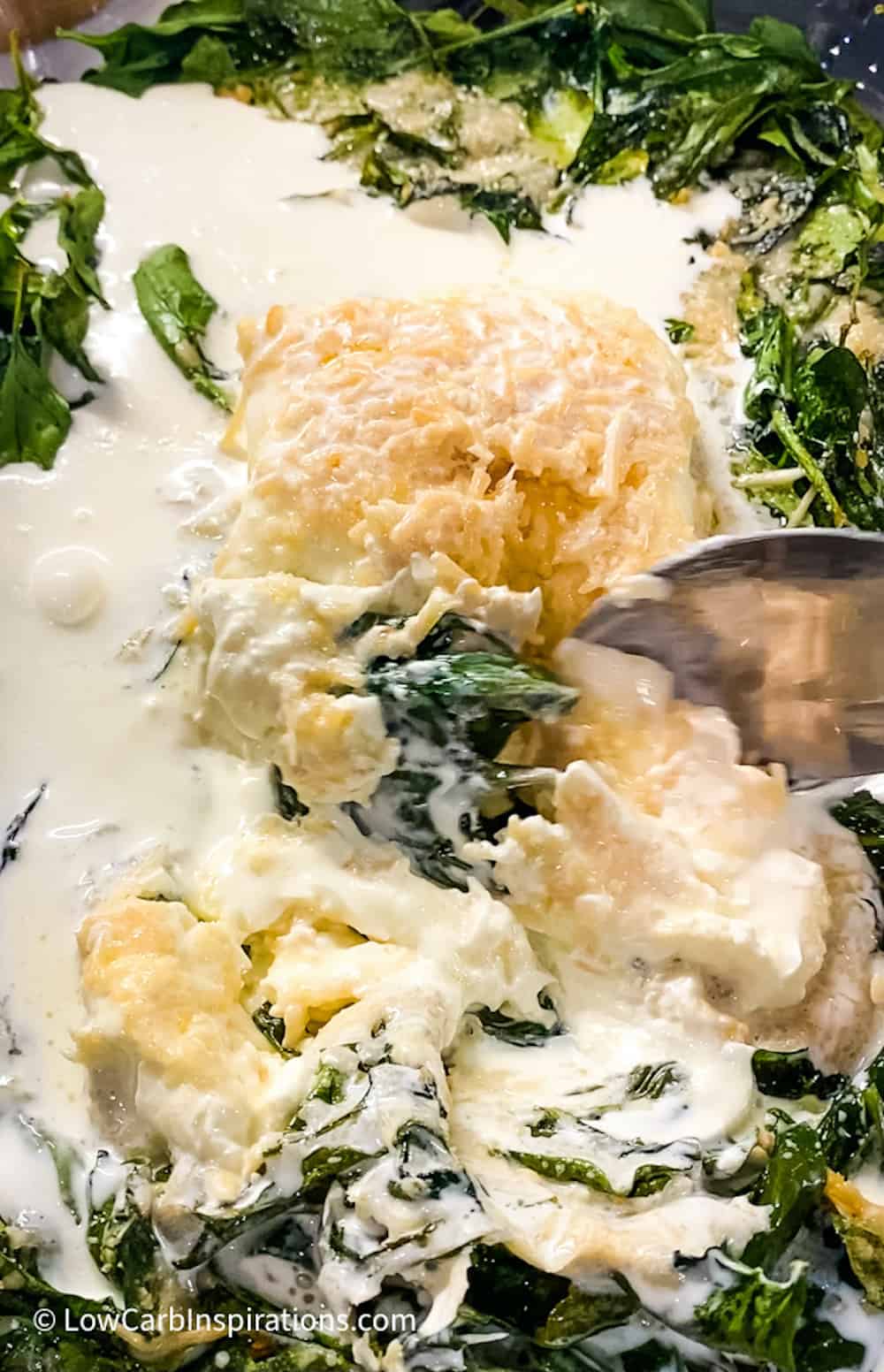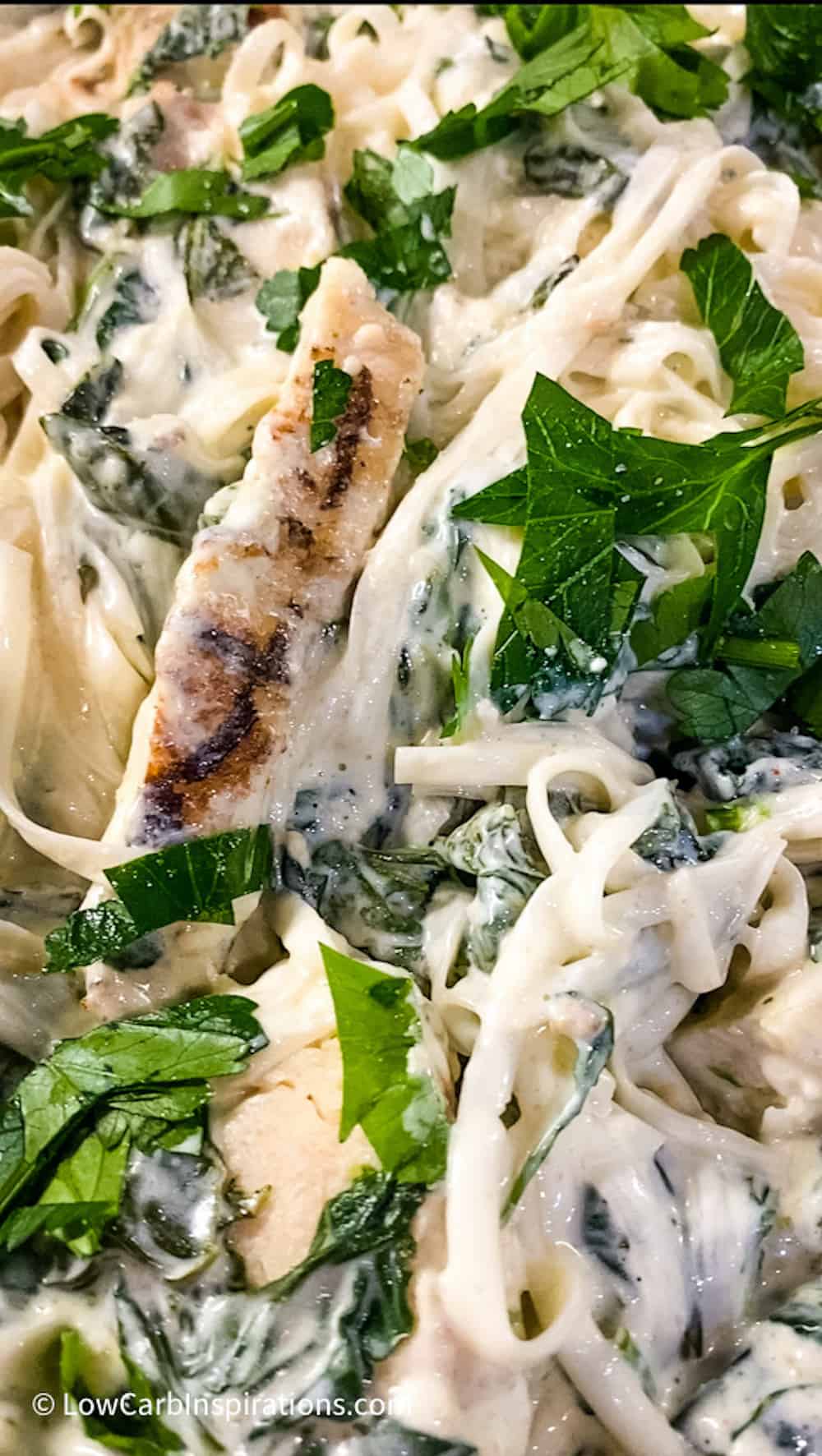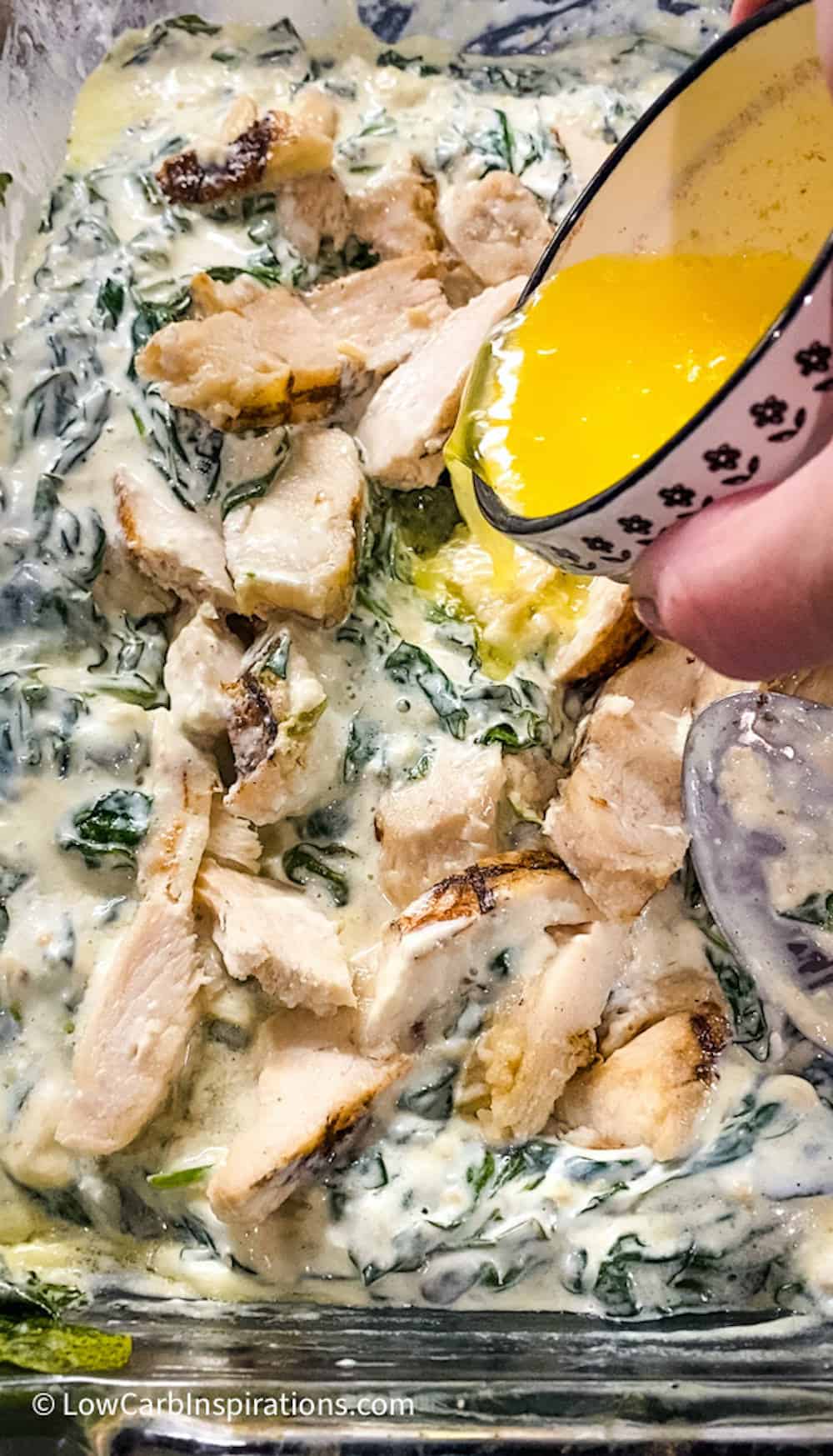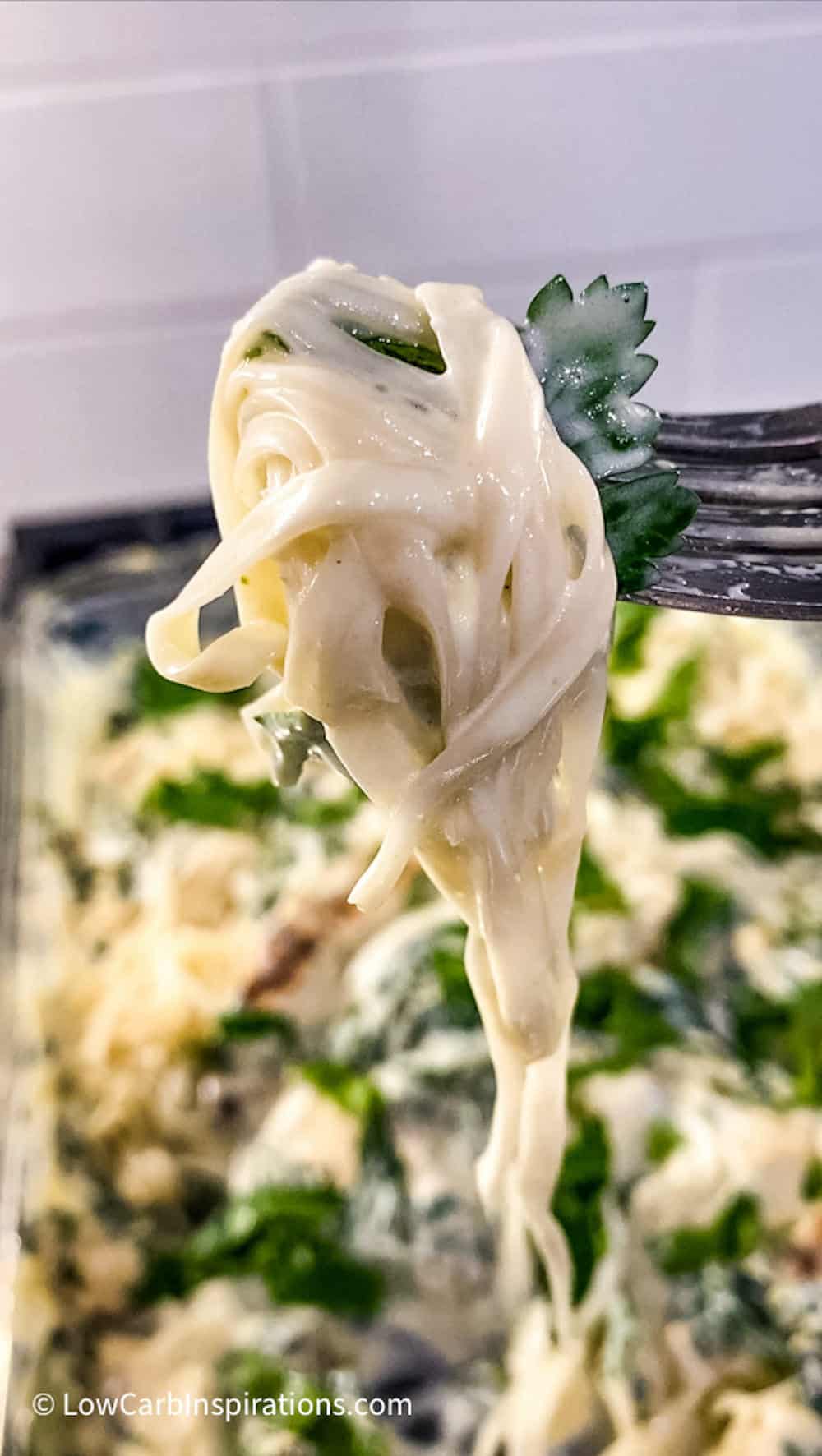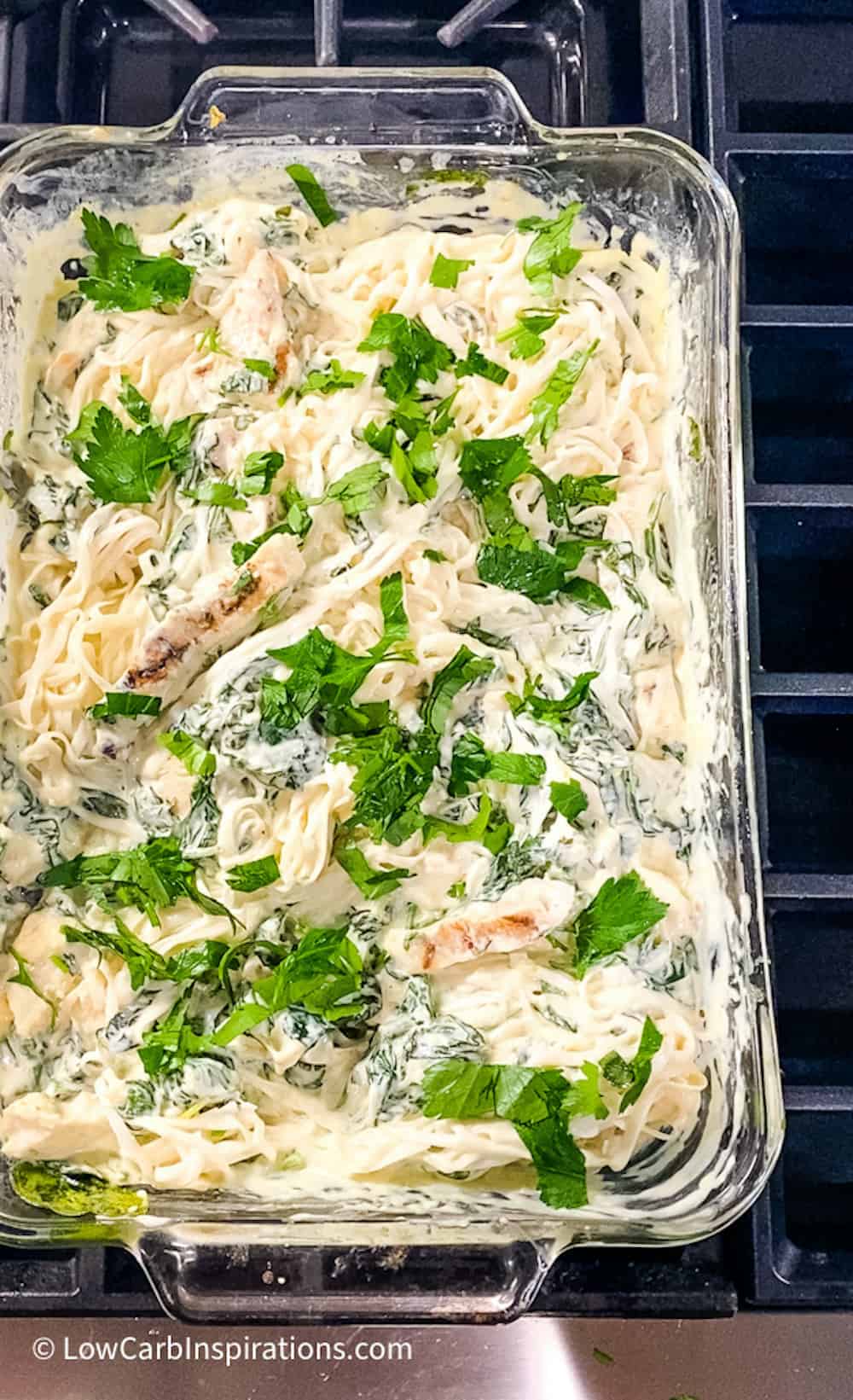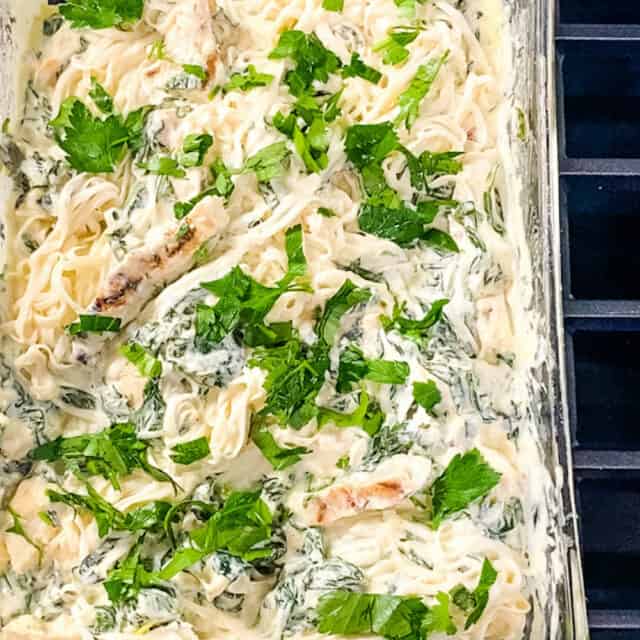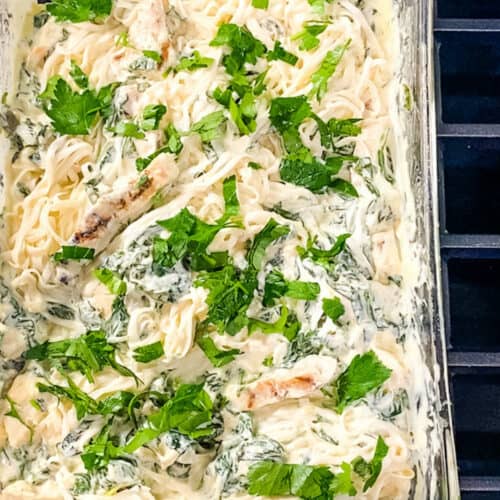 Low Carb Alfredo Chicken Pasta Recipe
FANTASTIC Pasta recipe for low carb and keto dieters!
Ingredients
Instructions
In a large casserole dish add the fresh spinach, olive oil and minced garlic.

Mix up the ingredients well until the oil has coated all of the ingredients.

Bake at 350 degrees for 20 minutes.

Remove from the oven and add heavy cream, parmesan cheese, salt, and the melted butter.

Mix until you have a creamy sauce.

Remove the healthy noodles from the packages and rinse under warm water.

Drain the noodles.

Add the rinsed noodles and the precooked heated chicken to the sauce.

Mix until fully combined.

If the dish is warm enough, you can serve it right away.  If it needs to be heated more just pop it back in the oven for about 5 or 10 minutes until it's fully heated.

Chop the fresh parsley.

Sprinkle the parsley over the pasta and serve warm.

Enjoy!
Notes
The noodles are not calculated in the nutrition because they net a zero carb per serving!
Perfect low carb and keto friendly dinner idea!!
Heats up nicely for leftovers the next day too!
Nutrition
Serving:
1
g
Calories:
483
kcal
Carbohydrates:
4
g
Protein:
19
g
Fat:
44
g
Saturated Fat:
21
g
Trans Fat:
1
g
Cholesterol:
129
mg
Sodium:
1296
mg
Potassium:
388
mg
Fiber:
1
g
Sugar:
2
g
Vitamin A:
4723
IU
Vitamin C:
11
mg
Calcium:
294
mg
Iron:
2
mg