Baked Keto Sugar Free Glazed Ham Recipe
Looking for the perfect baked glazed ham for the holidays? Sugar-free, keto-friendly, and full of flavor, this Baked Keto Sugar Free Glazed Ham Recipe is just what you are looking for!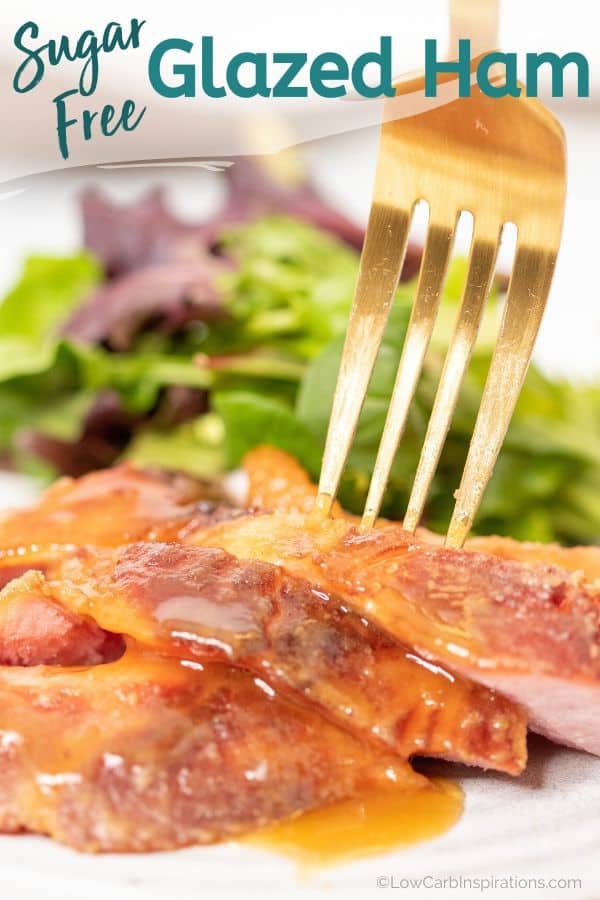 Baked Keto Sugar Free Glazed Ham Recipe Ingredients
Glaze Ingredients
Baked Keto Sugar Free Glazed Ham Recipe Instructions
The full instructions are listed in the printable recipe card below.
Other Items Needed
Baked Keto Sugar Free Glazed Ham Recipe Nutrition
Serves 10
Calories 185, Total C 1.4g, Fiber 1g, Net C 0.4g, Sugars 0.1g, Fat 13.9g, Protein 13.7g
Here is a video we made to show you how to make this keto baked ham recipe.
New to Keto? Check out the Keto Starter Guide!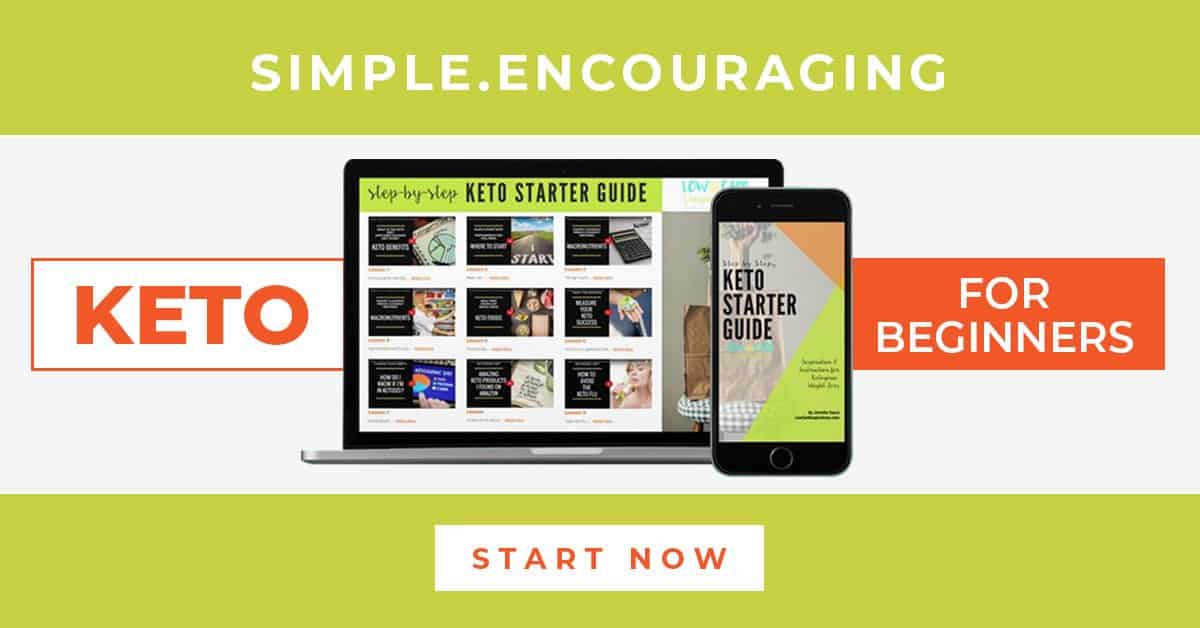 The Keto Starter Guide is an amazing resource as you get started on your keto/low carb journey. This guide has everything you need to get started in 9 simple video lessons and also includes workbooks with step by step instructions for beginners.
What's a macro and why do I count them?
How do I find the best recipes?
What is ketosis and how do I get my body there?
What fruits are allowed on a ketogenic diet?
Will I get "Keto Flu" and what do I do about it?
Get the Keto Starter Guide today!
Questions Others Have Asked
Is baked ham okay on the keto diet?
Absolutely! Ham is a great source of protein on the keto diet. It has a higher fat content which is ideal for keto and low carb diets.
What to serve with sugar free glazed ham
We have some suggestions listed below the printable recipe as well, but sugar-free glazed ham pairs well with cauliflower mash, roasted vegetables, and side salads just to name a few.
How long does baked ham last in the refrigerator?
Cooked ham lasts 3-4 days in the refrigerator when stored in an airtight container. Likewise, you can extend the life of your ham, by freezing it. If you decide to freeze a portion of your ham, you can do so for 3-4 months as long as it is stored in an airtight container.
You can do this by using a vacuum sealer to remove all the air out or you can use airtight storage containers to achieve the same goal.
How do you reheat cooked ham?
If frozen, be sure to thaw completely before reheating. Once the baked ham is fully thawed, you can reheat it in the oven at 325 degrees until it reaches an internal temperature of 135 to 140 degrees.
If you would rather, you can also use an oven bag to reheat the sugar free ham. You will need no more than 10 minutes per pound for reheating.
Here are a few photos we took while making this amazing recipe.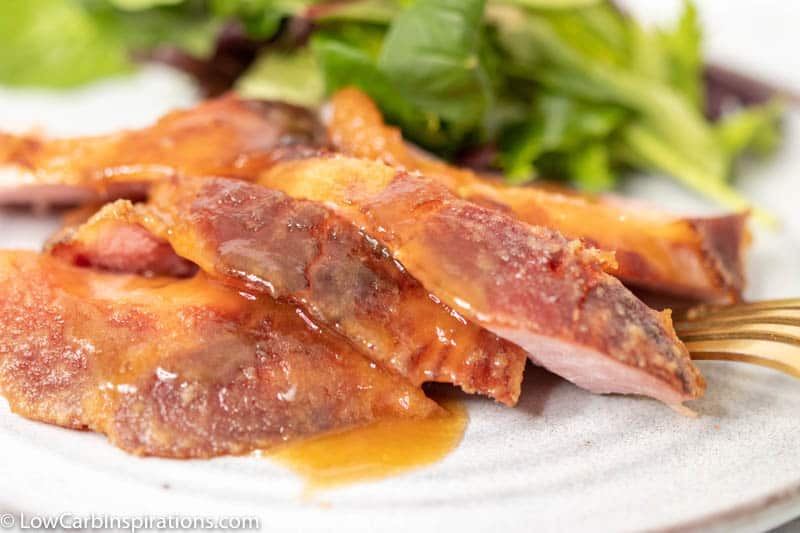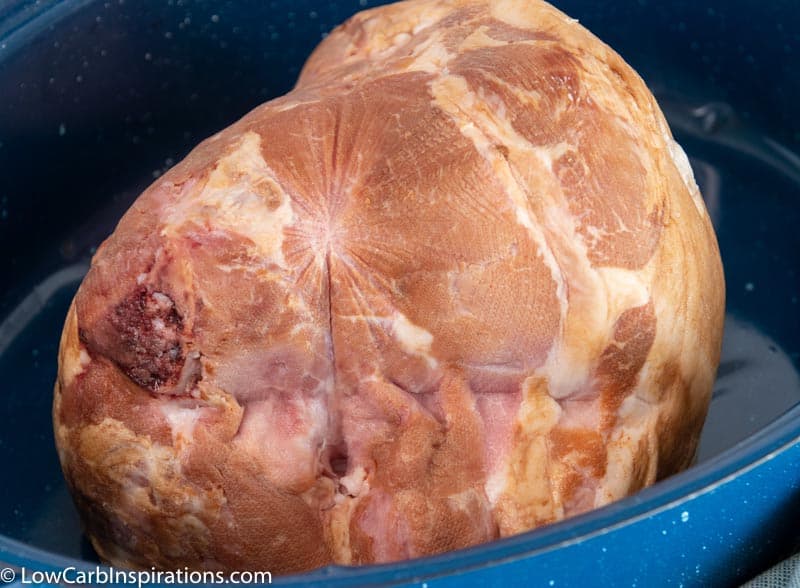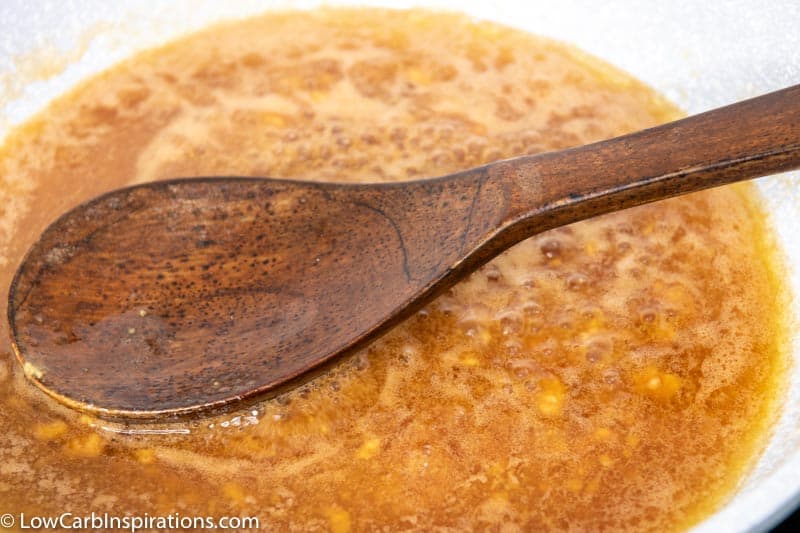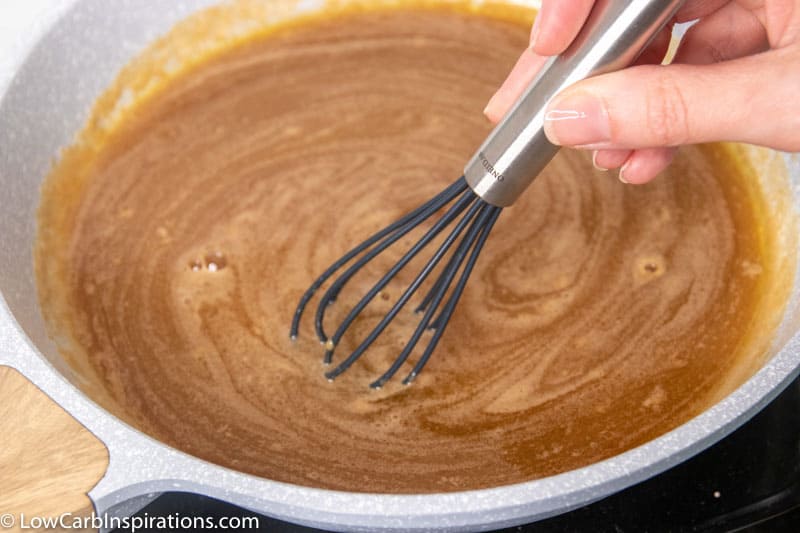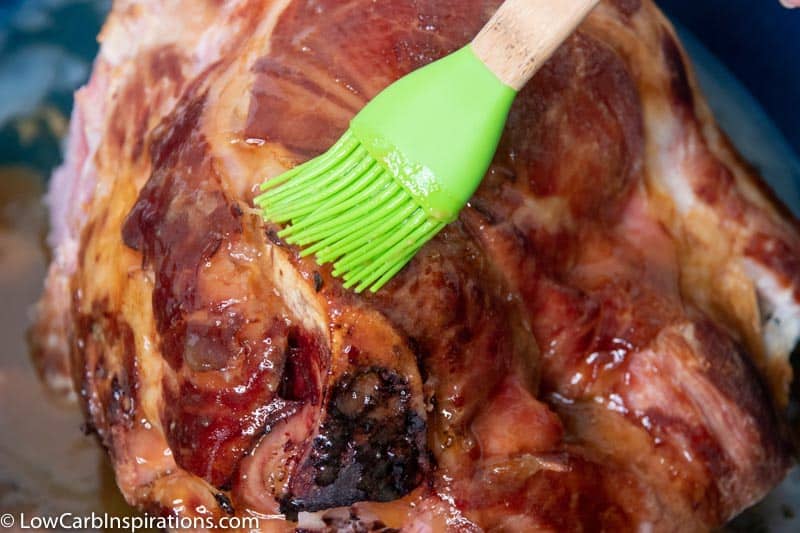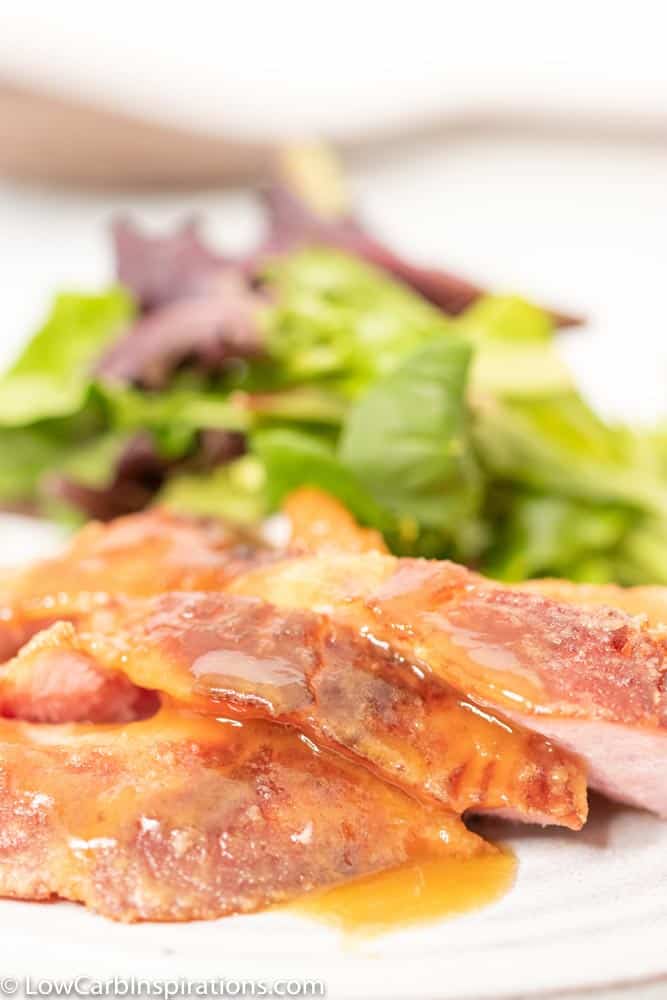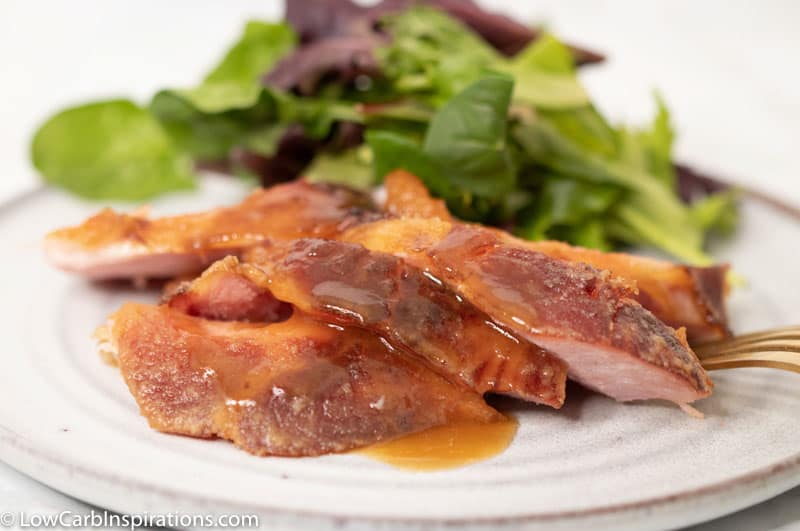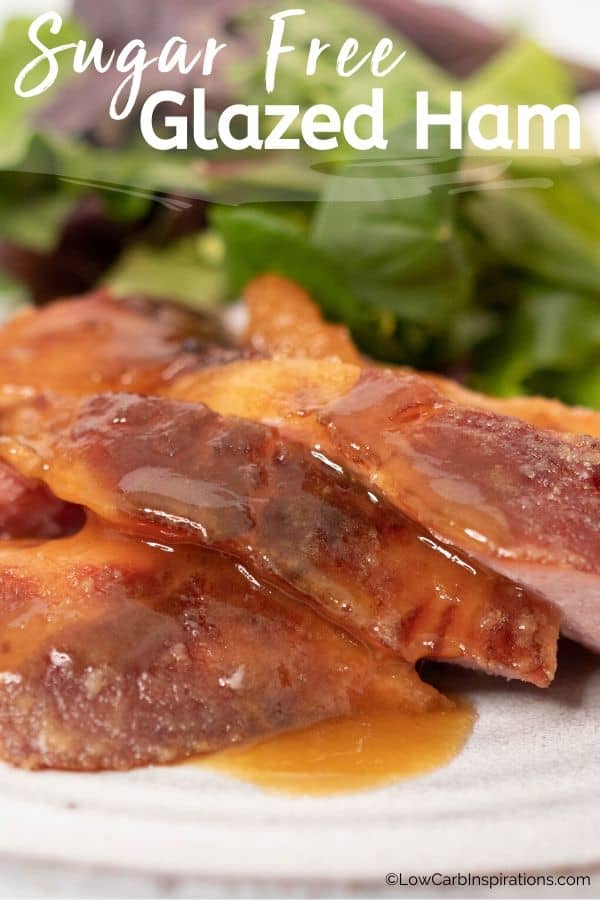 Don't forget to pin this for later!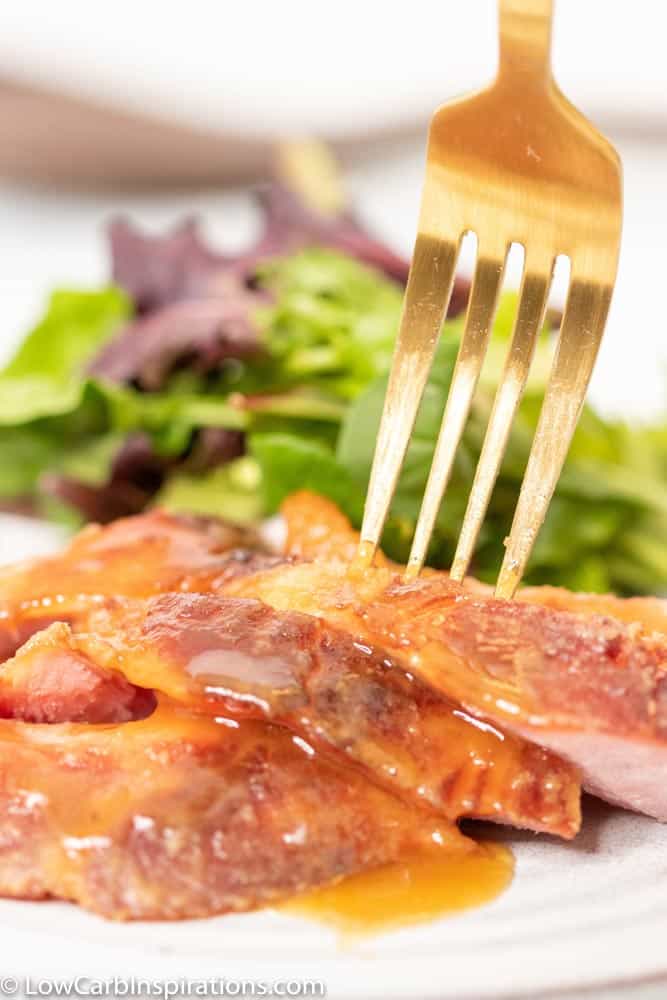 Here's a printable version of this Keto Baked Ham Recipe: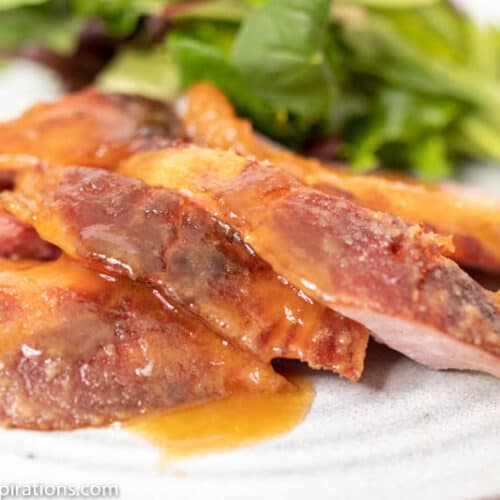 Keto Sugar Free Glazed Ham Recipe
Baked Keto Sugar Free Glazed Ham is just what you are looking for!
Instructions
Keto Ham Instructions
Cook the ham per standard directions on the package. As a general rule, a pre-cooked ham is usually baked for 15-20 minutes per pound at 325 degrees. Be sure to check the instructions on your ham before proceeding.
Glaze Instructions
Mix all the ingredients together in a saucepan.

Cook over medium to low heat for 5-8 minutes.

Then pour half over the ham before baking and cook.

After the ham is finished baking, drizzle the remaining on top to serve.
Nutrition
Serving:
1
serving
|
Calories:
185
|
Carbohydrates:
1.4
g
|
Protein:
13.7
g
|
Fat:
13.9
g
|
Fiber:
1
g
|
Sugar:
0.1
g
Nutrition facts are provided as a courtesy. Have a question about our calculations or why you got a different result? Please read our
nutrition policy.
Low Carb/Keto Pairings for this Keto Baked Ham Recipe