Bacon Wrapped Onion Rings (air fryer method)
Bacon Wrapped Onion Rings made in the air fryer! This might just be the easiest keto appetizer you try yet! Who else loves their air fryer as much as I do?!!!
I have a brand new Cosori 5.8 lt Air Fryer machine and the Cosori accessories kit to go with it. It might just be one of the best investments I've made! It makes cooking so easy! The minute this unit arrived I make keto onion rings!!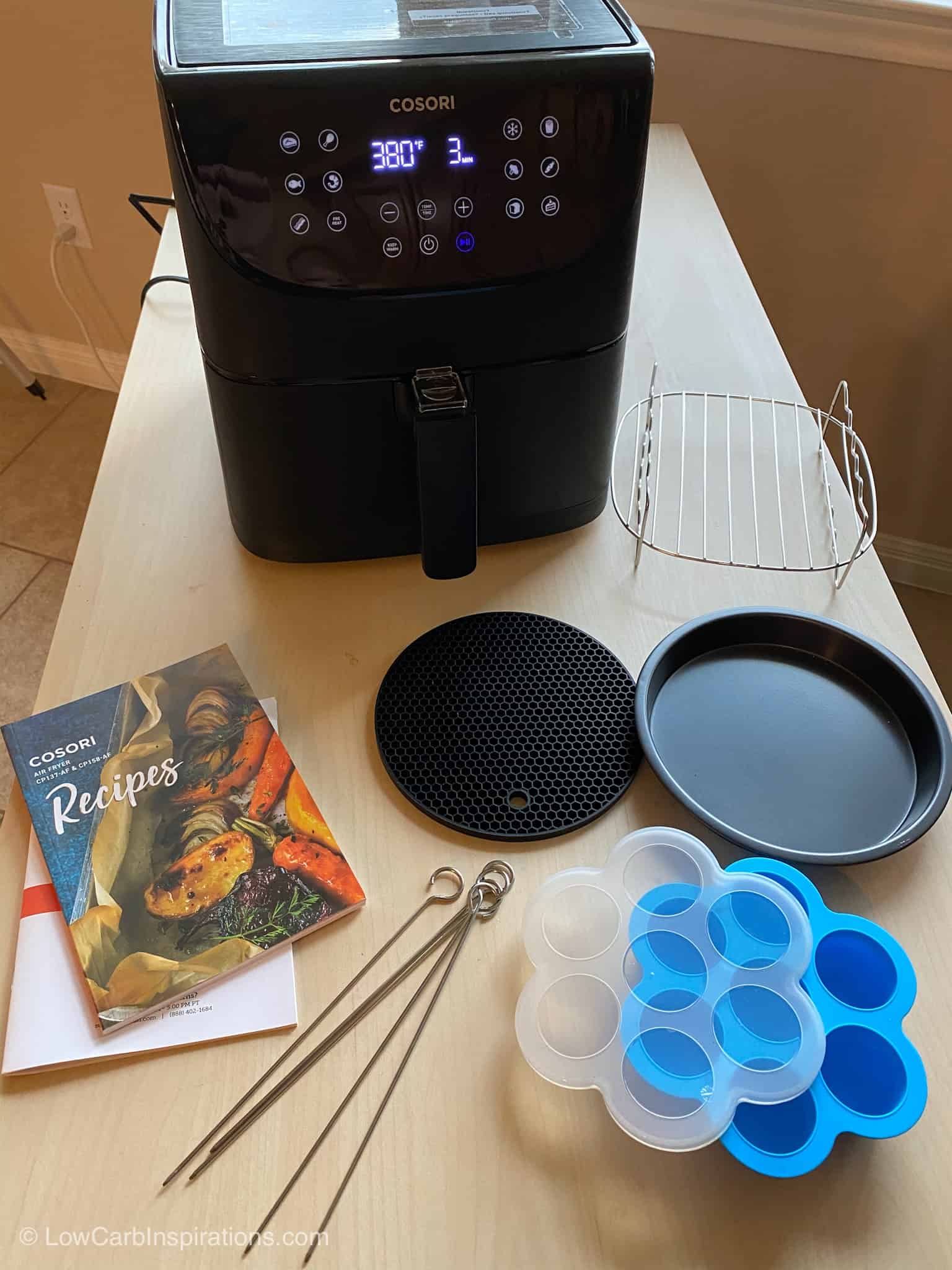 The features of this COSORI 5.8 Quart Air Fryer:
Compared with a 4-quart round basket or even smaller one, COSORI air fryer's 5.8- Quart Square Nonstick Basket can fit a 5 lbs-6 lbs whole chicken, while small round basket can't. Buy this XL 5. 8-Quart size, serves your family with at least 3-5 people.

Perfect healthy gift for food-loving dads, mothers, family and friends. Slimmer footprint fit on your countertop and save your space. It has 85% less fat than traditional deep frying methods, but deliver the same deliciously crunchy taste of fried food with little to no oil.

11 functions in 1-Steak, Poultry, Seafood, Shrimp, Bacon, Frozen Foods, French fries, Vegetables, Root Vegetables, Bread, Desserts, Preheat. Just tap and go! Selection at a touch rather than keep circling to make the choice. Super easy to use!

Removable nonstick coated basket are dishwasher safe, PFOA-free & BPA-free. Product Dimension: 11. 8*11. 8*12. 6 in; Basket Dimension: 9*9*3. 75 in. Buy our original air fryer accessory (search for: C158-6AC) to create more!

Comes with 100 original, delicious & easy recipes for every meals. Find out how our numerous influencers cook their food with COSORI air fryer in social medias, also constant recipes and videos tutorials from our community!

Cooking time is faster than conventional oven, but with crispier and tastier results. It also has shake reminder function. Preheat the unit before adding your ingredients to achieve the best results. ETL Listed/FDA Compliant, 170°F-400°F, 120V, 1700W. Please note that this voltage only applies to USA and Canada.
I also got the COSORI Air Fryer Accessories kit!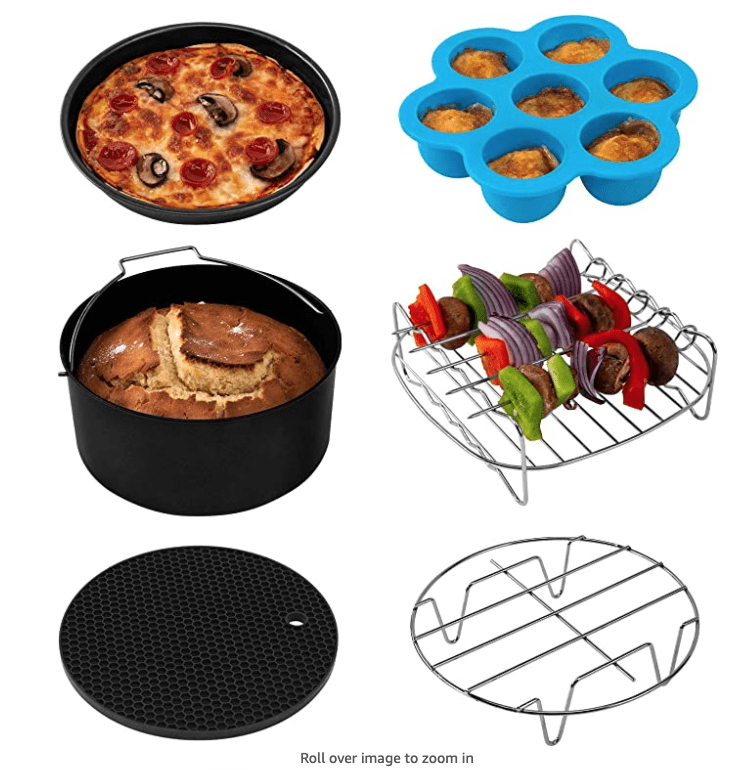 There's a neat little recipe book that comes with this air fryer and it does have some keto friendly recipes in it! This recipe is not keto friendly but it's what inspired us to make our own.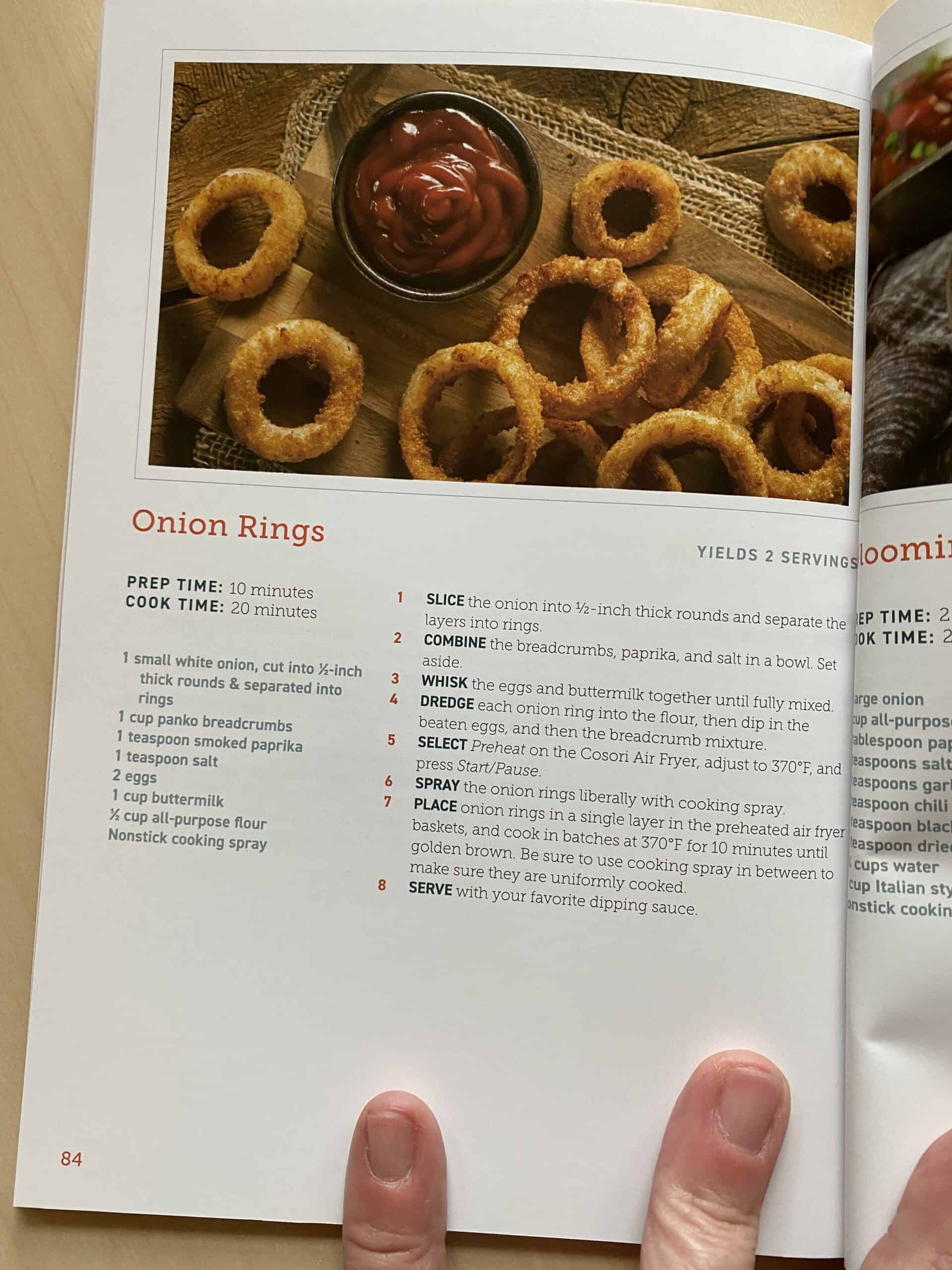 Here's a keto friendly recipe that I might try soon!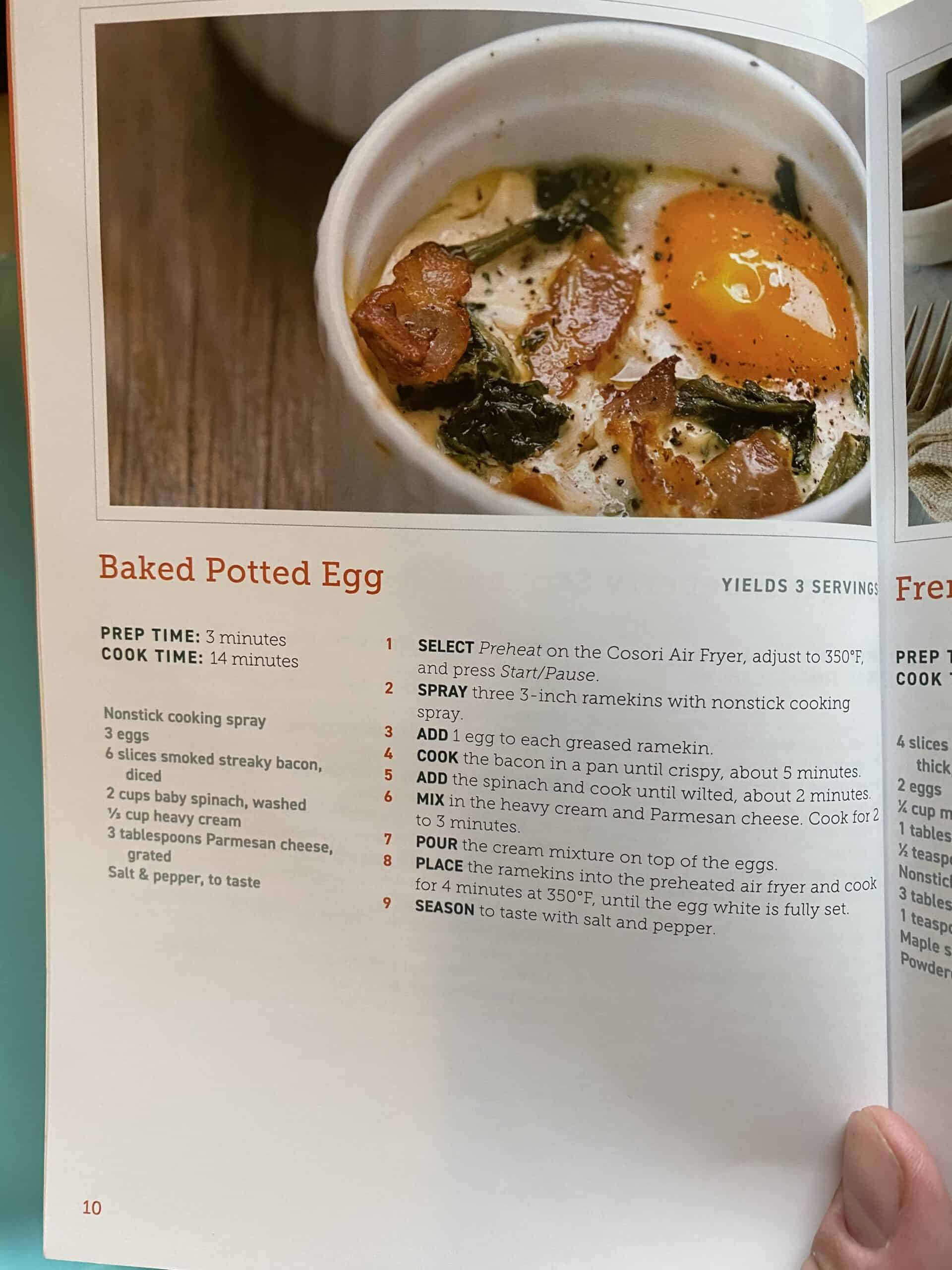 LOOKING FOR EASY AIR FRYER RECIPES? YOU GOT IT!!!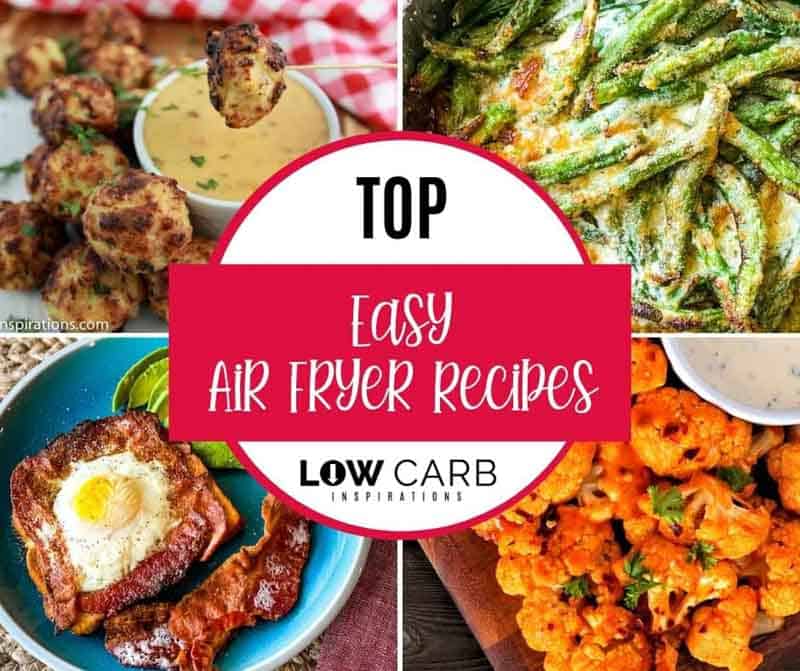 In this book, we've collected some of our favorite air fryer recipes that are both delicious and healthy. From main dishes to snacks and desserts, we've got something for everyone.
Some of our mouth-watering recipes include:
Egg Toast with Bacon
Buffalo Cauliflower Bites
Meatball Casserole
Crispy Buffalo Wings
Sugar Free Vanilla Cheesecake
Each recipe is straightforward and easy to follow, even if you're a beginner air fryer user.
Get the Easy Air Fryer Recipes eCookbook today and say 'hello' to a new way to enjoy your meals!!
Here's how we made these delightful Bacon Wrapped Onion Rings:
All you need is a large yellow onion and a package of thin sliced bacon! That's it!! Just two ingredients and an air fryer!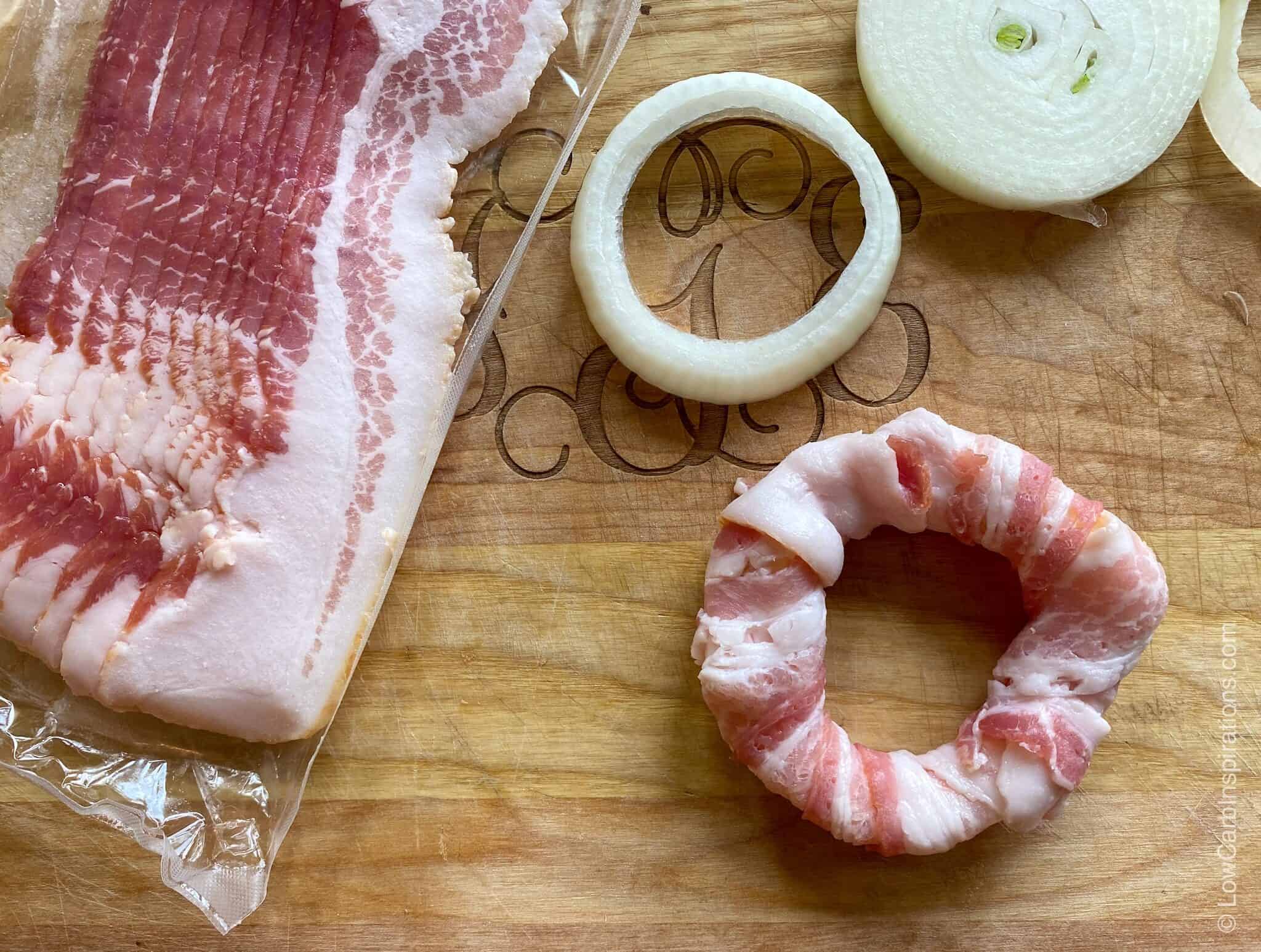 Cut this onions into 1/2 inch circles and wrap each onion slice with a thin piece of bacon. Be sure to place the end of the bacon wrap faced down on the air fryer rack. This will keep is secure as it bakes.
Place them on the rack and leave a little bit of room between each bacon wrapped onion ring, like this: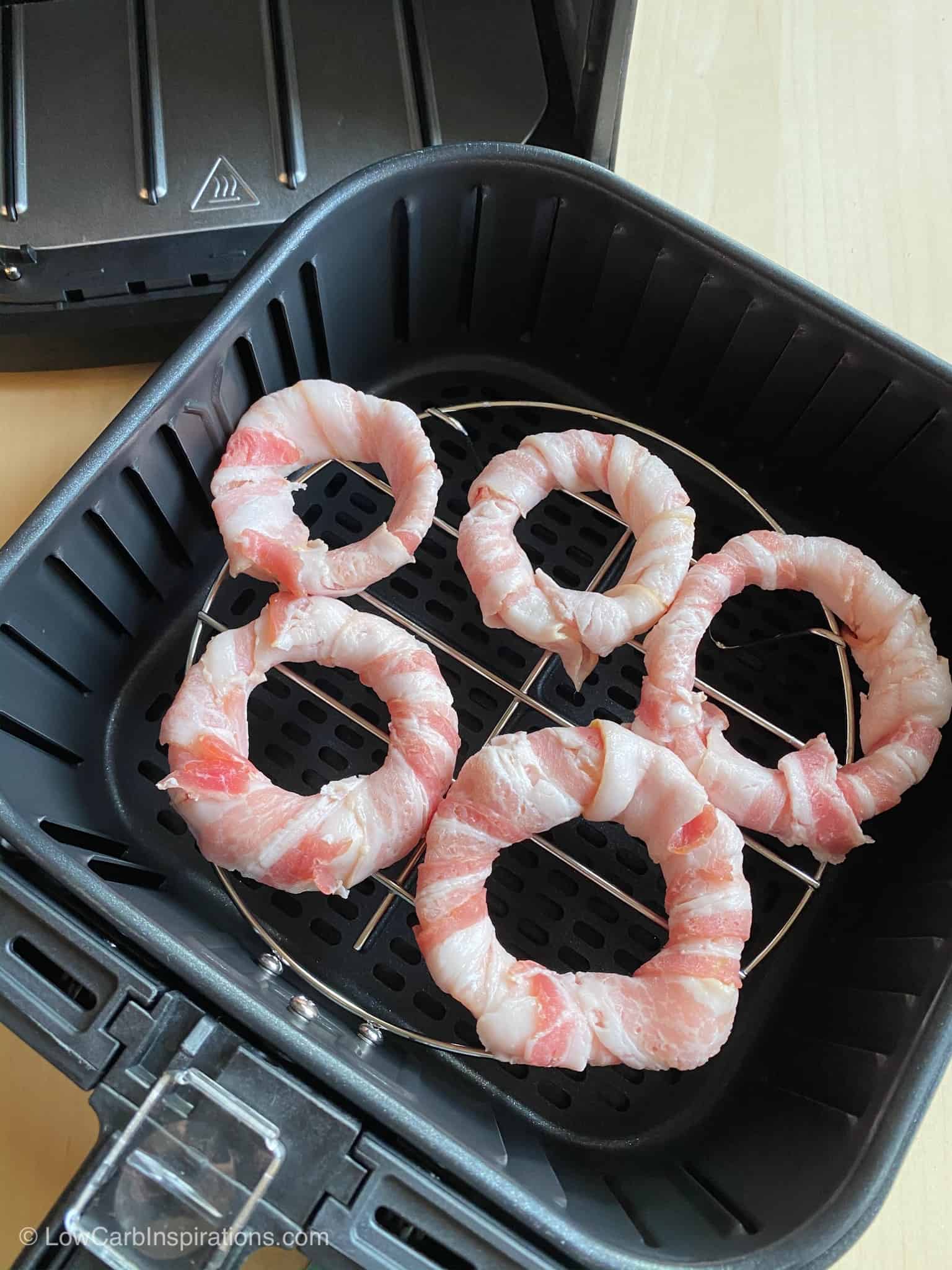 We can bake 5 or 6 large onion rings at a time!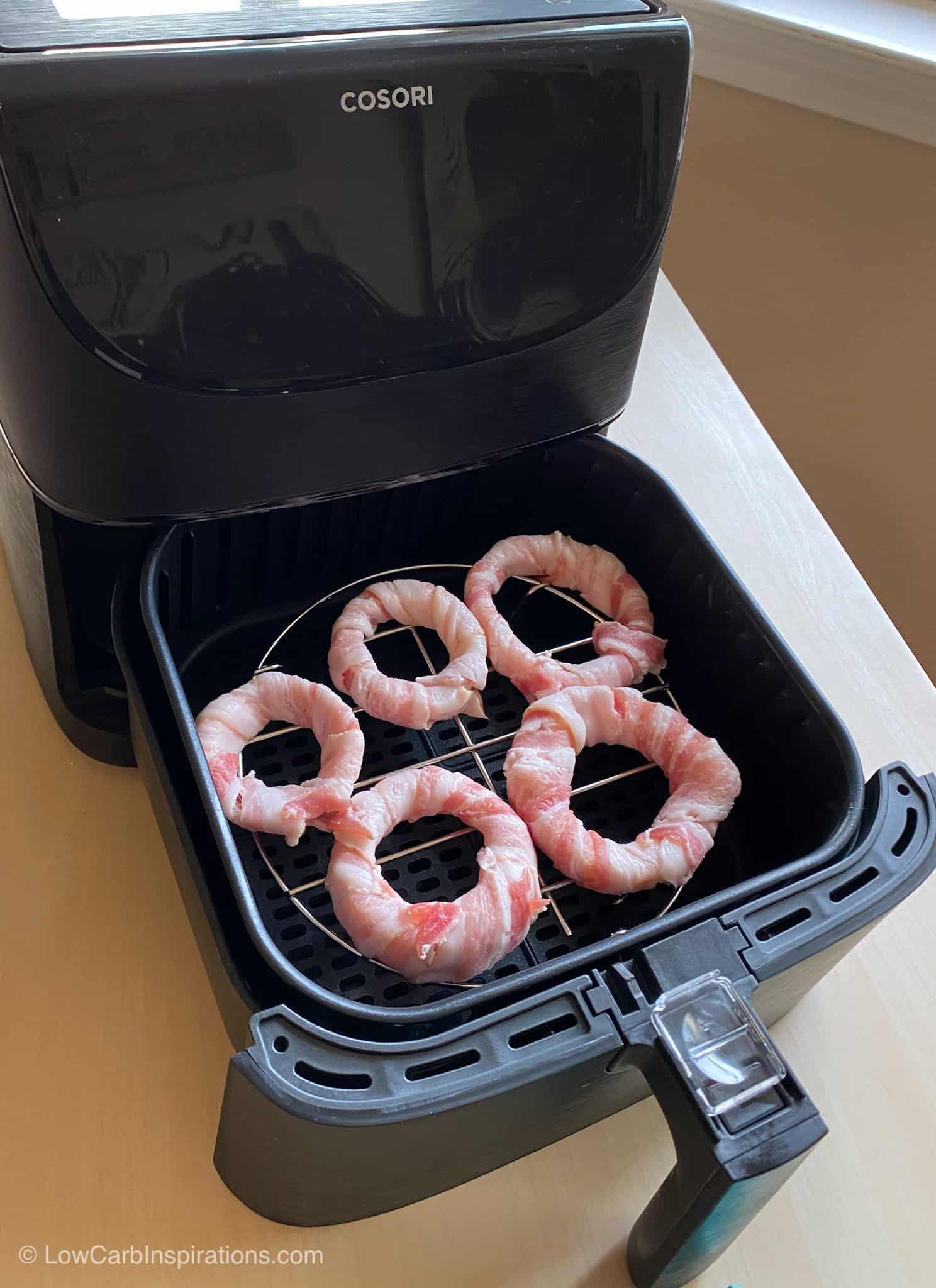 Set the air fryer to 380 degrees and bake them for at least 12 minutes. If you like your bacon a bit crispier, add about 2 minutes for a total of 14 minutes bake time.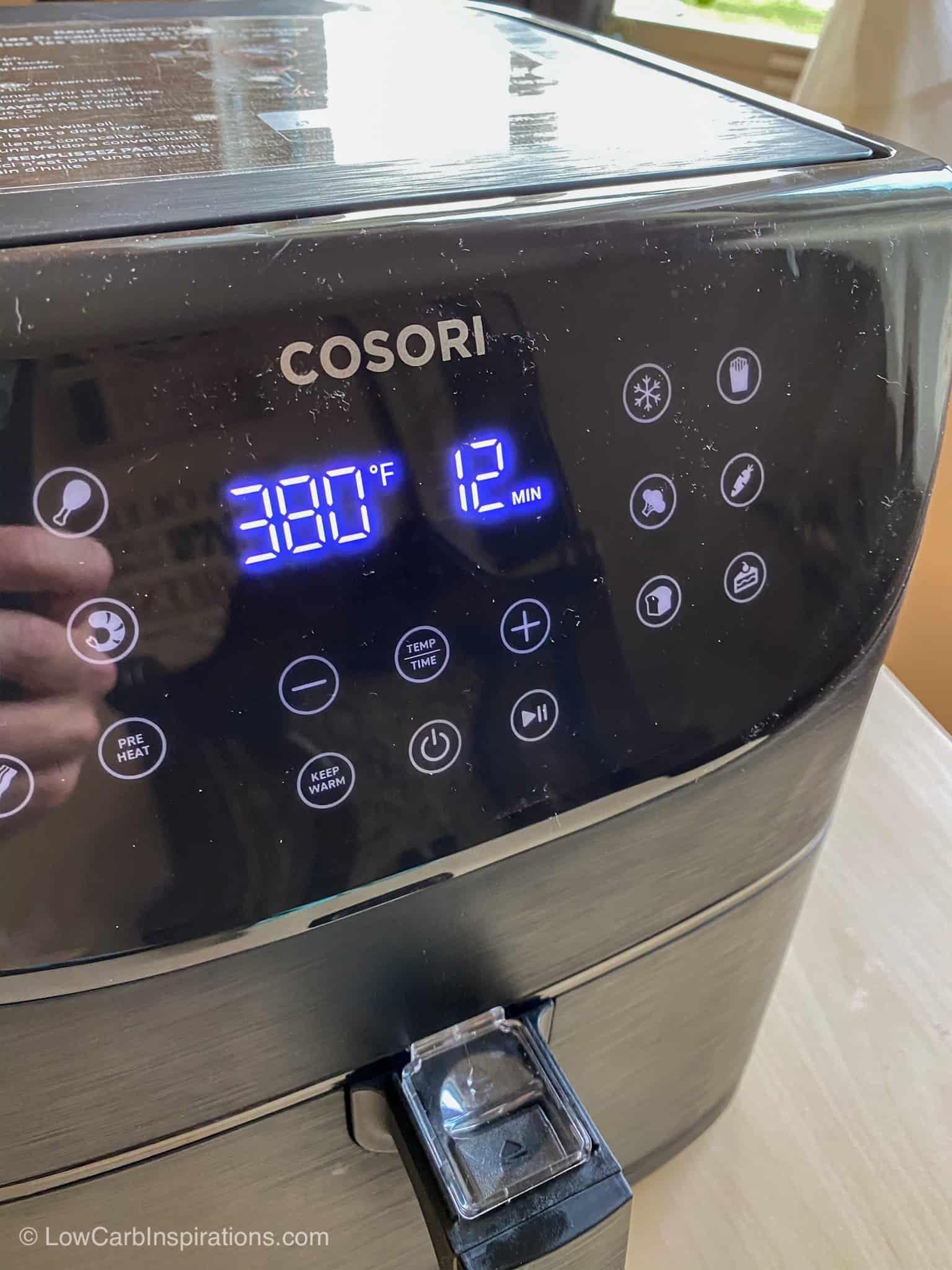 PERFECTO!!! I wish you could smell these!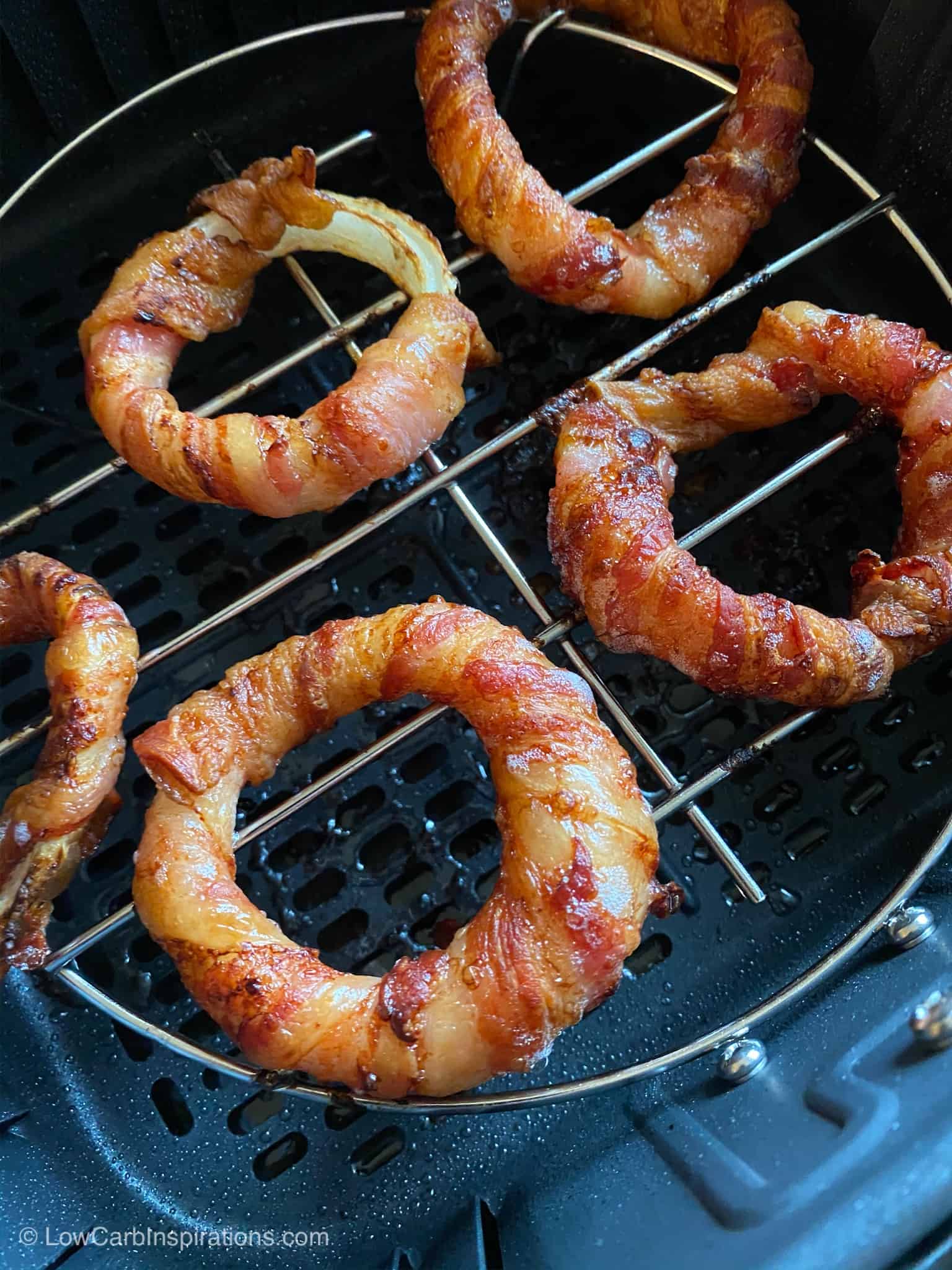 Be sure to allow them to cool slightly before serving them. They are really hot! Use a tongs to remove the onion rings and set them on a plate to cool down.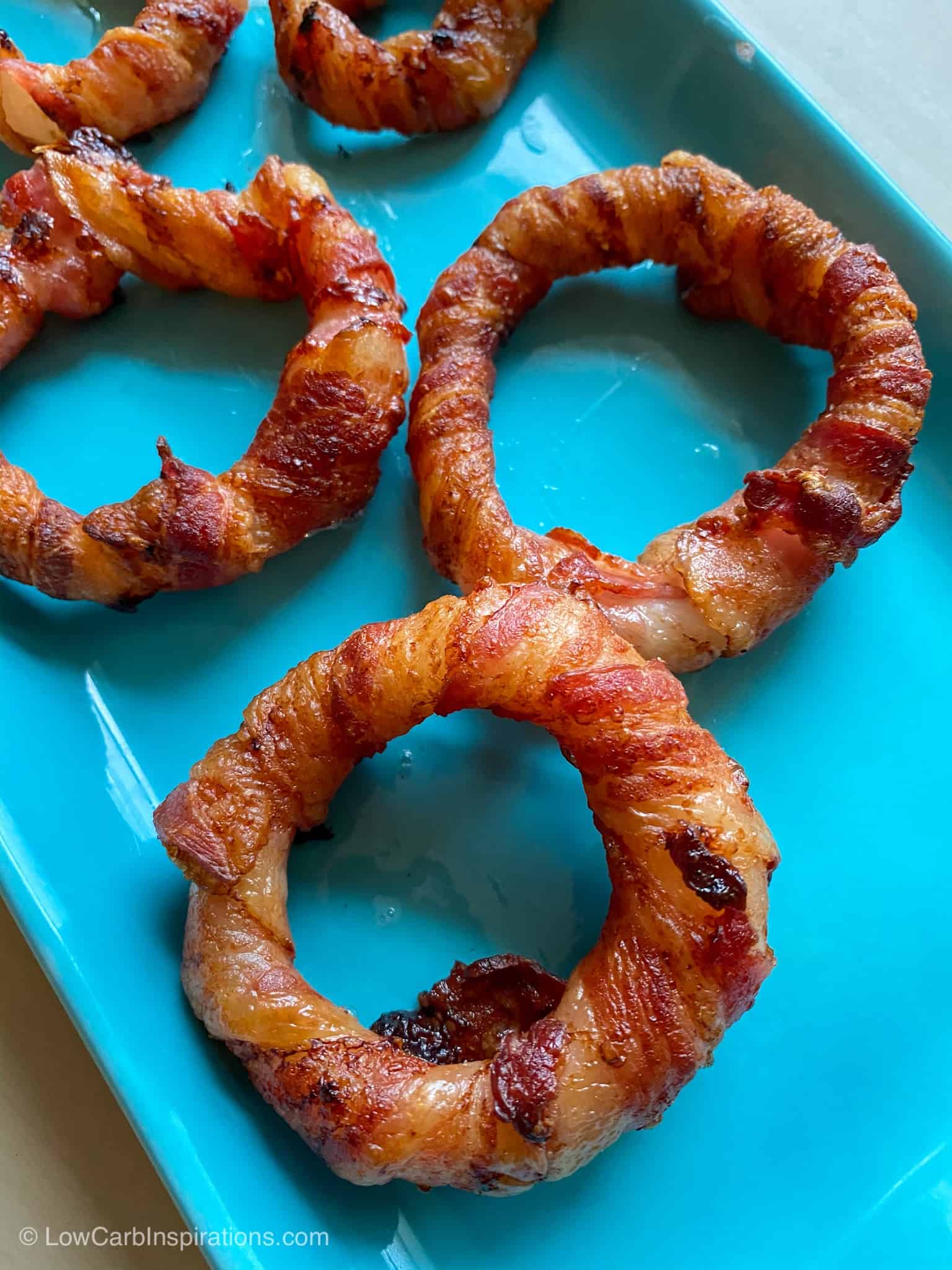 We used the whole onion and the full package of bacon. We ended wrapping the really small pieces of onion without a whole, just like this: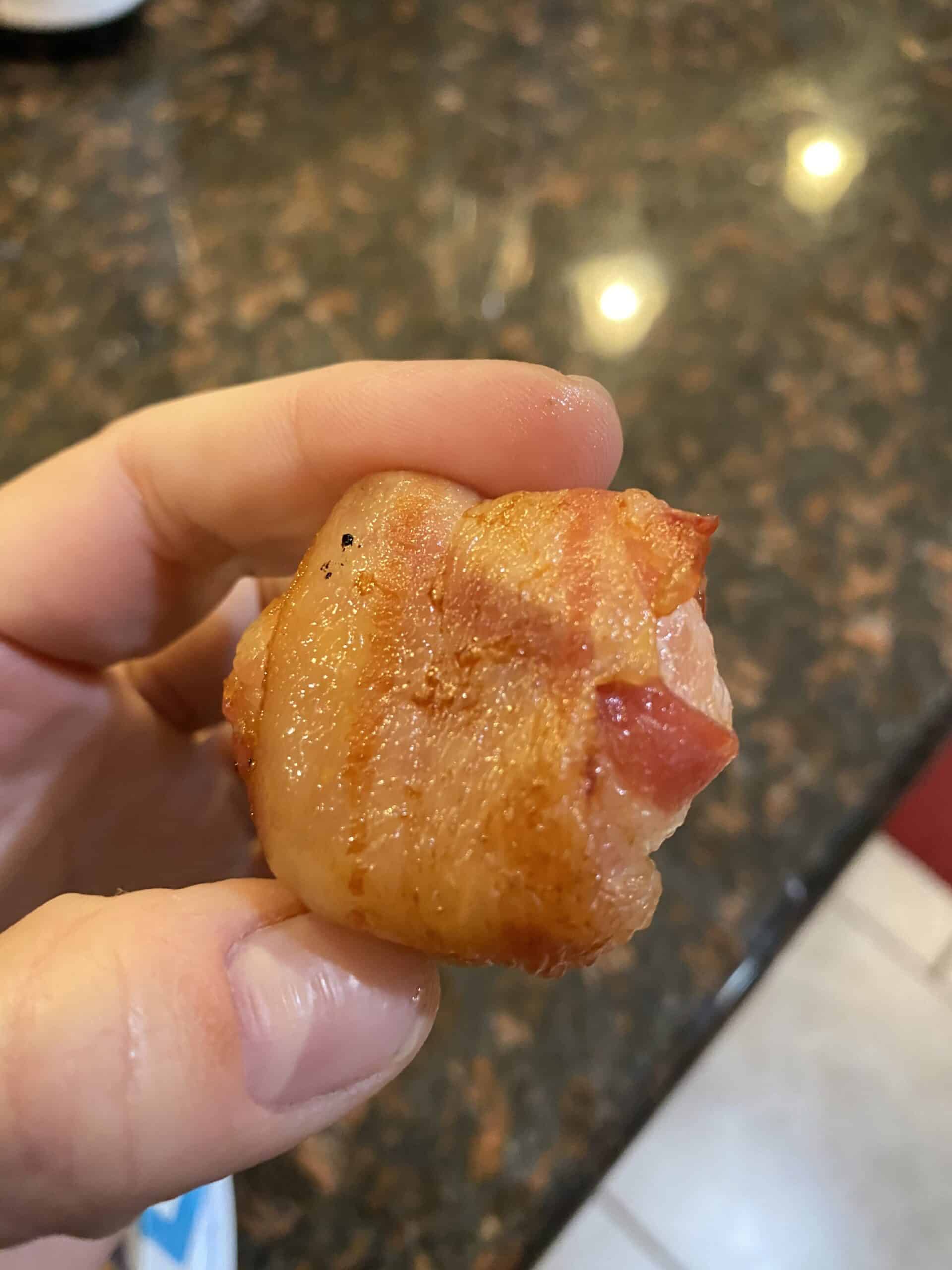 We hope you enjoy this keto friendly appetizer idea as much as we do!
What's your favorite recipe to make in an air fryer?