Do you miss chocolate silk pie now that you are on keto? Not anymore! This homemade keto chocolate silk pie recipe is AMAZING!
Flaky keto crust, smooth as silk chocolate filling and homemade whipped cream topping, this keto pie recipe is going to ignite your tastebuds!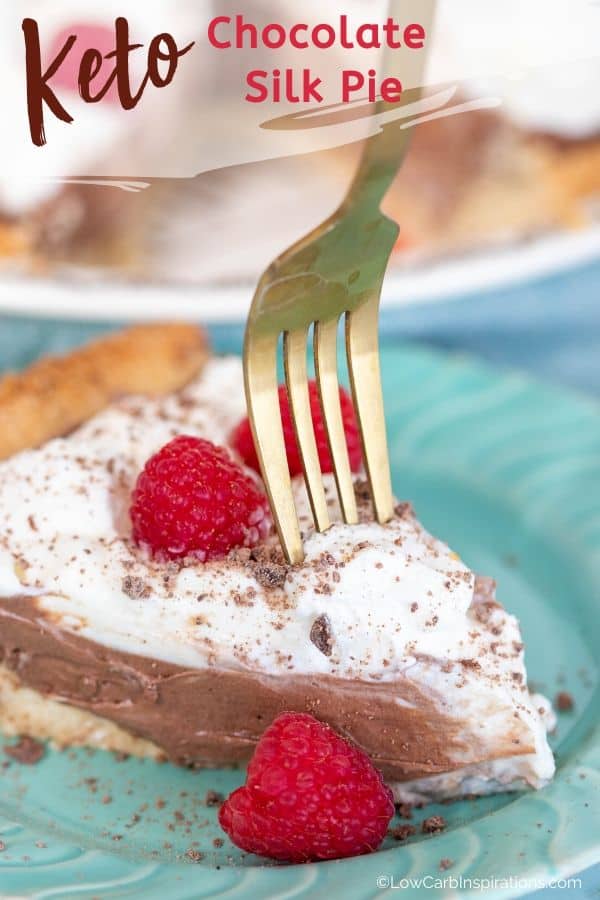 Homemade Keto Chocolate Silk Pie Recipe Ingredients
Crust Ingredients
Filling Ingredients
Topping Ingredients
Homemade Keto Chocolate Silk Pie Recipe Instructions
The full instructions are listed in the printable recipe card below.
Homemade Keto Chocolate Silk Pie Recipe Nutrition
Serves 12
Calories 289, Total C 9.7g, Fiber 3.1g, Net C 6.6g, Sugars 3.1g, Fat 23.7g, Protein 5.9g
*Nutrition does not include topping
Here is a video we made to show you how to make this homemade silk pie recipe.
New to Keto? Check out the Keto Starter Guide!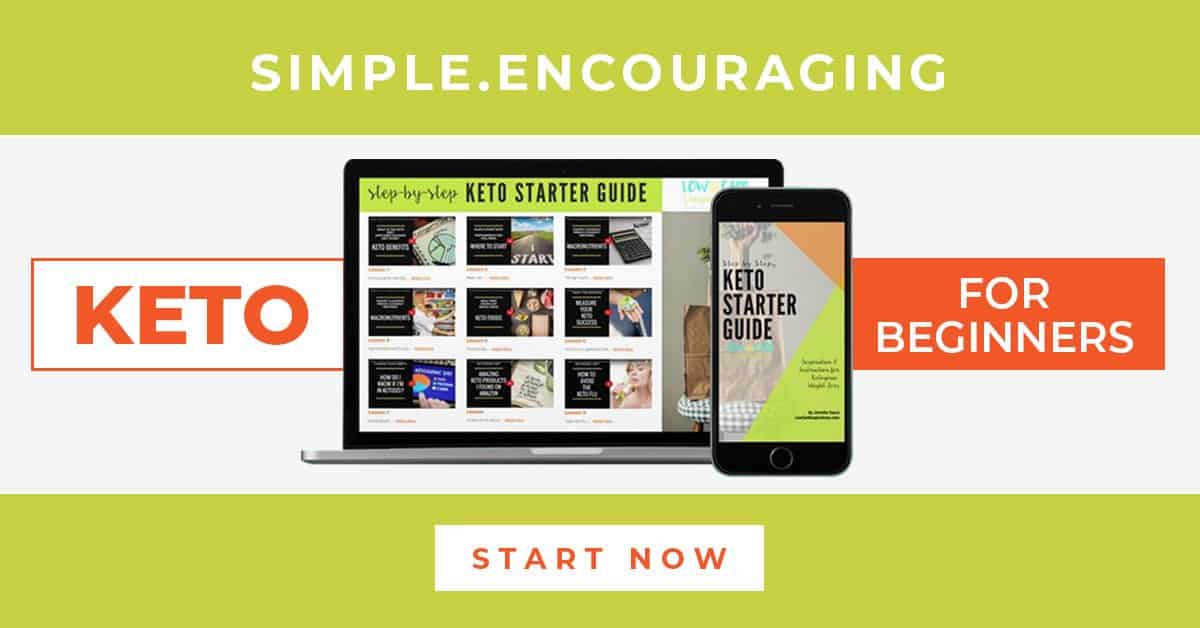 The Keto Starter Guide is an amazing resource as you get started on your keto/low carb journey. This guide has everything you need to get started in 9 simple video lessons and also includes workbooks with step by step instructions for beginners.
What's a macro and why do I count them?
How do I find the best recipes?
What is ketosis and how do I get my body there?
What fruits are allowed on a ketogenic diet?
Will I get "Keto Flu" and what do I do about it?
Get the Keto Starter Guide today!
Questions Others Have Asked
How long is this recipe good for in the refrigerator?
This freshly made chocolate keto pie recipe is best to be eaten within 3-4 days. When refrigerating, cover loosely with aluminum foil or plastic wrap.
Can I leave this pie out without refrigerating?
This is not recommended at all. Because of the dairy products used in this recipe, it will soil and should not be left out of the fridge for more than 2 hours.
What should I serve with this keto pie recipe?
This is a great keto-friendly recipe to serve with any meal. Its chocolate and chocolate goes with just about anything! If you love chocolate as much as I do, you are going to love this one!
Here are a few photos we took while making this amazing recipe.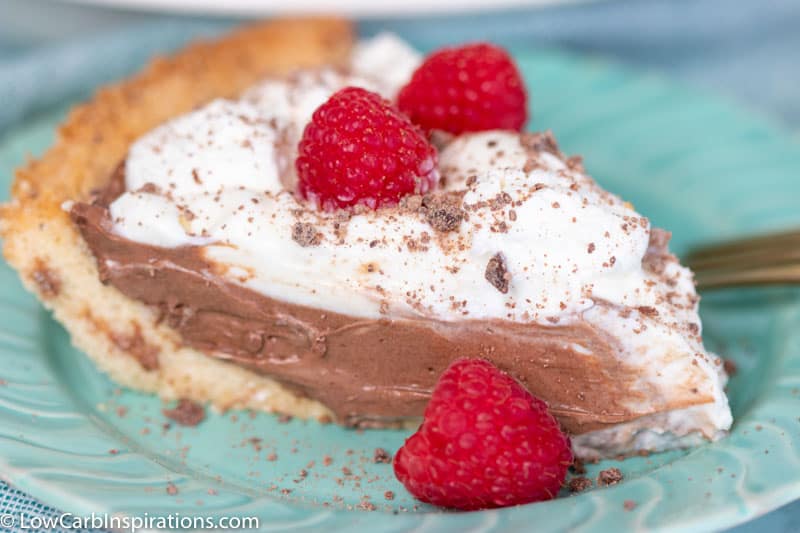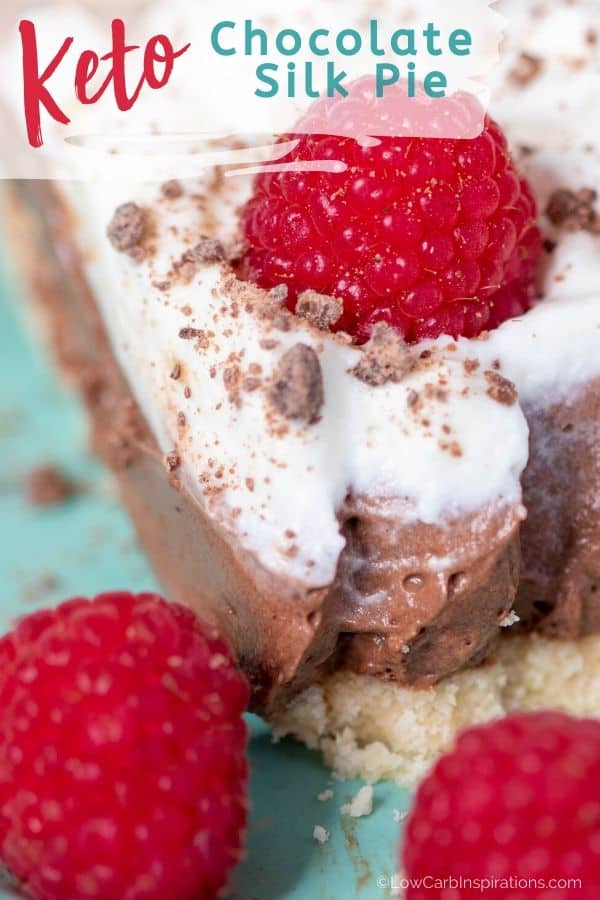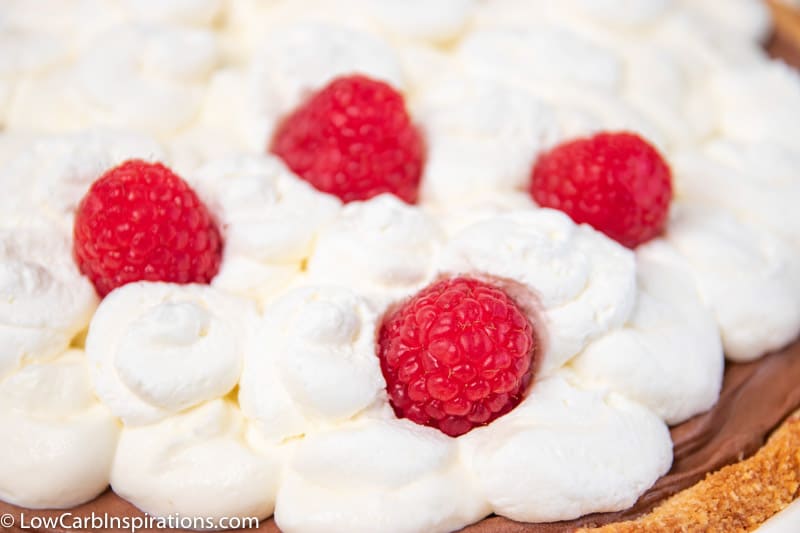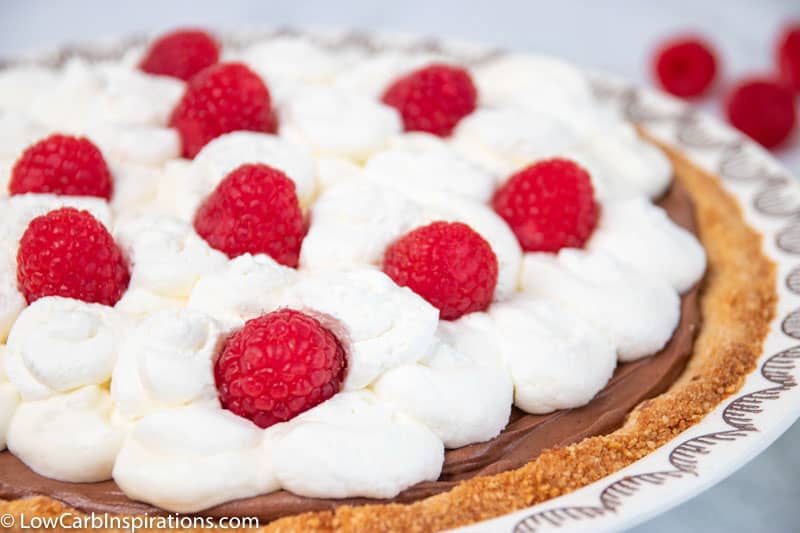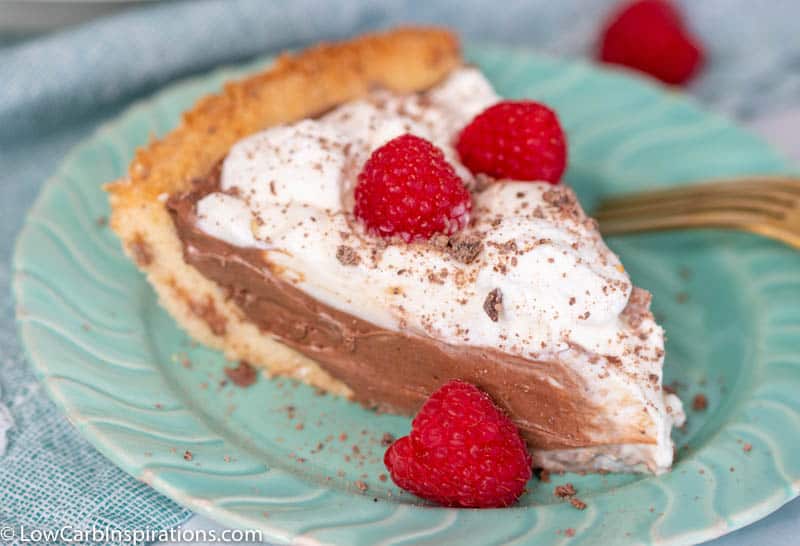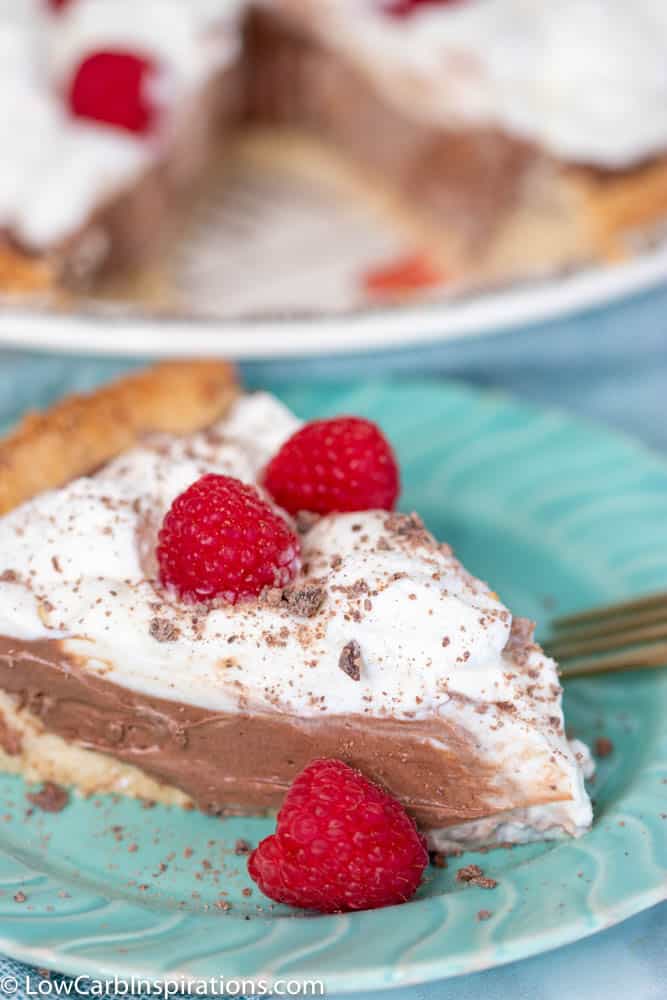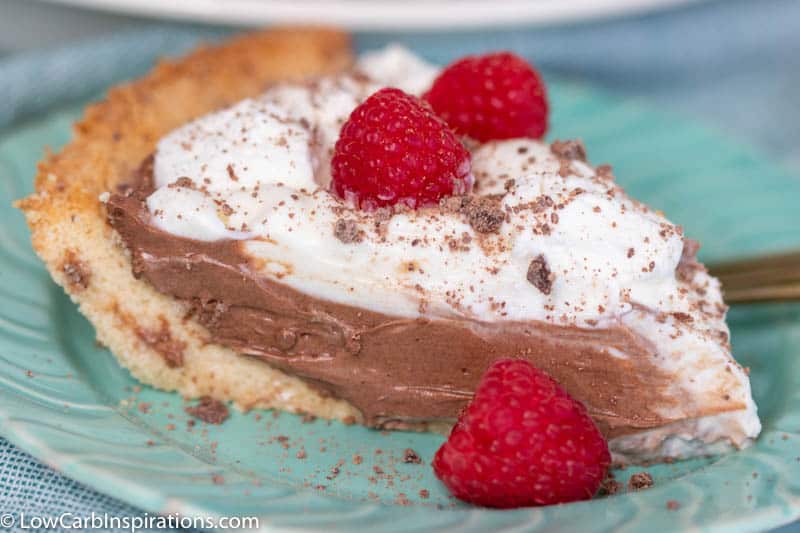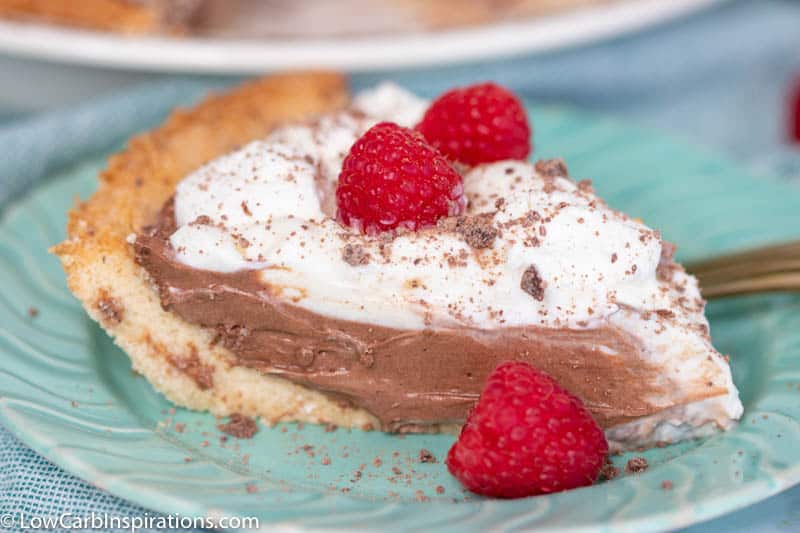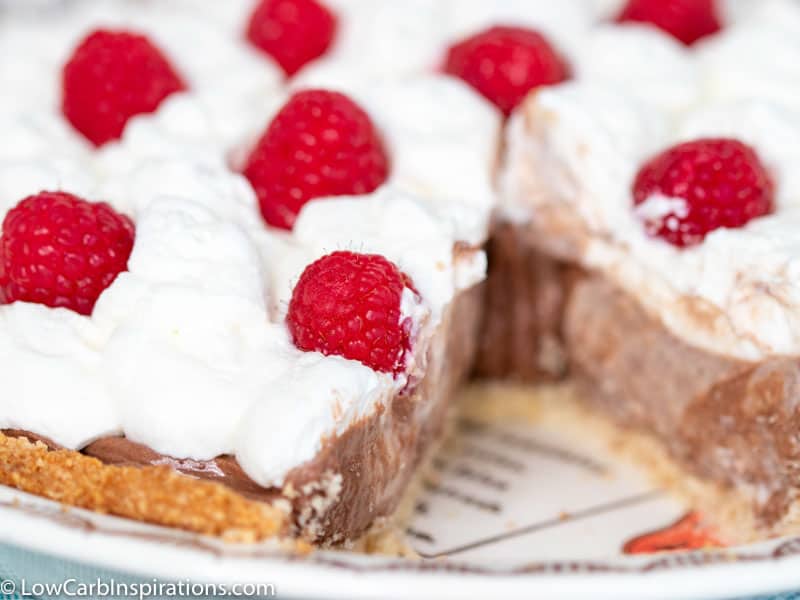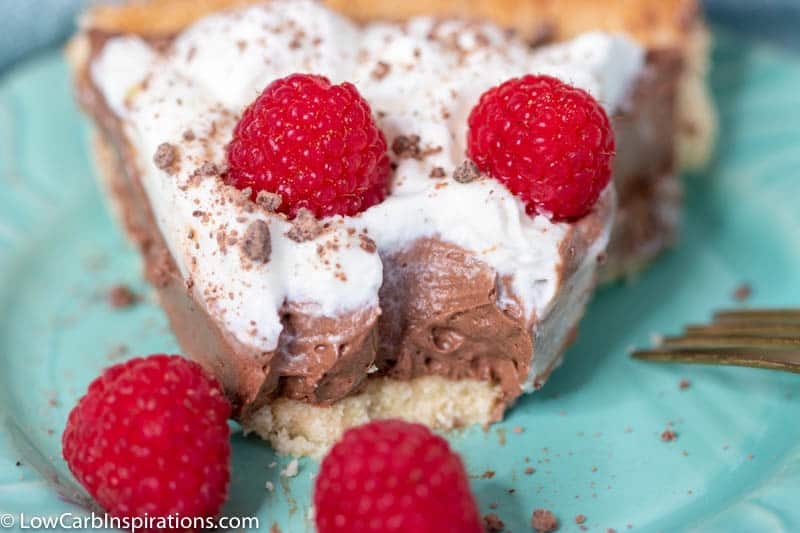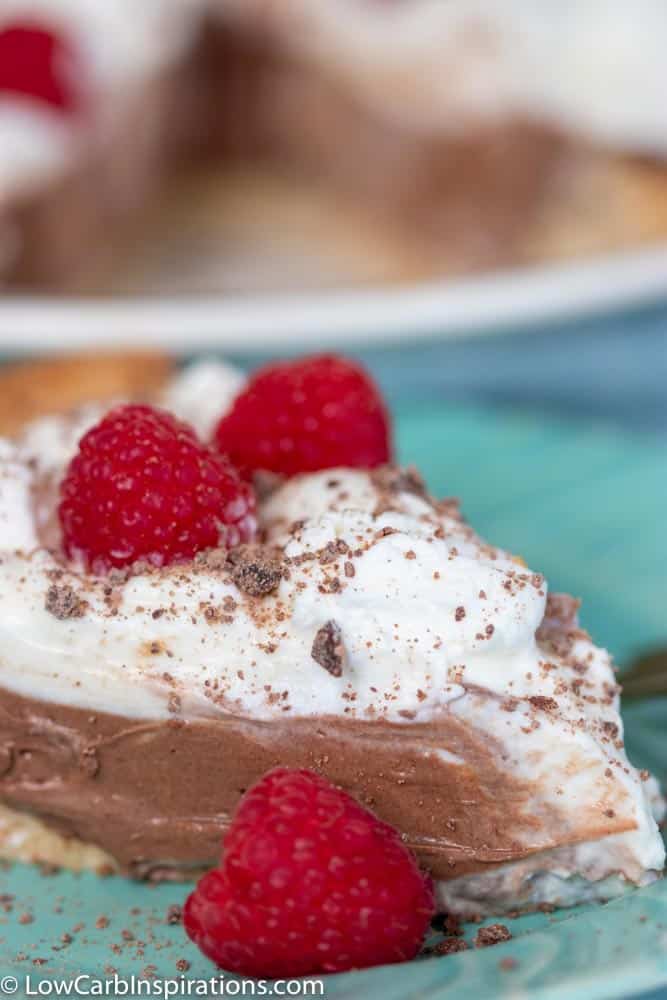 Don't forget to pin this for later!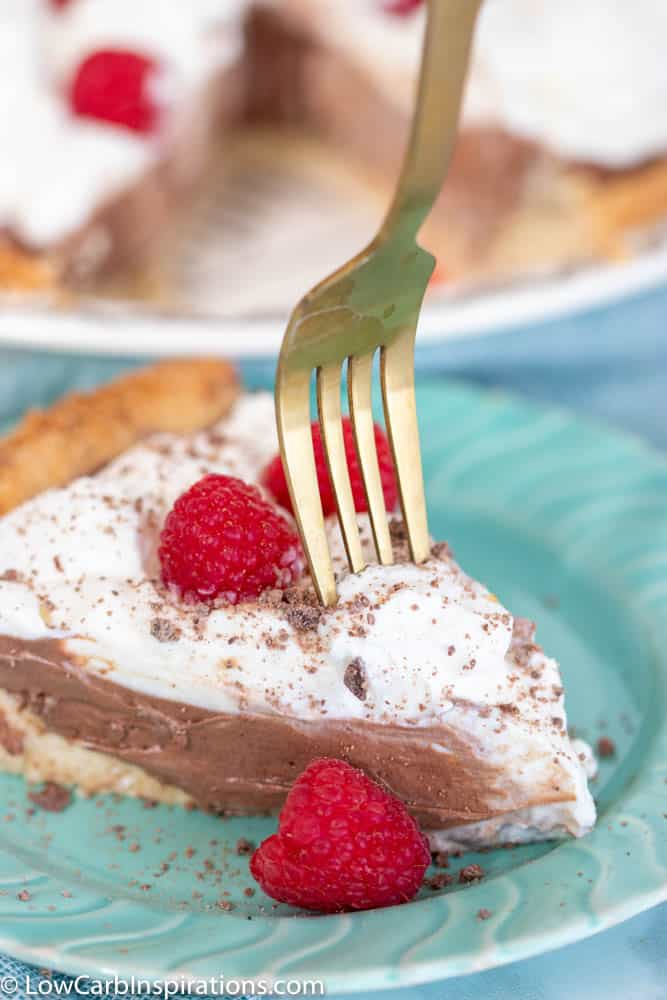 Here's a printable version of this homemade silk pie recipe:
Instructions
Mix the crust ingredients and push into a standard pie plate and bake for 10-12 min at 350 degrees. Let crust cool before filling.

For the filling, simply mix all the ingredients until evenly blended together then fill the pie crust with the filling.

Chill in the fridge for 30-60 minutes.

For the topping, beat and blend ingredients together until it becomes thick and forms peaks in whipping cream.

Top the pie using a piping bag and garnish with raspberries and shaved/chopped lily's dark chocolate.
Video
Nutrition
Serving:
1
serving
|
Calories:
289
kcal
|
Carbohydrates:
9.7
g
|
Protein:
5.9
g
|
Fat:
23.7
g
|
Fiber:
3.1
g
|
Sugar:
3.1
g
More Keto/Low Carb Chocolate Recipes to Try