Looking for a keto breaded shrimp recipe? With my air fryer keto breaded shrimp recipe you will have a fabulous low carb dinner that tastes amazing. With the ease of the Air Fryer and the taste of fried food, these keto breaded shrimps will become your go-to shrimp recipe.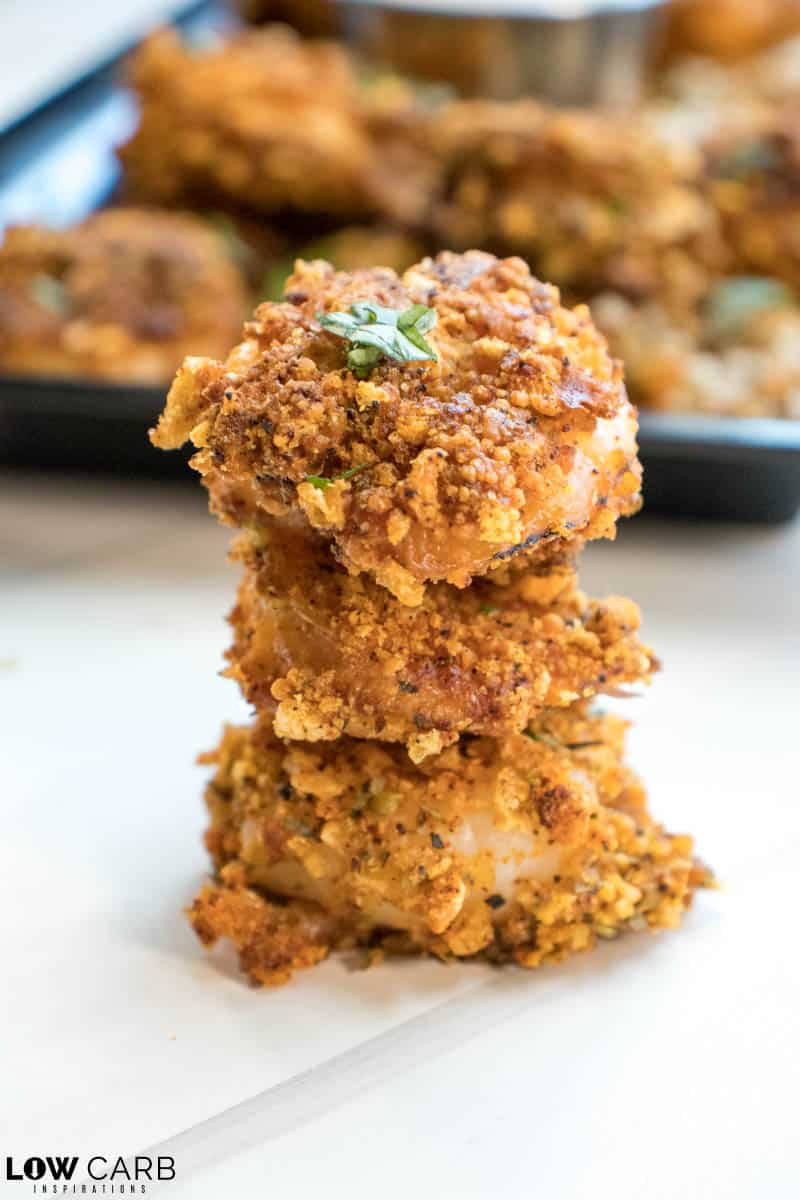 Keto Breaded Shrimp Recipe Ingredients
3 cup pork rinds, crushed
3/4 cup grated parmesan
3 teaspoon chili powder
1 1/2 teaspoon paprika
1 teaspoon dried oregano
2 teaspoon pepper
1/2 teaspoon salt
2 eggs, beaten
1 pound peeled & deveined shrimp
1/2 cup mayonnaise
juice of 1/2 lemon
dash of hot sauce
1 teaspoon parsley
parsley, for garnish
Keto Breaded Shrimp Recipe Instructions
In a medium-size shallow bowl, mix together pork rinds, parmesan, chili powder, paprika, oregano, salt, and pepper.
In a separate small shallow bowl, beat the eggs.
Dump the shrimp in the eggs and the pork rind mixture to coat. Repeating the process for each shrimp.
For the air fryer version, coat your basket with oil or non-stick cooking spray so the breading doesn't stick.
Place shrimp in an even layer (you'll need to do 2 batches) and place on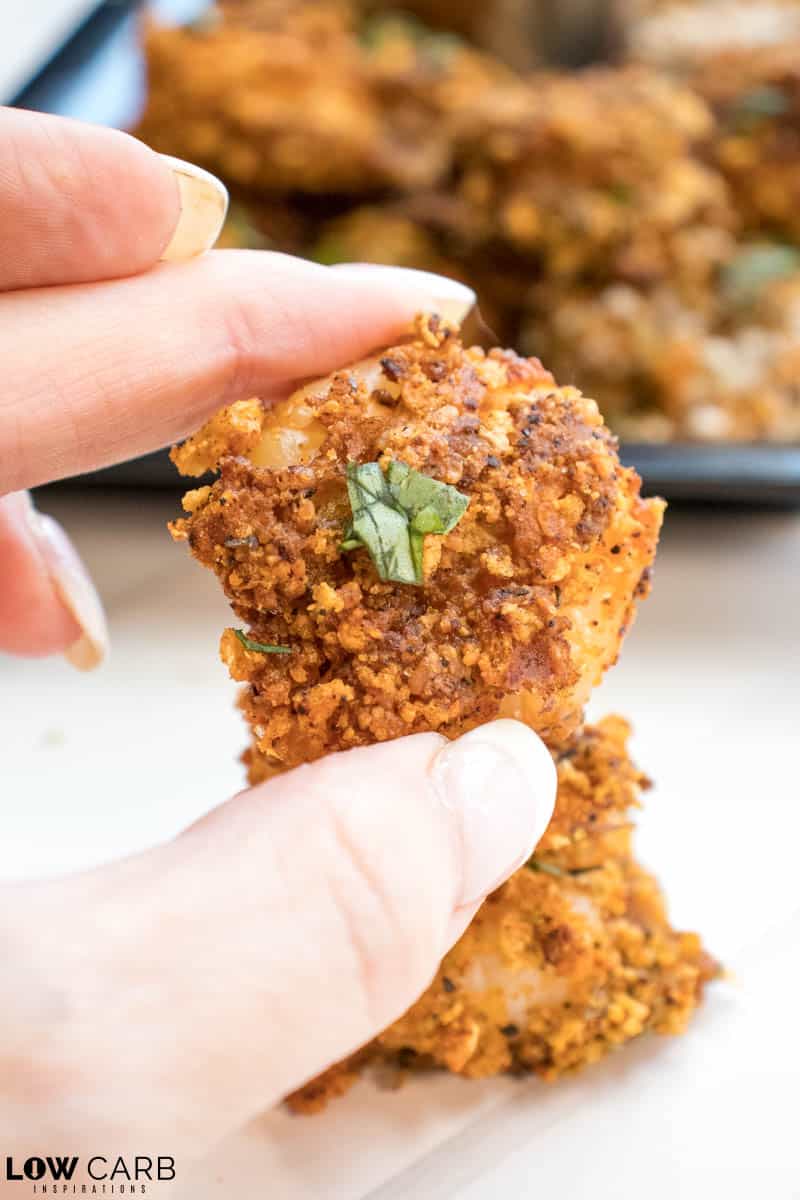 Keto Breaded Shrimp Recipe Nutrition Label
Serves 4
Calories 1245, Total C 8.7g, Fiber 2.2g, Net C 6.5g, Sugar 2.3g, Fat 70.6g, Protein 138.7g
Here is a video we made to show you how to make this Keto Breaded Shrimp recipe.
Here are some pictures we took while making this recipe.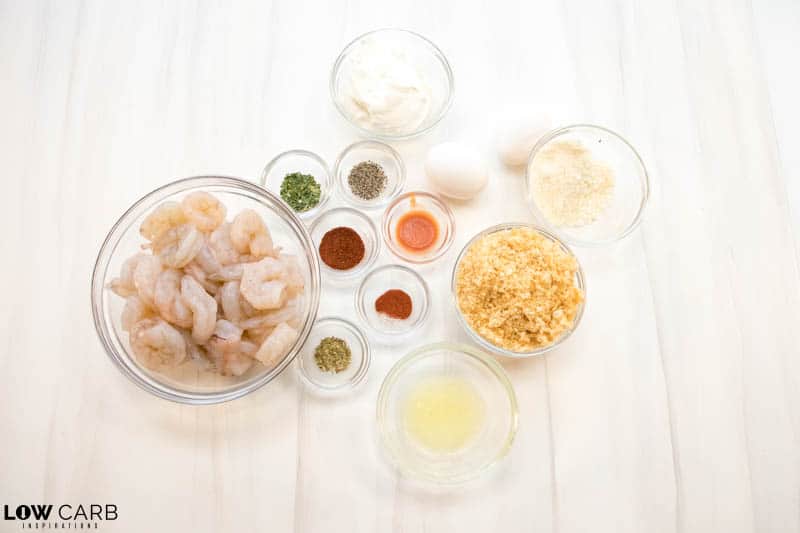 Gather your ingredients.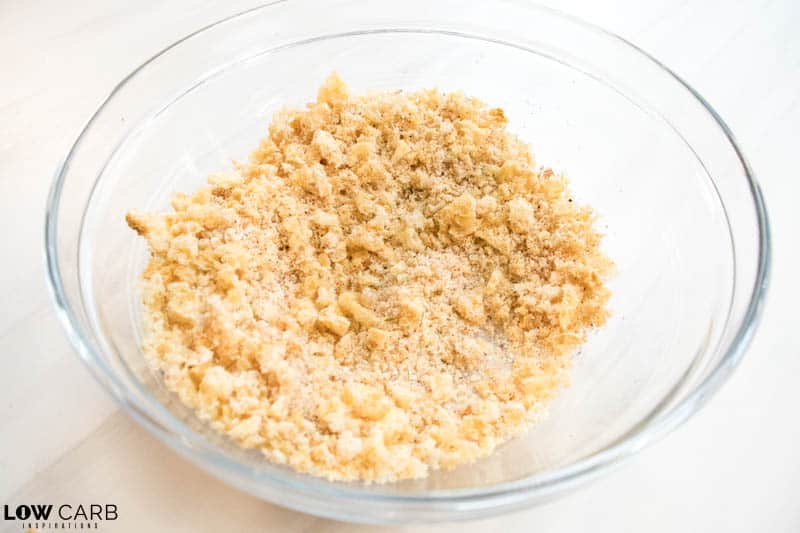 Make the "bread" crumbs.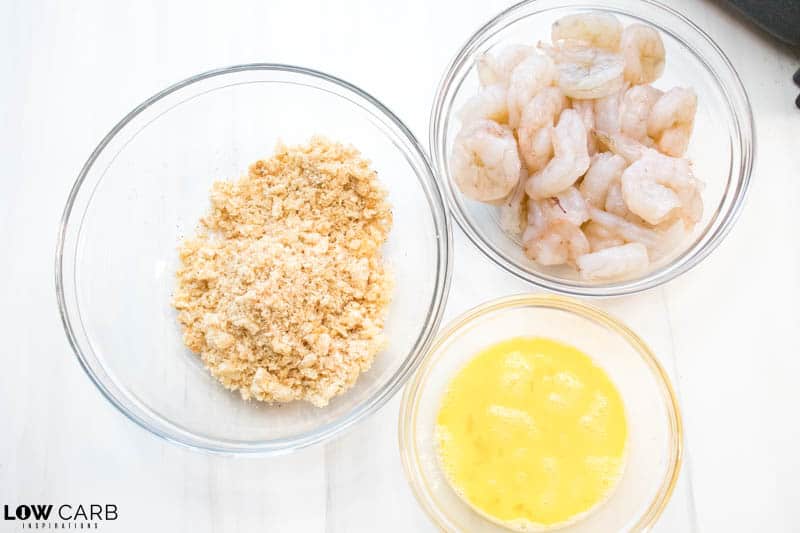 Dredge the shrimp using the eggs, breading and shrimp.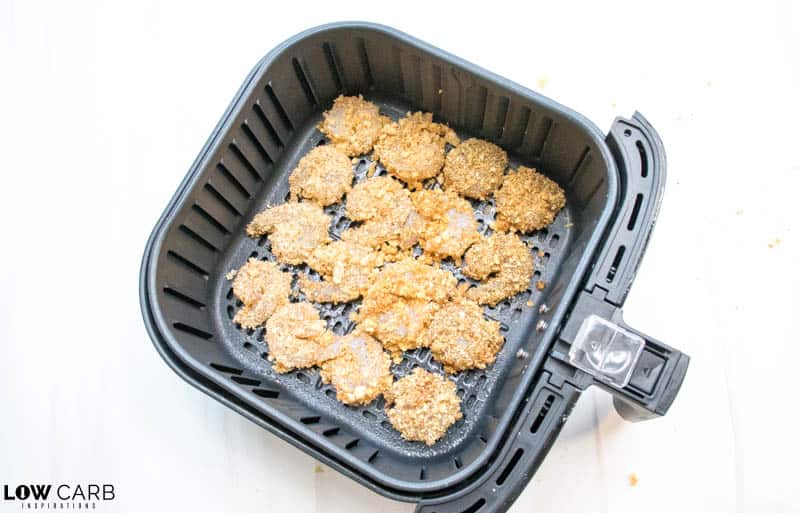 Cook the shrimp in the air fryer.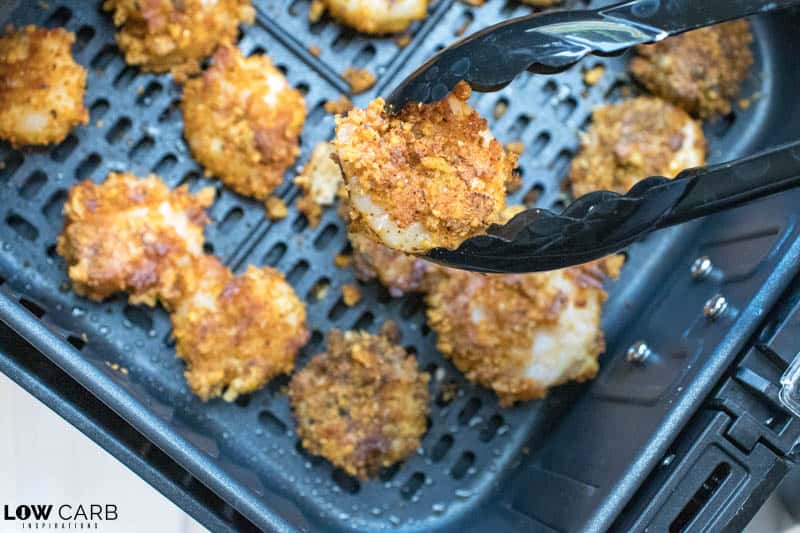 How to Make Fried Shrimp without Breadcrumbs
Since this is a keto fried shrimp recipe, it needs to be low carb and breading is usually not low carb. Since I am using pork rinds, this recipe stays low carb. The pork rinds are low carb and keto-friendly and it gives a panko like crispiness and crunch.
What to serve with Keto Breaded Shrimp
Think of the foods you like to serve with traditional fried shrimp. Roasted vegetables or a side salad goes great with this shrimp. Or use the shrimp in the salad as the protein. Another option is to have cauliflower mash or a loaded cauliflower casserole.
How to Store
If you have leftovers, or you make a larger batch with the idea of having extras for later on, you can store these shrimp in an airtight container or freezer bag in the refrigerator. It will stay good for 2-3 days.
How to Reheat these shrimp
If you want to reheat your shrimp, I recommend the oven. While the microwave will heat them through, it will not have the same crunch. In the over or air fryer is the best idea. If heating in the oven, spray with a little cooking spray to help the pork rind crust become crunchy again.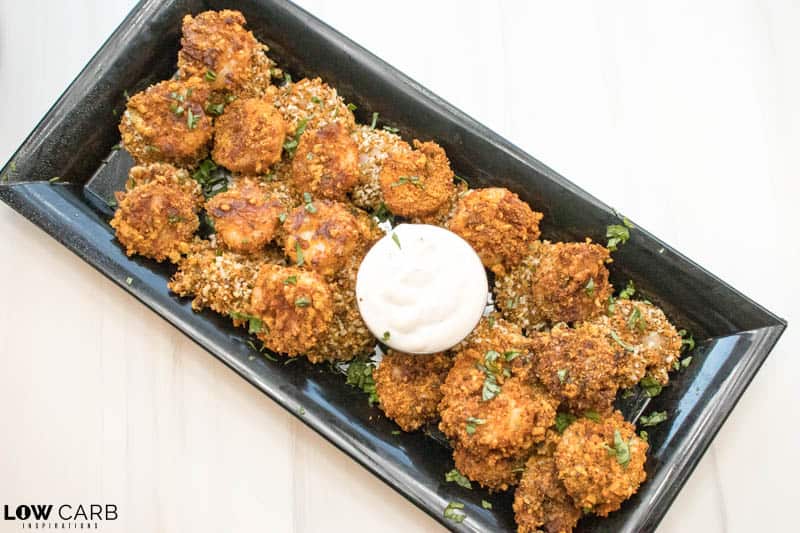 New to Keto? Check out the Keto Starter Guide!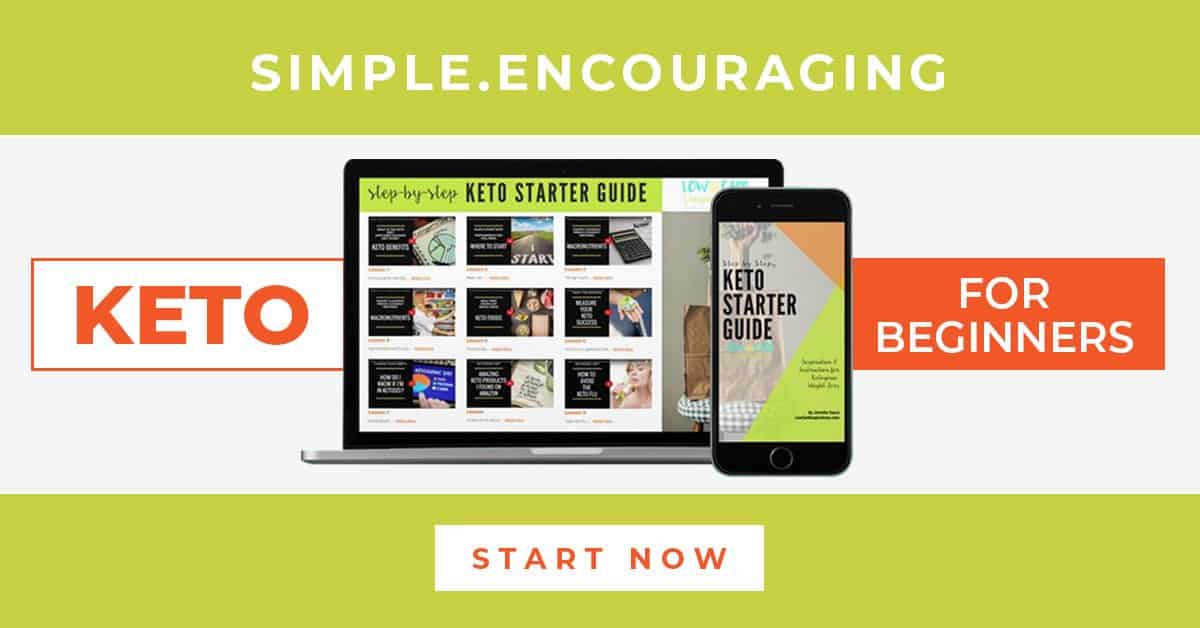 The Keto Starter Guide is an amazing resource as you get started on your keto/low carb journey. This guide has everything you need to get started in 9 simple video lessons and also includes workbooks with step by step instructions for beginners.
What's a macro and why do I count them?
How do I find the best recipes?
What is ketosis and how do I get my body there?
What fruits are allowed on a ketogenic diet?
Will I get "Keto Flu" and what do I do about it?
Get the Keto Starter Guide today!
Instructions
In a medium-sized shallow bowl, mix together pork rinds, parmesan, chili powder, paprika, oregano, salt, and pepper.

In a separate small shallow bowl, beat the eggs.

Dump the shrimp in the eggs and the pork rind mixture to coat. Repeating the process for each shrimp.

For the air fryer version, coat your basket with oil or non-stick cooking spray so the breading doesn't stick.

Place shrimp in an even layer (you'll need to do 2 batcheand place on