Banana Nut Keto Breakfast Muffins
Following a keto diet doesn't mean you have to give up things you love. This Banana Nut Keto Breakfast Muffins recipe is a delicious alternative to the traditional muffins you used to grab on the go. A simple recipe using banana extract, almond flour, coconut flour, and walnuts bring the flavor you remember with zero guilt.
Going ketogenic doesn't mean you have to sacrifice flavor or your favorite foods! This is just another great example of how you can adapt recipes to suit the lifestyle and maintain the flavor you love.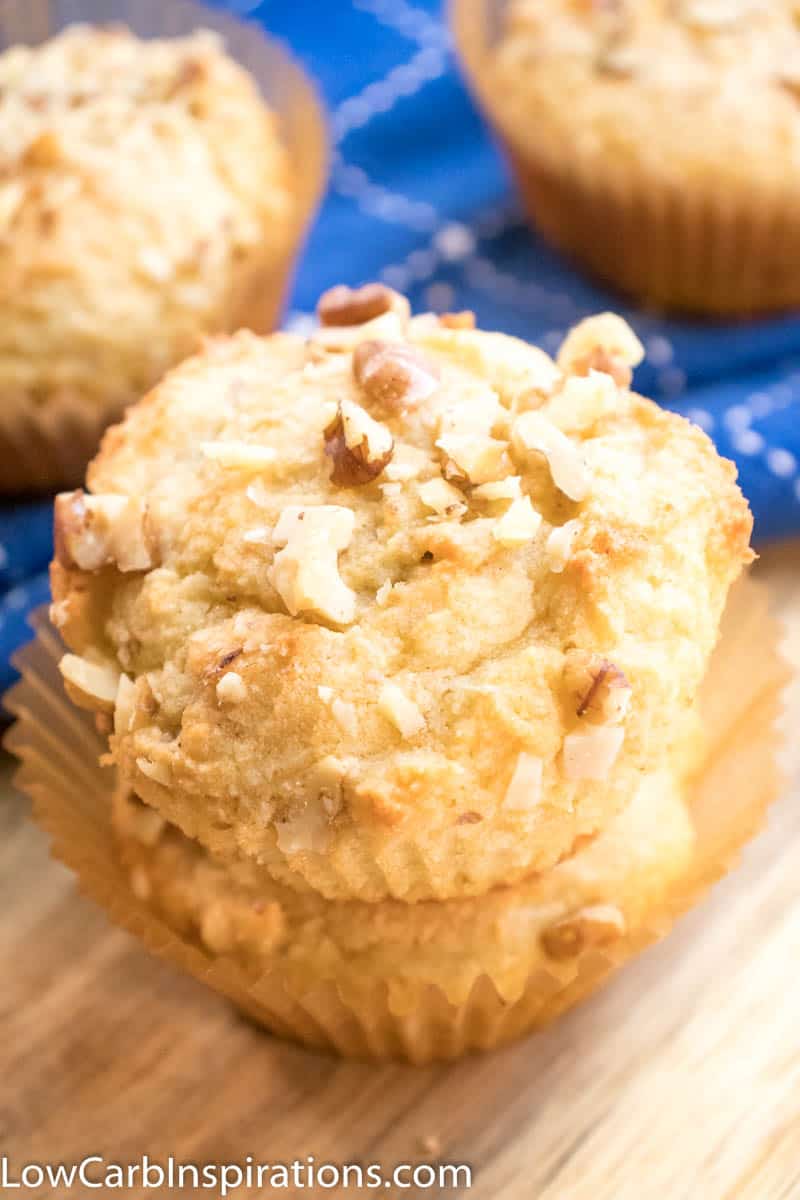 Banana Nut Keto Breakfast Muffins
One of my favorite things to do in the past was to prepare foods in batches that save me time on busy days. Things like muffins are always a great go-to breakfast option since they are handheld and typically easy to double or triple batches. This recipe shows me that I can still have my favorite easy on the go options while still remaining keto-friendly!
If you are new to a keto diet make sure to check out our post on How to Start Keto for an easy beginners guide to follow on this diet.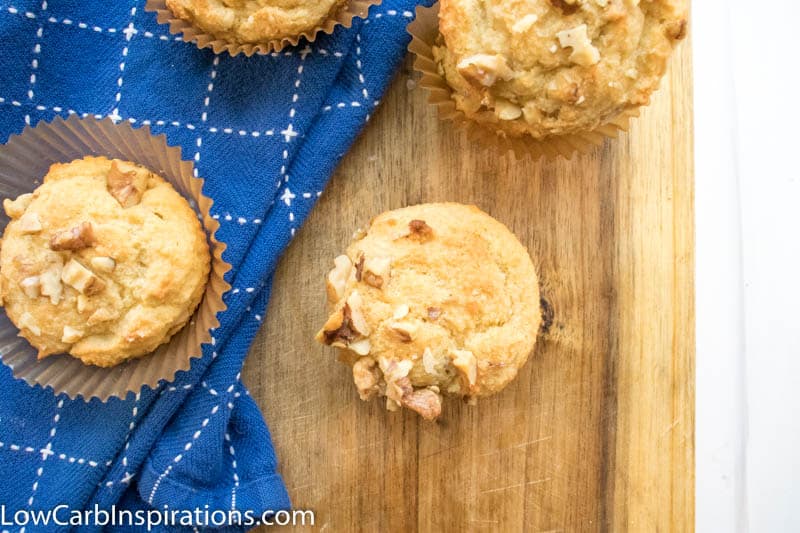 Do Banana Nut Muffins Need to be Refrigerated?
While it is not necessary to refrigerate these muffins, it is highly recommended. A banana nut keto muffin will be okay if properly stored at room temperature for 2-3 days. For the longest shelf life, it is best to store them in the refrigerator until ready to eat.
Tip: If refrigerated, you may prefer to heat them in the microwave for 30 seconds and add a bit of butter to the muffin before eating.
Can I freeze Low Carb Banana Muffins?
Yes! Just like most muffin recipes, you can definitely freeze a low carb banana muffin. The best method for freezing any muffin is to allow them to cool completely before placing them into a freezer storage bag or freezer storage container. If stored when still warm, it will create condensation inside the container. That condensation then creates freezer burn which results in a poor flavor once reheated.
Tip: Write the date the muffin was baked, the name of the recipe, and tips for reheating on a label. Place this on the outside of the bag or container for reference later.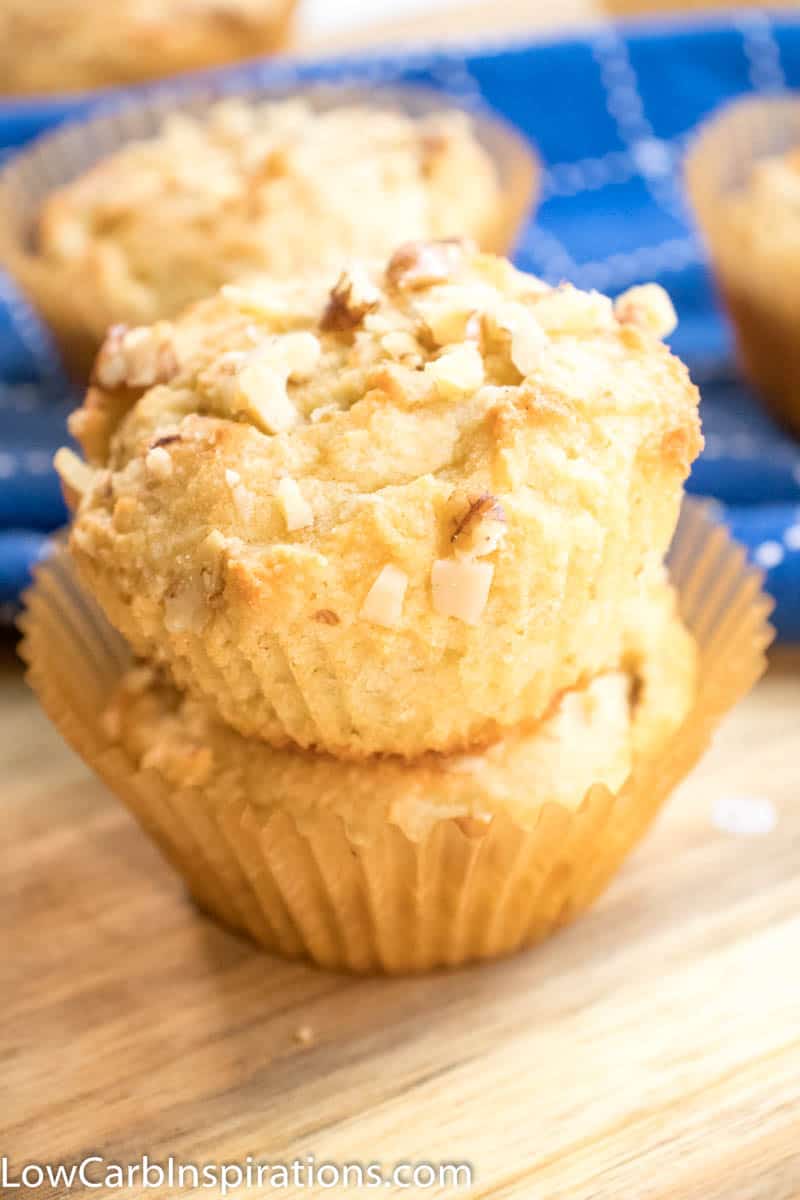 Where can I buy Banana Extract?
The secret to getting banana flavor without the carbohydrates associated with bananas is in the extract used in this recipe. Banana extract is commonly found in the baking supply aisle of your grocery store. If your store does not carry it on a regular basis, you can easily order it on Amazon. A good banana extract is valuable for a keto diet as it can add flavor to many recipes without adding the extra carbs you are trying to avoid.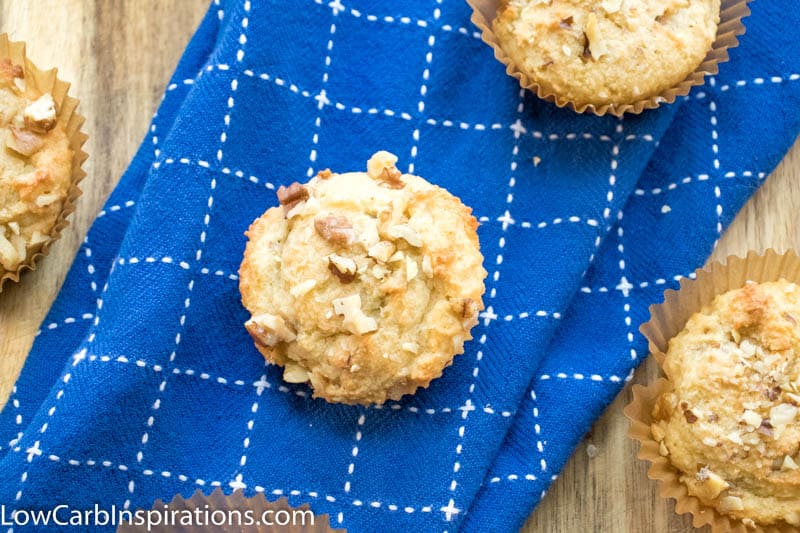 More Keto Breakfast Recipe Ideas
Breakfast is often said to be the most important meal of the day. If that is the case, you will probably want more variety in your meal plan. These banana nut keto breakfast muffins are delicious and easy to prepare, but below you will find some of our other favorite breakfasts for the keto diet.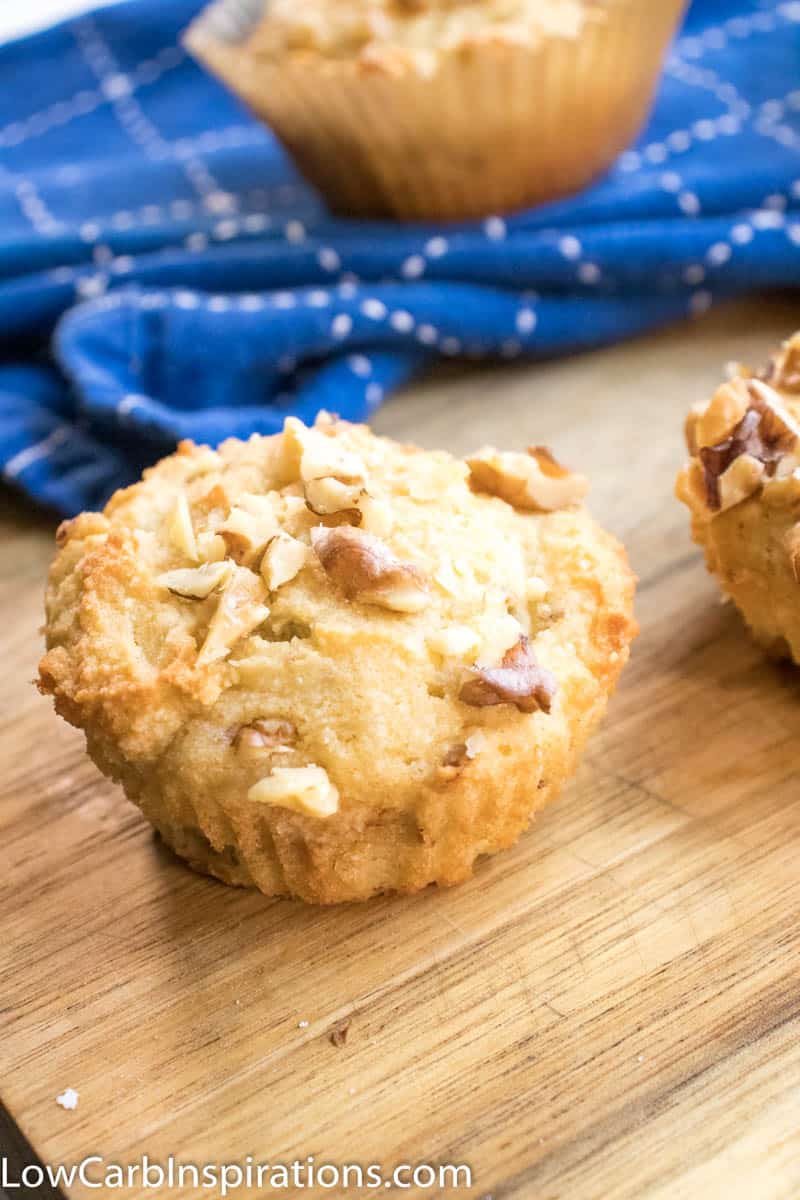 Ingredients for Banana Nut Keto Muffin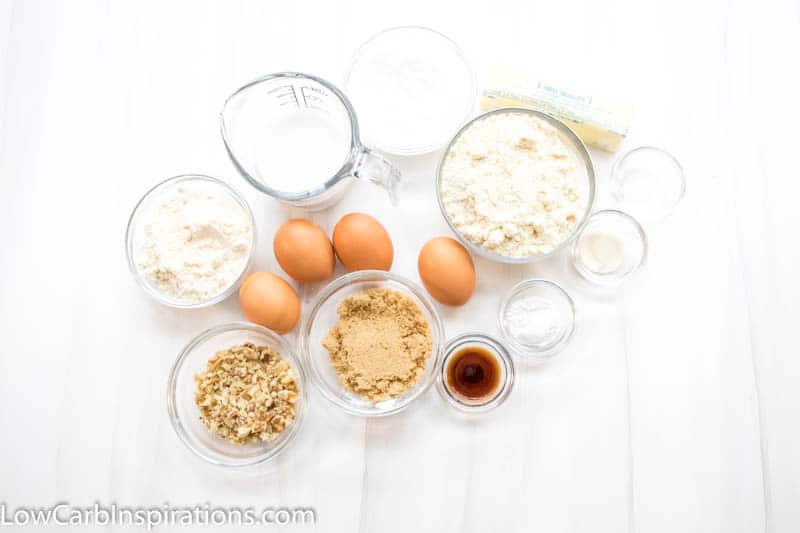 How to Make Banana Keto Banana Nut Muffins
Before you begin mixing your batter, you will want to preheat your oven and prepare your muffin pan. I prefer to use parchment paper liners, but you could also use a silicone muffin pan and simply spray with non-stick spray.
Prepare your bowls and supplies, then begin with whisking your eggs well.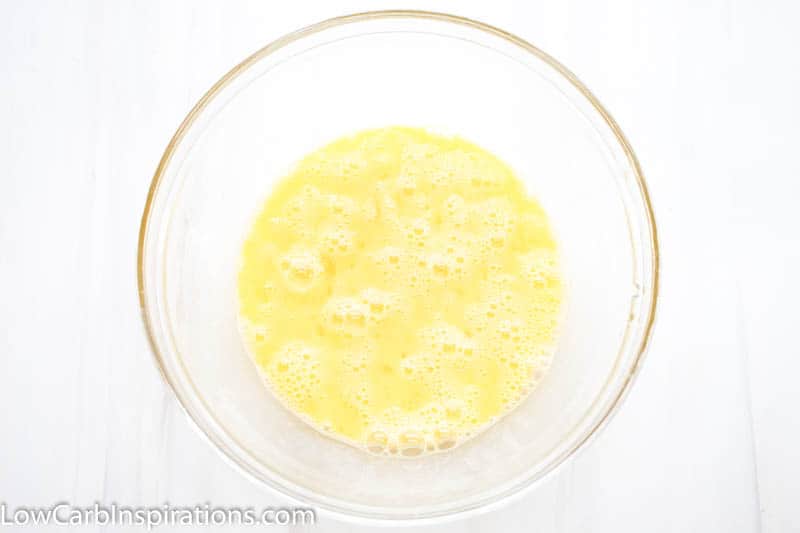 In a separate bowl, you will combine butter, sweeteners, extracts, and almond milk.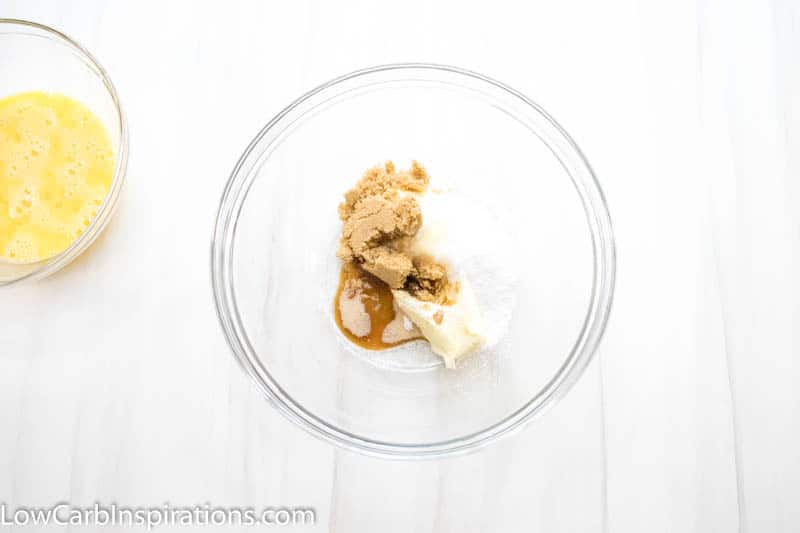 Your next step is to add the dry ingredients until just combined.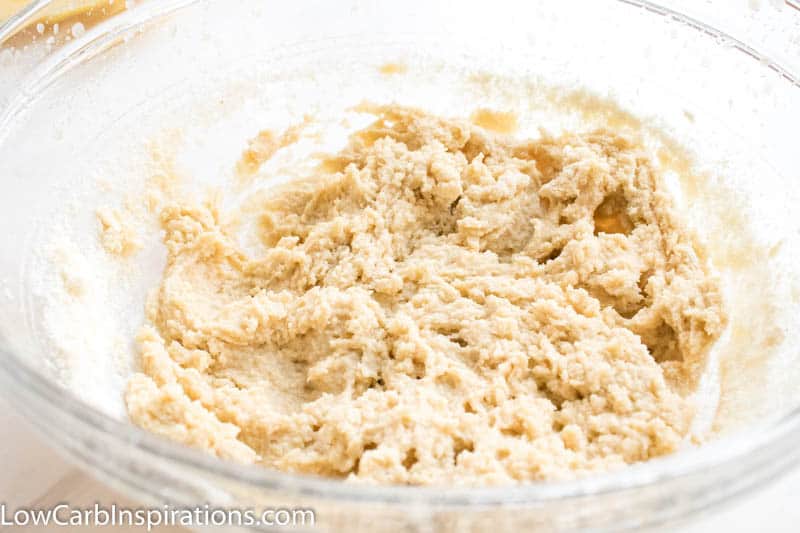 Eggs and walnuts are added last.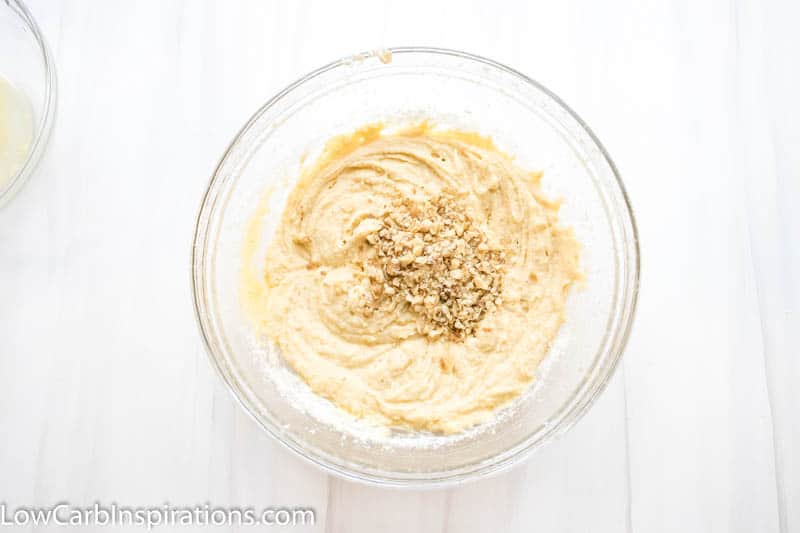 Use a cookie scoop to place the mixture into your prepared pan prior to baking.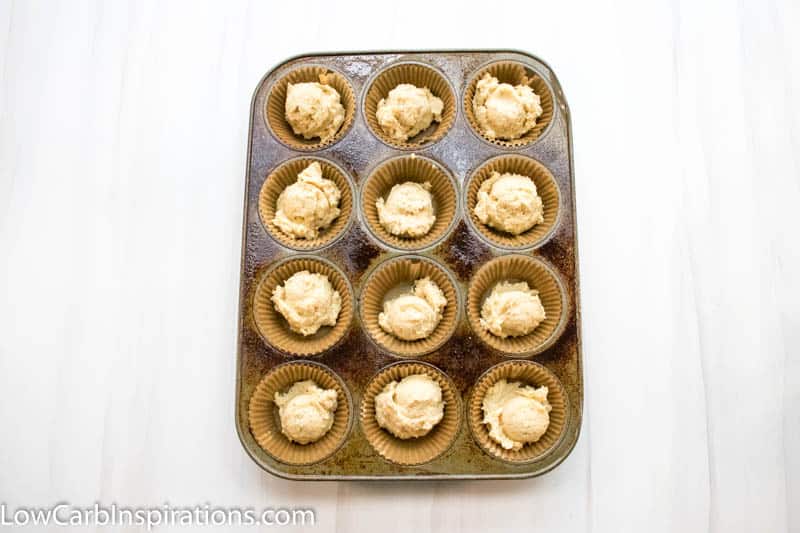 If you have leftover walnuts, feel free to sprinkle them over the top of the muffins prior to baking.
Tip: If you want an extra hint of flavor, add 1/4-1/2 cup sugar-free chocolate chips (Lily's is preferred brand) into the batter.
Banana Nut Keto Breakfast Muffins Recipe Nutrition Label
Serves 12
Calories 205, Total C 7g, Fiber 2.5g, Net C 5.5g, Sugar 1.6g, Fat 14.8g, Protein 5.4g
New to Keto? Check out the Keto Starter Guide!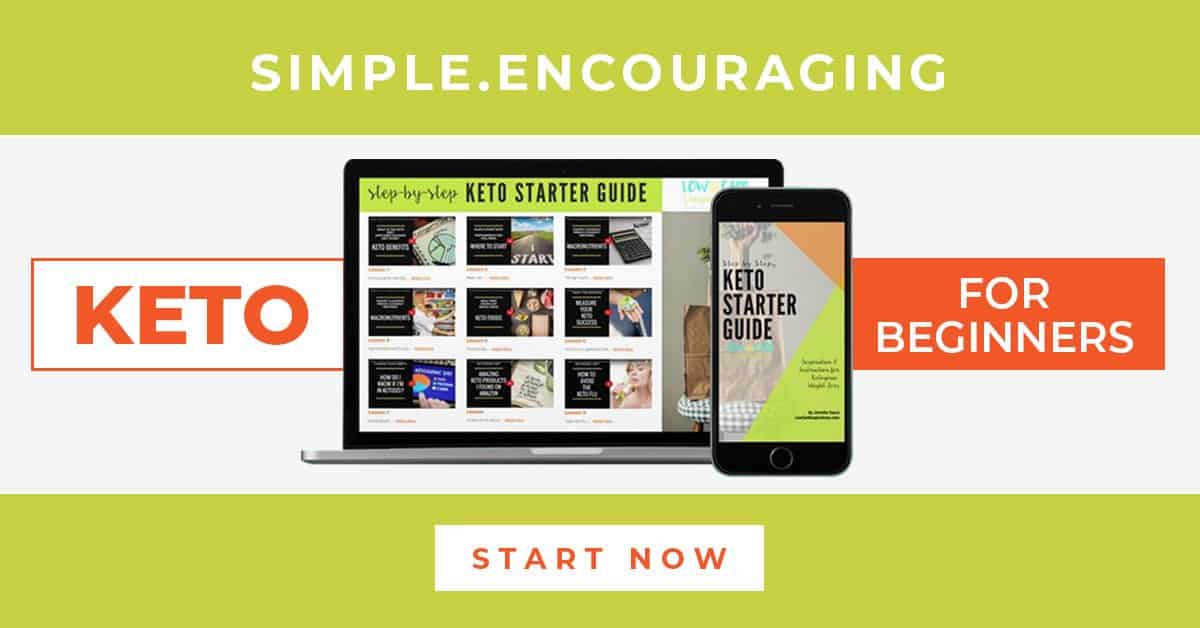 The Keto Starter Guide is an amazing resource as you get started on your keto/low carb journey. This guide has everything you need to get started in 9 simple video lessons and also includes workbooks with step by step instructions for beginners.
What's a macro and why do I count them?
How do I find the best recipes?
What is ketosis and how do I get my body there?
What fruits are allowed on a ketogenic diet?
Will I get "Keto Flu" and what do I do about it?
Get the Keto Starter Guide today!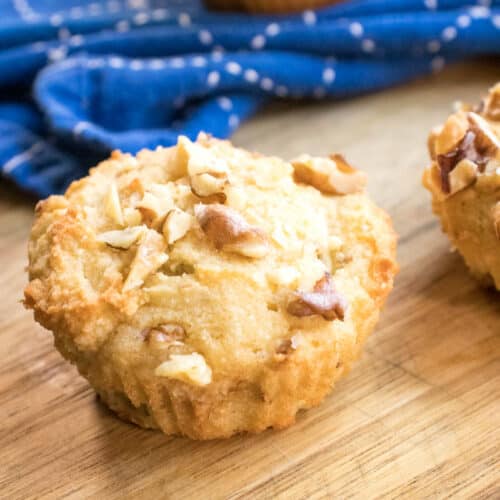 Banana Nut Keto Breakfast Muffins
Banana Nut Keto Breakfast Muffins are the perfect sweet breakfast treat that keeps macros low while giving you a delicious banana flavor.
Instructions
In a small bowl, whisk together eggs until beaten.

In a large bowl mix together butter, swerve, sukrin gold, vanilla extract, banana extract and almond milk until combined.

To that, add almond flour, coconut flour, baking powder, xanthan gum and sea salt, stir.

Drizzle in eggs as you are mixing together and then stir in the walnuts.

Place in pre-greased muffin tin or parchment liners about 1 cookie scoop into each.

Top with any leftover walnuts and bake for 20-25 minutes.
Nutrition
Serving:
1
muffin
|
Calories:
205
|
Carbohydrates:
7
g
|
Protein:
5.4
g
|
Fat:
14.8
g
|
Fiber:
2.5
g
|
Sugar:
1.6
g
Nutrition facts are provided as a courtesy. Have a question about our calculations or why you got a different result? Please read our
nutrition policy.
More Low Carb/Keto Breakfast Ideas to Try