Irresistible Low Carb Snacks: Healthy and Delicious Ideas
Looking for delicious low carb snacks to keep you on track with your healthy eating goals? We've got you covered!
Check out these flavorful and easy ideas that will satisfy your cravings without the guilt. Say goodbye to cravings and hello to deliciousness!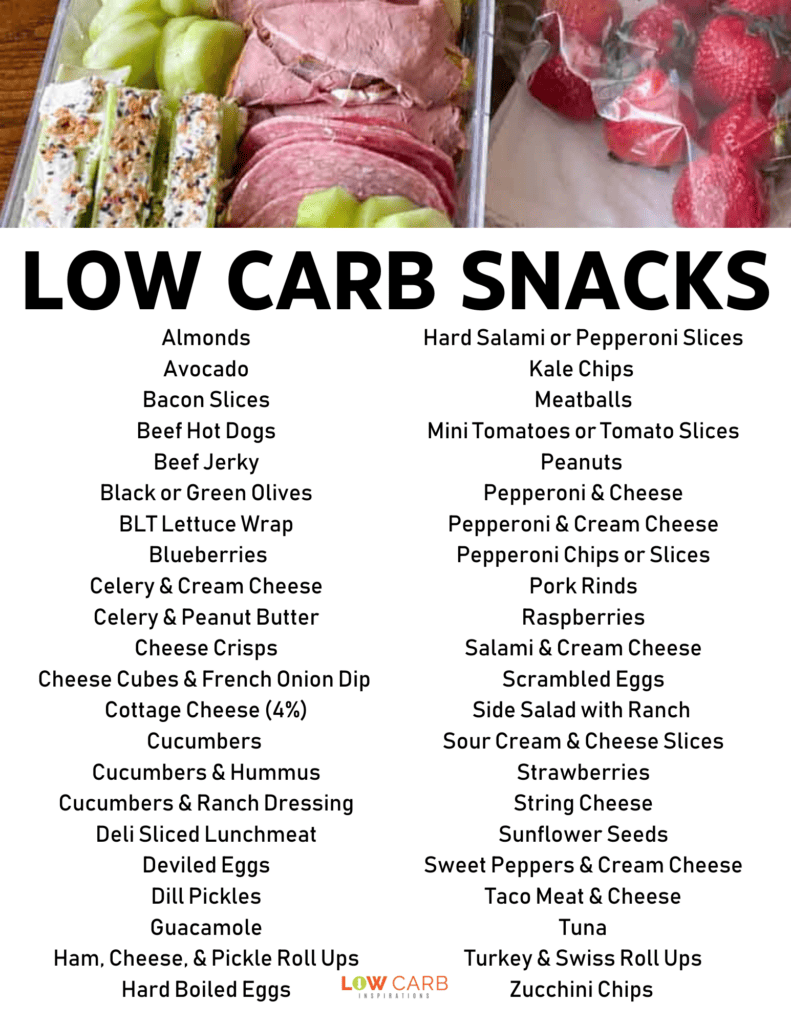 Are you on a low carb diet and in need of some tasty snack ideas that won't stop the progress on your health journey? Look no further! We've put together a list of low carb snacks that are sure to please your taste buds and keep you feeling satisfied.
Whether you're a fan of savory treats or crave something sweet, we've got plenty of options to suit your preferences. Let's dive in and explore these mouthwatering low carb snack ideas!
Delicious Low Carb Snack Ideas
Almonds: Enjoy a handful of crunchy almonds for a satisfying and nutritious snack.
Avocado: Slice up some creamy avocado and sprinkle it with a pinch of salt and pepper.
Bacon Slices: Indulge in crispy bacon slices for a savory and protein-packed snack.
Beef Hot Dogs: Opt for low carb beef hot dogs without the bun for a quick and easy snack.
Beef Jerky: Grab some low carb beef jerky for a protein-rich and portable snack on the go.
Black or Green Olives: These briny delights are perfect for snacking and packed with flavor.
BLT Lettuce Wrap: Wrap crispy lettuce around bacon, tomato, and mayo for a low carb twist on the classic BLT.
Blueberries: Enjoy a handful of antioxidant-rich blueberries for a sweet and refreshing snack.
Celery & Cream Cheese: Dip crunchy celery sticks into creamy, low carb cream cheese for a satisfying bite.
Celery & Peanut Butter: Spread some peanut butter on celery sticks for a delicious and nutritious snack.
Cheese Crisps: Indulge in crispy and flavorful cheese crisps for a satisfying low carb snack.
Cheese Cubes & French Onion Dip: Enjoy the combination of bite-sized cheese cubes with tangy and creamy French onion dip.
Cottage Cheese (4%): Have a bowl of creamy and protein-rich cottage cheese for a filling and low carb snack option.
Cucumbers: Slice up some refreshing cucumbers and enjoy them on their own or with your favorite low carb dip.
Cucumbers & Hummus: Dip cucumber slices into creamy and flavorful hummus for a nutritious and tasty snack.
Cucumbers & Ranch Dressing: Pair crunchy cucumber slices with creamy and tangy ranch dressing for a satisfying snack.
Deli Sliced Lunchmeat: Roll up deli sliced lunchmeat like turkey or ham for a protein-packed and convenient snack.
Deviled Eggs: Whip up some deviled eggs with a creamy and flavorful filling for a classic and protein-rich snack.
Dill Pickles: Enjoy crunchy and tangy dill pickles as a low calorie and refreshing snack option.
Guacamole: Dive into a bowl of creamy and flavorful guacamole made from fresh avocados, perfect for dipping.
Ham, Cheese, & Pickle Roll Ups: Roll up deli ham and cheese around a pickle spear for a delicious and portable low carb snack.
Hard Boiled Eggs: Prepare some hard-boiled eggs in advance for a quick and protein-rich snack option.
Hard Salami or Pepperoni Slices: Grab a few slices of hard salami or pepperoni for a savory and satisfying snack.
Kale Chips: Bake or air-fry kale leaves seasoned with olive oil and spices for a crispy and low carb alternative to potato chips.
Meatballs: Enjoy homemade or store-bought meatballs as a protein-rich and flavorful snack option.
Mini Tomatoes or Tomato Slices: Snack on bite-sized tomatoes or tomato slices for a refreshing and low carb option.
Peanuts: Have a handful of unsalted peanuts for a crunchy and satisfying snack rich in healthy fats.
Pepperoni & Cheese: Combine slices of pepperoni with your favorite cheese for a savory and portable low carb snack.
Pepperoni & Cream Cheese: Spread cream cheese on pepperoni slices for a creamy and flavorful snack.
Pepperoni Chips or Slices: Bake pepperoni slices until crispy for a crunchy and low carb snack option.
Pork Rinds: Indulge in crispy and seasoned pork rinds for a satisfying and low carb alternative to chips.
Raspberries: Enjoy a handful of sweet and tangy raspberries for a low carb snack bursting with antioxidants.
Salami & Cream Cheese: Spread cream cheese on slices of salami for a flavorful and satisfying snack.
Scrambled Eggs: Whip up a quick and protein-packed snack by making scrambled eggs with your favorite seasonings.
Side Salad with Ranch: Create a refreshing side salad with low carb vegetables and top it with creamy ranch dressing.
Sour Cream & Cheese Slices: Dip cheese slices into tangy sour cream for a creamy and low carb snack option.
Strawberries: Delight in a handful of juicy strawberries for a naturally sweet and low carb snack choice.
String Cheese: Enjoy individual string cheese sticks as a convenient and protein-rich snack on the go.
Sunflower Seeds: Have a small portion of roasted sunflower seeds for a crunchy and nutritious low carb snack.
Sweet Peppers & Cream Cheese: Fill sweet pepper halves with creamy cream cheese for a colorful and satisfying snack.
Taco Meat & Cheese: Top a slice of cheese with seasoned taco meat for a savory and low carb mini taco snack.
Tuna: Mix canned tuna with mayonnaise or Greek yogurt for a protein-packed and versatile low carb snack.
Turkey & Swiss Roll Ups: Roll up slices of turkey and Swiss cheese for a quick and delicious low carb snack.
Zucchini Chips: Slice zucchini into thin rounds, season them, and bake until crispy for a low carb chip alternative.
Get the printable version of these amazing by clicking the link below!
Whether you're a fan of crunchy nuts, creamy avocados, or protein-packed meat snacks, there's something for everyone on this list. These easy low carb snack ideas will keep your cravings at bay while supporting your low carb lifestyle.
So go ahead and enjoy these delicious low carb snacks whenever you need a quick and satisfying bite. Remember to listen to your body's hunger cues and choose snacks that align with your dietary goals. Happy snacking!
Be sure to pin this for later and get the printable list above.