Keto Bacon Egg Cheese Taco made in the Air Fryer
Here's a really easy breakfast idea that you can make in a flash! I am loving my new air fryer and it's my go-to cooking appliance when I want to make a fast meal.
Perfectly cooked keto taco!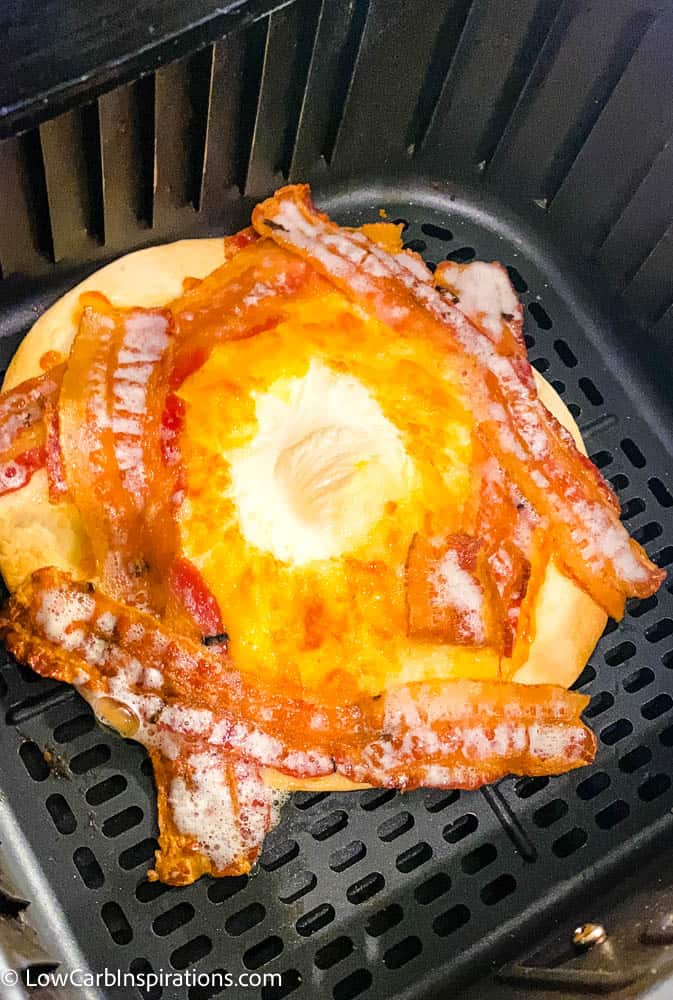 Write your story in as many paragraphs as needed – I usually do 4 or more.

Why We Love this keto air fryer recipe (and you will too!)
Good amount of protein to start your day
You can use a pre-made or homemade keto tortilla
easy to make and delicious
perfect keto breakfast, lunch, dinner or snack idea
Frequently Asked Questions
Is this tortilla keto friendly?
Some people choose to buy low carb tortillas and include them in their keto friendly meals.
If you choose to have a strict keto meal plan, you can make these keto friendly tortillas homemade.
It's all about choice.
How cooked is the egg in the center?
The egg is cooked to perfection! It's just like an over easy egg you would cook in the frying pan. You can adjust the cooking time to add more or less depending on how you like your egg cooked.
Is the bacon crispy?
Yes, the bacon is precooked bacon that I either cook ahead of time during my meal prep for the week or sometimes I purchase Costco's precooked bacon in a large package.
It's thin precooked bacon. If you use raw bacon or thicker bacon, you will need to adjust your cook time to longer.
Do you have to add cheese to this taco?
No. You can omit the cheese and keep the same cooking time. It will still be delicious!
Do you have to use a liner in the air fryer?
No. I didn't use a liner and the tortilla was slightly crispy on the edges which made it taste absolutely delicious.
Can you make this recipe with two eggs?
Yes, you will need to add another minute or two onto the cooking time to make sure both eggs cook properly.
Quick Recipe Overview
Why this is the best keto taco recipe: Everyone loves and easy-to-make taco and you can whip this up fast!
Number of servings: one
How Long It Takes: 6 minutes cook time
Equipment You'll Need: air fryer
Ingredients You'll Need
AMAZON CODE (REMOVE THIS!)
How to Make/Prepare Keto Bacon Egg Cheese Taco in the air fryer
Step 1 – Gather the ingredients first
You will want to make sure you are using precooked bacon. You can cook your bacon ahead of time or purchase precooked bacon at Costco.
Start by layer the ingredients in this way: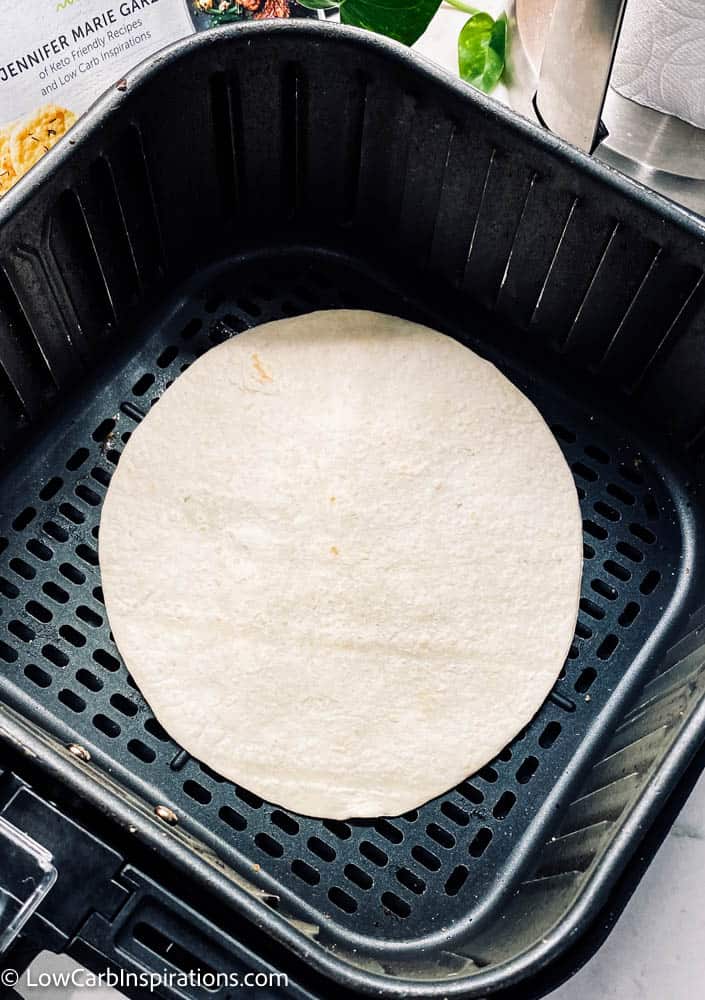 Add the tortilla first.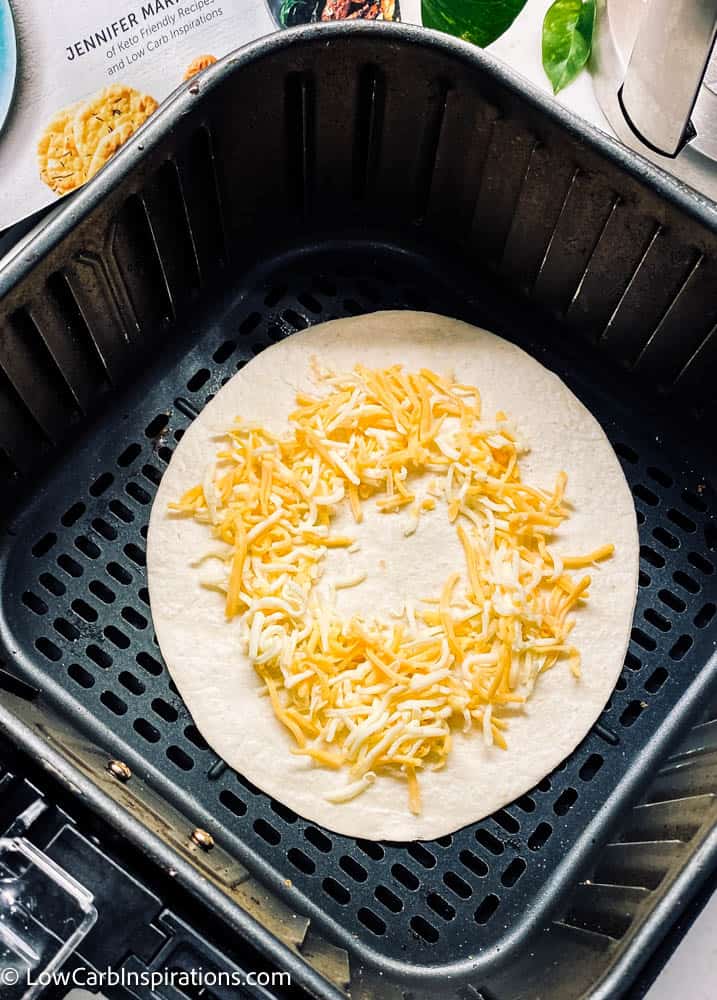 Add the shredded cheese next leaving a center hole for the egg. The cheese holds the egg in place.
If you opt to not use the cheese, just make sure the air fryer basket is held evenly or else the egg will slide right off of the tortilla when you tilt the basket.
Step 2 – Layer the ingredients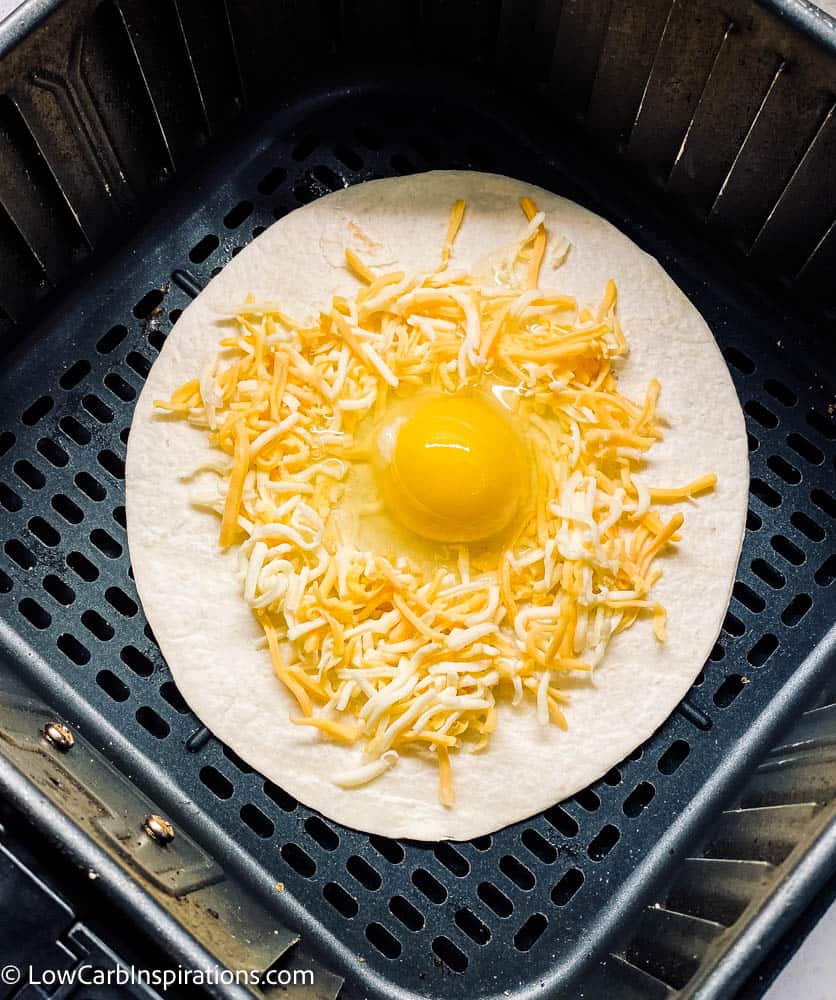 Add the egg in the center of the cheese. I leave the egg whole for a creamy yolk when it's done. You can choose to scramble it by whipping the egg in a cup ahead of time if you prefer.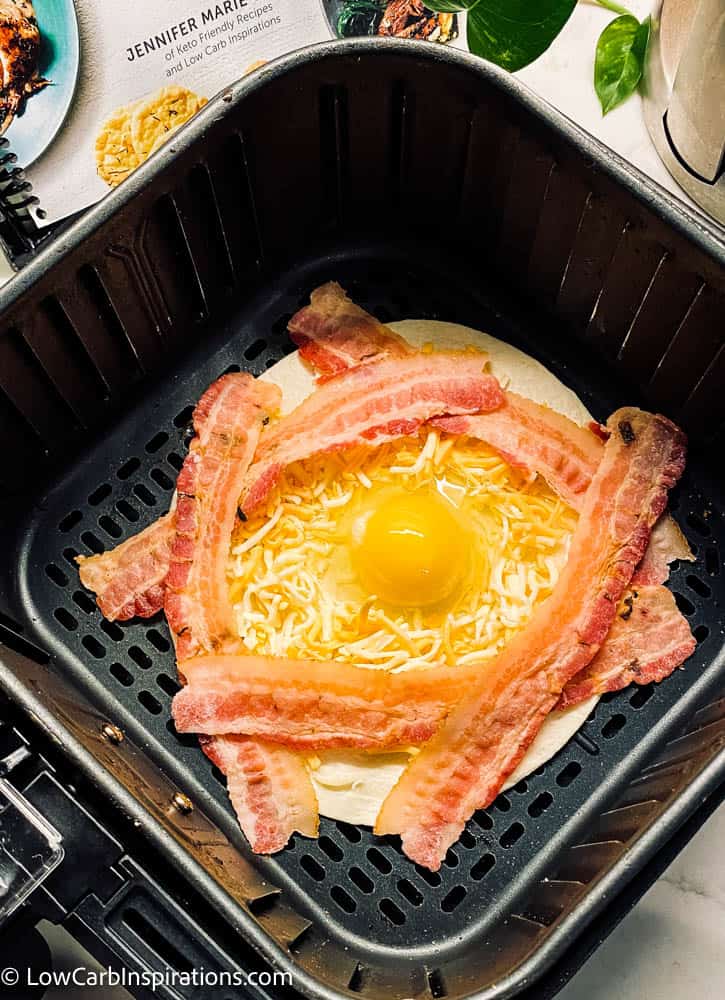 Add the precooked bacon slices on top of the cheese and surrounding the egg. This placement will allow the egg and bacon to cook perfectly.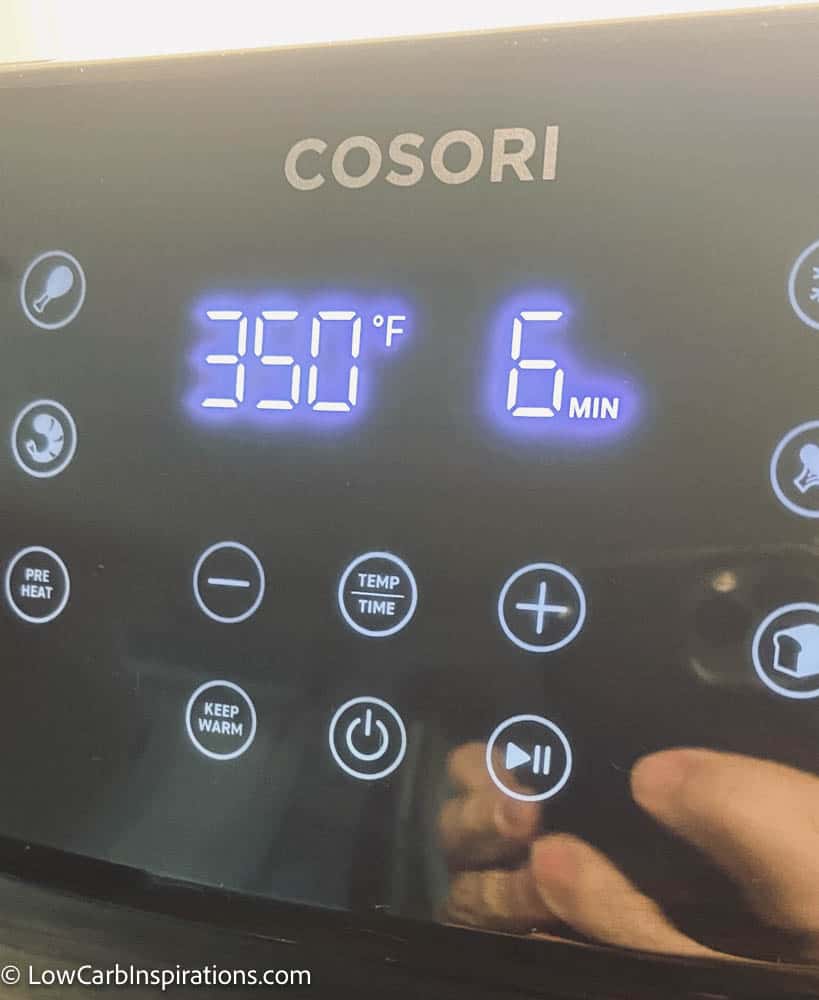 Set the air fryer to cook at 350 degrees for exactly 6 minutes.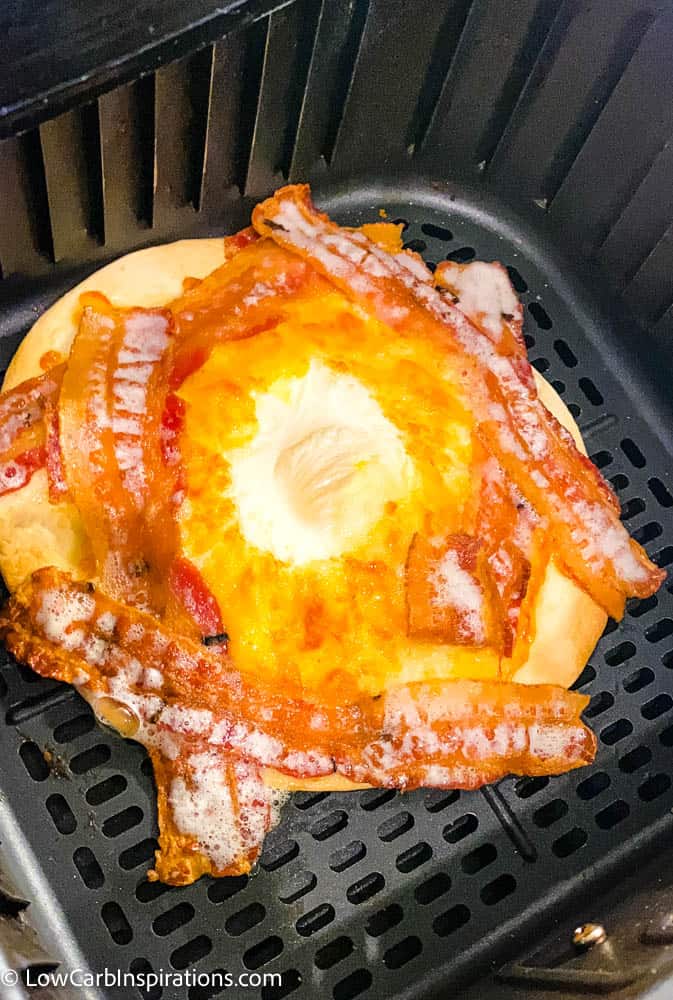 Use a fork to left the edge of the hot taco to slide in onto your plate. Top with salt and pepper to taste. Allow it to cool slightly so it's not too hot to touch.
Step 3 – Enjoy the best taco ever that's loaded with a good amount of protein!
Serve warm with a side of fresh avocado or guacamole.
Watch the Keto Bacon Egg Cheese Taco Video tutorial here
Watch the video showing us make this keto breakfast on youtube here.
Keto Bacon Egg Cheese Taco Nutrition

After generating the nutrition in the recipe card, save as draft and preview. Grab information from the recipe card and paste below.
Serves one
Low Carb Taco 3 net carbs
Egg 7 grams of protein
For every 3 slices of bacon it has 12 gram of protein, 12 grams of fat and 0.6 carbs.
Cheese (depends on what you use)
New to Keto? Check out the Keto Starter Guide!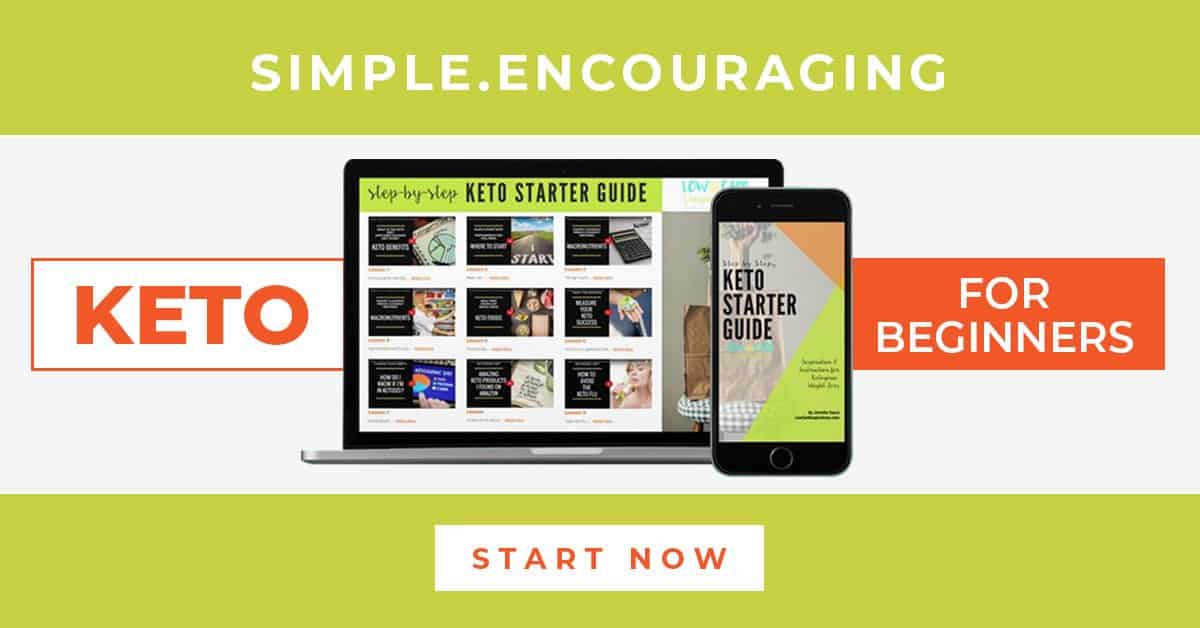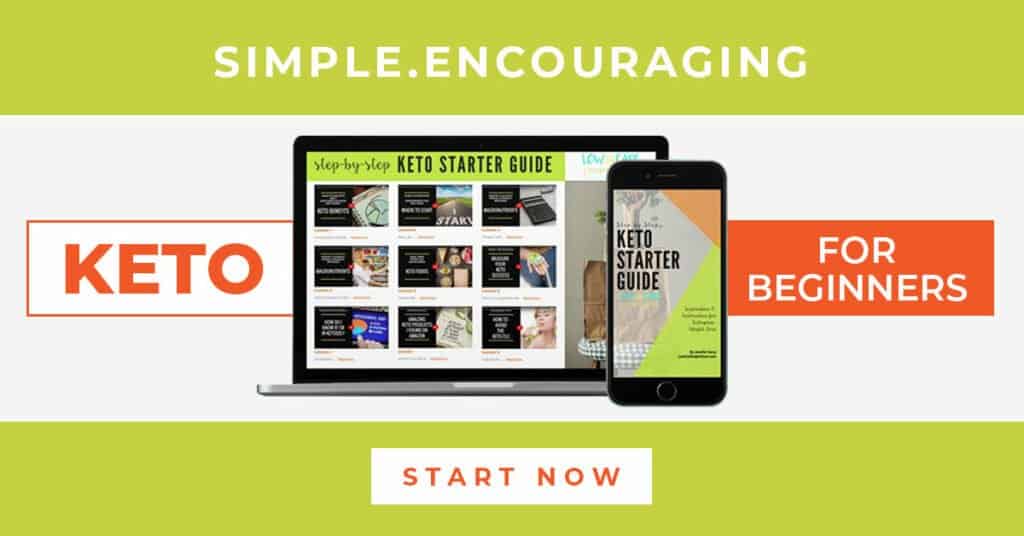 The Keto Starter Guide is an amazing resource as you get started on your keto/low carb journey. This guide has everything you need to get started in 9 simple video lessons and also includes workbooks with step by step instructions for beginners.
What's a macro and why do I count them?
How do I find the best recipes?
What is ketosis and how do I get my body there?
What fruits are allowed on a ketogenic diet?
Will I get "Keto Flu" and what do I do about it?
Get the Keto Starter Guide today!