Keto Crusted Salmon Recipe made in the Air Fryer
This will be one of the best keto crusted salmon recipes you ever try. There are a few different ways to make it too. The crust is low carb, keto friendly and absolutely delicious!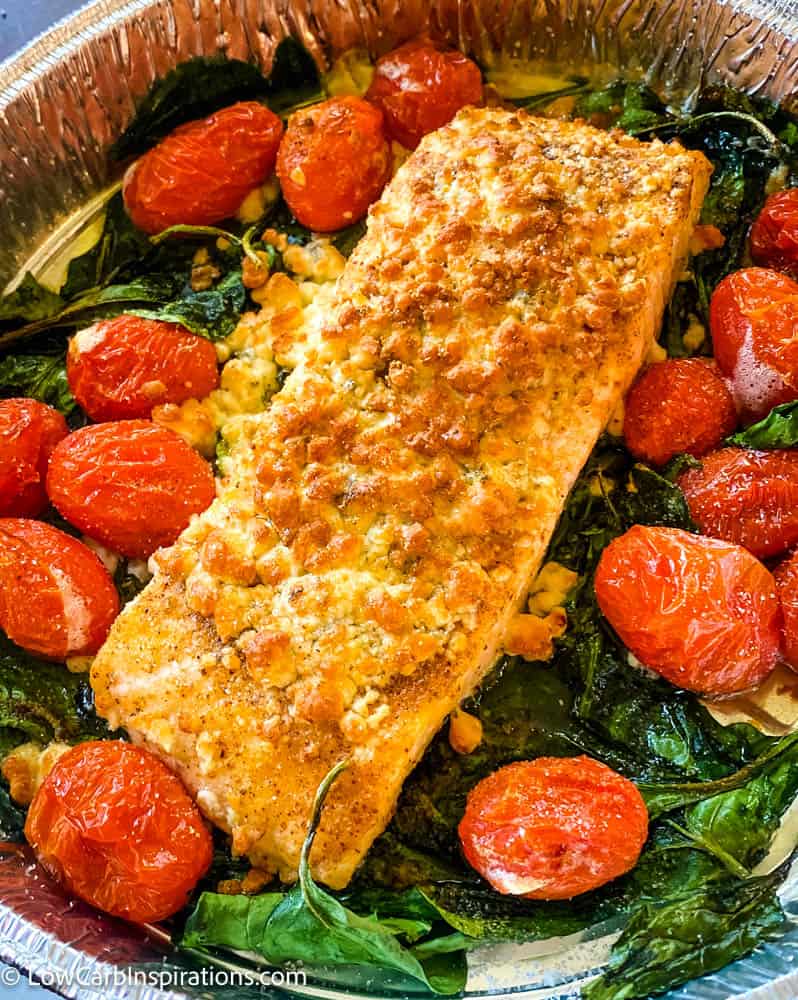 You can make this Keto Friendly crusted salmon recipe with a few different crust options.
You can use goat cheese, feta cheese or bleu cheese crumbles. Goat cheese and bleu cheese crumbles make a really nice creamy type crust. The bleu cheese is loaded with flavor!
If you like a crispy crust then you have got to try feta cheese crumbles as the crust. This type of cheese has less moisture and makes it really easy to create the perfect low carb crust for meals like this.
Air fryer meals are best for one or two person quick meals. This is a great example of a healthy meal made in the air fryer.

Why We Love this/these healthy Air Fryer Meal (and you will too!)
Healthy recipe that's made in the air fryer!
It has the perfect crust without all the carbs.
Easy and quick lunch or dinner idea.
Even the picky eaters really enjoy this meal.
Frequently Asked Questions
How long do you cook salmon in the air fryer?
I cook this salmon recipe at 350 degrees for 9 to 10 minutes.
Can you tell the crust is made of cheese?
This crust adds a lot of flavor (especially if you use the Bleu cheese) and crispiness to where you actually think it's a regular carb loaded crust option but it's not.
Can I use this same technique and crust while cookinb fish in the air fryer?
Yes! I add a little bit more seasoning to fish but yes, the crust works perfectly with any type of fish.
Can this be cooked in the oven also?
Yes! You can make this a larger meal by added everything to a sheet pan and cooking this dish at 350 degrees for about 10 to 15 minutes or so. It might take a little longer depending on your oven.
Quick Recipe Overview
Why this is the best crusted salmon recipe: This is a top rated recipe that's easy to make and packed with savory flavors.
Number of servings: 1 serving
How Long It Takes: Only 10 minutes to make from start to finish!
Equipment You'll Need: Air fryer and aluminum cake baking dish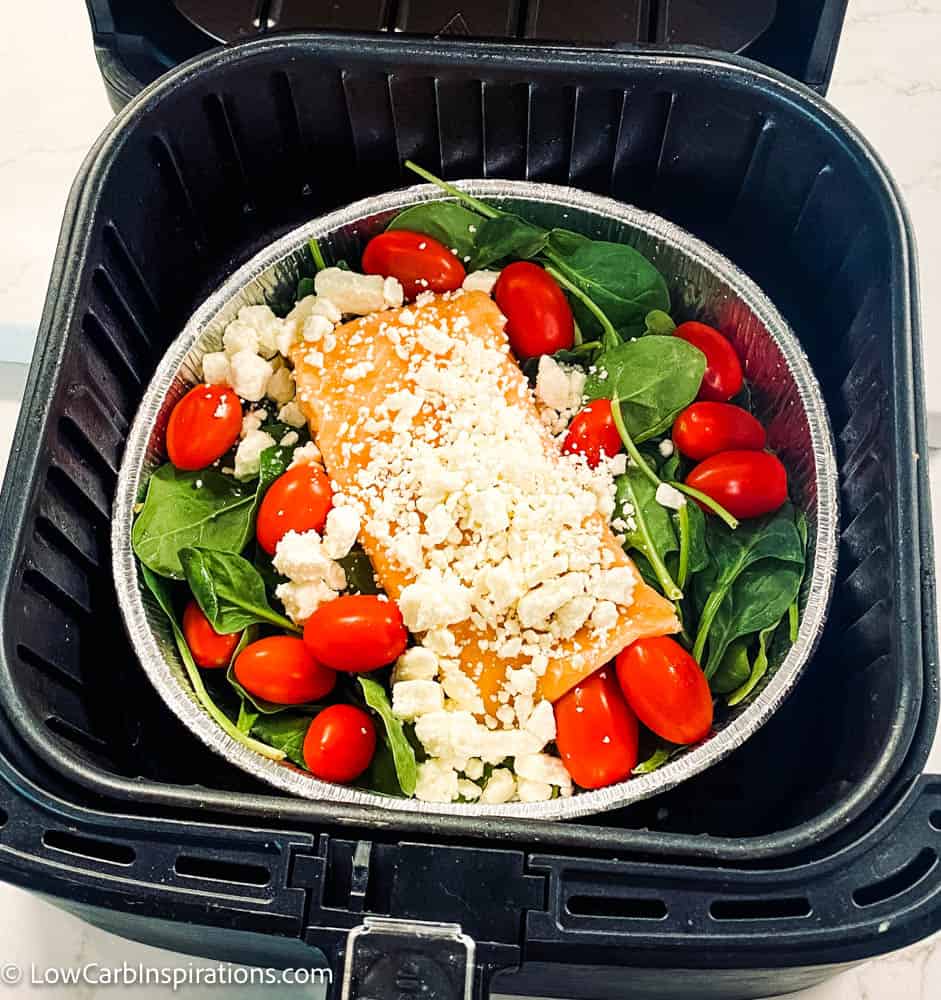 Ingredients You'll Need
Salmon fillet
Spinach
Cherry tomatoes
Feta cheese, Bleu cheese, or goat cheese crumbles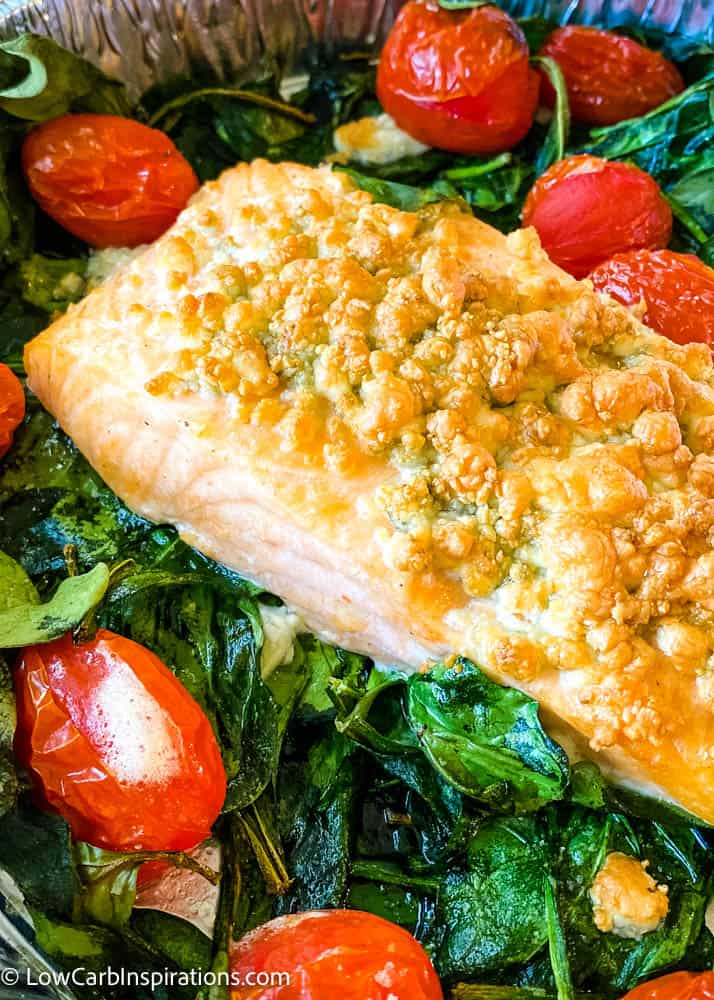 How to Make/Prepare This Crusted Salmon recipe
Step 1 – Start by defrosting the salmon, if needed.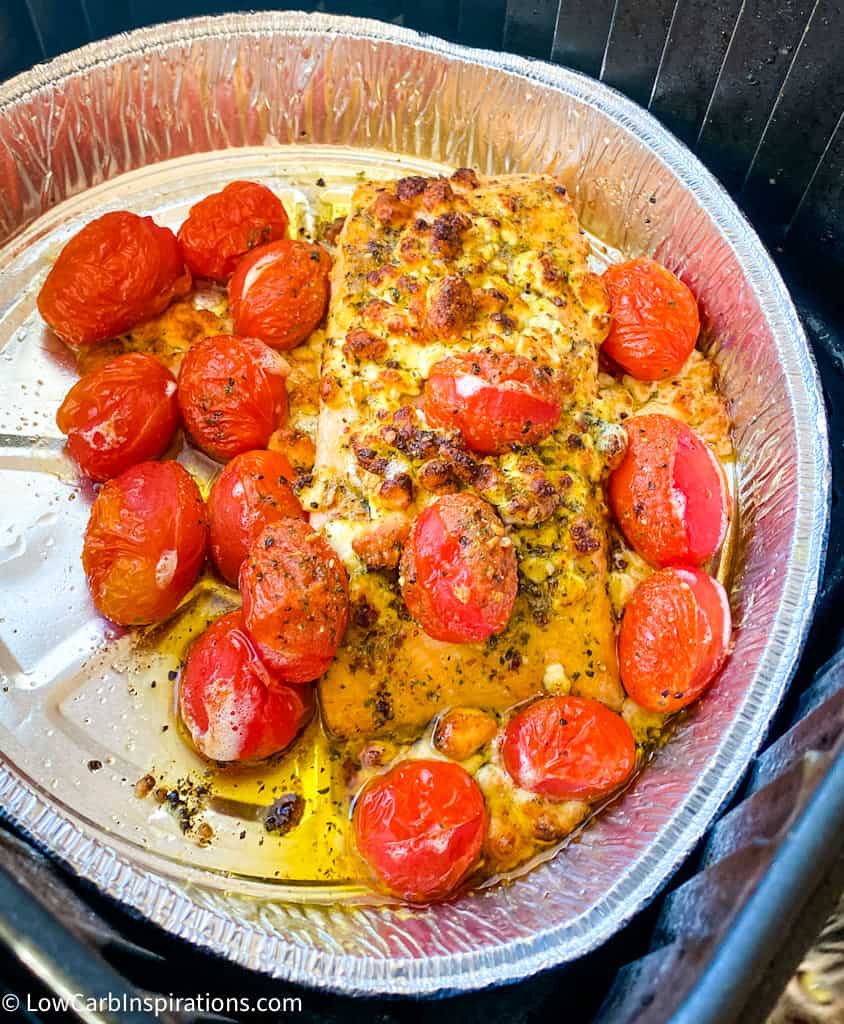 Be sure wash and dry the spinach and tomatoes ahead of time.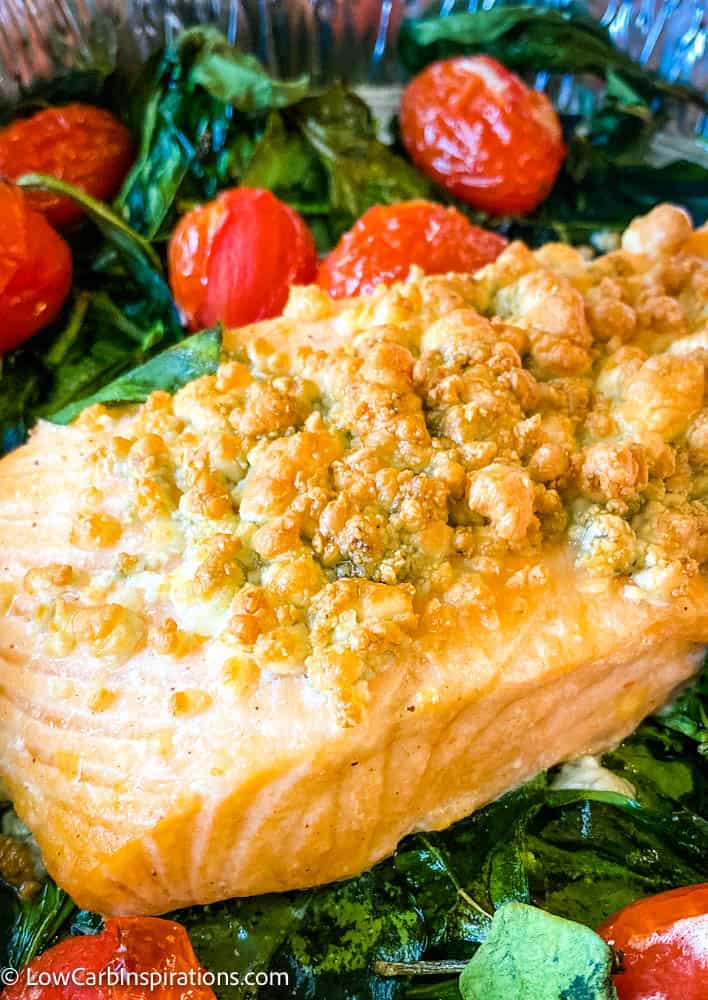 Step 2 – Layer the Spinach, Tomatoes and Salmon in the baking tray.
Start by placing a huge handful of spinach that nearly fills the whole baking pan. Then place the salmon in the center. Next, add the cherry tomatoes around the dish.
Finally, sprinkle about 2 tablespoons of Feta cheese crumbles over the top of the salmon. (or goat or Bleu cheese crumbles if you prefer).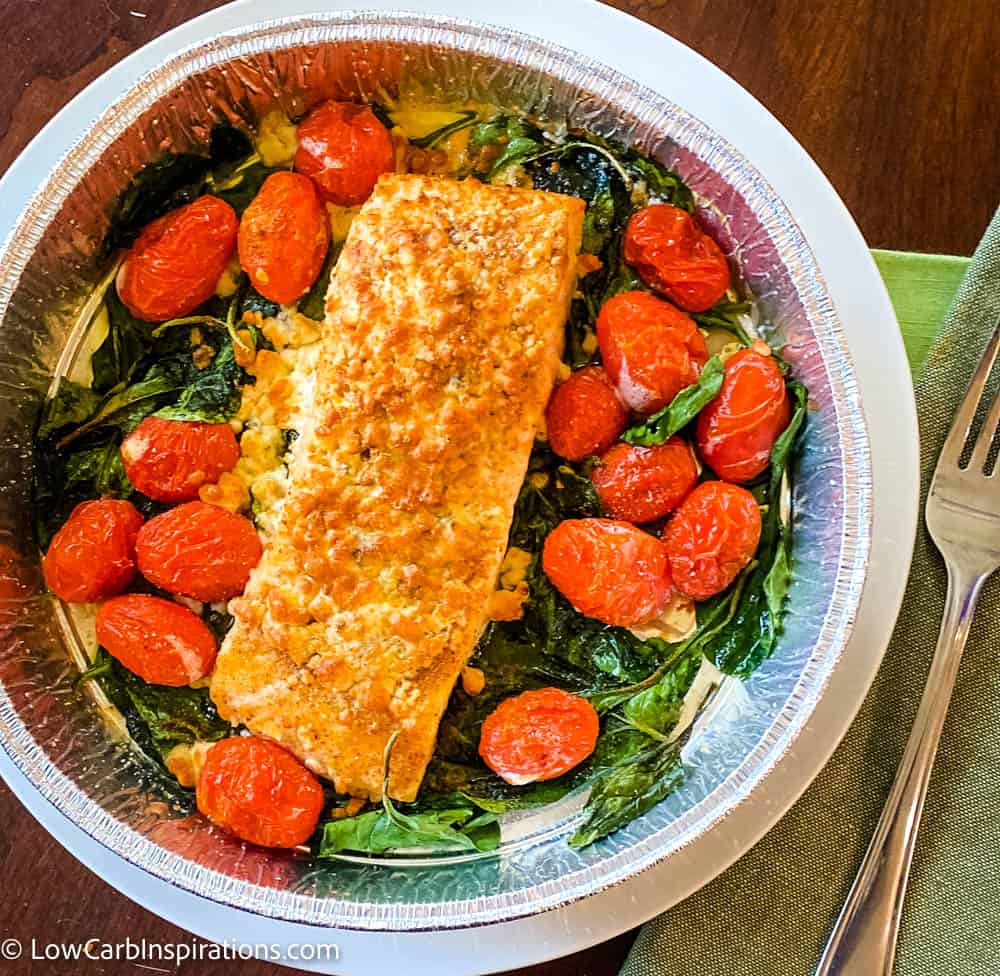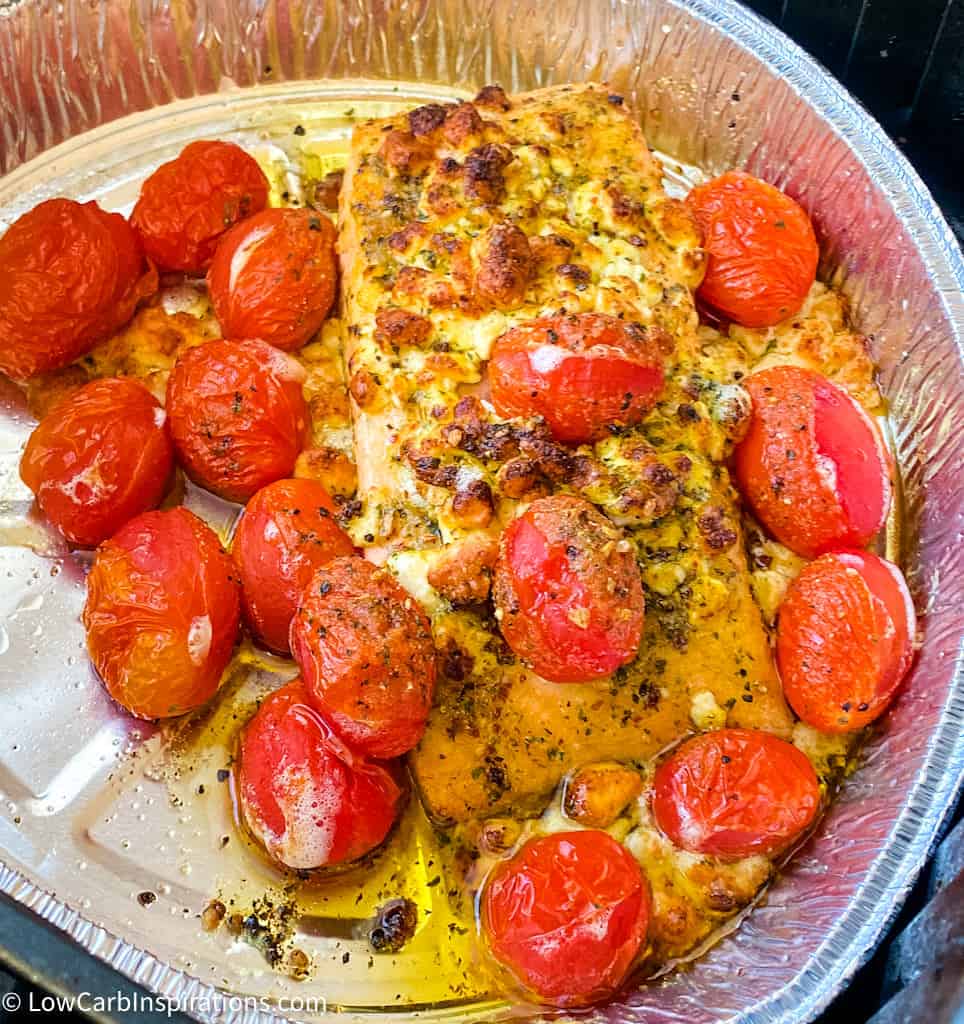 Finally, serve it warm and enjoy!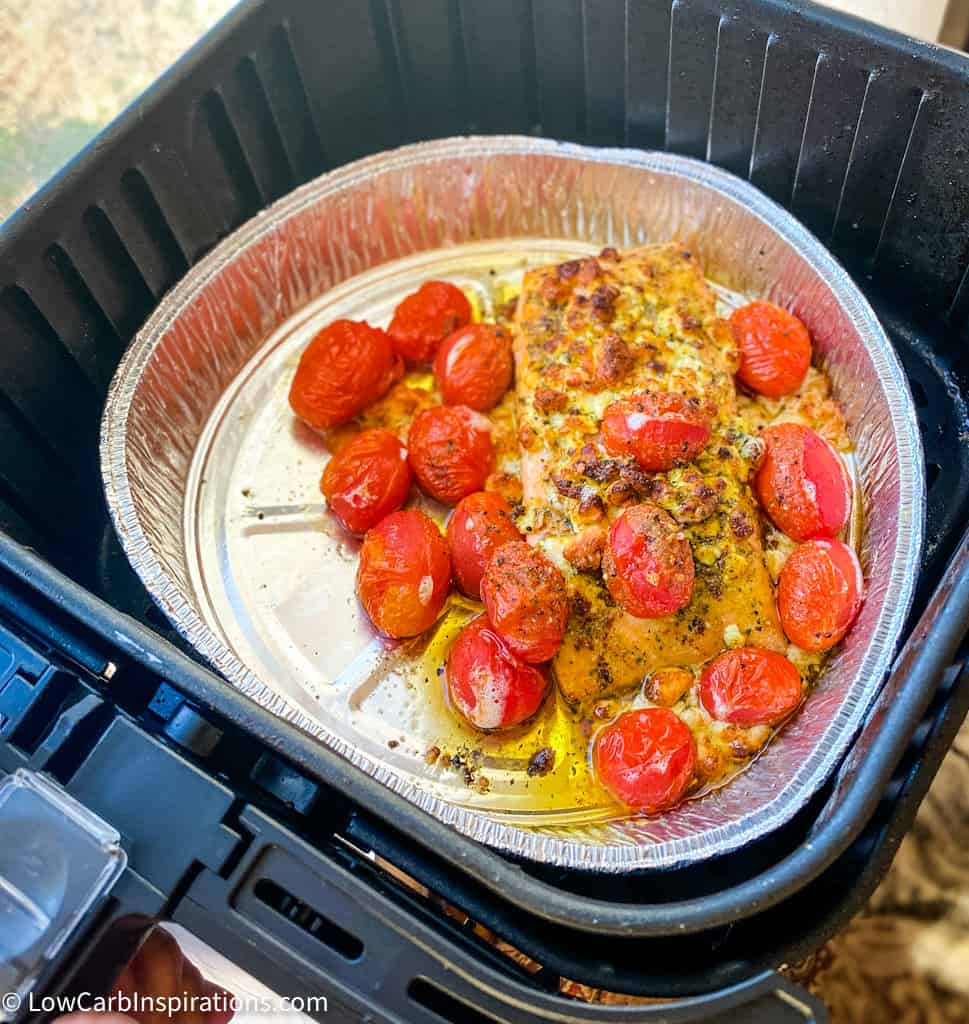 If you prefer not to cook the cheese crumbles, you can add it on after you cook the salmon too! I usually add a bit of spring mix and herb feta crumbles right before serving it when I serve it this way.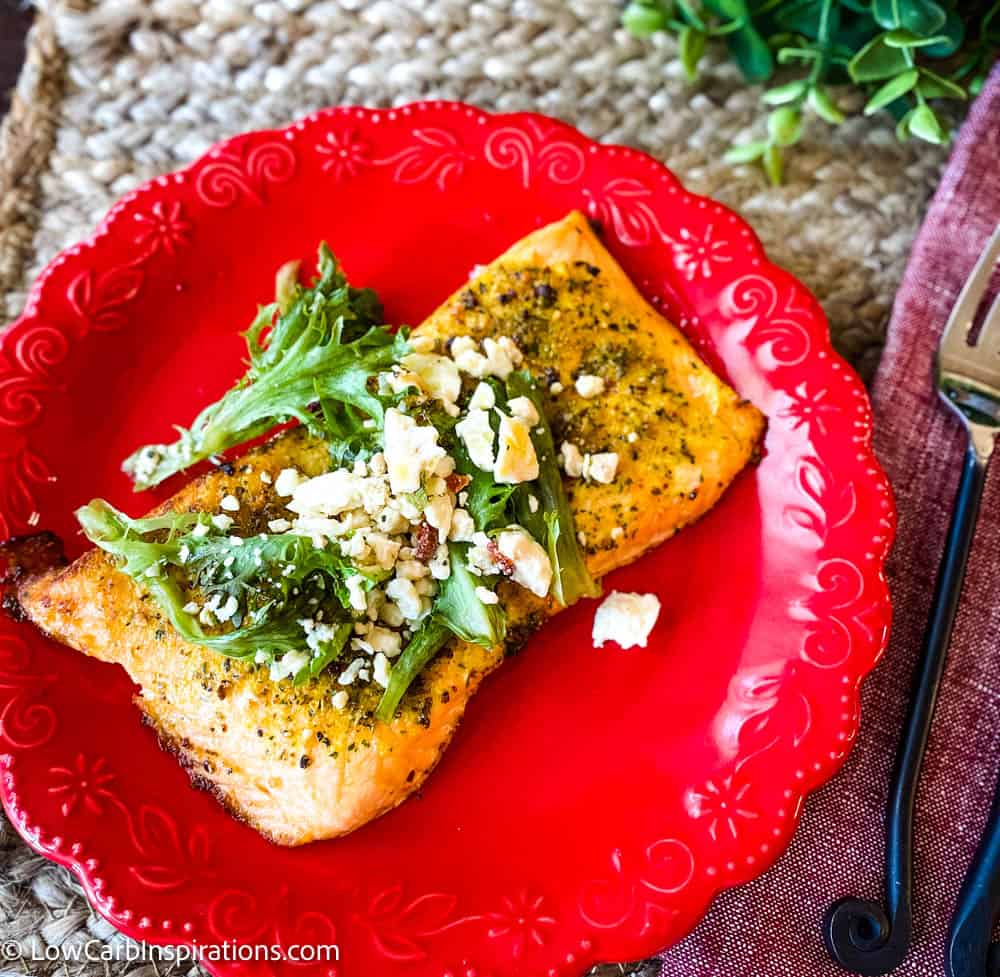 Step 3 – Drizzle the salmon with olive oil and bake it!
Drizzle the whole dish with a generous amount of olive oil (or avocado oil) and bake at 350 degrees for about 9 to 10 minutes.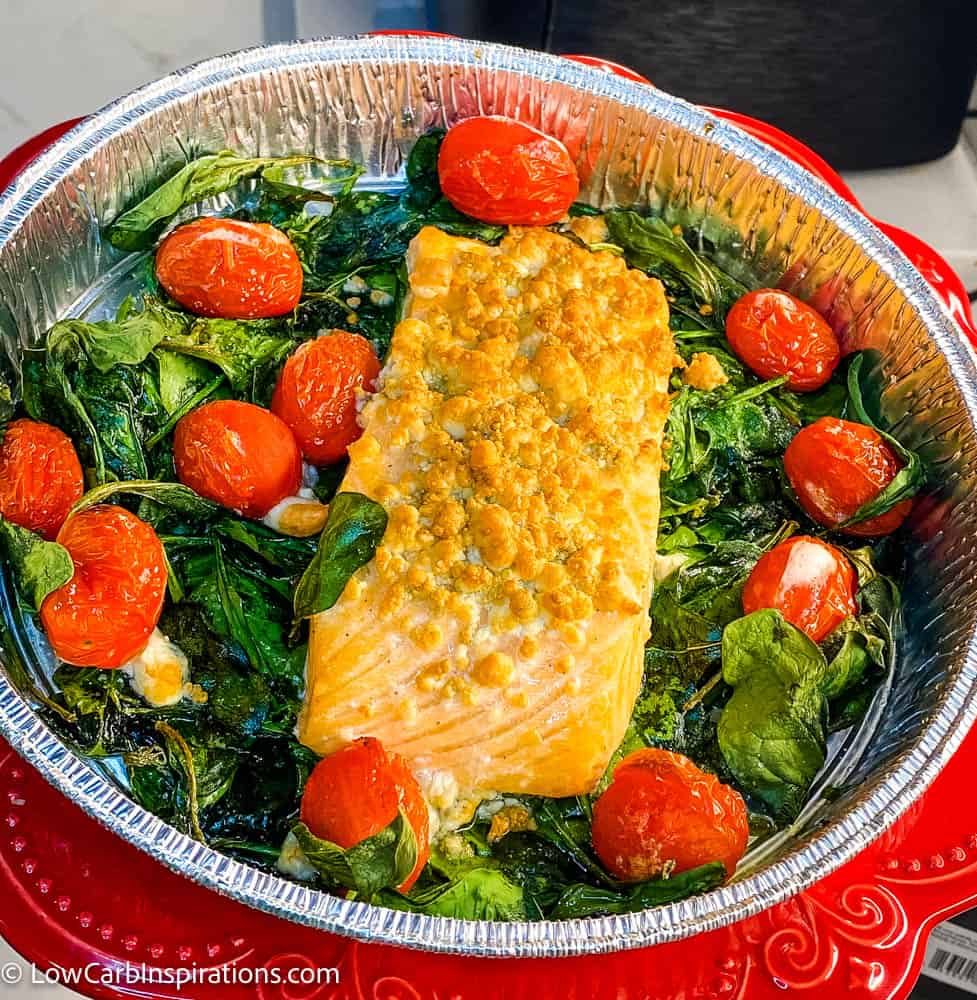 Air Fryer Salmon Nutrition

Serves 1
Only 6 net carbs and high protein! Perfect healthy meal idea!
Calories: 426 | Carbohydrates: 10g | Protein: 33g | Fat: 29g | Sodium: 580mg | Fiber: 4g | Sugar: 2g | Net Carbs: 6g
New to Keto? Check out the Keto Starter Guide!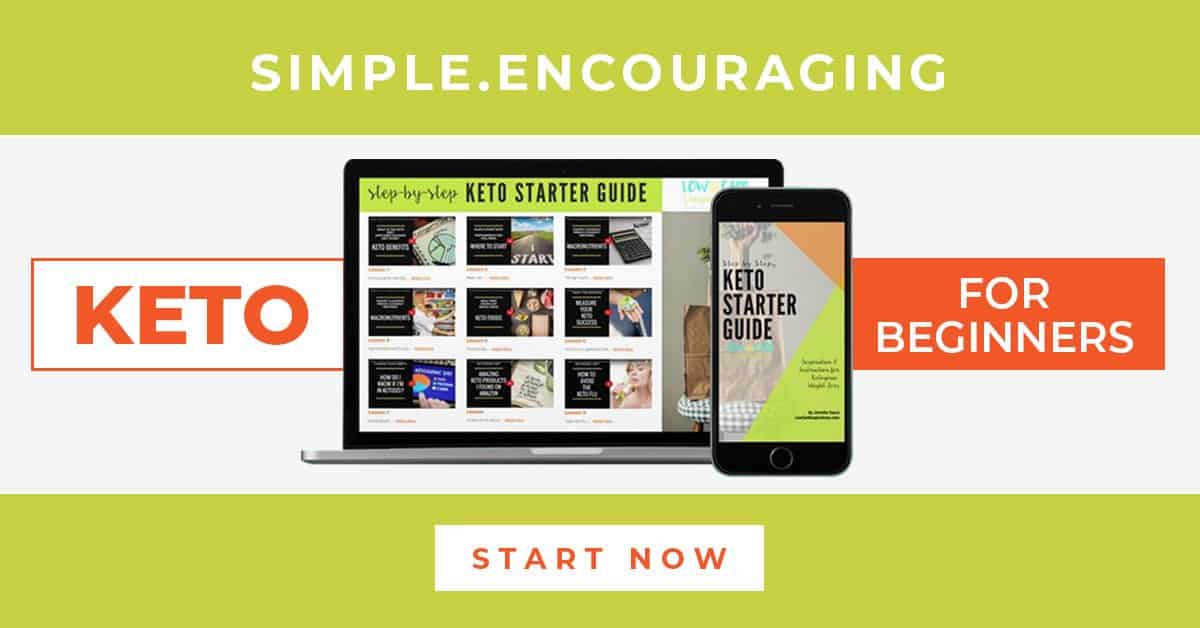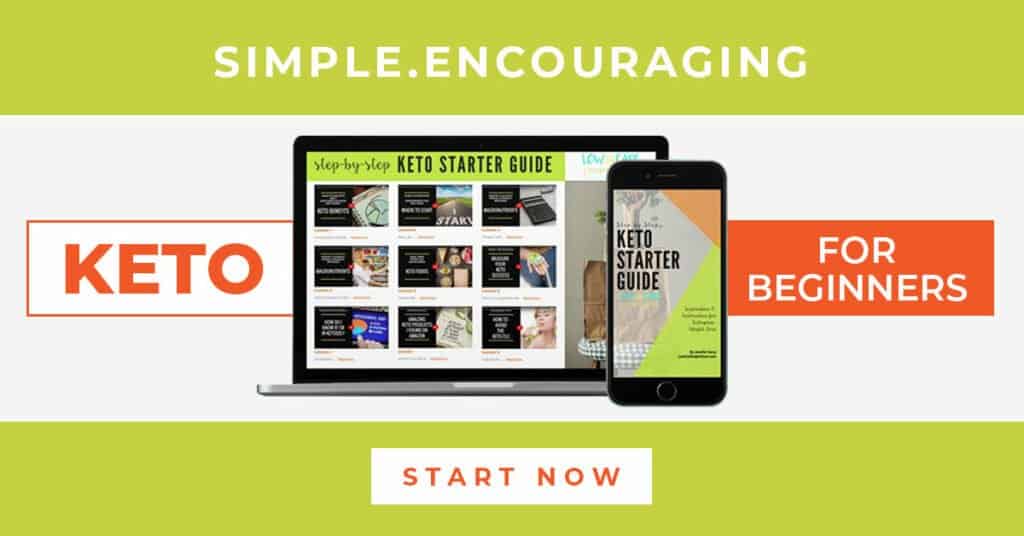 The Keto Starter Guide is an amazing resource as you get started on your keto/low carb journey. This guide has everything you need to get started in 9 simple video lessons and also includes workbooks with step by step instructions for beginners.
What's a macro and why do I count them?
How do I find the best recipes?
What is ketosis and how do I get my body there?
What fruits are allowed on a ketogenic diet?
Will I get "Keto Flu" and what do I do about it?
Get the Keto Starter Guide today!
Don't forget to pin this amazing dinner recipe for later!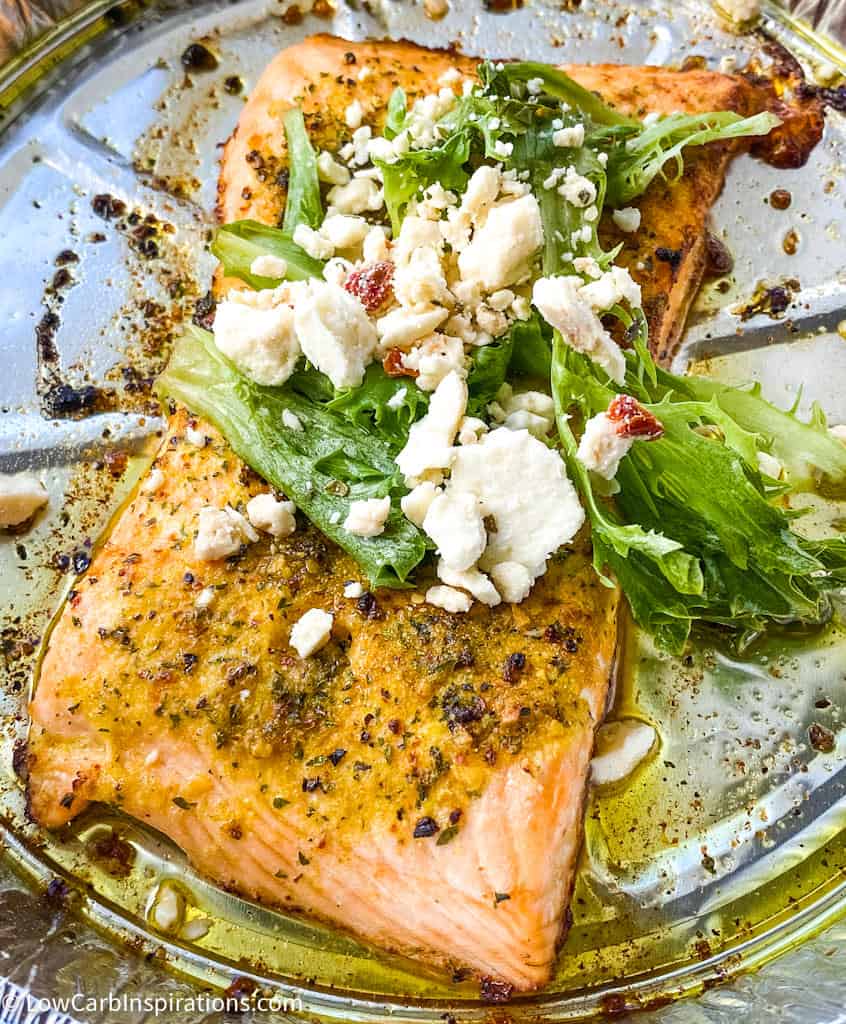 Love this low carb and keto friendly recipe?
Make sure you leave a 5-star rating and a review below!
I can't wait to hear how much you loved it!

Also – if you loved this easy air fryer recipe, be sure to try our amazing Cheesecake we made in the air fryer below! If you have any questions, I'm here to help!

Best Keto Cheesecake recipe
Here's a printable version of this air fryer salmon with crust recipe: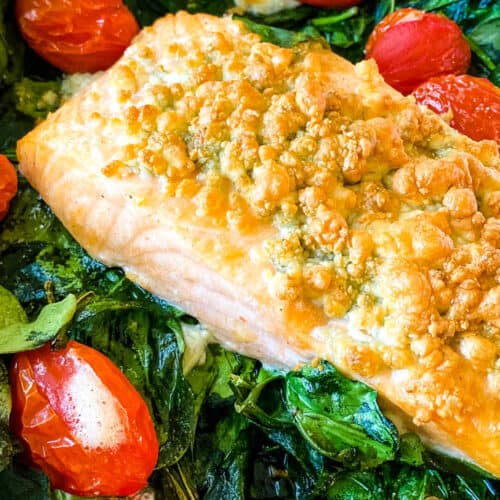 Keto Crusted Salmon Recipe made in the Air Fryer
Best dinner recipe ever!
Equipment
8.5 inch round cake pan, disposable aluminum
Ingredients
Instructions
Wash and dry all vegetables.

Lay a good amount of raw spinach leaves in the bottom of the aluminum cake pan. It will almost fill it all the way too the top. This will seem like an excess amount of spinach but I promise you it will shrink tremendously during the cooking process and it will turn out to be the perfect portion size for this mea.

Remove the defrosted salmon from the plastic wrapper and place it on top of the raw spinach.

Place about 6 cherry tomatoes on top of the spinach mixture surrounding the salmon.

Drizzle

olive oil

over the spinach, cherry tomatoes and salmon.

Place about 2 tables of crumbled Herb seasoned Feta cheese over the salmon. If you Feta cheese is plane, you can sprinkle some

Italian seasoning

over the feta.

Finally, sprinkle with salt.

Place in the air fryer set at 350 degrees for 9 to 10 minutes.
Nutrition
Calories:
426
|
Carbohydrates:
10
g
|
Protein:
33
g
|
Fat:
29
g
|
Fiber:
4
g
|
Sugar:
2
g
|
Net Carbs:
6
g
Nutrition facts are provided as a courtesy. Have a question about our calculations or why you got a different result? Please read our
nutrition policy.