Chewy No Grain Granola Bars (Low Carb & Keto)
Just wait until you try making these low carb and keto friendly granola bars! No grains. No sugar. No unhealthy ingredients. Just pure goodness!
It's amazing what you can make with nuts and seeds. The secret ingredient to this recipe is allulose sweetener. You can order allulose sweetener online or you may even be able to find it at your local grocery store too. It's becoming quite popular!
You can toast the nuts in a pan or you can make them with raw nuts. Your choice.
You can substitute any nuts or seeds for any you choose. Add more of some or less of others. Your choice!
Other seed and nut substitution options are flax seeds, chia seeds, peanuts, pistachios, hazelnuts etc…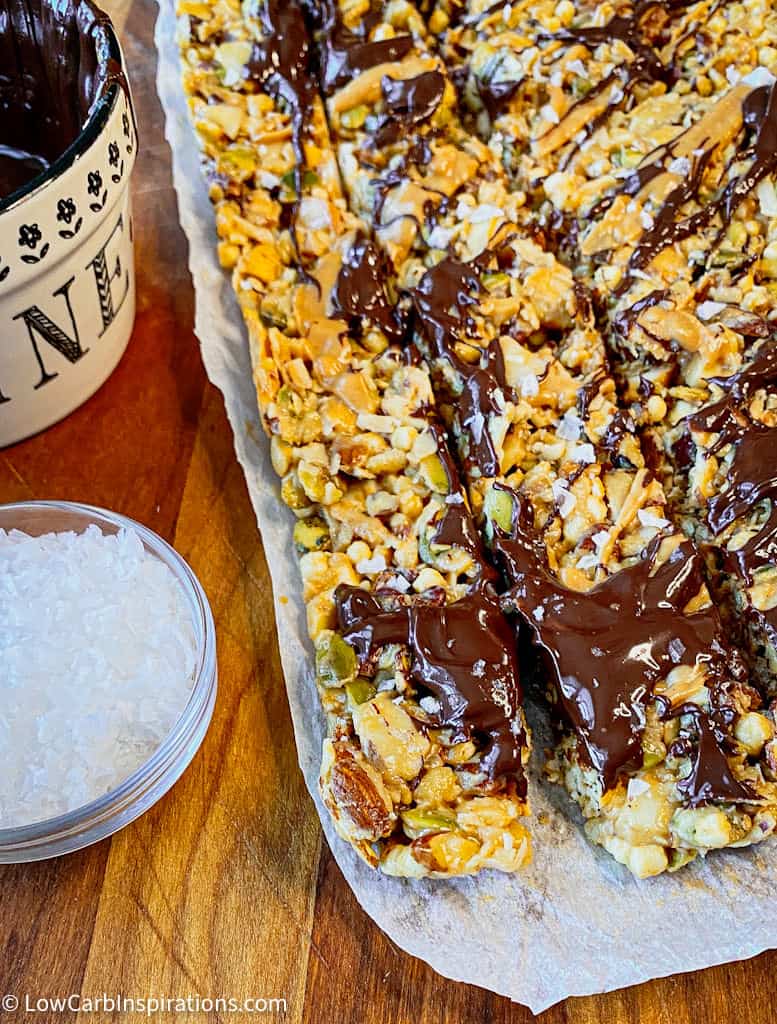 Why We Love healthy granola bars (and you will too!)
ONLY 2g carbs per serving
Yummy snack that even the kids enjoy!
Very easy to make and delicious!
Tastes like a cheat but isn't!
Frequently Asked Questions
What protein puffs are you using in this recipe?
I used unflavored protein puffs in this recipe. I purchased these Protein Puffs here on Amazon. They also make a chocolate version. It's a great way to add protein to your snacks and desserts. Besides, they add a nice little crunch too! Love that!
Would you add sugar free chocolate chips to the bars?
I wouldn't add chocolate chips into the granola bars because the mixture is warm and the chocolate chips will melt when you mix it. This is why we added drizzle chocolate using sugar free chocolate chips on the top of the bars. Tastes amazing!
Are these granola bars really chewy?
Yes! We use allulose sweetener in this recipe. Alllulose sweetener is low carb and keto friendly! It caramelizes just like real sugar.
It's also good to note that allulose is not as sweet as real sugar though. It's only about 70% as sweet as regular table sugar. We added butter and cinnamon to make it taste sweeter.
Can I substitute the sweetener to another sweetener I like?
Low carb and keto friendly sweeteners can be tricky. You can use another sweetener but no other sweetener caramelizes like allulose though. Monkfruit comes close.
If you do sub out the sweetener, you will have to adjust for the sweetness level as all sweeteners are different. The bars may not come out as chewy either.
Quick Recipe Overview
Why this is the best homemade chewy granola recipe: This is one recipe that does. not require you to make it. It also doesn't need egg whites like most other granola bar recipes do.
Number of servings: 28 bars
How Long It Takes: Takes only about 10 minutes to make
Equipment You'll Need: Bowl, frying pan, 9×13 baking dish, and a spatula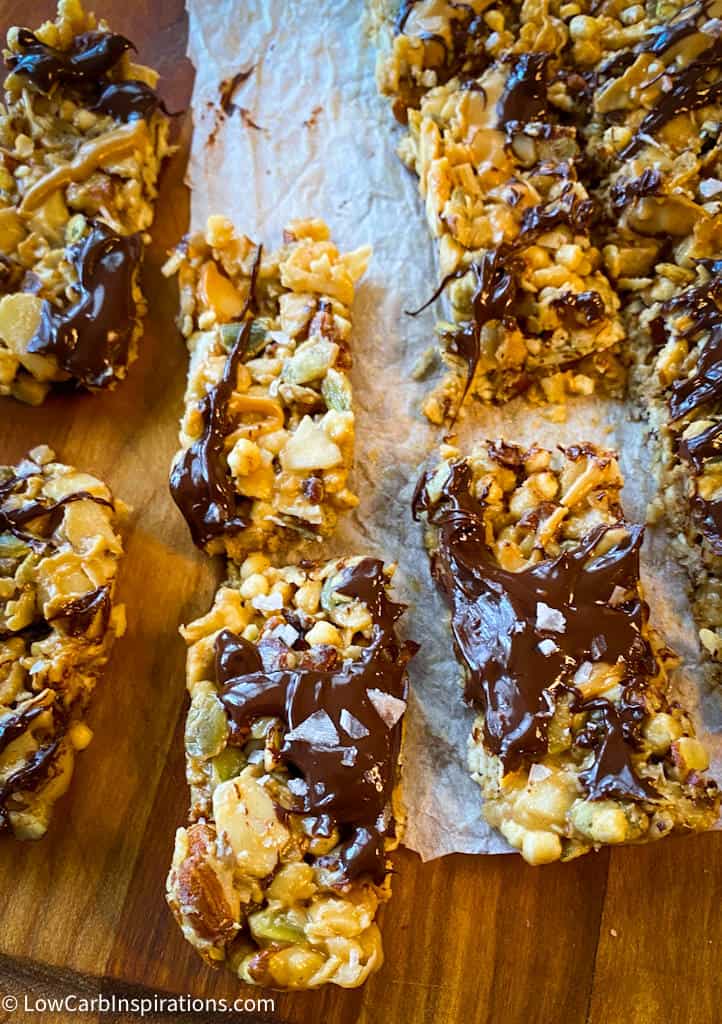 Ingredients You'll Need
Makes 28 (2 inch) Bars
Optional Toppings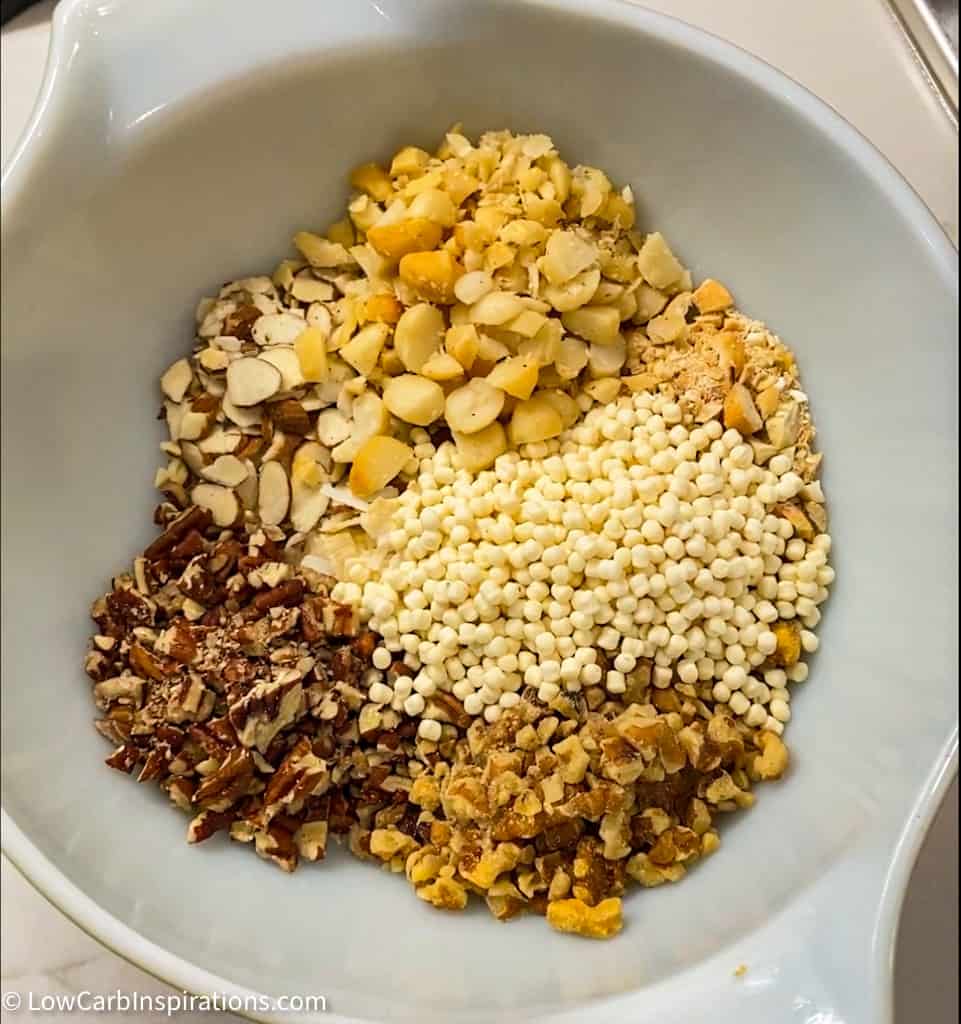 How to Make these Chewy Granola Bars:
Step 1 – Gather your ingredients.
Gather all of the ingredients before you begin.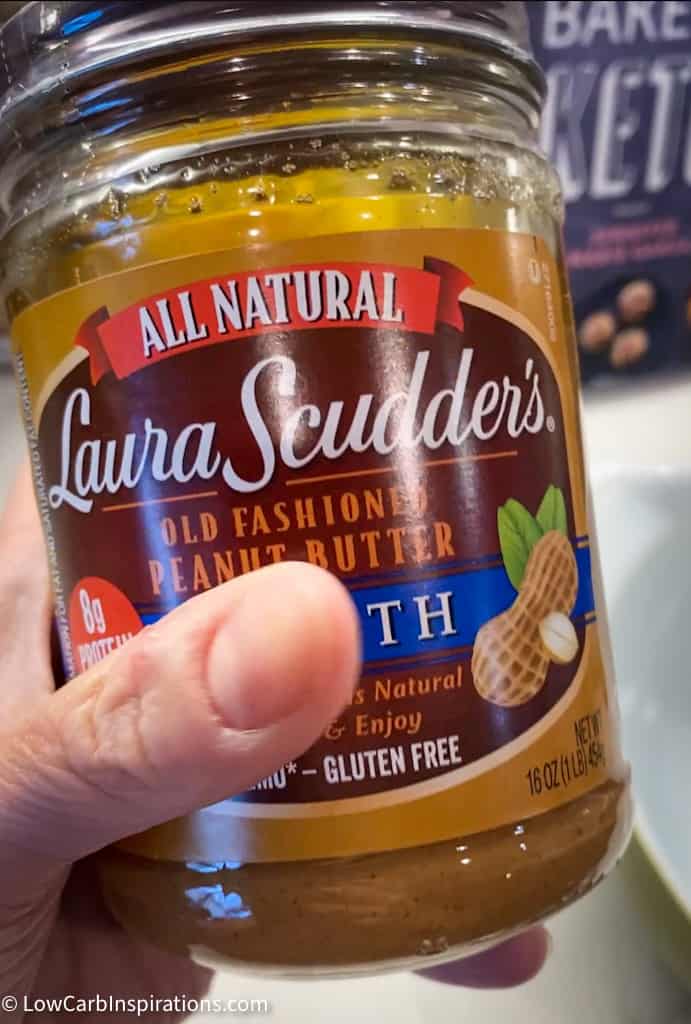 You can use almond butter or peanut butter. Whichever you prefer just make sure it has no sugar or honey added.
Step 2 – Assemble the nuts, seeds and coconut in a large bowl.
Follow the recipe card below by mixing all the seeds, nuts, protein puffs and coconut shreds in a large bowl. Then add the nut butter.
Option: You can toast the nuts before making this recipe if you prefer. Just add the nuts to a dry frying pan and toast them over medium heat right before this step.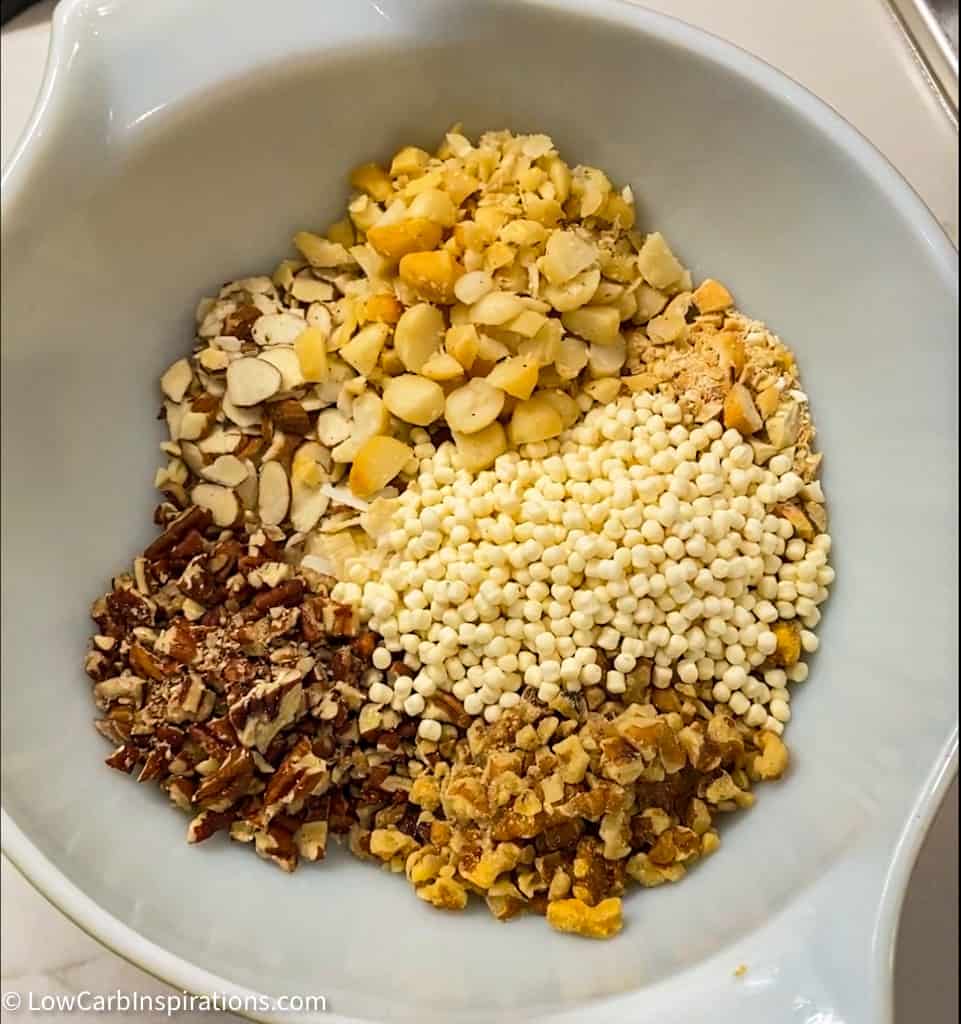 Next you will add start making the allulose syrup. This is the main ingredient that makes these granola bars chewy.
You will start by adding the allulose to a frying pan. Then adding a small amount of water.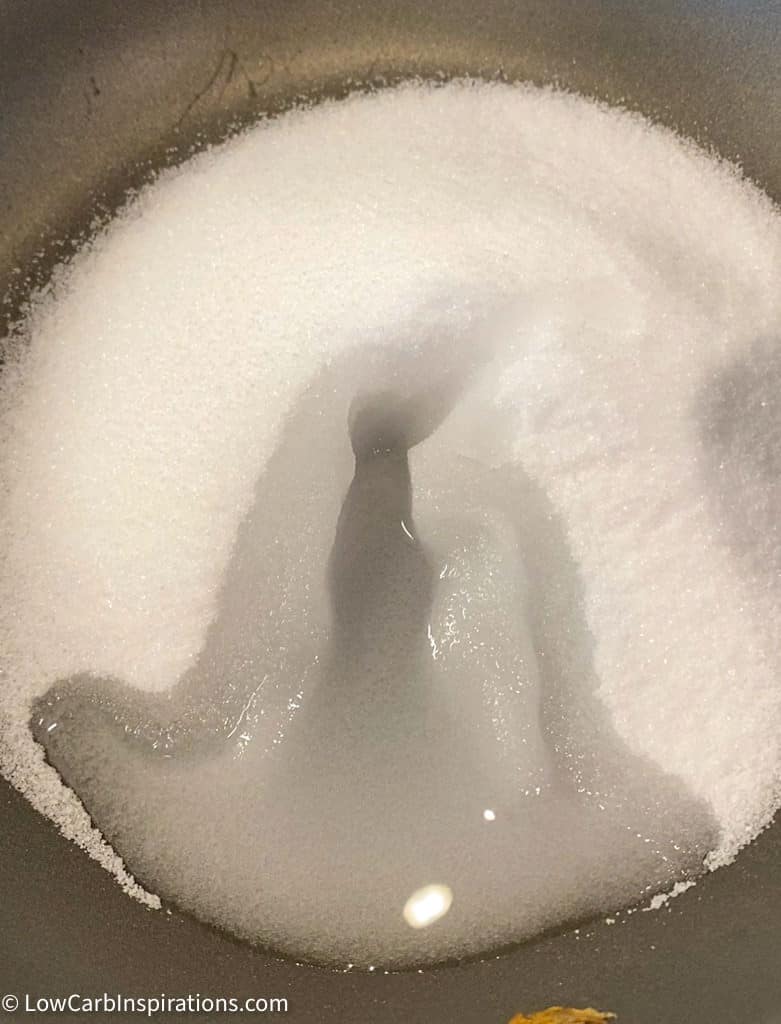 You will stir and cook the allulose sweetener over low to medium heat until it starts to bubble, just like this photo below.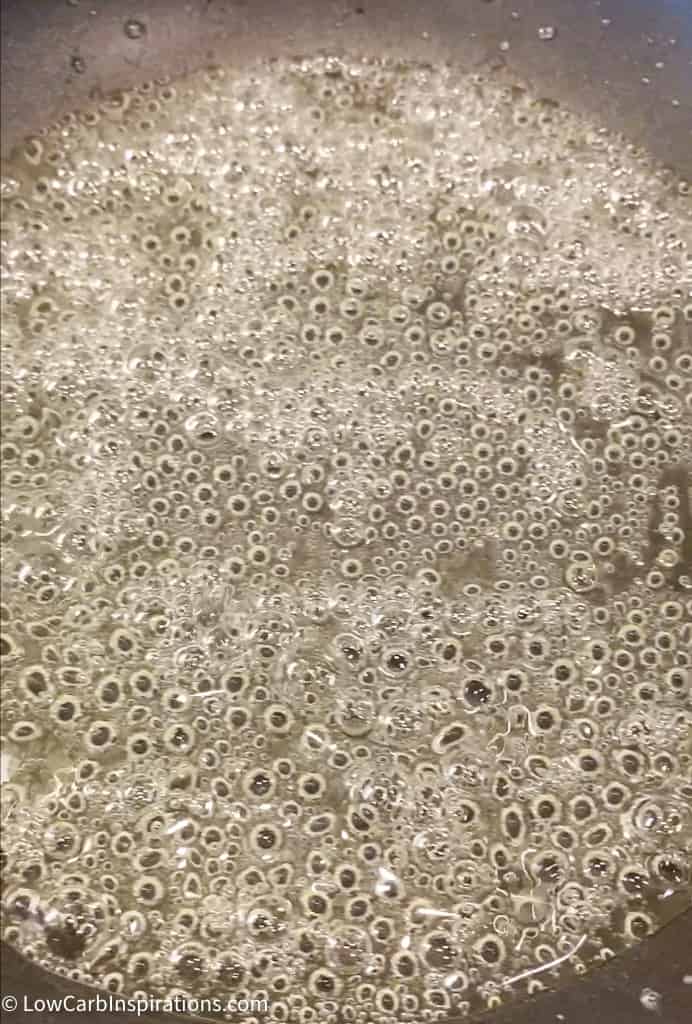 Step 3 – Pour all the ingredients together to make the bars.
You will pour the warm allulose sweetener into the bowl ingredients and mix until it's fully combined.
While it's still warm you will pour the granola bar mixture into the prepared baking dish and spread it out evenly. The syrup will be like a pancake syrup consistency but it will thicken and become chewy as it cools down.
The warmth from the syrup melts the nut butter perfectly to allow it to mix easily. No need to warm the nut butter before hand.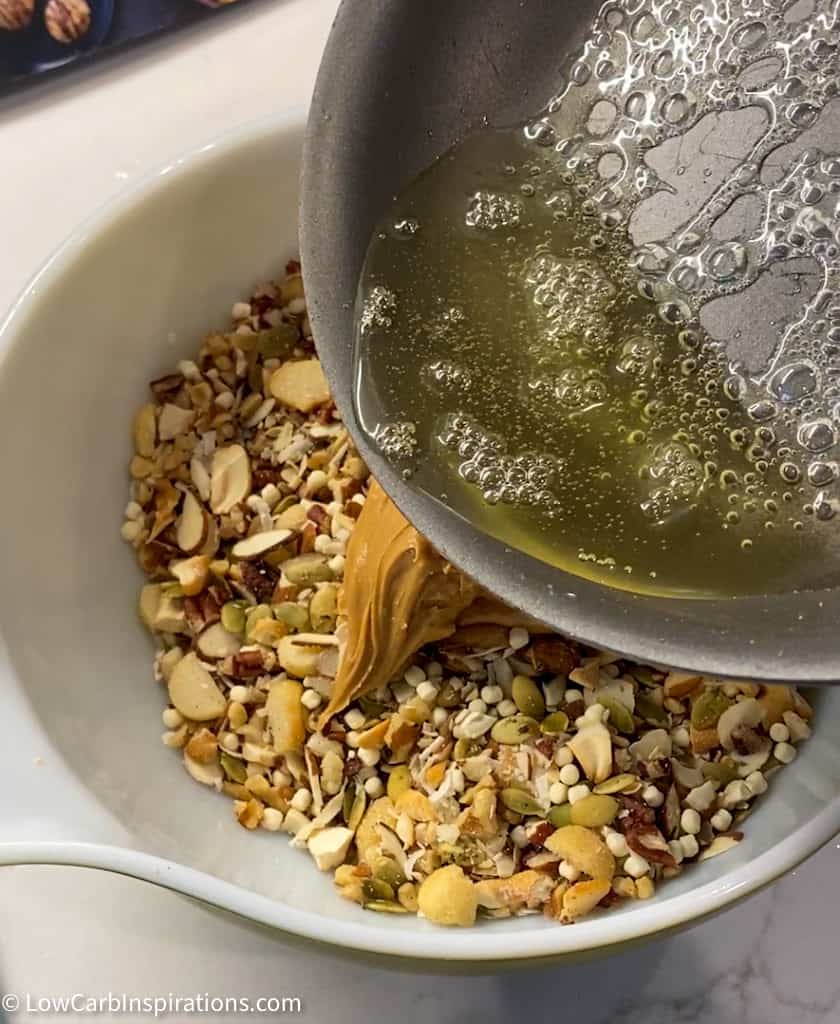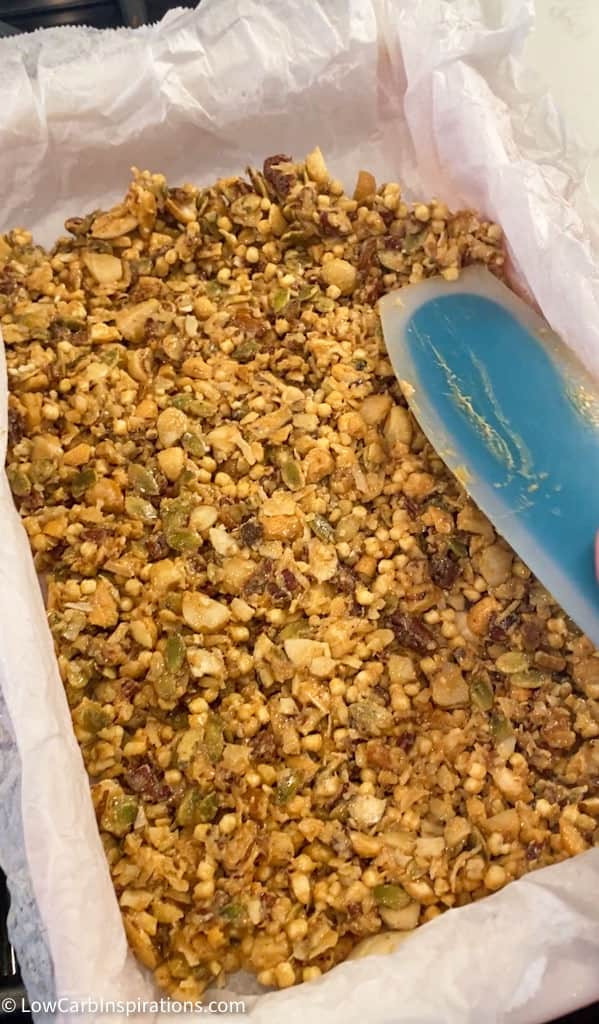 You can enjoy them right now or add any additional toppings to your liking.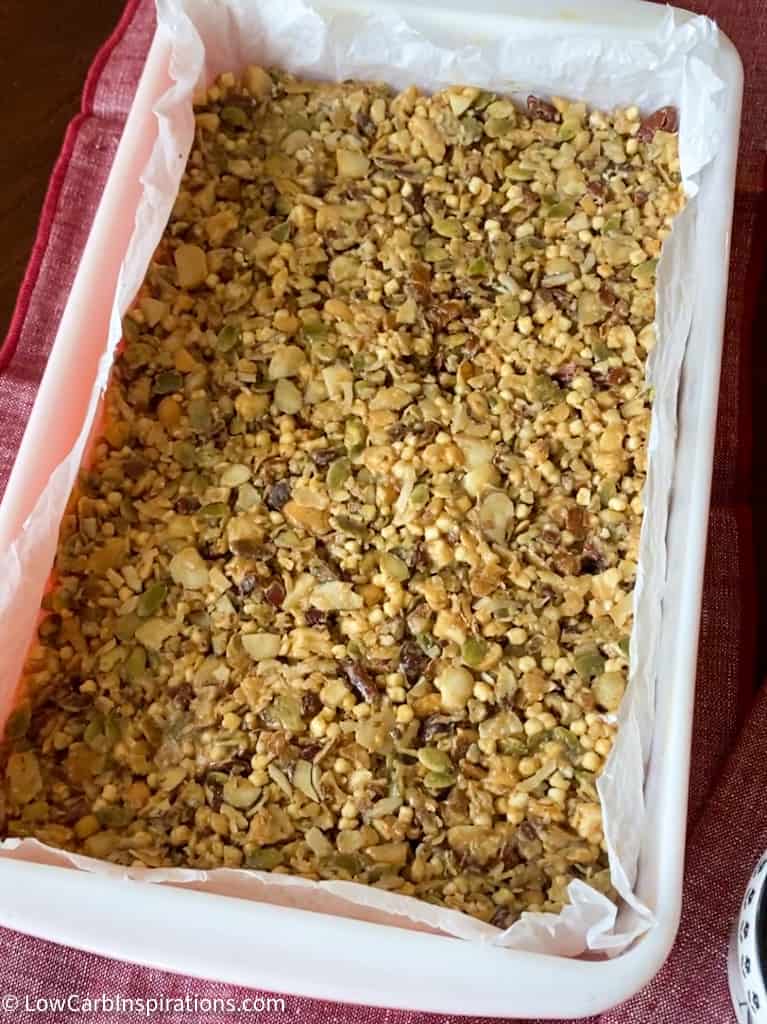 Now you can add any addition toppings such as drizzled chocolate, nut butter or sea salt on top. Absolutely delicious!
Cut the bars into 2 inch pieces or larger if you prefer.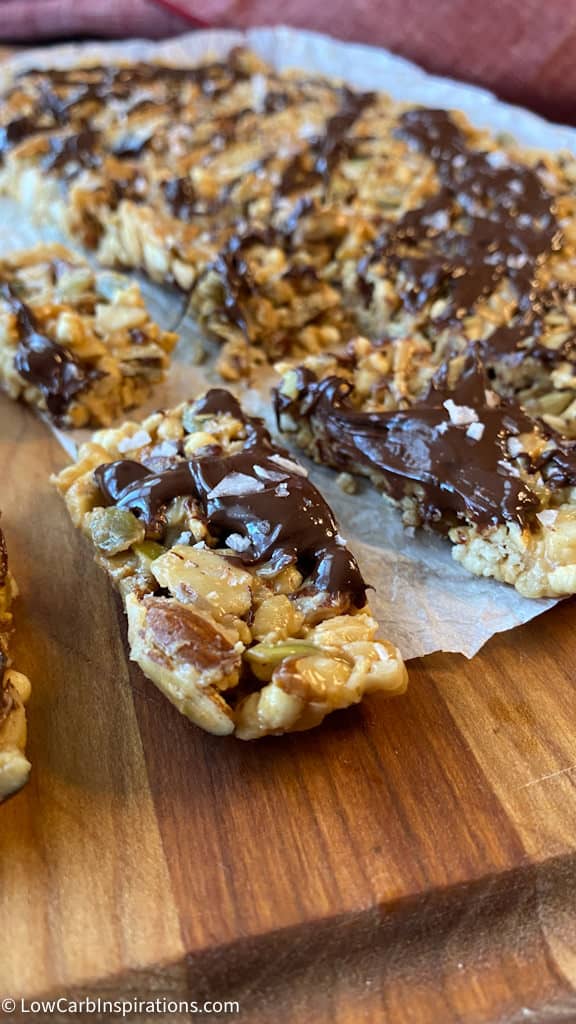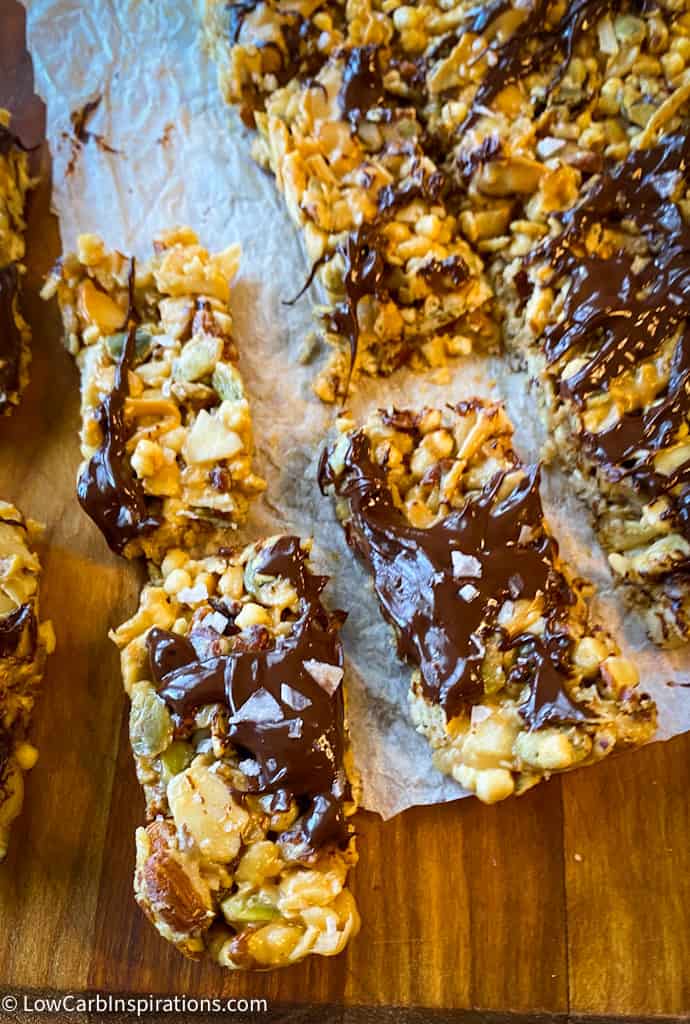 Chewy Granola Bars Nutrition Information

Serves 1 bar
Calories = only 86 calories and 2 carbs!
Serving: 1bar | Calories: 86 | Carbohydrates: 2g | Protein: 3g | Fat: 8g | Fiber: 1g | Sugar: 1g | Net Carbs: 1g
Grab the printable recipe card below.
New to Keto? Check out the Keto Starter Guide!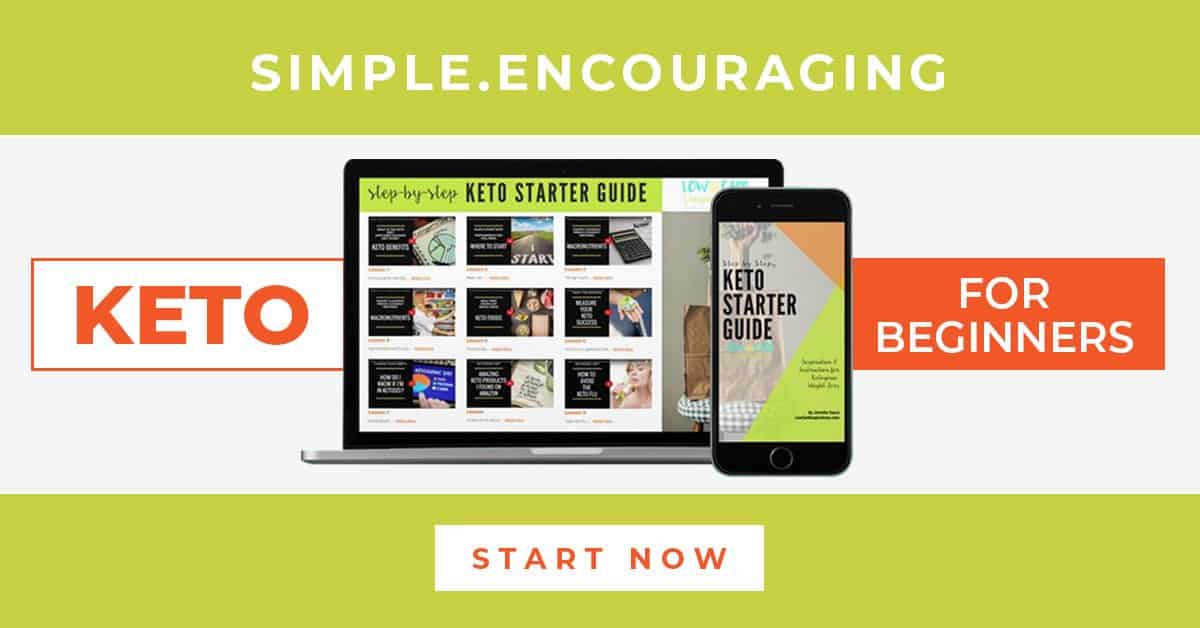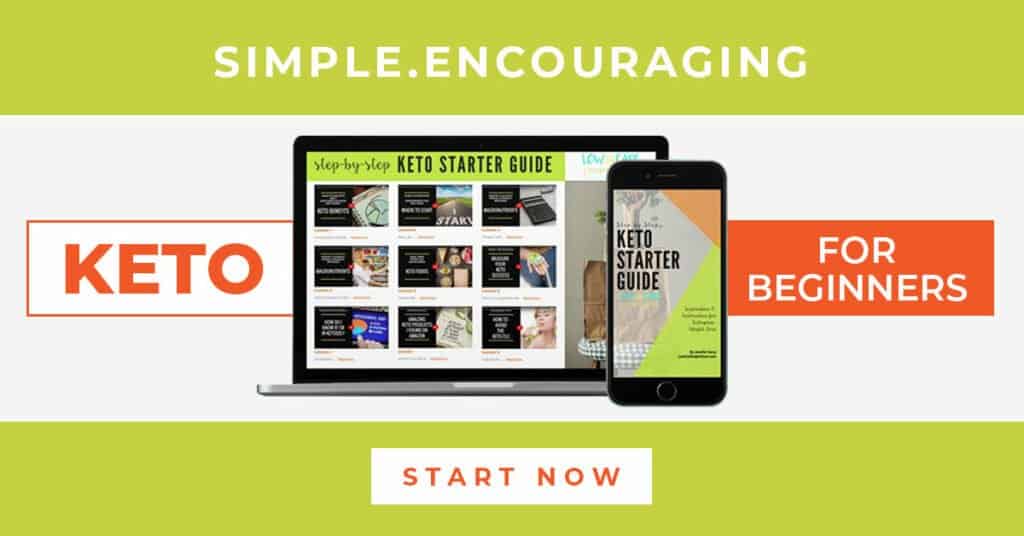 The Keto Starter Guide is an amazing resource as you get started on your keto/low carb journey. This guide has everything you need to get started in 9 simple video lessons and also includes workbooks with step by step instructions for beginners.
What's a macro and why do I count them?
How do I find the best recipes?
What is ketosis and how do I get my body there?
What fruits are allowed on a ketogenic diet?
Will I get "Keto Flu" and what do I do about it?
Get the Keto Starter Guide today!
Here's a printable version of this Chewy No Grain Granola Bars Recipe: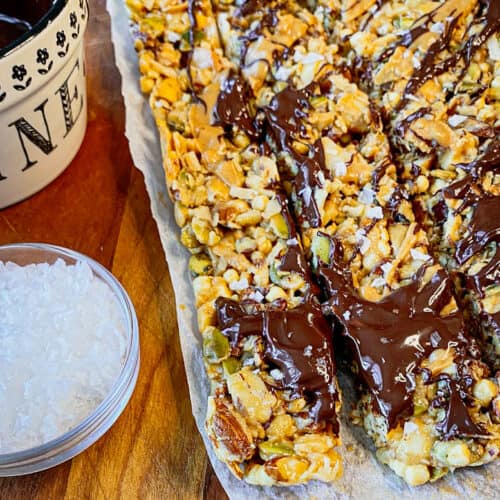 Chewy Granola Bars (keto friendly and low carb)
Best granola recipe with no grains at all!
Instructions
Line an 8×13 inch pan with parchment paper before you start.

Place the nuts, seeds,

protein puffs

and coconut flakes in a large bowl. Mix until combined.

In frying pan over low to medium heat, add the

Allulose

sweetener and water. Mix until combined and continue stirring until it boils. Stir it until it thickens slightly. You can test the thickness with a spatula. Press down on the spatula draw a line down the center of the

Allulose

mixture. If it goes back quickly as water would, it needs to be cooked a little longer until it's a bit thicker. You can also use a spoon and scoop a small mixture and let it drizzle back in the pan. If it drizzles slowly this is the consistency you want. If it's just like water, cook it a bit longer. The longer you cook it the stickier it will be.

Reduce the heat to a simmer. Add the butter and continue stirring. It will bubble up when you add the butter. Keep stirring until it's fully combined. Turn off the heat.

Sprinkle in the cinnamon and keep stirring until it's fully combined.

Pour the sugar mixture into the bowl of nut mixture and stir until fully combined while it's still very warm.

Quickly pour the mixture into the parchment lined pan and press firmly down until all the mixture sets evenly.

Cut into 28 even sized bars 2 inch bars.
Topping options:
You can add any or all of these toppings as your choice!
Chocolate Topping:
In a small coffee mug or microwave safe container, mix the sugar free chocolate chips with the

coconut oil

and microwave in 30 seconds bursts stirring in-between until the chocolate has fully melted. Stir and drizzle over the chewy granola bars.
Nut Butter Topping:
In a small coffee mug or microwave safe container, add the nut butter with the

coconut oil

and microwave for about 10 to 15 seconds until the butter has melted. Stir and drizzle over the chewy granola bars.
Notes
Awesome snack idea with low carbs and good protein!
Nutrition
Serving:
1
bar
|
Calories:
86
|
Carbohydrates:
2
g
|
Protein:
3
g
|
Fat:
8
g
|
Fiber:
1
g
|
Sugar:
1
g
|
Net Carbs:
1
g
Nutrition facts are provided as a courtesy. Have a question about our calculations or why you got a different result? Please read our
nutrition policy.