I made the most delightful keto roast beef sandwich ever! I swear, this tastes better than the high carb bread I used to eat before I went keto! This sandwich recipe is made with roast beef either leftover from dinner the night before or fresh sliced roast beef from the deli counter.
The trick to this recipe is to make an amazing bread that holds up to this hearty sandwich. There are two recipes that will hold up nicely. One is the Wonder bread chaffle recipe and the other is this version of chaffle bread made with cheese. If you need a keto bread recipe without cheese, try the wonder bread!
We used a mini dash waffle maker but you can use a large waffle maker also. We prefer the mini dash because it makes the perfect side sandwich bread.
The roast beef we used is thinly sliced deli meat from the deli counter. I wanna say it's a cajun spiced roast beef too. Any kind of roast beef sliced any way will do. If it's thick-sliced, you might need to heat up the meat before making a sandwich with it though. If you are making it this way, this technique will warm the thin-sliced meat just fine.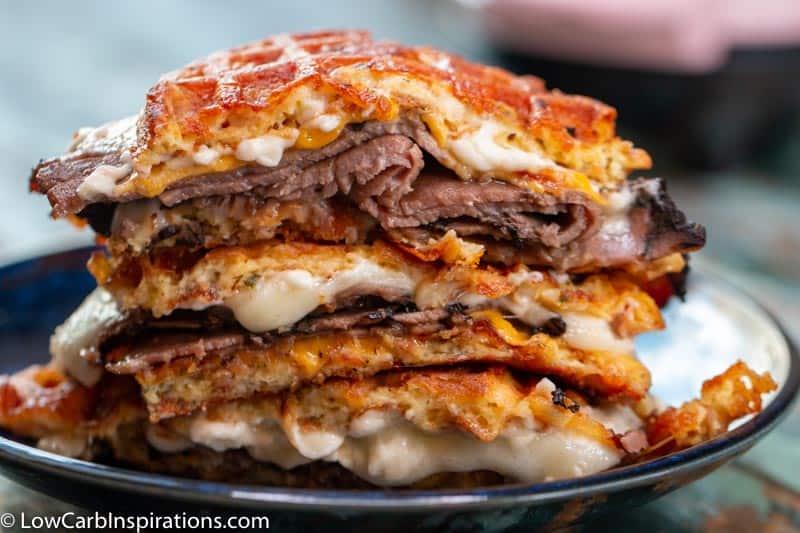 We are in love with the mini dash waffle maker. I own two of them so I can make multiple at the same time. I do own a large waffle maker but the bread comes out thicker than with the mini waffle maker. You can use either though. The trick to making sure the bread doesn't stick to the waffle maker is to NOT OPEN the waffle maker for at least 3 to 4 minutes while the chaffle is cooking. I can't tell you how many times I've seen someone in our Facebook Chaffle group open a waffle maker after only a minute of two and find a gooey mess! The cheese crust needs time to transform from gooey cheese to a nice crispy crust. We must practice patience when making our chaffles to make them perfect! Just set a timer and you should be good to go. This is what I always use Alexa for. You will often times find me in my kitchen blasting music on my echo as Alexa helps me with timing!
If you are not part of our Facebook Chaffles group, you are more than welcome to join it here: Facebook Chaffles Group
Please answer all the questions. (We won't approve anyone to join who doesn't have a profile picture or who doesn't answer the required questions)
Grab the best chaffles cookbook as a tool in your low carb or keto journey today! It's spiral bound and hardback! Grab your Keto Chaffles Recipes cookbook copy here!
Just look how amazing this sandwich is!!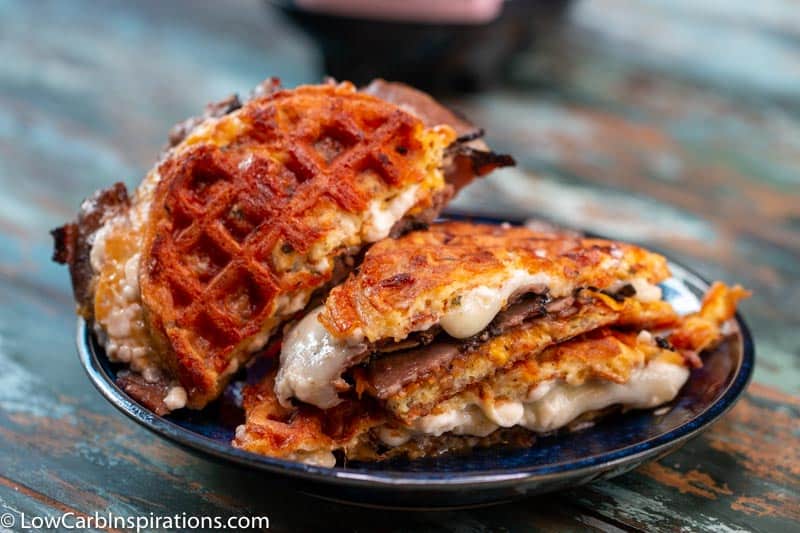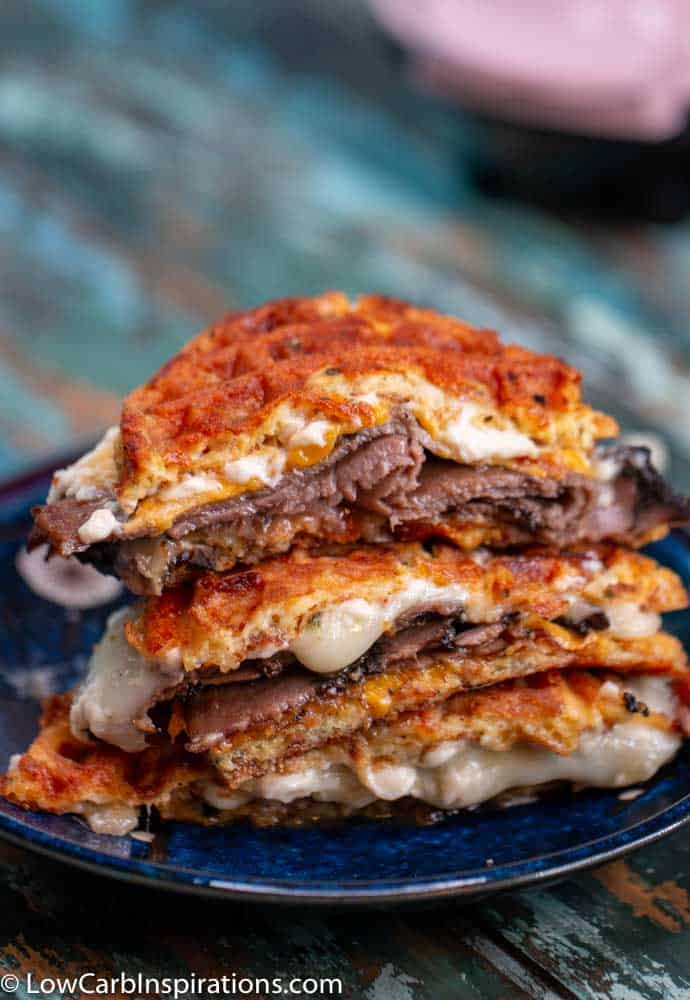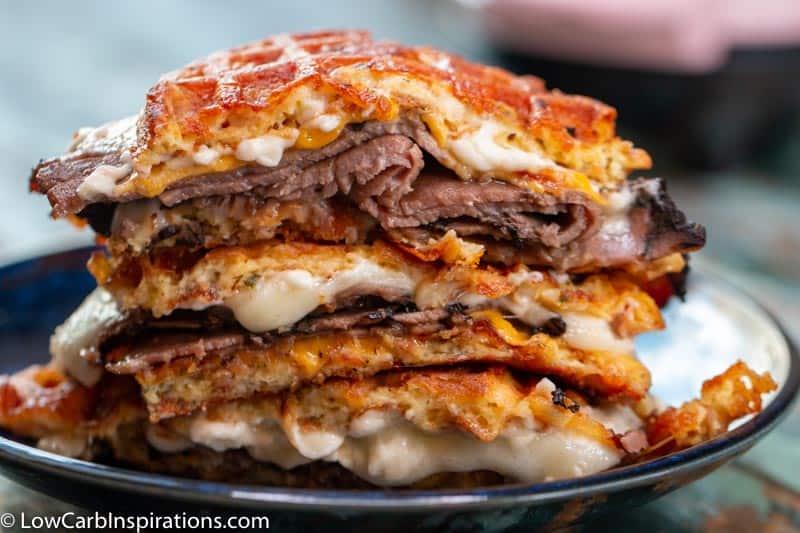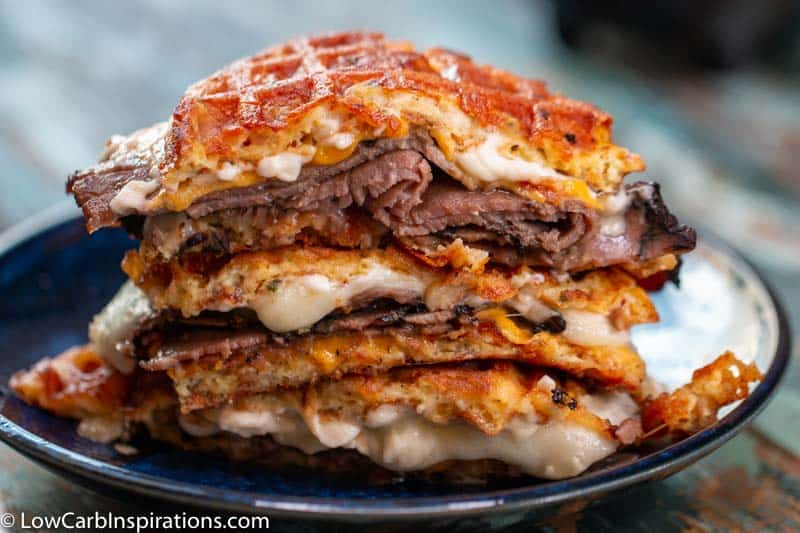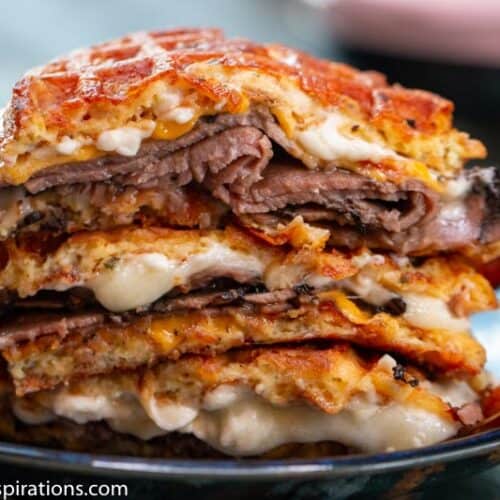 Roast Beef Chaffle Sandwich recipe
We have perfect the keto roast beef sandwich with just the right amount of seasonings paired with the perfect KETO BREAD!
Ingredients
Chaffle bread ingredients
Instructions
Roast Beef CHAFFLE SANDWICH INSTRUCTIONS
In a small bowl, whip the egg.

Add the cheese, seasonings, and egg. Mix it until it's well incorporated.

If you want a crunchy bread, add a tsp of shredded cheese to the mini waffle iron for 30 seconds before adding the batter. The extra cheese on the outside creates the best crust!

After the first chaffle is complete, add the remaining batter to the

mini waffle maker

and cook it for 4 minutes.

Extra step worth doing but optional:

You care going to make this sandwich just like you would a grilled cheese sandwich. This will melt the cheeses and heat the roast beef.

Heat a small frying pan and place a teaspoon of butter in it. Once the butter has melted add the prepared chaffle sandwich.

Cook on each side for about 2 to 3 minutes or until the cheese has melted.

Enjoy!
Notes
These nutrition facts are for the bread only
Nutrition
Serving:
1
sandwich
|
Calories:
156
|
Carbohydrates:
3.4
g
|
Protein:
24.4
g
|
Fat:
4.8
g
|
Fiber:
1.2
g
Nutrition facts are provided as a courtesy. Have a question about our calculations or why you got a different result? Please read our
nutrition policy.