Keto Pecan Clusters Recipe
We just made a fantastic Keto Pecan Clusters Recipe using allulose sweetener and it turned out perfect!! I'm so excited!
I've made this recipe before but it wasn't chewy or caramel like because the sweeteners just didn't act like real sugar until allulose came along.
You start off caramelizing the sugars, almost like making caramel, except you add all the ingredients together in the beginning. I will show you in detail below. It's all about the consistency of the boil sweetener as to how chewy and sticky it will become.
Allulose is almost just like sugar but there are some differences. The first, and most important difference for a keto person, is that it has no glycemic index and it is a zero calorie sweetener. This makes allulose perfect for the keto lifestyle.
The other difference is that is caramelizes similar to sugar. It's will get thick and hard when it cools depending on how long it's cooked for. There is one problem and one major difference though… it doesn't stay hard so you cannot make a hard candy with allulose. It tends to absorb liquid around it. This will tend to soften the sweetener after it hardens because of the hygroscopic nature of allulose.
We did make theses Keto Pecan Clusters and they did solidify but after a few hours you they can become mushy if you don't keep them refrigerated. We sealed them in a ziplock baggie to preserve the consistency.
Allulose is about 70% as sweet as real table sugar which is nice because when you go keto your taste buds really change and sweet recipes can often be way too sweet for your taste after time.
Check out TikTok video to see the full process and video showing the caramel consistency. The consistency of the coating is the most important step. You must get that part right.
TIKTOK VIDEO: https://vm.tiktok.com/ZMJn9qNts/
Here are a few photos we took of our Keto Pecan Clusters Recipe!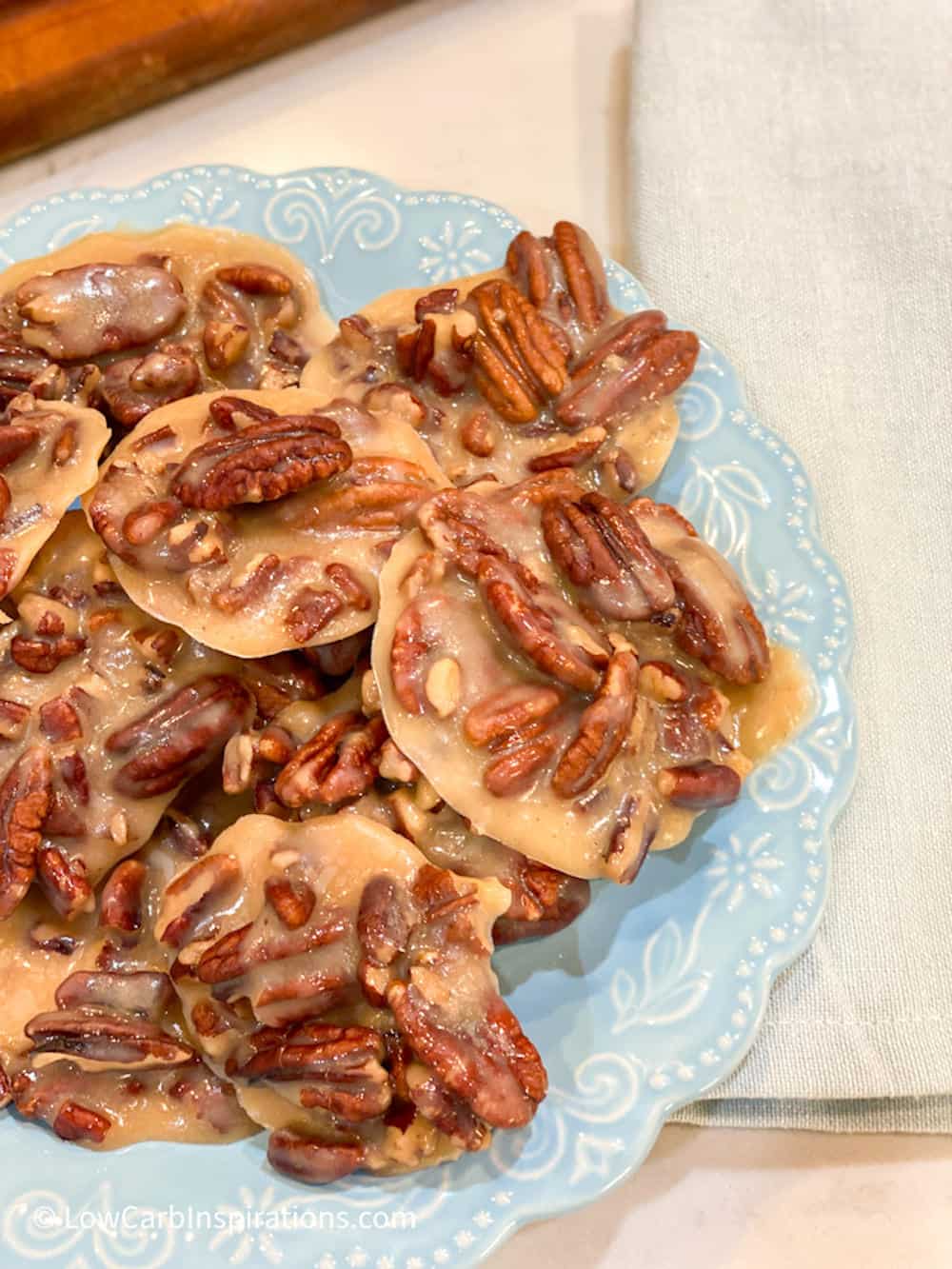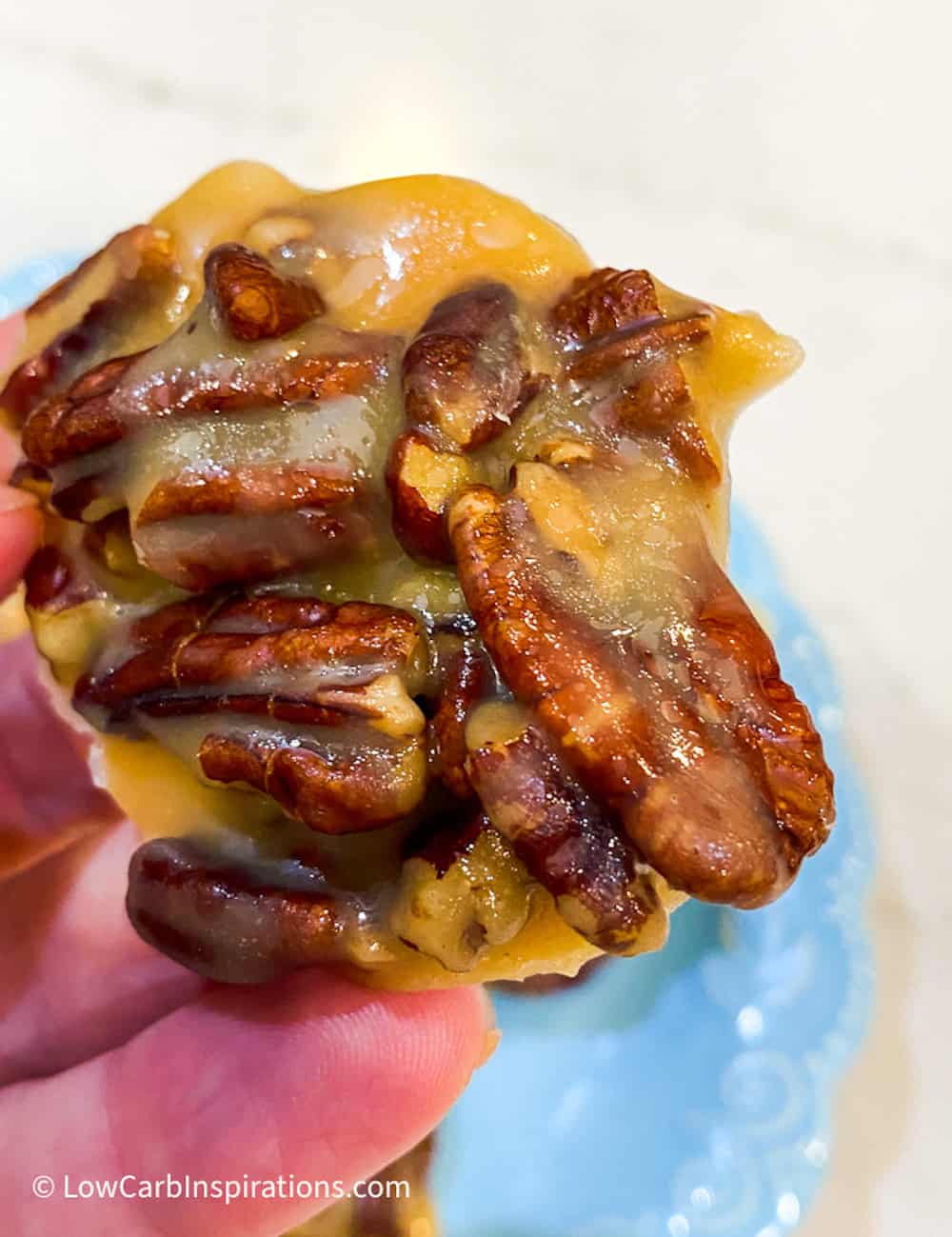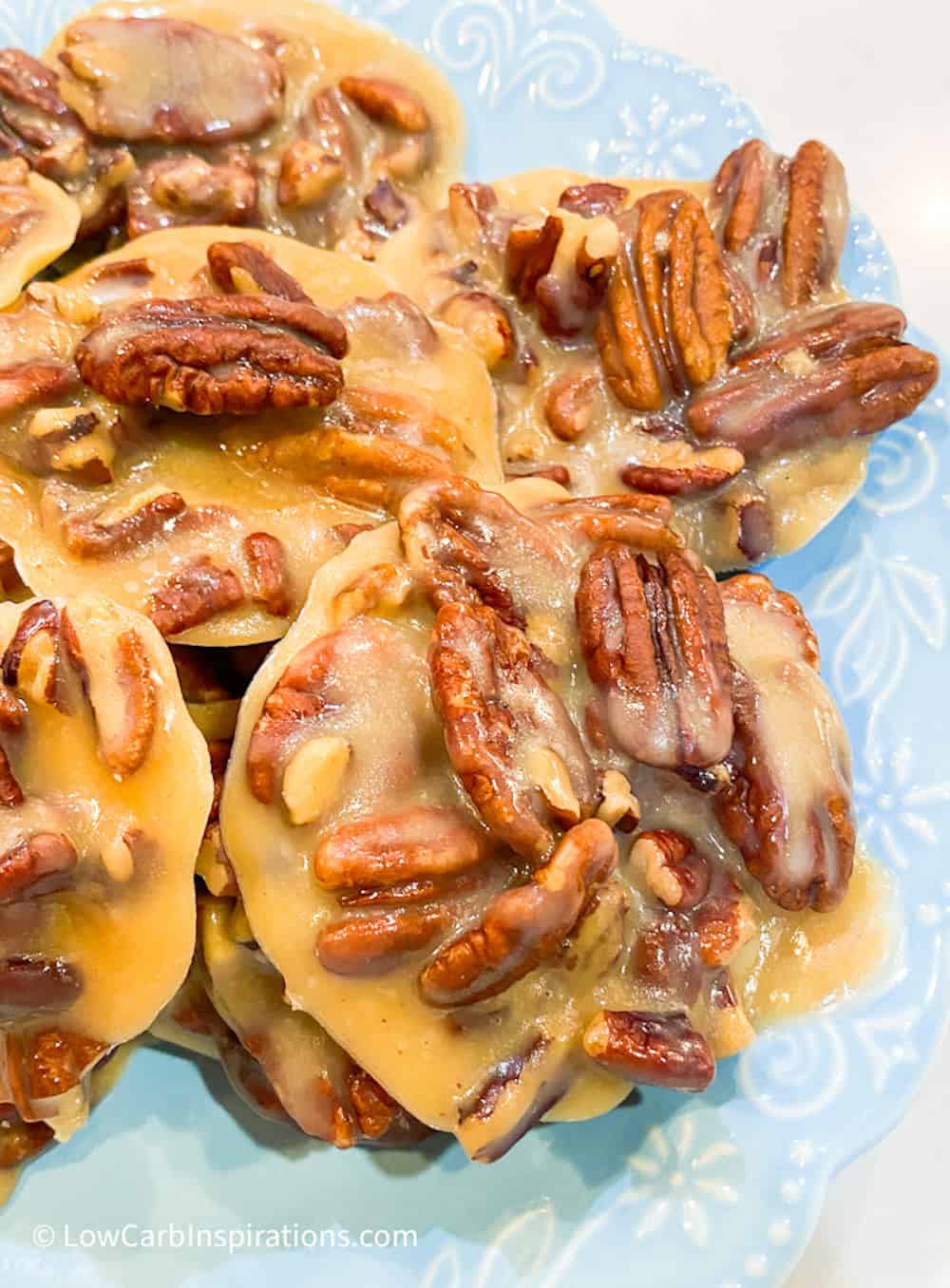 Keto Pecan Clusters Recipe Ingredients:
1/4 cup butter
1/2 cup heavy cream
1 tsp vanilla
3 tbs Allulose sweetener
1 cup pecans
Keto Pecan Clusters Recipe Instructions:
Get the full recipe instructions in the recipe card below.
Printable recipe card for our Keto Pecan Clusters Recipe: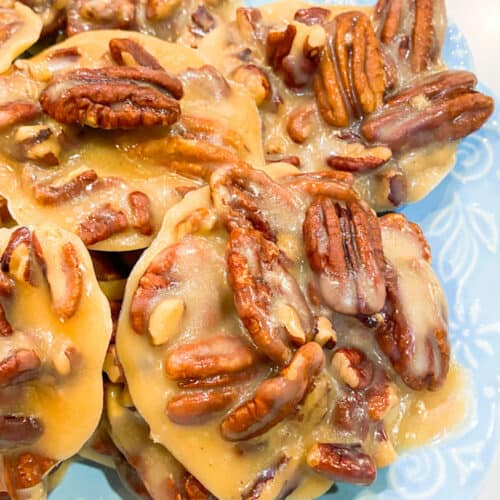 Keto Pecan Clusters Recipe
Delicious sugar free dessert idea for anyone who does the keto diet plan!
Instructions
Add butter, cream, sweetener, and vanilla to a medium sauce pan. Cook over low heat, constantly stirring, until it comes to a boil and becomes thick and caramel colored.

This will take about 7 to 8 minutes.

Add pecans and stir until well combined.

Spoon into parchment paper or a silicone mat.

Allow them to cool in the refrigerator.

Enjoy!
Notes
Divide the batter into equal parts to create the clusters.
Seal in a ziplock baggie and refrigerate to keep.
Nutrition
Serving:
1
g
|
Calories:
61
|
Carbohydrates:
1
g
|
Protein:
1
g
|
Fat:
6
g
|
Fiber:
1
g
|
Sugar:
1
g
Nutrition facts are provided as a courtesy. Have a question about our calculations or why you got a different result? Please read our
nutrition policy.