White Castle Burgers Copycat Recipe
Just wait until you taste the best burgers on the planet made with keto dinner rolls! They are super tasty! Easy to make! And oh, so juicy!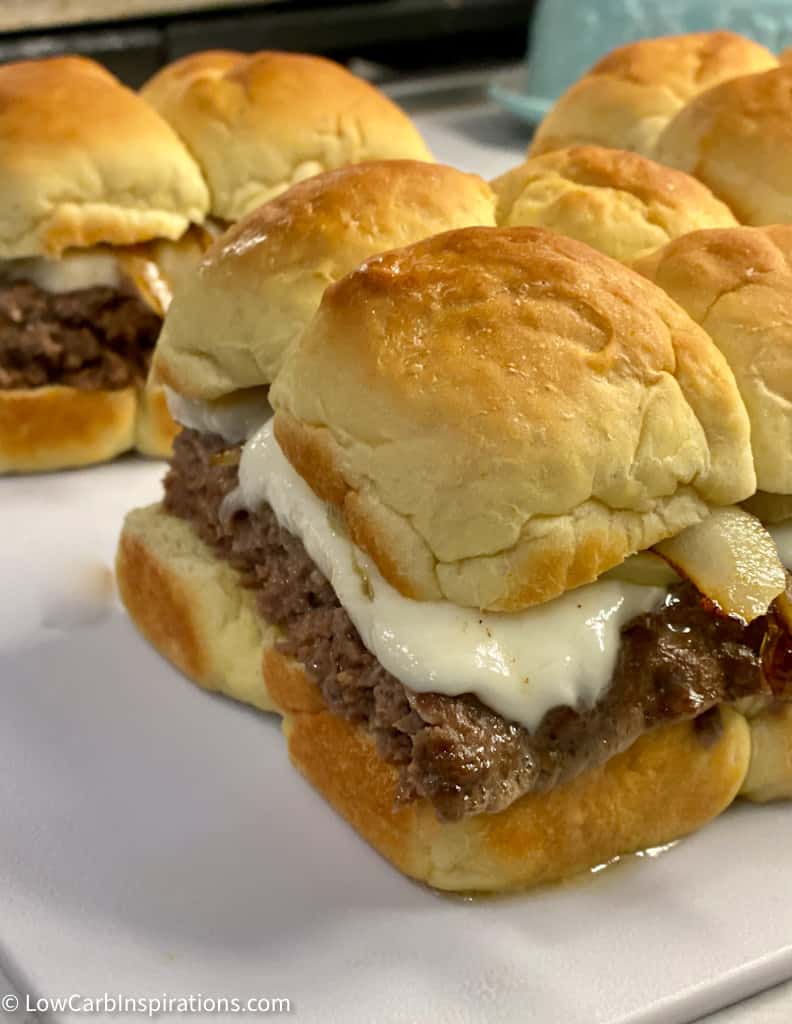 Frequently Asked Questions:
What dinner rolls are you using?
These are keto friendly dinner rolls made by Lewis Bake Shop Hawaiian Keto Dinner Rolls in their Healthy Life section.
Where can I purchase those keto dinner rolls?
You can purchase them at your local Brookshire Brother's grocery store or online. I found them here in Texas. I'm really hoping they will start selling on Amazon because I ordered from their website and the price for shipping was insane.
What is the net carb count on this keto bread?
This bread is mainly made with resistant wheat starch. This means it is not digested by our bodies. It has only 1 net carb total!
What is resistant wheat starch?
Resistant wheat starch is a starch that is not digested by the human body. It has been proven to help aid in weight loss and hormone balance even though it isn't digested.
What does this keto bread taste like?
To be honest, you wouldn't even know the difference from regular dinner rolls! They are that good! I'm seriously impressed. My oldest, is my very picky eater and she was shocked when I told her they were keto friendly because she refuses to eat any bread labeled "keto" because of the texture or density of the breads on the market.
Would you buy this bread again?
Yes! Yes, I would. I probably won't make it a regular purchase only because of the price but when I pass by a Brookshire grocery store you can bet I will be stopping in to purchase some of this bread.
What other keto friendly bread options are there?
You can make your own Keto Friendly Hawaiian Dinner Rolls from this recipe here. You can also purchase other Lewis Bakeshop keto breads such as hot dog buns, hamburger buns, white bread and Hawaiian bread too! I think my favorite is the Hawaiian keto bread personally.
Why do you add peanut butter to this recipe?
The peanut butter is hardly noticeable in this recipe but it creams a nice texture and helps these hamburger patties to form and stick better. It also adds a slight flavor that is pleasant too!
Is resistant starch keto friendly?
Yes! Yes, it is! Remember, no food in particular is keto but rather how the food reacts to your body that keeps it in ketosis or kicks you out.
Is wheat resistant starch good for diabetics?
Yes, it helps people with diabetes better manage their blood glucose levels. Blood glucose levels tend to rise less quickly and not as high after meals high in resistant starch compared to normal foods with high carbohydrate in them. Managing your glucose spikes is key.
Why we love this Keto White Castle Burgers Copycat Recipe (and you will too!)
This recipe is a great way to cook a lot of burgers on a sheet pan with very little fuss!
Easy recipe for a large group of people!
Makes for excellent left overs!
Easy high protein and low carb meal that includes bread that tastes like REAL bread!
Loaded with flavor!
And the best reason is because they are super easy to make!
Ingredients needed to make this Keto White Castle Burgers recipe:
Grab the printable recipe card below for the full recipe instructions.
Quick Recipe Overview
Why this is the BEST Copycat burgers recipe on the planet:
Easy to make and loaded with flavor!
Makes 12 mini burgers at the same time without standing over a hot grill!
Takes only about 5 minutes to prep this meal and pop it in the oven!
All you need is a sheet pan to cook the burgers! SO EASY!
And finally, Low carb at only 3 net carbs per slider and high protein at 19 grams per serving!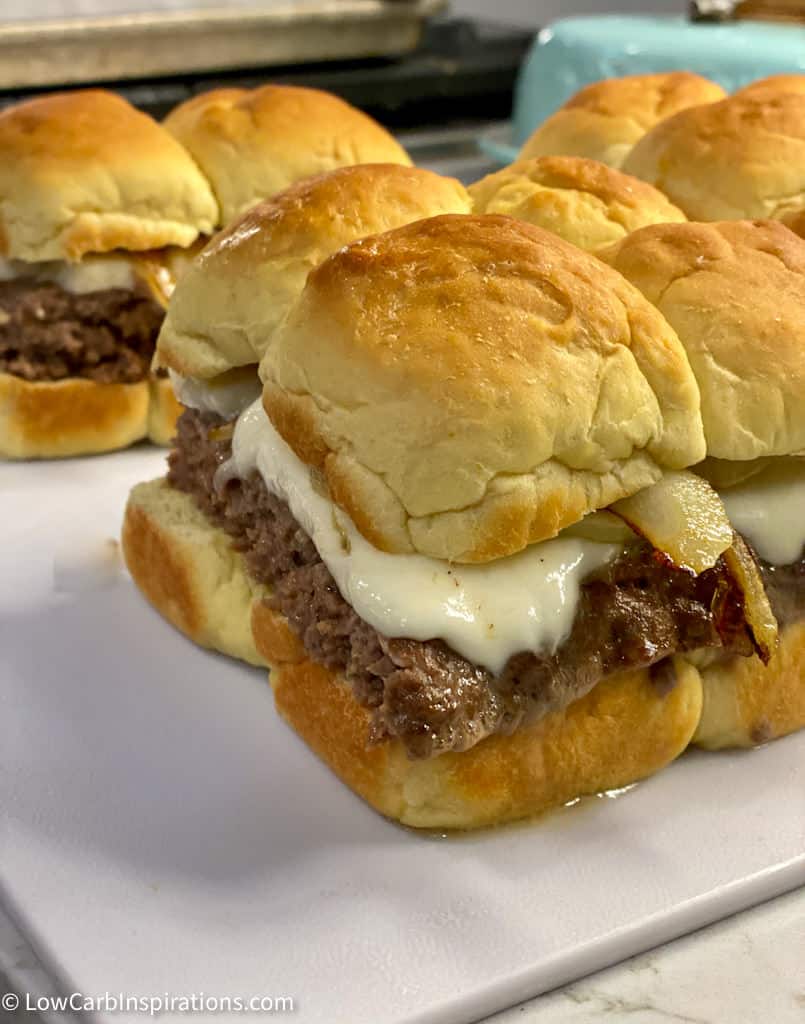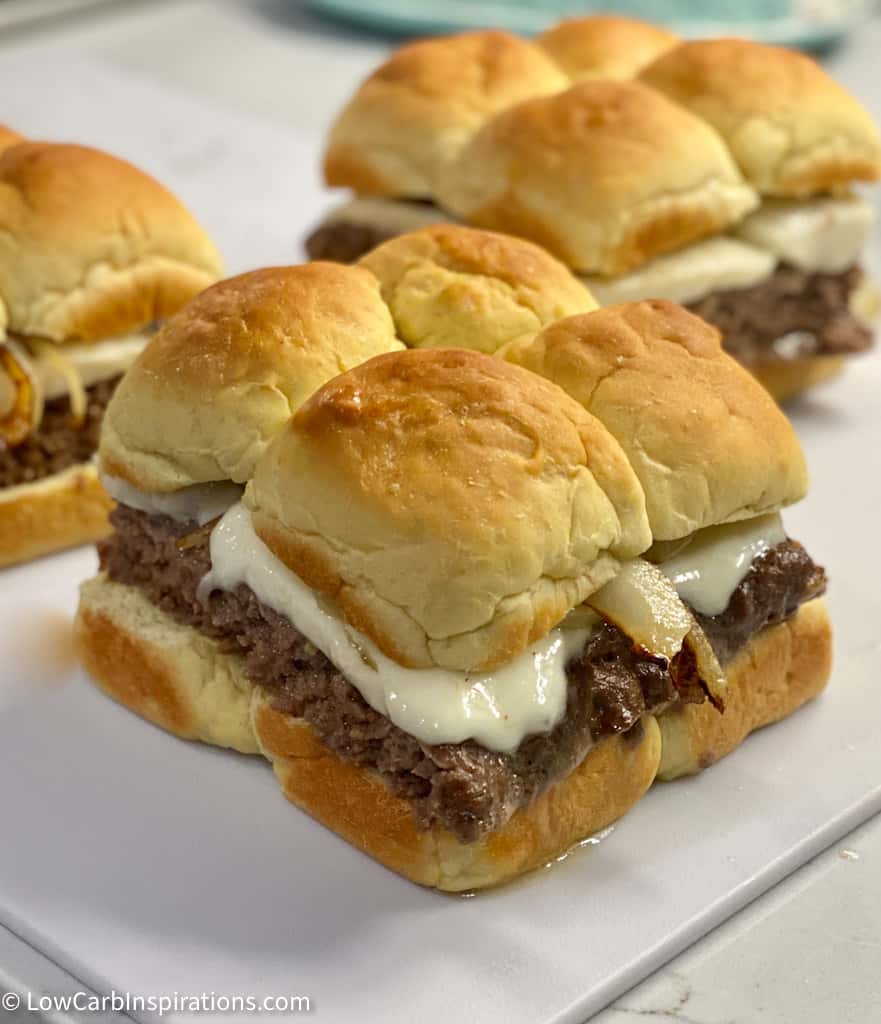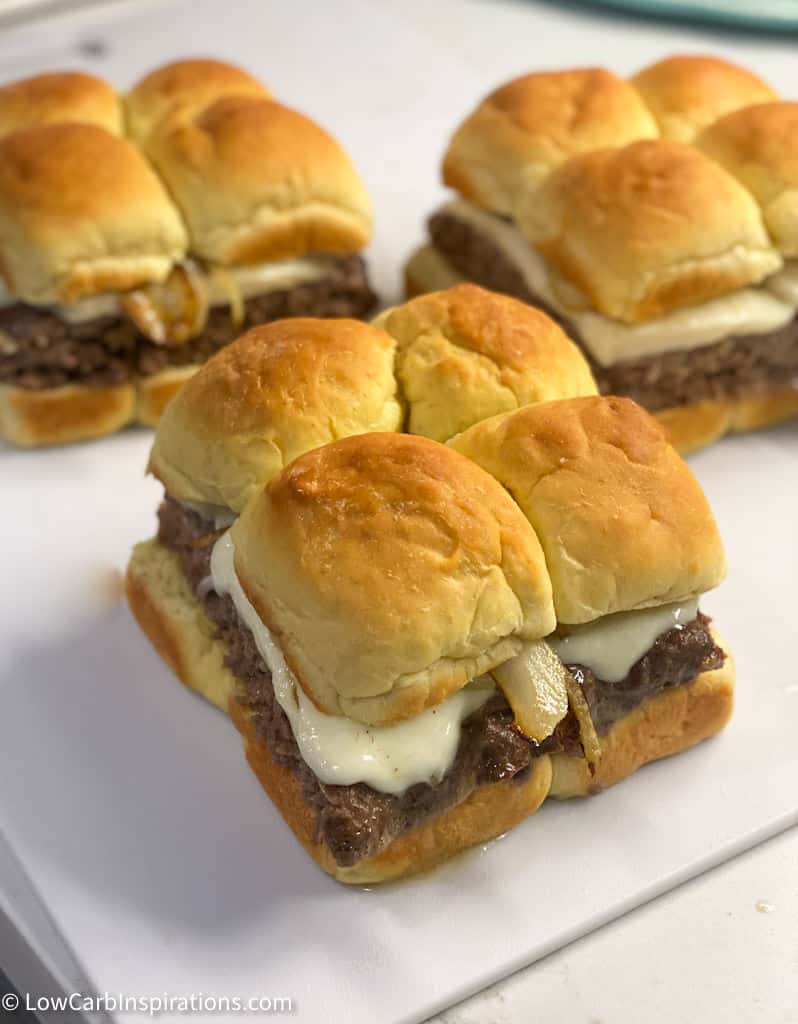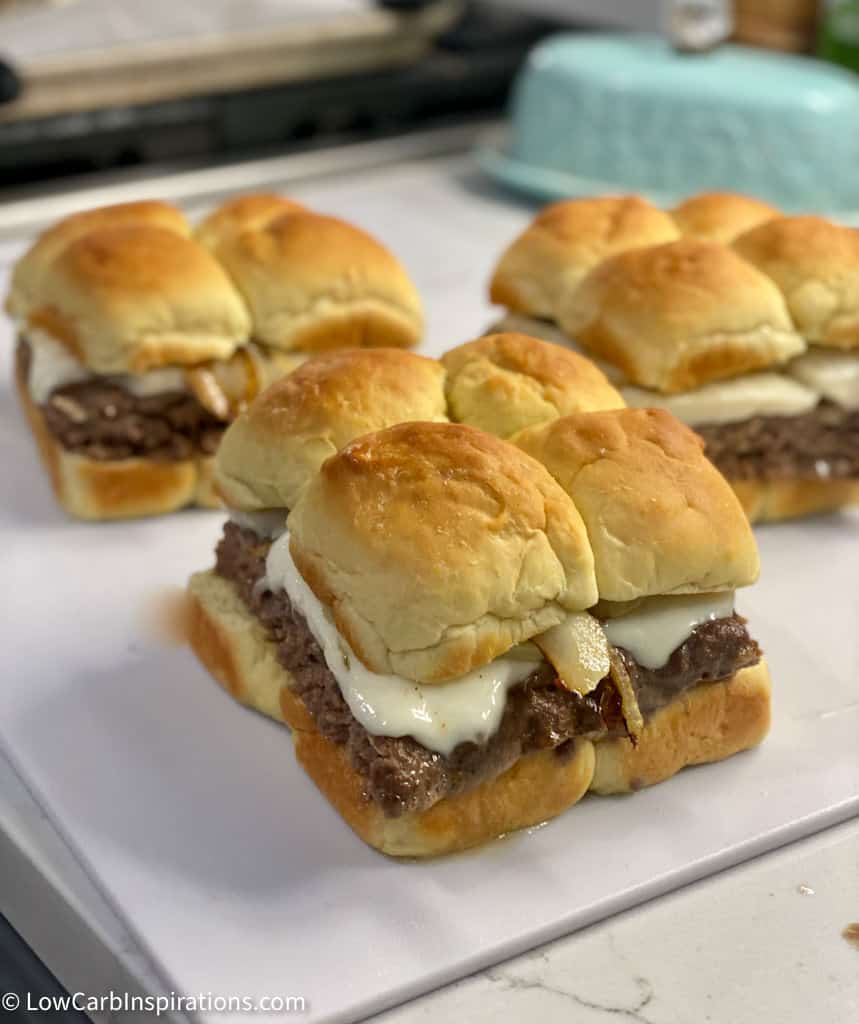 Printable Recipe Card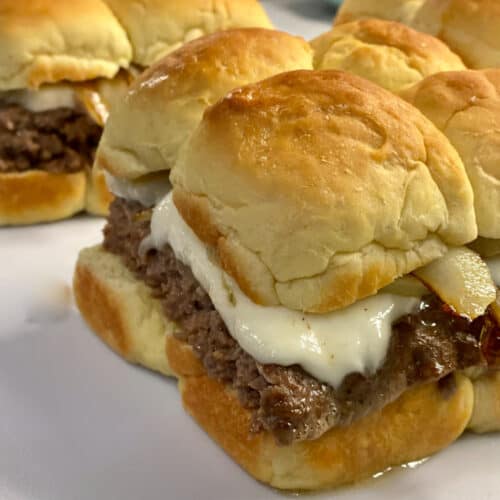 Keto White Castle Burgers Copycat recipe
Best sheet pan burgers ever and they are easy to make!
Instructions
Add ground beef and ground turkey to a large bowl.

Mix until fully combined.

Lay a large sheet of parchment paper on a baking sheet.

Spread the meat mixture over the parchment paper until it's about 1/2 inch thick.

Bake on 350 degrees for about 25 to 30 minutes or until the meat is fully cooked through.

Slice the onion, if using.

Saute the onion over medium heat in a frying pan until it's golden brown. Set aside.

Lay out the low carb bread or buns (12 mini count or 6 slices of keto bread)

When the burger meat has finished cooking use two spatulas to remove the rectangle meat layer and place it on your low carb bread or buns.

Cut the cook meat into patties the shape of your bread choice.

Quickly add the slices of cheese to the top of the hot burger patties so it has time to melt.

Spread the sautéed onions over the cheese and layer with pickles, if using.

Add the bread toppings to the sliders and serve warm.
Notes
If you are prepping meals don't layer on the bread until you are ready to consume the burgers. Prepackage in layers to reheat the burger patty separately when using.
Keto Dinner rolls are not included in this calculation. If you use the Lewis Bake Shop dinner rolls you will add 1 net carb to the total making it only 3 net carbs and 19 grams of protein for each slider!
Nutrition
Serving:
1
g
|
Calories:
216
|
Carbohydrates:
2
g
|
Protein:
19
g
|
Fat:
15
g
|
Fiber:
1
g
|
Sugar:
1
g
|
Net Carbs:
1
g
Nutrition facts are provided as a courtesy. Have a question about our calculations or why you got a different result? Please read our
nutrition policy.