Keto Grilled Radishes made on the Blackstone Griddle Grill
Wanna know the best replacement for potatoes when doing the keto diet? It's radishes! Let me show you how we do Keto Grilled Radishes made on the Blackstone Griddle Grill!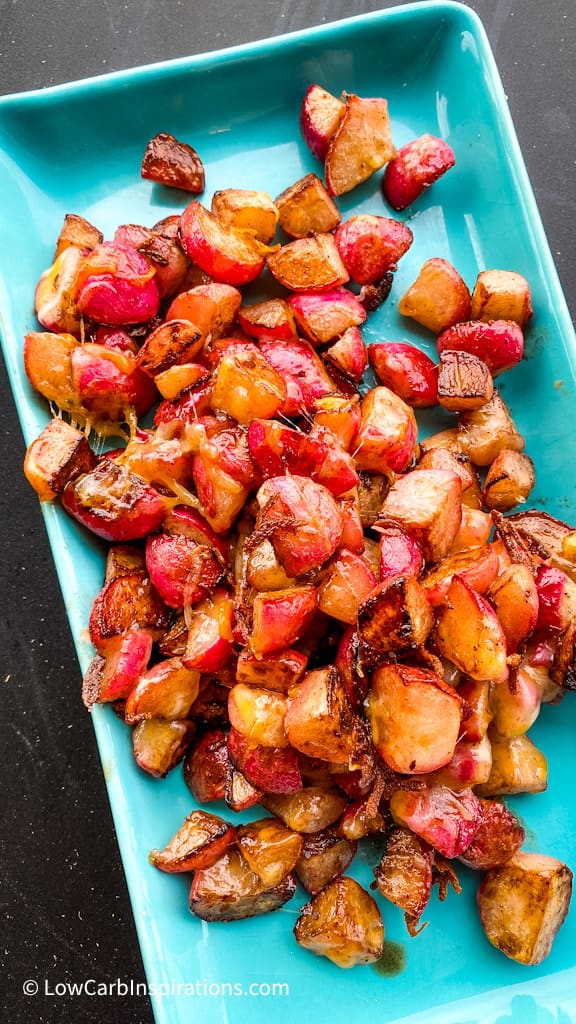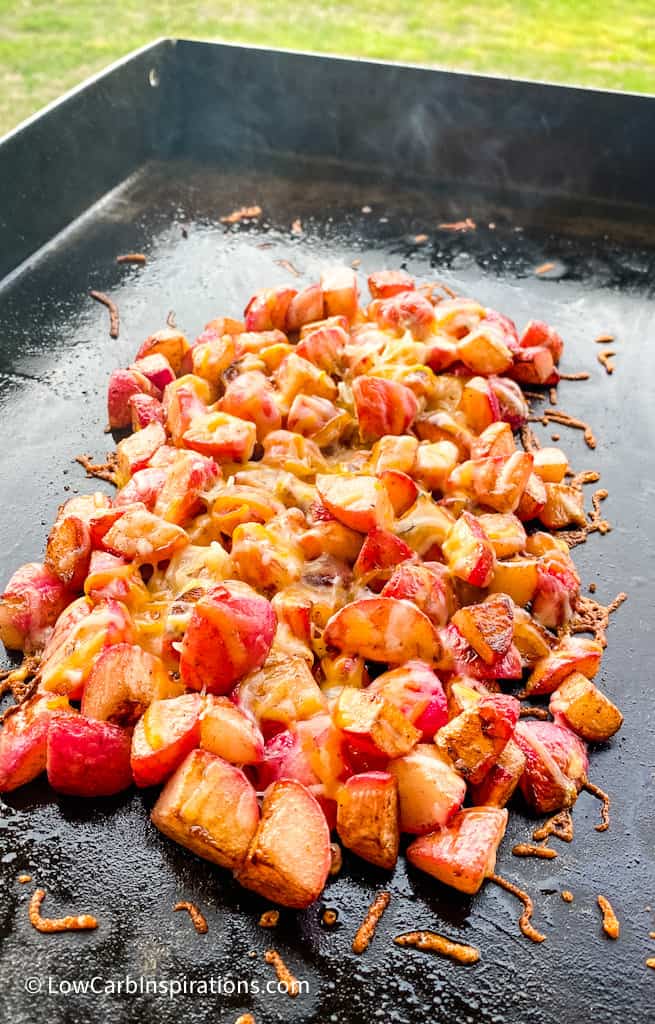 First, let me just tell you that if you've tried radishes when they are raw and you dislike the bitter taste, it's not the same once they are cooked. Promise!
Radishes actually have the taste and texture of a potato after it's been, roasted, grilled, or even fried. The bitterness of the raw radish is completely gone.
Take it from someone (me) who won't eat a raw radish. In fact, it took me forever to even try to buy radishes because I honestly hate them. Yes, hate!
I bet you fall in love with radishes just like I did. We learned this little trick more than 4 years ago when I first started keto. I added them to my Copycat Keto Zuppa Toscana Recipe. We added raw radishes in the soup mixture to replace the potatoes that are normally in that Olive Garden recipe. It worked! My husband didn't even know a difference.
We also used radishes in our Keto Slow Cooker Mississippi Pot Roast too! If you haven't tried that recipe, you should!
After that experience, I fried them in a frying pan over the stove top with coconut oil and loved them that way too. The key is to add your favorite seasonings. My kids love Ranch seasoning so we do that often too. Anything to get the kids to eat healthy works for me.
Grilled Radish or Potato Seasoning Combination Ideas:
Garlic and butter
Rosemary and sea salt
Thyme and Olive Oil
Parmesan and Garlic
Italian seasoning with Parmesan cheese
Loaded Potatoes with shredded cheese, sour cream and bacon bits
Sour Cream and chives
Dill and sea salt
Oregano and lemon
Parsley and butter
Greek lemon and garlic
Turmeric, chili and garlic
What do grilled radishes taste like?
They really do take on the taste of a potato with a slightly mild turnip or root vegetable taste. They do not have the same aggressively bitter taste as they are raw.
Are grilled radishes the same as roasted radishes?
No, they technique for cooking them are completely different. Grilled radishes have a more smoky taste while roasted radishes have a more caramelized taste. Both are equally fantastic.
How do you make grilled whole radishes?
Radishes tend to be very hard and cooking them whole can be very difficult on the grill without blackening the outsides of the radishes. I would highly suggest boiling the radishes for about 5 minutes before grilling them whole. Boiling them will allow them to cook more evenly on the grill. You can place them over the stove top to boil them in a water or you can boil them in the microwave in a bowl of water also. I usually make sure the radish is somewhat soft before grilling them whole on a skewer.
What to do with radishes from the garden?
Radishes from the garden are the best! I wash them and trim them first. Then I grill them on my Blackstone griddle grill just as I did in this recipe! I find it easiest to quarter the radishes and cook them on the grill to be my favorite. My second favorite is roasting them on a sheet pan in the oven.
Can you make air fryer radishes?
Yes! You can cook them whole or quartered in the air fryer. The size of the radish will depend on the cooking time. For whole radishes, I find that cooking them at 400 degrees for about 15 to 17 minutes works perfectly. Be sure to coat them with oil and seasonings before cooking them in the air fryer.
I've also noticed some air fryers are hotter than others depending on the brand and the size. Please refer to your air fryer manual for suggested cooking times. If they don't have radishes on the chart, I would start with a small potato setting.
How to make sautéed radishes?
I start by slicing my radishes into 1/4 inch slices. By having the radishes all the same size, it makes the cooking time easier. You can dice them also. Start by warming the frying pan with a tablespoon or two of olive oil or avocado oil. Them add the prewash and cut radishes. Sauté until tender. I love to add a small amount of onion and garlic to sautéed radishes too! It should only take about 15 minutes to sauté radishes over medium heat.
Can I make this Keto Grilled Radishes Recipe on a regular grated grill instead?
Yes, you can but I would coat the radishes with the oil and seasonings before hand. Then I would use a grill basket to cook them in so they don't fall through the grates.
Can I do this same recipe in the oven?
Yes! I would coat the radishes with olive oil and seasonings and spread them out over a sheet pan and bake them at 375 degrees until tender which should only take about 20 to 25 minutes.
Keto Grilled Radishes Recipe Ingredients
16 oz Radishes
2 tbs olive oil
1 tsp fresh rosemary (or any of your favorite seasoning combinations listed above)
1 tsp pink salt
Equipment
Blackstone Griddle grill (or you can do the same technique on the stove top in a frying pan)
Grill spatula
Cutting board
Knife
Serving tray
Keto Grilled Radishes Recipe Instructions
The full recipe instructions are listed in the printable recipe card below.
Keto Grilled Radishes Recipe Nutrition
Serves 4
Calories 76, Total C 3g, Fiber 1.6g, Net C 1.4g, Sugars 0g, Fat 7.1g, Protein 1.2g
Here are a few photos we took while making grilling radishes on our Blackstone griddle grill: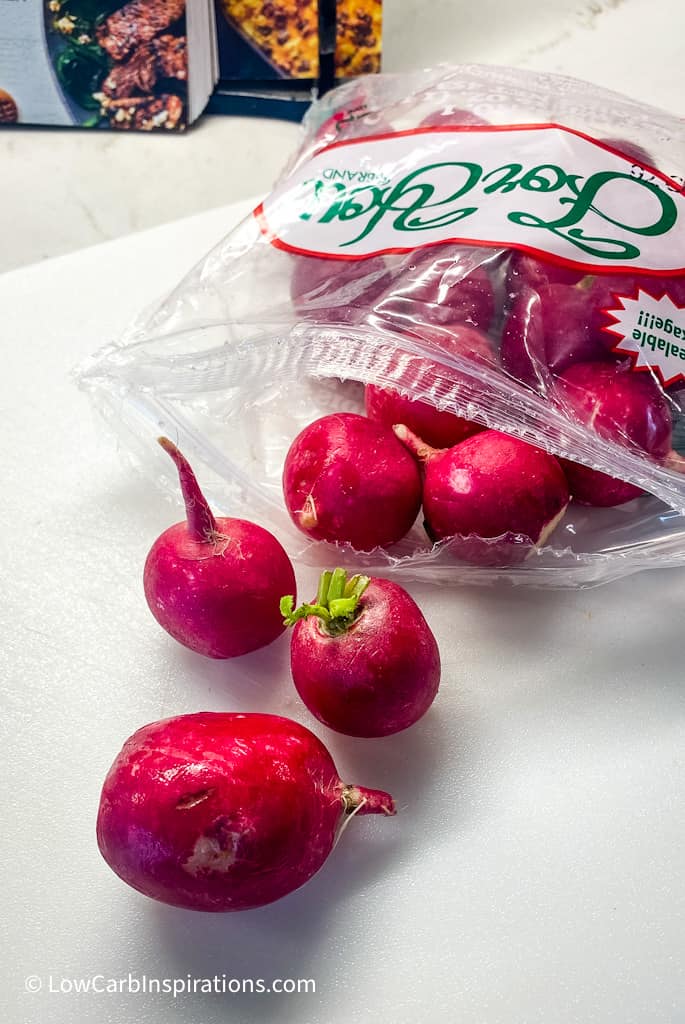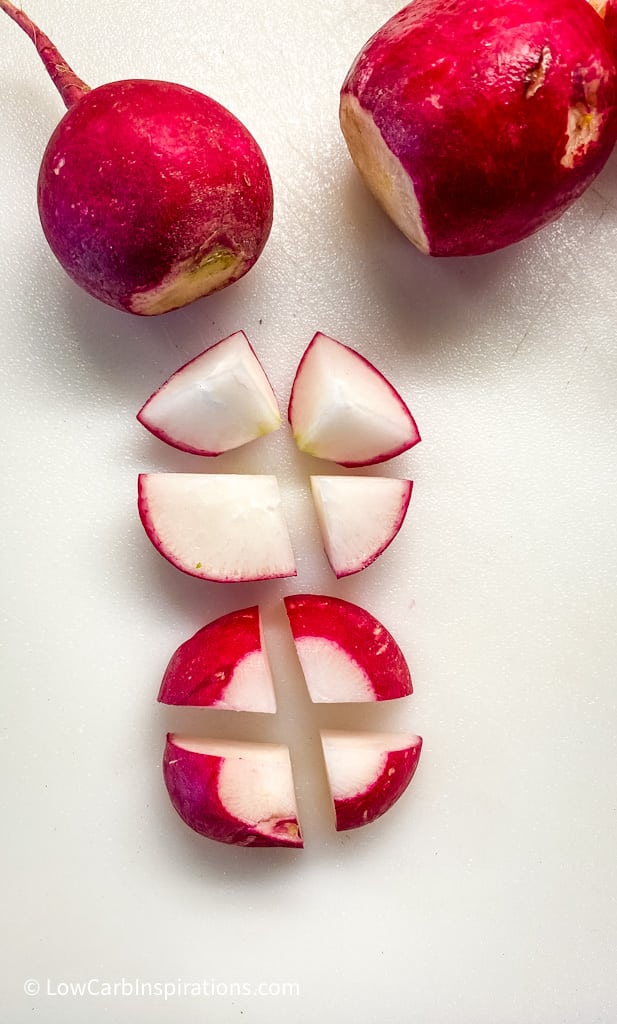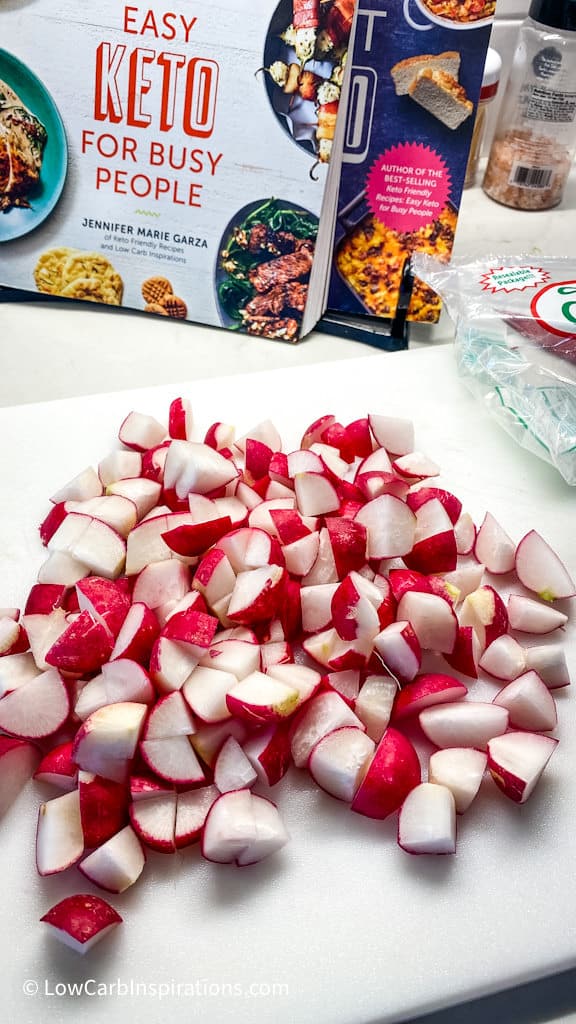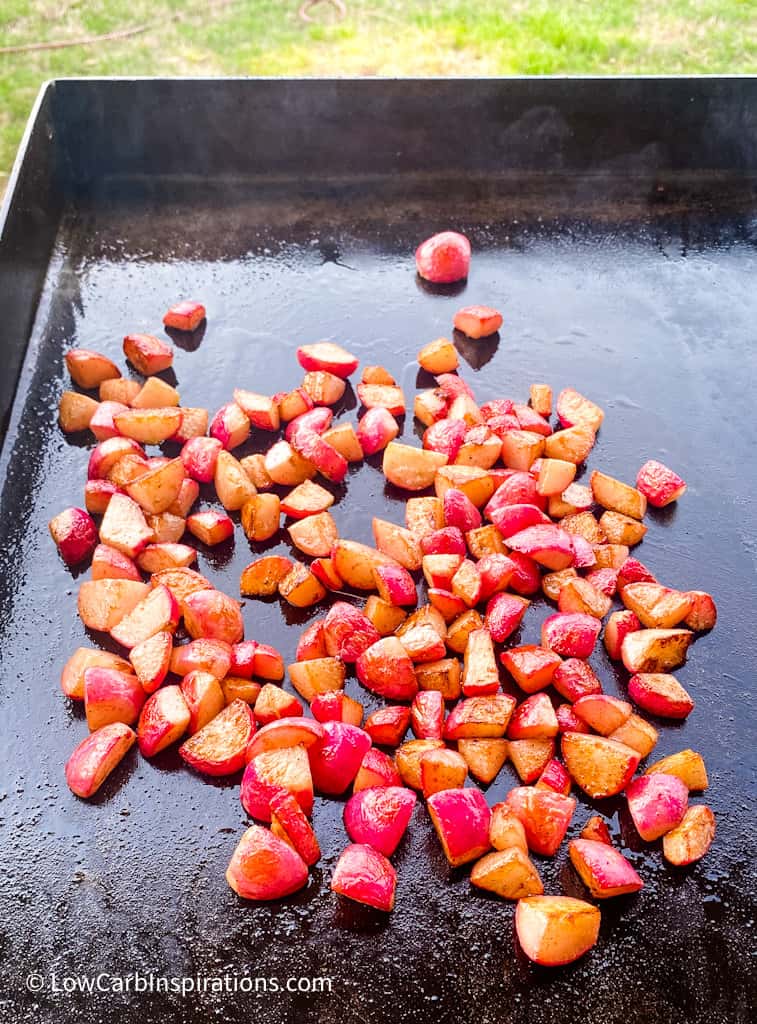 This is the equipment we use. You don't need a grill cover but you will need a spatula and I highly suggest a big sturdy spatula just like we have. The rectangle cooking dome can be found on Amazon. This is the exact rectangle cooking dome I purchased that fits my 36″ Blackstone grill perfectly. I use it often too!
I purchased the one with the plastic handles so it wouldn't be hot to touch and I'm glad I did. It never gets hot and it works perfectly!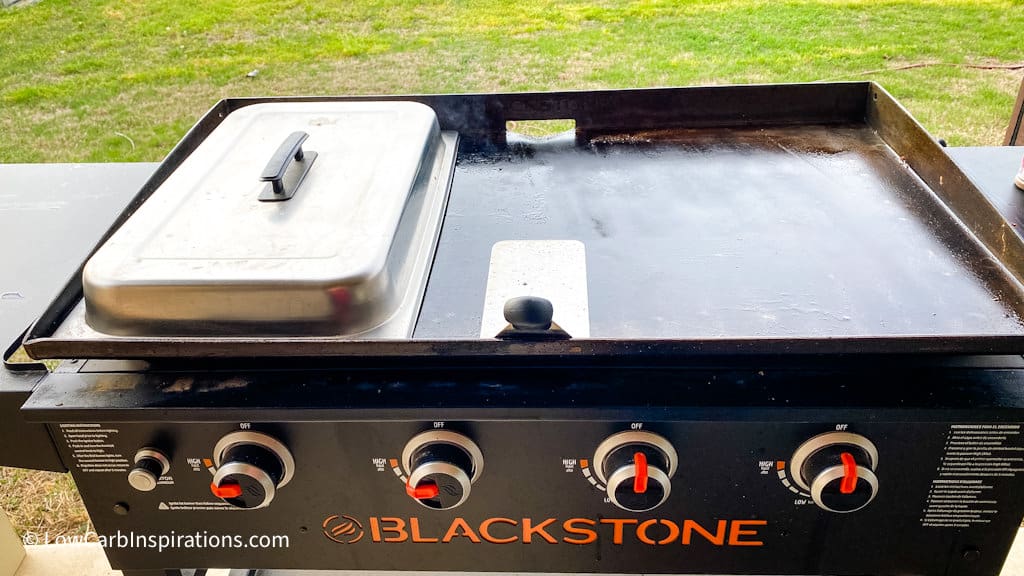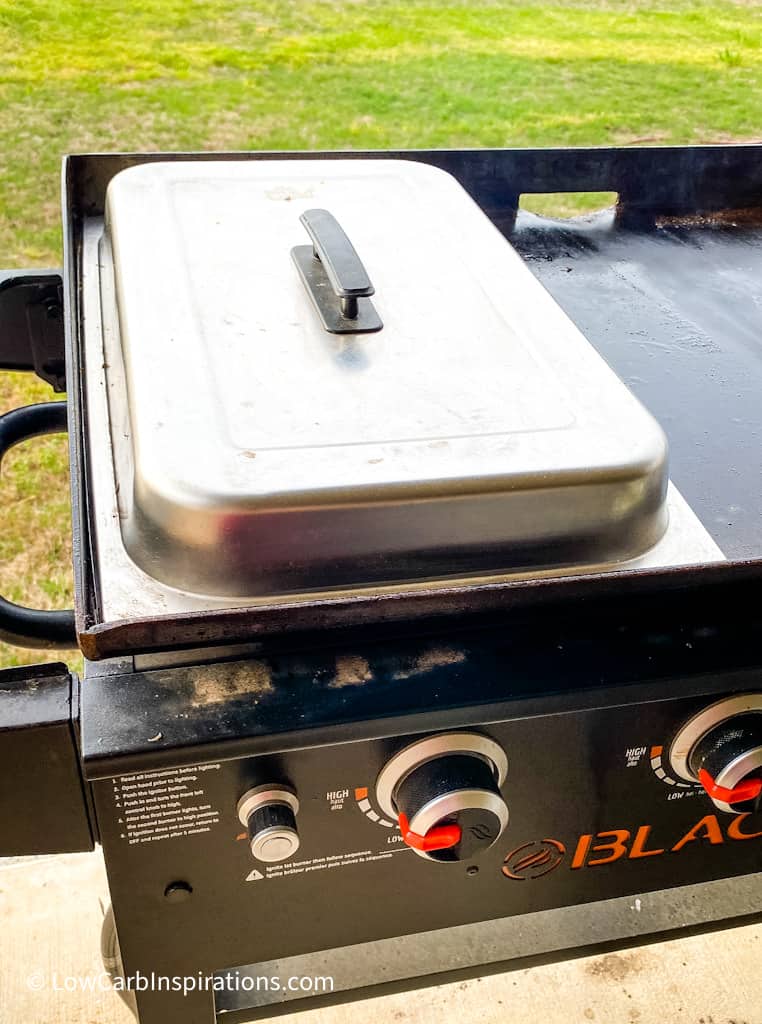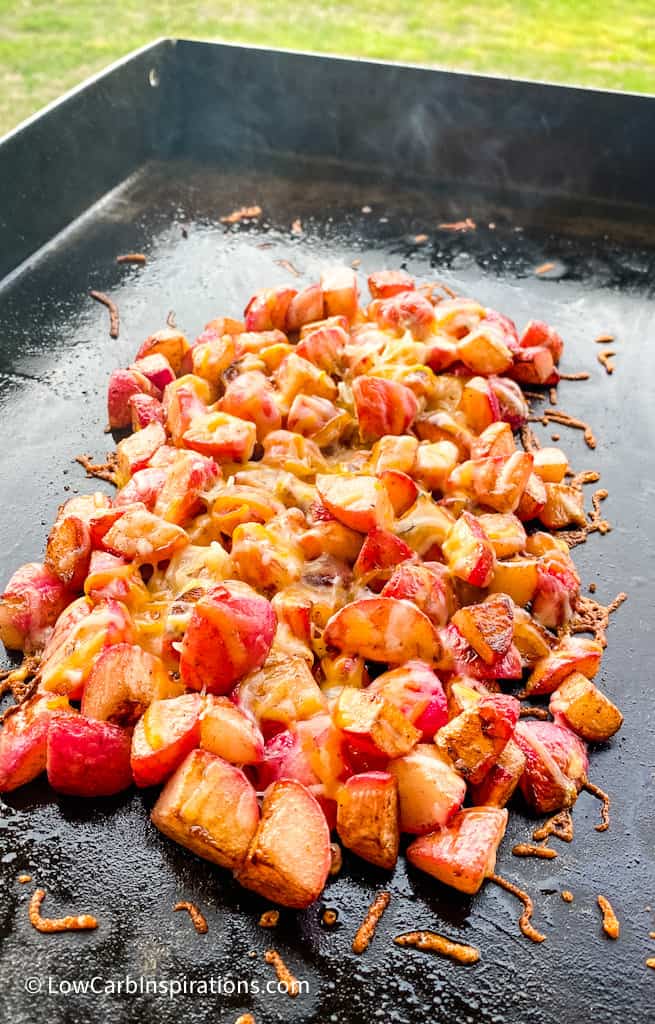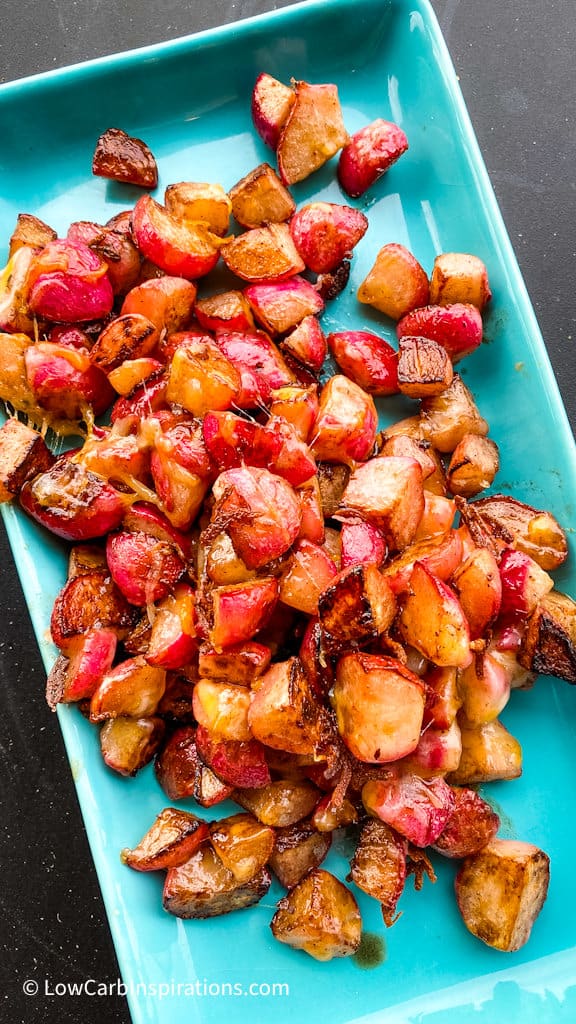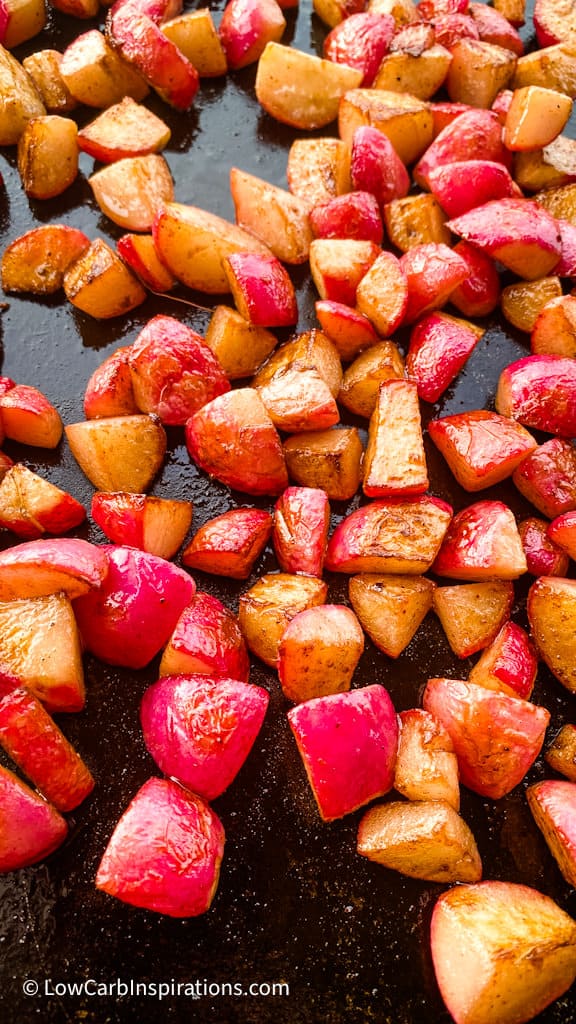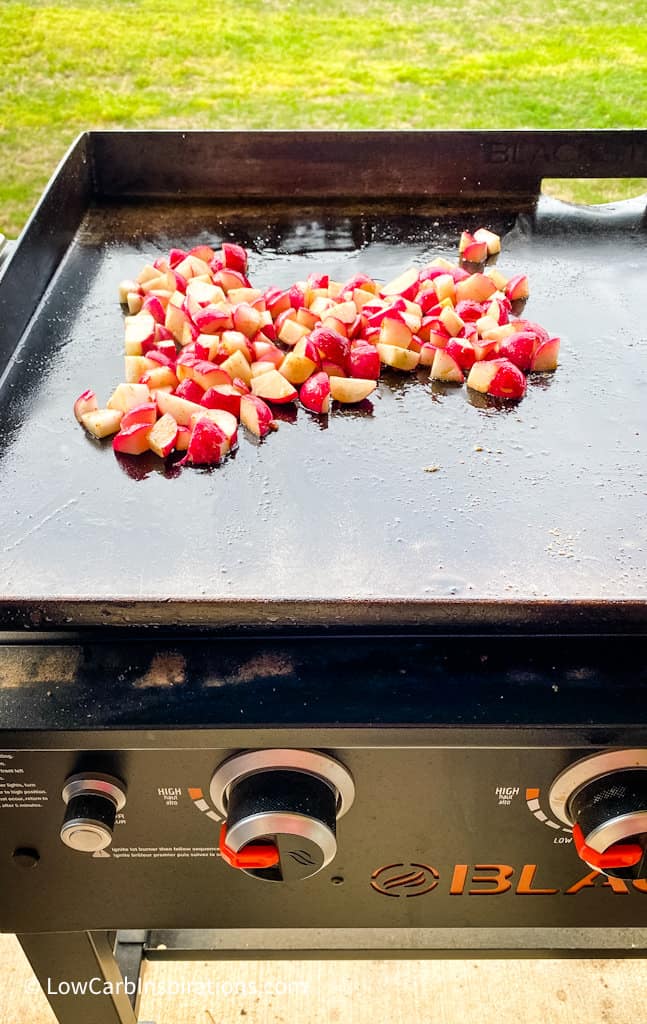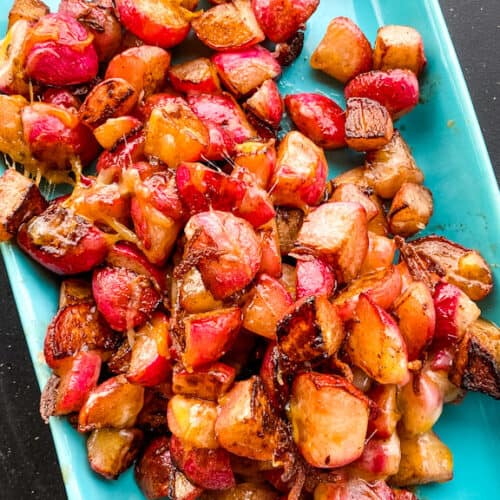 Keto Grilled Radishes Recipe
Perfect potato substitute for anyone doing KETO! Grilled radishes taste like potatoes!
Equipment
Blackstone Griddle Grill

Grill spatula

Cutting board

Serving tray
Ingredients
Instructions
Wash the radishes.

Dice or quarter the radishes.

Warm up the Blackstone griddle grill over medium heat.

Once it's heated, add the olive oil.

Add the pre-washed radishes to the hot griddle.

Allow the radishes to cook on each side for about 5 to 7 minutes or until tender and top with fresh rosemary while it's grilling.

Top with pink salt and serve warm.
Notes
These keep nicely in the refrigerator for leftovers too!
Nutrition
Serving:
1
serving
|
Calories:
76
|
Carbohydrates:
3
g
|
Protein:
1.2
g
|
Fat:
7.1
g
|
Fiber:
1.6
g
Nutrition facts are provided as a courtesy. Have a question about our calculations or why you got a different result? Please read our
nutrition policy.