Keto Diet and Alcohol Talk…
I know…I know! This is like trying to talk about bananas and the keto diet. It's controversial…I get it! The truth is you can have alcohol on the keto diet and still lose weight, BUT it has to be in moderation.
Regardless of how controversial the keto diet and alcohol are…we are going to talk about it anyway.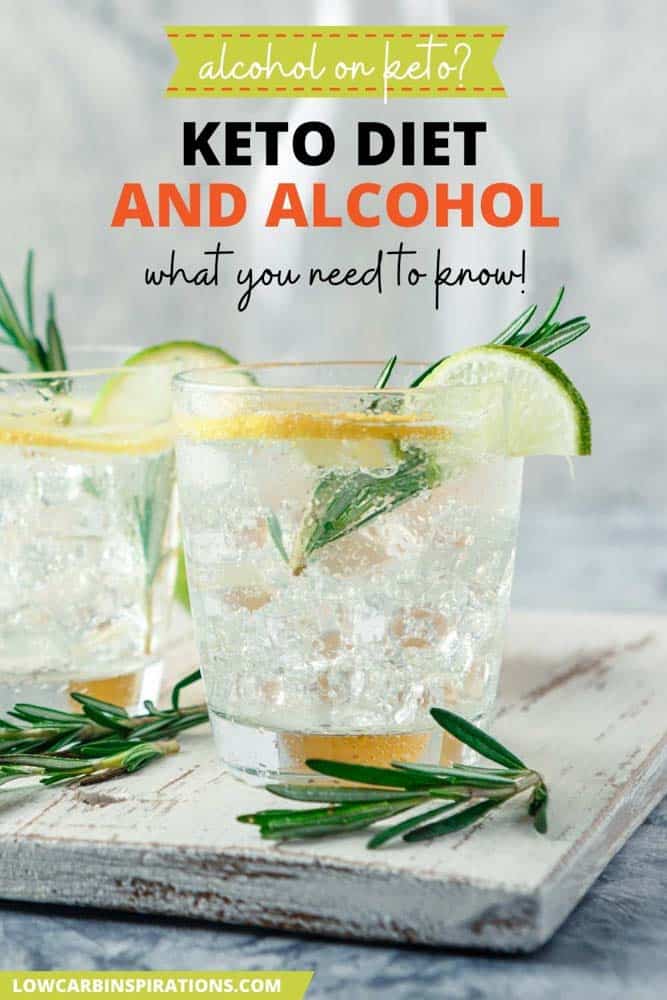 Ok…do you guys drink alcohol on keto? It's a big discussion! We weren't going to talk about this, but there was such a big discussion in our group, Low Carb Inspirations. If you're part of the group, you saw that there was a ton of comments.
I don't drink very much, but every now and then I like to have an acholic beverage…yes I said it! I have been on the keto diet for nearly 4 years and I occasionally like to enjoy an adult beverage with my husband (who is on keto too!)
It's usually on a Sunday when we are just relaxing and catching up. I like Crook and Marker Pineapple and he likes Truly Watermelon Kiwi. For my husband to switch to seltzers was a big deal…he basically could have been a stockholder in the Miller Lite franchise.
With arthritis, other joint pains, and him joining me on this keto journey, he stepped away from the hops and barley. Since he made the transition on keto and seltzers, his pain has decreased a ton! He still has pain, but it has drastically reduced since he switched to enjoying the occasional seltzer at social gatherings or with me.
New to Keto? Check out the Keto Starter Guide!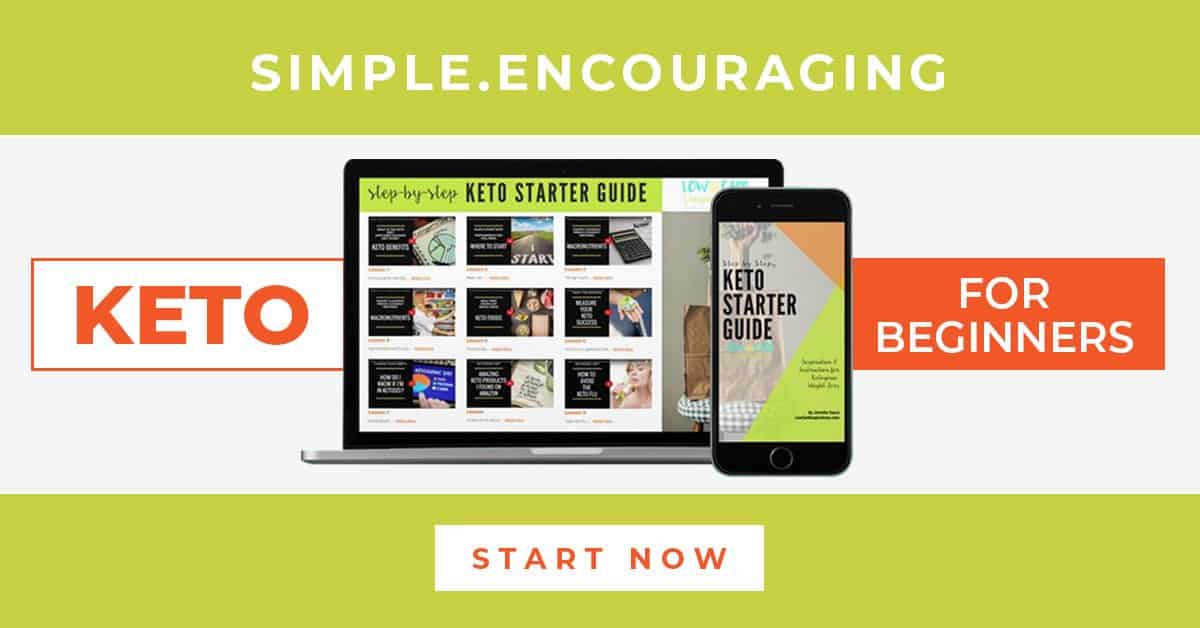 The Keto Starter Guide is an amazing resource as you get started on your keto/low carb journey. This guide has everything you need to get started in 9 simple video lessons and also includes workbooks with step by step instructions for beginners.
What's a macro and why do I count them?
How do I find the best recipes?
What is ketosis and how do I get my body there?
What fruits are allowed on a ketogenic diet?
Will I get "Keto Flu" and what do I do about it?
Get the Keto Starter Guide today!
If you are going to have alcohol on keto, you do have to be pretty careful. You have to make sure to stay away from the sugary alcohols. These will stall your weight loss and take you out of ketosis.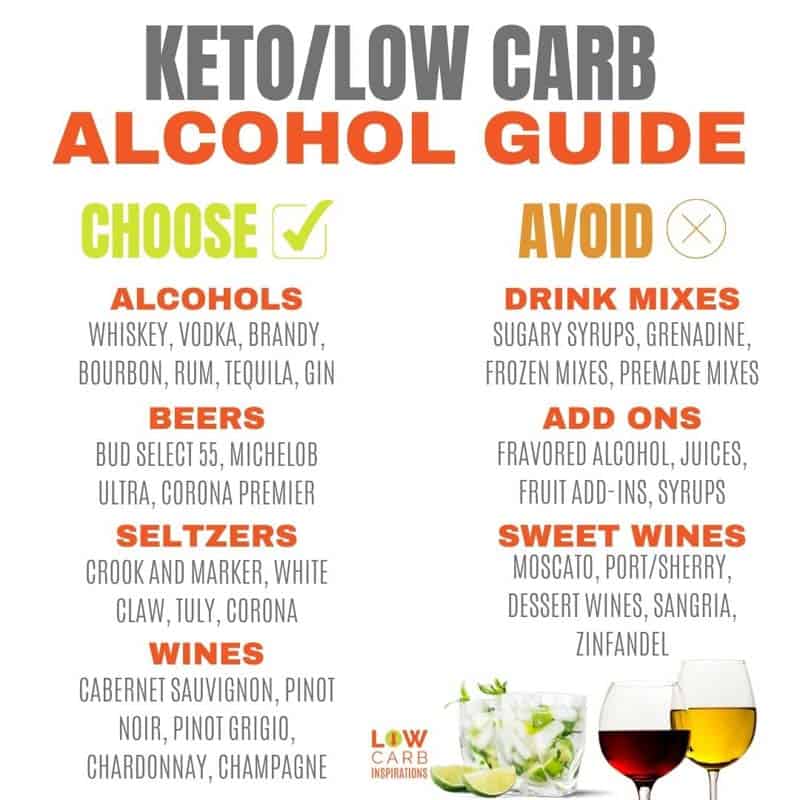 Let me tell you also if you are just starting keto and you are not used to drinking, you will likely get messed up quickly, especially on an empty stomach. Whatever the amount you used to drink before you'll probably not even come close to drinking, by about half of that.
I don't know why, but you will get that feeling of intoxication a lot faster, especially if you're on keto. I know I can usually throw down maybe two and if I push it three, but that's it. To be honest, one is totally perfect for me and I don't drink very often.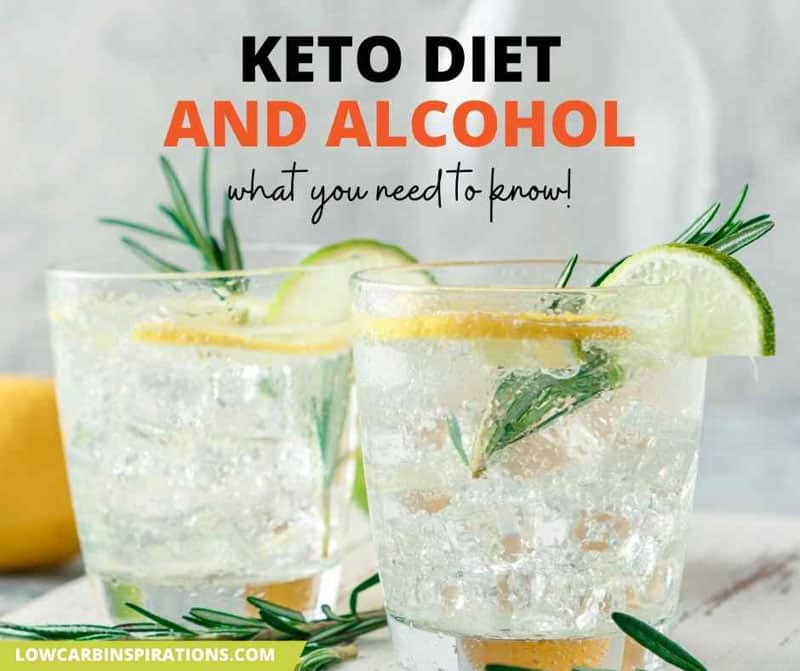 Keto Diet and Alcohol Options
Some keto-friendly alcohol options to enjoy include:
straight konjac, whiskey, vodka, brandy, bourbon, rum, scotch, tequila, or gin (these can be over ice or as a shot)
keto-ritas (Soda water or sparkling water with the juice of a lime, a shot of tequila over ice in a salted rim glass)
Wine from Dry Farm Wines
tequila on the rocks with a slice of lime
vodka, soda, and fresh lime
dry martini with three olives
gin with a splash of lemon juice topped with brut
skinny syrups with vodka and seltzer water
Michelob Ultra Lite lime with prickly pear
Truly Seltzers
Champagne or Sparkling wine
Bud Light Seltzers
Crook and Marker Seltzers
lemon rum with a squeeze of lemon
vodka with water & MIO flavor enhancer
gin and tonic
whiskey and water
whiskey with Zevia ginger ale
vodka and Pepsi zero
La Croix and vodka
Corona Hard Seltzer
no sugar cranberry and vodka
vodka club soda splash of cranberry or champagne
pickle juice martinis
white rum, club soda, and lime
Corona Premier with a lime
White Claw Hard Seltzers
Bud Select 55
Shiner Straight Shooter
If you are interested in what others are enjoying as a little nightcap, be sure to join our Facebook group here!
Be sure to pin this for later!