Keto 3 ingredient Chocolate Nut Clusters
We made some fantastic Keto 3 ingredient Chocolate Nut Clusters!! This recipe is totally sugar free and super, super simple to make. You won't ever spend a ton of money on Keto treats when you realize just how quickly you can whip these up!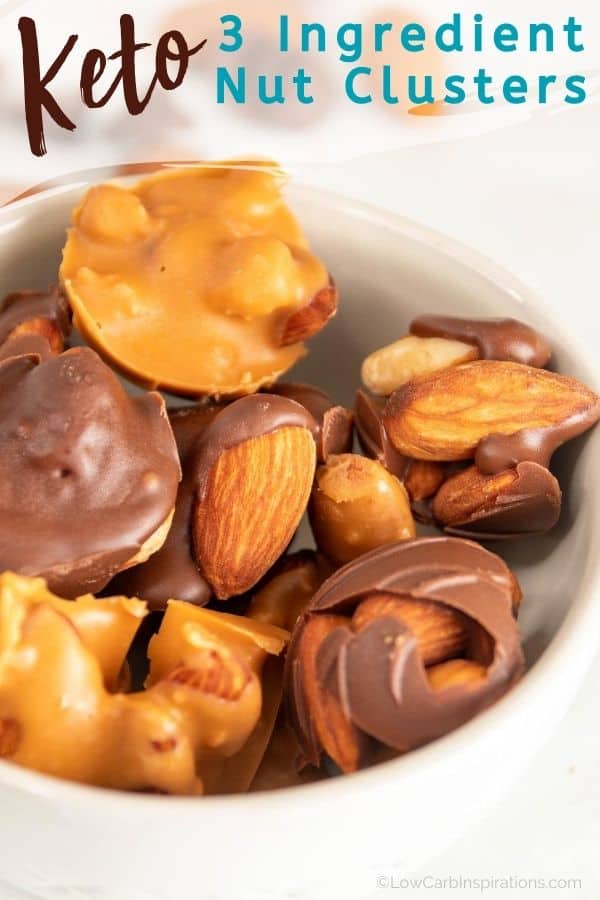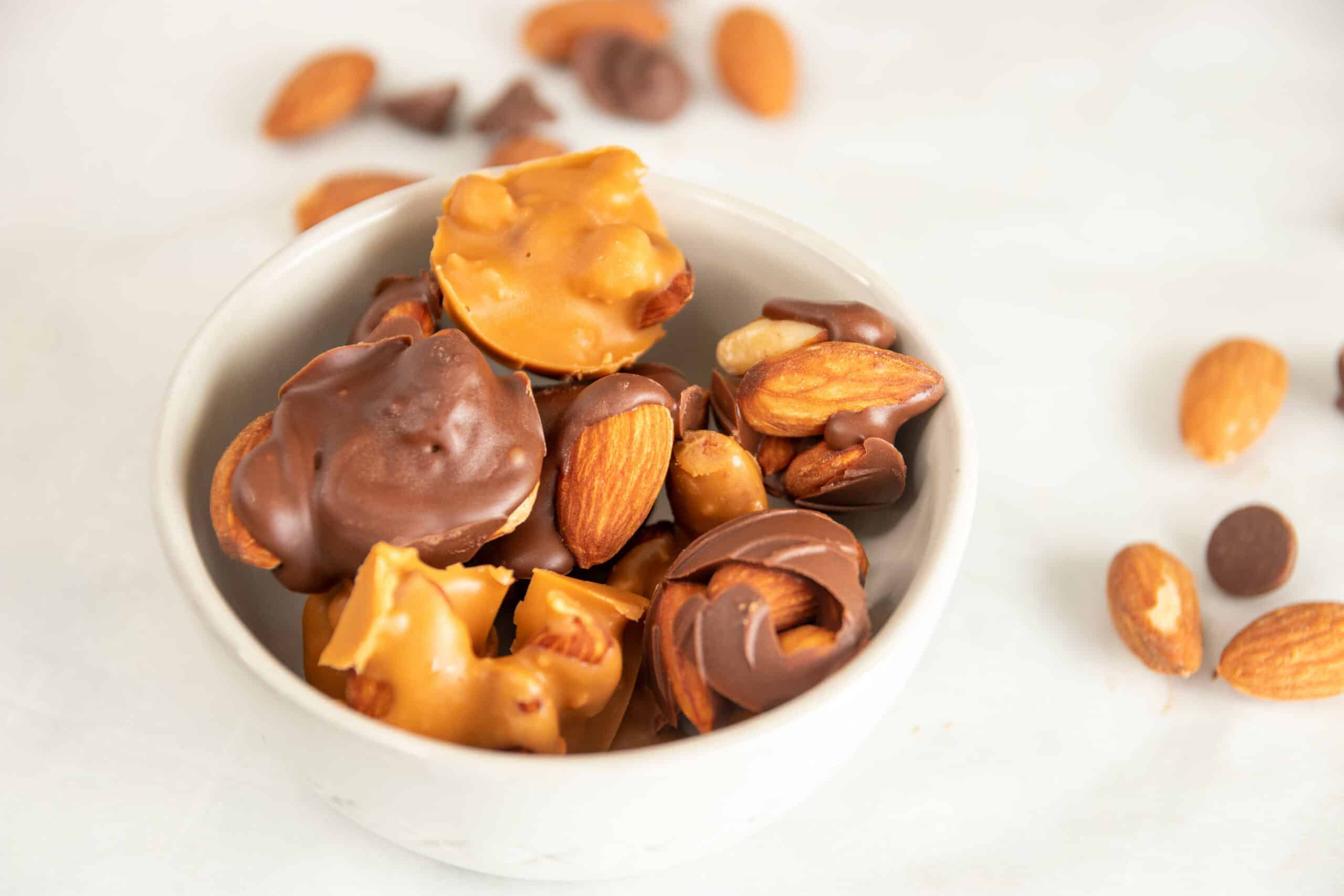 Here are some questions we get asked all the time.
What type of nuts can I use in this Keto 3 Ingredient Chocolate Nut Clusters Recipe?
You can use any type of nut that you want! Peanuts, pistachios, macadamia, almonds, walnuts, pecans, or even cashews!
Can I add other ingredients to change up this recipe a bit?
Yes! You can add unsweetened chia seeds, unsweetened coconut flakes, dried cranberries, blueberries, or strawberries too.
Can I add seeds to this recipe?
Yes! Chia seeds, Hemp seeds or even sunflower seeds would be excellent options to add to this keto treat!
What is your favorite way to make Keto Chocolate Nut Clusters?
Me personally, I like to add a little Maldon Sea Salt Flakes on top of the 3 ingredient Chocolate nut clusters just as the recipe states below. I will also add some sugar free sprinkles for special occasions too. I've also been known to add a small amount (maybe 1/2 teaspoon) of espresso powder to all of my chocolate treats too because it intensifies the flavor of the chocolate!
What type of Sugar Free Chocolate Chips do you use?
I really like the taste of Lily's chocolate chips. They just recently came out with Mint Chocolate Chips, Salted Caramel Chips, and Butterscotch Chips too! It's so excited to finally see Keto friendly products like this at my local grocery stores! I've tried using the Hershey's Sugar Free Chocolate chips but I didn't care for the ingredients or the way they upset my stomach.
Keto 3 Ingredient Chocolate Nut Clusters Ingredients
1/3-1/2 cup Lily's Chocolate Chips (chocolate mint, chocolate salted caramel, and butterscotch flavored chips)
1/2 teaspoon coconut oil
Keto 3 Ingredient Chocolate Nut Clusters Instructions
In a small bowl, add 1/3- 1/2 cup of the varied Lily's chocolate chips in the new flavors, chocolate mint, chocolate salted caramel, and butterscotch flavored chocolate chips.
Next, add a 1/2 tsp of coconut oil and microwave 30 seconds for each.
Place 3-4 almonds in any candy mold that cups the nuts as you pour about a tsp of each flavor over the nuts.
Lastly, place the candy mold into the refrigerator for 20-30 min or 10-20 in a freezer to allow the chocolate to cool and set.
Pop-out the candy-covered nuts out of the mold and enjoy!
NOTE: Each flavor makes 9 nut clusters. Nutrition is based on 1 cluster as a serving.
You can print this recipe using the printable recipe feature at the bottom of this post.
Keto 3 Ingredient Chocolate Nut Clusters Nutrition
Serves 9
Calories 27, Total C 0.9g, Fiber 0.5g, Net C 0.4g, Sugars 0.2g, Fat 2.4g, Protein 0.9g
Here are a few photos we took while making this recipe: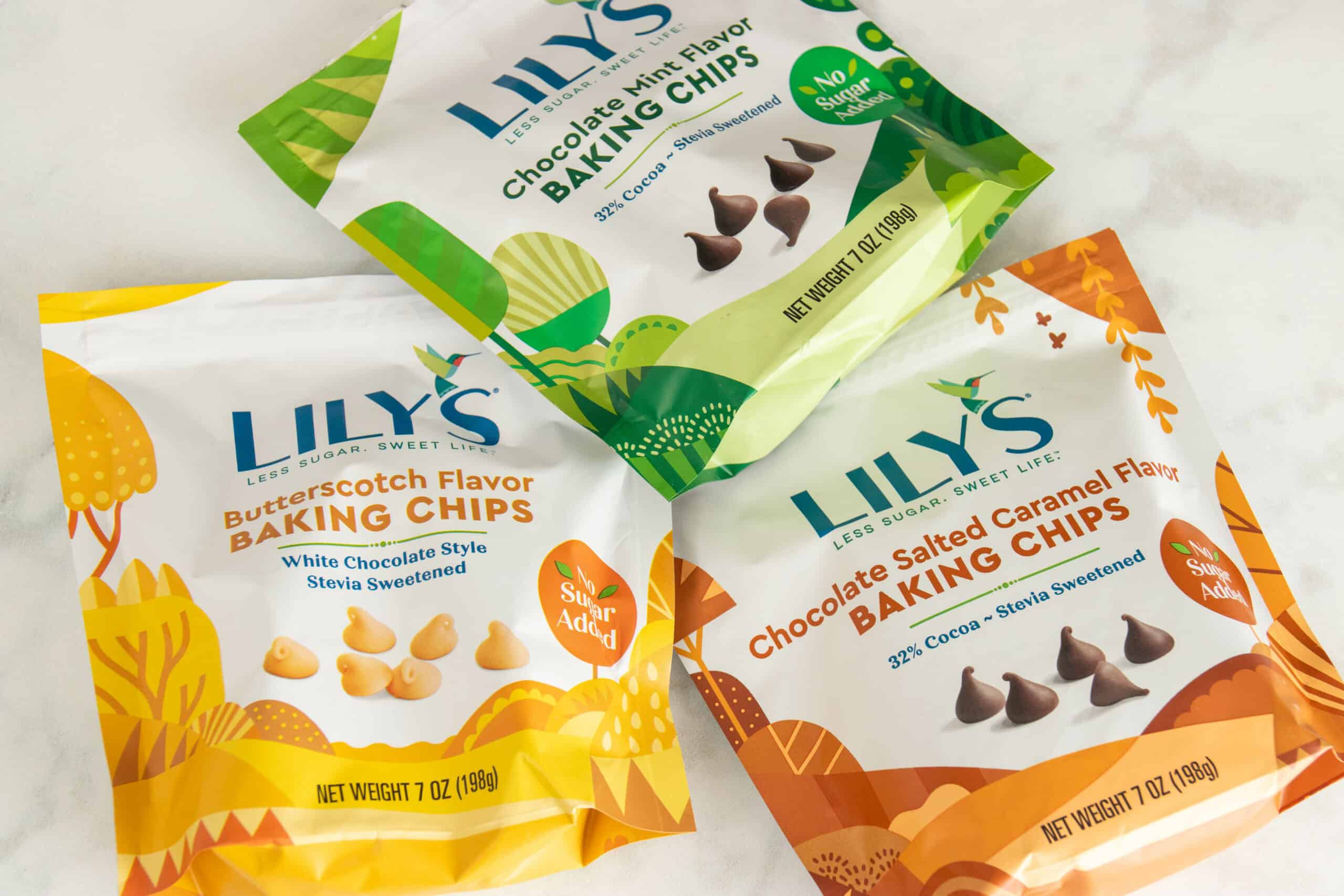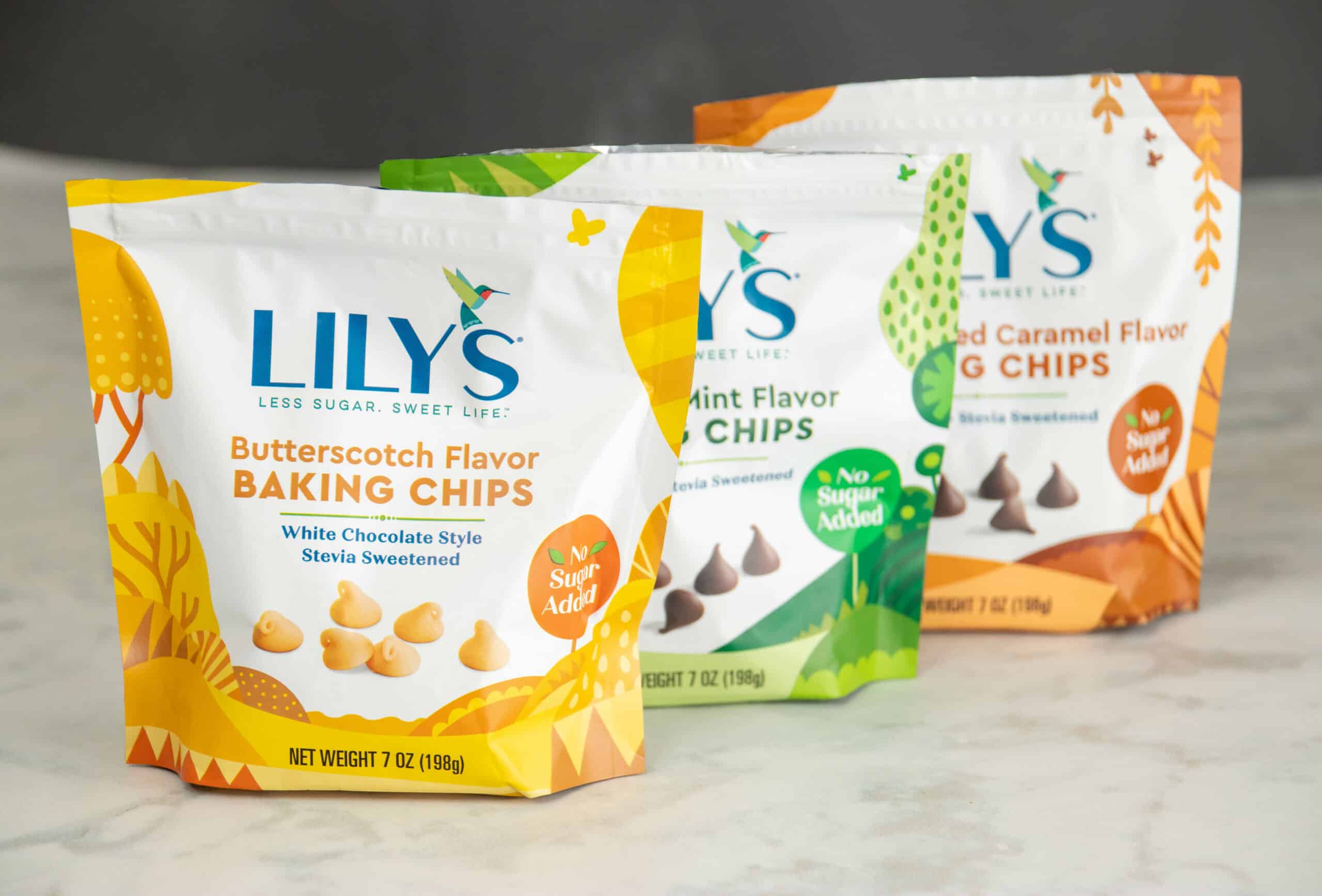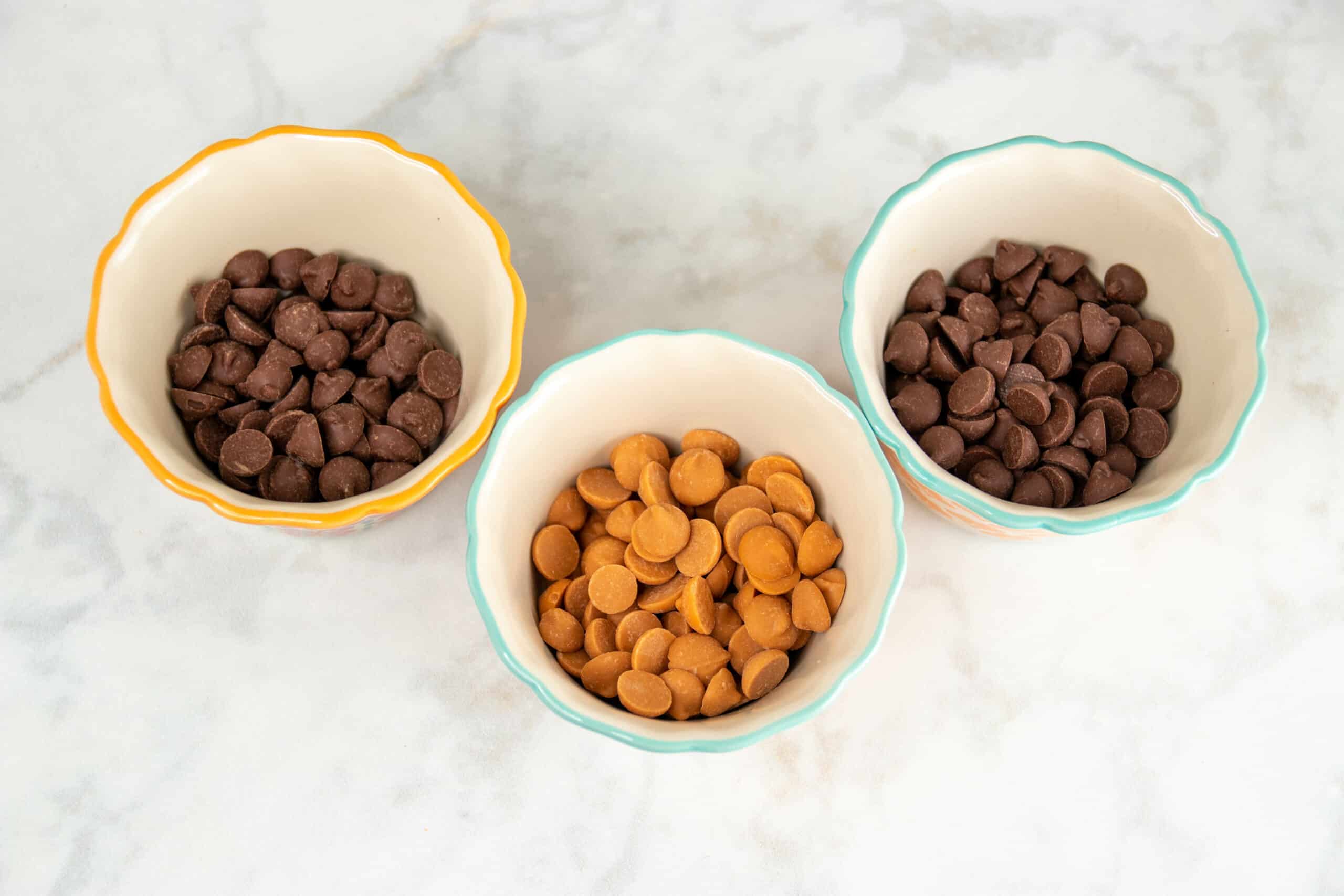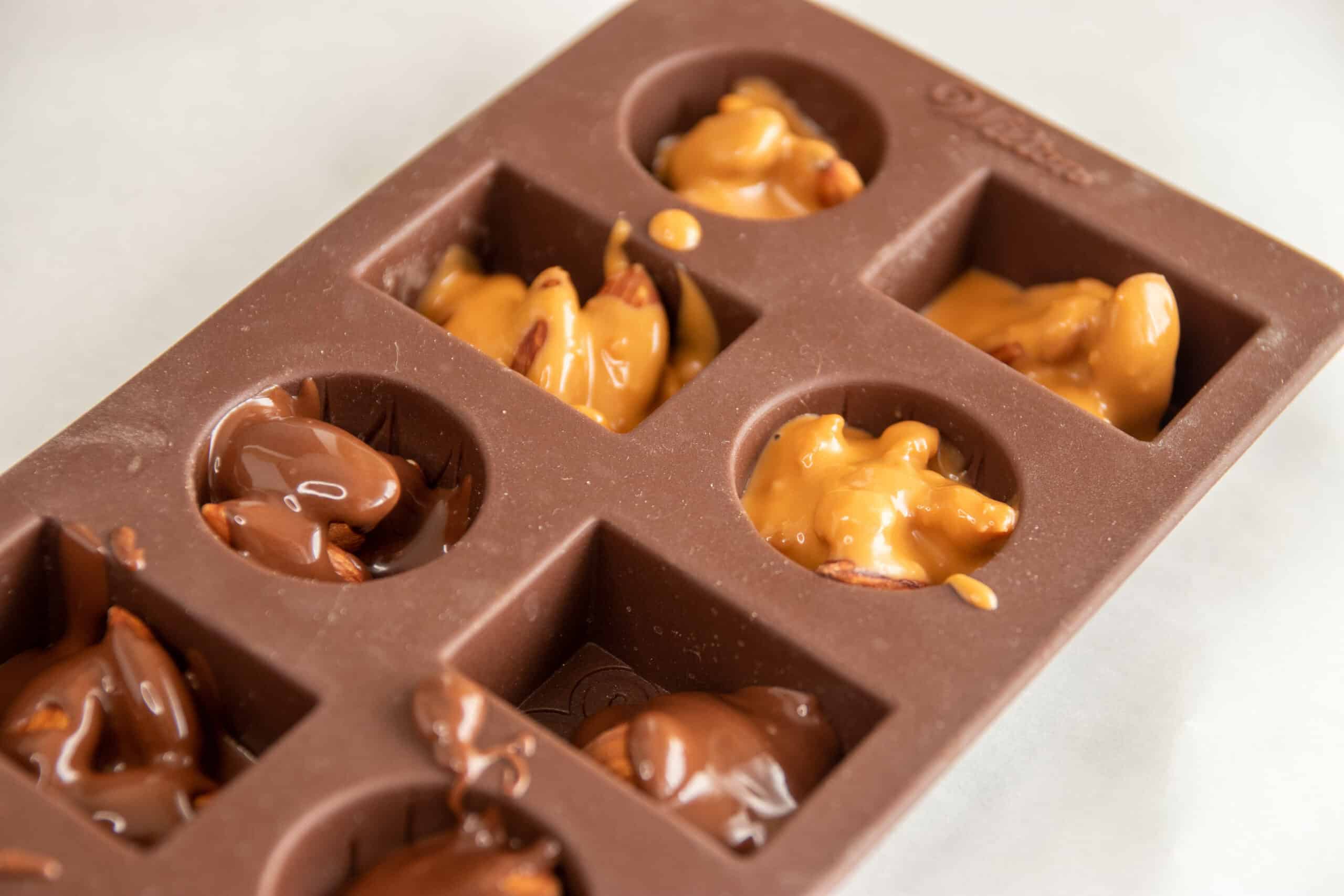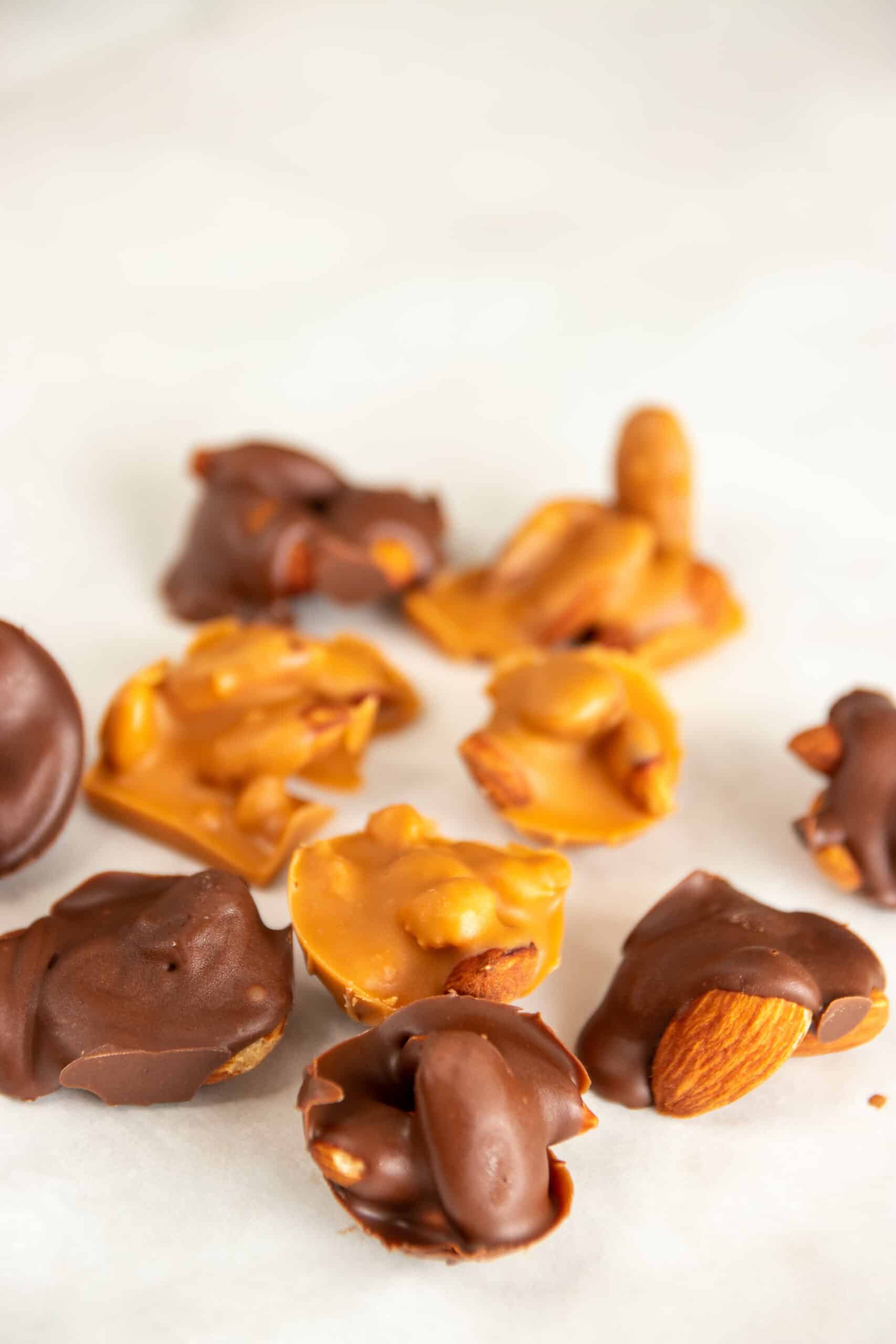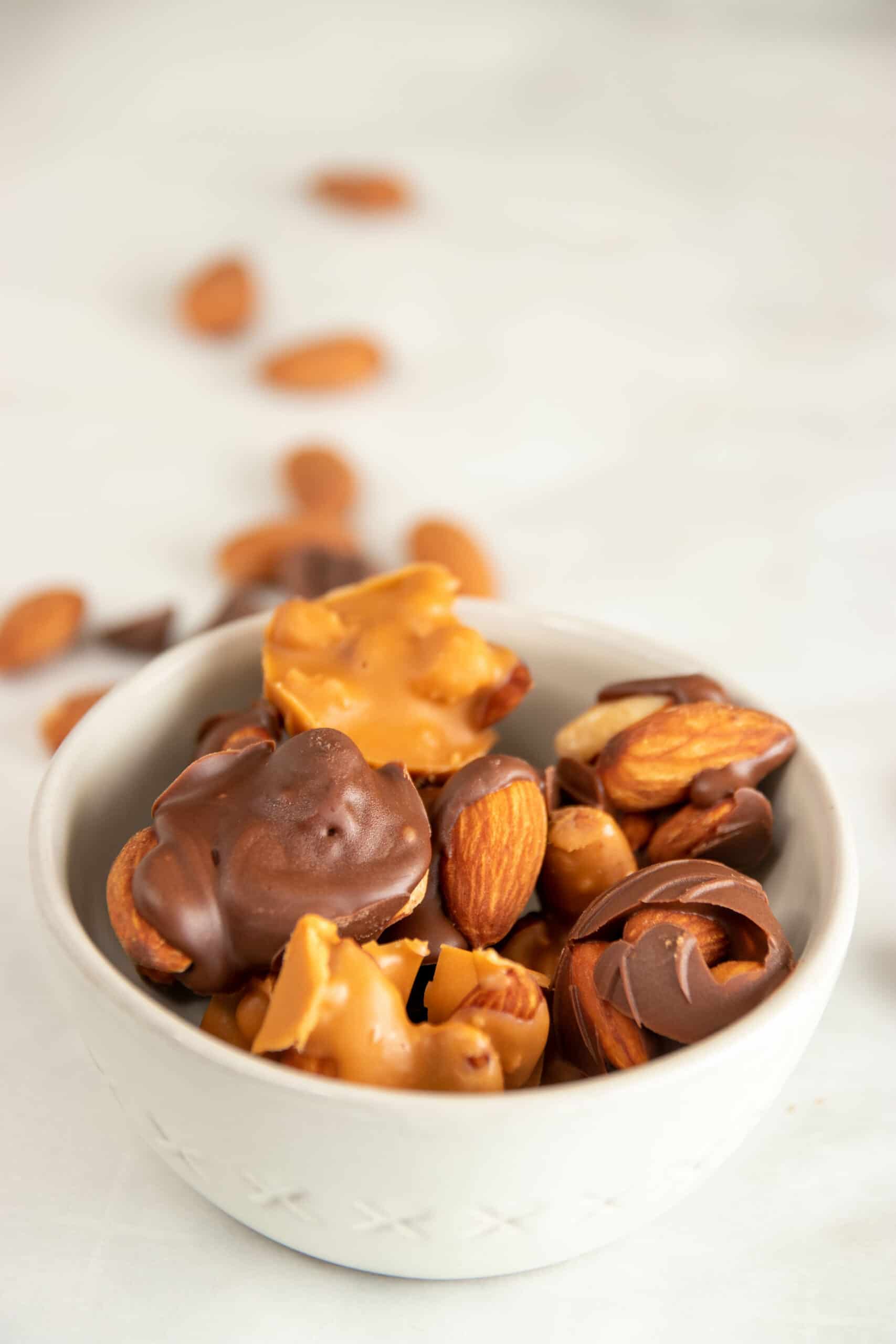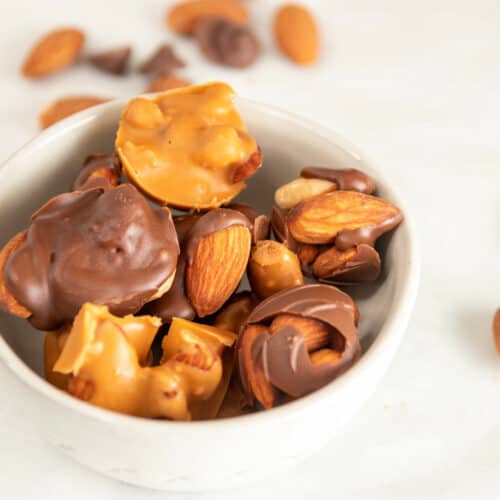 Keto 3 ingredient Chocolate Nut Clusters
Super Easy Keto Treat Idea that satisfies the sweet tooth without using sugar!
Instructions
In a small bowl combine the Lily's chocolate chips and 1/2 tsp of coconut oil.

In a small cupcake pan or sheet of parchment paper, place 3 or 4 almonds down together.  Have the nuts already placed so that once you melt the chocolate you can drizzle it over the nuts before the chocolate cools off and hardens.

Microwave on high for 30 seconds at a time until the chips are melted.  Be sure to stir in between each blast of 30 seconds because it may look as though the chips are still solid but will melt together once you stir them.  It will be very important not to burn them.  Once you overcook the chocolate it will not be useable.  This process should only take 30 seconds to a minute to fully melt the sugar free chips.

Use a spoon and drizzle just enough chocolate over the nuts to cover them and get them to stick together in a cluster.  The nuts don't have to be fully covered.

Optional:  Sprinkle with Maldon Sea Salt Flakes to add more debt of flavor to the chocolate.  It's so yummy!

Place the chocolate cover nut clusters in the refrigerator for at least 30 minutes to harden or you can place them in the freezer for about 10 minutes to get them to harden.
Nutrition
Serving:
1
Cluster
|
Calories:
27
|
Carbohydrates:
0.9
g
|
Protein:
0.9
g
|
Fat:
2.4
g
|
Fiber:
0.5
g
|
Sugar:
0.2
g
Nutrition facts are provided as a courtesy. Have a question about our calculations or why you got a different result? Please read our
nutrition policy.