Homemade Blueberry Salad Dressing
If you are looking for a super simple blender salad dressing, this homemade blueberry salad dressing recipe is just for you! The whole family loved it! It makes you want a salad everyday.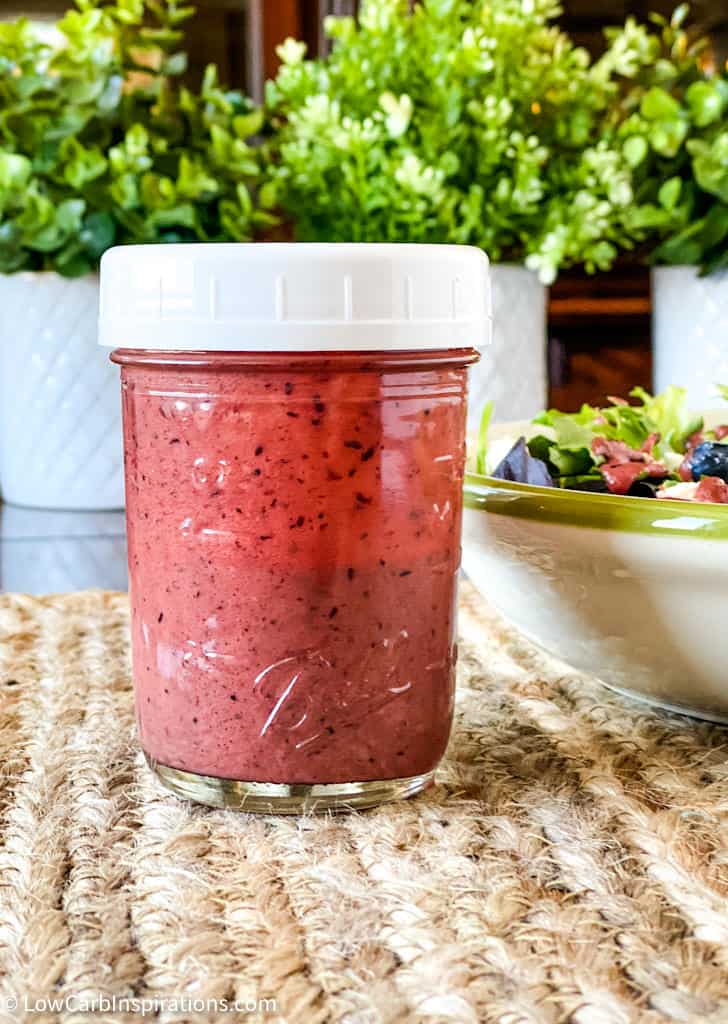 It's best to use the blender for this recipe because it blends the blueberries to a nice and smooth texture.
This recipe uses just a few ingredients and it only takes about 3 minutes to prep and about 30 seconds to blend.
I usually only make one batch because it will serve between 4 and 6 servings depending on how much salad dressing you like on your salads.
Frequently Asked Questions
If I don't have a blender can I mix it with a spoon?
Yes, you can but the blueberries will come out thick and chunky. It's perfect if you like it that way. The reason we use the blender is to make this salad dressing nice and smooth. It blends the blueberries perfectly.
Can I use strawberries instead of blueberries?
Yes! I've made with with almost all berries and it tastes amazing. Use the same amount of any type of berries you prefer. Raspberries, strawberries, blackberries, etc…
Would avocado go great with this salad?
Yes! I add avocado (diced, of course) to almost all of my salads! It's a great way to add healthy fats to your meal.
What would I add to this salad to increase my protein intake?
We love using our air fryer or pressure cooker to make salmon or chicken to include in our salads. It's a great way to make this salad a complete meal with adequate protein.
How long does this salad dressing last in the refrigerator?
This salad dressing only lasts about 4 to 5 days. It does not contain any preservatives so you will want to make sure you make only the amount you plan to use for the week so it doesn't go to waste.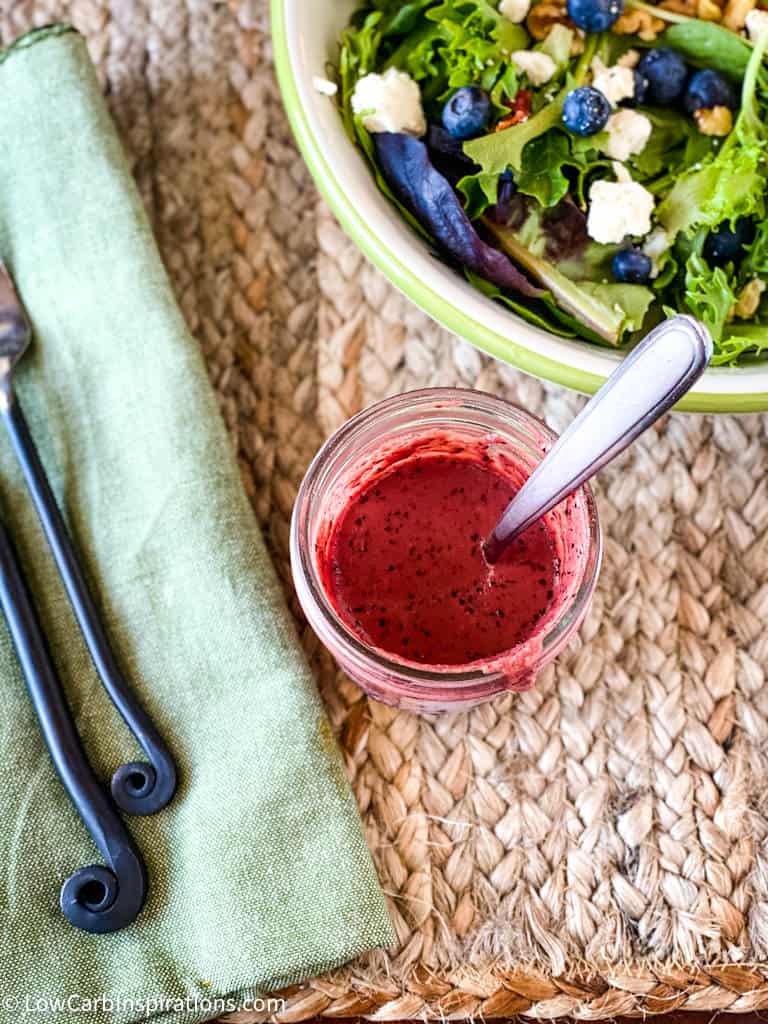 Ingredients You'll Need:
How to Prepare the Easy Blender Salad Dressing
Step 1 – Add the ingredients to a blender
Add all of the ingredients to a blender.
Step 2 – Blend on High
Add a lid to the blender container and blend the ingredients on high for about 20 to 30 seconds until the blueberry dressing is smooth and creamy.
Step 3 – Store it in a container with a lid
Remove the dressing from the blender container and add it to a mason jar with a lid for easy storage. Store it in the refrigerator until you are ready to use it.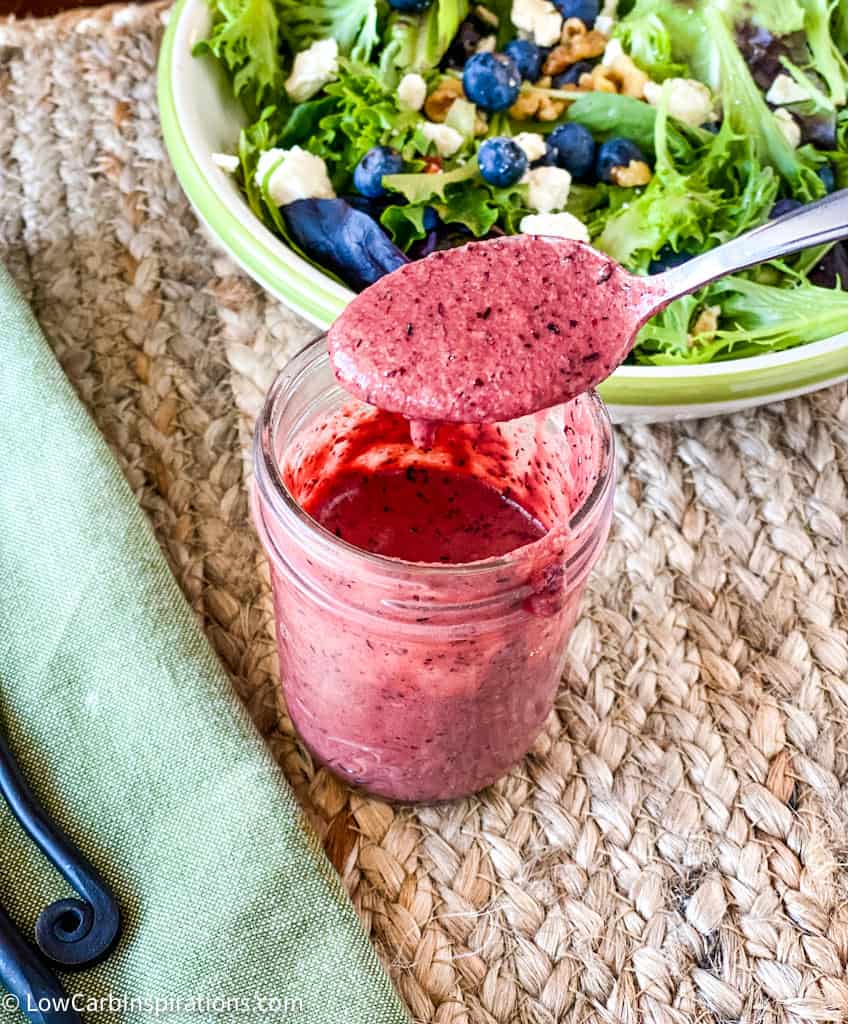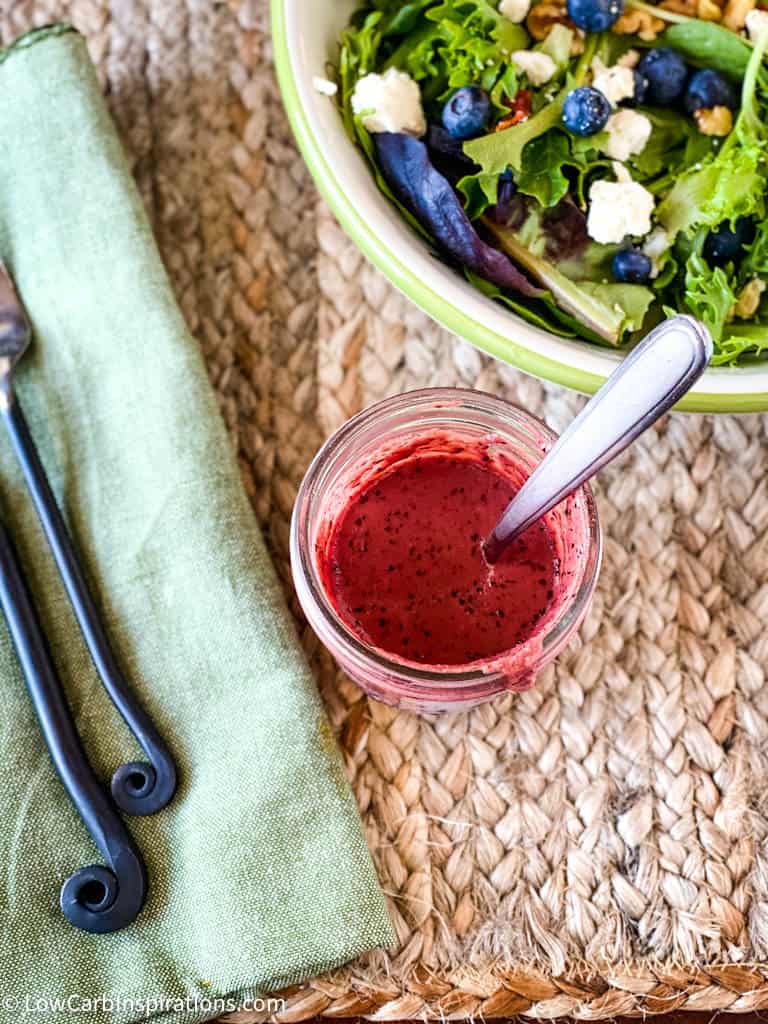 Be sure to serve it over your favorite salad recipe! This is our Easy Blueberry Walnut Salad recipe.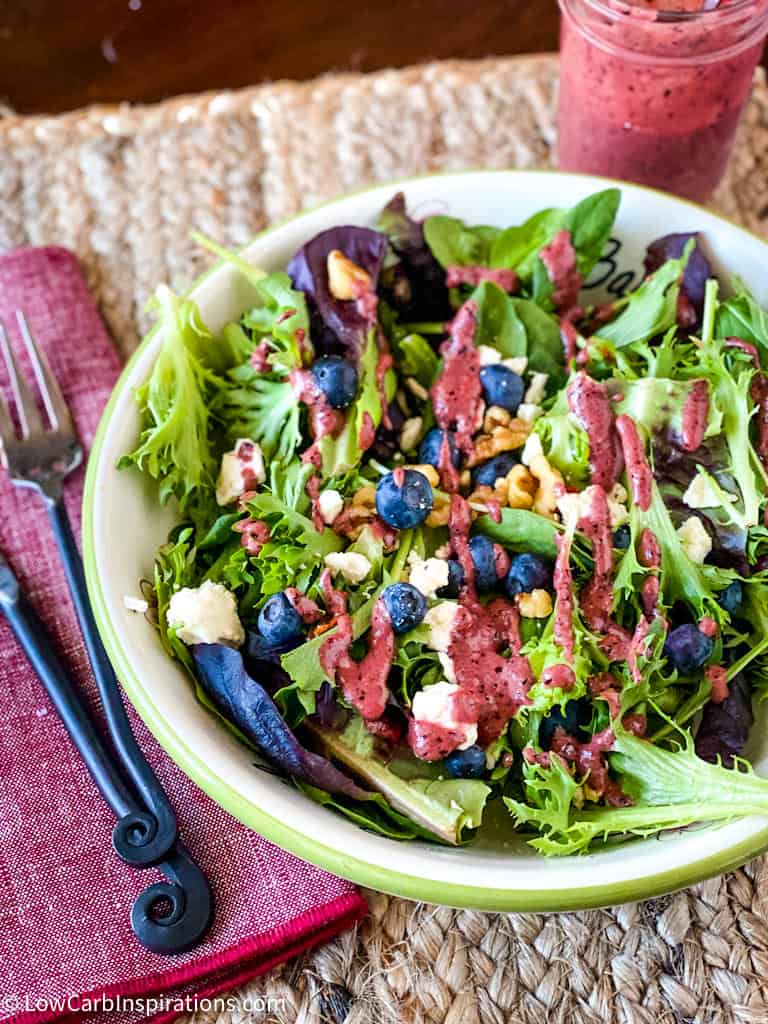 Homemade Blueberry Salad Dressing Nutrition Information
Serving: 1serving | Calories: 105 | Carbohydrates: 7g | Protein: 1g | Fat: 9g | Sodium: 30mg | Fiber: 1g | Sugar: 5g | Net Carbs: 6g
Printable Recipe Card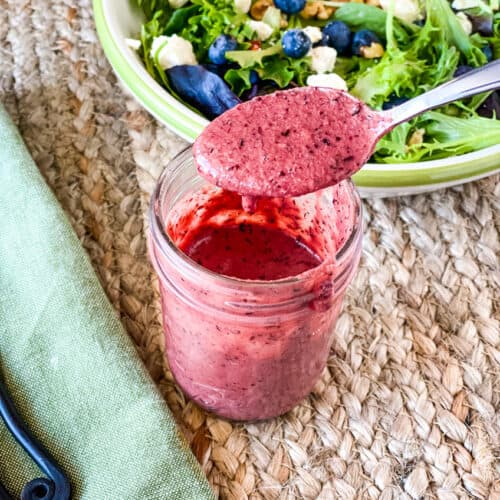 Homemade Blueberry Salad Dressing Recipe
Delicious salad dressing recipe that's made with fresh blueberries!
Instructions 
Make the dressing by adding all of the homemade blueberry dressing ingredients to a blender and blend on high for about 20 to 30 seconds.

Drizzle the dressing over the salad and serve!
Nutrition
Serving:
1
serving
|
Calories:
105
|
Carbohydrates:
7
g
|
Protein:
1
g
|
Fat:
9
g
|
Fiber:
1
g
|
Sugar:
5
g
|
Net Carbs:
6
g
Nutrition facts are provided as a courtesy. Have a question about our calculations or why you got a different result? Please read our
nutrition policy.
New to Keto? Make it easy by following this guide to get started!
The Keto Starter Guide is an amazing resource as you get started on your keto/low carb journey. This guide has everything you need to get started in 9 simple video lessons and also includes workbooks with step by step instructions for beginners.
What's a macro and why do I count them?
How do I find the best recipes?
What is ketosis and how do I get my body there?
What fruits are allowed on a ketogenic diet?
Will I get "Keto Flu" and what do I do about it?