Easy Blueberry Walnut Salad Recipe
You have got to try this easy Blueberry Walnut salad recipe because it's the perfect combination of healthy ingredients that tastes amazing together!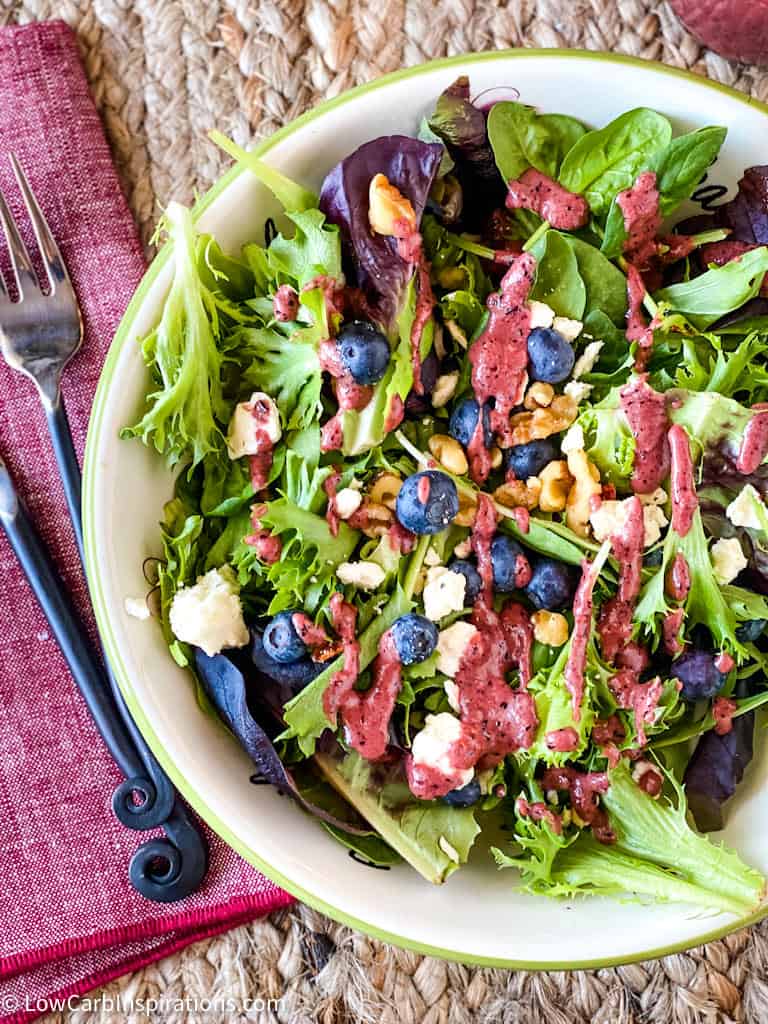 Creating really good meals that are loaded with nutrients that your family loves can sometimes be a bit of a challenge but not with recipes like this one.
This recipe is loved by anyone who really enjoys blueberries! Blueberries are natures happy fruit.
Did you know that blueberries protect against heart disease, cancer, bone strength, mental health and even blood pressure?!! It's true! Blueberries have tons of benefits and these are just to name a few.
I try to incorporate superfoods like blueberries in my weekly menus as much as I can. We often make a blueberry ice cream just from frozen blueberries drizzled with a little heavy cream and a drop or two of our favorite low carb and keto friendly sweetener. We made a similar Keto Blueberry Ice Cream recipe in an ice cream machine too!
Why we love the Easy Blueberry Walnut Salad
It tastes amazing and healthy at the same time!
It's loaded with fiber and antioxidants!
Blueberries have been proven to boost your mood and your immune system!
Blueberries are low in calories and high in nutrients!
Frequently Asked Questions about Blueberry Walnut Salad
Can you make this blueberry walnut salad ahead of time?
Yes! You can make this easy salad ahead of time. Add all of the ingredients to a jar and seal it with a lid. Make sure to layer the ingredients with the heaviest ingredients or wet ingredients at the bottom of the jar and the lightest or the lettuce at the very top. Always separate the dressing too. You want to add the dressing right before you consume the salad so the lettuce stays nice and fresh.
Can I use Strawberries in this recipe also?
Yes! Strawberries mixed with blueberries are the best! I would use a 50/50 mix of strawberries and blueberries in this recipe.
What is the Blueberry Salad dressing seen in this recipe?
The blueberry salad dressing seen in this recipe is a homemade version of fresh blueberries with a few more ingredients blended in a blender. We have included the recipe in the printable recipe card below.
What is best served with this Easy Blueberry Walnut salad recipe?
We love to serve this recipe as a large side salad with any meat you want. Salmon or chicken may be our favorite paring though. We make an amazing Keto Glazed Garlic Salmon recipe too.
Quick Recipe Overview
Why this is the Best Blueberry Walnut Salad recipe: Easy to make, healthy for all and yummy to eat! This salad is loaded with nutrients to help boost your immune system and get plenty of fiber in your diet.
How Long It Takes: Only takes minutes to whip up!
Equipment you will need: Blender, cutting board, knife, bowls
Who is this recipe good for: Anyone wanting a low calorie, nutrient dense food option!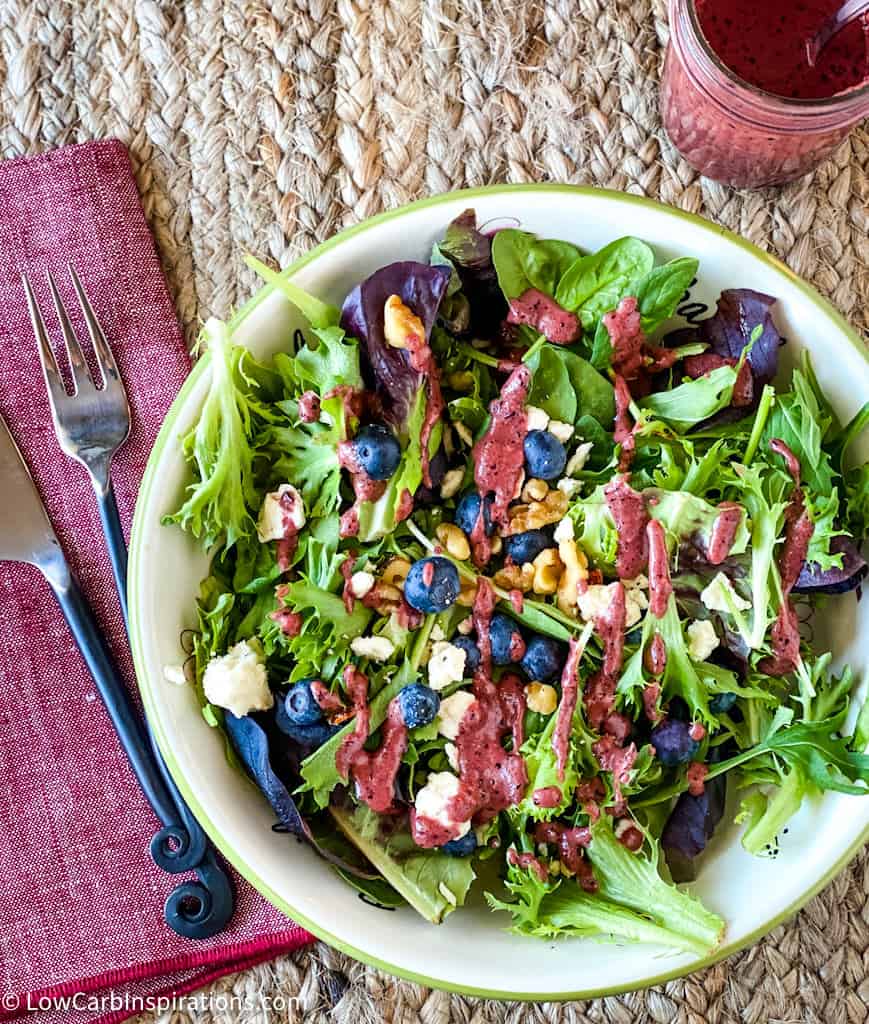 Ingredients You'll Need To Make The Easy Blueberry Walnut Salad
Spring Mix Lettuce
Fresh Blueberries
Walnuts, diced
Feta Cheese
Ingredients You'll Need To Make The Blueberry Dressing
1 1/4 cup fresh blueberries
3 tbsp olive oil
1 tbsp maple sugar free syrup
1 tsp mustard
1 tbsp mayonnaise
1 tsp lemon juice
Pinch salt
Additional Add Ins or Substitutes
spinach
nuts
berries
arugula
red onion
salad greens
avocado
raspberries
salt
blue cheese
Please note, adding any of the above add ins or substitutions will change the nutrition facts of the current recipe. If you are tracking your macros, you will need to recalculate the macros based on what is added to this recipe.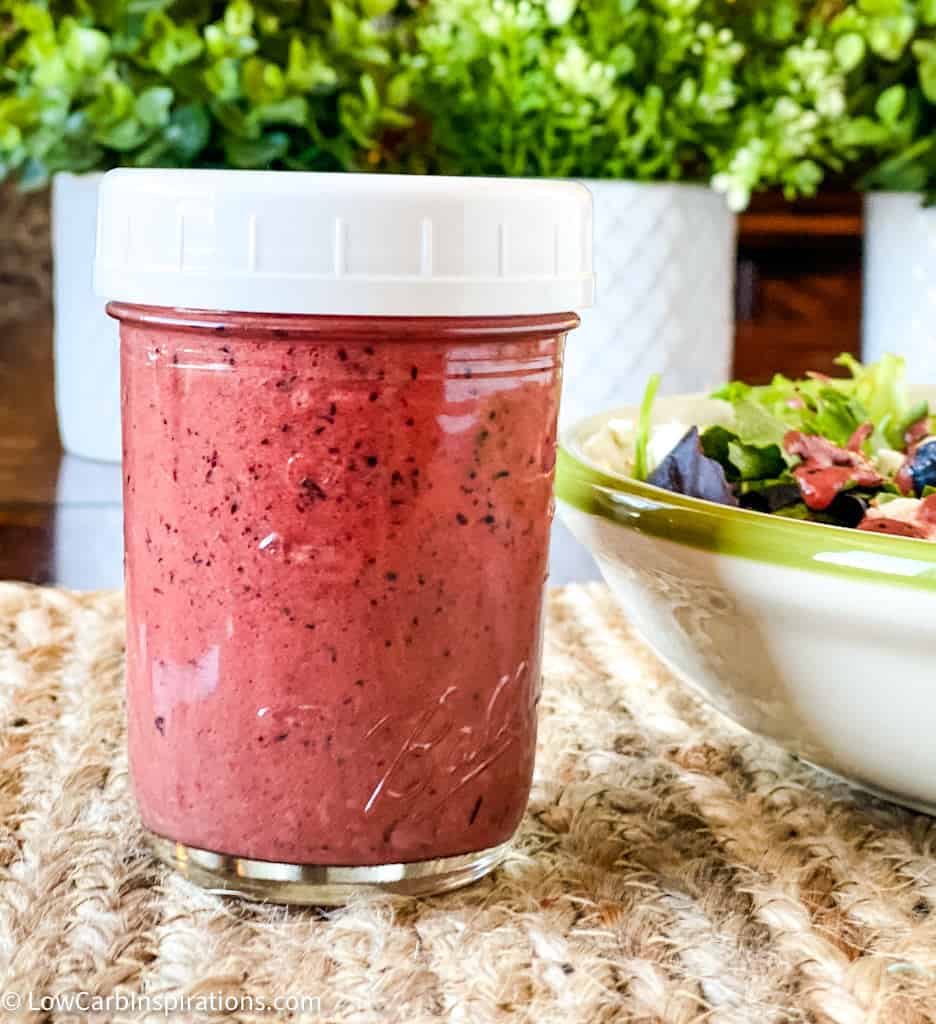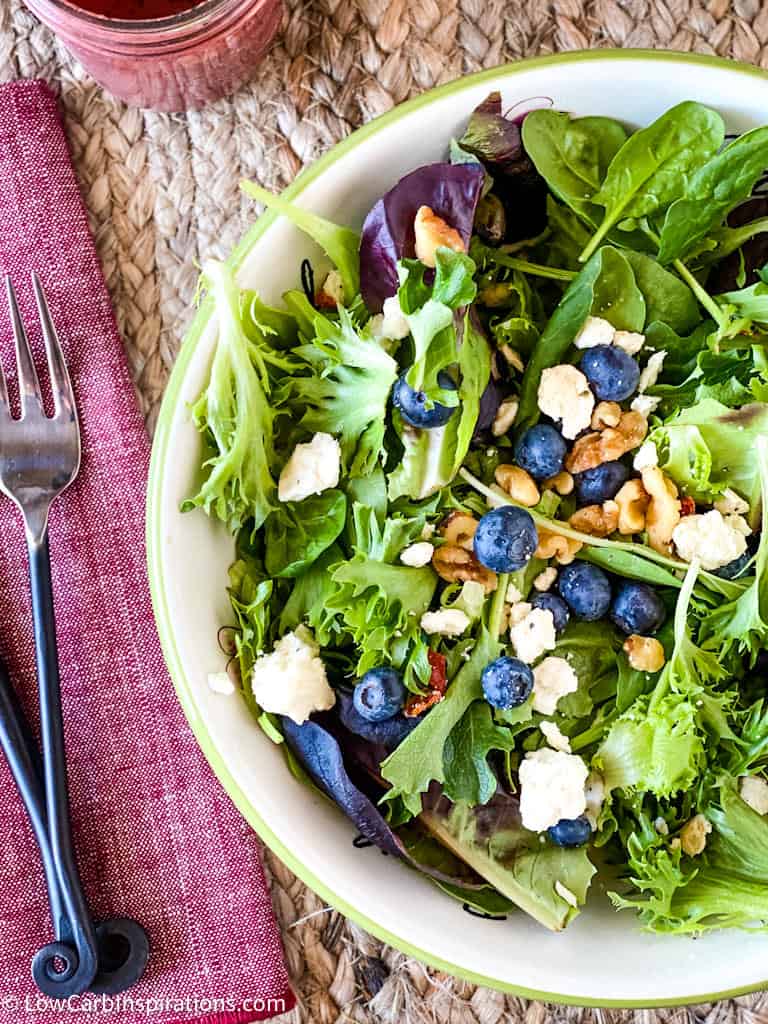 How to Prepare the Easy Blueberry Walnut Salad and Dressing
Step 1 – Make the dressing
Blend all of the dressing ingredients in a blender or food processor on high until fully combined. This will only take about 20 to 30 seconds. Add the salad dressing to a jar and seal it with a lid. Place it in the refrigerator until you are ready to use it.
Step 2 – Prepare the salad
In a large bowl or salad bowl, add a handful of washed and dried spring mix lettuce. Add fresh blueberries, diced walnuts and feta cheese crumbles on top of the lettuce.
Step 3 – Add Dressing to the Salad
Remove the blueberry salad dressing from the refrigerator and drizzle your desired amount over the top of the easy blueberry walnut salad. Enjoy!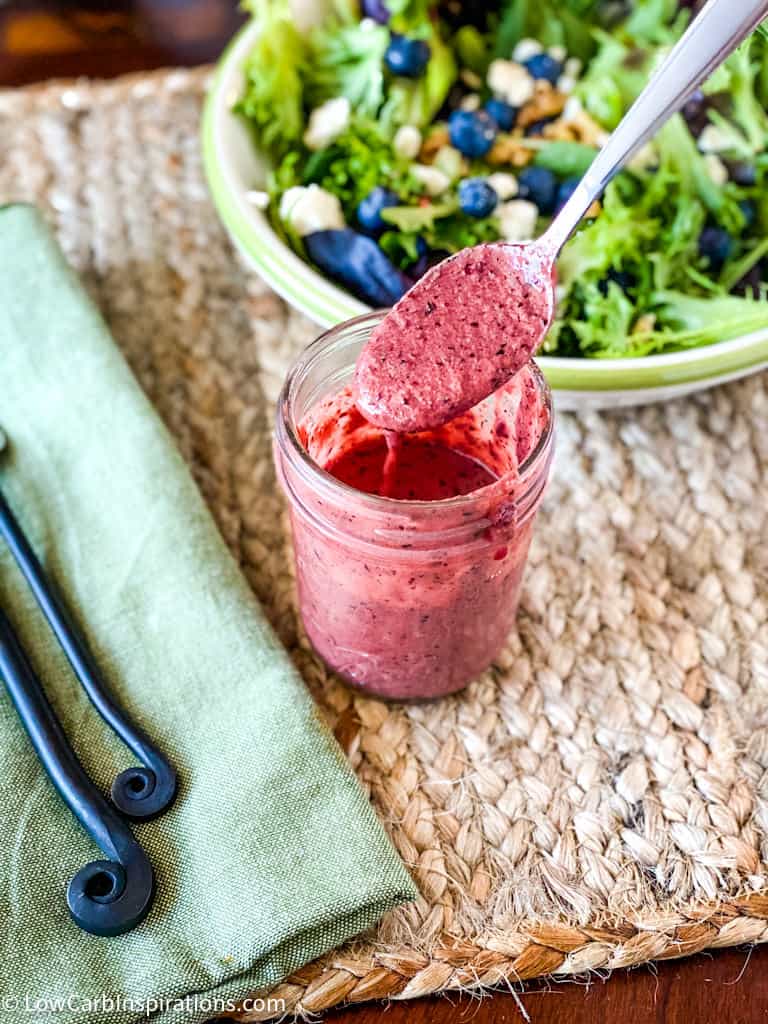 This makes an excellent healthy meal option and you can top it will grilled chicken or salmon to make it a complete meal.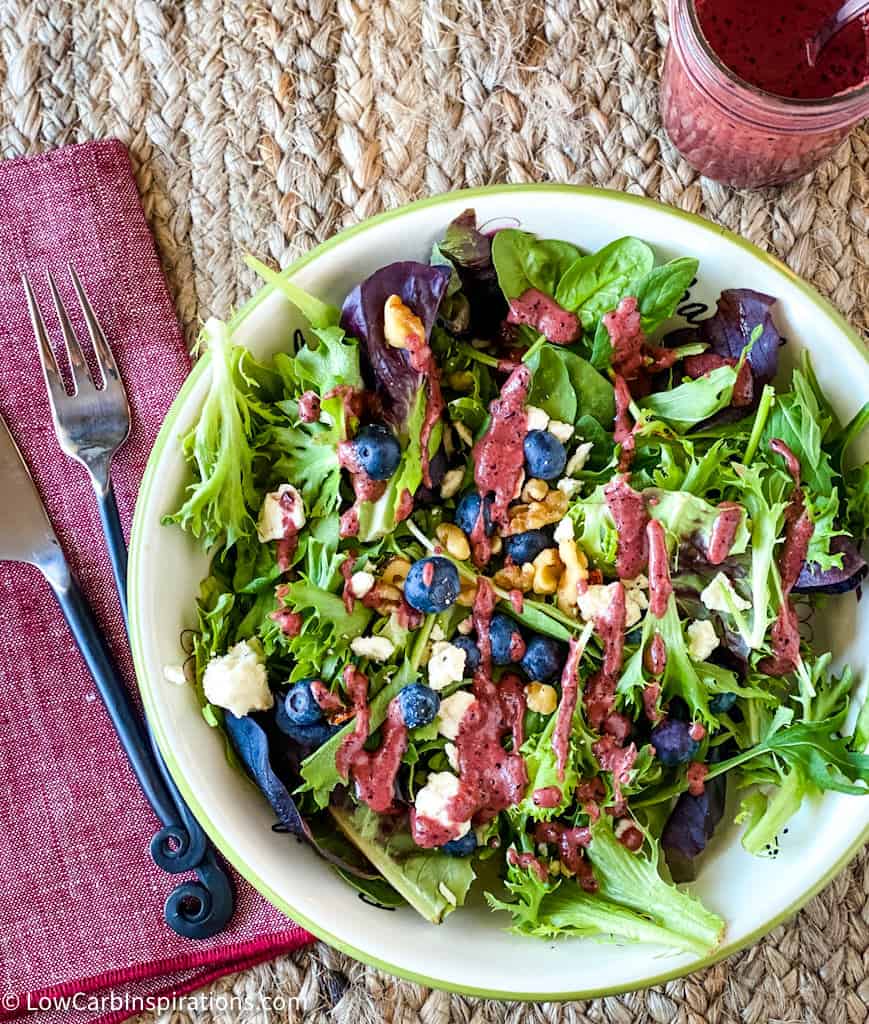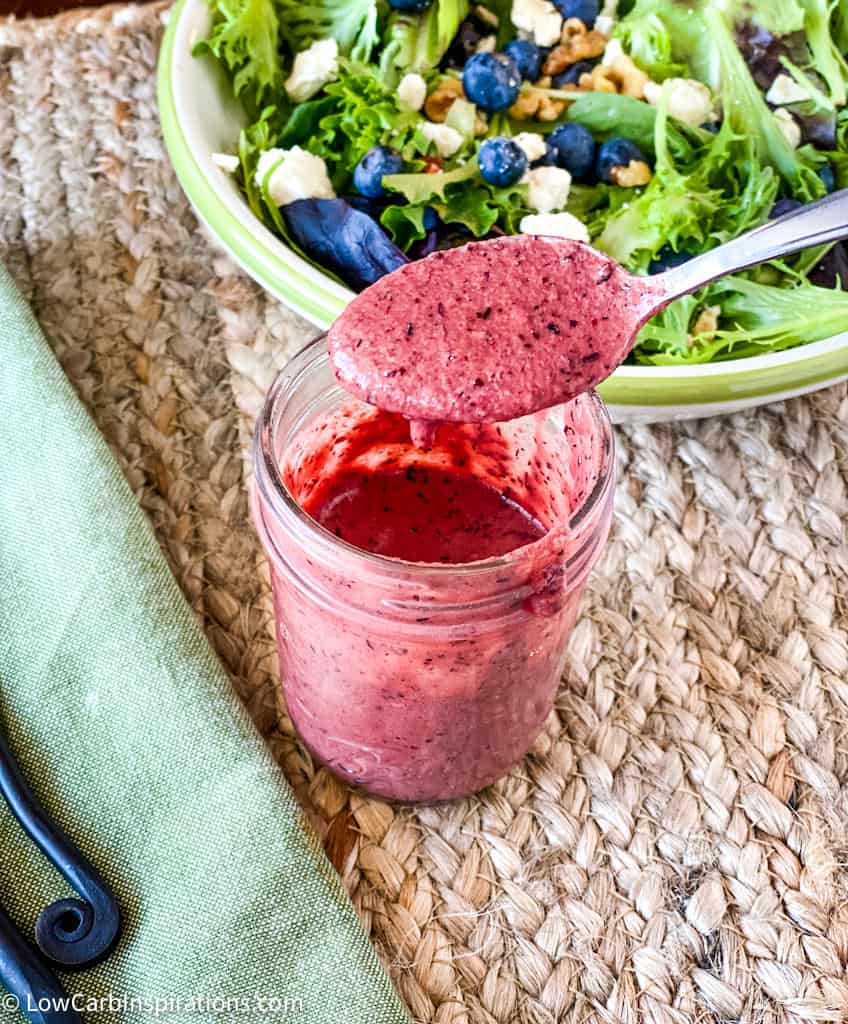 Nutrition Information
Calories: 133 | Carbohydrates: 7g | Protein: 2g | Fat: 11g | Sodium: 73mg | Fiber: 2g | Sugar: 6g | Net Carbs: 5g
Printable Recipe Card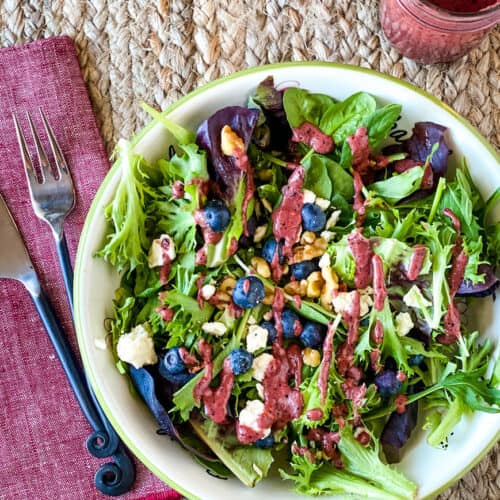 Easy Blueberry Walnut Salad Recipe
Delicious and healthy salad option that's really easy to make!
Ingredients
Easy Blueberry Walnut Salad Ingredients
1

cup

Spring mix lettuce

1/4

cup

Fresh blueberries

1

tbs

Walnuts

diced

1

tbs

Feta cheese
Homemade Blueberry Dressing
Instructions
Add a handful of the Spring Mix Lettuce to a dish. Top the lettuces with fresh blueberries, diced

walnuts

and feta cheese crumbles.

Make the dressing by adding all of the homemade blueberry dressing ingredients to a blender and blend on high for about 20 to 30 seconds.

Drizzle the dressing over the salad and serve!

Enjoy!
Notes
Homemade Blueberry Salad dressing makes 6 servings.
Nutrition
Calories:
133
|
Carbohydrates:
7
g
|
Protein:
2
g
|
Fat:
11
g
|
Fiber:
2
g
|
Sugar:
6
g
|
Net Carbs:
5
g
Nutrition facts are provided as a courtesy. Have a question about our calculations or why you got a different result? Please read our
nutrition policy.