Keto Glazed Garlic Salmon Recipe
Keto Glazed Garlic Salmon Recipe is top notch!!! The key to making this glaze sugar free and keto friendly is to use a keto syrup or sweetener you like.
I used ChocZero peach syrup in this recipe. I've also used a keto friendly honey substitute too. Some syrups tend to be watery but not these two options. You do have to be careful with the oven temperatures when using these keto friendly syrup options because they tend to burn at higher temperatures. We partially cook the salmon in a frying pan on the stove top while basting the juices on the salmon but finish it in the oven to fully cook it.
Be sure to taste the sauce a bit before adding the salmon to it. By tasting the sauce you can determine if it's to the level of sweet and savory that you like. If you want more sweet flavor, you can always add more of your favorite keto sweetener or syrup right before adding the salmon.
Salmon should be cooked to an internal temperature of 145 degrees. Be very careful not to overcook it because it can become dry and dense.
This recipe does not do well as leftovers. I make the exact amount we plan to eat that day. If we do have leftovers, I warm it a bit and add it on top of my salad for lunch the next day. I don't ever plan on having leftovers with salmon because fish of any kind doesn't store well. It's one day max for leftovers for this type of meal.
It's important enough to mention that you can use parchment paper to help with the pan clean up. It is a sticky mess once it's all done. I have started using parchment paper after I first made this recipe. It's the keto sweetener that blackens and becomes really, really sticky and not fun to clean up.
I hope you enjoy this keto friendly recipe as much as we do! Next, I'm going to try and make this same recipe in the air fryer or the instant pot. I will let you know how it turns out in a future post.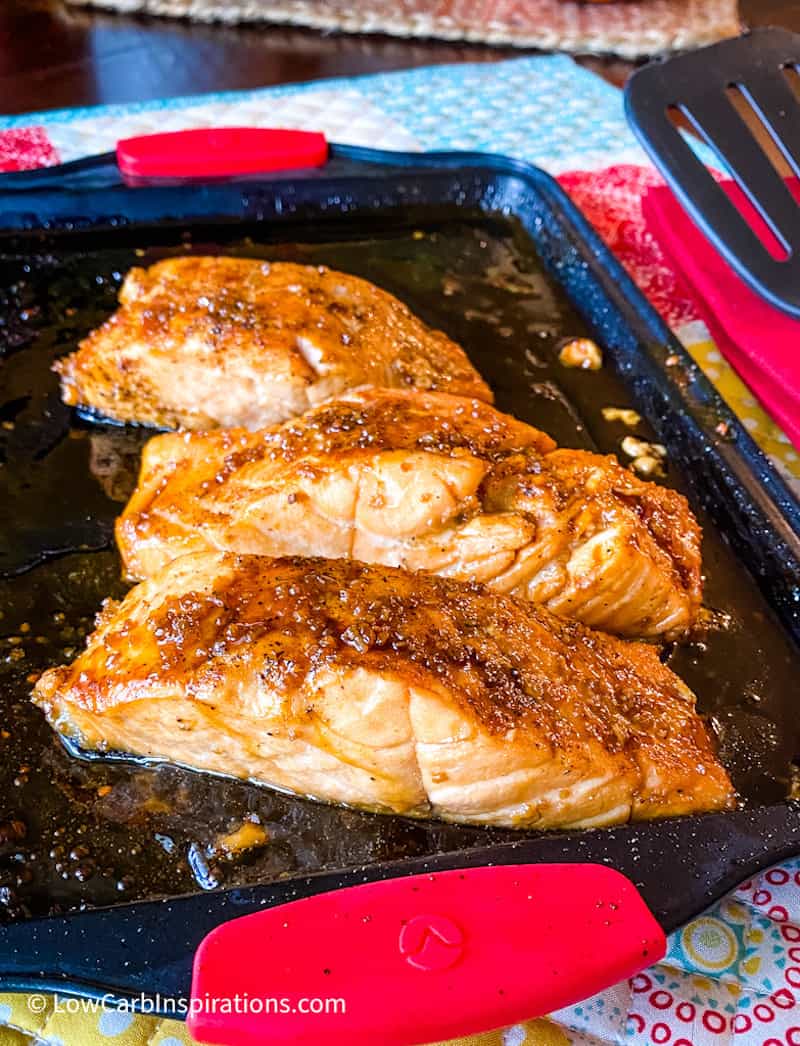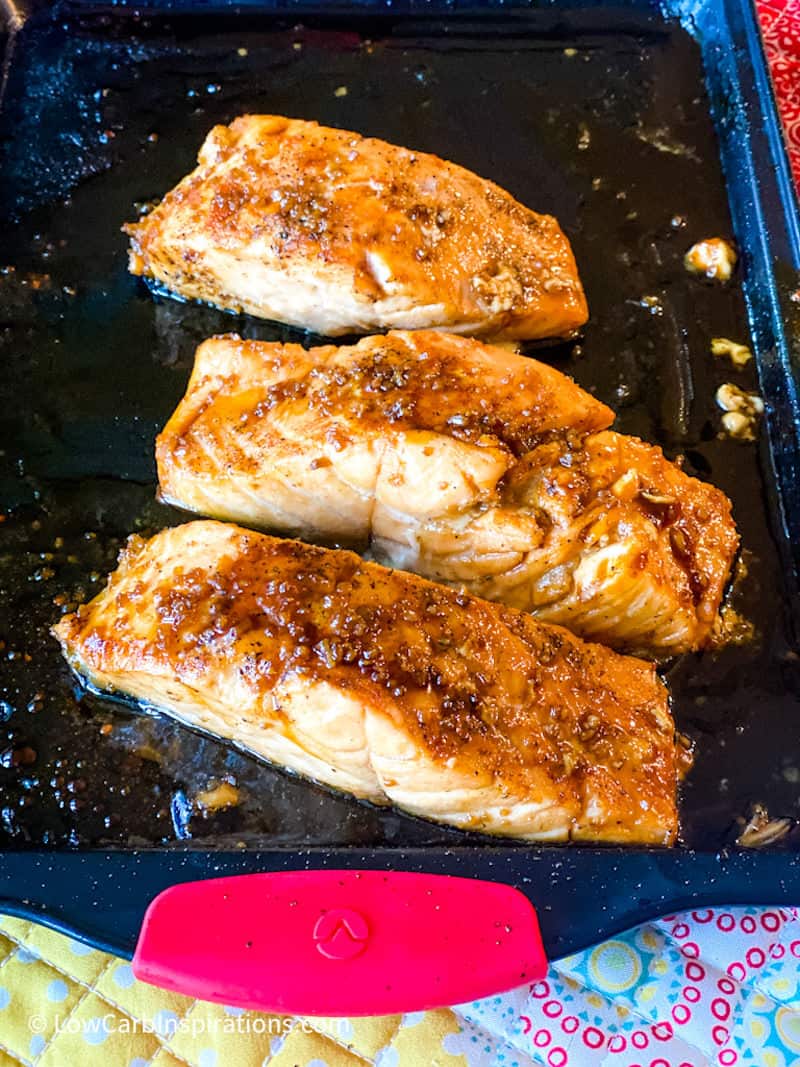 Keto Glazed Garlic Salmon Recipe Ingredients:
2 lbs salmon or 4 servings (that are about 1/2 lb each)
1/2 tsp Salt
1/2 tsp Pepper
1/2 Smoked paprika
1/2 teaspoon onion powder
2 tbs fresh minced garlic
6 tbs Choczero peach syrup or any of your favorite keto friendly syrups
2 tbs butter
1 tbs soy sauce or coconut aminos
1 tsp lemon juice
Keto Glazed Garlic Salmon Recipe Instructions:
Full recipe instructions are at the very bottom of this post. You can print the recipe card too!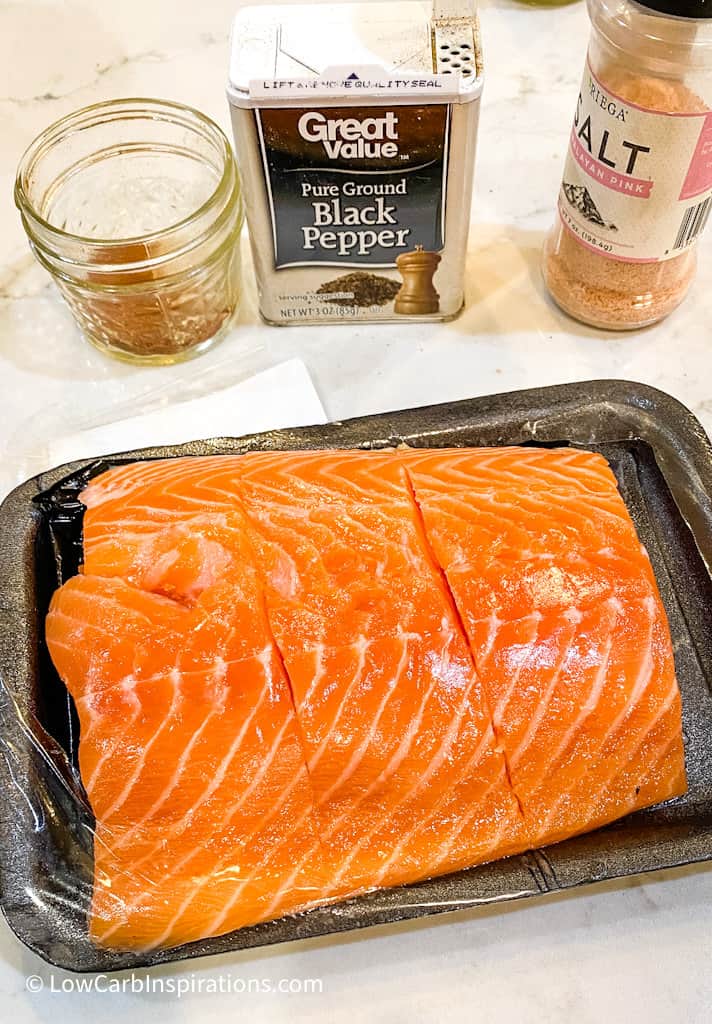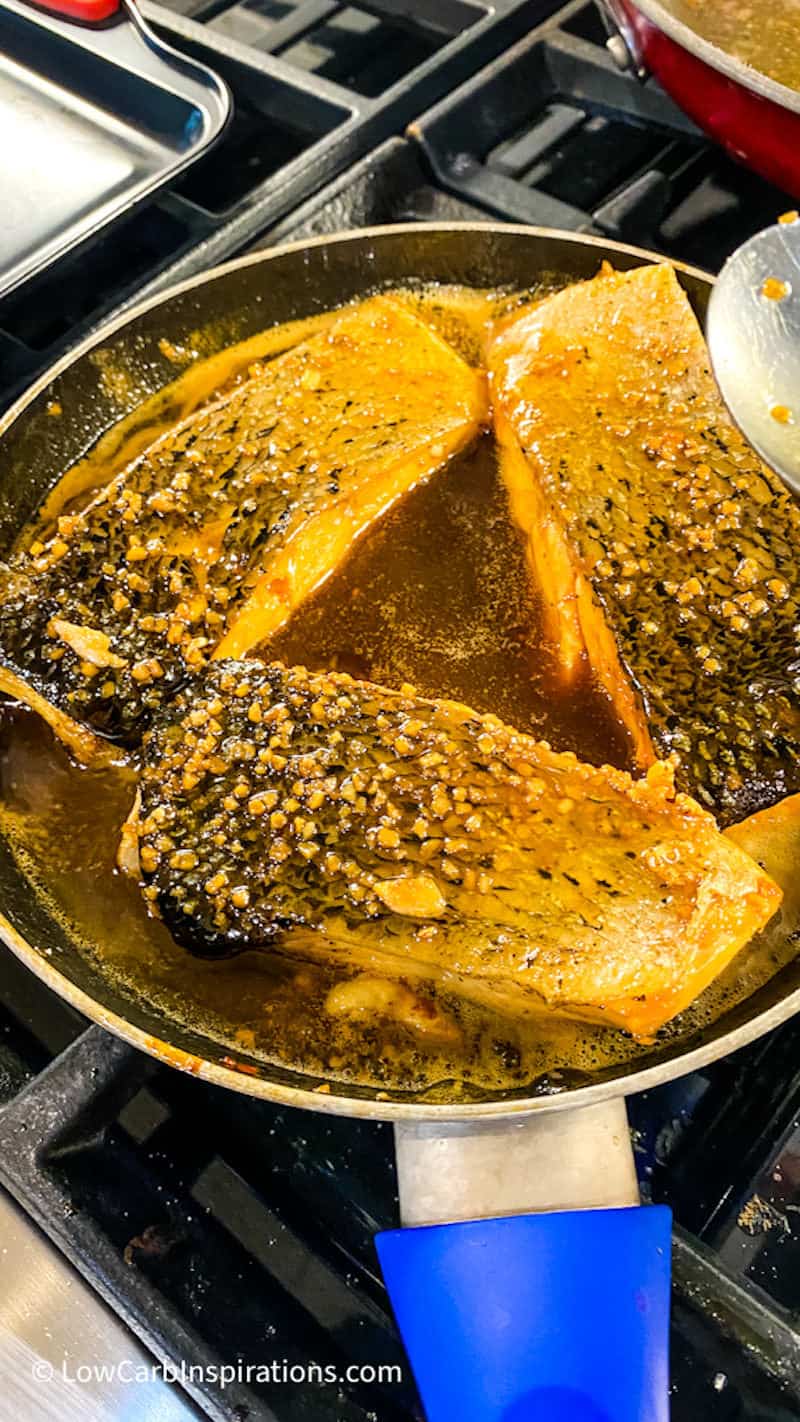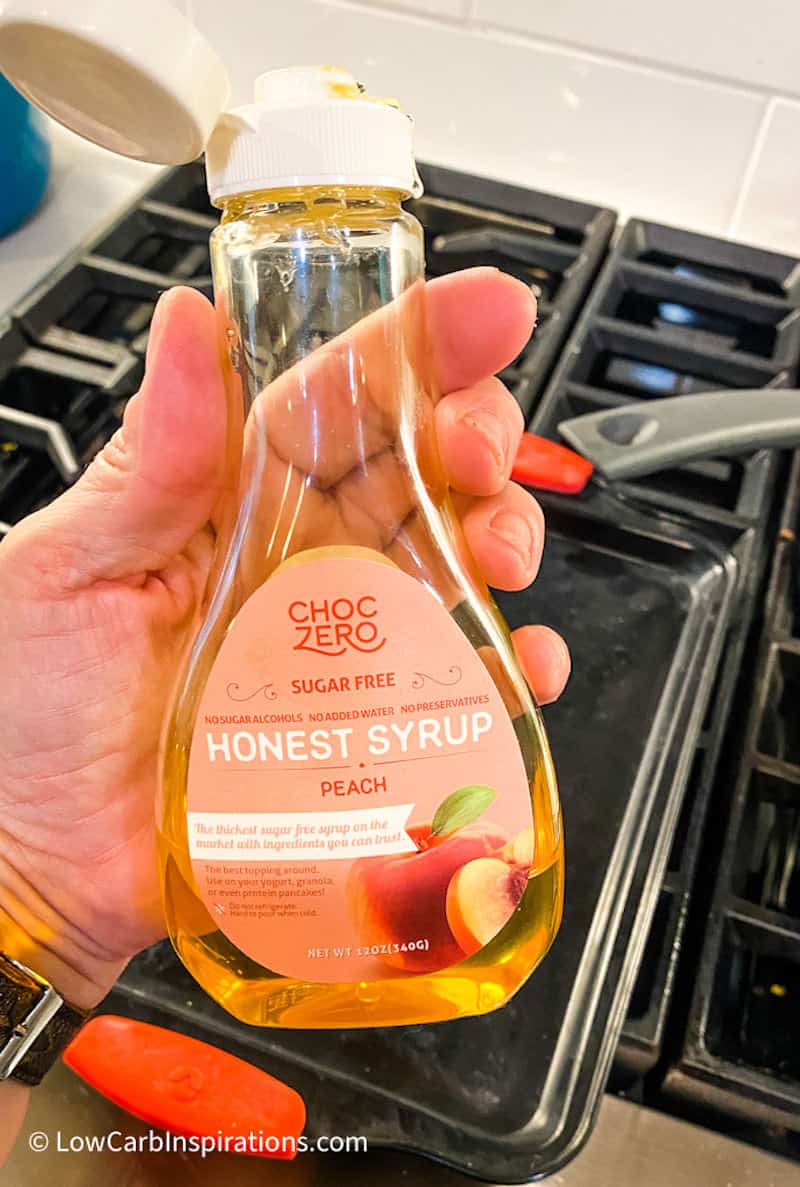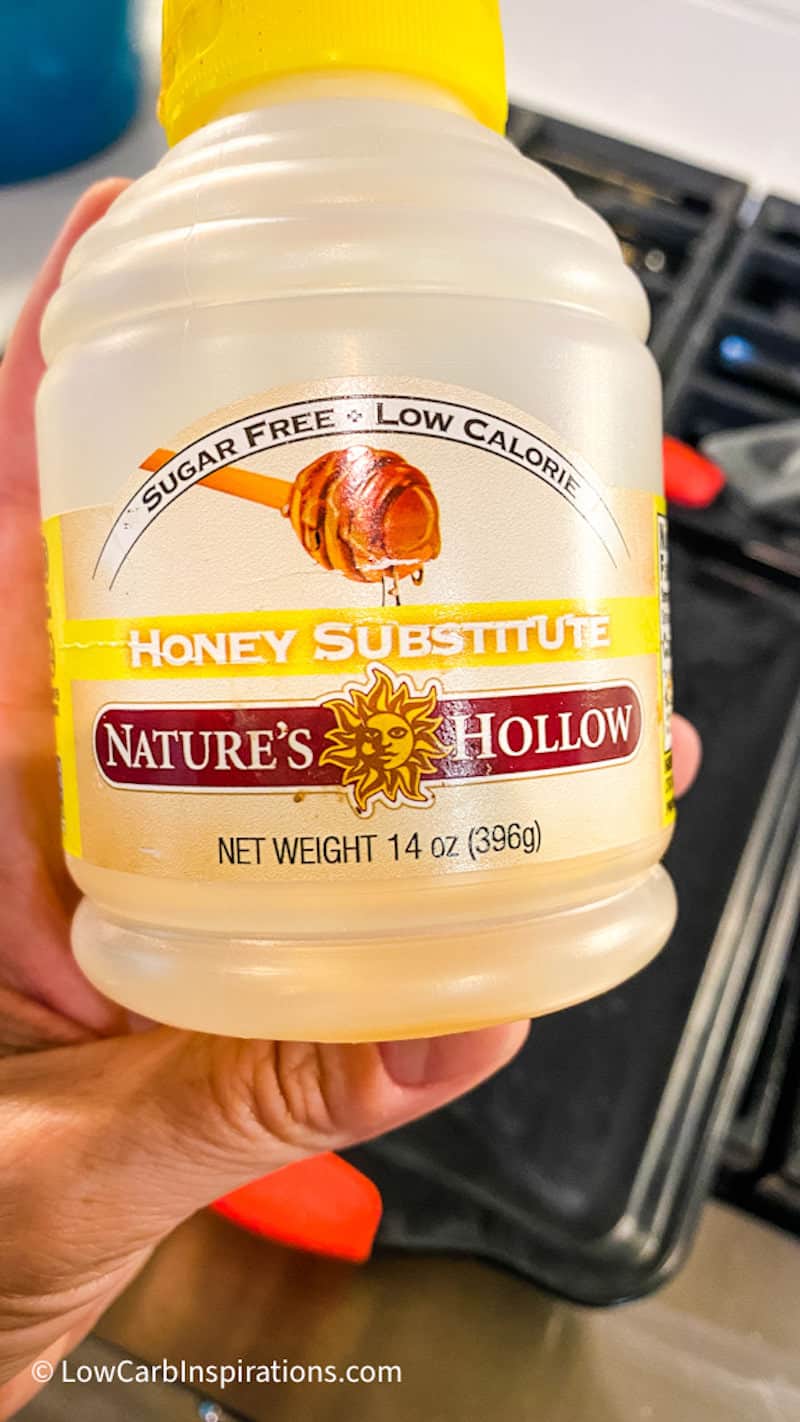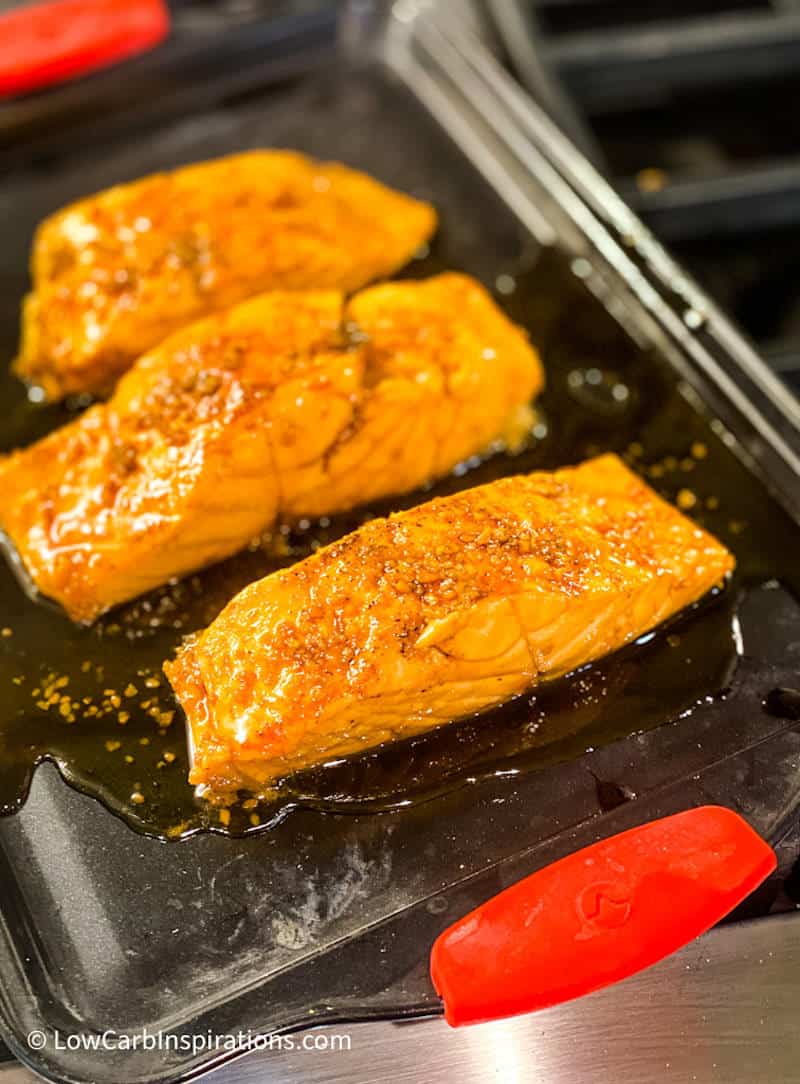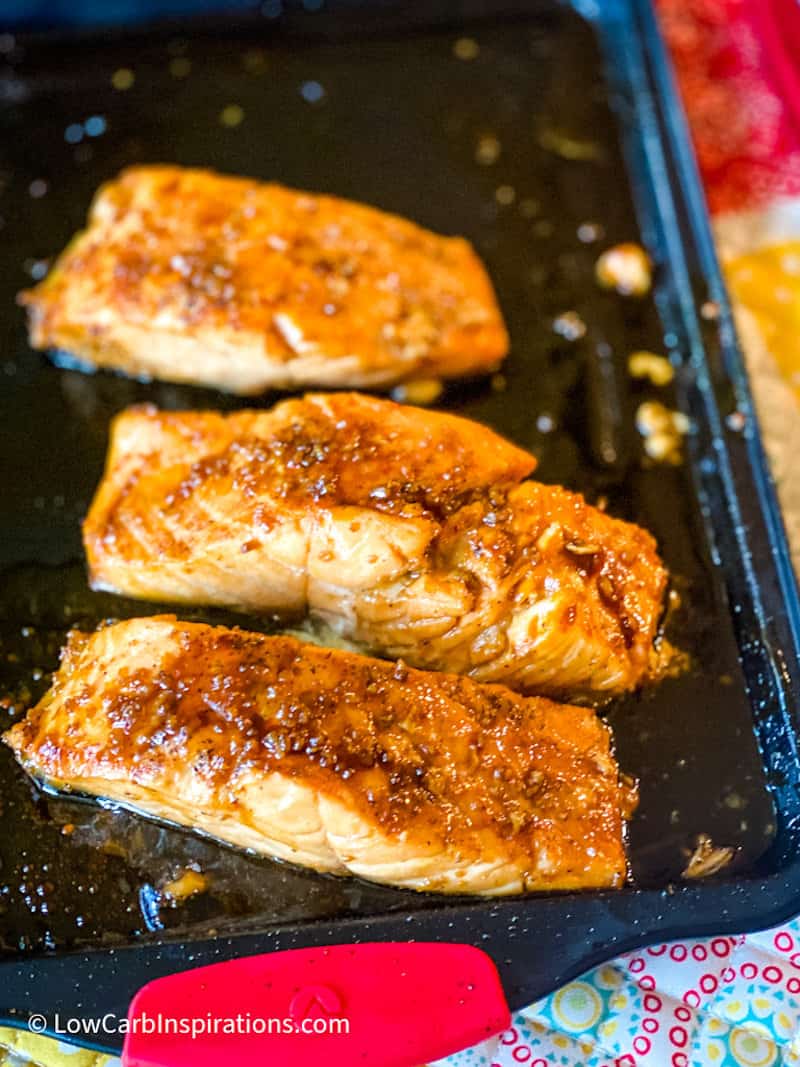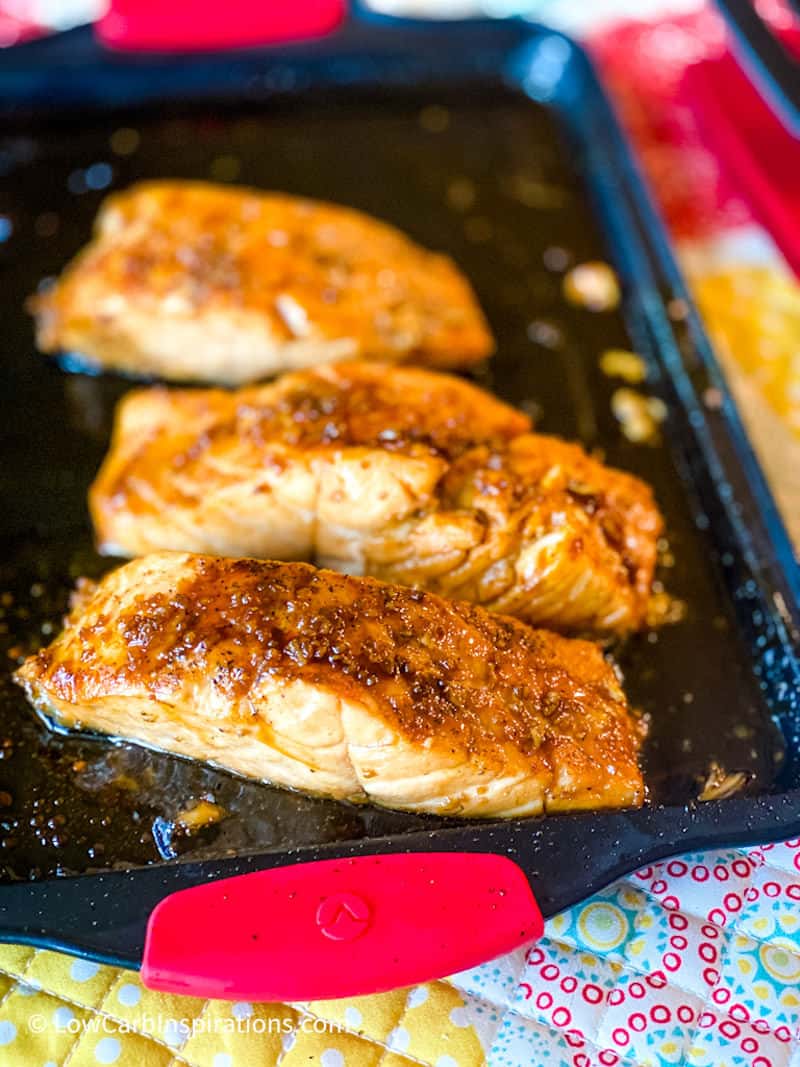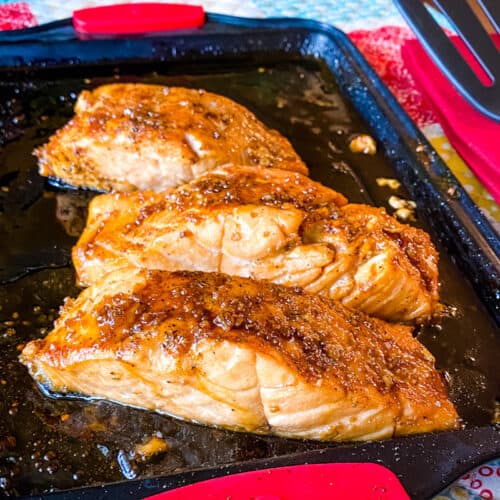 Keto Glazed Garlic Salmon Recipe
Sticky glazed salmon totally worth trying! Goes great on a salad or served with a side of grilled veggies!
Ingredients
2

lbs

salmon about 1/2 lb each

1/2

tsp

Salt

1/2

tsp

Pepper

1/2

Smoked paprika

1/2

teaspoon

onion powder

2

tbs

fresh minced garlic

6

tbs

Choczero peach syrup or any of your favorite keto friendly syrups

2

tbs

butter

1

tsp

lemon juice
Instructions
Cut the salmon into 4 equal servings.

Season with salt, pepper, smoked paprika, and onion powder.

In a medium size frying pan over medium heat, add the syrup, butter, soy sauce or coconut aminos, lemon juice and the minced garlic. Stir until well combined.

Add the salmon to the heated sauce and cook it four about 3 to 4 minutes on each side while basting each fillet with the sauce as it cooks.

Transfer the salmon fillets to a baking sheet and pour the glaze over the top.

Bake at 400 degrees for about 5 minutes or until the internal temperature reaches 145 degrees.

Serve warm with a side salad.

Enjoy!
Nutrition facts are provided as a courtesy. Have a question about our calculations or why you got a different result? Please read our
nutrition policy.