How to Make Zucchini Flour
If you are looking for another low carb or keto friendly flour replacement, you might want to add zucchini flour to the list! Let me show you how to make zucchini flour at home with a dehydrator or in the oven.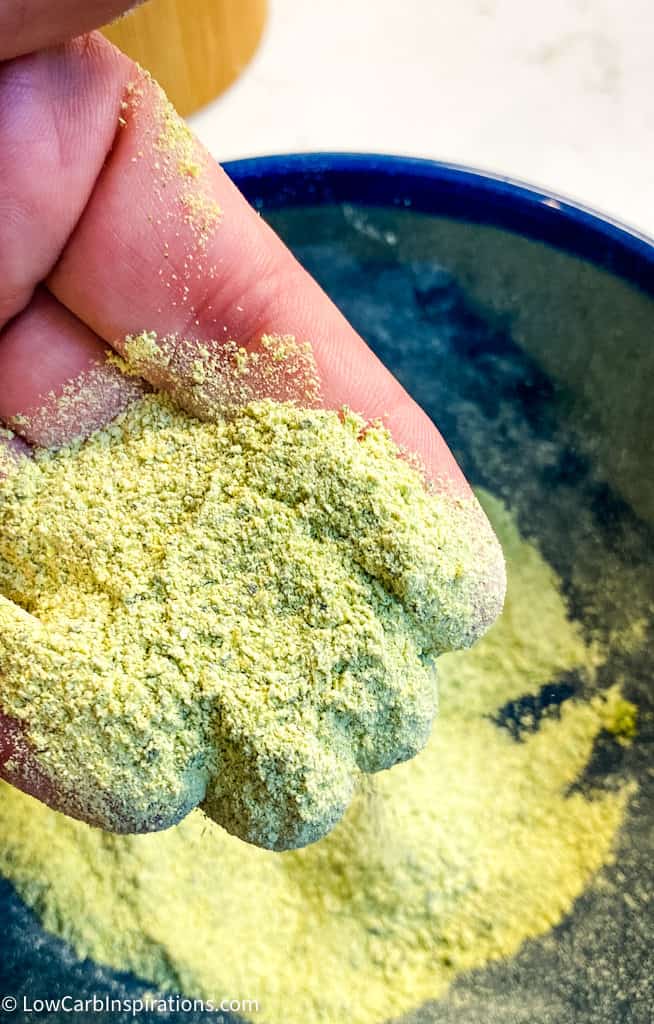 Frequently Asked Questions about Zucchini Flour
What is zucchini flour?
Zucchini flour is just dehydrated zucchini's ground down to a fine texture flour.
What does zucchini flour taste like?
Zucchini plants have a very mild taste. I would say it's slightly sweet with a slight bitter taste but not overpowering at all. Zucchini can take on many flavor profiles with seasonings and sweeteners.
Why make zucchini flour?
I made zucchini flour to replace some of the keto flours in my keto plan. Some people will make different flours out of vegetables to reduce the amount of grain or wheat in their diet.
Zucchini flour can only replace 1/3 of the regular flour when baking with flours that contain gluten. For example: if a recipe calls for 1 cup of all purpose flour, you can replace that with a 1/3 cup zucchini flour and 2/3 cup all purpose flour because it is not a one to one replacement.
How do you use zucchini flour while doing a low carb or keto diet?
I tested the 60 second mug cake bread recipe that is keto friendly and I love it! It definitely has a mild zucchini taste but I like zucchini. I didn't add anything else to the bread recipe to mask the zucchini flavor either.
The texture was light, soft, and fluffy! I would confidently say that zucchini flour can be a one to one replacement for coconut flour but not for almond flour because of its need for moisture. Zucchini flour and coconut flour soak up the liquids for sure.
What is the 60 second zucchini mug cake bread recipe you tried and is it keto friendly?
I used 1 tbs melted butter, 1 egg, 1/4 tsp baking powder, pinch pink salt and 1 tbs zucchini flour. Melt the butter and then add the remaining ingredients. Allow the batter to set for about a minute to allow the zucchini flour to soak up the liquids. Then stir and microwave it for 60 seconds. It's really quite yummy!
Get the Keto Bread recipe made with zucchini flour printable recipe card here: https://lowcarbinspirations.com/keto-bread-made-with-zucchini-flour/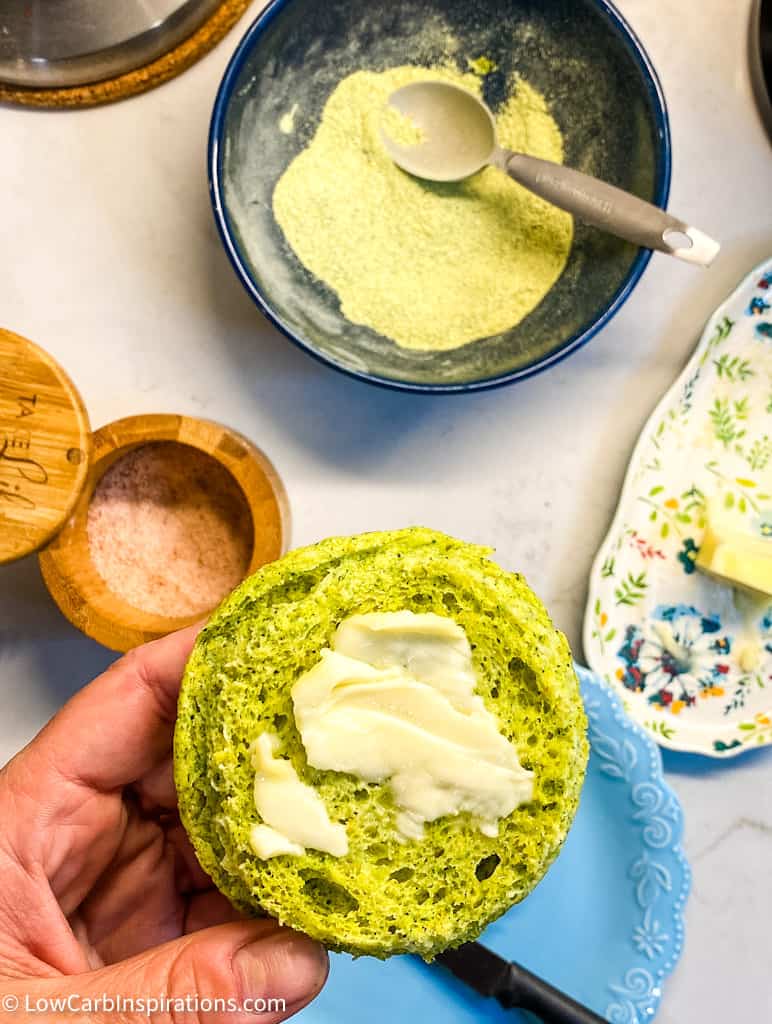 Is zucchini flour hard to make?
This flour was very time consuming to make but it was not hard at all. You just have to plan out the time it takes to slice the zucchini plant and time to dehydrate it. In this zucchini flour tutorial I used 6 regular sized zucchinis between 6 to 8 inches in length and about 2 to 3 inches in diameter. It took about 8 hours to fully dehydrate it too.
Did you slice the zucchini with the skin on or did you peel it?
I washed and dried the zucchini before I started and then I used my manual vegetable slicer hand grater to cut the zucchini into 1/4 inch slices. The skin did make the flour a nice green color. I imagine if you removed the skin it wouldn't be as green. It did not taste bitter or overwhelming with the skin on. When I do this again I will definitely leave the skin on and use all of the vegetable.
Knowing how much time it takes to make this low carb flour, would you do this again?
Yes! Absolutely! Sometimes I get tired of using the same keto flours in my recipes. I've used sunflower flour to help those with nut allergies but I really like this idea of using zucchini for flour also!
How much flour yielded from the six average size zucchinis you used in this tutorial?
I used six zucchinis that were medium in size (about 6 to 8 inches in length and 2 to 3 inches in diameter) and those yielded me almost 1/2 cup of zucchini flour. I was able to make a single serving of keto bread with only 1 tbs of that flour! I can make 8 slices of bread with those six zucchinis!
How do you store this flour?
I added what was left into a mason jar with a tight lid. I also added a moisture packet left over from another food to help keep moisture out. If I don't use this flour in a reasonable amount of time, I will store it in the freezer.
I definitely plan on planted zucchini in my garden this year. I always have an abundance so this the perfect way to consume it without wasting it or needing to give it away. Zucchini is one of the easiest plants to grow!
What type of dehydrator did you use?
I used an electric food dehydrator that has 11 trays similar to these food dehydrators found on amazon. I purchased this dehydrator back into 2015 and I love it! Worth every penny! Here's a couple of photos of it included a photo of the make and model of it: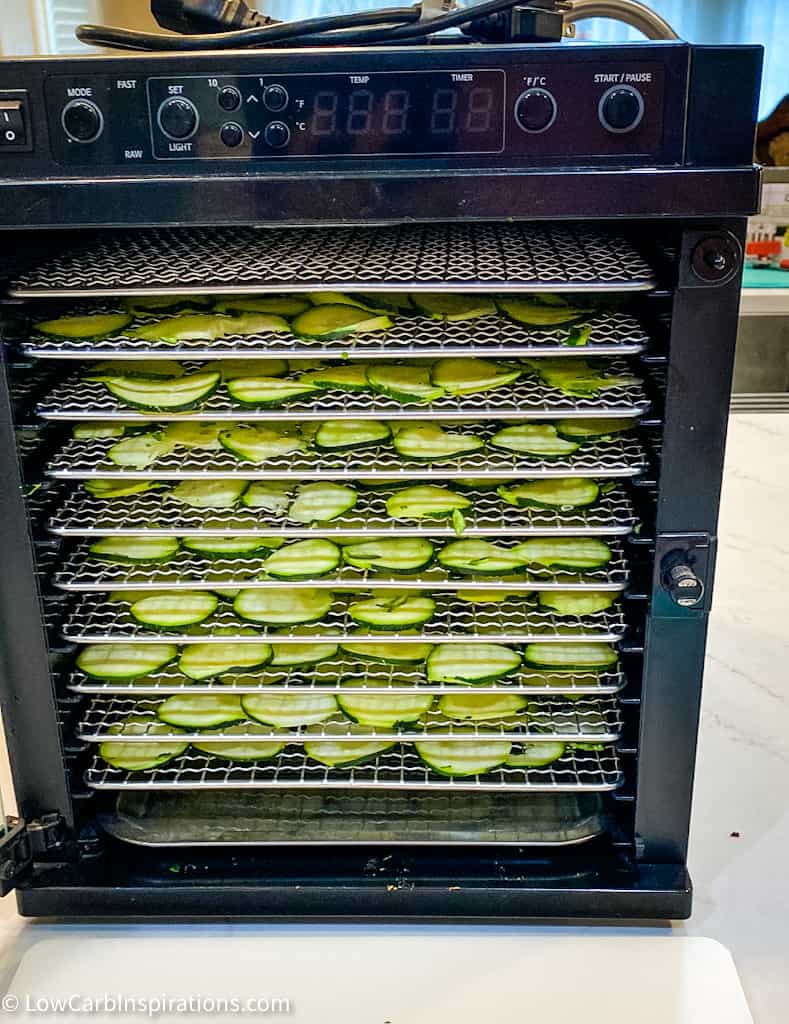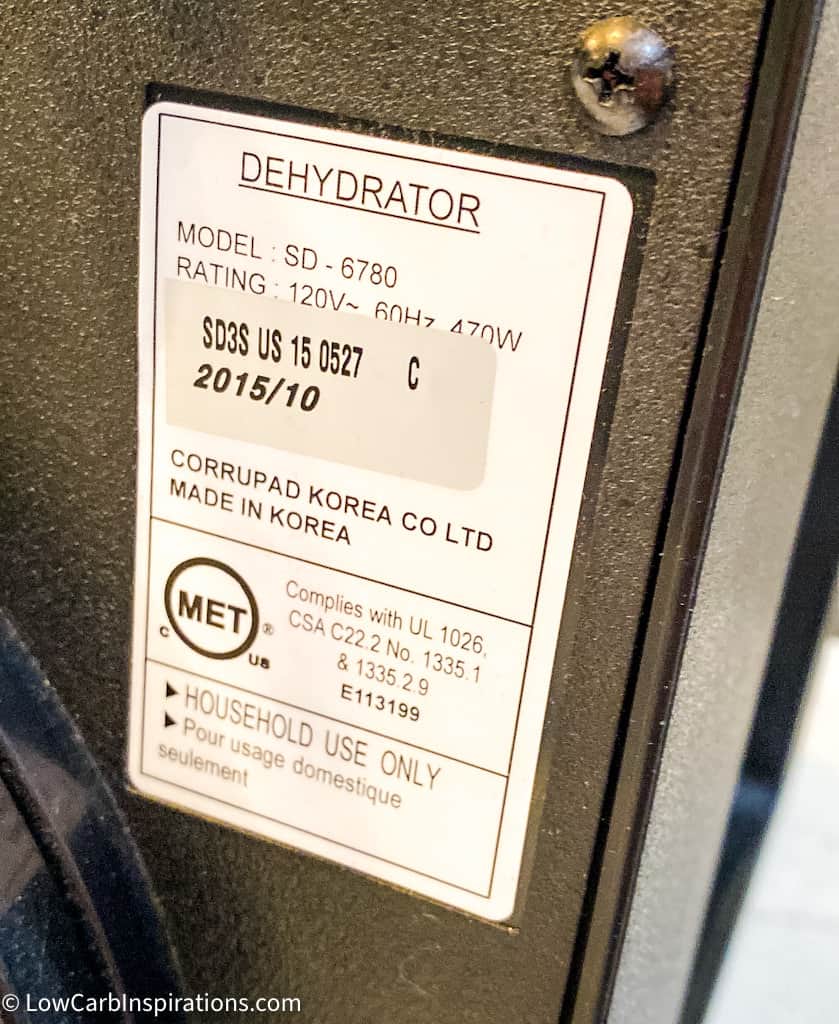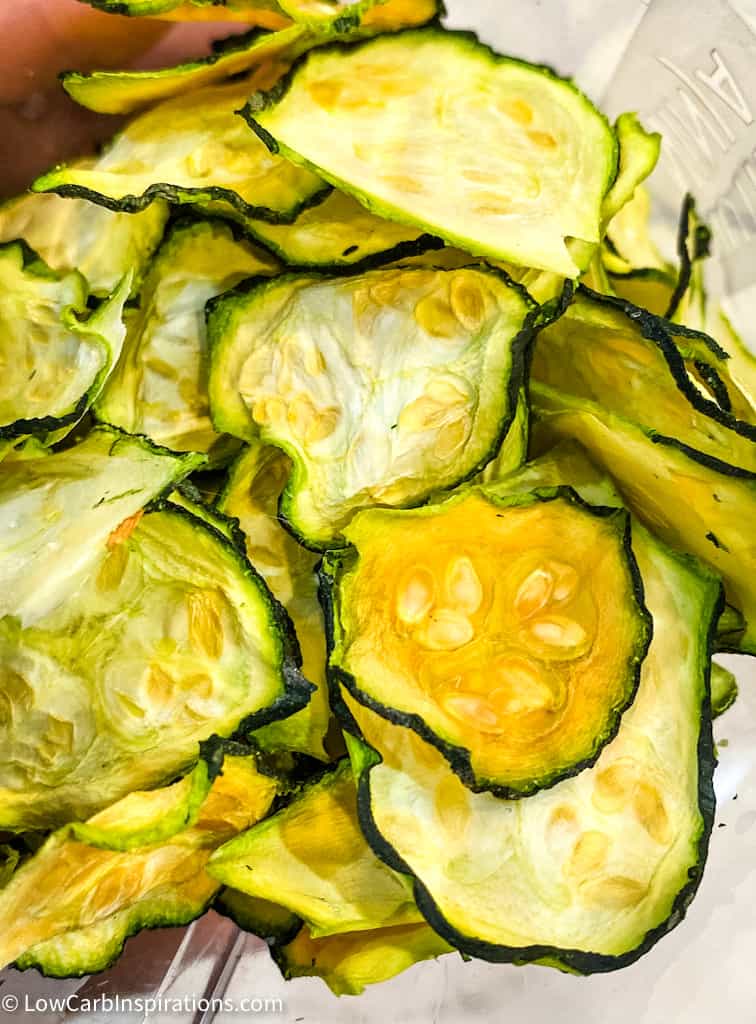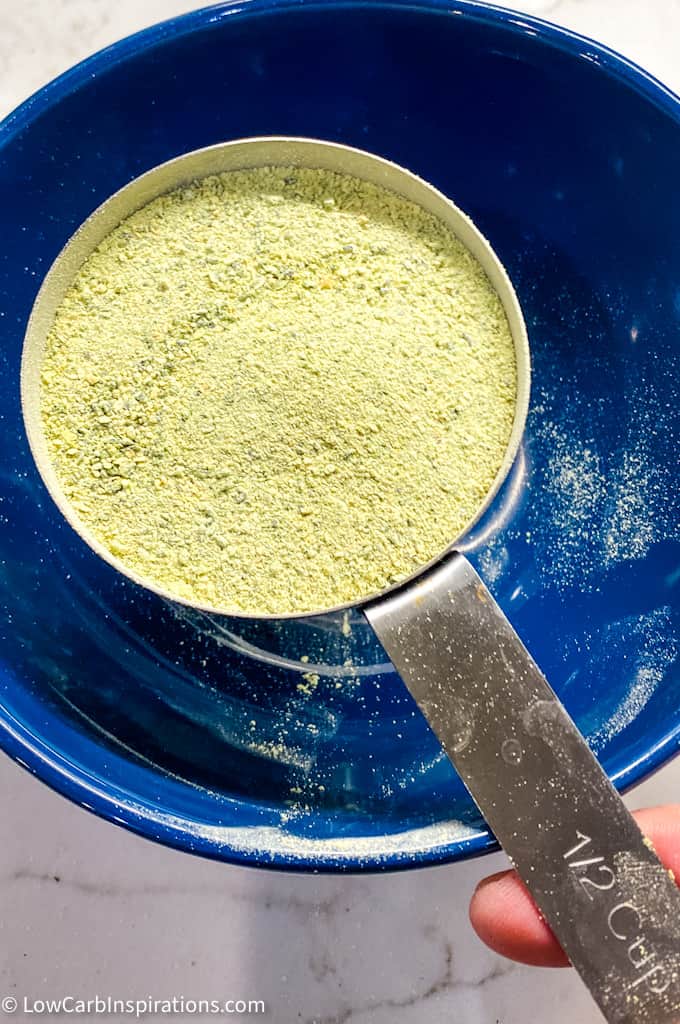 Instructions for how to make the keto flour alternative:
Time needed: 8 hours and 15 minutes.
How to Make Zucchini Flour
Wash and dry the zucchini.

Wash and dry the zucchini before you start.

Prepare the space and gather the tools.

Set up the dehydrator and vegetable cutting tools. I used the vegetable slicer I bought from Amazon.


Slice the zucchini.

Slice the zucchini into 1/4 inch strips or circles. Place the zucchini on the dehydrator rack. Repeat this until all the zucchini is cut and the racks are filled. I almost filled all eleven racks with six zucchini.
This photo below shows two zucchinis sliced so far.



Slowly cook the zucchini at a low temperature to dehydrate it in the dehydrator or the oven.


Dehydrator Instructions: Set the dehydrator to 135 F and cook it for 8 hours or until you reach a completely dry and crispy texture.

Oven Instructions: Set the oven to the lowest setting (it's probably going to be 150 F). This setting is too high to dehydrate the zucchini so you will need to prop the oven door open about an inch or so. This will help the oven get to the lower temp you need. Lay the slices of zucchini on a baking sheet lined with parchment paper and cook for about 6 to 8 hours checking periodically for that crispy, dry texture.



Keep checking the zucchini texture during the drying time.

I start checking the zucchini about 6 hours for a crispy texture.



Remove the zucchini chips when they are ready.

Remove the zucchini chips from the trays when they are ready. They have reduced in size and they are dry and crunchy all the way through.




Add the zucchini chips to a blender.

Add the zucchini chips to a blender to the fill line. Blend on high until you get a fine texture.


Repeat the blending process until all the chips are blended.

Keep adding chips to the mixer until you have blended all of the zucchini chips into flour. It's amazing how a big batch of zucchini can turn into such a small amount of zucchini flour.
I used my handy dandy Ninja blender. You don't need a high powered blender because these chips grind nicely.



Use the zucchini flour in many of your favorite recipes.

Here we made the 60 second zucchini mug cake bread recipe I mention above!



Experiment with all kinds of recipes using this zucchini flour!

We are in love with the bread recipe!


We hope you enjoy this flour alternative just as much as we do!