You are gonna love Jen's Keto Smash Burgers Recipe!!  This is different than any other recipe because of the technique used.  We cook the cheese under the burger to create a crispy cheese crust on the smash burger itself!  It's TO DIE FOR!
We've created a TikTok video to show you exactly how to make this in action.  It's easier to see it done while someone is doing it.
We have a large Blackstone grill that we use all the time.  The smash burgers cook perfectly on a grill like this.  You can make these inside on a regular frying pan too but I will tell you that cooking a burger on a skillet like this, it does have a different taste and in a completely good way too.
You want to make sure you season your ground beef and work with a super hot skillet.  These are the tips to a perfect smash burger.
You can serve these with Keto hamburger buns (as shown) or you can serve them over a bed of lettuce or in lettuce wraps.  Totally your choice.  You can also use our super popular Keto Chaffle Hamburger bun recipe too!  It has Everything Bagel Seasoning baked into the keto bread and tastes amazing with burgers.
I think it's also worth mentioning that smash burgers are different from regular burgers because they are super thin and they cook quickly.  When you add cheese to each smash burger the cheese to meat ratio is much better tasting in my opinion.
This is probably why smash burgers are my favorite.
I'm also included the Keto Hamburger buns recipe below too in case you want to make those.  Just be sure you make them ahead of time.  This way you can warm them up on the grill when you are ready to serve them.  Toasting these buns adds a whole new flavor that's worth doing!
Keto Hamburger Buns Recipe Ingredients
Makes 6 large buns or 8 medium buns
Hamburger Bun Recipe Instructions:
Preheat the oven to 350 degrees.
Heat cheese in the microwave for 1 1/2 minutes.

 

Stir.

 

If the cheese is not fully melted, add it back to the microwave for another 30 seconds.
Mix the melted cheese and cream cheese together.
Add the garlic powder, onion powder, salt, baking powder, and almond flour.
Add the egg.
With clean hands mix the dough by grabbing the ends and folding it inwards.

 

Do this until all the ingredients are incorporated.
Divide the dough into six or eight equal parts depending on the size buns you want.
Shape as buns and sprinkle the top of each bun with sesame seeds, if using.
Place the sheet pan in the oven and cook it for about 15 to 20 minutes or until the buns are light golden brown.
Remove them from the oven and allow them to cook for at least 5 minutes.
Use a bread knife to slice each bun in half.
Set aside and warm on the grill just before serving.
Here are a few photos we took of this process: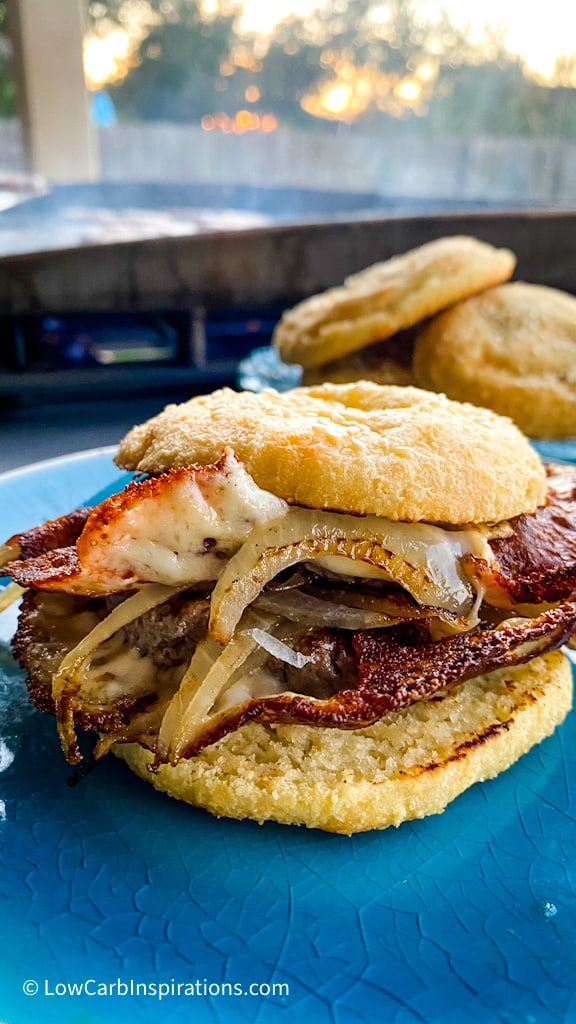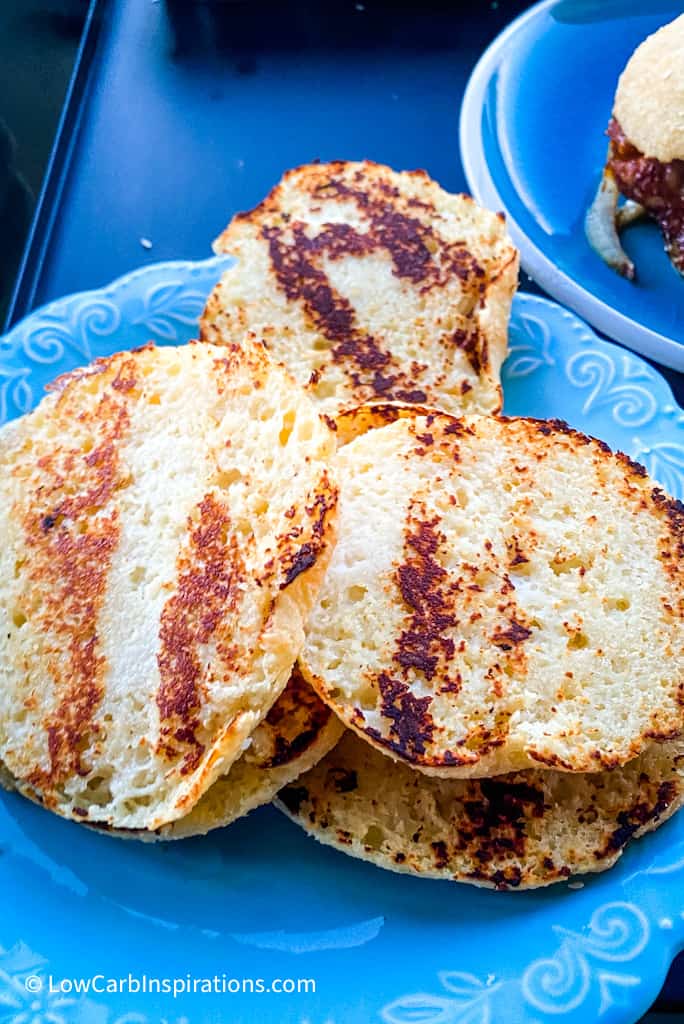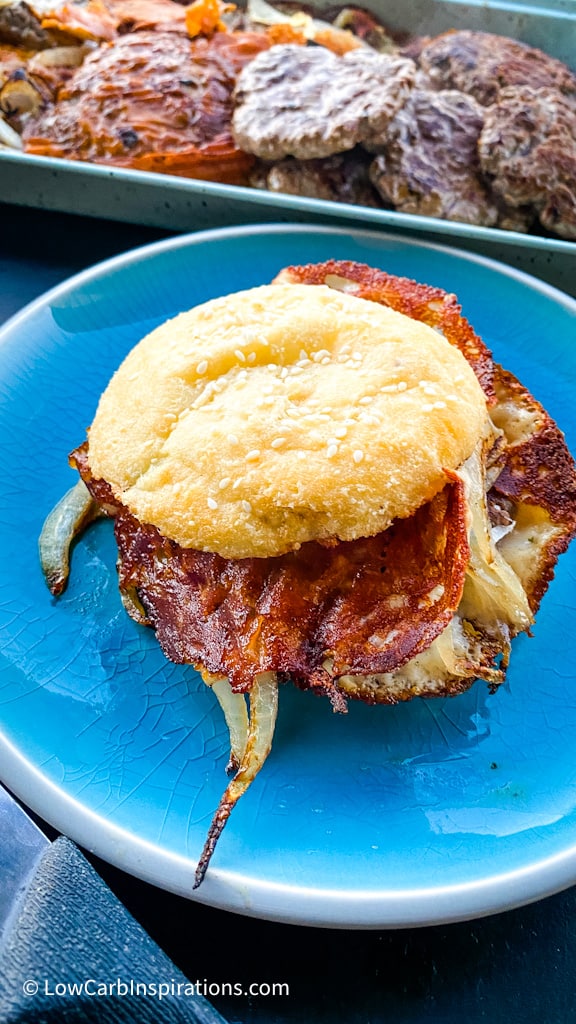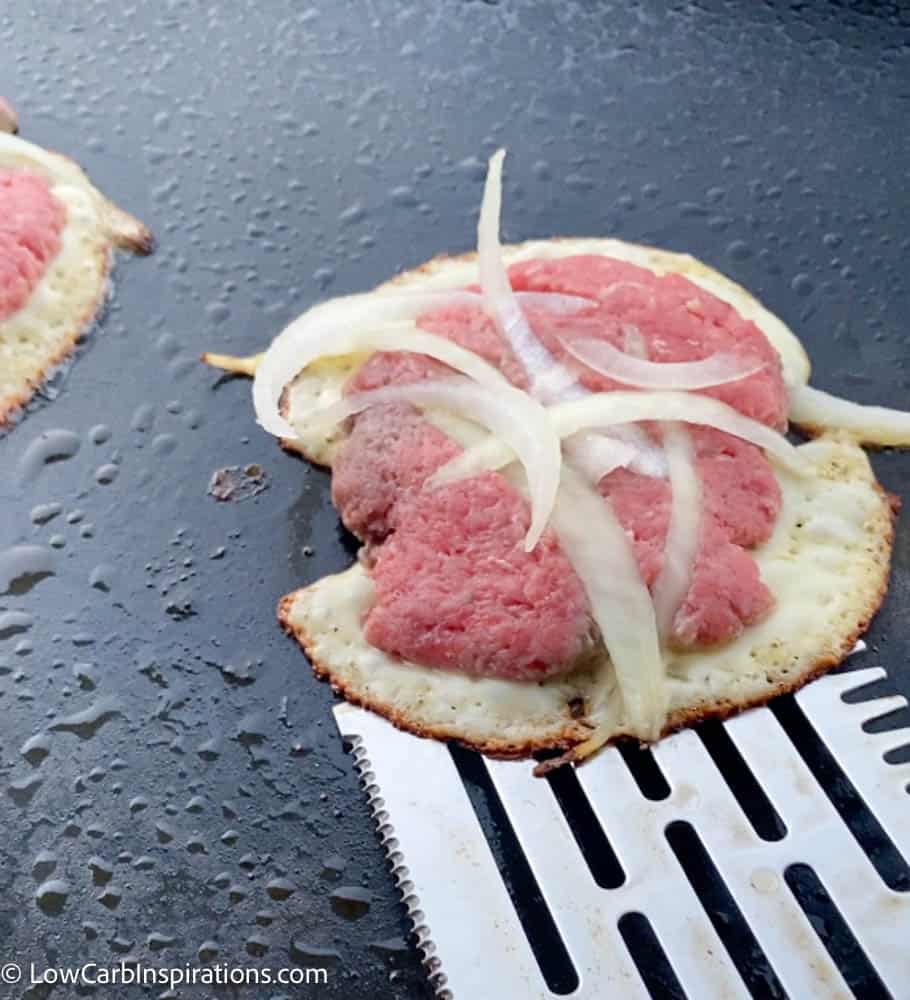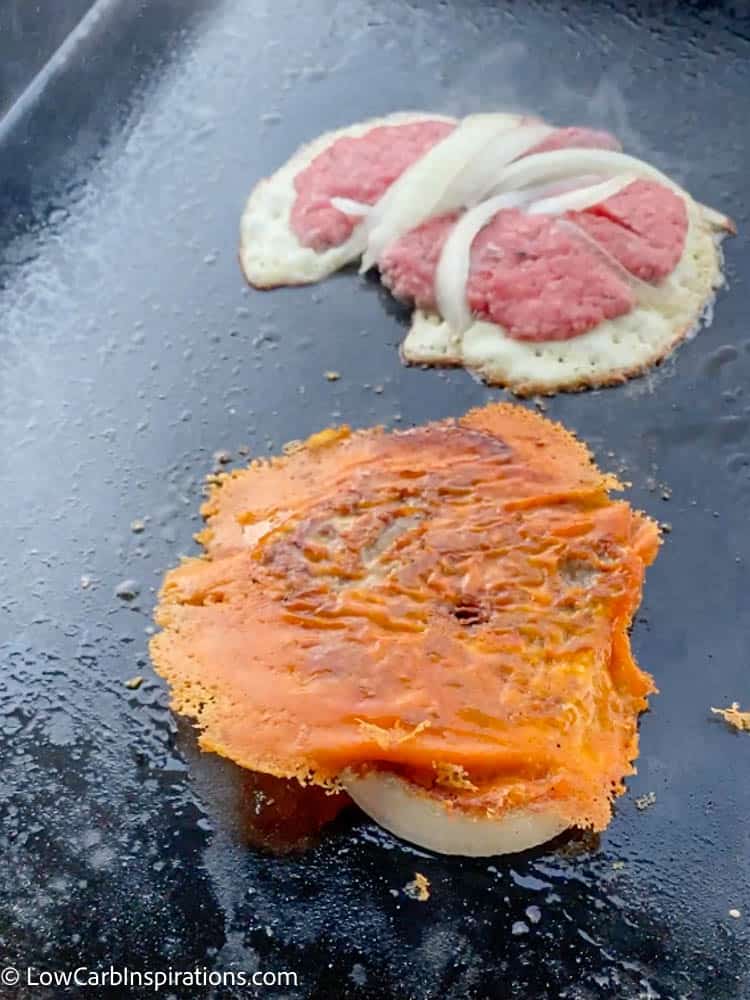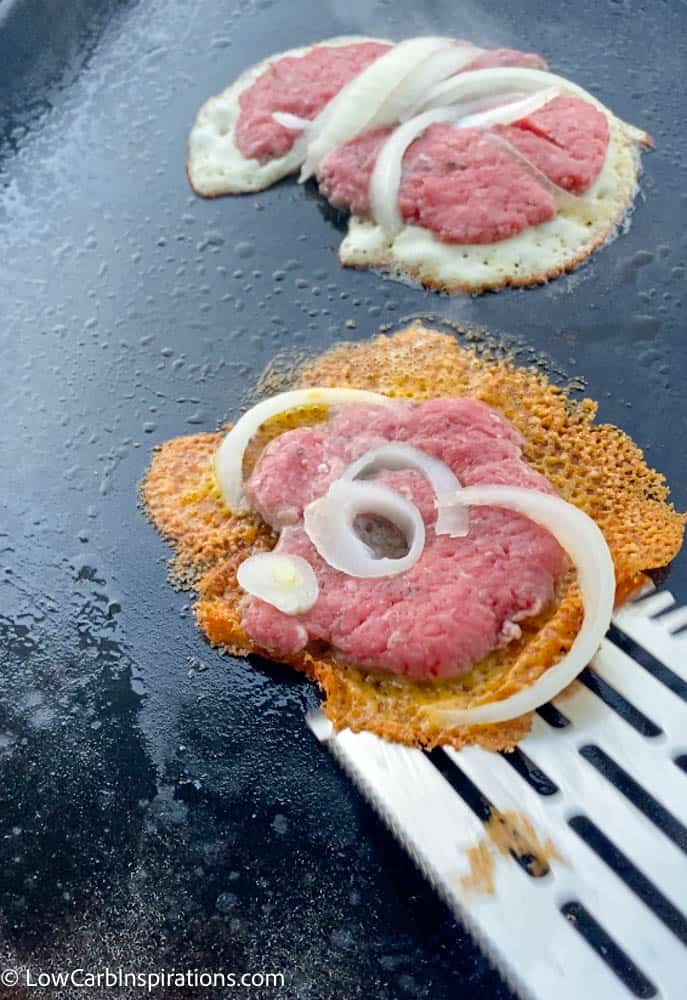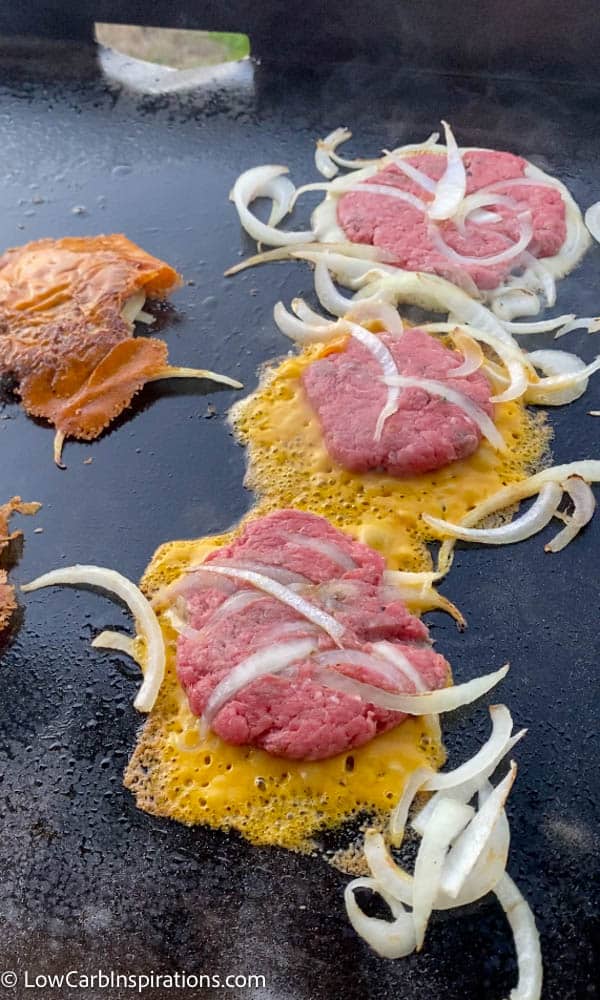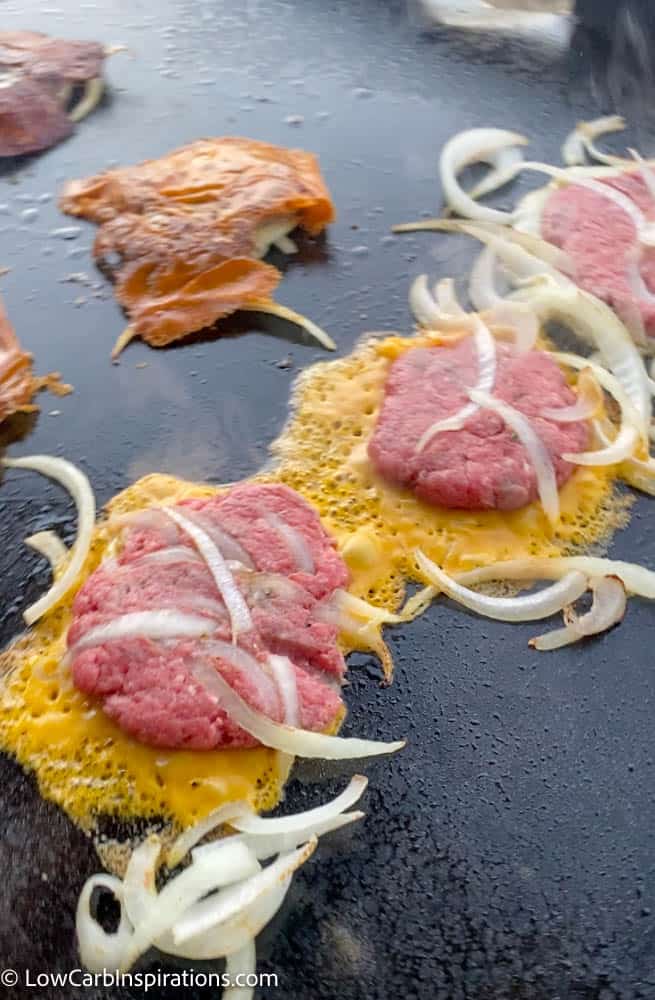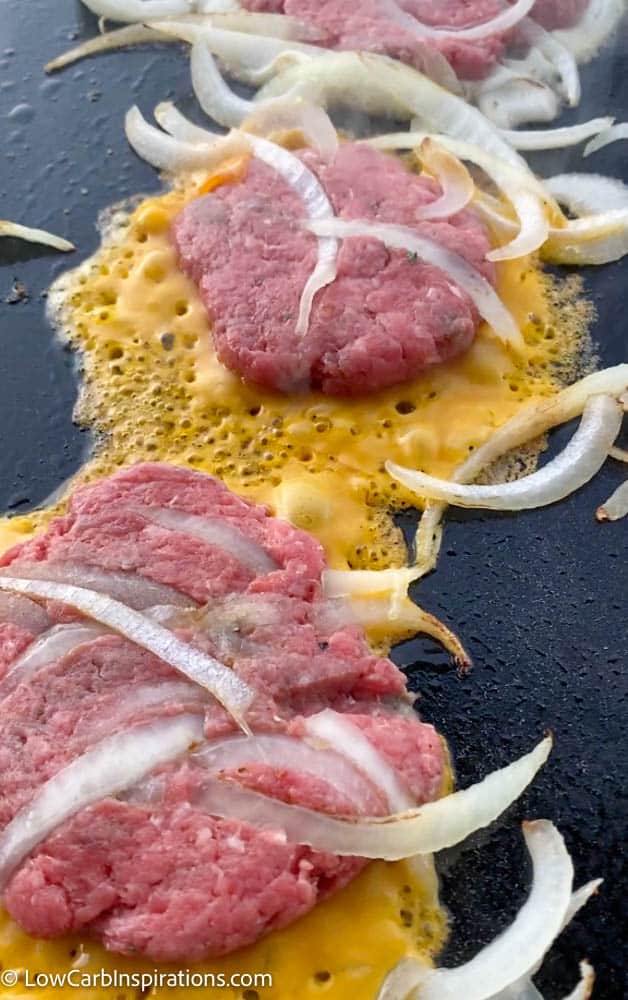 We made some extra burgers without cheese too.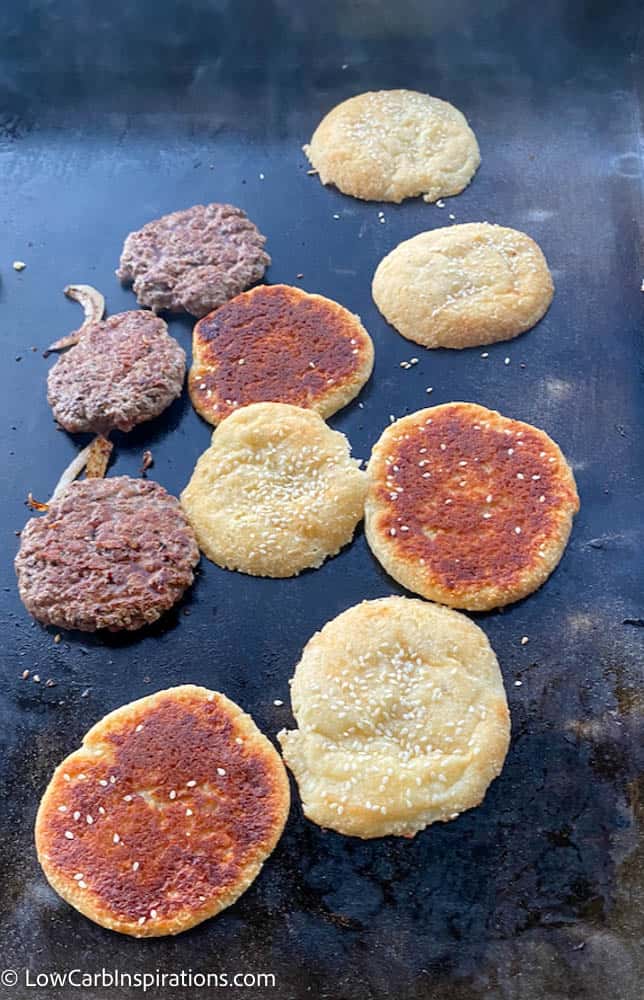 Jen's Smash Burgers Recipe Ingredients
(the amount of burgers you yield will depend on the size of the burgers you make when you shape them)
1 lb ground beef 90/10
2 tbs burger seasoning of your choice
1/2 yellow onion, sliced thin
Slices of cheese (we used provolone and mild cheddar)
Keto Hamburger Buns (premade ahead of time)
Jen's Smash Burgers Recipe Instructions:
In a medium bowl combine the ground beef and seasonings.  If your seasonings do not have salt and pepper included, add them in this step.
Divide the patties in about two inch balls for medium sized smash burgers.
Heat the grill over medium heat.

 

Have a plate of the hamburger patties, sliced cheese and sliced onions ready before you start grilling the smash burgers.
Use a large flat spatula to help flatten the burgers into thin smash burgers.
Move quickly on this next step when you start cooking the smash burgers.
On a preheated grill, add a slice of cheese.

 

Immediately place the burger ball into the cheese slice and top it with the thinly sliced onions.

 

Use a large spatula and press the burger down as thin as you can by smashing it down onto the cheese.
By placing the onions over the hamburger before you smash it,  it creates a non stick barrier between the burger and the spatula making it really easy to smash the burgers.  If you choose not to use onions then have another spatula or knife ready so you can slide the burger off of the spatula after you smash it.
Cook the burgers just long enough to see the cheese crust and the burgers brown on the edges.

 

Smash burgers will cook quickly depending on how thin they are.

 

It might only take about 2 minutes on each side.
Flip the burgers and finish cooking them on the other side.  The first side you cooked with have a crispy cheese layer!  SO YUMMY!
Remove from the grill and set on a tray with the crispy cheese layer faced up.
Slice the buns and heat them on the grill just before serving the burgers.
We add two smashed patties to each keto hamburger bun.
Add extra cheese to the hot burgers if you want melty cheese too.
Serve the burgers as is (very cheesy) or add toppings and enjoy!
Top the burgers with any or all of your favorite toppings.
Mayonnaise
Picked
Lettuce
Tomatoes
Spicy Mayo (1/2 Mayo and 1/2 chipotle sauce)