Keto Rhubarb Sauce Recipe
Rhubarb is in season! Rhubarb is in season! I couldn't be more excited to start creating amazing Keto Rhubarb recipes for all of us! Today I made a super simple Keto Rhubarb sauce recipe. I made this recipe because it can be added to chaffles, keto toast, or even used in dessert recipes. More to come later on the Rhubarb dessert recipes. I've got a few treats coming to the blog soon!
First, if you've never even heard about Rhubarb, let me fill you in on all the details.
What is Rhubarb?
Rhubarb is a celery lookalike but red in color. Rhubarb is a vegetable derived from cultivated plants in the genus Rheum in the family Polygonaceae. The whole plant – a herbaceous perennial growing from short, thick rhizomes – is also called rhubarb. Historically, different plants have been called "rhubarb" in English. Wikipedia
How does Rhubarb taste?
Rhubarb tastes tart.
Is Rhubarb sweet?
No, but you can add keto sweetener to it to make a delightful treat.
Is Rhubarb keto friendly?
Yes! Rhubarb is totally keto friendly! A ½-cup serving contains about 1.7 g of net carbs and only about 13 calories!
Are Rhubarb leaves edible?
No. You cannot eat the rhubarb leaves. They are not digestible. Rhubarb leaves have high levels of oxalic acid that can damage your kidneys and even lead to death if ingested in very high levels.
How many different ways can you eat Rhubarb?
You can enjoy rhubarb raw, roasted, or puréed in a small, low-carb or keto friendly smoothie or moderate portion of sauce because it's low in calories and carbs.
Can you freeze Rhubarb?
Yes, you can! I would cut the stalks into 1 inch pieces and then freeze on a tray spread out until they are slightly solid. Then I would put them in a freezer container. Rhubarb can be frozen for up to 1 year.
Where to buy Rhubarb?
I was able to pick some up at my local Randal's grocery store. I would call ahead though because my local HEB grocery store did not carry it. I have not seen Rhubarb at Costco either.
Now that you know a bit about Rhubarb, you have got to try this simple Keto Rhubarb Sauce Recipe!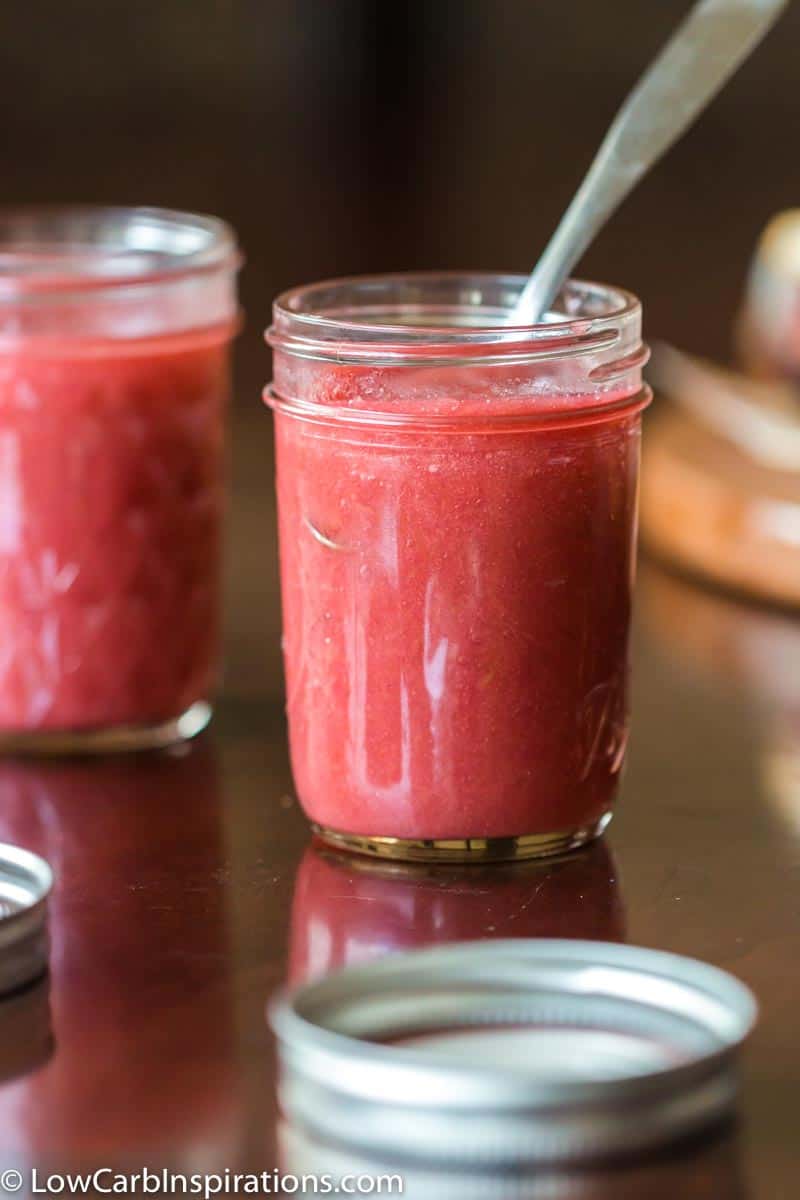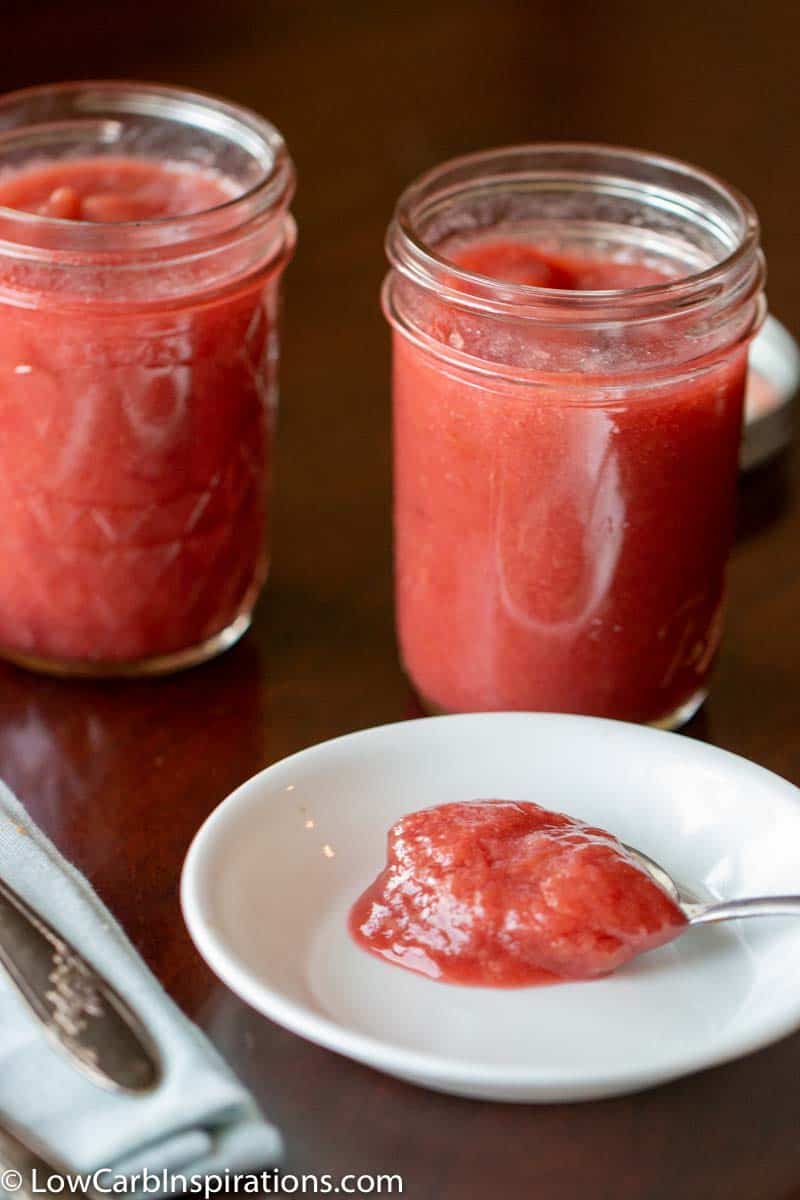 Keto Rhubarb Sauce Recipe Ingredients
Sweetness in this recipe will depend on your taste buds and the tartness of the rhubarb.
1/2 cup allulose = tart
3/4 cup allulose = semi sweet
1 cup allulose = sweet
Feel free to use any keto sweetener you want but be sure to taste the sweetness and start off adding a lower amount till you get to the sweetness you enjoy.
Keto Rhubarb Sauce Recipe Instructions
Get the full recipe instructions listed in the printable recipe card at the very bottom of this post. We've included the nutritional information in the card as well.
This rhubard sauce will last two weeks in the refrigerator sealed in a mason jar. However, it hardly ever lasts that long in my house because the family gobbles it up!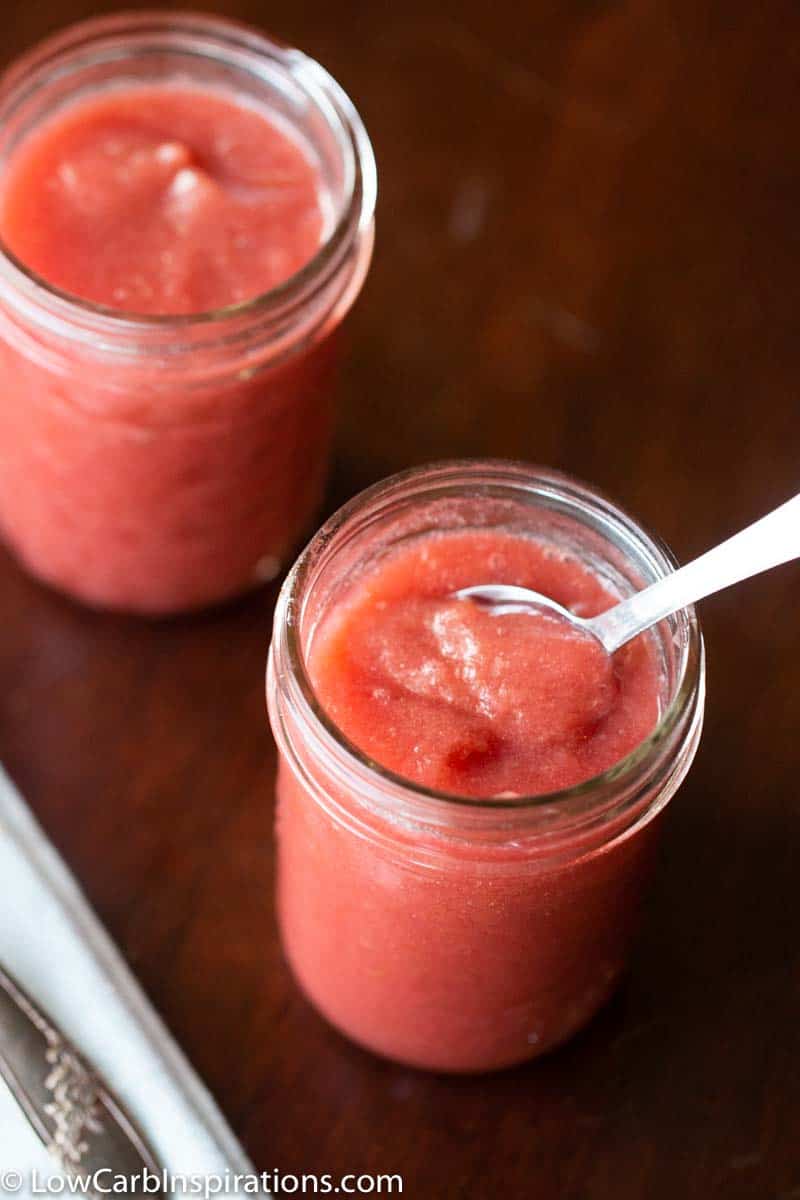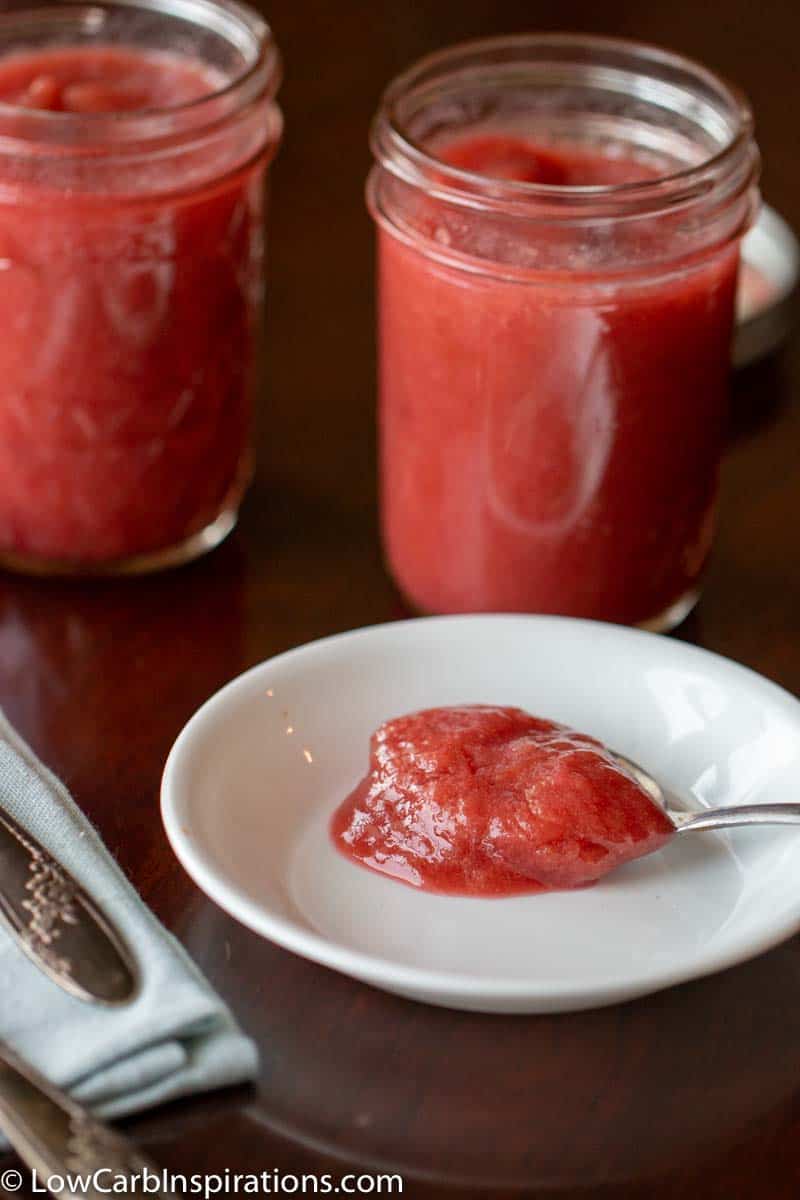 We loved using this recipe on our Keto Sweet Bread Chaffle recipe with a layer of soft cream cheese too! It's fantastic!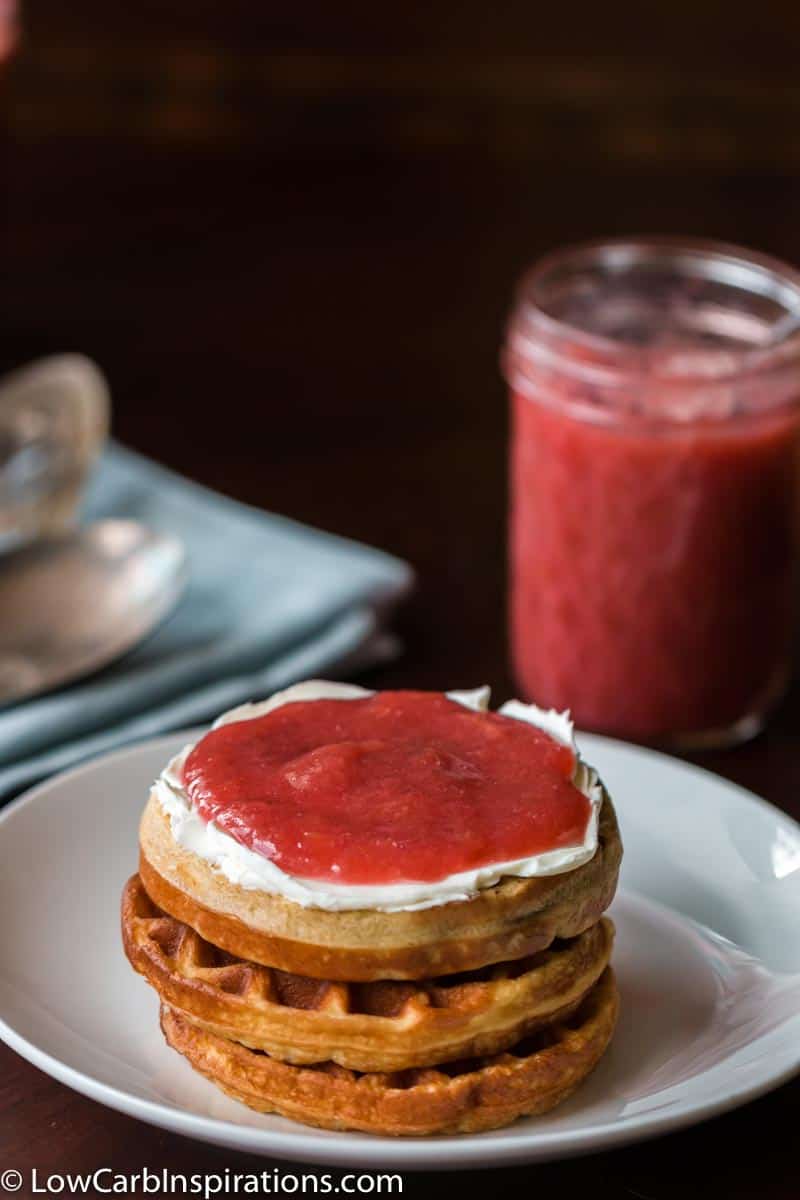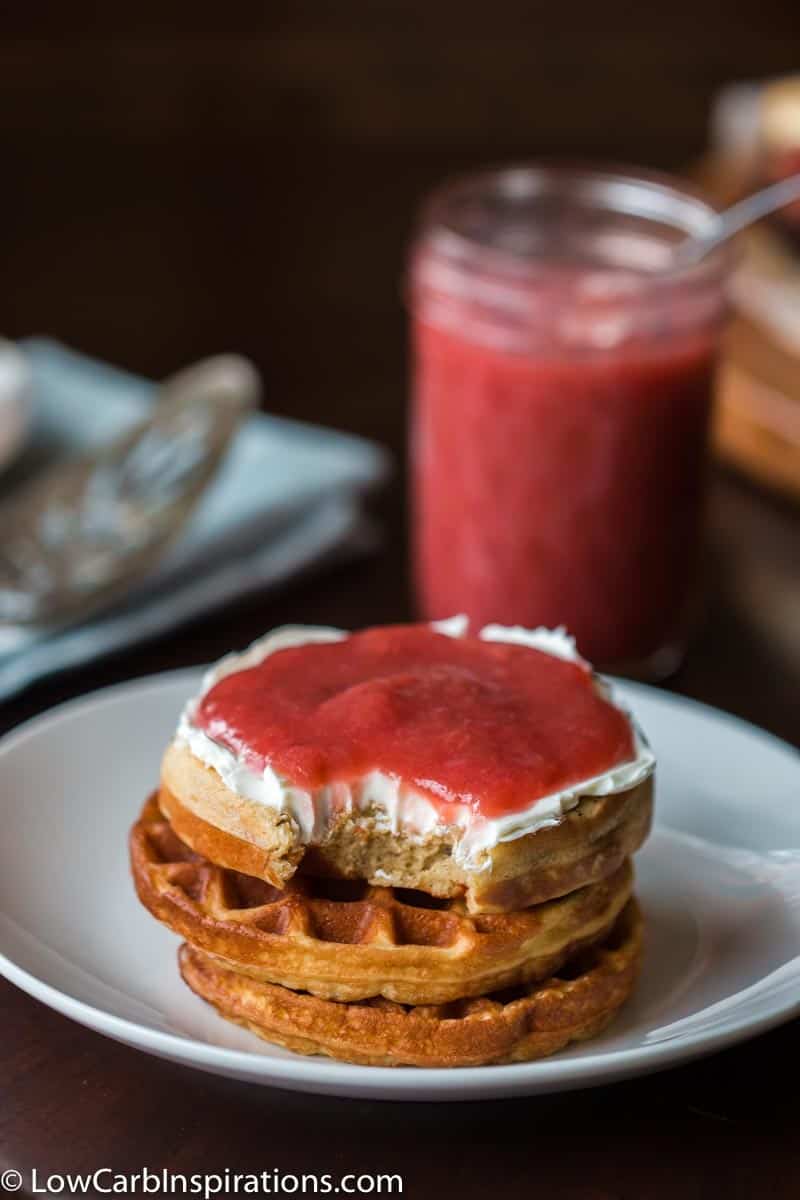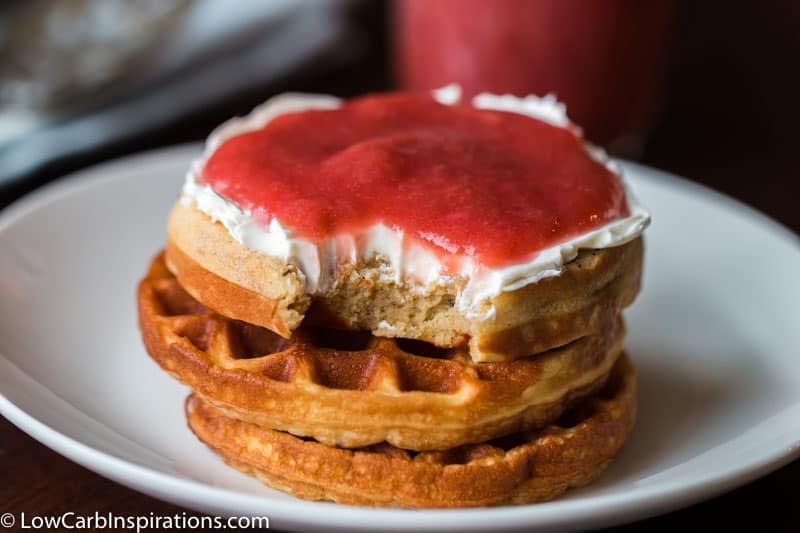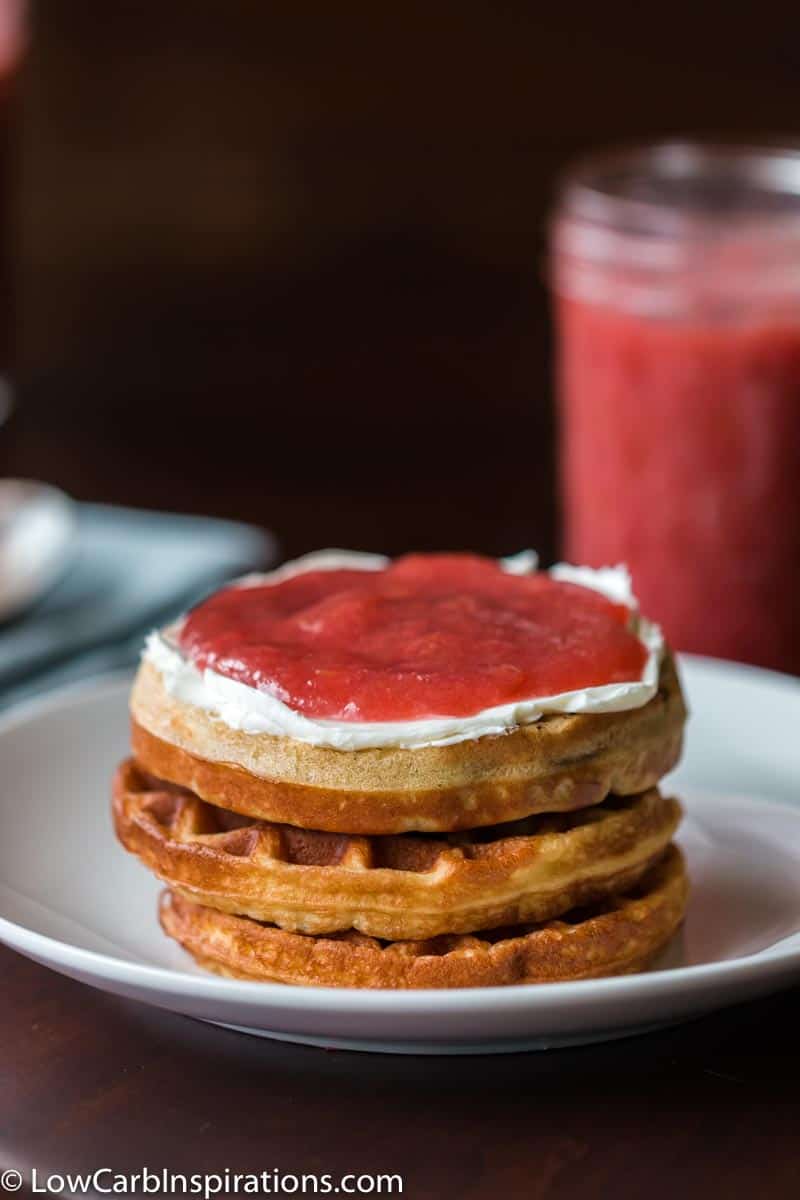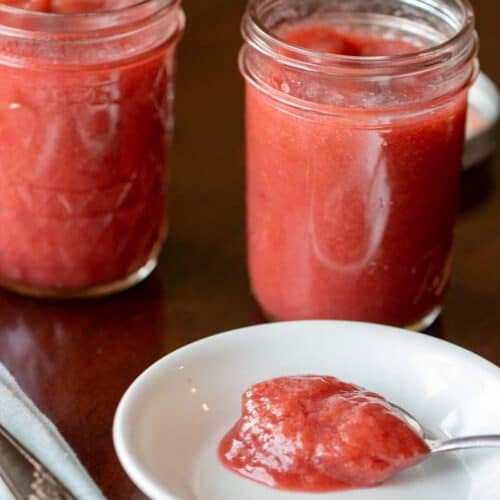 Keto Rhubarb Sauce Recipe
Delicious Rhubarb sauce recipe that's sugar free!
Instructions
Cut off the top and bottom parts of the rhubarb stalk.  Dice the rhubarb into 1/2 inch cubes.  If the outer layer is too tough, you can peel that off and discard it.

Use a large frying pan over medium heat, add all of the ingredients.

Cook it until it starts to steam and then reduce the heat to a simmer.

Stir the rhubarb to combine all the ingredients.

After about 10 minutes the rhubarb will start to soften.  You should be tender enough to smash with with a fork.

Take a small spoonful and cool it down.  Taste a small amount of the sauce to make sure it is at the sweetness you prefer.  Be careful because it's really hot!

Add more sweetener if needed.  Using a spoon mix the sweetener in until it's fully incorporated.

The texture if the sauce will depend on how you like it also.  If you prefer a chunky texture, you can leave it as is when it's done cooking.

If you prefer a smooth sauce, I would allow the sauce to cool slightly and add it to a blender.

Blend the rhubarb sauce on high for 30 seconds.

Pour the rhubarb sauce into mason jars.  Leave the jars uncovered until it fully cools.

Add the lids to the mason jars and store the rhubarb sauce in the refrigerator for up to two weeks!  The lemon juice in this recipe helps keep it fresh longer.
Notes
1/2 cup allulose = tart
3/4 cup allulose = semi sweet
1 cup allulose = sweet
Feel free to use any keto sweetener you want but be sure to taste the sweetness and start off adding a lower amount till you get to the sweetness you enjoy.
Nutrition
Serving:
2
oz
|
Calories:
10
|
Carbohydrates:
2
g
|
Protein:
1
g
|
Fat:
1
g
|
Fiber:
1
g
|
Sugar:
1
g
Nutrition facts are provided as a courtesy. Have a question about our calculations or why you got a different result? Please read our
nutrition policy.