Keto Sweet Bread Chaffle Recipe
If you want a sweet bread that's keto friendly this Keto Sweet Bread Chaffle recipe was made just for you! I love sweets and I love when they come out as good as this one did.
In this recipe we use mayo but not just any kind of mayo. We use the Dukes brand mayo. You can substitute the mayo with sour cream if you prefer. I ran out of mayo one day and used the sour cream and it turned out just fine. I still prefer the mayo though.
We also use Allulose powdered sweetener in this recipe. We love allulose! It's not nearly as sweet as sugar. If you use a different keto sweetener in this recipe you may need to use a little less if the sweetness is stronger. For example, Monkfruit you may only need 1 to 2 teaspoons in this recipe instead of a whole tablespoon full.
We've used this recipe for all kinds of things! We topped it with this Keto Rhubarb Sauce Recipe. We've sprinkled some Allulose powdered sweetener on it with melted butter. This is my go to sweet chaffle recipe when I want a sweet bread or a base bread that is sweet for any type of topping I want. You can top it with strawberries and whipped cream to create a Strawberry Short cake! You can add a bit of lemon extract and make it lemon bread! So many options. Just let your creativity go wild with this one.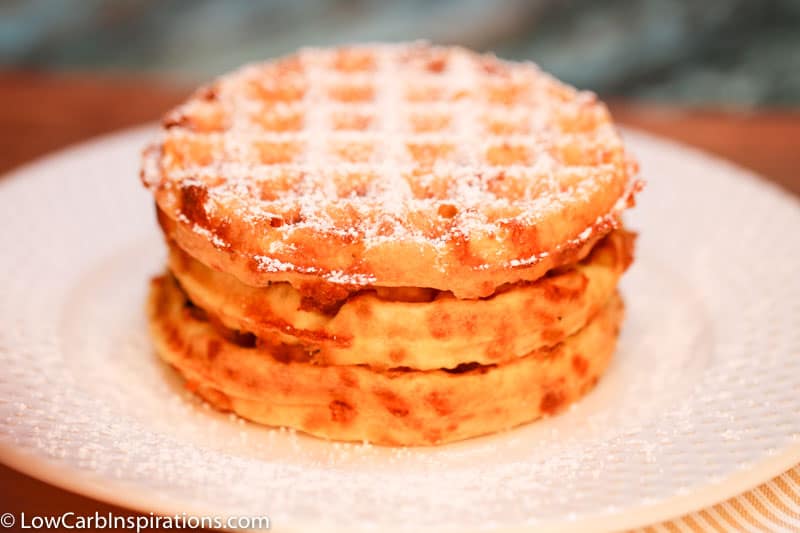 This shows the same Sweet Bread Chaffle Recipe but it's topped with a layer of soft cream cheese and this Keto Rhubarb Chia Seed Jam Recipe! It's fantastic and my new favorite breakfast treat while Rhubarb is in season!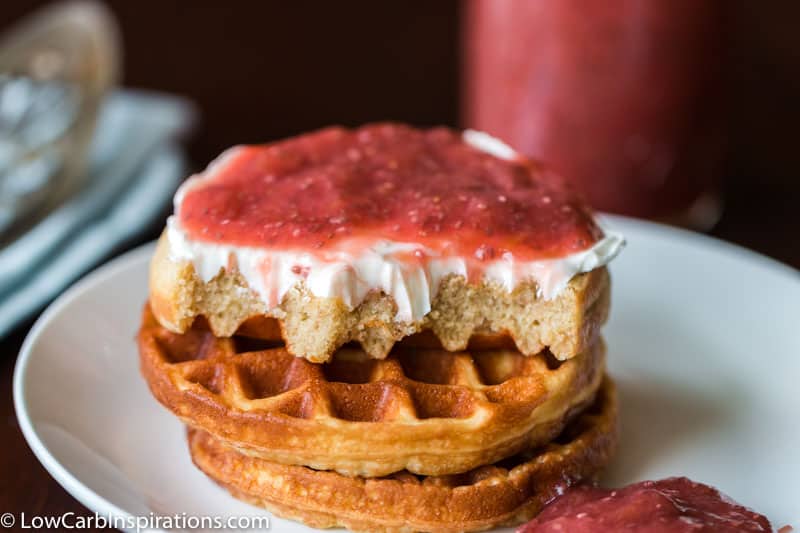 Keto Sweet Bread Chaffle Recipe Ingredients
Makes 3 chaffles
Keto Sweet Bread Chaffle Recipe Instructions
The recipe instructions are listed in full in the printable recipe card below.
This recipe makes 3 chaffles!
Here are a few photos we took while making these keto chaffles!
Sometimes we have two mini dash waffle makers going at the same time to help speed up the process of making chaffles in big batches. I have three mini dash waffle makers!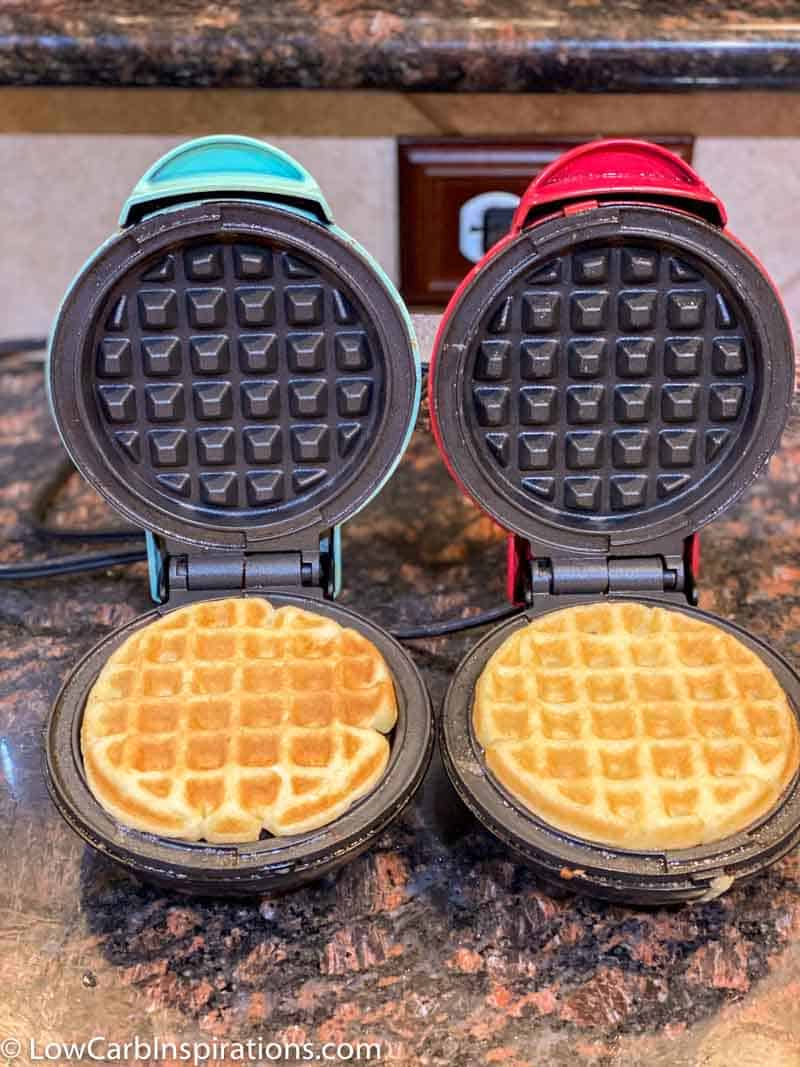 These always come out perfectly round as shown below.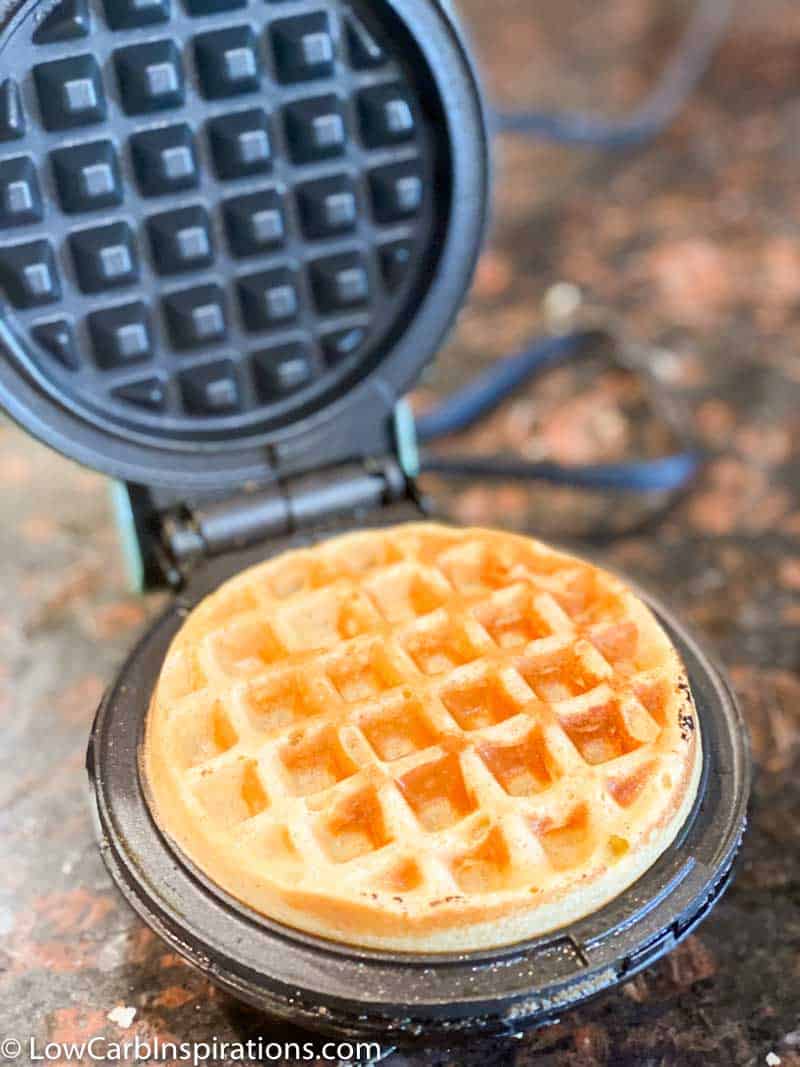 You can set them on a rack to cool down and then add them to a plate later.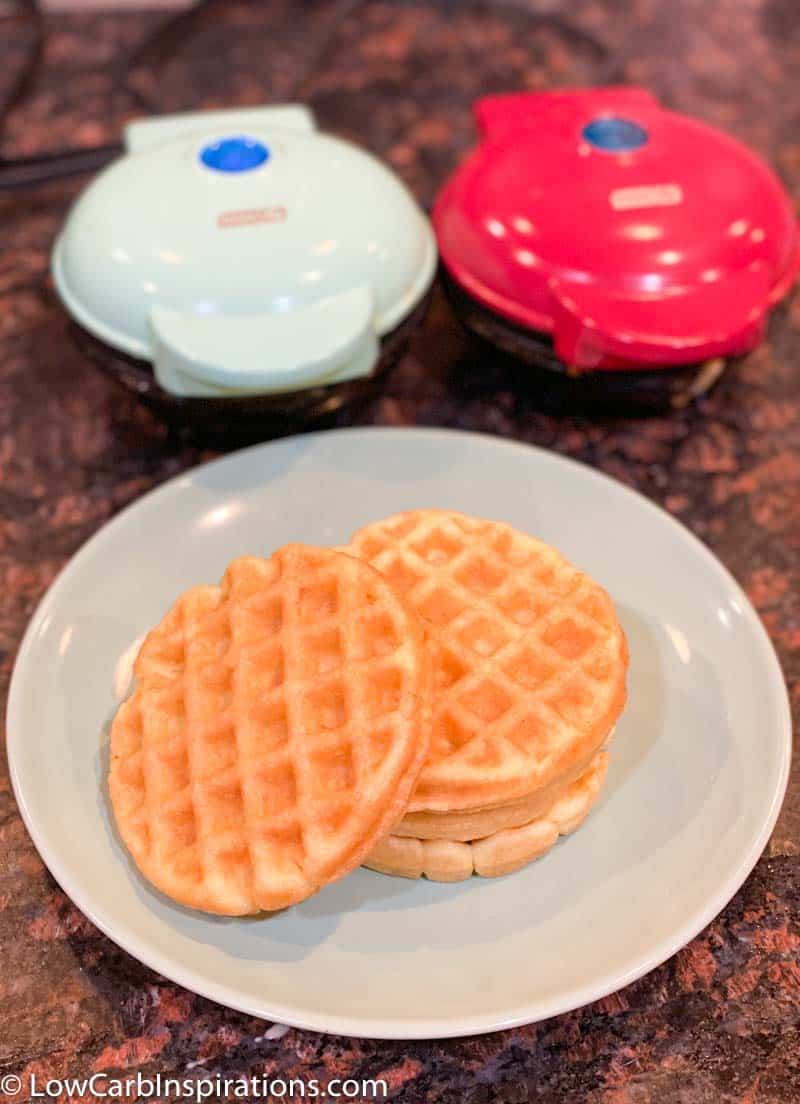 Big stack of chaffles!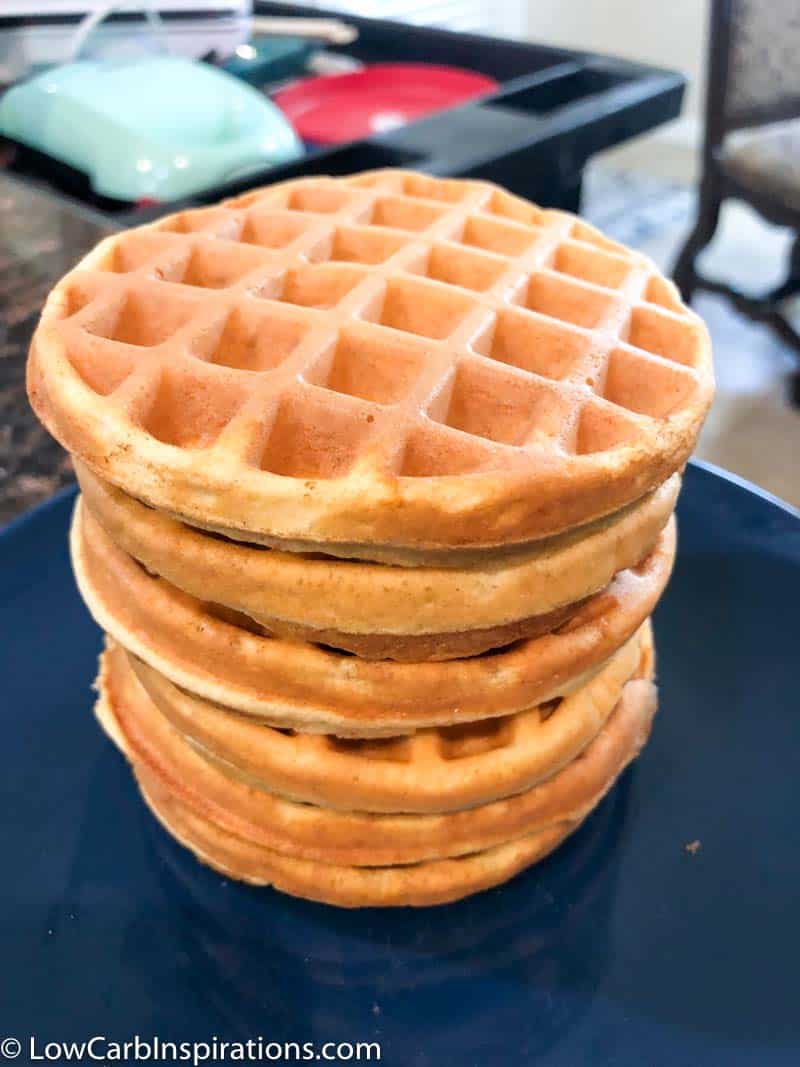 Sometimes we just dust them with powdered sugar that's keto friendly.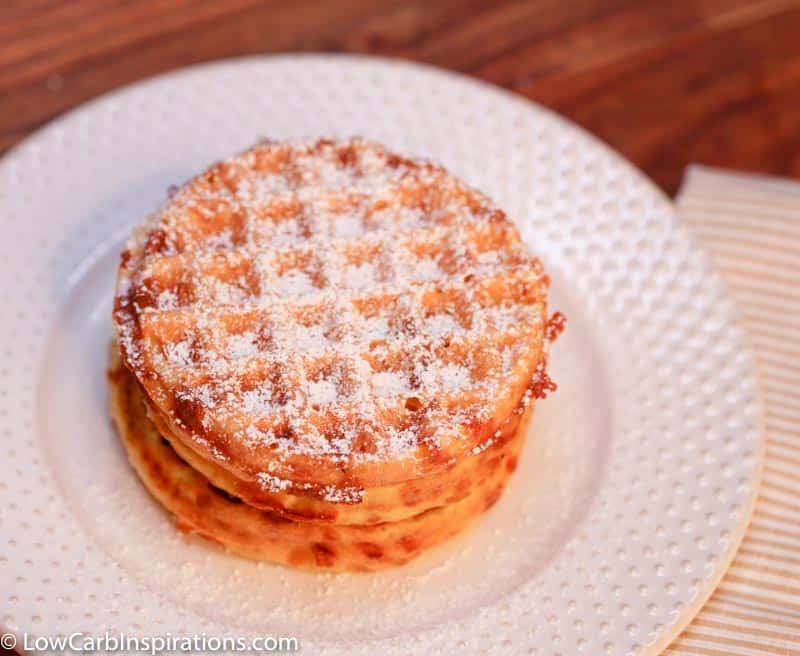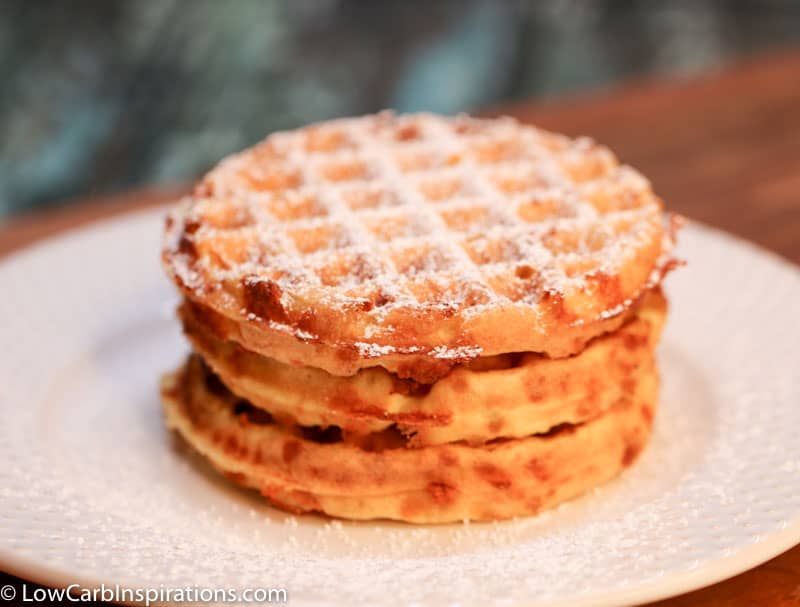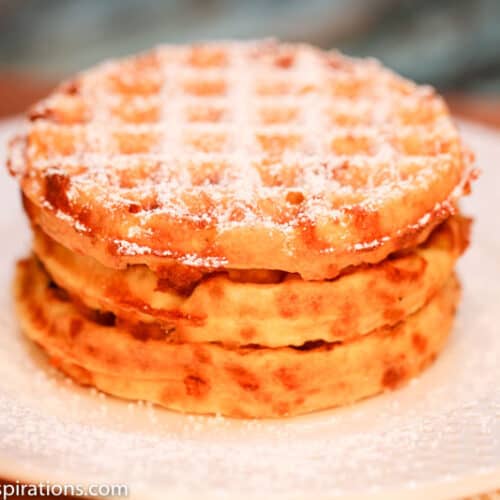 Keto Sweet Bread Chaffle Recipe
Keto friendly sweet bread replacement using a waffle iron! DELICIOUS!!
Instructions
Stir all ingredients together. Let rest for 5 min.

Stir again.

Preheat the mini waffle iron

Put half of dough in mini waffle maker.

Cook 3 minutes.

Repeat. Let cool.
Nutrition
Serving:
1
chaffle
|
Calories:
199
|
Carbohydrates:
3
g
|
Protein:
7
g
|
Fat:
18
g
|
Fiber:
1
g
|
Sugar:
1
g
Nutrition facts are provided as a courtesy. Have a question about our calculations or why you got a different result? Please read our
nutrition policy.