We just made a fantastic Keto Poke Cake recipe and then decorated it with a red, white, and blue American Flag with fruit!
This was a really simple recipe.  In fact, we used a store bought keto friendly cake mix from Swerve.  This is not a sponsored post.  I really wanted to try Swerve cake mix for myself.  I get so many people that want a quick baking mix for keto and I was not disappointed!  I'm really glad I tried it!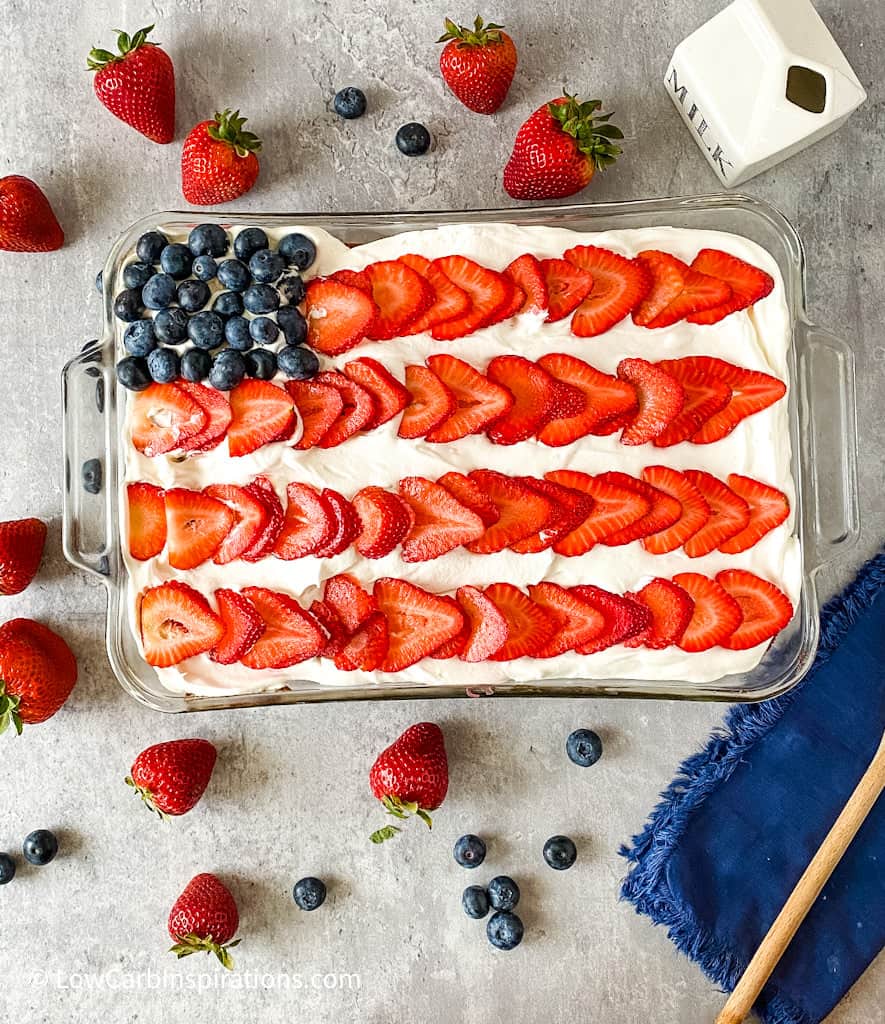 You're on a low-carb diet, and you want to enjoy delicious cake for your birthday or for a special holiday like Memorial day or the 4th of July.
Unfortunately, most store-bought cake mixes contain flour and regular sugar. These ingredients add unnecessary carbs that make it hard to stick with the keto diet.  The struggle is real.
Swerve has come up with an alternative solution that allows you to enjoy a tasty cake without worrying about blowing your carb count for the day. Their Keto cake mix makes baking easy and fun! All you need is this mix and some eggs, healthy oil, and vanilla – no weird ingredients needed! It tastes great right out of the oven or topped with ice cream after chilling in the refrigerator overnight (it tastes just like real cake!). Enjoy this quick & easy dessert recipe on a holiday or any special occasion!
These Swerve Store-Bought Keto Cake mixes are super hard to find in local stores.  They tend to sell out quickly.  You can grab them on Amazon for the same price as local.  My local HEB store carries them and I bet your grocery store might too.
There are two different types of sugar free jello mix you can use.  I used Simply Delish brand sugar free jello because of the clean ingredients.  You can also use Jell-O brand sugar free jello too!
To make it easy you can use a store-bought tub of sugar free whipping cream that can be found in the frozen section of your local grocery store or you can use this homemade sugar free whipped cream recipe too.
Here's how to make it:
Keto Poke Cake Recipe Ingredients
Keto Poke Cake Recipe Instructions
Preheat the oven to 350 degrees.
Note:  For this cake we used 2 boxes of Swerve Vanilla Cake mix as seen here on Amazon.
In a large bowl add the eggs, vanilla and avocado oil as instruction on the cake mix box.  Whisk until combined.
Add the cake mix and stir until smooth.
Grease a 9×13 baking pan
Pour the cake mixture into the baking dish and bake for 25 to 30 minutes or until the center is fully cooked.  Do the toothpick test to make sure it's done by sticking a toothpick in the center of the cake when it's done baking.  If the toothpick comes out clean, the cake is done.  If not, continue baking it for about 5 more minutes.
While the cake is warm, use the back side of a wooden spoon to poke holes in the cake.  This is where you will pour the jello mixture in to the cake.
After you poke holes in the cake you will make the jello mixture.
Pour the jello packet into a cup of 1/3 cup cold water and mix.  Then add 1/3 cup boiling water to the jello mixture and stir.  I like to do this in a glass measuring cup with a spout because it's easier to pour the mixture onto the cake.
Carefully pour a small amount of the liquid jello mixture into each hole you poked on the cake.  The jello has not set yet.  It's thick but not fully jello so don't be concerned about the liquid.  It will absorb in the cake once it cools.  This is the magic that allows the cake to be super moist!
Place the cake in the refrigerator until it's fully cooled off.  This will take about 45 minutes to an hour.  Or you can place it in the freezer to cool it quicker also.
Frost the cake with sugar free whipping cream and decorate with any fruit you choose!
Enjoy!
Here are some photos we took while making our Keto Poke Cake: