Keto Orange Chicken Recipe (only 3 ingredients)
It only takes three ingredients to make this amazing Keto Orange Chicken recipe! This is super simple!
You can make this dish with only 6 carbs per serving!! The orange marmalade is sugar free because it's totally sweetened with Splenda. Splenda doesn't spike glucose levels.
This is the easiest way to make keto orange chicken!
I used to make orange chicken with Keto friendly Allulose sweetener, ginger, soy sauce or coconut aminos, vinegar, and orange zest. Allulose tends to caramelize like real sugar too.
I found that I didn't make orange chicken as much because it's so much trouble. Not anymore!
This recipe is not spicy at all. If you want to add a bit of spice, you could add some more seasonings such as garlic or crushed red pepper to taste.
I also tend to double this recipe because it makes for amazing leftovers!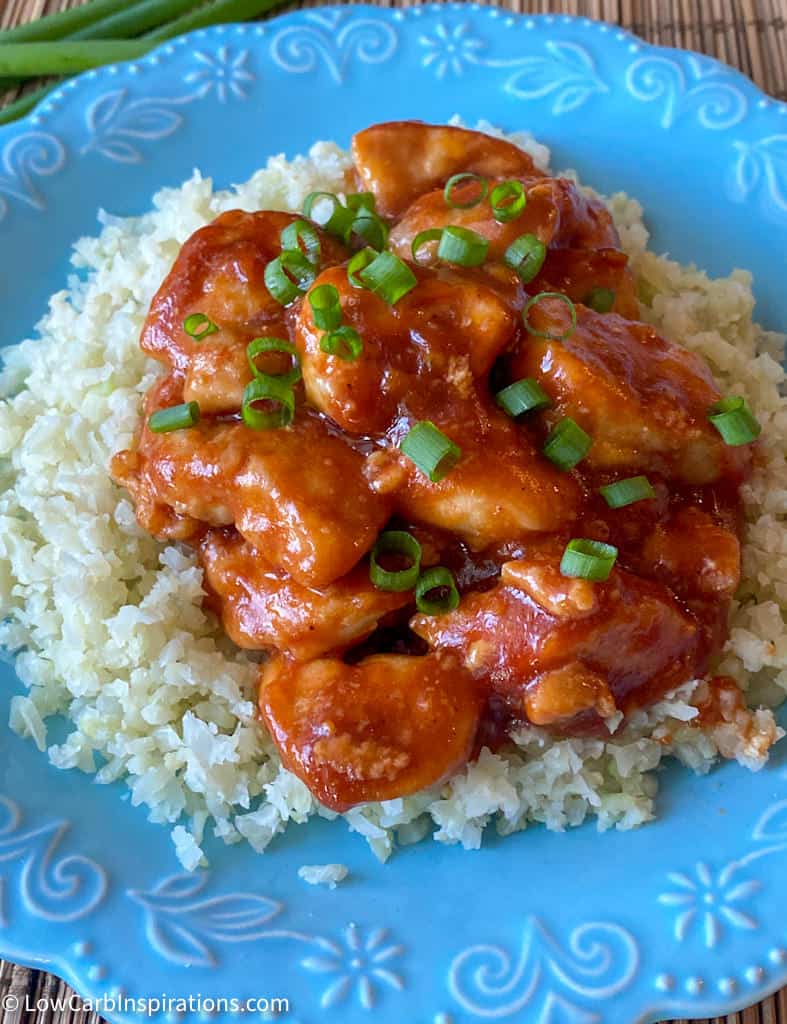 Keto Orange Chicken Recipe made with only 3 ingredients
Makes 6 servings
1/2 cup Sugar Free Smucker's Orange marmalade
1/2 cup Rays No Sugar Added BBQ sauce
3 large chicken breasts, cubed
salt and pepper to taste
Optional chicken coating:
Equipment needed:
Cutting board
Large frying pan
Spatula
Small bowl
Keto Orange Chicken Instructions
Instructions are located below in the printable recipe card.
Here are a few photos that show how I made this recipe: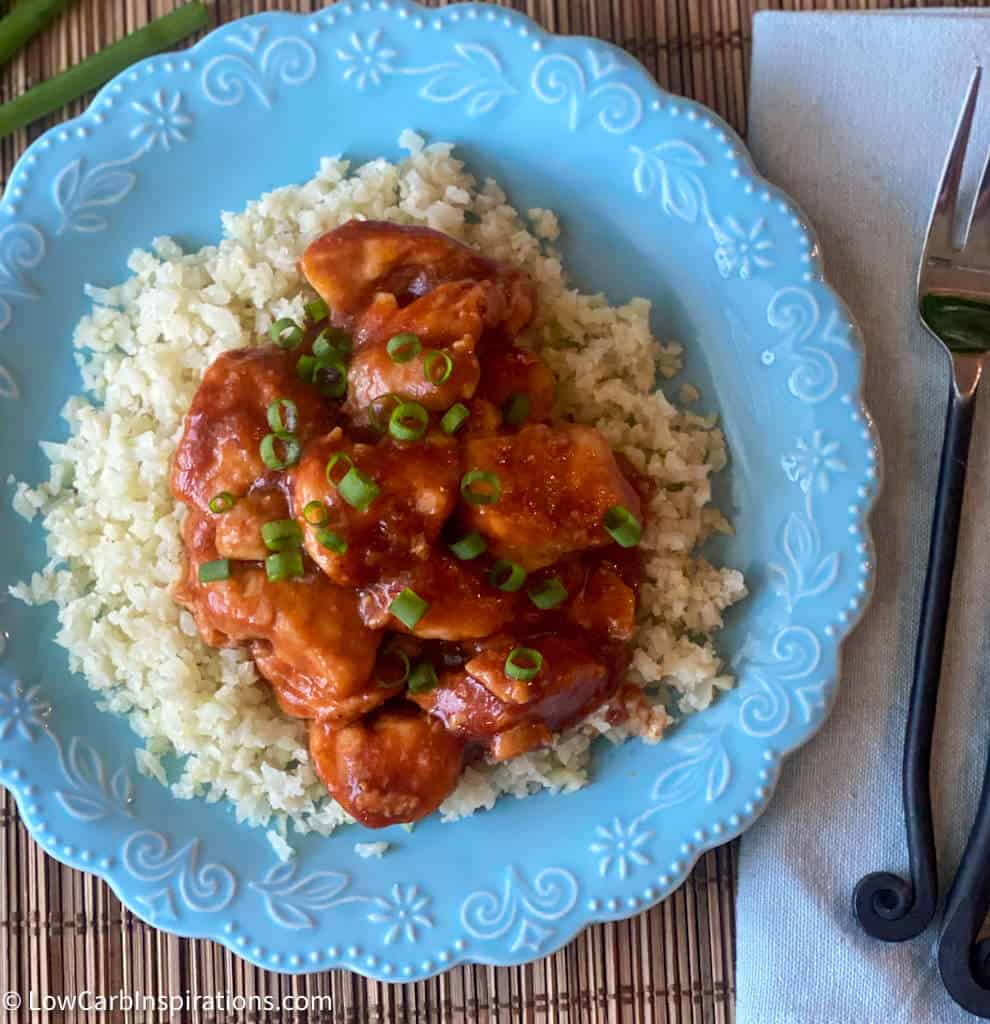 These are the only ingredients you need to make this recipe. There are many different sugar free barbecue sauces you can use. Feel free to use whichever sauce you like. I prefer the Ray's No Sugar Added original bbq sauce because it's made with allulose. It's thick and loaded with flavor! Some of the sugar free sauces tend to be watery but not this one!
If you are staying away from Splenda, then you can use the zest of an orange to give the flavor also. I doubled this recipe and purchased a large package of chicken breasts that had six chicken breasts in total. I like saving time in the kitchen by making extra food to have as leftovers later.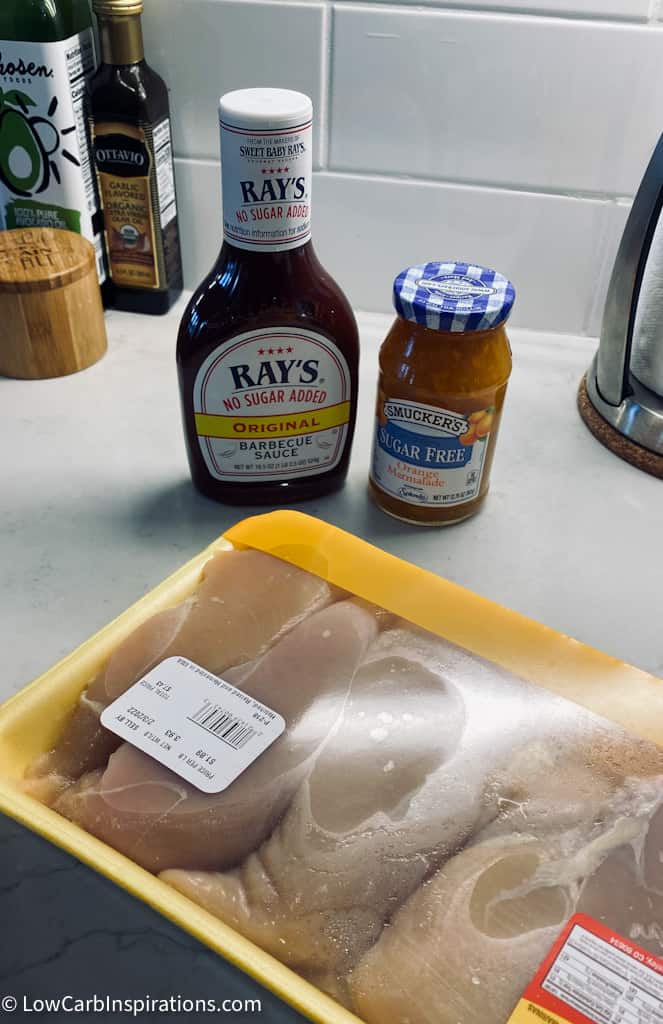 This is how I cut the chicken breasts so that they cook evenly at the same time.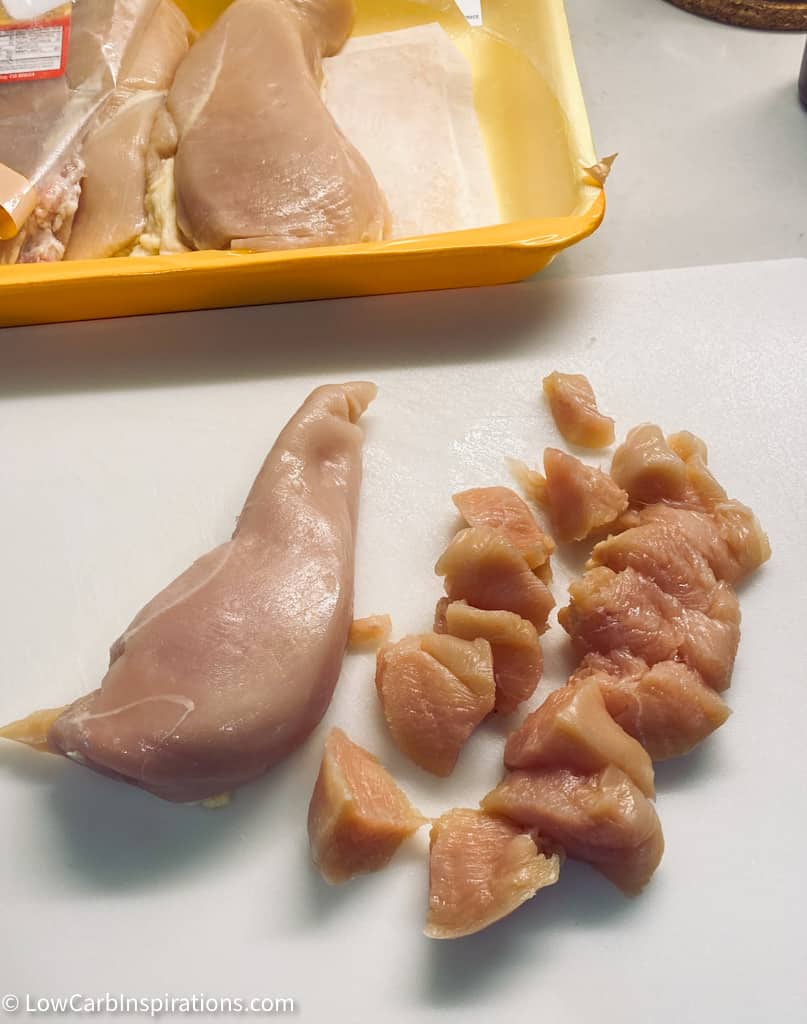 By coating the chicken with baking powder, it adds a small amount of crust to help the sauce stick to the chicken. It's completely optional and not necessary at all. You can season the chicken breast cubes with salt and pepper with this coating too.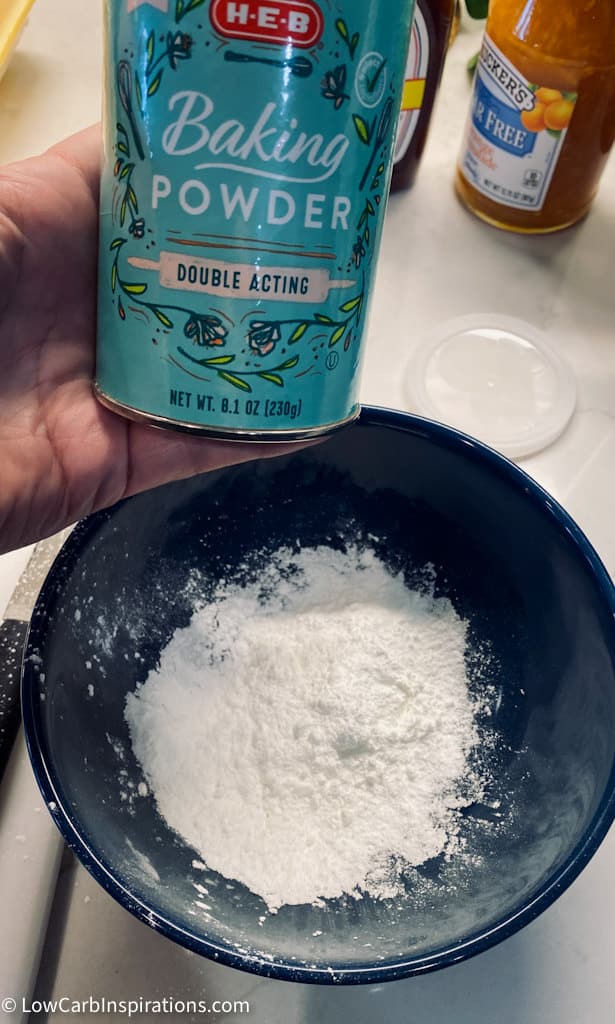 I added a small amount of chicken each time I coated the chicken.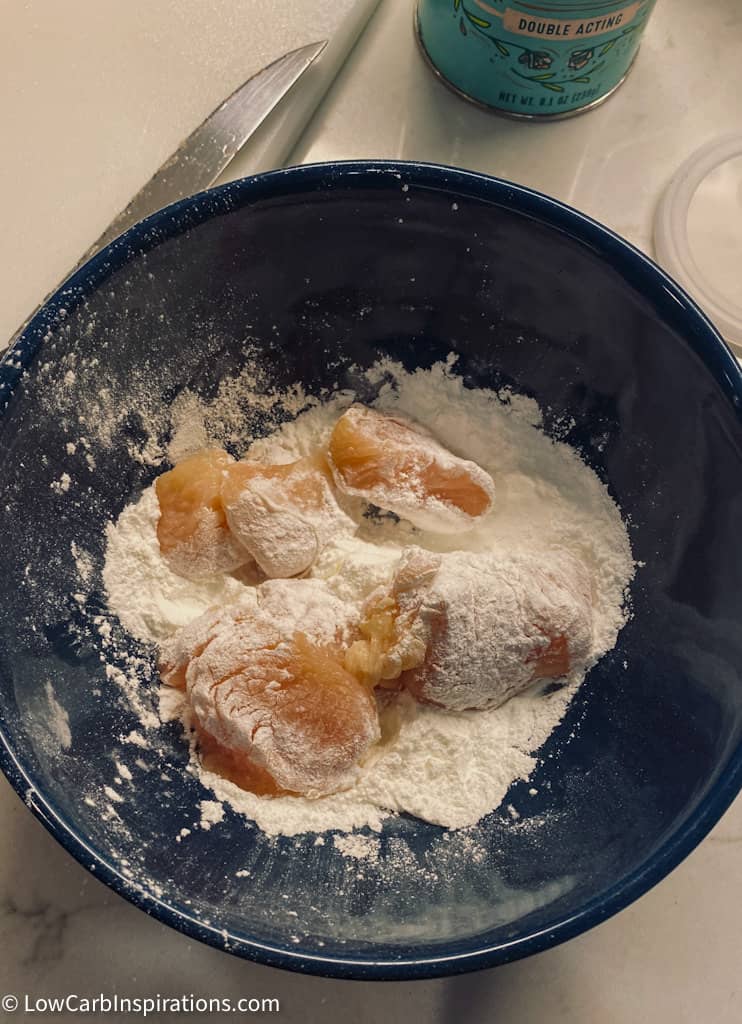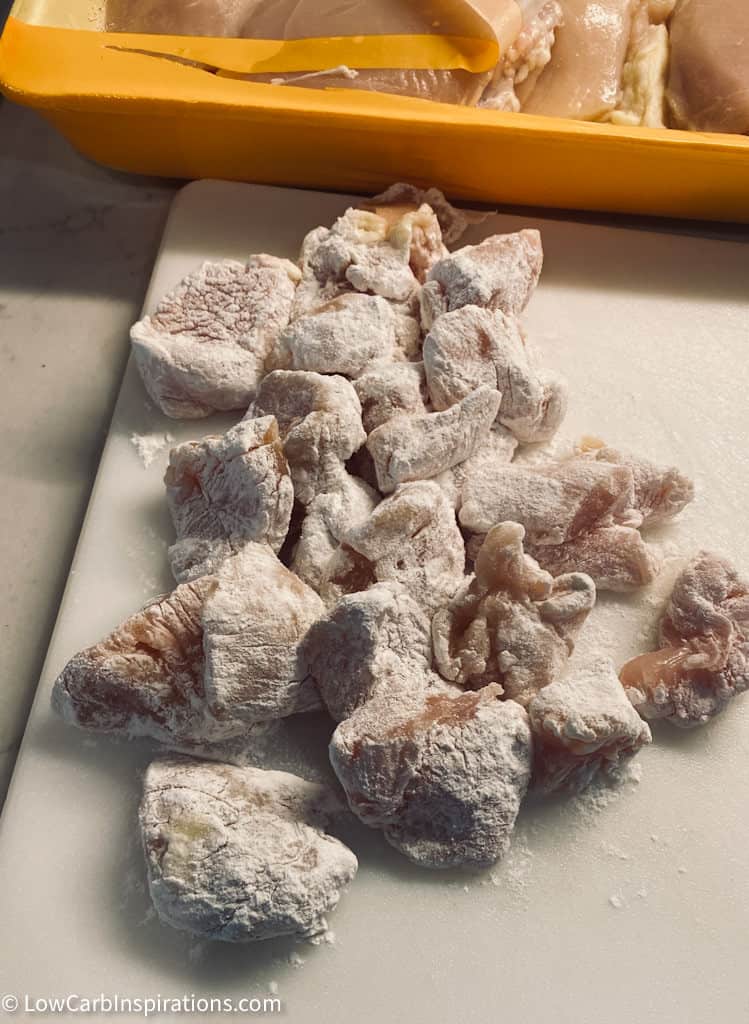 I added the chicken to a hot frying pan over medium heat. You will see the oil start to bubble just like this when you add the chicken.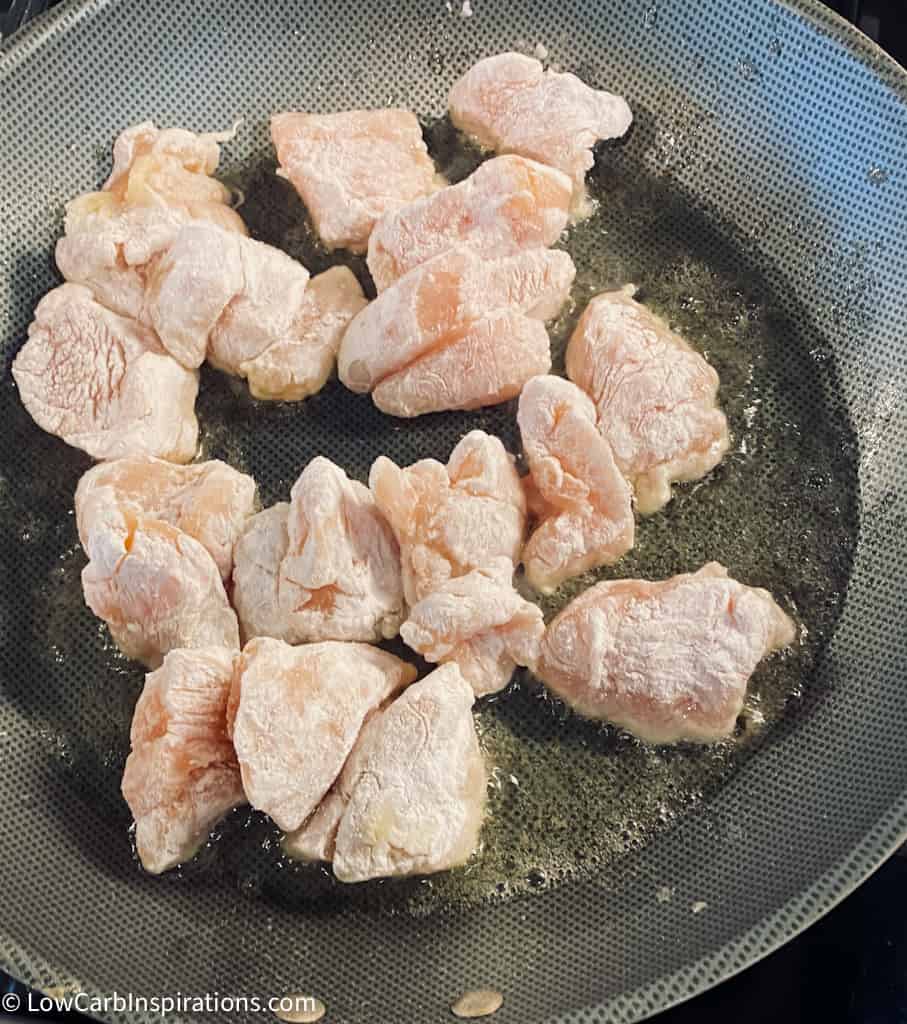 This is the chicken that has been cooked on one side right before flipping it. I can tell it's ready to be flipped because it's smaller in size and it's white on the outer edges of each piece of chicken.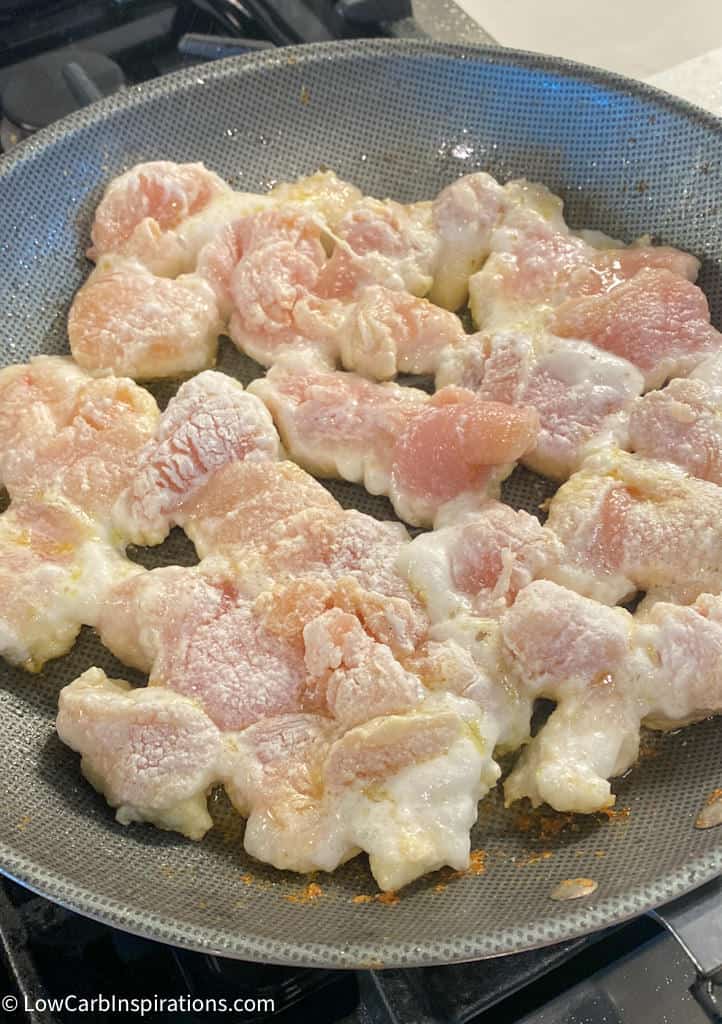 This is the chicken the is still cooking. You can see how it forms a very light crust from the baking powder. You will not taste the baking powder at all after it's been fully cooked.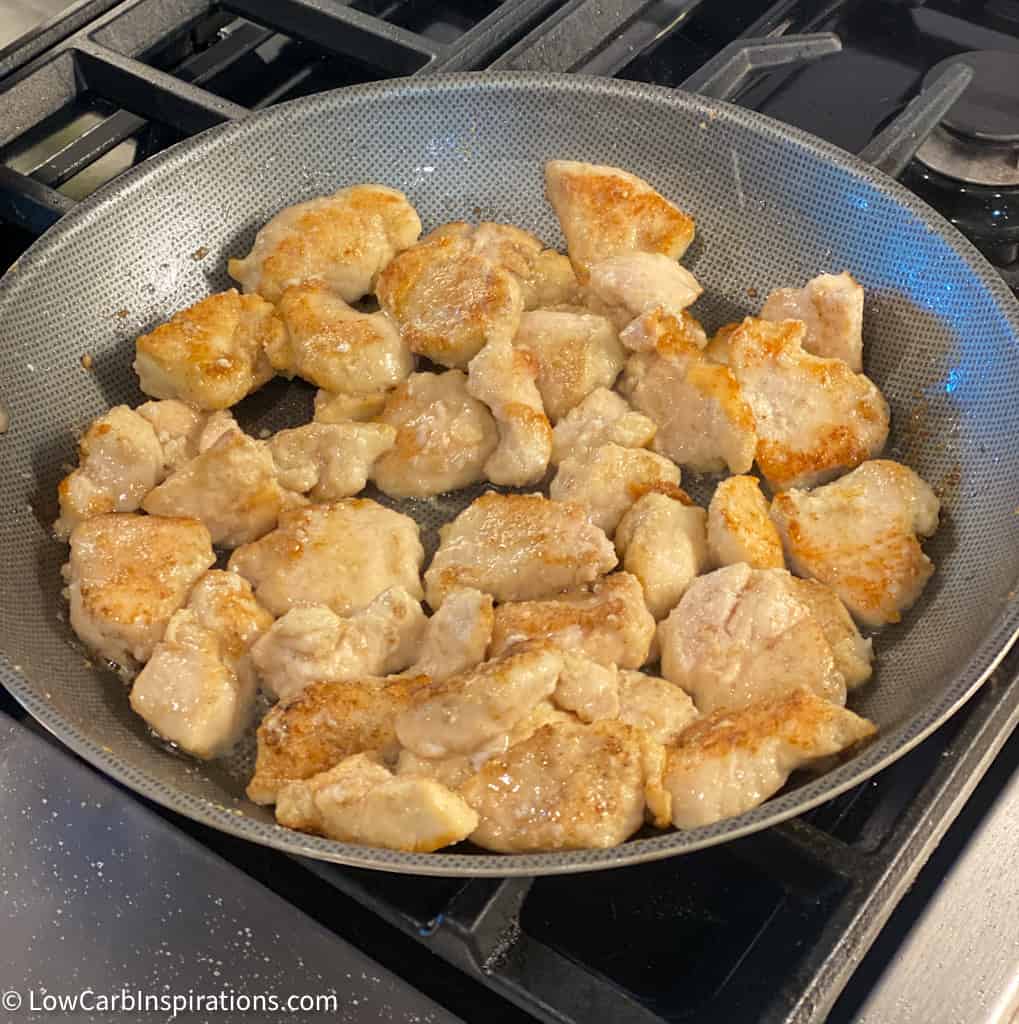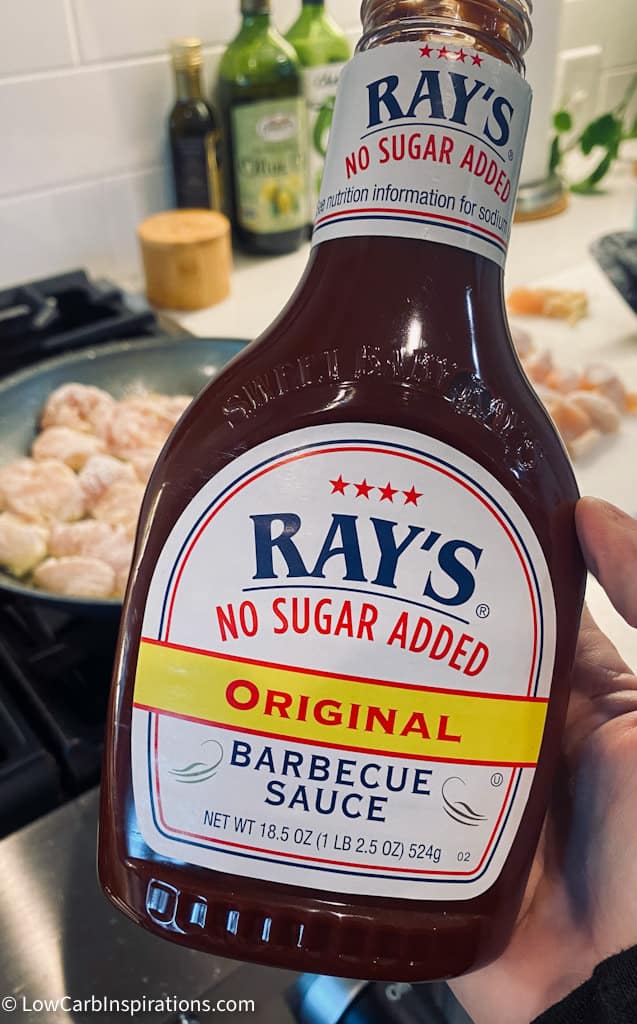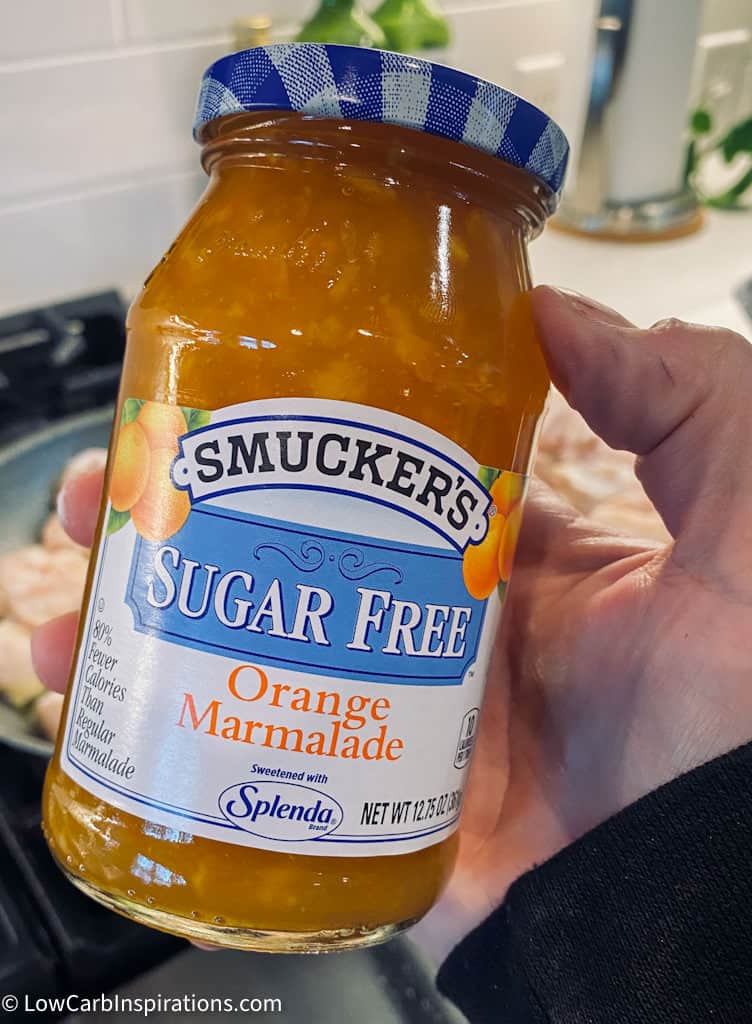 After heating the sauces together, you will add in the precooked chicken just like this.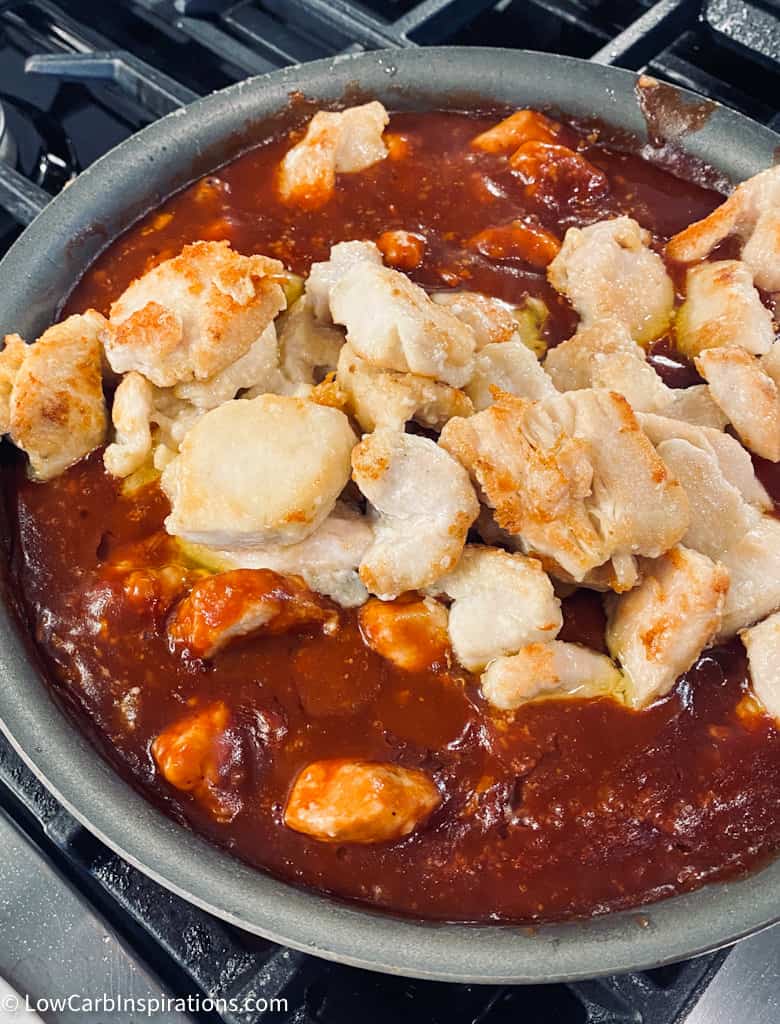 Voila! Keto Orange Chicken is done!!
You can make your own Garlic Cauliflower Rice using this recipe: https://lowcarbinspirations.com/garlic-cauliflower-rice/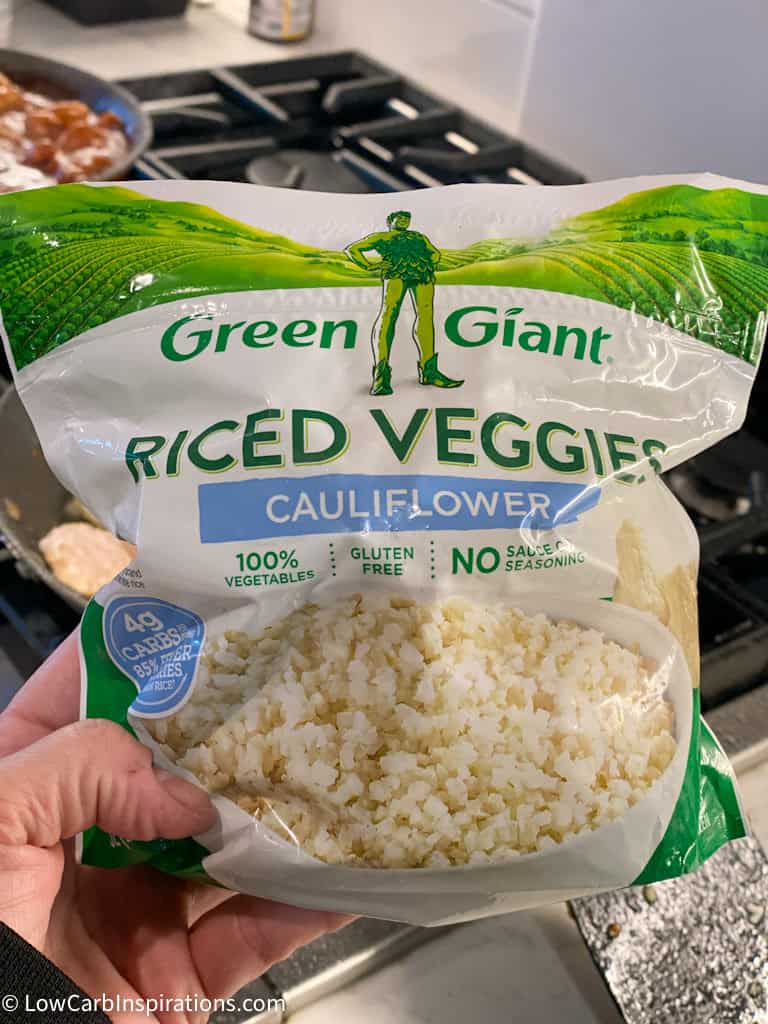 The whole family enjoyed this recipe! It was easy to make and healthy too!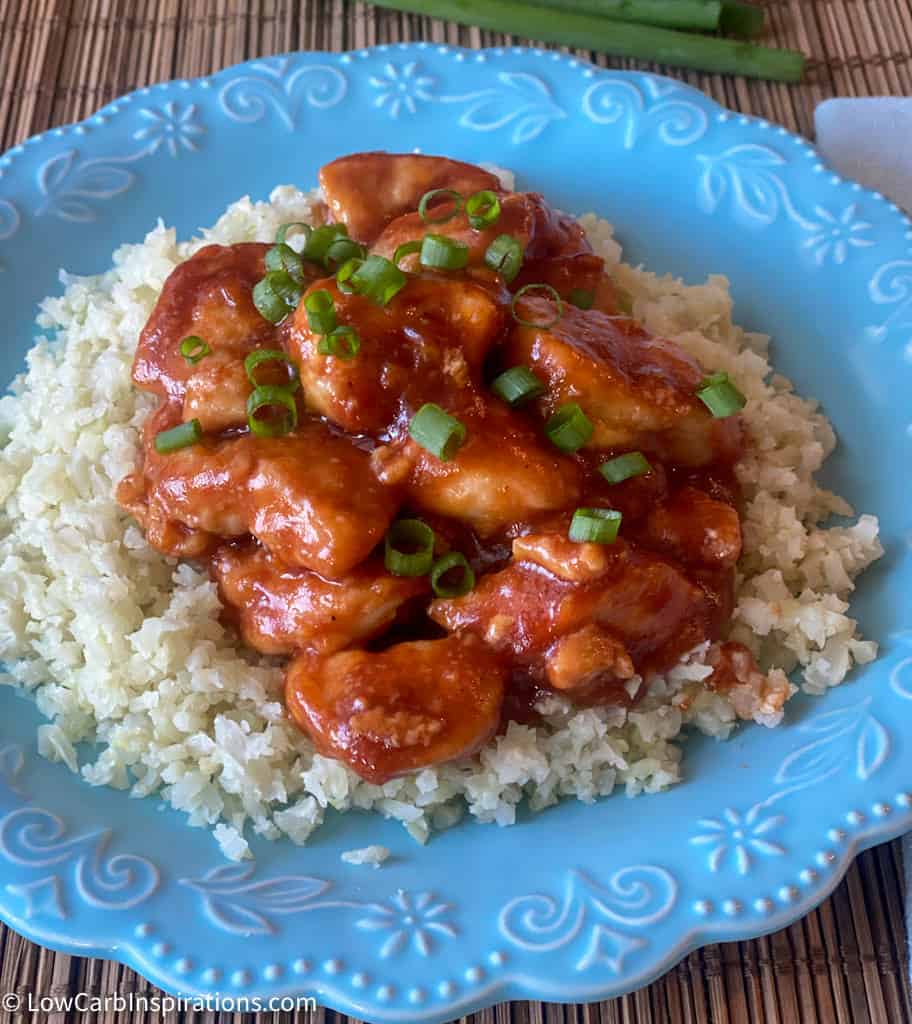 We topped it with sliced green onions. You can also top this low carb orange chicken recipe with sesame seeds too!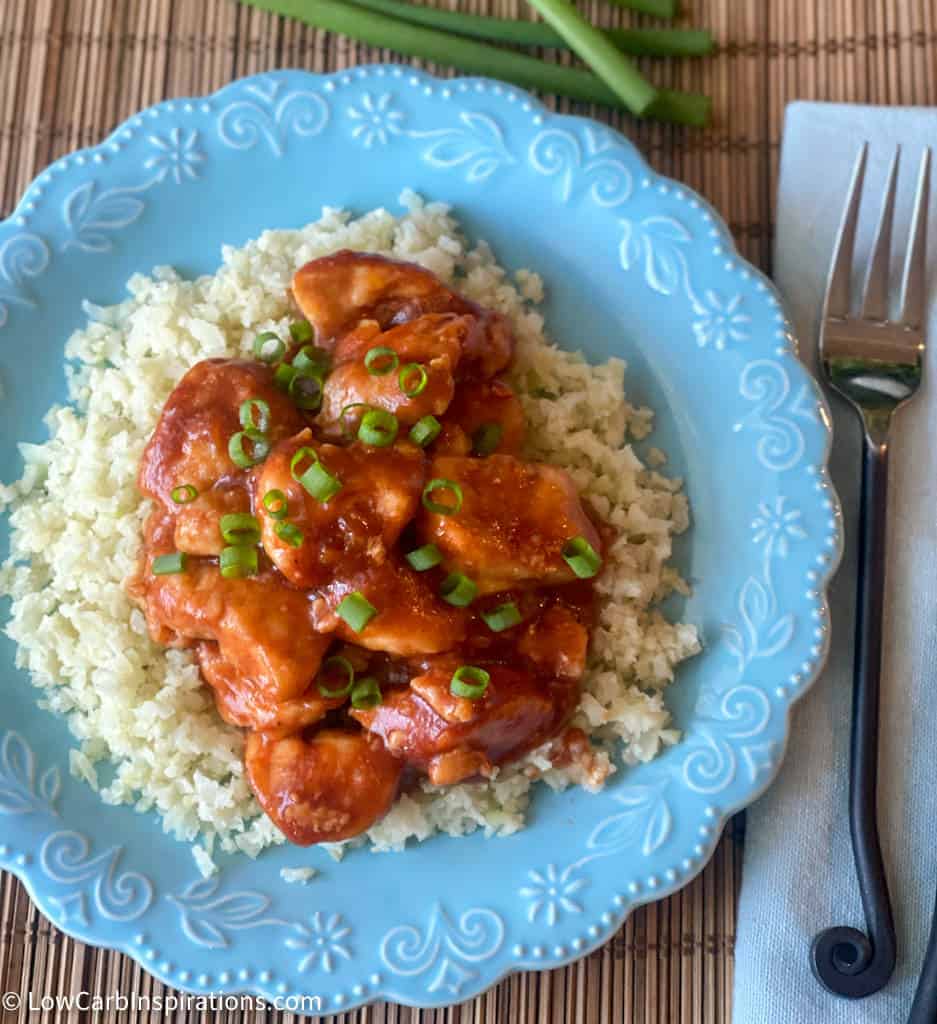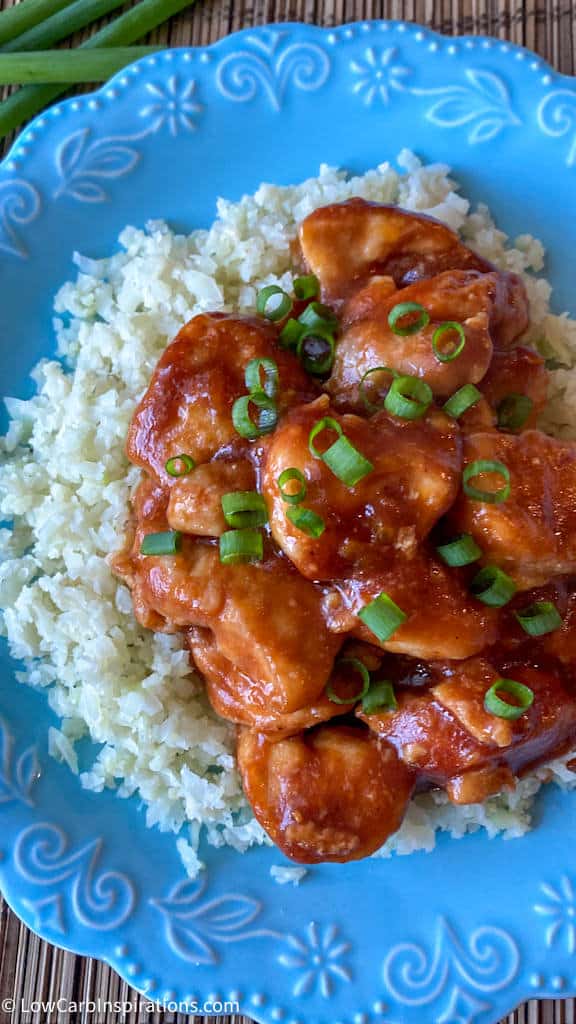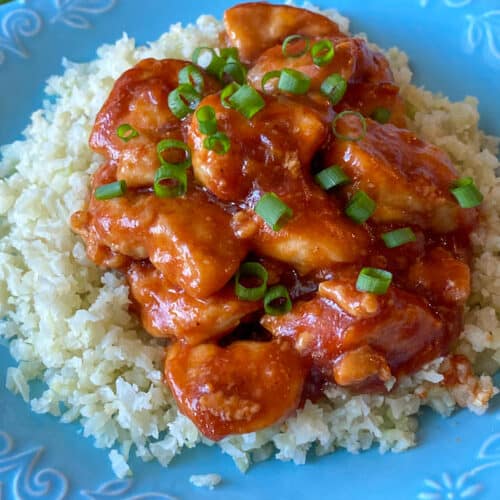 Keto Orange Chicken Recipe made with only 3 ingredients
Delicious meal that the whole family LOVES! Double the recipe to save time in the kitchen!
Equipment
Cutting board

Large frying pan
Ingredients
1/2

cup

Sugar Free Smucker's Orange marmalade

1/2

cup

Rays No Sugar Added BBQ sauce

3

large chicken breasts

cubed

salt and pepper to taste

Optional chicken coating:

1/4

cup

baking powder
Olive oil or Avocado oil for frying
Instructions
Start by cutting the chicken breast in half longways and then cut each longways piece into roughly 1 inch cubes. Making them about the same size will allow them to cook evenly when frying them.

Do this optional step if you want a little coating on your chicken. It helps the sauce to stick to the chicken and you don't taste it once it's done! In a small bowl, add 1/4 cup of

baking powder

. Place a small amount of cubed chicken in the

baking powder

to coat it lightly. Repeat until all the chicken cubes have been coated and set aside to fry them.

In a large frying pan over medium heat, add about 2 tbs of avocado or

olive oil

. Wait until it's fully heated before adding the chicken.

Fry the chicken for about 3 to 5 minutes on each side. Be sure to flip the chicken halfway through the cooking process. You can tell when you need to flip the chicken because it will shrink a bit and turn white on the outer edges of the chicken cubes.

Flip the chicken and cook until it has fully cooked all the way through. This means it's white in the center and still tender enough to cut with a fork. Remove the chicken from the frying pan and place it on a place.

Wipe down the frying pan and start to make the orange sauce.

Over low to medium heat, add the sugar free marmalade and

bbq sauce

. Cook it until it starts bubble. This will allow the sauce to incorporate and thicken up even more.

Now add the precooked chicken and stir. Top with green onions and or sesame seeds as an option!

Serve it with a side of steamed broccoli or riced cauliflower to keep the carb count low.

Enjoy!
Nutrition
Serving:
1
g
|
Calories:
159
|
Carbohydrates:
5
g
|
Protein:
24
g
|
Fat:
5
g
|
Fiber:
1
g
|
Net Carbs:
4
g
Nutrition facts are provided as a courtesy. Have a question about our calculations or why you got a different result? Please read our
nutrition policy.