We just made a fantastic Keto Fried Shrimp recipe with very light breading.  No carb guilt with this recipe!
This recipe is very different from any other low carb or keto fried shrimp recipe on the internet.  It's a really light breading because we used baking powder.  Here's the thing…  when you make breading using baking powder, you don't actually taste the baking powder at all once it's completely fried.  It creates the best keto breading I've ever tried on keto fried foods.
We served this keto fried shrimp over a bed of tricolored coleslaw and some special sauce.  It was a big hit with the whole family!
My teen is my pickiest eater and she explained this recipe as a naked fried shrimp taco that she would normally eat at a restaurant.  She said it tastes just like it but with out the tortilla!  I told her that I could make her a taco because we do have low carb tortillas but she honestly enjoyed it just the way I served it and she said we definitely need to make this again.  It's always a nice surprise when your kids or teens really enjoy a healthy meal.  That's definitely a parenting win in my book!
I should also mention that this recipe is really fast to make from start to finish.  You can have dinner on the table from start to finish in about 15 minutes (that includes cooking time) with very little effort.  Especially if you get the shrimp already deveined and the coleslaw already precut and rinsed in a bag.  Keep that in mind when you need a really quick meal on a super busy day.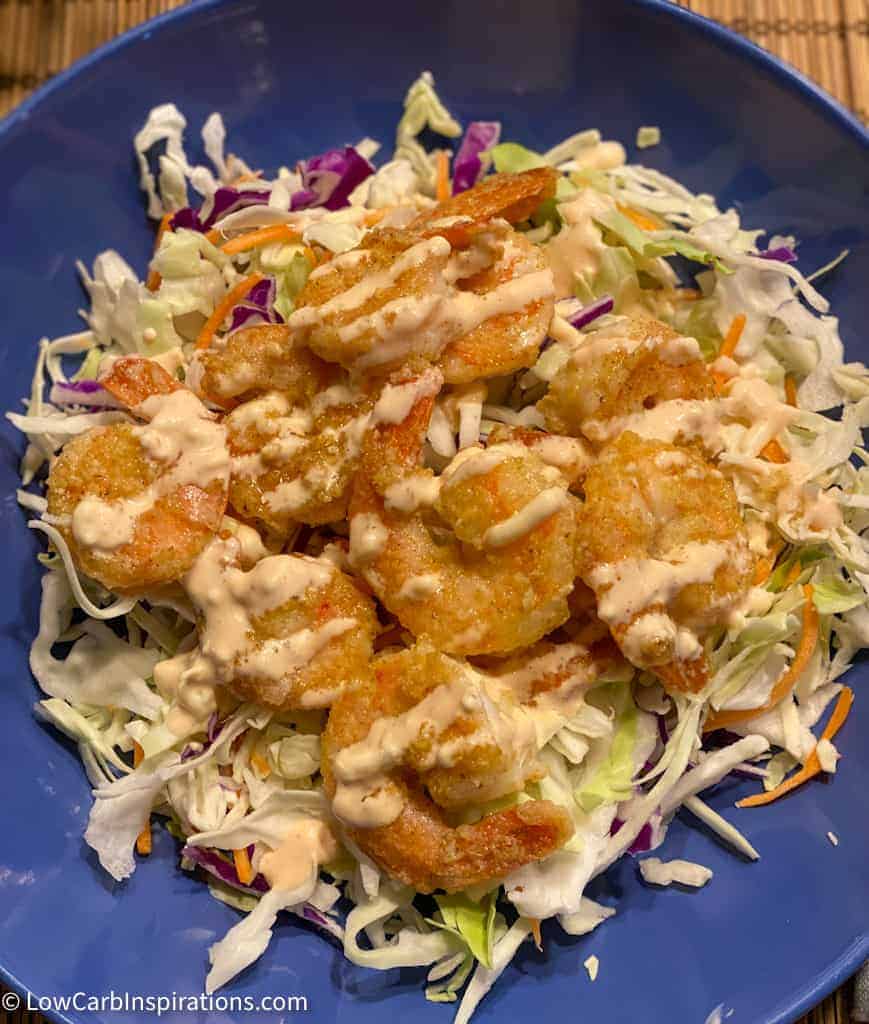 Keto Fried Shrimp Recipe Ingredients
Serves 6
Shrimp coating:
16 oz Wild Caught Raw Shrimp 21/25 count (jumbo shrimp)
2 tsp Old Bay Garlic & Herb seasoning blend
1/4 cup baking powder
16 oz bag of Tri Color Coleslaw (green cabbage, red cabbage & carrots) or fresh cabbage, shredded
Olive oil (or avocado oil) for frying
Sauce ingredients:
1/2 cup mayonnaise
1/4 cup Sriracha sauce
1 tbs water
Keto Fried Shrimp Recipe Instructions:
Find the full instructions below in the printable recipe card for Keto Friend Shrimp recipe.
Here are a few photos we took while making this keto fried shrimp recipe:
Be sure to pin this for later!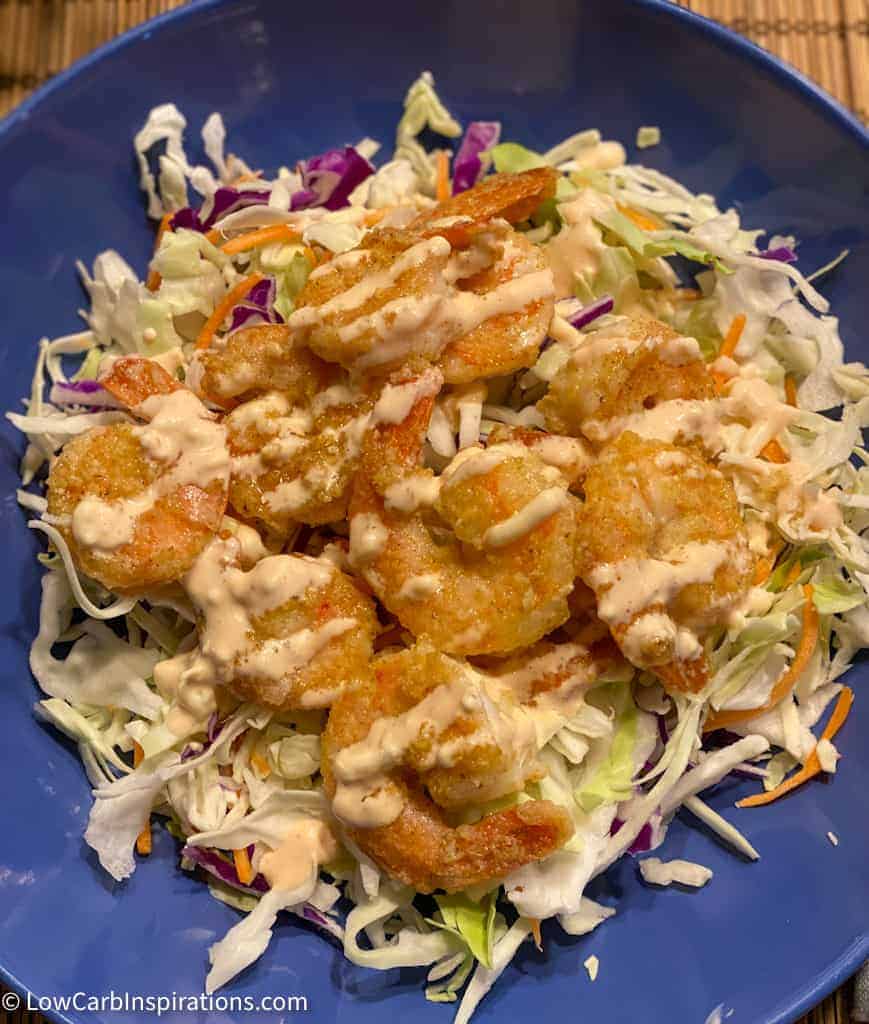 Here are the most frequently asked questions we get when using baking powder as a coating on our keto fried foods:
Is fried shrimp high in carbs?
It can be depending on the breading you use.  In this recipe, the answer is no.  This is a low carb and very keto friendly breading option for any fried foods.
Is shrimp good to eat on keto?
Absolutely!  There are nearly no carbs in shrimp making it a great option for anyone doing the keto diet.
Is deep frying keto friendly?
Yes!  It is.  Just make sure you are using a healthy oil option.  I tend to use avocado or olive oil to make deep friend shrimp.
How many net carbs are in fried shrimp?
Normally, if you are using a regular non-keto friendly flour the nutrition macros will be higher in net carbs.  Breaded or battered shrimp (3 oz) can contain up to 9g net carbs.  But, using this recipe is much more keto friendly and has way less carbs than your normal breaded shrimp.  It's still good to know these macros if you are dining out.  
How much shrimp can I eat on keto?
About 3 oz of cooked keto shrimp are around 90 calories, 17 g of protein, 1.5g of fat, <1 gram of carb, and 0 sugars, which is a great source of nutrition for anyone doing keto!  This recipe keeps those macros in check because you are using very little baking powder to create the breading on this keto fried shrimp recipe. 
Baking Powder (1 tsp) contains 2.3g total carbs, 2.2g net carbs, 0g fat, 0g protein, and 5 calories. 
Why is baking powder a good option for frying foods?
Baking powder (not to be confused with baking soda) is a great option for frying foods because it tends to draw out the moisture and create a crispy outer coating on your fried foods.  It's been using in many fried foods and tends to be the secret ingredient that allows for the extra crunch when deep frying foods. 
We don't use any flour in our keto fried shrimp recipe so the baking powder acts a bit differently when used solo.  It creates a really light breaded shrimp that holds the seasonings in without all the extra carbs you would normally have from using flour or parmesan cheese.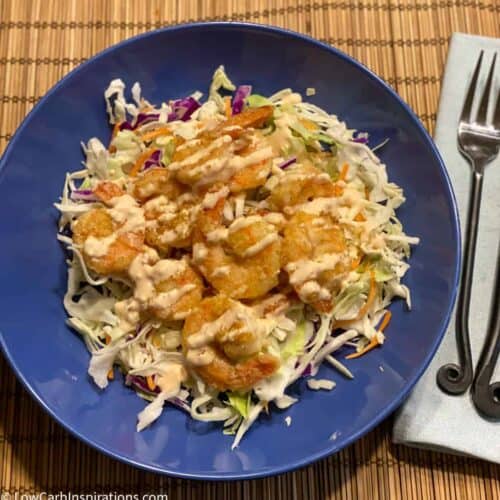 Keto Fried Shrimp Recipe
Ingredients  
Shrimp coating:
16

oz

Wild Caught Raw Shrimp 21/25 count jumbo shrimp

2

tsp

Old Bay Garlic & Herb seasoning blend

1/4

cup

baking powder

16

oz

bag of Tri Color Coleslaw green cabbage

red cabbage & carrots or fresh cabbage, shredded

Olive oil or avocado oil for frying
Instructions 
Rinse and prep the shrimp if you didn't purchase the deveined shrimp already. Make sure the shrimp is not frozen either. Defrost it before you start if needed.

In a medium size frying pan add just enough oil to fully coat the bottom of the pan and have it come up about 1/4 of an inch. This will be enough oil for you to fry all of your shrimp. Turn the heat on low to medium and allow it to fully heat up before frying the shrimp.

Use a paper towel to pat the shrimp dry.

Sprinkle half the seasoning on the shrimp before coating it.

Then place about 5 shrimp at a time in the

baking powder

lightly dusting it with the

baking powder

coating. Then remove the shrimp from the coating shaking off any excess and placing it on a plate to get ready to deep fry it.

Repeat the above step with the rest of the shrimp until all the shrimp is lightly coated.

Flick a small amount of

baking powder

coating from your hand into the oil to make sure it's fully heated before you begin. If the

baking powder

bubbles, this means the oil is hot and ready to begin.

Place about 5 shrimp at a time onto the frying pan and keep added shrimp until the bottom of the pan is fully covered with shrimp but allow enough space in between the shrimp for it to cook evenly.

You will cook the shrimp for about 3 minutes or so on each side. It does not take long to cook the shrimp. You will see them start to turn pink when they are frying.

The shrimp will be fully pink when they are completely done.

Place the cooked shrimp onto a plate lined with paper towels to allow the excess oil to drip off just before serving. Sprinkle the remaining seasoning over the cooked shrimp.

Now it is time to make the sauce.

In a small bowl combine the mayonnaise, Sriracha sauce and just enough water to get it to the consistency you want. Mix it until it's smooth and creamy. Set aside.

Divide the fresh shredded cabbage on each plate you plan to serve and top it with shrimp.

Top with the hot shrimp and use a spoon to drizzle the sauce over the shrimp.

Serve and enjoy!
Nutrition
Serving:
1
serving
|
Calories:
233
|
Carbohydrates:
10
g
|
Protein:
12
g
|
Fat:
17
g
|
Fiber:
2
g
|
Sugar:
3
g
|
Net Carbs:
8
g
Nutrition facts are provided as a courtesy. Have a question about our calculations or why you got a different result? Please read our
nutrition policy.