Chocolate Yogurt Bark Recipe
I've been making this Chocolate Yogurt Bark Recipe for years! It's so easy and the perfect treat to keep in the freezer when you want a little something sweet and cold. It's keto friendly too! It's a great way to cool off with a sweet treat especially after coming home from the lake or the pool.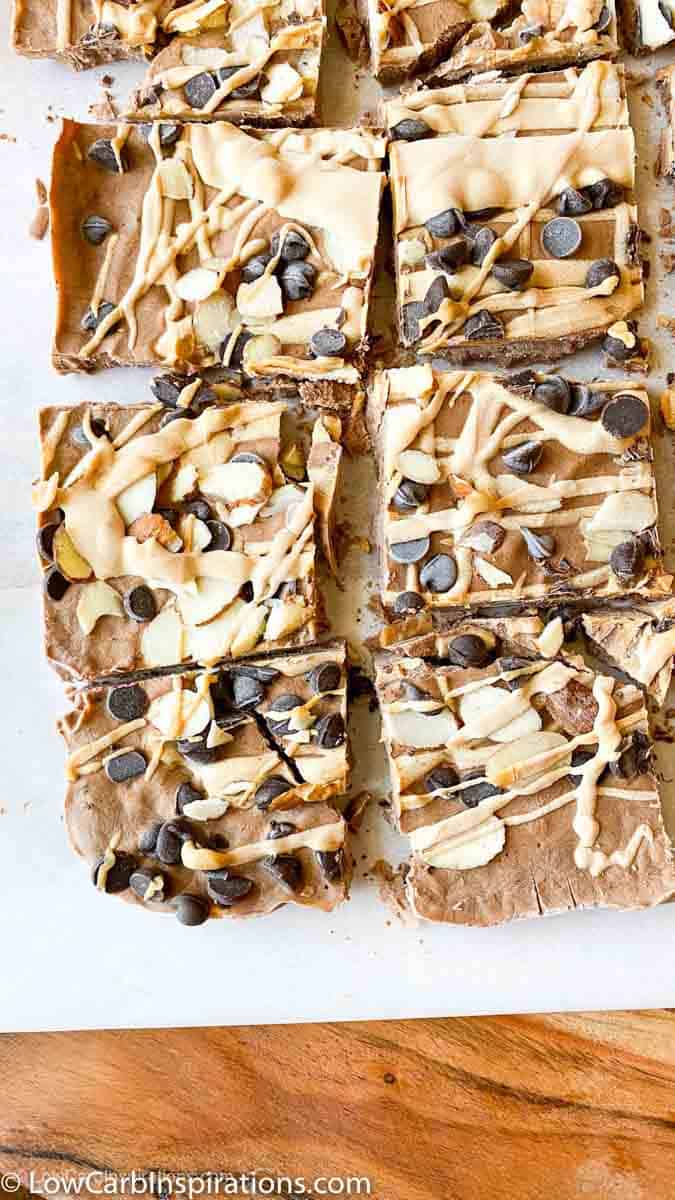 The Best Keto Yogurts To Buy to make this chocolate yogurt bark recipe?
Two Good Greek Yogurt cups have about 80% less sugar than most other store-bought yogurts and they really taste good! Two Good Greek Yogurt is made with a slow straining process that removes sugar from the milk for an end result of only 2g of total sugar in each 5.3oz cup and just 3g of carbs. This one is our favorite!
Fage Total 5% Plain Greek Yogurt because it has 6g of sugar per serving (much lower than most yogurts on the market). It also has 10g of fat and a good amount of protein at 18g!
Chobani makes an unflavored Greek Yogurt is another great option!
Cabot also makes a plain unsweetened Greek Yogurt has 10% fat.
YQ by Yoplait Yogurt company is only 1g of Sugar and 2g of Carbs!
Dannon Oikos Triple Zero Greek yogurt is another good option because it's also loaded with protein.
Keto Dairy Free Yogurt Options
Silk makes a unsweetened Vanilla Almond Milk Yogurt that has about 4 net carbs per serving.
You can flavor any of these yogurts with keto friendly sweeteners of your choice and you can add cinnamon or vanilla too! It's a great way to make it as sweet as you want. We sweetened our keto yogurt before making this keto yogurt bark recipe. It's fantastic!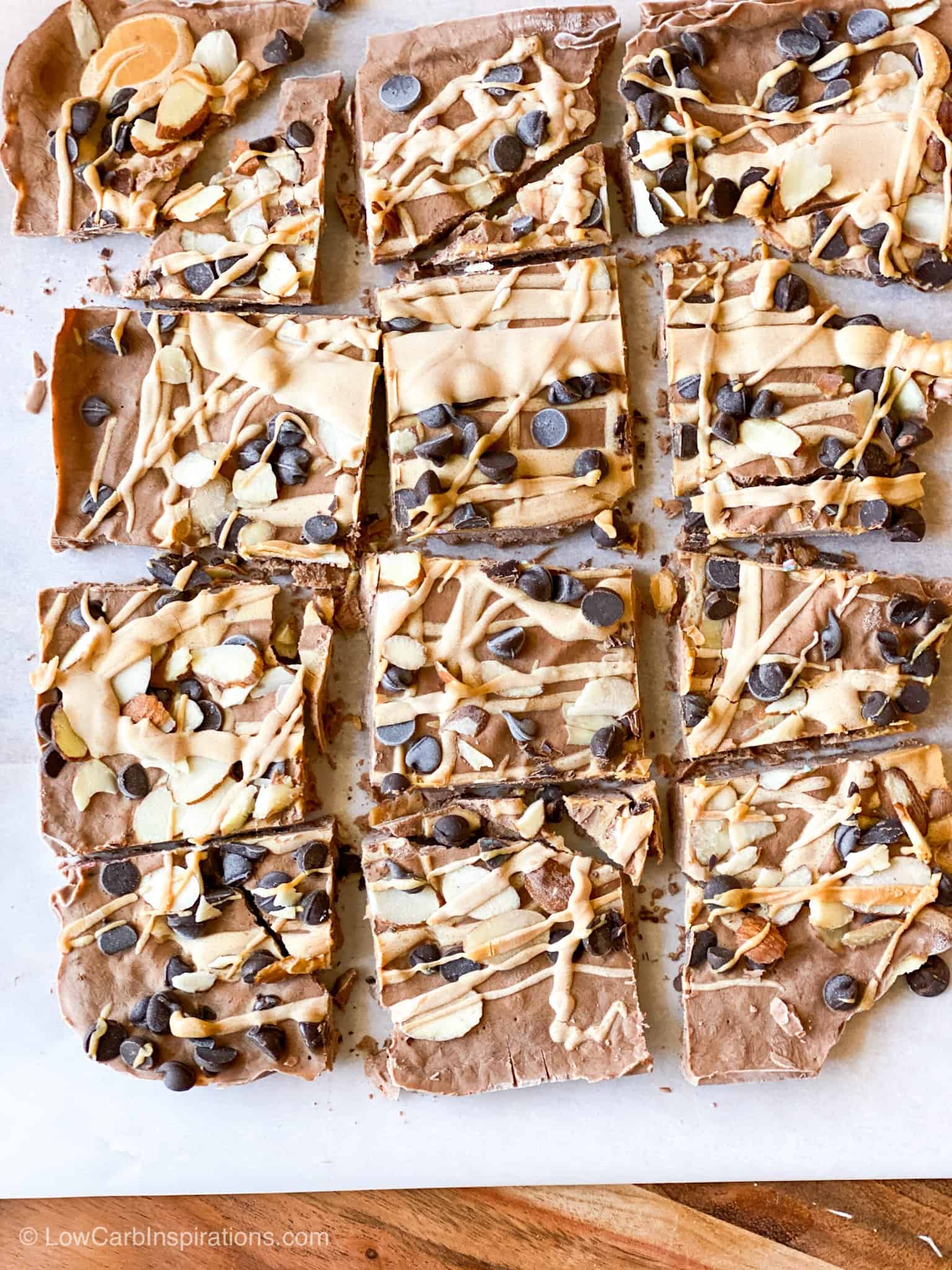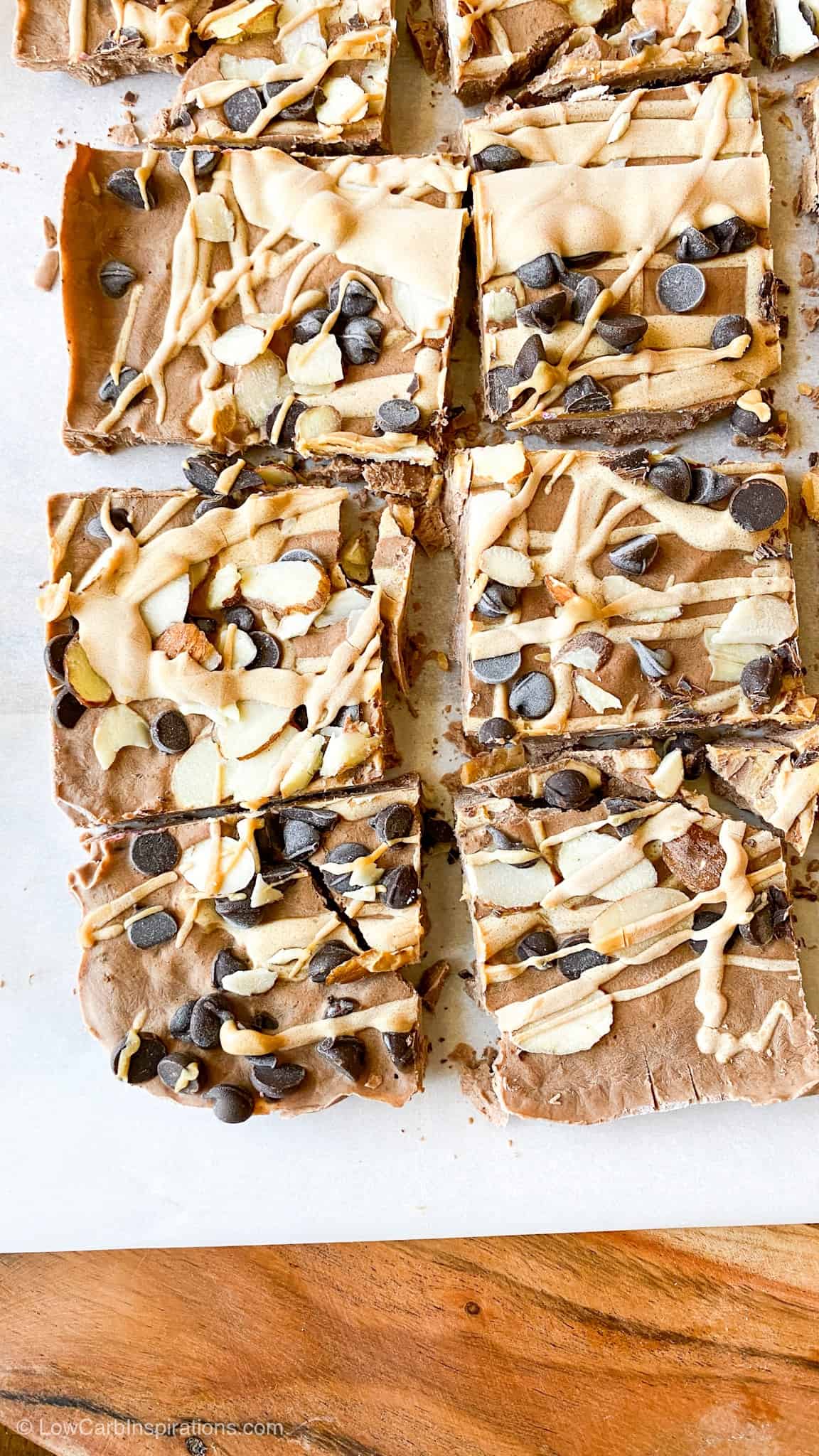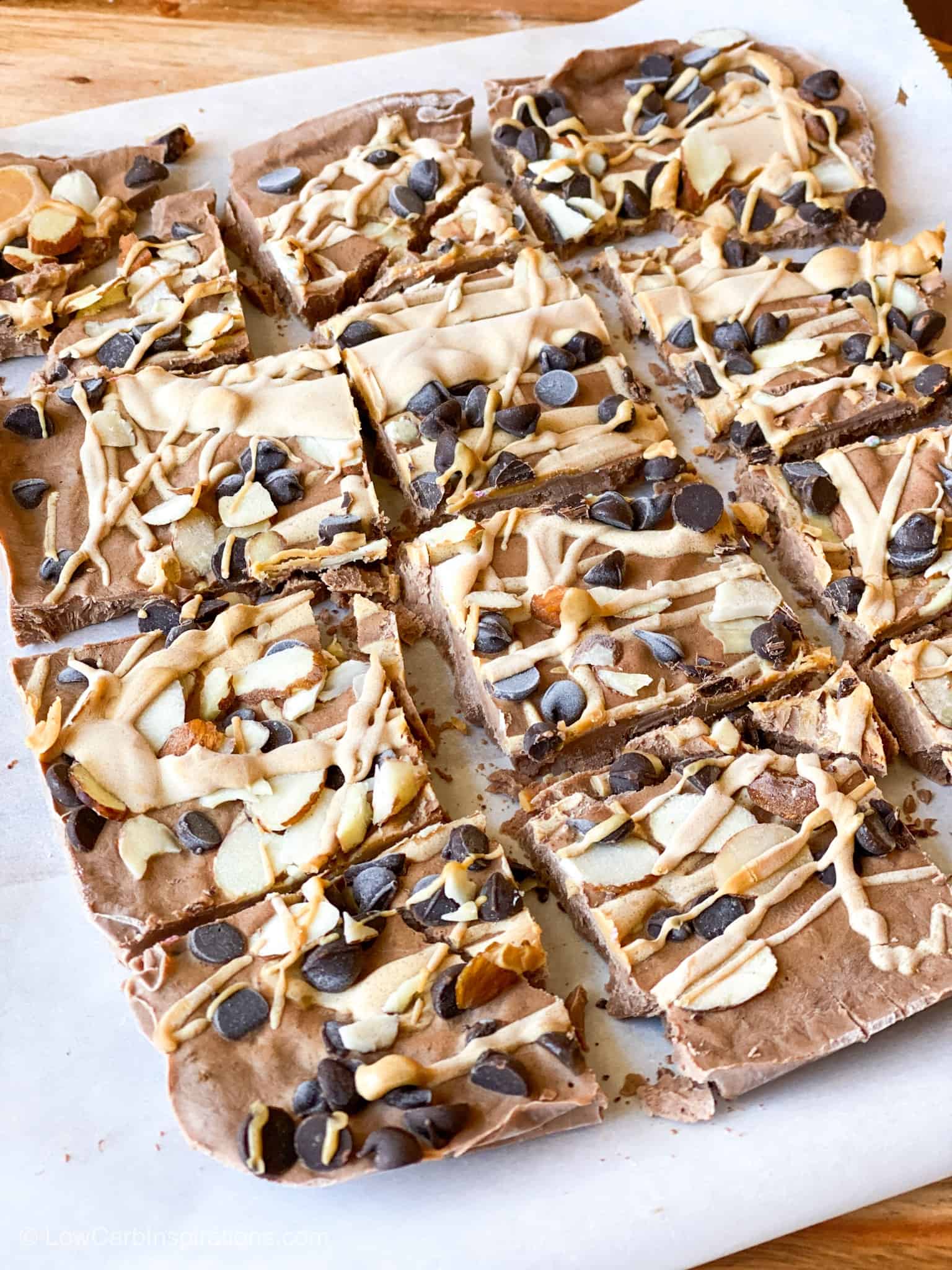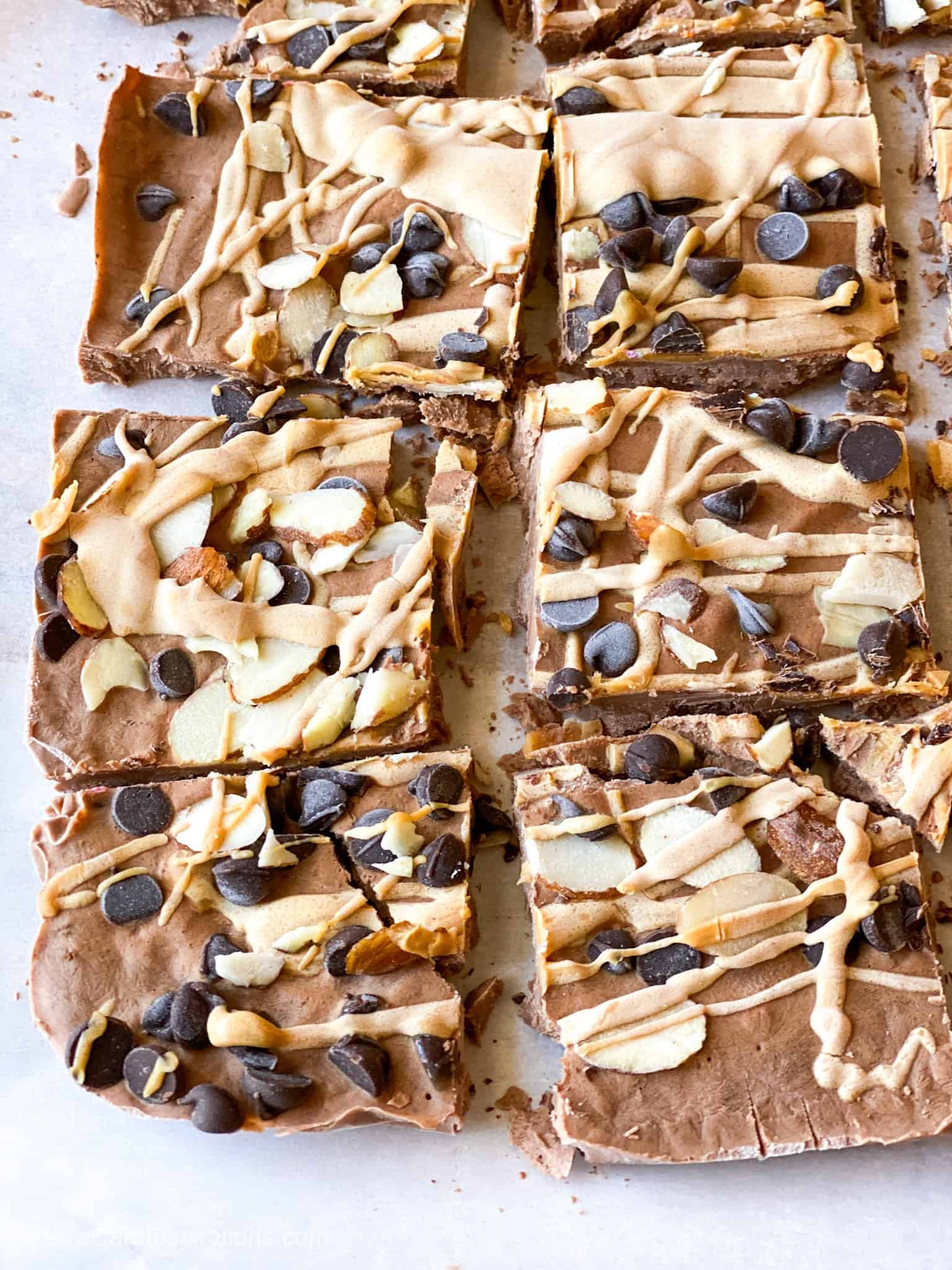 Chocolate Yogurt Bark Recipe Ingredients
1 cup of your favorite keto yogurt
5 drops of liquid stevia (or 1 1/2 tbs of your favorite keto powdered sweetener) sweeten it to your liking
1 tbs unsweetened cocoa powder
1 tsp vanilla extract
Optional toppings: almonds, pecans, walnuts, cashews, Lily's chocolate chips, melted nut butter, flake salt
Chocolate Yogurt Bark Recipe Instructions
get the full instructions in the printable recipe below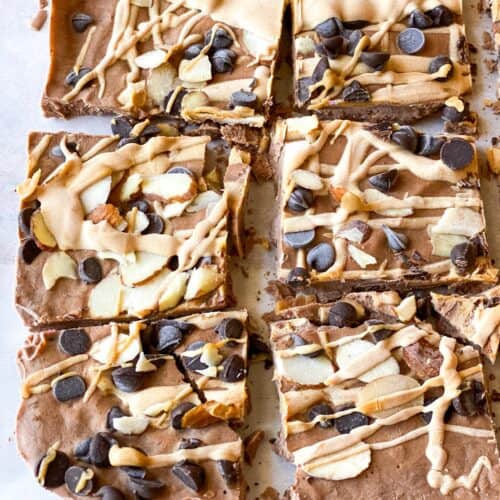 Sugar Free Chocolate Yogurt Bark Recipe
Really good treat that is sugar free and keto friendly!
Instructions
Mix the keto yogurt with the sweetener, cocoa powder, and vanilla extract.

Lay out a piece of parchment paper on a cookie sheet or large plate.

Spread the sweetened keto yogurt over the parchment paper.

Chop the nuts into small bite size pieces.

Sprinkle the nuts and chocolate chips over the keto yogurt.

Drizzle with melted nut butter or melted Lily's chocolate chips, if using.

Freeze for a minimum of 3 hours or overnight.

Break the yogurt bark into bite size pieces.
Notes
Store the bark in a freezer baggie and keep it in the freezer until you are ready to have a treat!
Nutrition
Calories:
26
|
Carbohydrates:
4
g
|
Protein:
2
g
|
Fat:
1
g
|
Fiber:
1
g
|
Sugar:
3
g
Nutrition facts are provided as a courtesy. Have a question about our calculations or why you got a different result? Please read our
nutrition policy.