Keto Chocolate Crazy Cake (no dairy, no nuts, no grains)
Do you remember when grandma used to make what was called a depression cake or a crazy cake recipe that's made with no eggs, no milk, no butter etc… Those cakes were very popular for my family before we started our low carb and keto journey.
I decided to make a keto version of this old popular cake recipe and guess what?!! I was a bit worried but it turned out perfect!!! I made it with absolutely no dairy what so ever! I learned many years ago how to make whipped cream with coconut cream from this watermelon cake recipe. I took the same concept and created a delightful frosting with sugar free chocolate chips and coconut cream that is unsweetened!
It turned out perfect!!! You are really going to enjoy this recipe! Promise!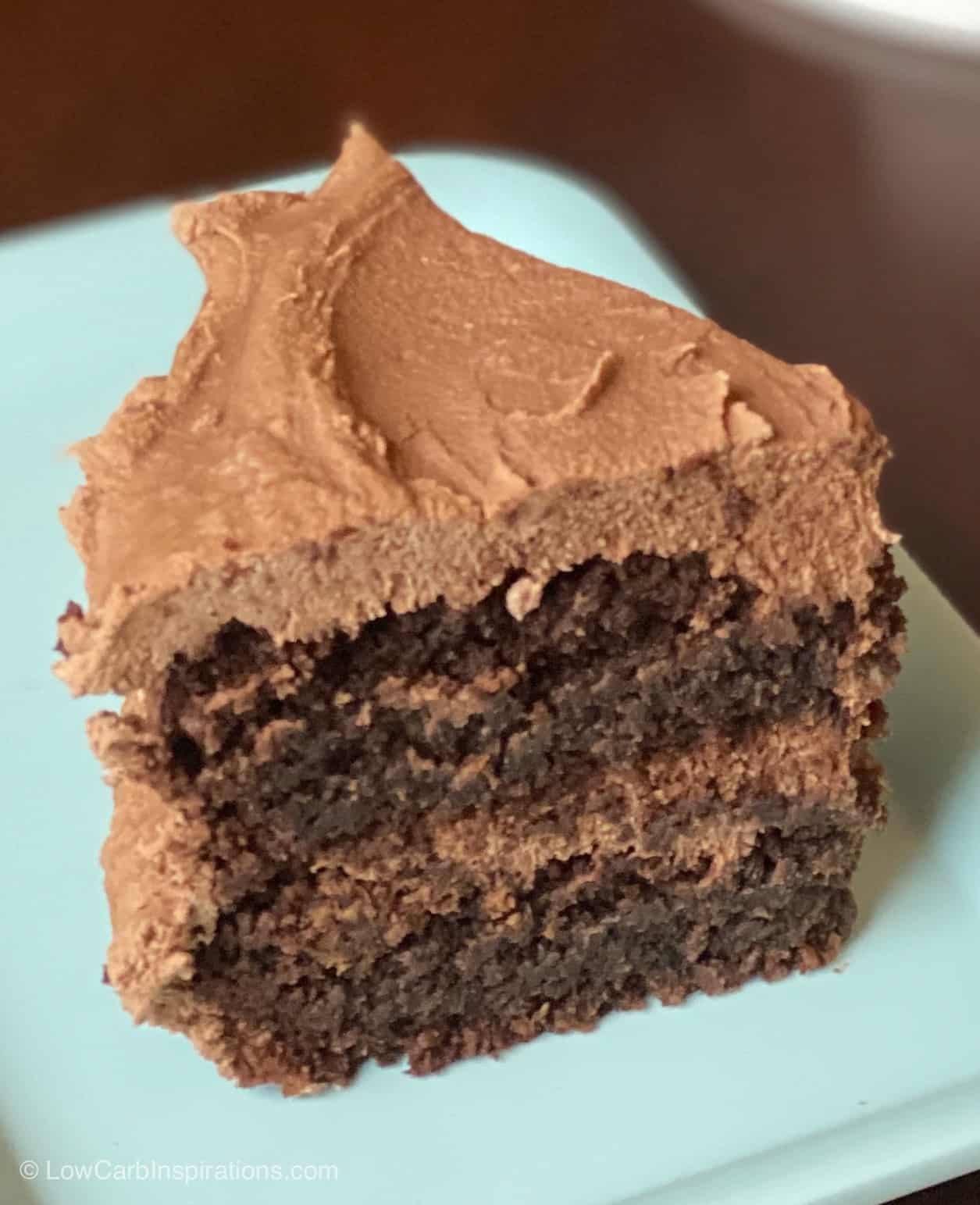 Keto Chocolate Crazy Cake Recipe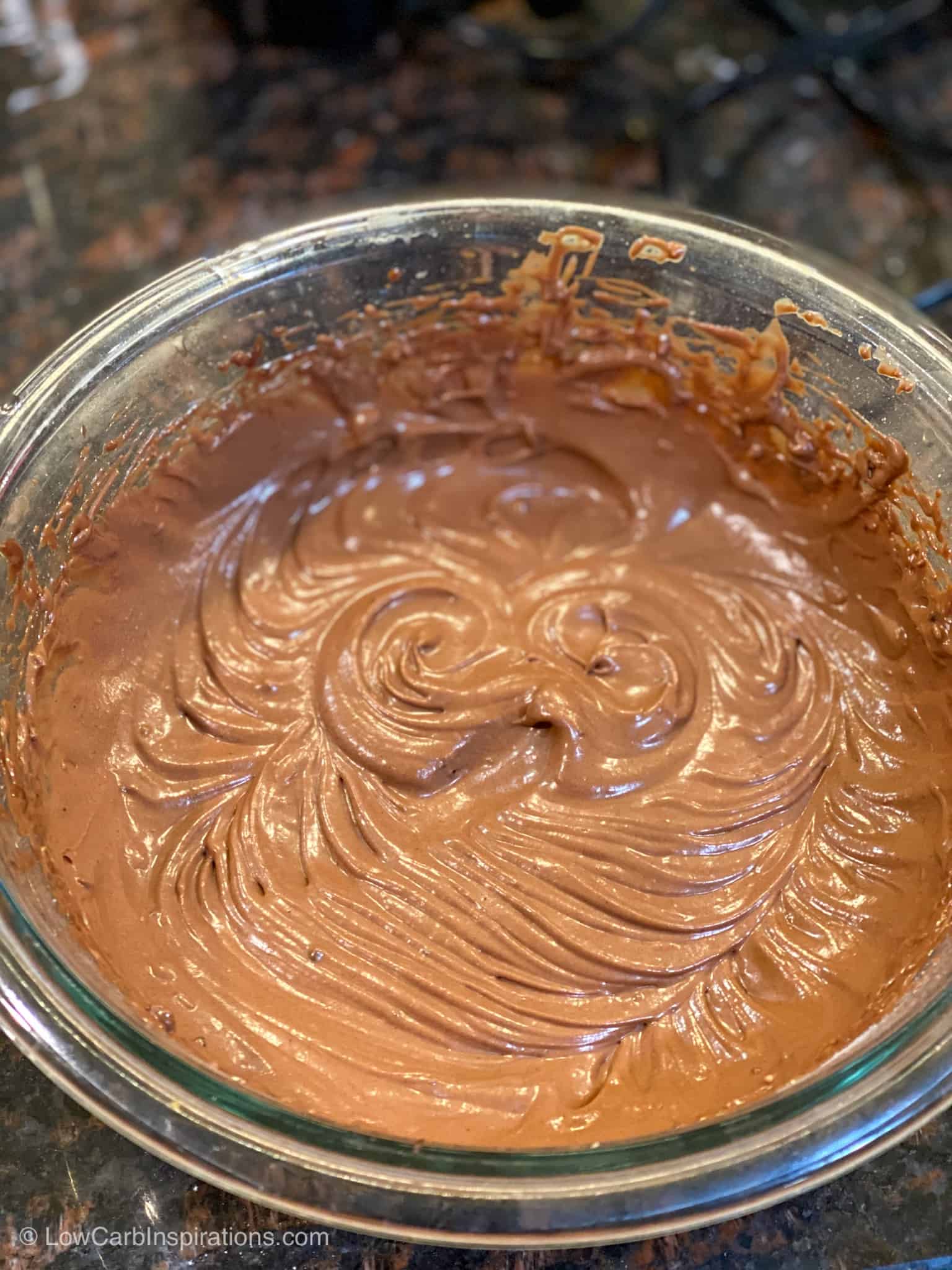 Sugar Free and Dairy Free Chocolate Frosting Ingredients
Suggested Cake Pans
I highly suggest using two 6-inch cake pans for this recipe. It cooks quickly and turns out super moist! I use the Wilton 6-inch cake pans with a 6 inch round parchment paper at the bottom so that the cake always releases perfectly from the pan.
Difference between Stevia and Stevia Glycerite
The difference between regular stevia and stevia glycerite is the texture and taste. The texture in regular stevia is just like water. The texture of the stevia glycerite is a thick liquid more like a light syrup almost. Stevia glycerite does not contain alcohol either. Because the stevia glycerite does not contain alcohol it will not taste bitter like regular liquid stevia can taste.
Stevia converts as follows:
1 tsp regular sugar is equal to:
1/2 cup regular sugar is equal to:
Keto Chocolate Crazy Cake Instructions
Go to the very bottom of this post to find the printable recipe card and full recipe instructions.
Keto Chocolate Crazy Cake Recipe Notes:
This cake is rich so only a very small slice is needed.
This recipe uses sunflower flour because many people have but allergies. There are also many that do not like the taste of coconut flour.
There are also people who have a dairy intolerance. This recipe is for you!!
Sunflower flour tends to be a bit higher in the carb count but it's worth it for those who can't tolerate the other ingredients. You can make this recipe with Almond flour but you will also need to add a 1 tsp of Xanthan powder with it.
I created this recipe for those with nut allergies . If you want to use another flour it will change the texture and moistness of the cake. I cannot guarantee that your de placement flour would be a 1 to 1 swap especially when trying to use coconut flour. Coconut flour is very drying and is usually a q/4 to 1 cup ratio against almond flour. I'm not so sure I would attempt a coconut flour variation.
Sunflower flour tends to make my bake goods more moist than other low carb flours. I order my sunflower flour off of amazon.com
I also have an amazing mug cake recipe that uses sunflower flour too!
Dairy Free Chocolate Frosting Recipe Notes:
Be very careful to use the 13.66 oz can of Coconut Cream that's unsweetened. The cans for the coconut milk look almost identical. I accidentally bought the mil that was right next to it at my local grocery store. This is what it looks like. You might have a hard time finding it in your local grocery store. If so, you can order from amazon.com too.
I also use the unsweetened coconut cream to make this Thick & Creamy Chia Seed Pudding recipe. It's fantastic! I always make sure to keep my pantry stocked with this cream. Always!
I also want to make it very clear that you will only use the cream from this can, and not the liquid part. Here are some photos to show you exactly what I mean.
This is a photo of the instant coffee I used along with the unsweetened coconut cream.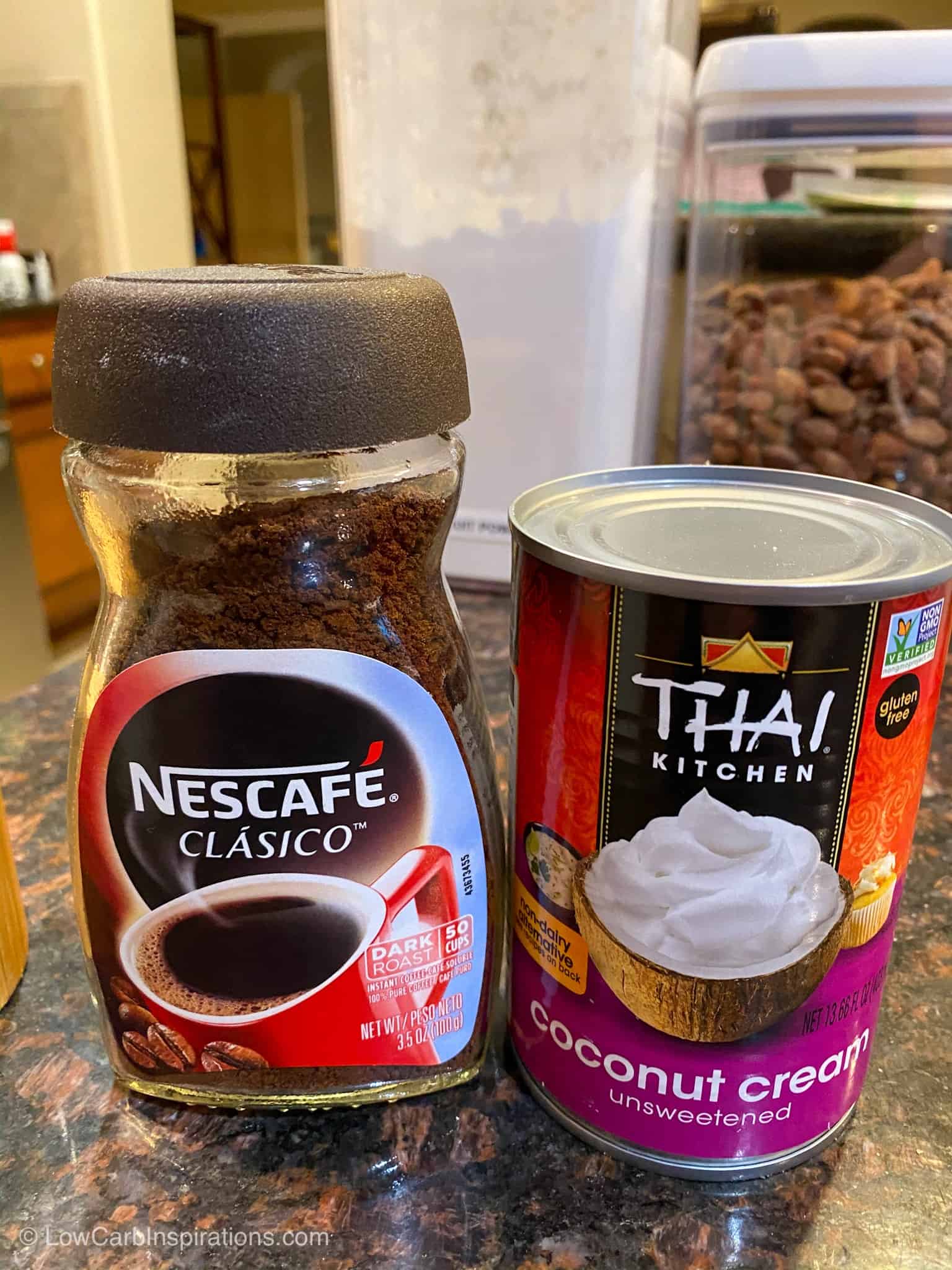 This is the cream I pulled from that can. You get quite a bit!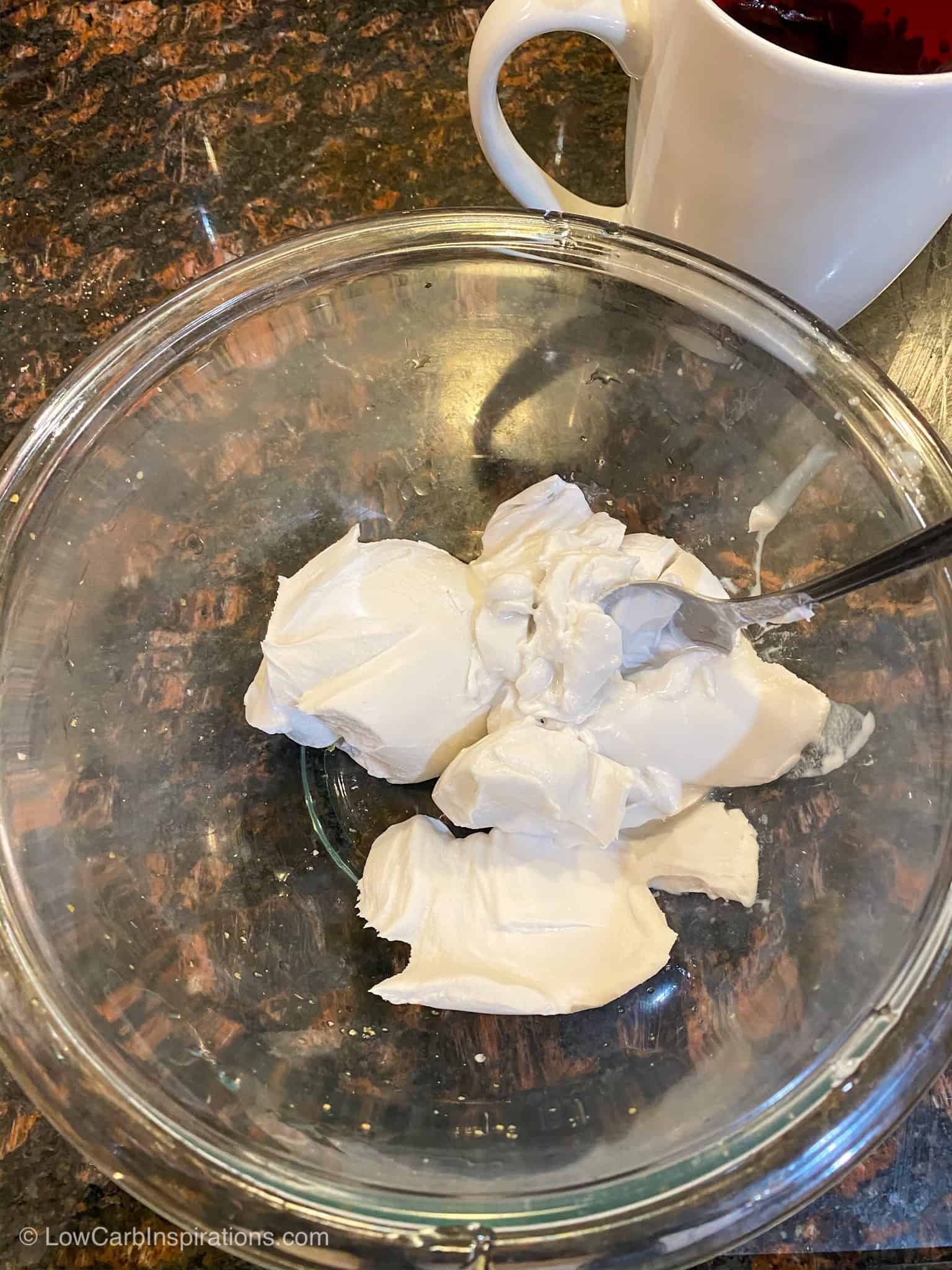 This shows the liquids I reserved from the can that I won't be using: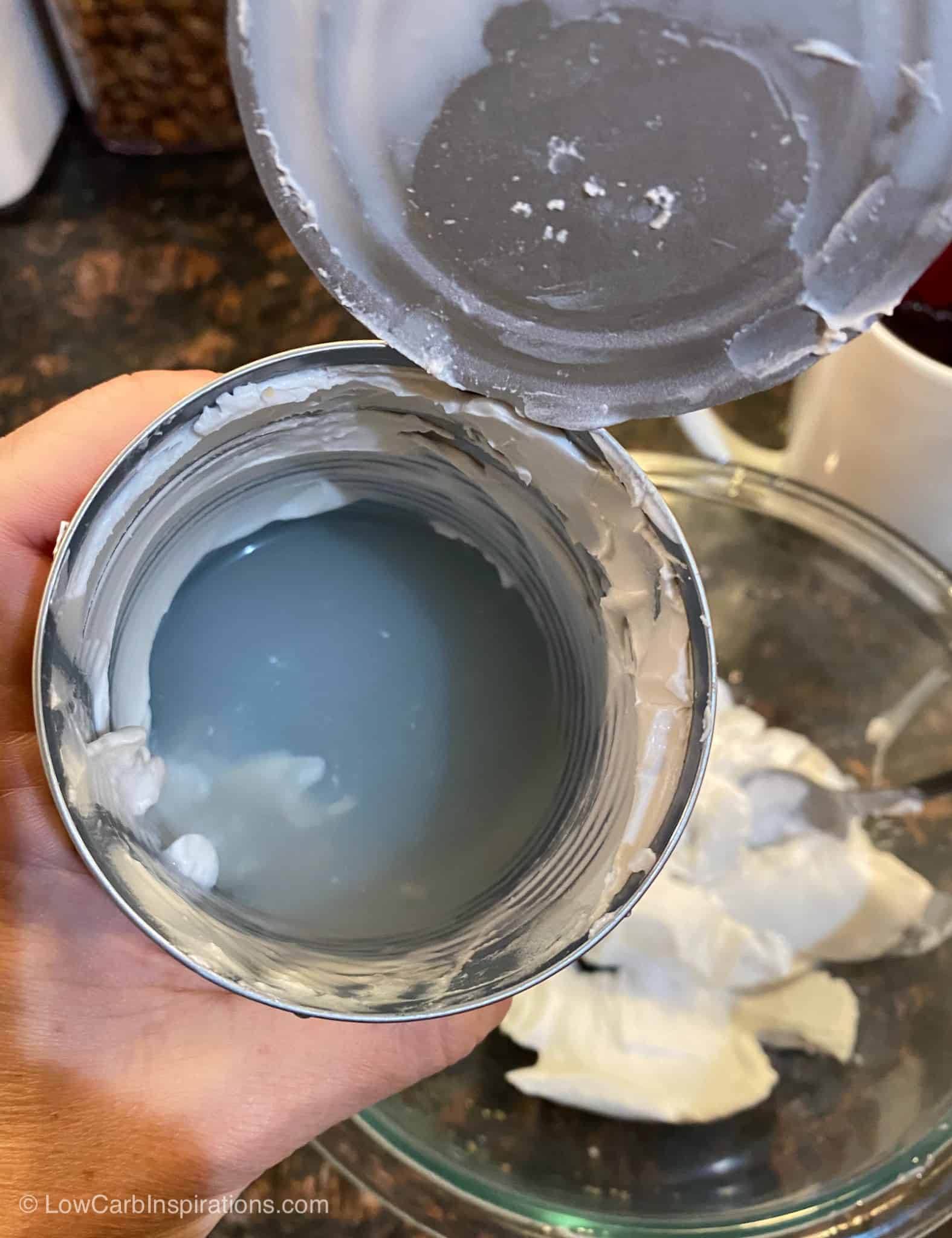 Be sure to cool the cake completely before frosting it. Also, allow the cake to set in the refrigerator for the icing to set also.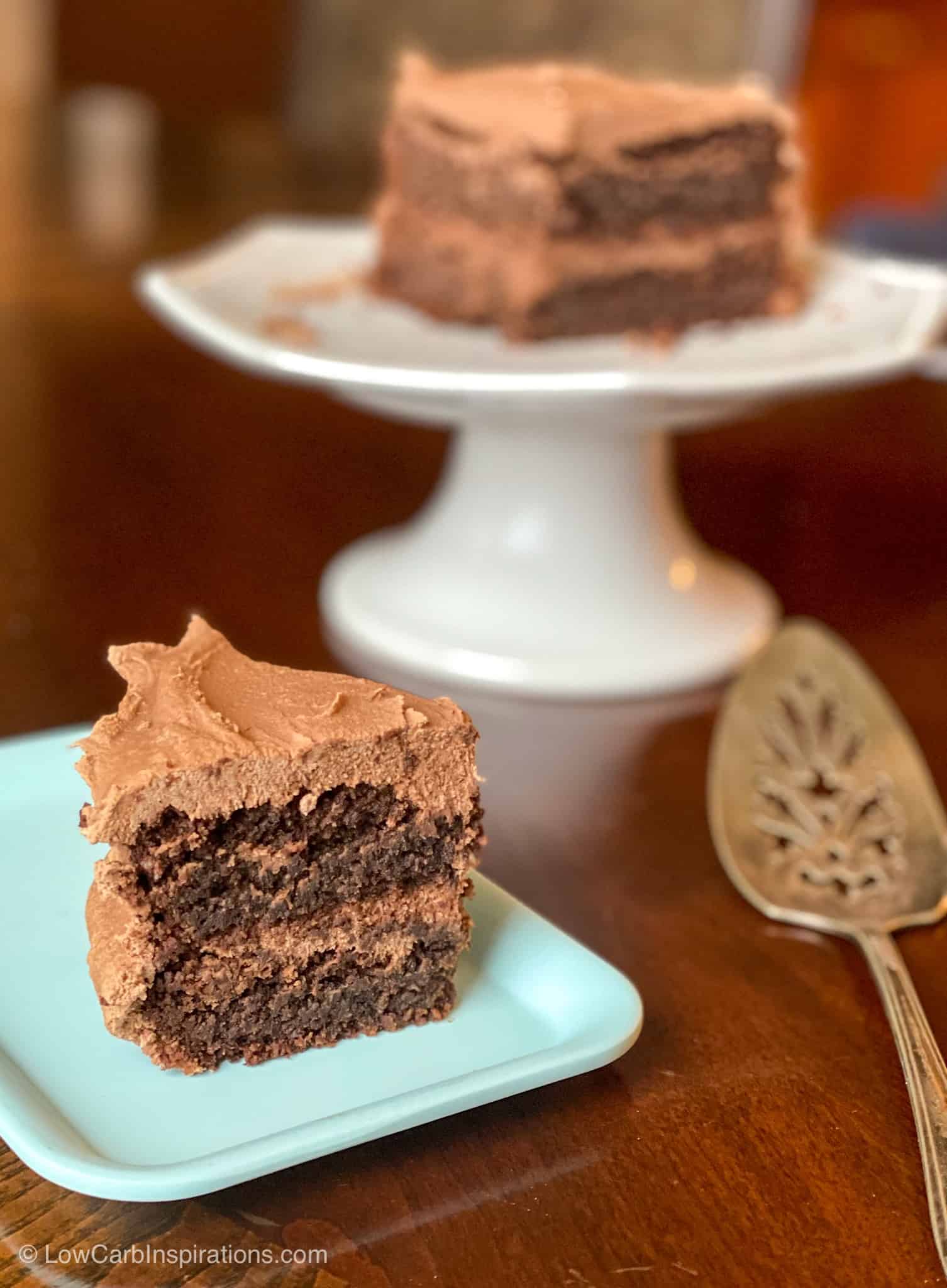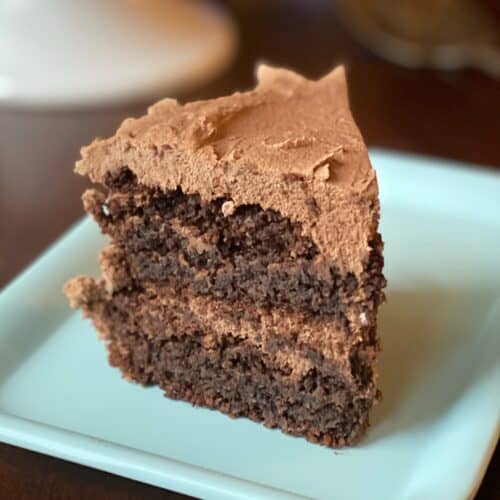 Keto Chocolate Crazy Cake Recipe
We just made the BEST Keto Chocolate Crazy Cake Recipe with a dairy free chocolate frosting!!
Instructions
Cake Instructions:
I'm a medium bowl combine the sunflower flour, flaxseed, cocoa powder,  monk fruit, salt, baking powder, and instant coffee powder ( not liquid coffee).

Mix all the dry ingredients until it's fully combined.

Add the wet ingredients to the dry ingredients. Create a week in the middle off the dry ingredients to hold the wet ingredients in the center of the dry ingredients.

Pour the oil, stevia, vanilla, and water into the well.  Slowly start to mix the wet ingredients into the dry ingredients.  As you mix the batter in the center it will slowly grab the dry mix from the side and add a little bit each stir.

Split the batter into 2 equal parts and fill each in a 6 inch round cake pan. I prefer the Wilton nonstick pans.  I also use parchment rounds to get the cake to release from the pan after it cools.

Bake the cakes at 350 degrees for 25 minutes.  Do a toothpick test to make sure it's done in the center.

Allow the cakes to cool and start making the frosting.
Frosting Instructions:
Open the can of unsweetened coconut cream.  Make sure it's a cream and not coconut milk.  There's a big difference.

Remove the coconut fat from the can and leave the liquid water part.  You won't be using the liquid.

Add the coconut cream to a medium bowl.

Add the monkfruit, cocoa powder, instant coffee powder, and salt.

In a microwave safe mug, add 1 teaspoon of coconut oil to 1/2 cup of Lily's chocolate chips. Microwave them on high for 30 seconds then stir.  Microwave it for an additional 15 seconds and stir.  Repeat this step until the chocolate chips are fully melted. It shouldn't take more than a minute.  Be very careful not to over cook the chocolates and cause them to burn.

Add the melted chocolate to the cream mixture.  Use a hand mixture to mix it until it's smooth and creamy.

Place it in the fridge to thicken up while the cake completely cools down.
Frosting the cake:
After the cake has cooled to room temperature and the frosting has thickened, it's time to frost the cake.

Place the first cake layer on the cake stand or plate and frost the first layer.

Place the second cake layer on top of the first and frost the second layer.

Now frost the sides of the cake.

Place the cake in the refrigerator to keep is cool.  This frosting will not do well in the heat.

Serve cold or at room temperature.

This cake is rich so only a very small slice is needed.
Notes
This cake is rich so only a very small slice is needed.
Nutrition
Serving:
1
g
|
Calories:
122
|
Carbohydrates:
10
g
|
Protein:
3
g
|
Fat:
11
g
|
Fiber:
3
g
|
Sugar:
1
g
Nutrition facts are provided as a courtesy. Have a question about our calculations or why you got a different result? Please read our
nutrition policy.