Making dinner is always a struggle. You want something healthy, but you don't have time to cook it and you don't want to mess up the kitchen either.
This Air Fryer Meatball Casserole Recipe can be cooked in just 15 minutes! It's the perfect meal for busy families because it can be made with ingredients that are already in your fridge and pantry. Best of all, everyone will love this dish – even picky eaters!
With only a couple minutes prep time, this recipe makes weeknight dinners easy as pie (or meatballs). Plus, cleanup is a breeze since there's no pots or pans to scrub clean after cooking. Just throw out the foil pan liner when you're done and call it a day!
It's healthy.
It's easy.
It's keto!
You can make this recipe in the air fryer or you can make the Keto Meatball Parmesan Casserole recipe in the oven too!  Totally up to you!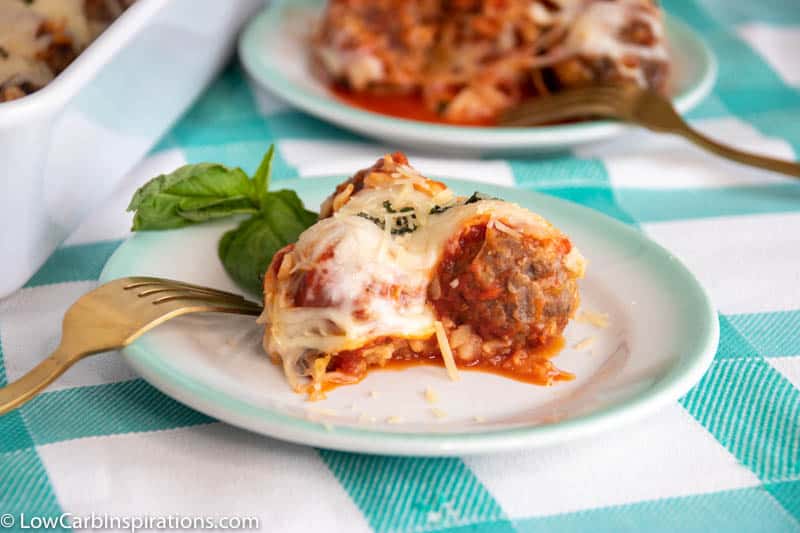 Here's a video that shows exactly how we made it!

This is the best new way to cook! I use my 5.8 quart Cosori Electric Air Fryer and it has been a game changer for me at home, in work lunches or dinners.  Heck, I find I even use it for breakfast meals like keto toast too! It also cooks up easy recipes like this one that I made today- "Air fryer Keto Meatball Casserole Recipe"
I've always loved cooking but now with an air frying machine, there are so many options of healthy food that don't take much time too make on top of saving tons of money from not buying expensive and less healthy take out foods all the time.
Here's how to make the Air Fryer Keto Meatball Casserole:
 Use an aluminum cake pan that's 8.5 inches in diameter.  This fits perfectly into my air fryer and holds the liquid ingredients as needed.
Add a layer of frozen meatballs to the cake pan.
Pour a jar of marinara sauce (we use Mur's or Rao's Low carb versions) over the meatballs.
Top the meatballs with Mozzarella cheese.
Cover the top with a sheet of aluminum foil to prevent the cheese from burning.
Bake at 350 degrees for about 15 minutes.  Remove the foil about 5 minutes before it's done so the cheese can melt on top.
Optional:  Add a layer of keto bread at the bottom of the tray before adding the meatballs if you choose to consume keto bread with this casserole recipe as we have done in our TikTok video as seen above.
This serves between 5 to 6 people!