Keto Halloween Chaffle Cake
I just made a super cute Keto Halloween Chaffle Cake recipe! We added a few different Halloween cake toppers that are sugar free and edible or non edible food options too!
A lot of people tend to automatically think that you can't stay sugar free, low carb, or even keto when a holiday rolls around but I am here to show you that it is very possible to stay on track and plan fun food ideas just like this! You just need a little bit of inspiration and friendly ingredients. I'm here to help! This is so much fun for me.
We ended up using our Keto Birthday Cake Chaffle cake to make this halloween chaffle cake.
We also used our popular Keto Cream Cheese frosting recipe on this cake too!
If you want to see how we made the edible chocolate Frankenstein faces, we wrote up the instructions on this post here: Halloween Keto Cupcake Ideas
We used green and black gel food coloring for this recipe.
Keto Cake Decoration Ideas:
You can make melted chocolate designs or you can buy little Halloween decorations to decorate your Keto Halloween Chaffle Cake!
Here are a few photos we took of our Keto Halloween Chaffle Cake: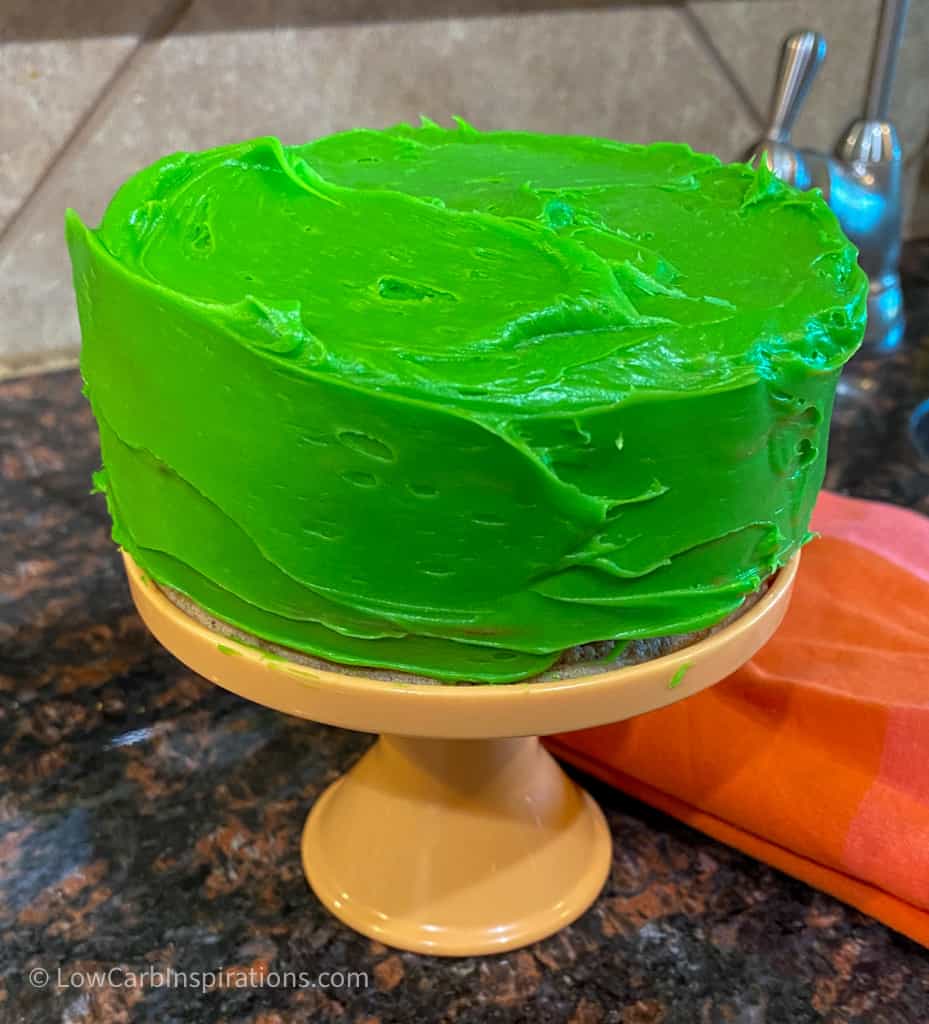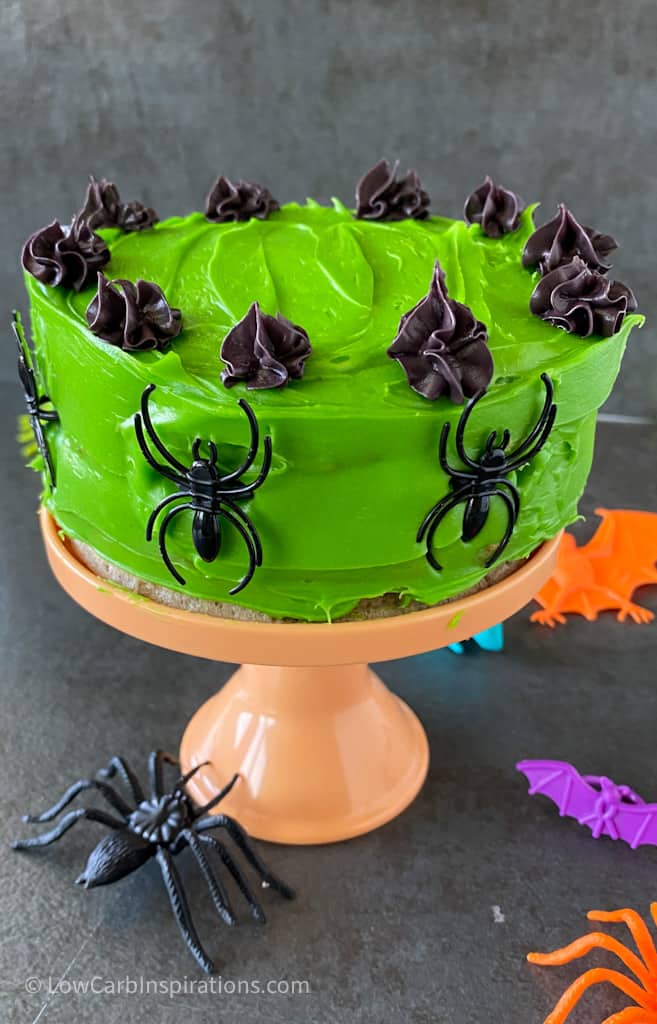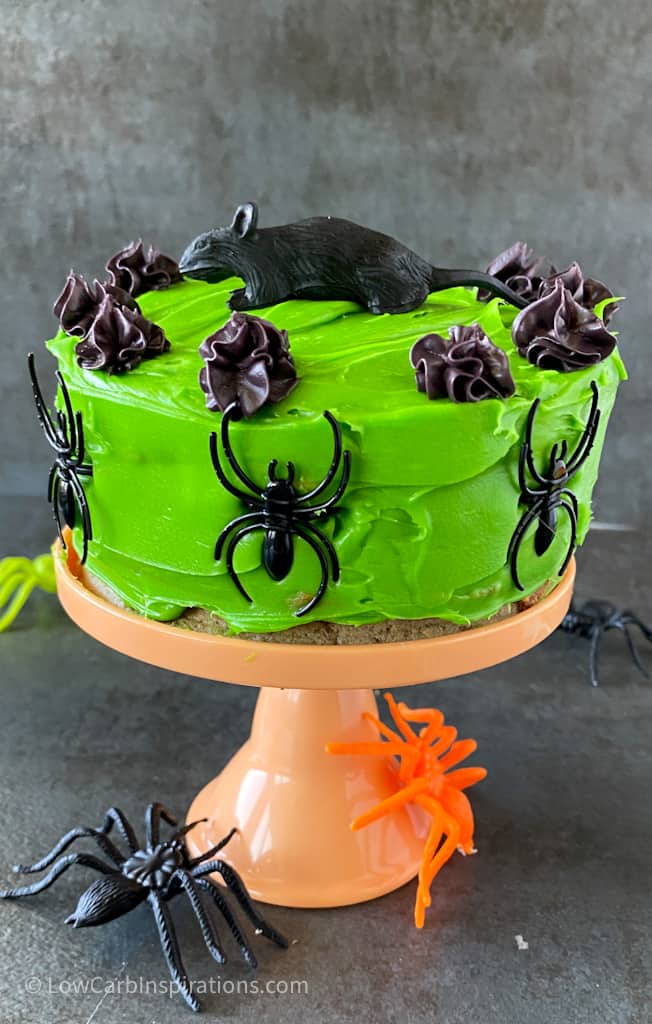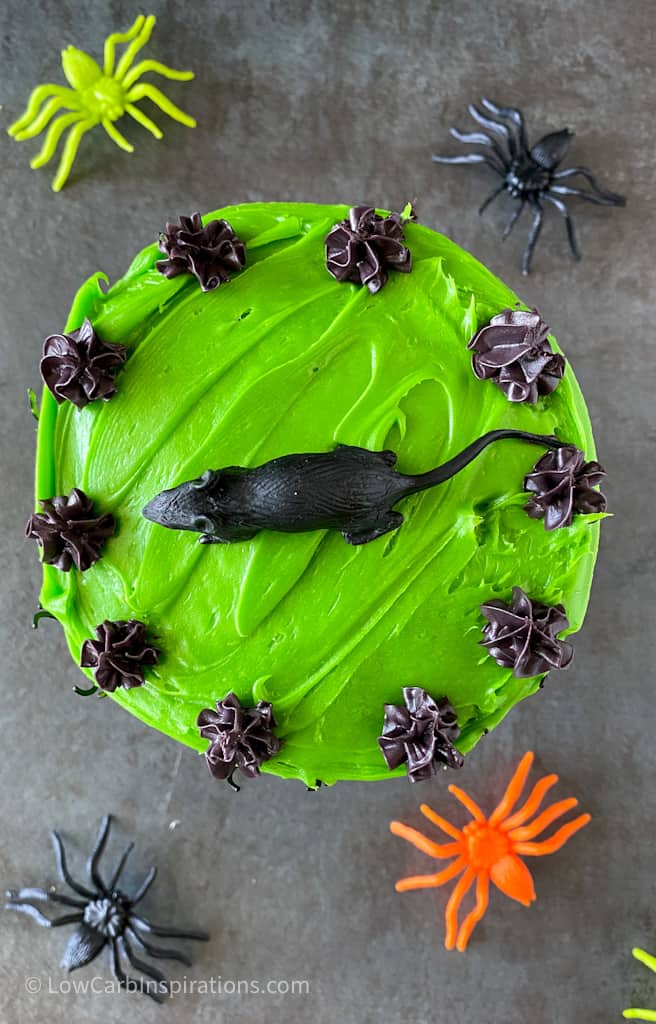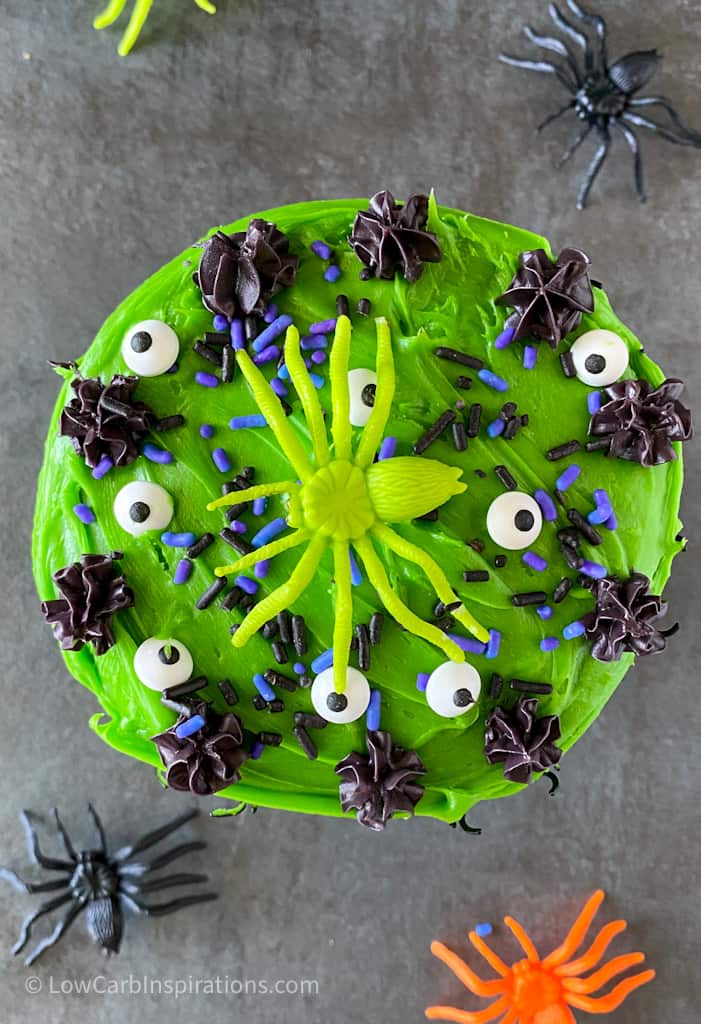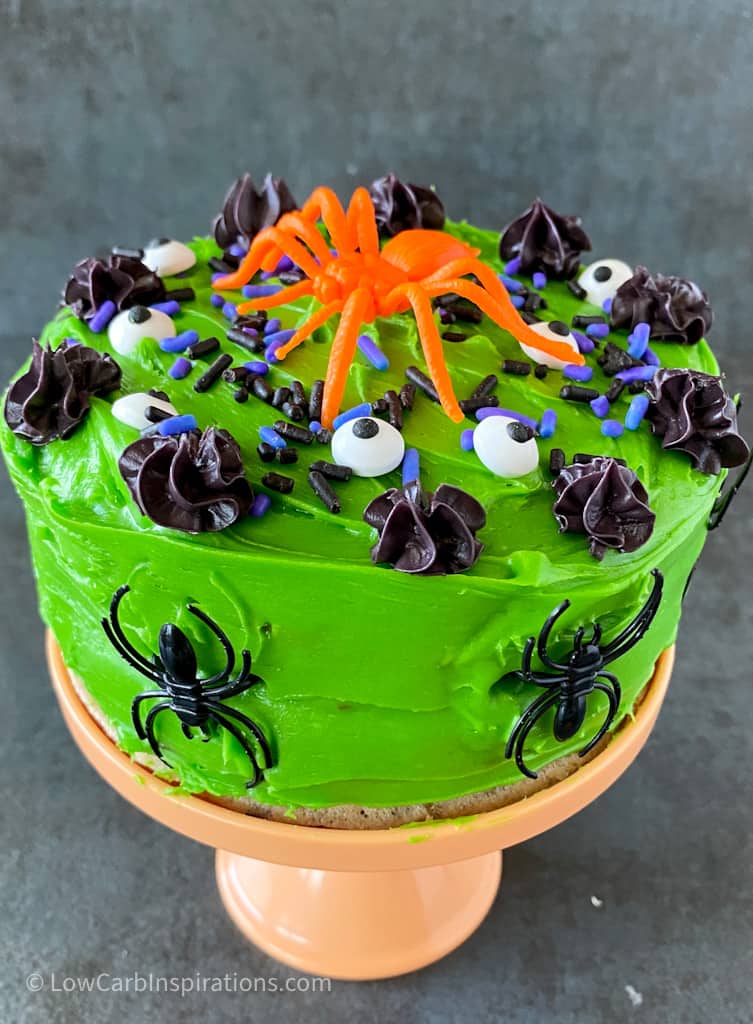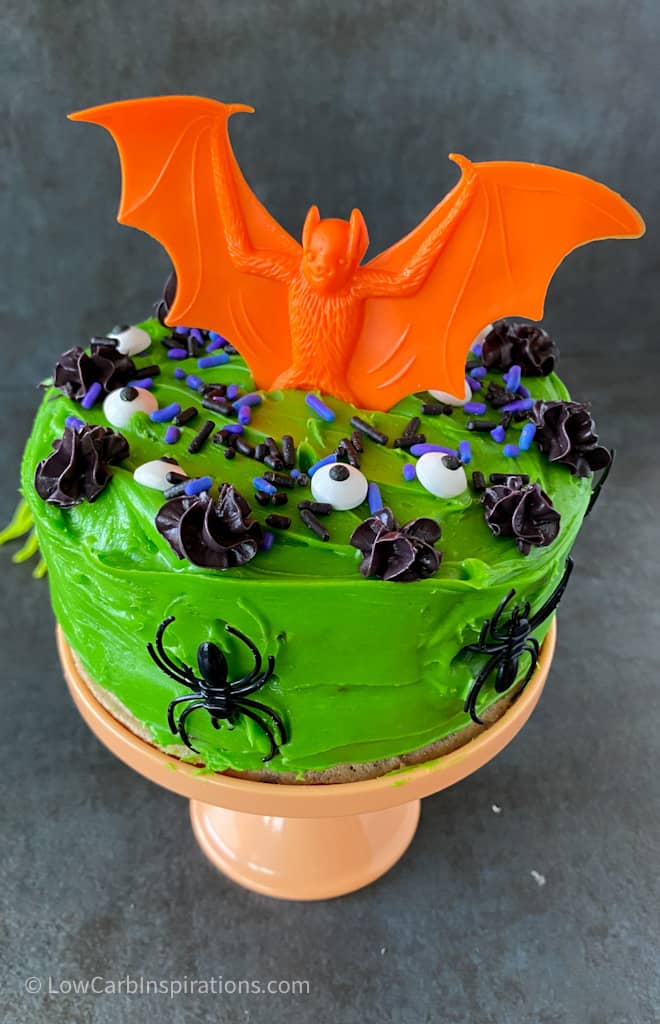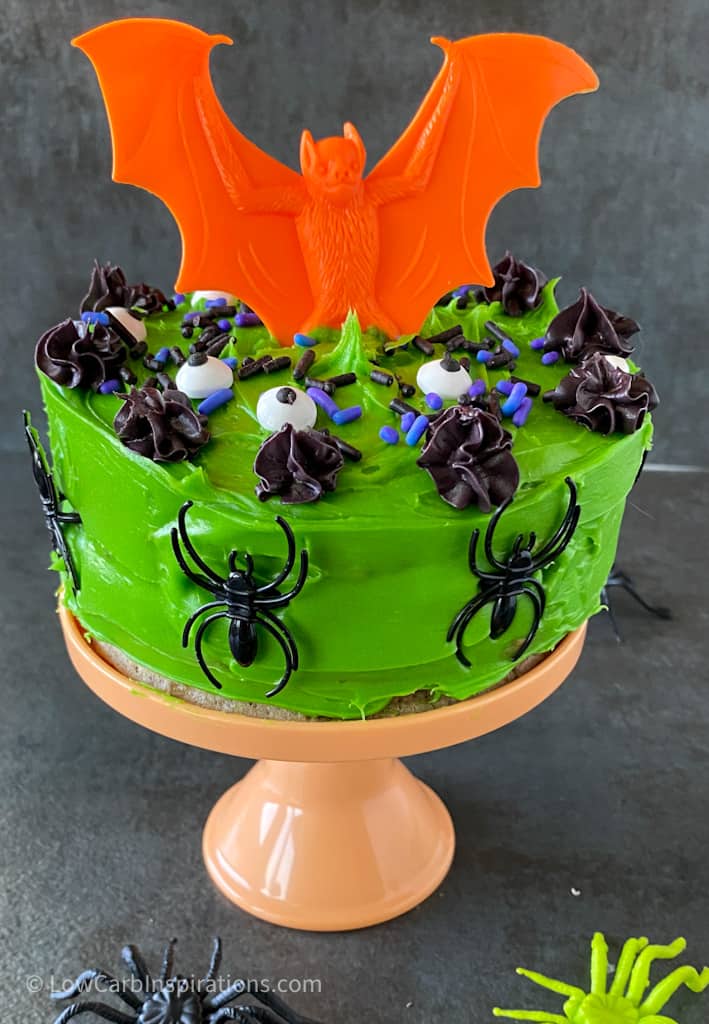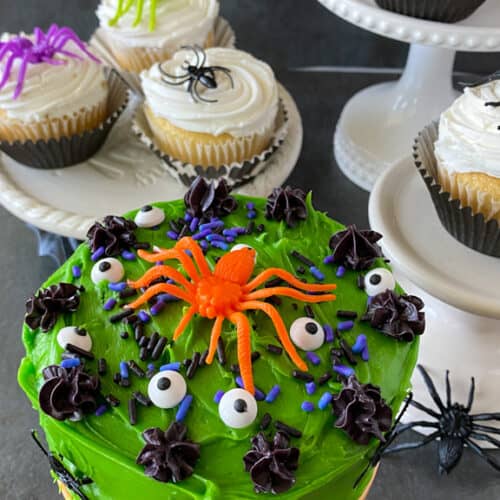 Keto Halloween Chaffle Cake
Fun way to have a Keto Halloween Chaffle Cake without the guilt and sugar!
Ingredients
Chaffle Cake Ingredients:
Cream Cheese Frosting
8

oz

Cream Cheese, room temp

4

tbs

butter

confectioners sweetener or monkfruit

1

tsp

vanilla extract

1/2

cup

Keto Powdered Sweetener of your choice (I used monkfruit)
Instructions
Preheat the mini waffle maker.

In a medium-size blender, add all of the chaffle cake ingredients and blend it on high until it's smooth and creamy.  Allow the batter to sit for just a minute.   It may seem a bit watery but it will work just fine.

Add about 2 to 3 tablespoons of batter to your waffle maker and cook it for about 2 to 3 minutes until it's golden brown.

In a separate bowl, start making the vanilla cream cheese frosting.

Add all of the ingredients and mix it with a hand mixer until the ingredients become soft and creamy. If using, add one or two drops of food coloring at the end.

Allow the chaffle cake waffles to cool completely before frosting your cake.  If you frost it too soon, it will melt the frosting.

Decorate as you wish and Enjoy!
Notes
(makes mini four cakes)
Nutrition information:
Calories: 141, Fat 10g, Carbs 3 net carbs, protein 4.7g per serving
Nutrition facts are provided as a courtesy. Have a question about our calculations or why you got a different result? Please read our
nutrition policy.