We just made the best Halloween Keto Cupcakes! These are so cute and everyone loved them!
We purchased a bag of plastic Halloween toys that has bats, spiders, snakes, bat rings, spider rings and skeletons too! We made our Keto Vanilla Cupcake Recipe and decorated them for Halloween!
This recipe makes the perfectly moist cupcake that's sugar free and fits perfectly into your keto lifestyle. It's worth it to make them to have a treat on Halloween if you are trying to stay on track.
This recipe uses the perfect ratio of almond flour to coconut flour making a real cake like consistency. Sometimes when you use all almond flour it can be too gritty and if you use all coconut flour it can be a bit dry. If you have a nut allergy and want to try a different flour, I would suggest using a Sunflower flour in place of the almond flour. I have not tested it in this recipe but I've tested it in a few others and it's the perfect substitute at a 1 to 1 ratio when substituted with the almond flour in other recipes. It's worth trying. I don't use Sunflower flour as often because it's expensive and it has more carbs per serving but when you are battling with a nut allergy, it's worth it.
We used our Keto Vanilla Cupcake recipe with our cream cheese frosting for this Halloween treat! We've added a printable recipe card below.
Halloween Cupcake Topper Ideas that are sugar free:
There are a few different ways you can decorate a keto cupcake and keep it sugar free. We decided to do a few melted chocolate designs using Lily's chocolate chips and Bake Believe sugar free white chocolate chips. We melted a 1/2 cup of chocolate chips with a half teaspoon of coconut oil. We added the chips and the oil to a microwave safe bowl and cooked it for 30 seconds at a time. We stirred the chips in between cooking times to make sure the chips were even in the container so they wouldn't burn. Once you burn chocolate, there is no fixing it. You will have to start all over. It only took two 30 second microwave cooking sessions to fully melt our chips. The chips may not look like they are melting in between cooking times so it's very important to stir them and feel the consistency.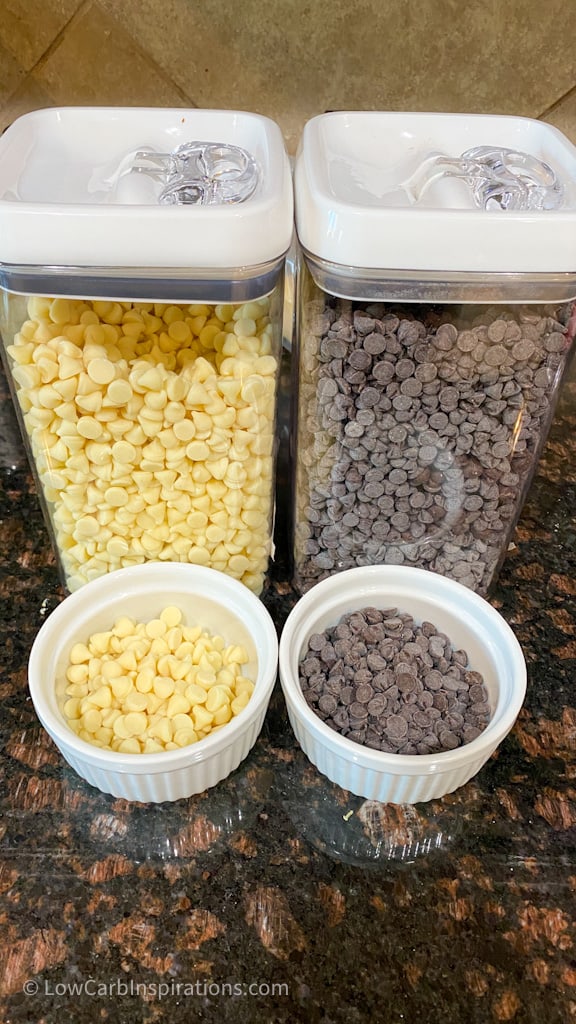 This is what the chocolate looks like after 30 seconds of microwaving it.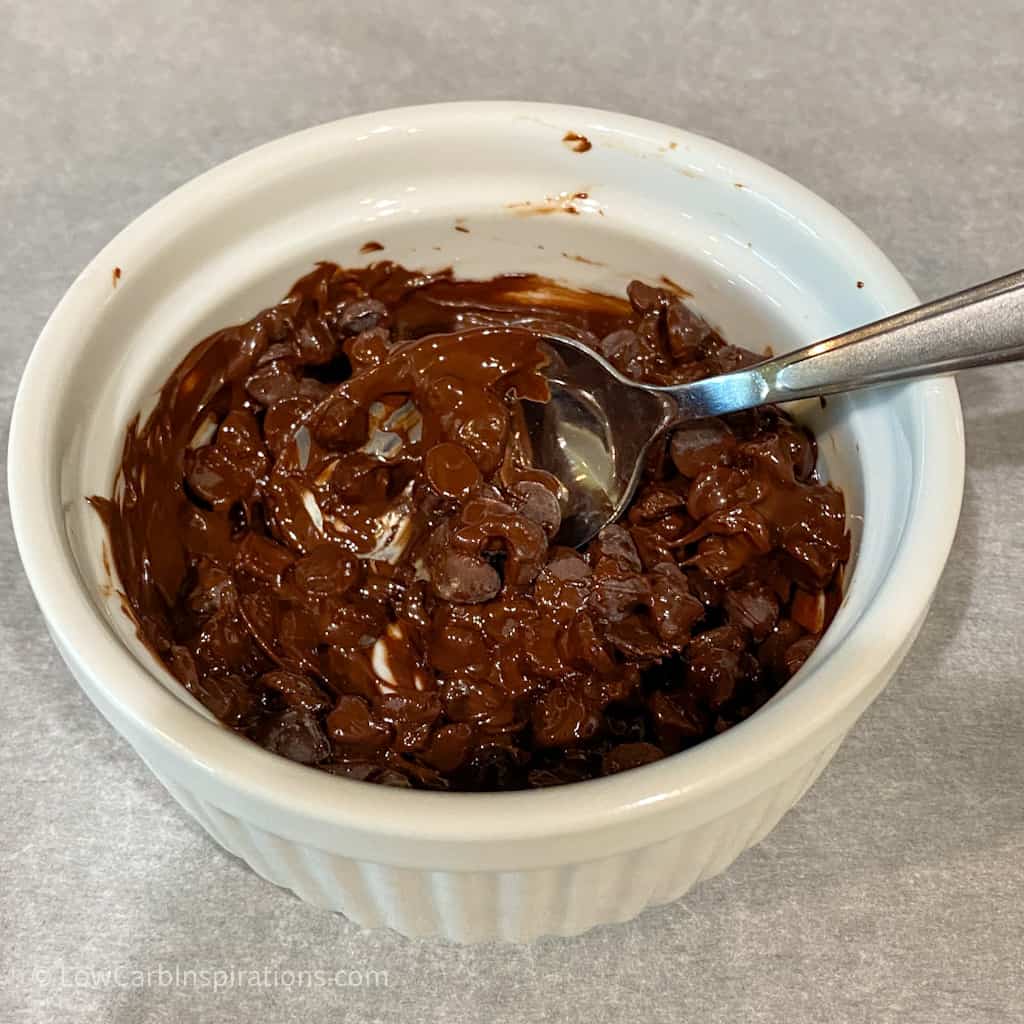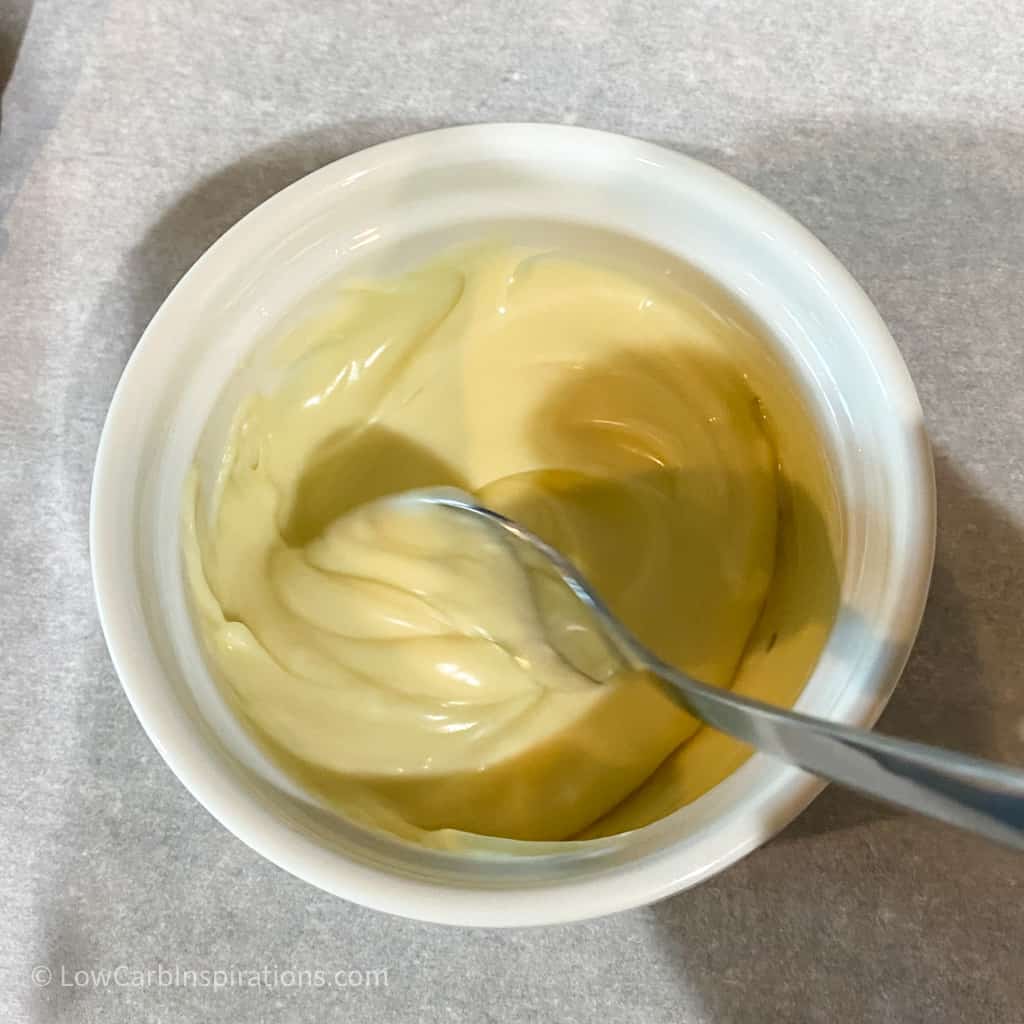 After melted the chocolate we added the warm melted chocolate to a piping bag to help make our Halloween designs. We laid out a sheet of parchment paper so it would be easy to pull the designs up from the paper once they cooled and hardened. I did notice the white chocolate took longer to harden than the regular chocolate.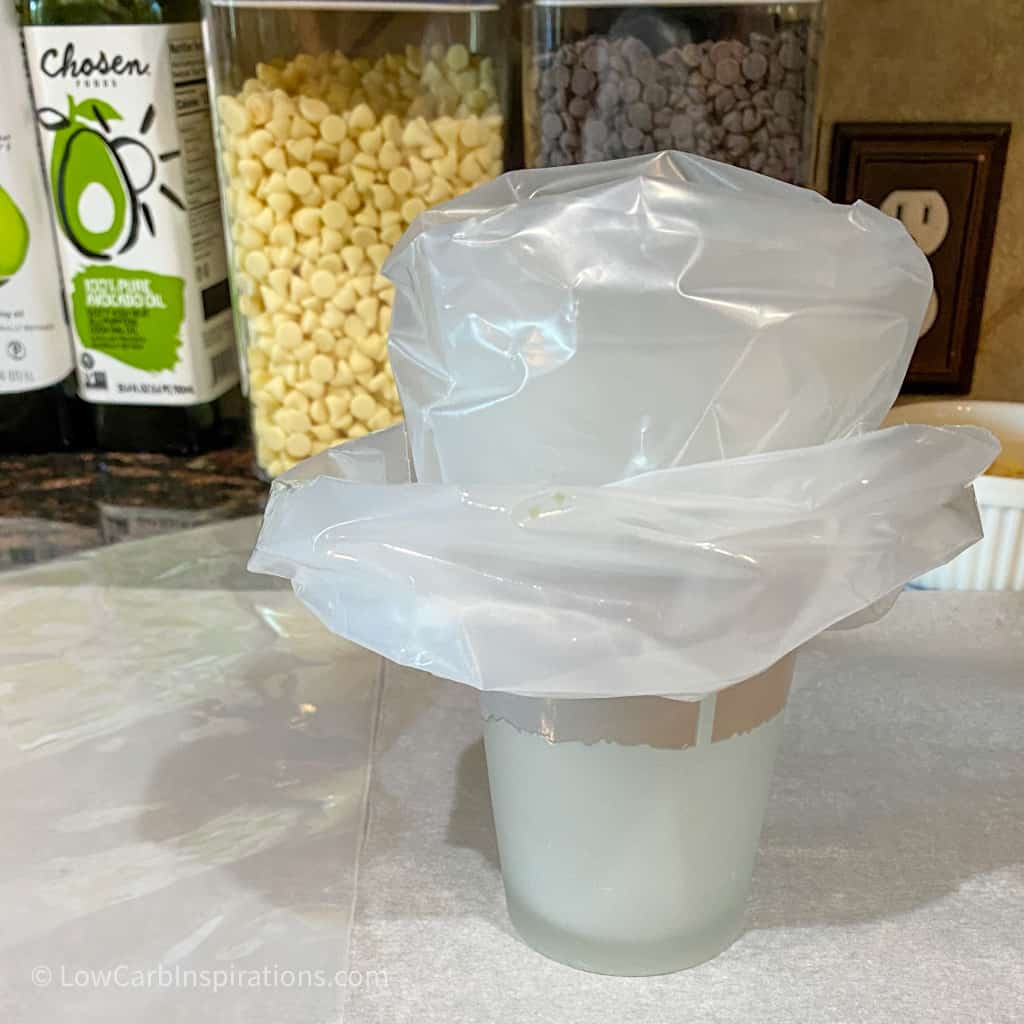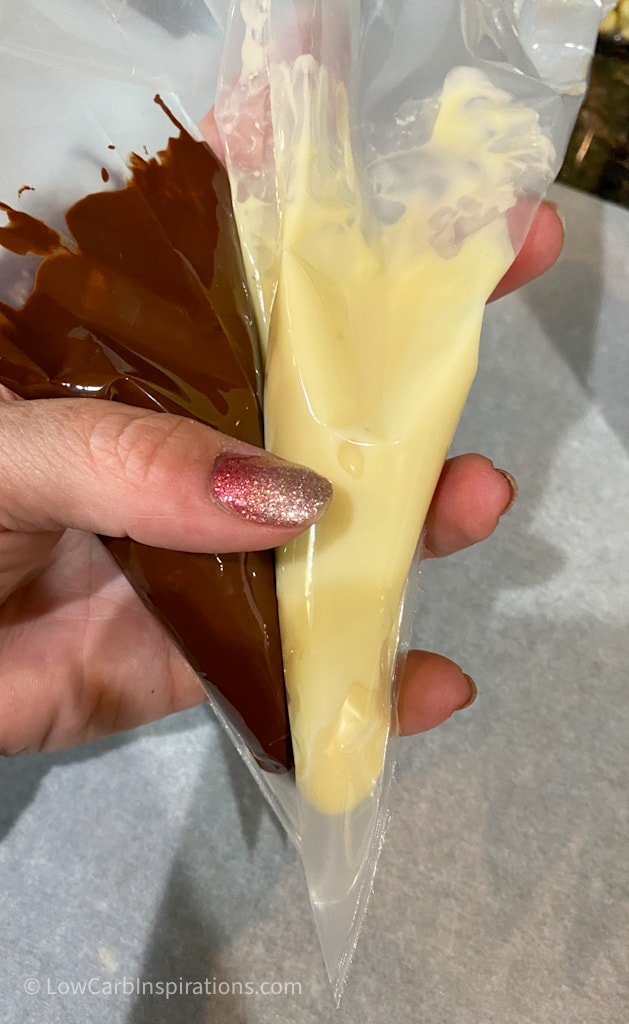 We made sugar free spider web Halloween Keto Cupcake toppers.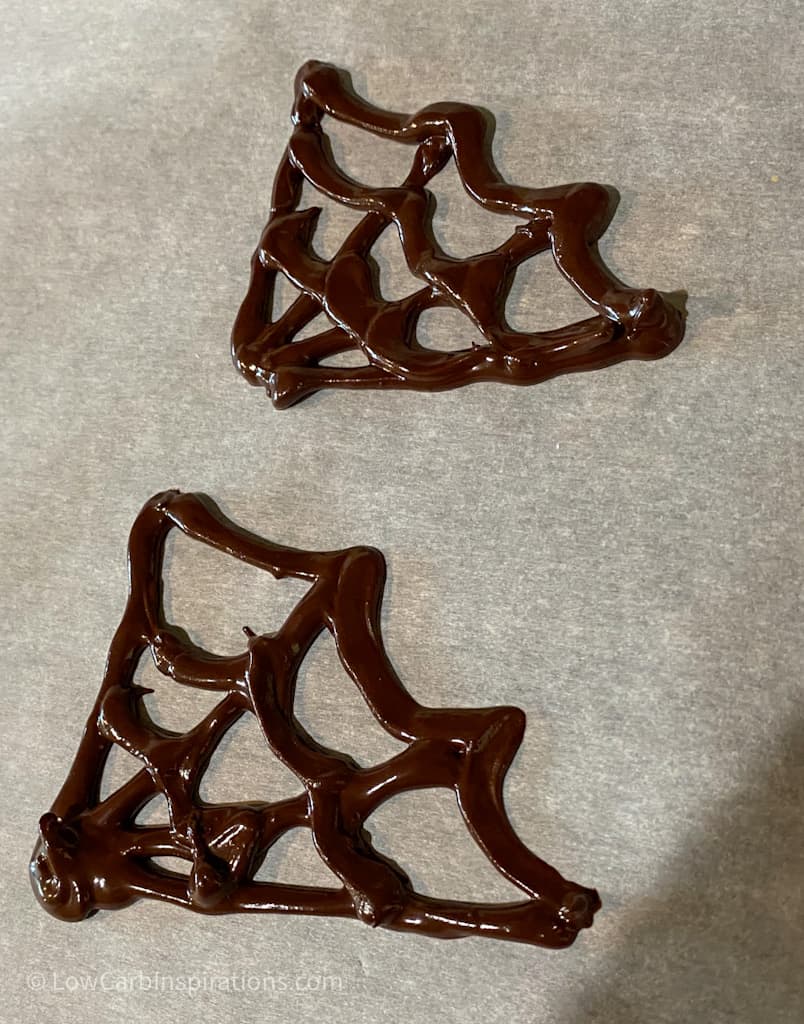 We also made some sugar free screaming ghosts for our Halloween Keto cupcakes! I used a toothpick to help shape the mouth and eyes after placing the chocolate layer down on the ghost part. All you have to do to make the ghost look as though it's screaming is to drag the chocolate dot down using a toothpick.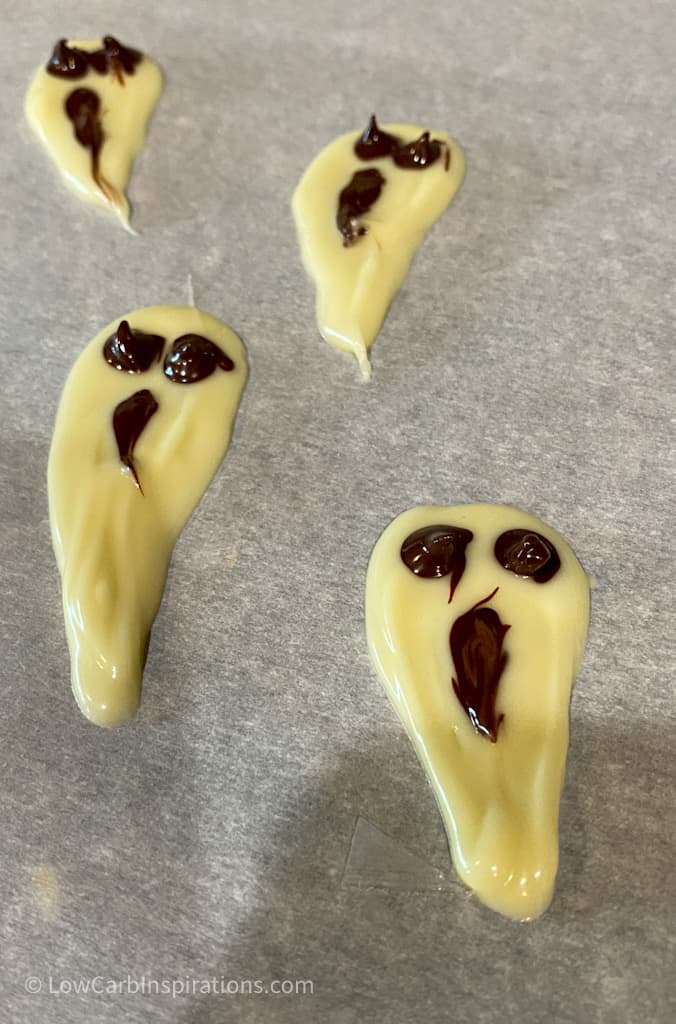 Bake Believe white chocolate chips are sugar free and super easy to color when using a gel food coloring. We added green paint to make Frankenstein faces out of chocolate! We added only about 1 or 2 drops of coloring in a 1/2 cup of melted chocolate chips. Here are some of the colors we used for our halloween decorations. Black, Lime Green, Orange and a light purple! I usually use the Wilton gel colors but they were already sold out at my local Hobby Lobby. These are another brand of gel colors that worked just as well. Any gel color will work.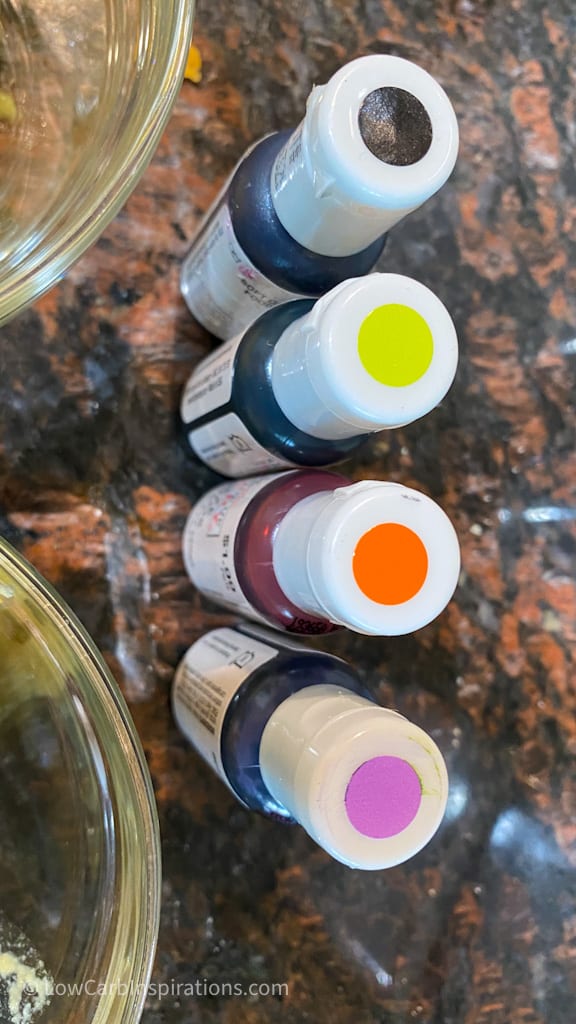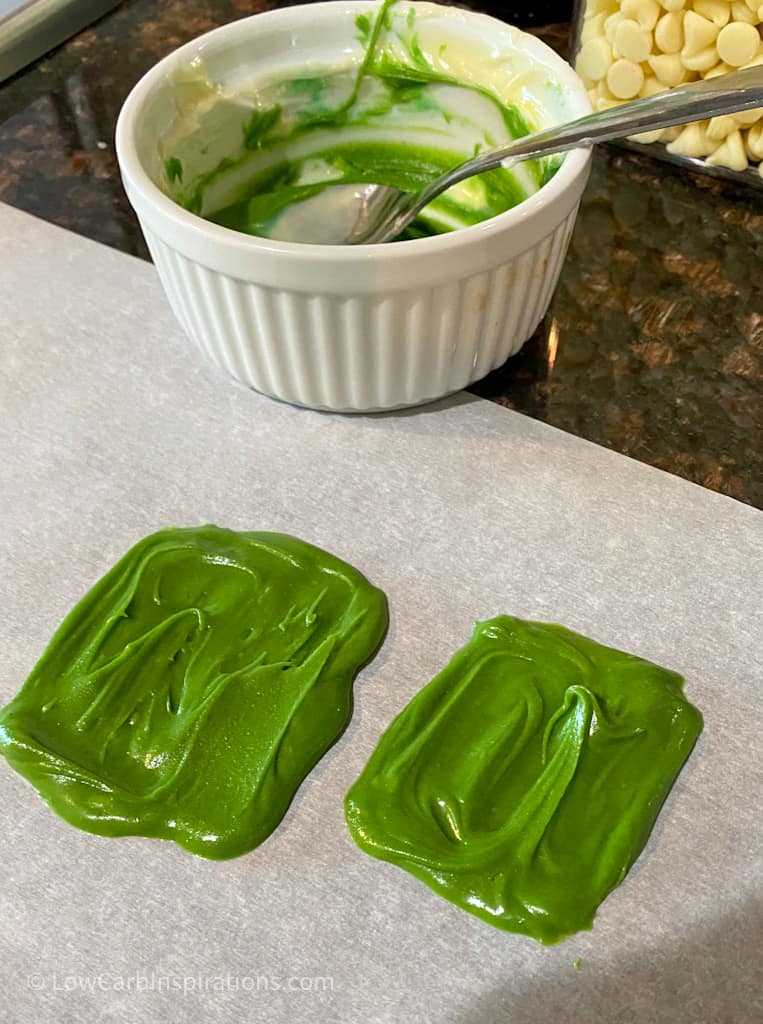 Note: The eyes are not sugar free but they were too cute not to use. You could make your own eyes with white chocolate using a gel food coloring to color the white chocolate black for the pupils. I just decided not to consume them but rather use them for decorations.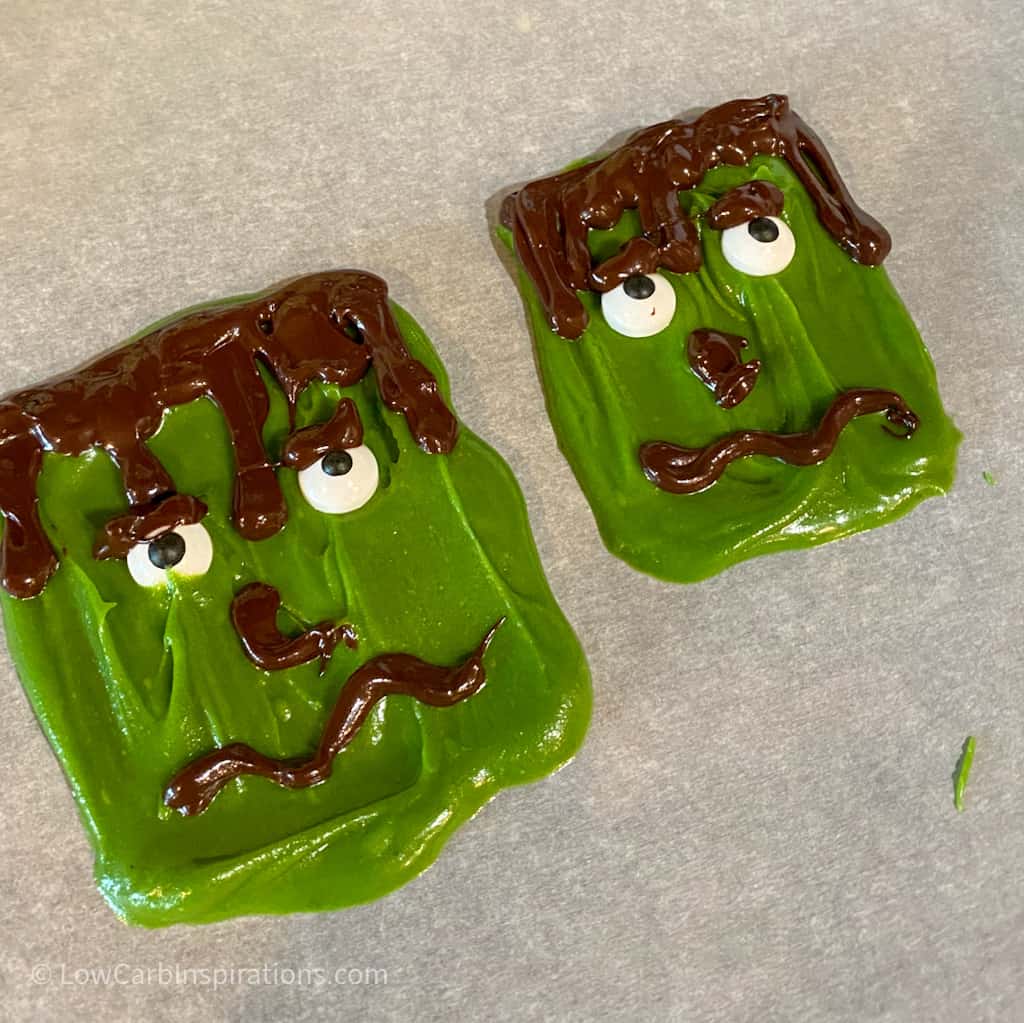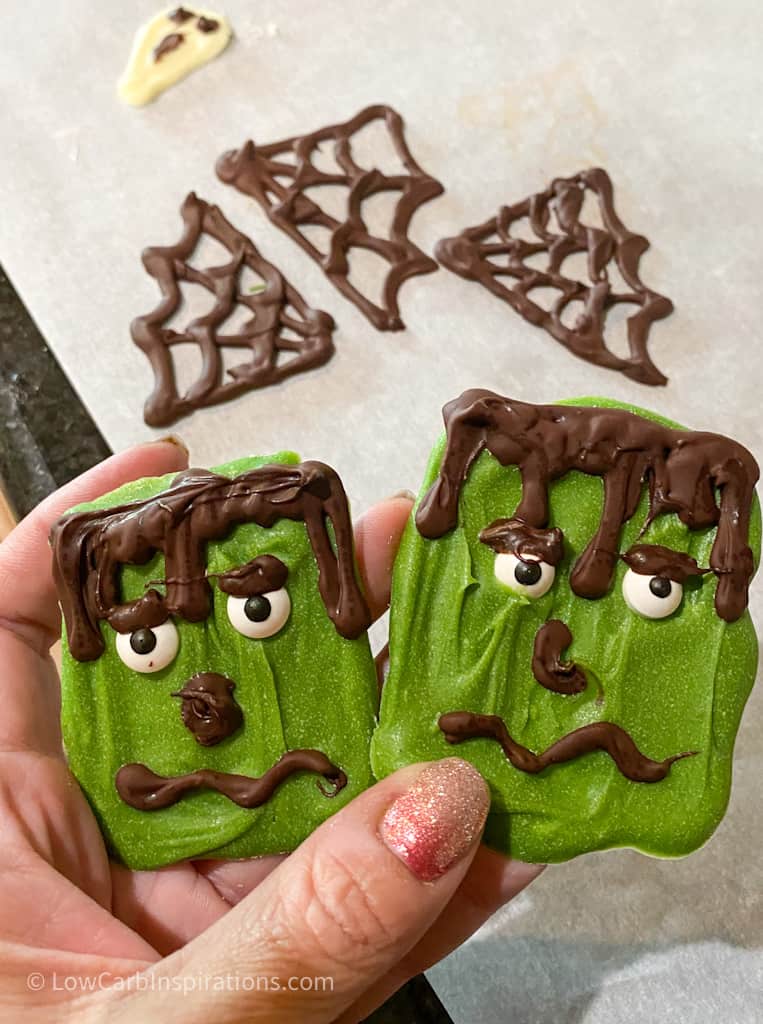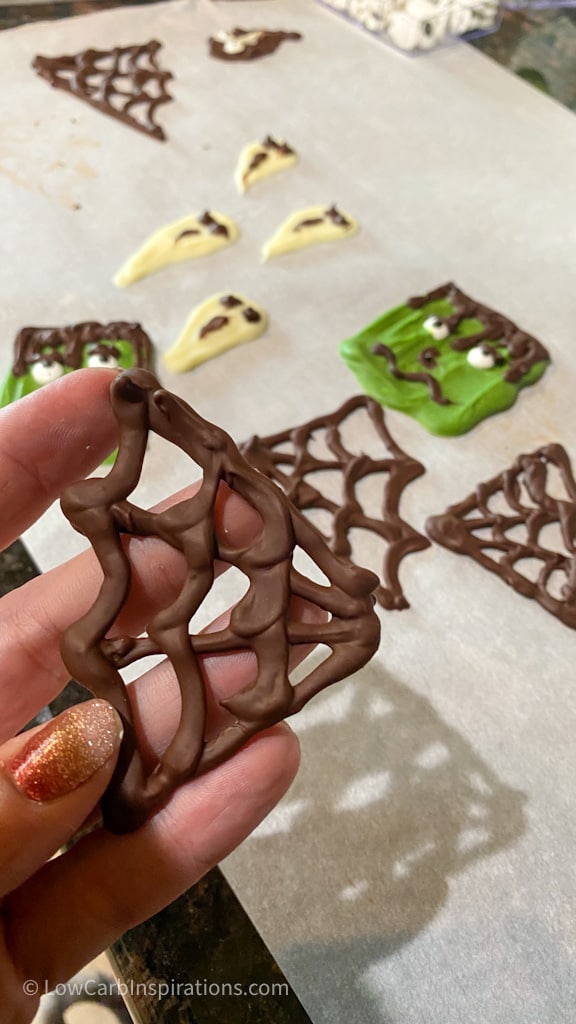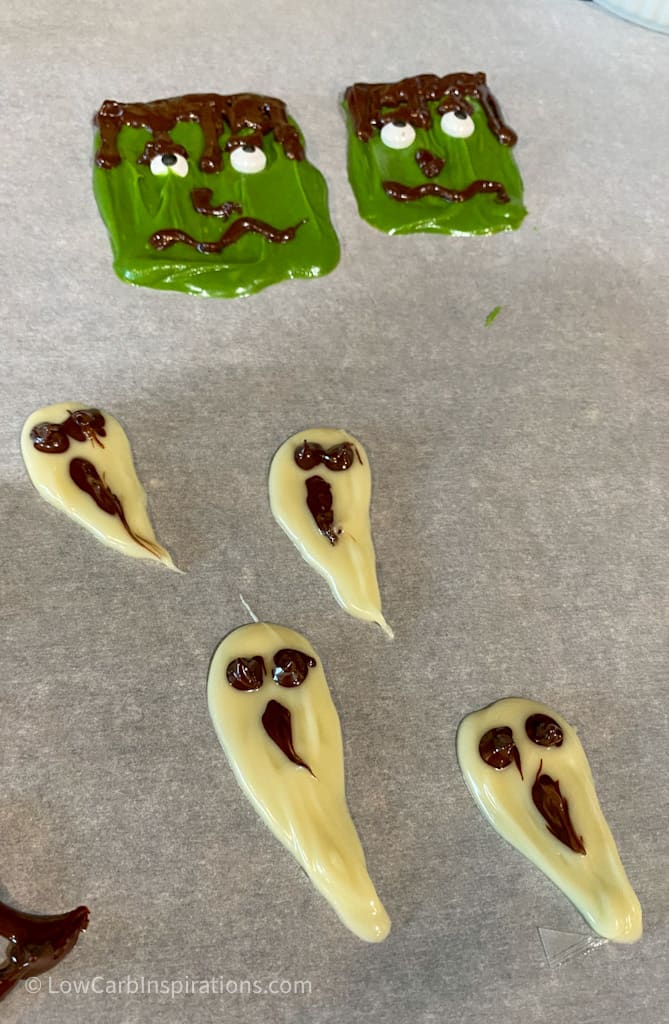 We also bought a few plastic rings and other Halloween decorations that are not edible to decorate the cupcakes.
Here are a few cupcake decoration ideas:
Here are the food colorings we used:


Here are a few photos we took of our Halloween Keto Cupcakes! There's no reason you can't enjoy a holiday with amazing keto desserts just like this.
Here are the completed Halloween Keto Cupcakes! We also make a Halloween Chaffle cake and placed some of the chocolate toppers on that cake too!
I made sure to add some fun cupcake liners as a double liner after baking the cupcakes. I always add a decorative cupcake layer because the first cupcake liner doesn't look as good when you bake in it. These are super fun!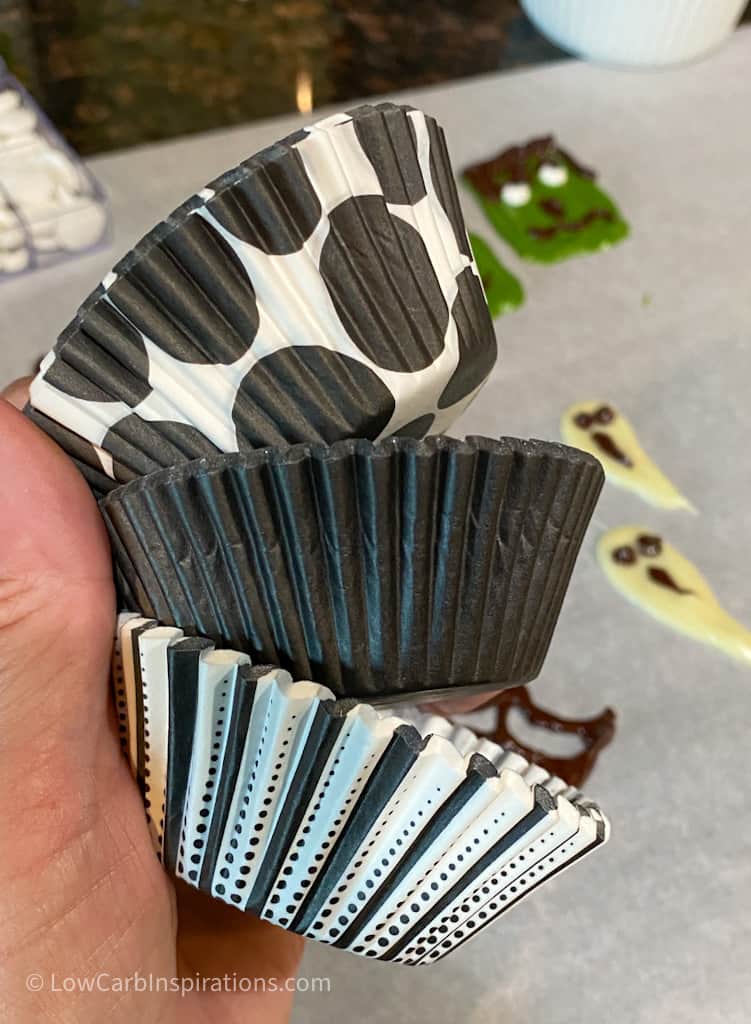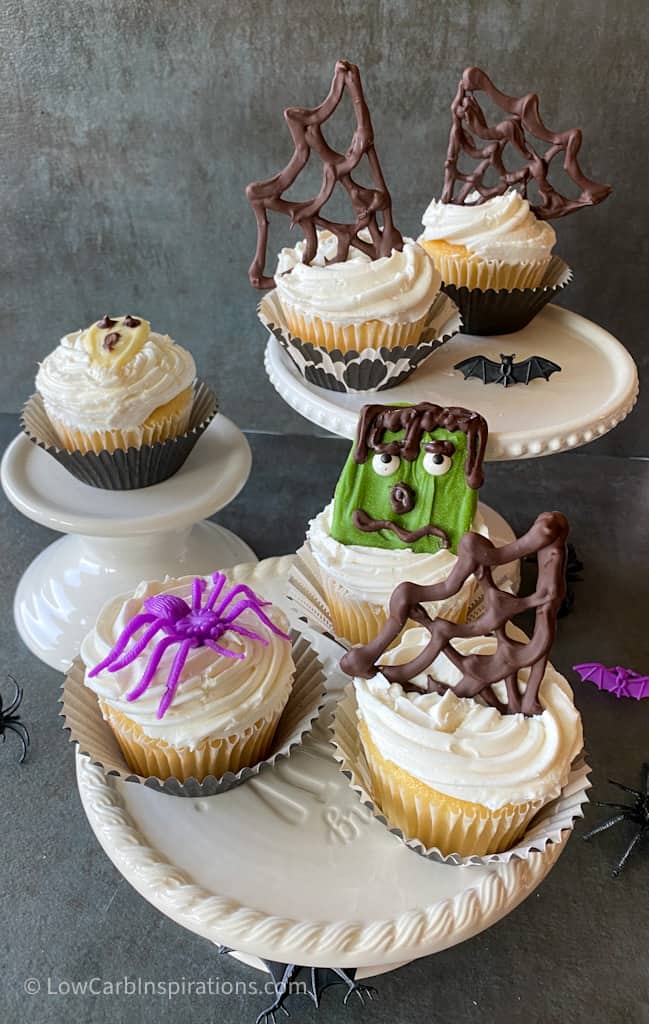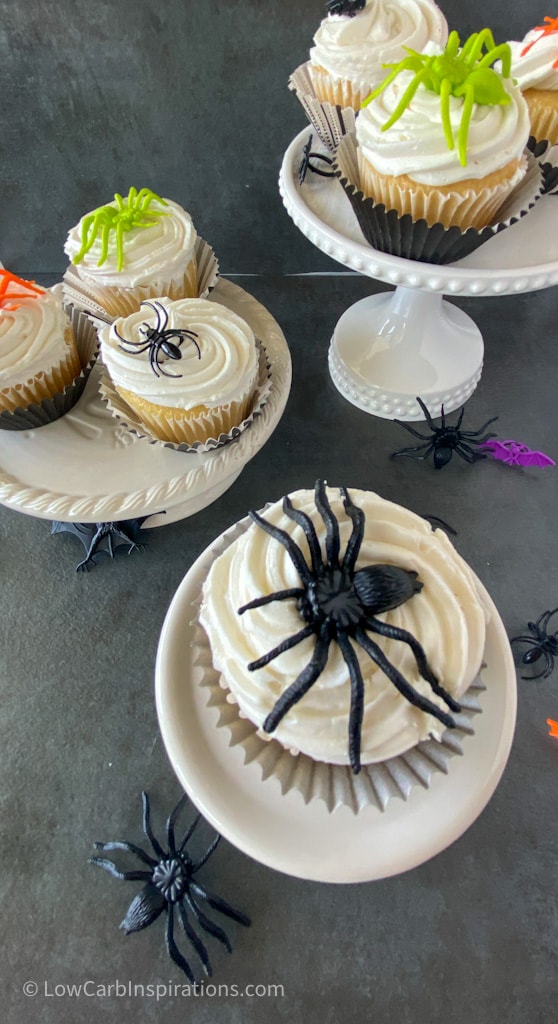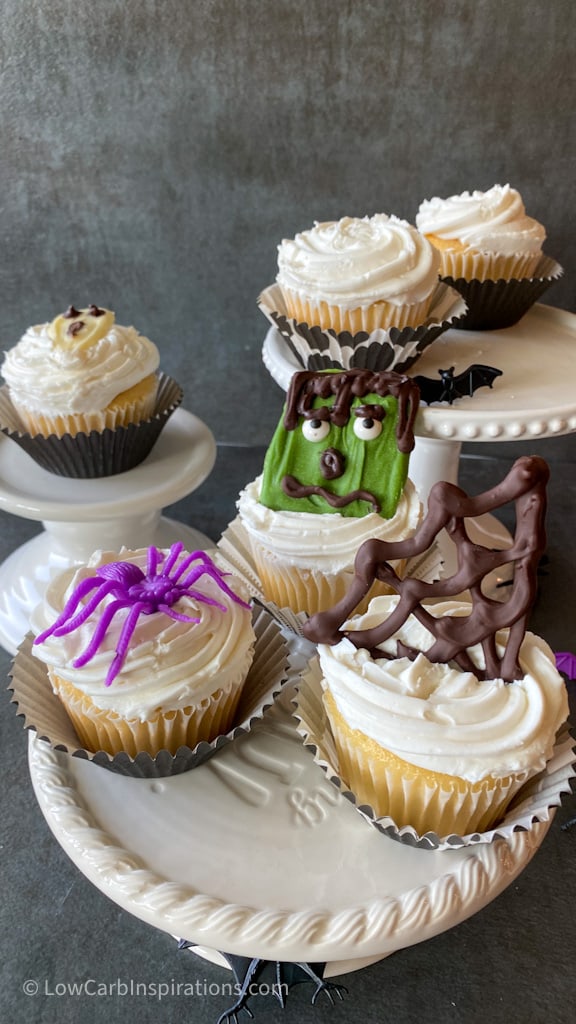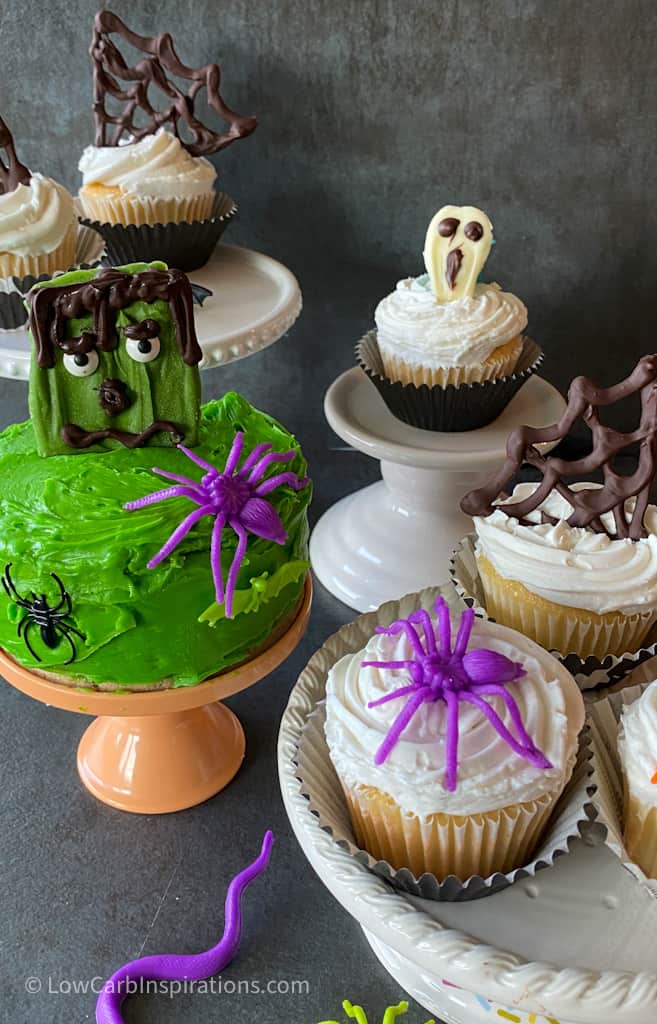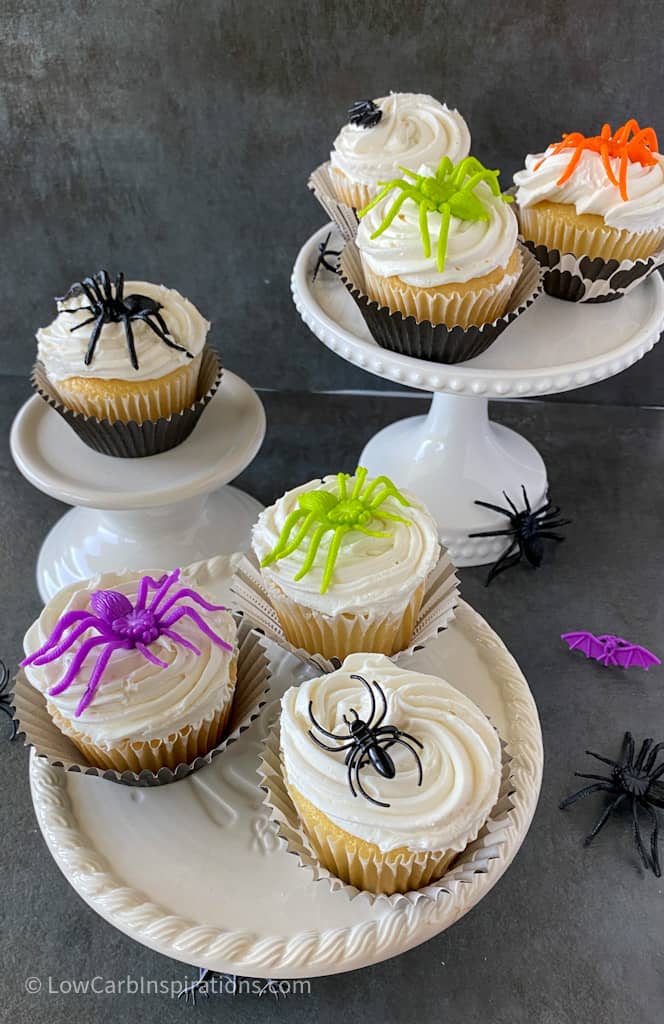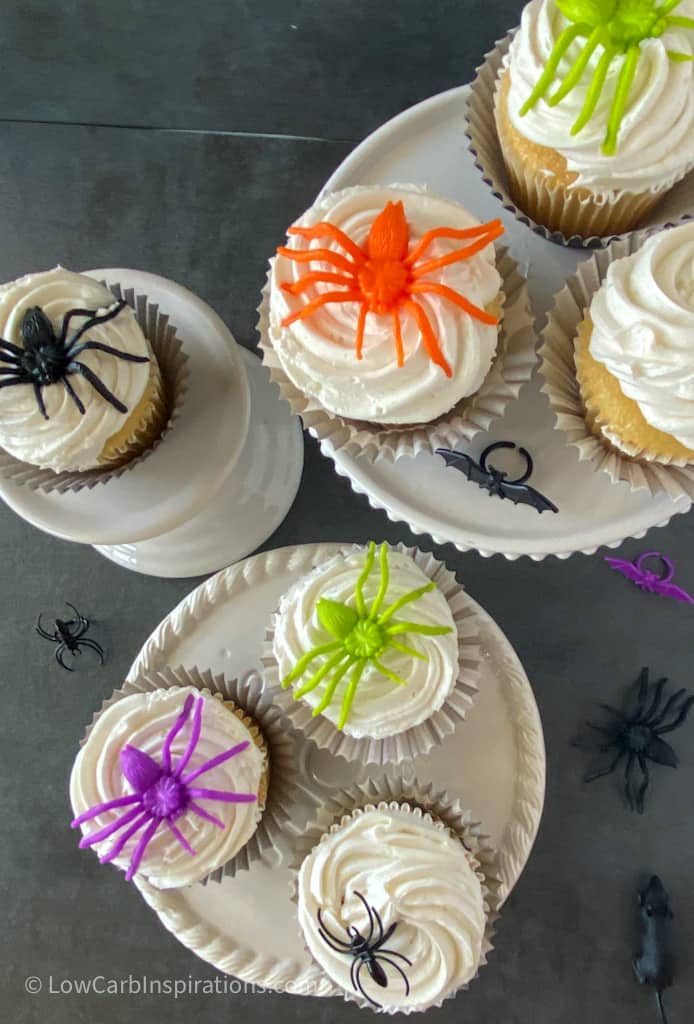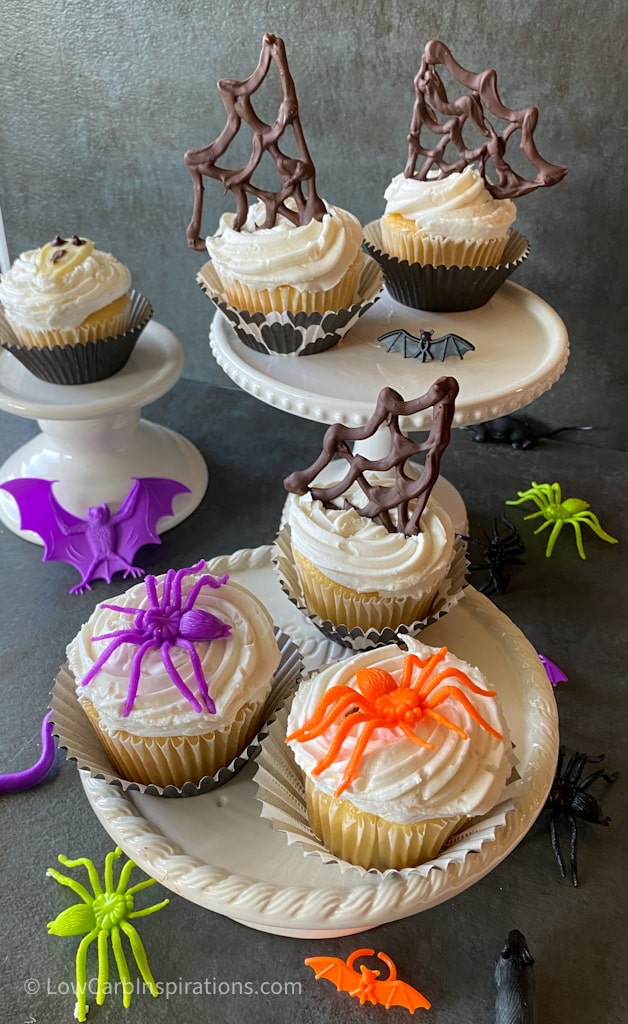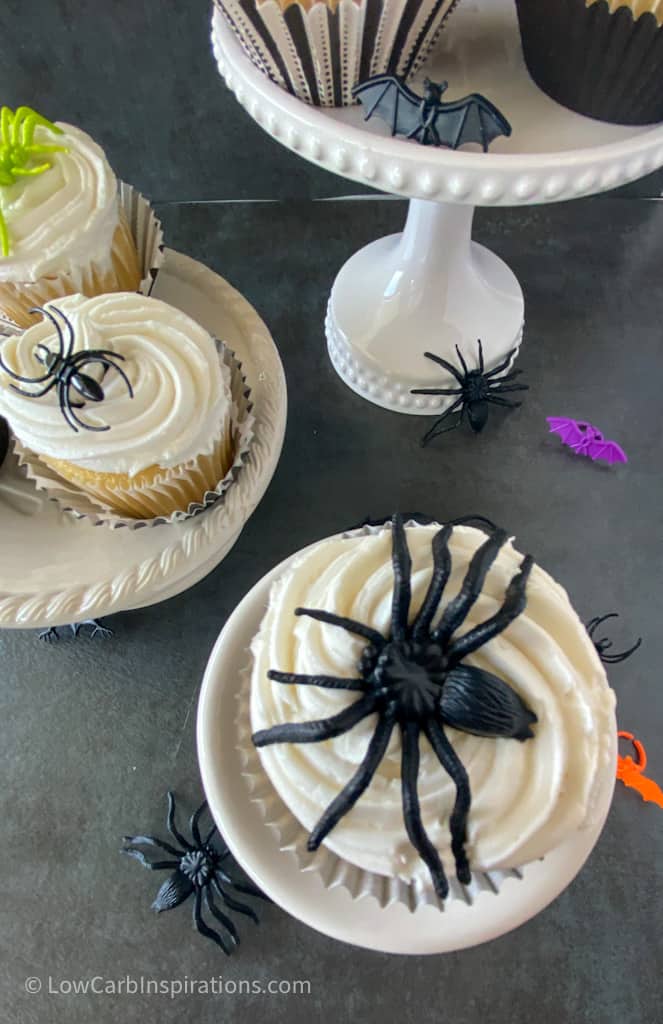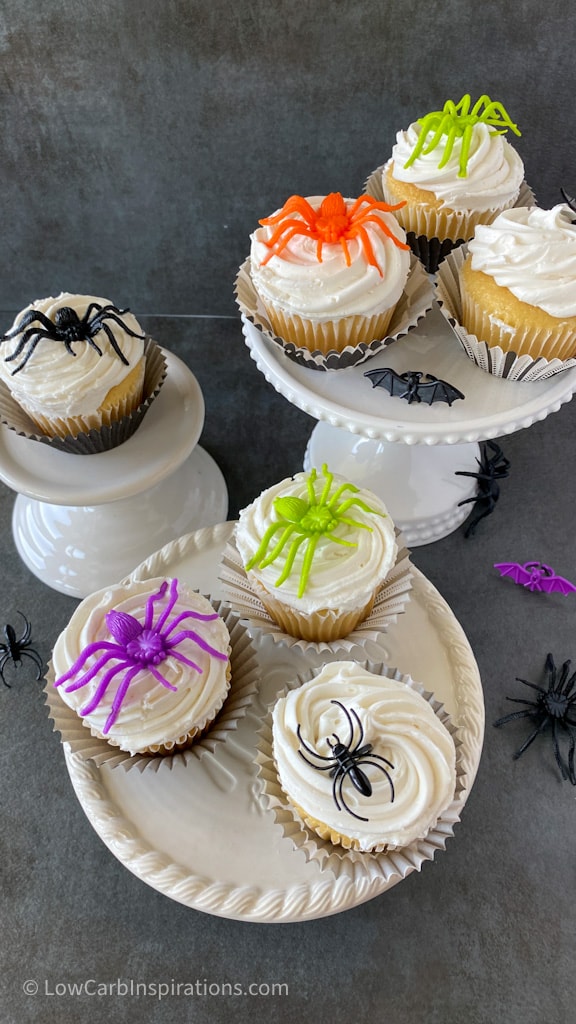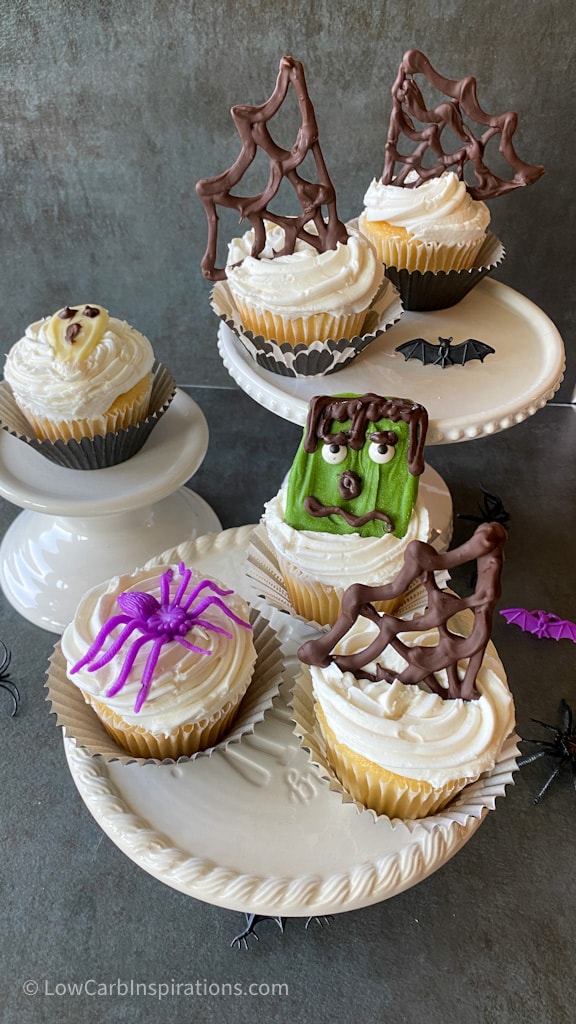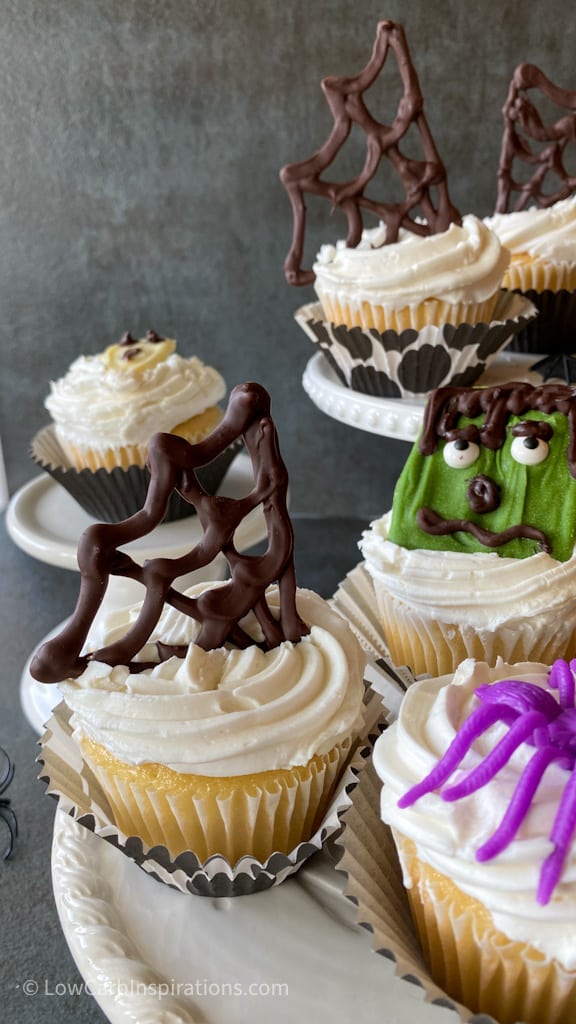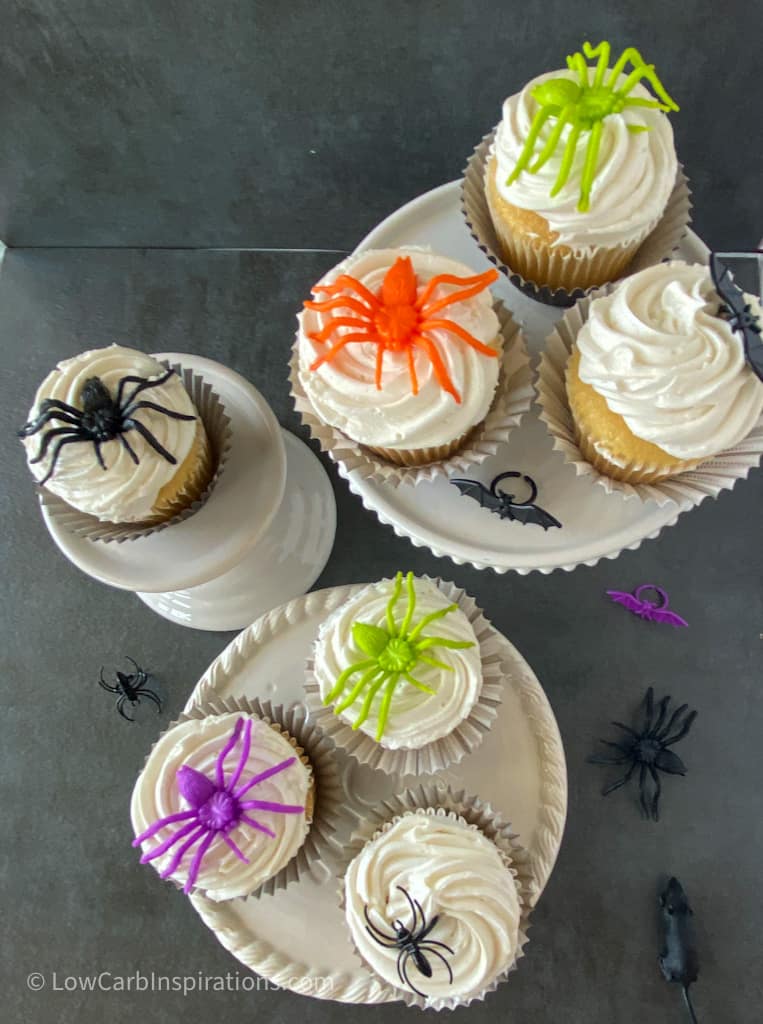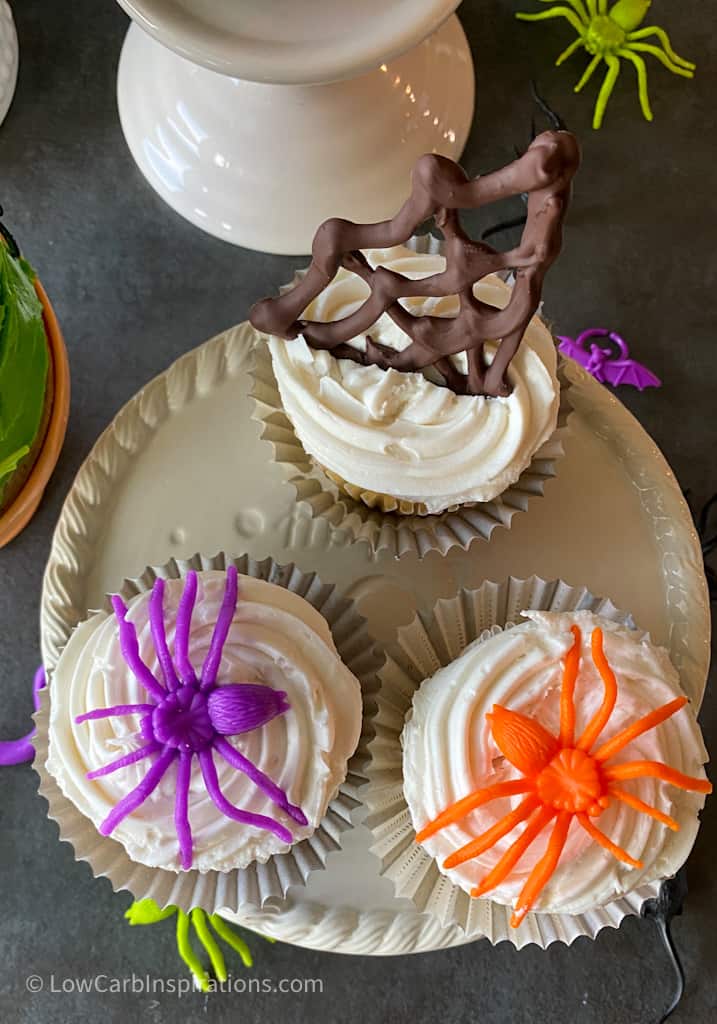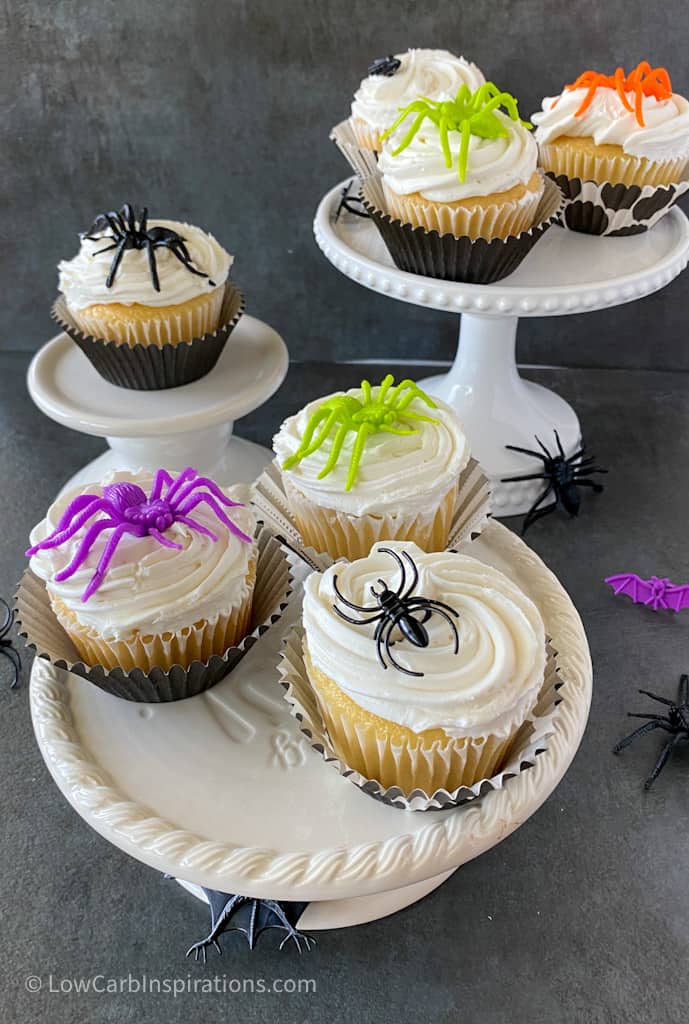 Keto Vanilla Cupcake Recipe we used for our Halloween Keto Cupcakes!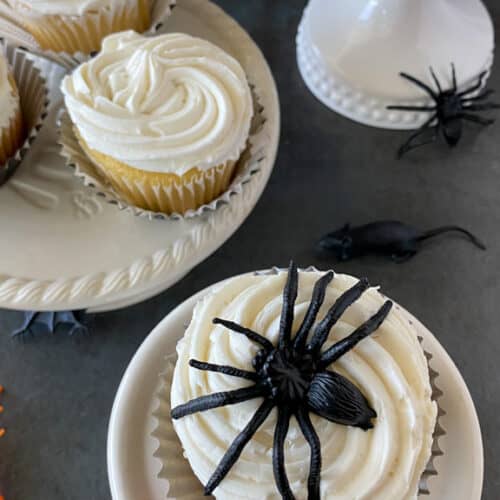 Keto Vanilla Cupcake Recipe with Cream Cheese Frosting
This is the perfect keto cupcake with the perfect cupcake texture!
Instructions
Start with bringing heavy whipping cream, butter, eggs + egg whites to room temperature.

Preheat the oven to 350 degrees.

In medium bowl add almond flour, coconut flour, baking powder, baking soda, xanthan gum, and pink salt. Whisk until it's fully combined and there are no clumps. Set aside.

In a large mixing bowl add the butter and sweetener. Beat until these ingredients are creamed together and smooth.

Add the eggs and the egg whites, whisk until well incorporated.

Then add heavy whipping cream, apple cider vinegar, vanilla and stevia. Blend until well combined.

Add the dry mix to the wet and mix thoroughly to incorporate. Don't allow the batter to sit too long or else it will get extra thick the longer it sits.

Place muffin liners or cupcake liners into the muffin tin.

Using an ice cream scoop, add a scoop of batter to each muffin liner. The batter will fill about 2/3 of the muffin liner.

Bake each tray for 25 minutes.

Allow to fully cool before frosting your cupcakes.

While the cupcakes are cooling, make the frosting.

In a medium bowl, combine the frosting ingredients. Mix with a hand mixer until it's fluffy and smooth.
Notes
Nutrition per serving
Calories 201, Total C 9g, Fiber 3g, Net C 3g, SA 3g, Fat 18g, Protein 6g
*Sugar alcohol is not accounted for in nutrition panel.
The frosting is not included in the nutrition label.
Nutrition
Serving:
1
serving
|
Calories:
201
|
Carbohydrates:
9
g
|
Protein:
6
g
|
Fat:
18
g
|
Fiber:
3
g
Nutrition facts are provided as a courtesy. Have a question about our calculations or why you got a different result? Please read our
nutrition policy.