Easy Skeleton Charcuterie Board (Keto Friendly)
Halloween is coming up and you want to enjoy the holiday without going off your keto or low carb diet.
It's really hard to find keto-friendly food options that are also delicious and fun around this holiday.
Our keto charcuterie board will help you stay on track this Halloween while still enjoying yourself! We've got all of your favorites, like salami, cheese, and keto crackers. Plus we threw in some nuts for good measure. Our keto snack pack has everything you need to keep your body fueled so you can have a great time at the party or trick-or-treating with friends and family! It will be a big hit displayed at your Halloween party!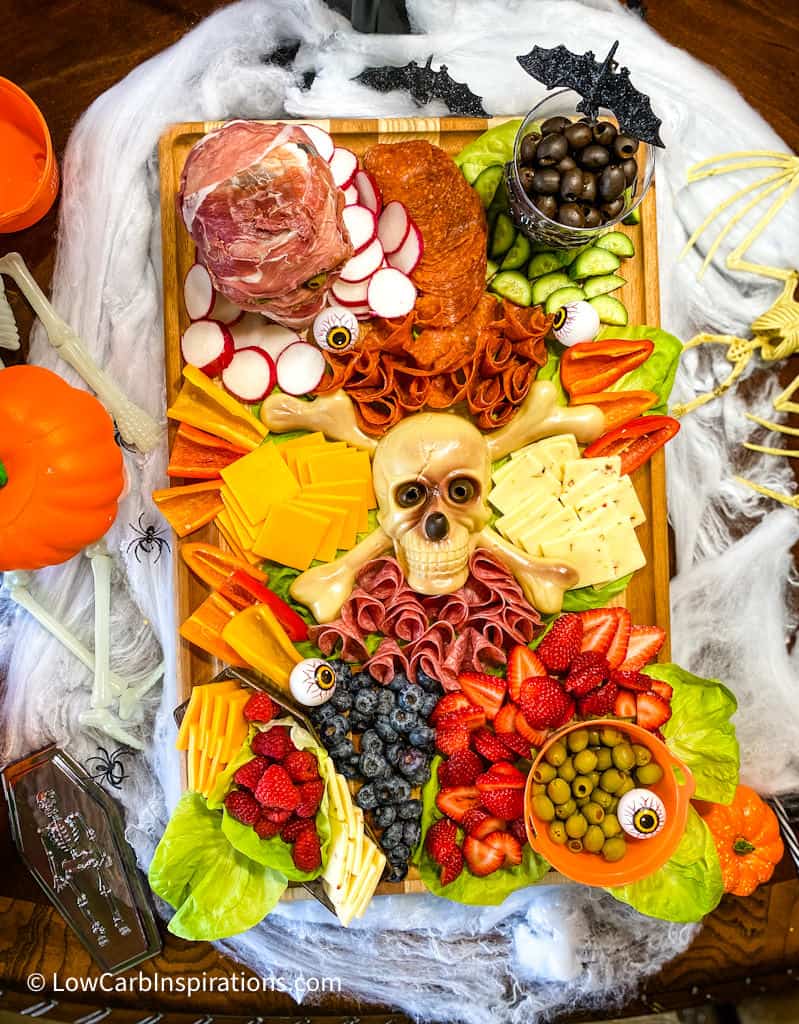 Introducing our Easy Skeleton Charcuterie Board that's totally keto friendly!
Last year we made a Halloween Charcuterie board in the shape of a pumpkin. Everyone loved it!
One thing to remember is… even though you are living a low carb or keto lifestyle, it doesn't mean you need to miss out on all the fun. We really enjoy these boards and they are a big hit at parties too.
Do you want to make a keto friendly Halloween food option so you can enjoy it also?
Make this Easy Skeleton Charcuterie Board! It's keto friendly and so much fun! It's the perfect Halloween food display that is really easy to make.
We found most of the Halloween decorations at the Dollar General but they tend to go pretty fast. For example, the skeleton head I bought was the last one on the shelf already! The good stuff always goes fast. The hardest part about this display is finding the decorations.
Keto Friendly Charcuterie Board Food Ideas:
Black Olives
Green Olives
Cucumber slices
Pickles
Sliced Radishes
Mini Bell Peppers
Lettuce
Zucchini
Squash
Celery
Blueberries
Blackberries
Strawberries
Raspberries
Sliced Chorizo
Sliced Salami
Sliced ham
Bacon
Sliced Roast Beef
Nuts
Here are a few photos of the Keto Charcuterie Boards we made!
This photo shows a skeleton head that's wrapped in Prosciutto. Prosciutto is a sticky meat that is delicious! It stuck perfectly to this skeleton head just by wrapping it around it. We suck some extra Prosciutto in the eye sockets to hold the olives too. It held up perfectly!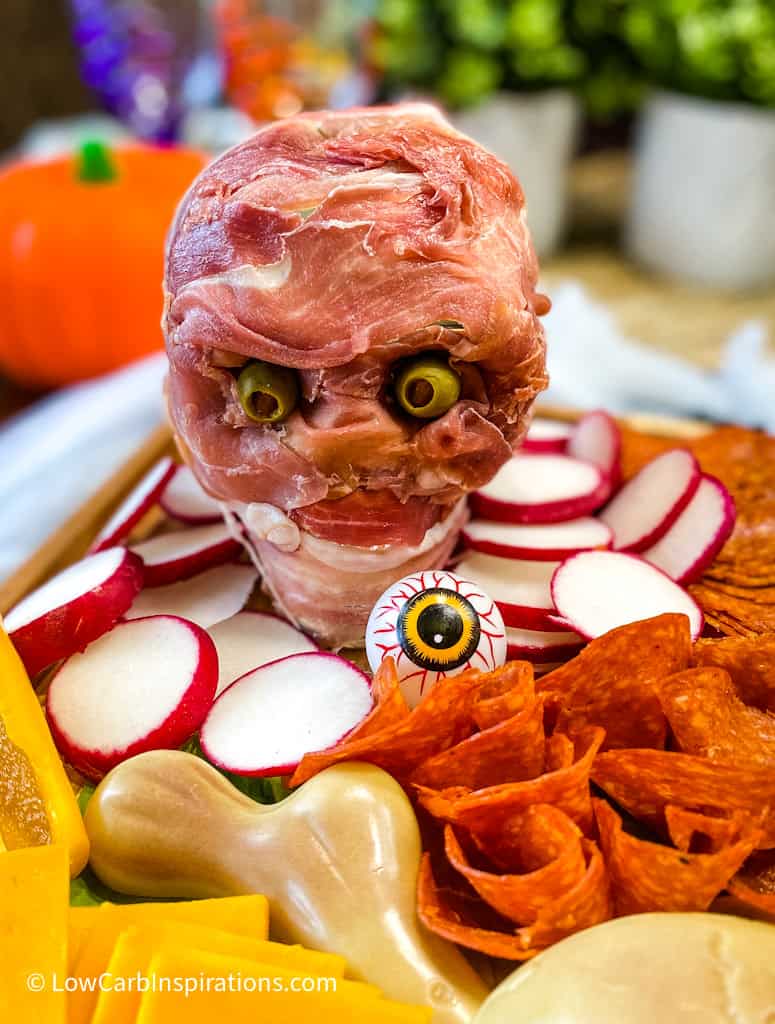 We had plenty of Halloween decorations. The center of the charcuterie board lays a flat back skeleton head and bones cross. Perfect for the center display!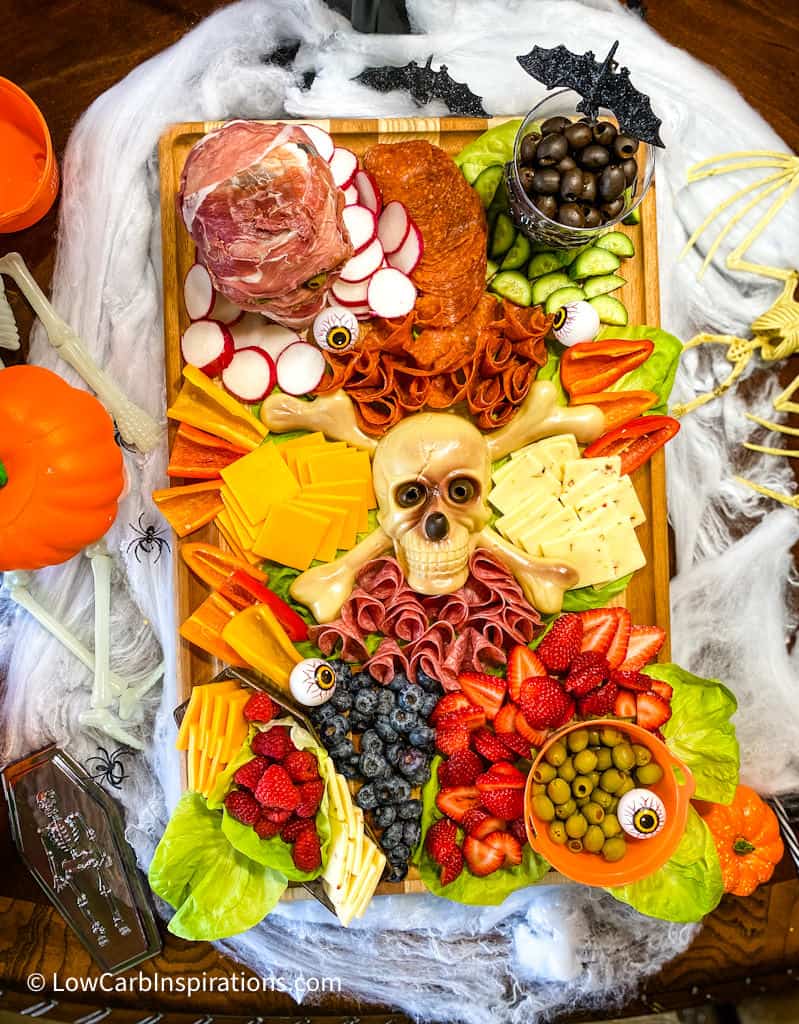 We added some more olives to that skull too.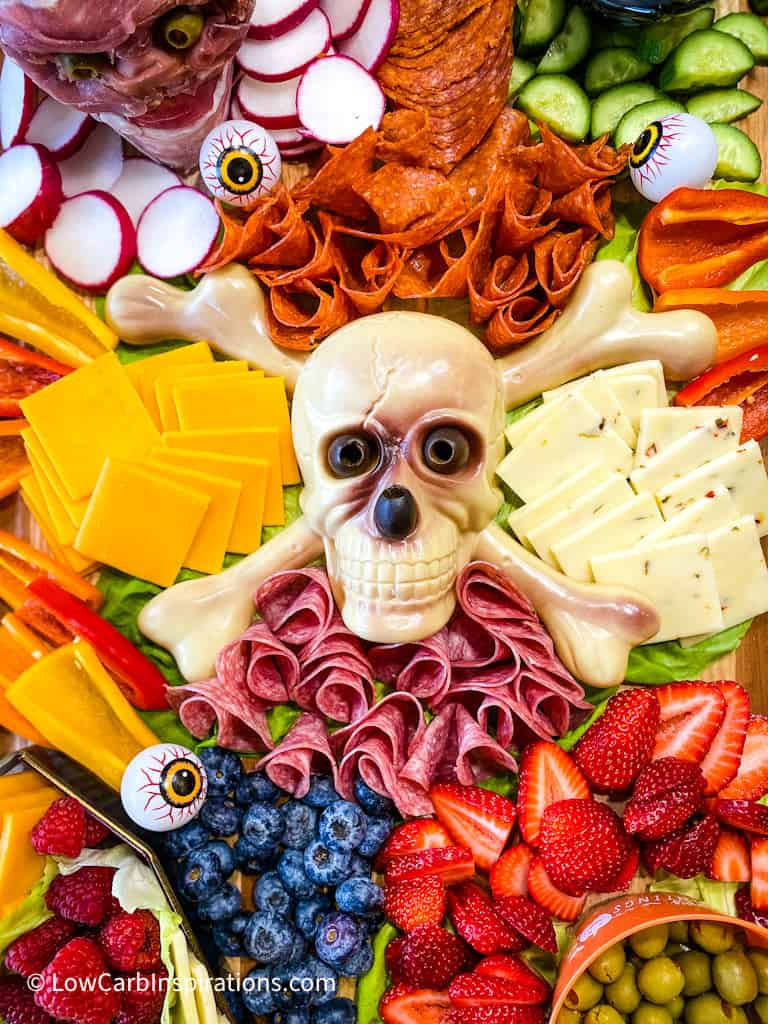 We you can see we added radishes, cucumbers, chorizo, mini peppers, black and green olives, strawberries, blueberries, raspberries, Prosciutto, celery, and lots of different varieties of sliced cheese!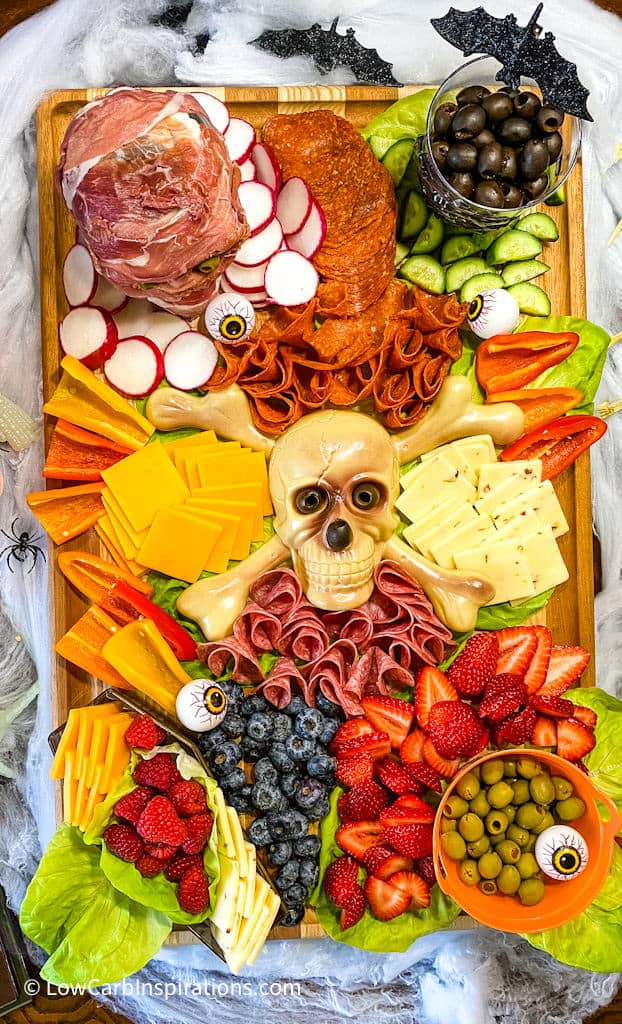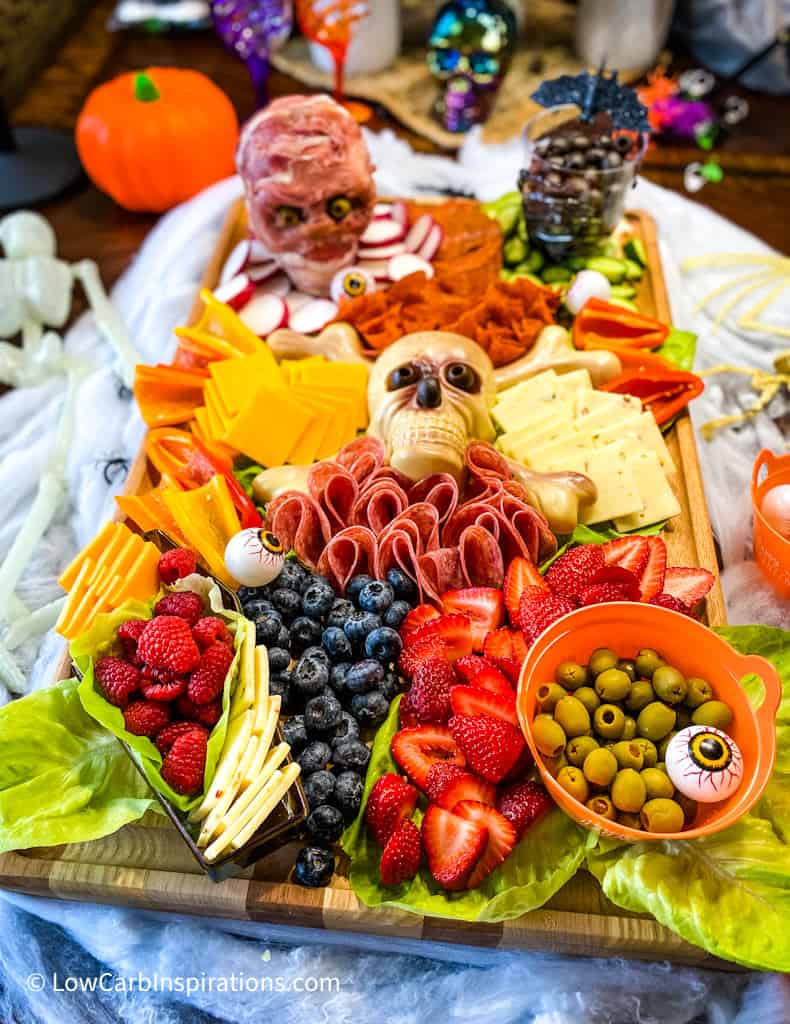 We made another board with a full body skeleton too!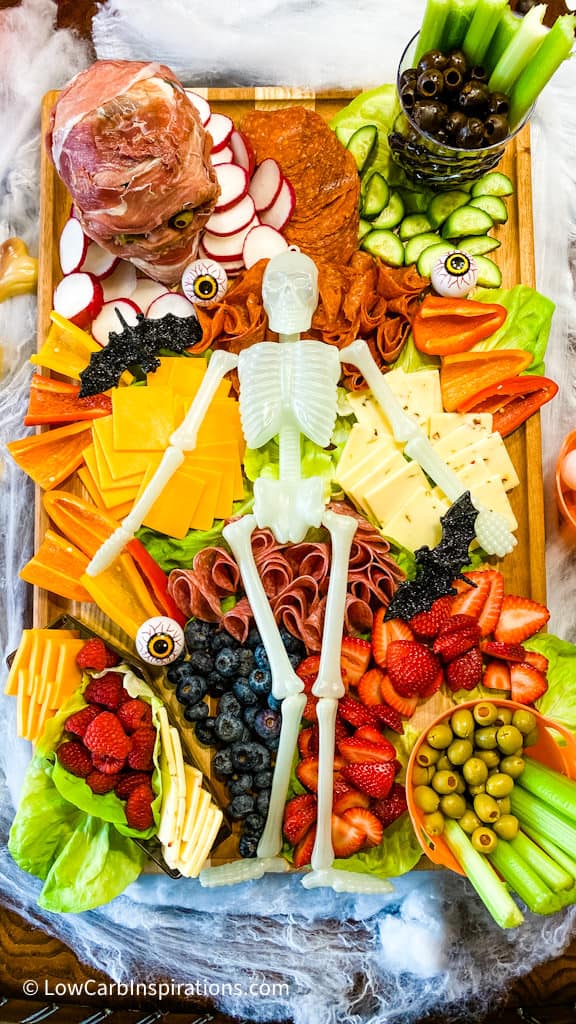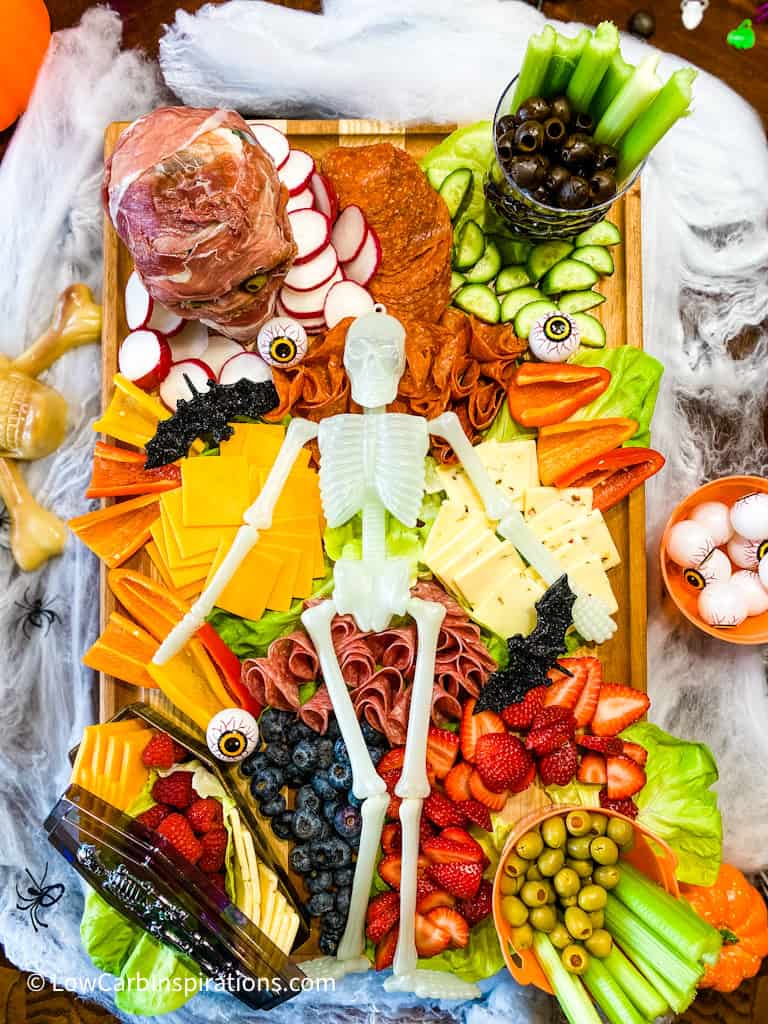 Look at the close up photo of that skeleton head! The kids loved this so much!