I'm so excited for Easter I can hardly stand it.  I was testing some recipes ideas today and I just love it when I perfect a recipe in only two tries like I did this Keto Chocolate Peanut Butter Eggs recipe!!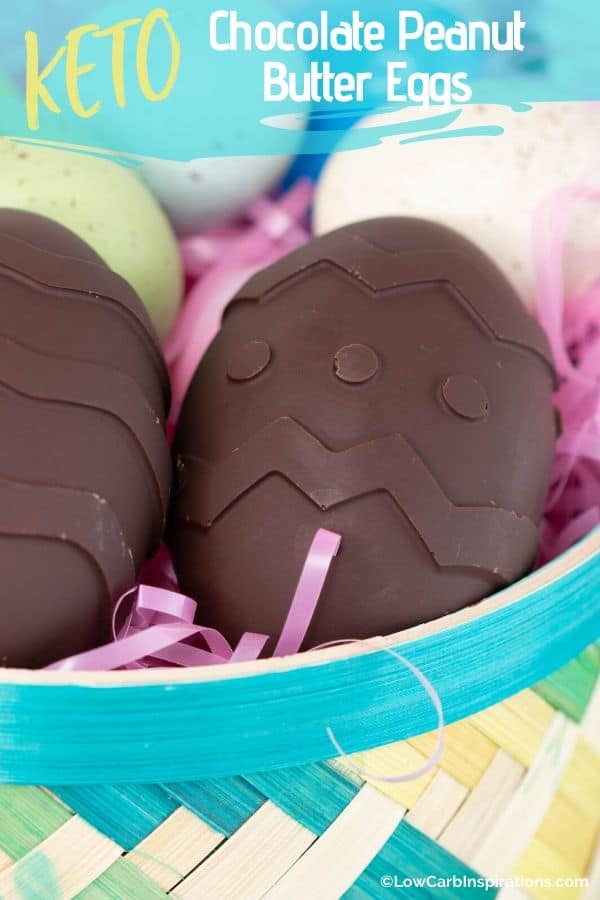 First, if you want to make chocolate peanut butter Easter eggs you will need to prep ahead of time and grab some Easter egg silicone molds.  You can pick them up at your local craft store or order Amazon to have them delivered quick via prime!  Gosh, I love Amazon shipping especially for a busy Mom like me!
There are a few things you need to know about this recipe.  You don't have to use peanut butter!  You can use any nut butter you want!  I know for those doing strict keto peanut butter can be an inflammatory food to some so I just had to mention that.  In fact, I bought a nut butter called NuttZo at Costco the other day and I've tested this recipe with that and it works!  NuttZo has many different nuts but it also includes seeds like pumpkin and chia too!  It's a power fuel nut butter!
Here's the key to making this recipe successful.  Some nut butters have a ton of oil.  Oil is not bad but it can be really hard to make creamy chocolate nut butter Easter eggs when the nut butter you are using doesn't set while you make the eggs.  Here's what I did.  I added Whey protein isolate to give it a bit of extra firmness without losing the creamy and the texture was spot on!  There are a few different protein powders you can use on keto just make sure they don't have added sugar or fillers that are not keto-friendly.
Plus, here's an added bonus!  The kids will devour these chocolate peanut butter eggs and they have a bit of extra protein!  That's always a win when I can sneak in healthy ingredients without the kids even knowing!  If you don't know, protein mixed with anything will help slow digestion which helps with the glycemic index.  These ingredients are already low but the protein doesn't hurt one bit!
Here are the Whey protein powders I use and love.  I always keep a vanilla protein powder and an unflavored protein powder stocked in my pantry.
Keto Chocolate Peanut Butter Eggs Recipe
Makes 16 Keto Chocolate Peanut Butter Eggs
Keto Chocolate Peanut Butter Eggs Ingredients
1 cup keto-friendly chocolate chips (we love Lily's or Bake Believe)
1/2 cup Nut Butter (your choice!)
1/2 cup Whey Protein Isolate (vanilla or unflavored)
2 teaspoon coconut oil
2 8 egg silicone Easter egg molds
Keto Chocolate Peanut Butter Eggs Instructions
The instructions are in a recipe card below.  You can print it out too!
Here are a few photos we took for you!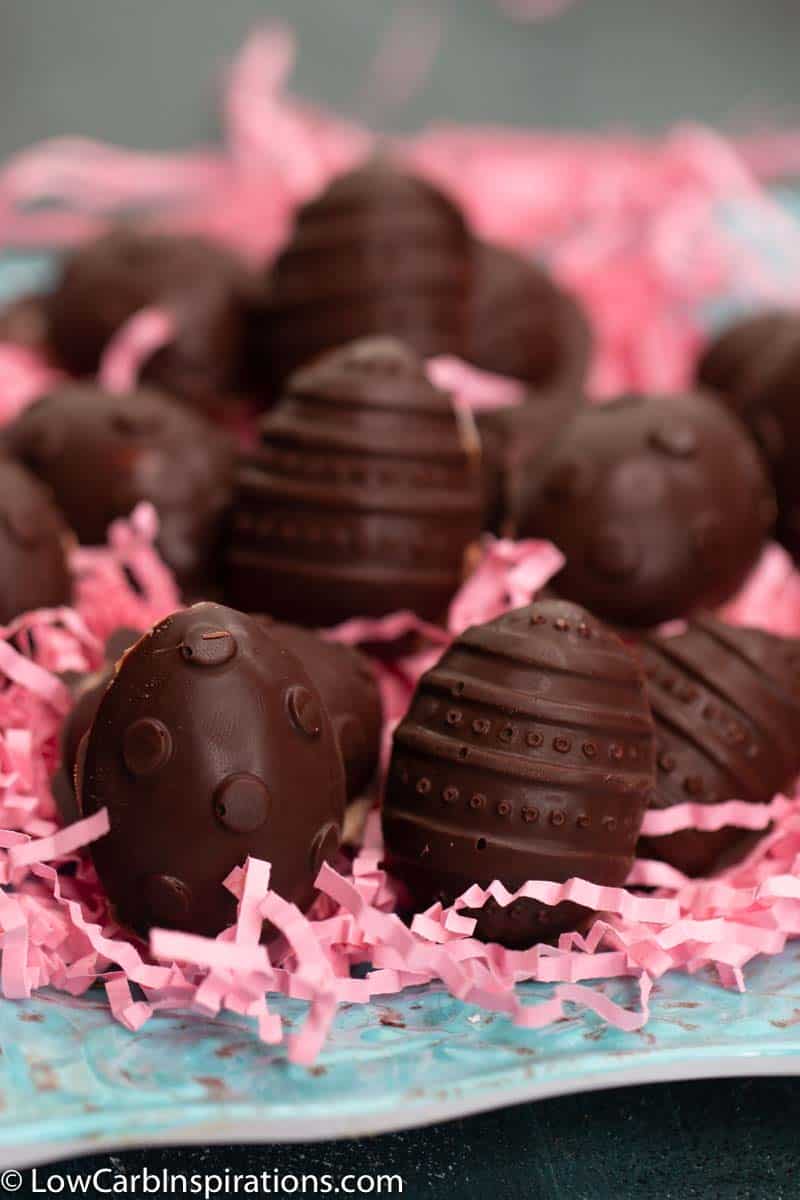 I found this silicone tray at Michael's craft store.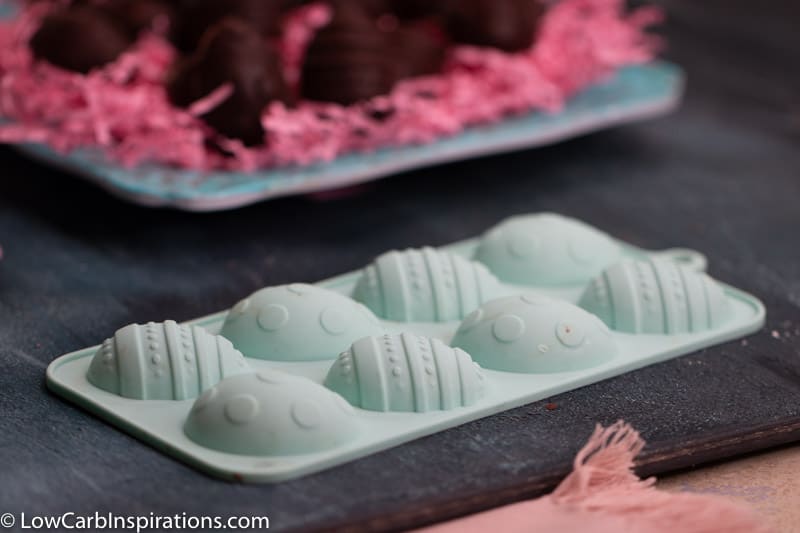 This are so yummy!!!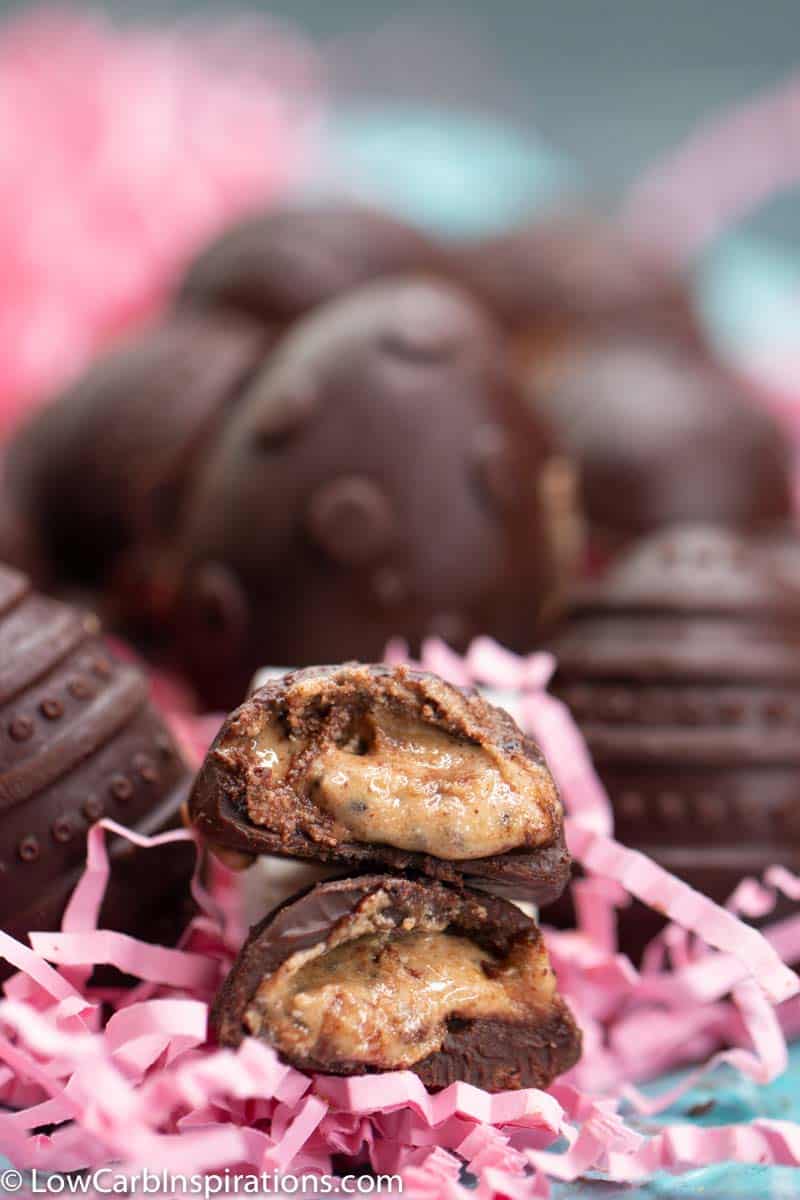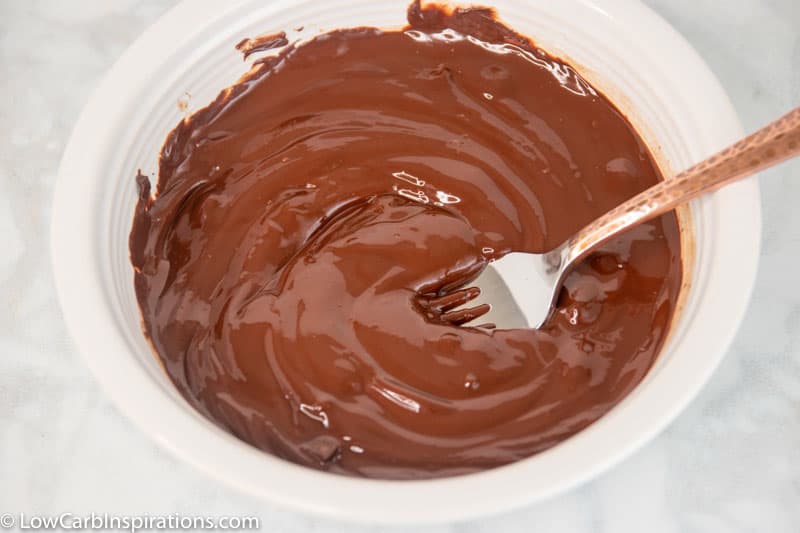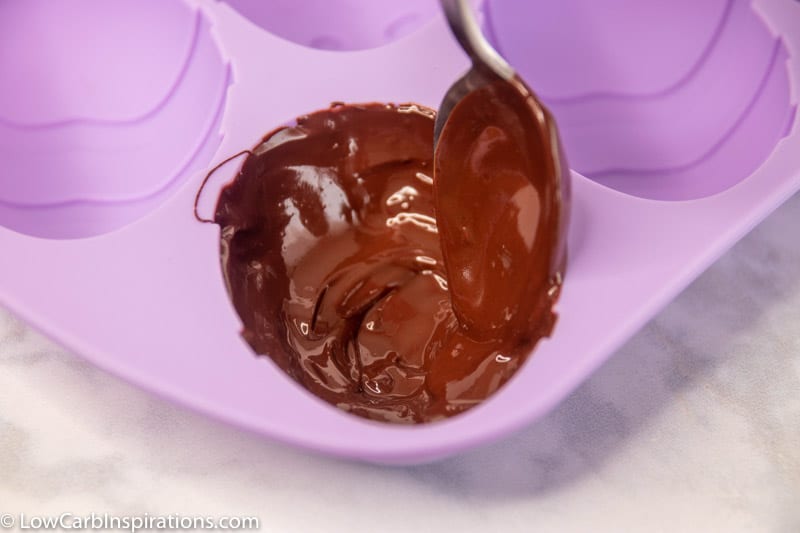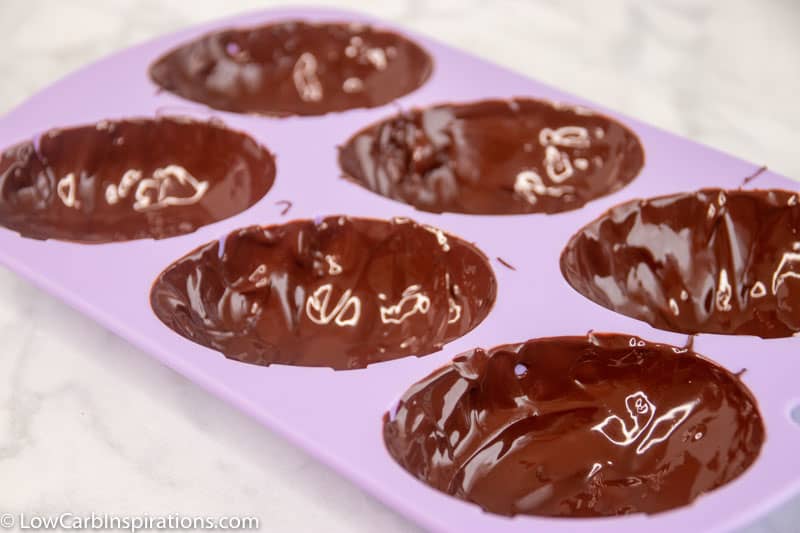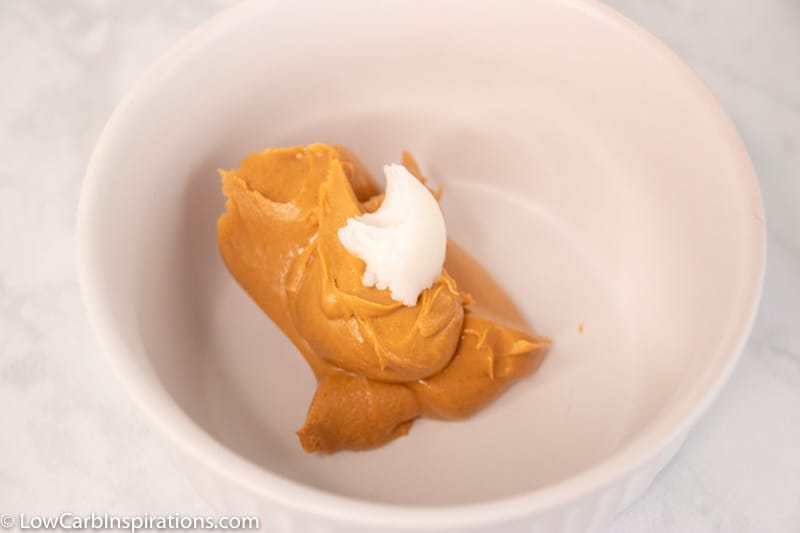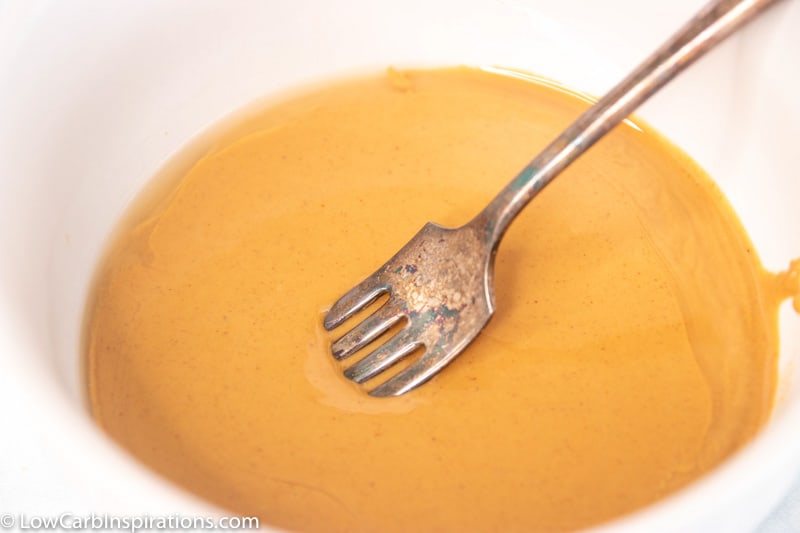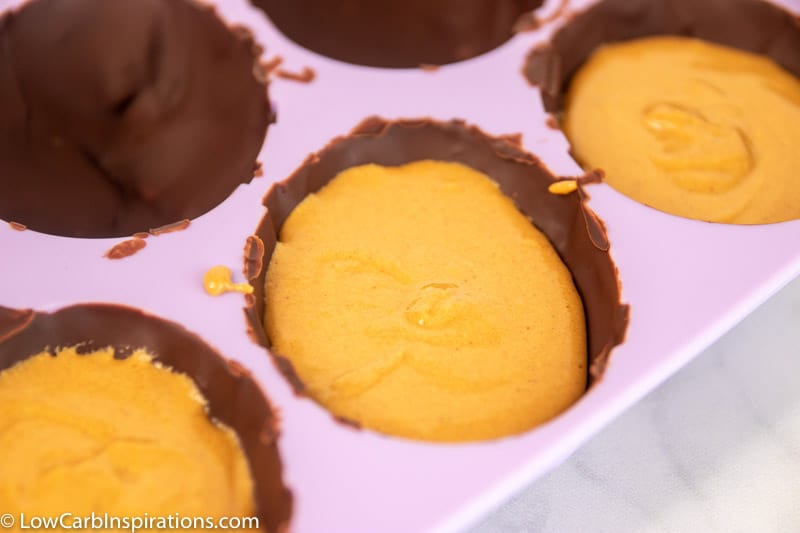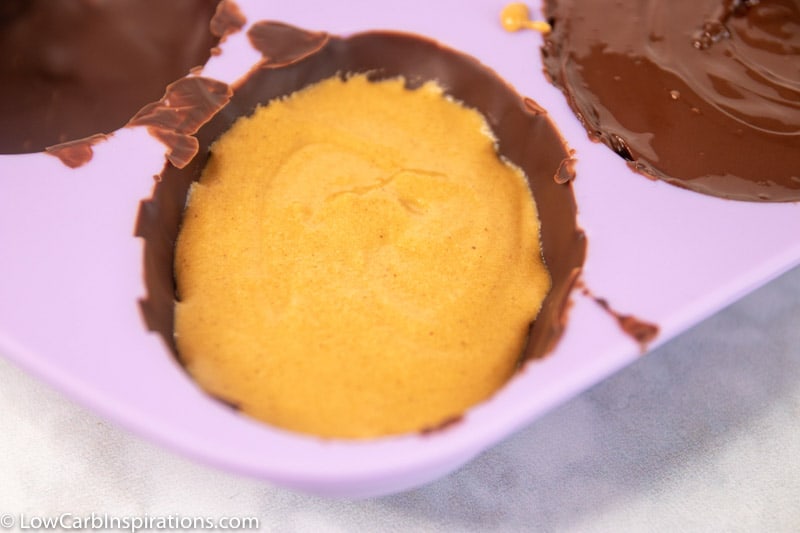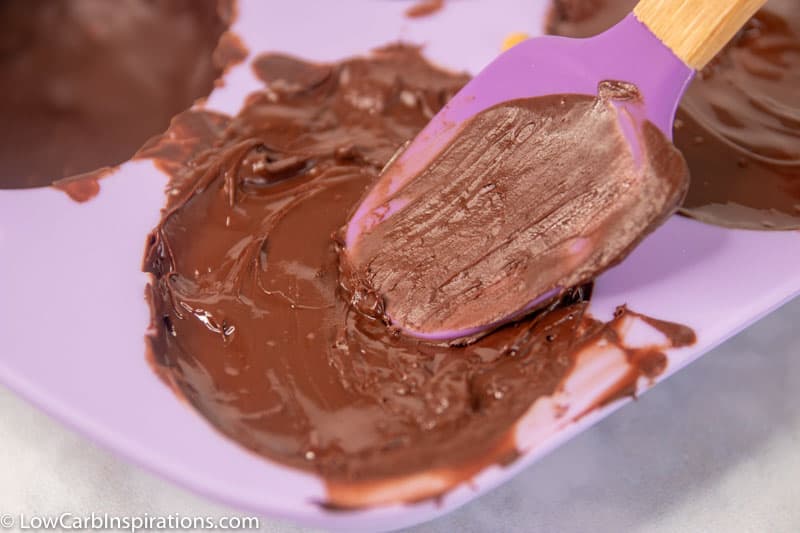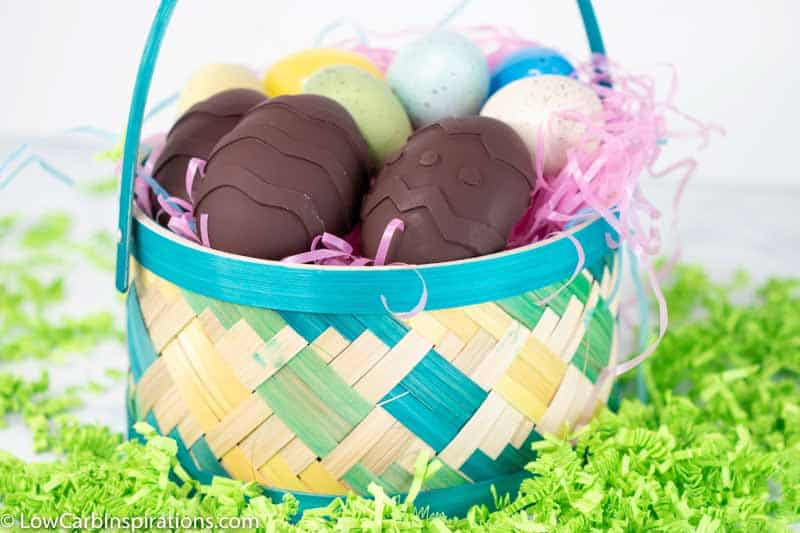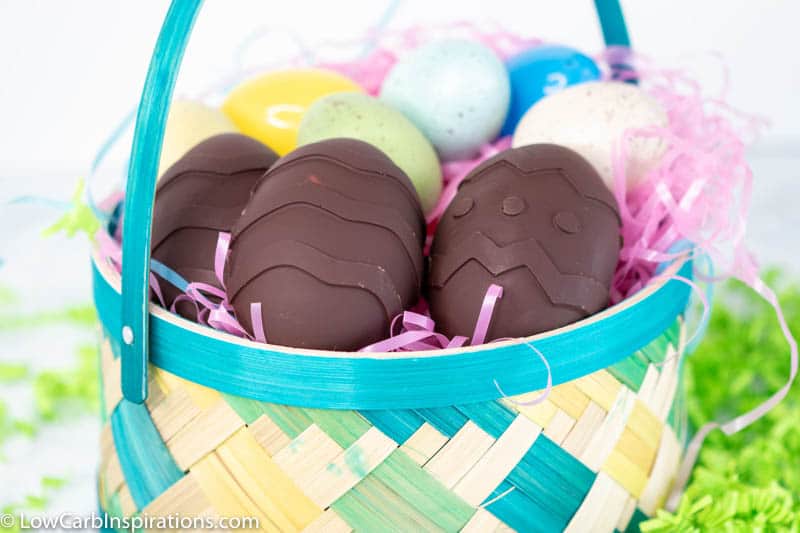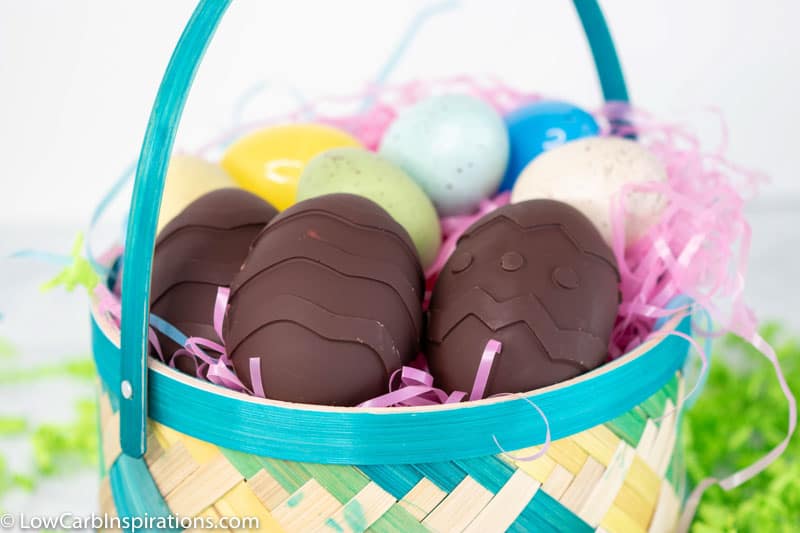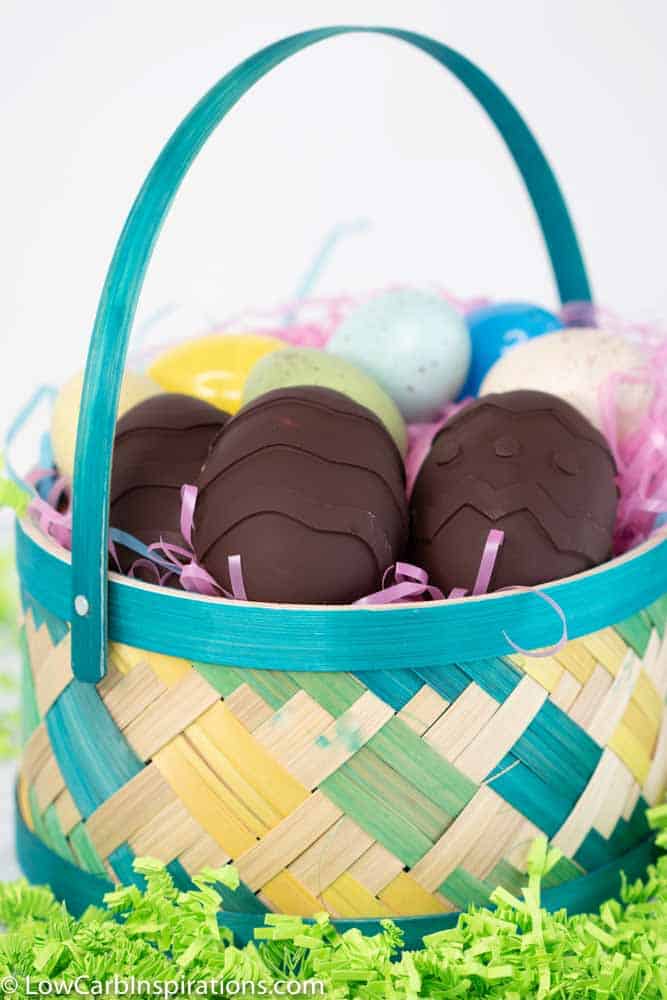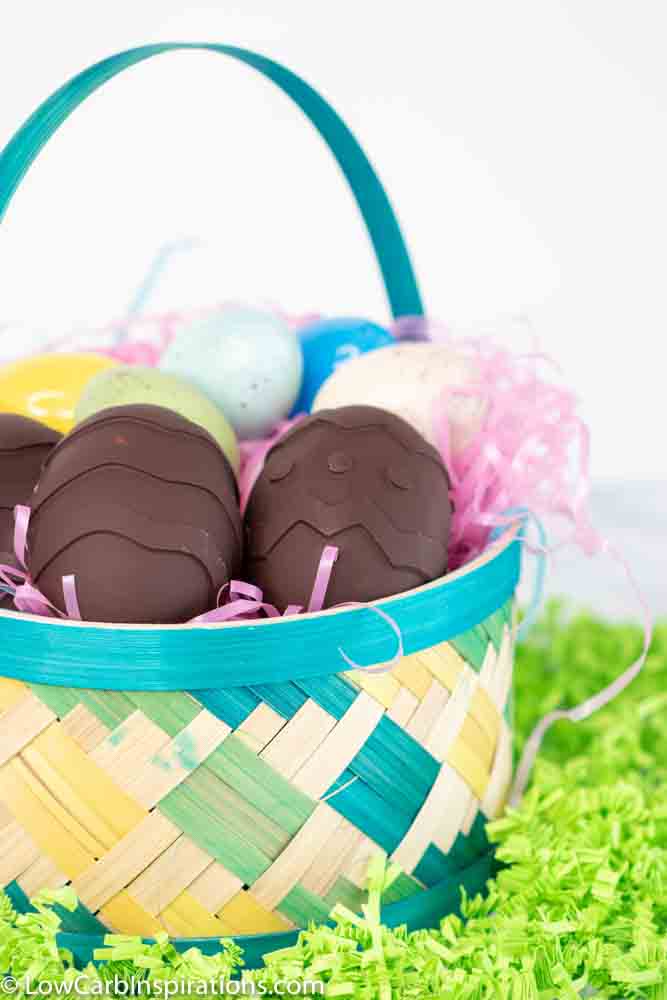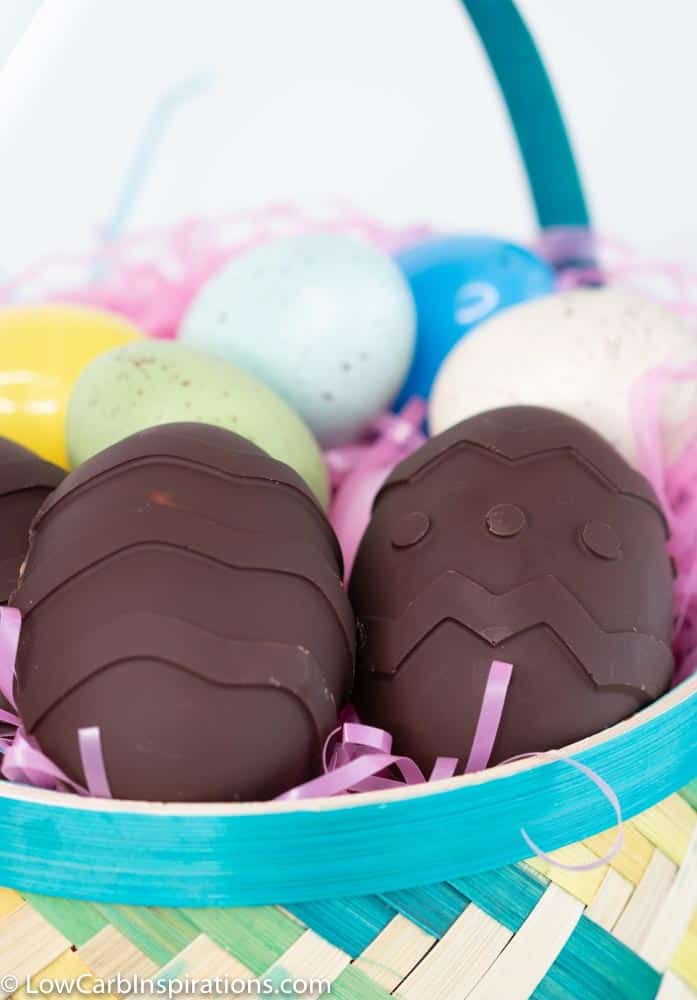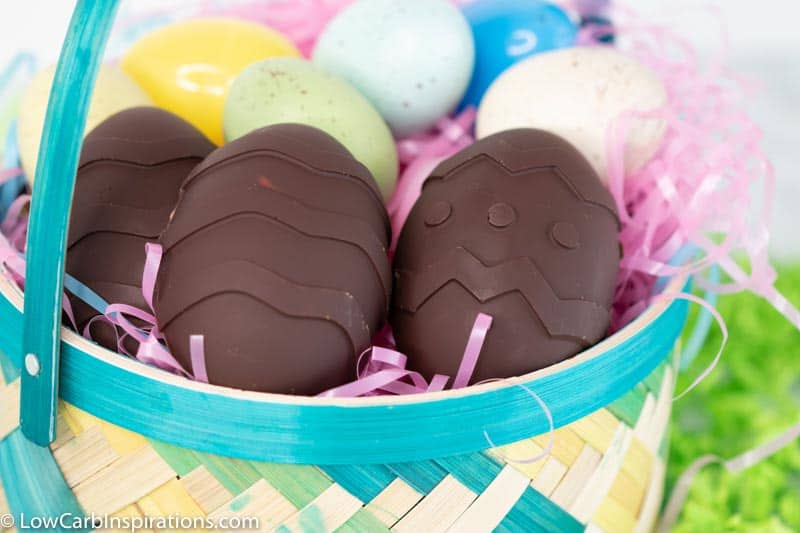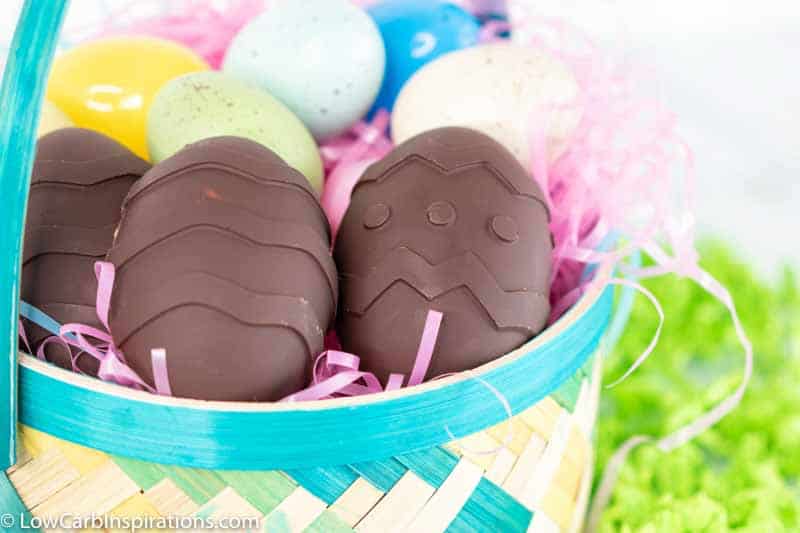 Keto Chocolate Peanut Butter Eggs Storage Instructions
I place these in a glass container and store them for up to two weeks in the refrigerator.  You can also freeze them ahead of time too!  Place them in a freezer-safe container and freeze them for up to 4 months.
Keto Chocolate Peanut Butter Eggs Nutritional Label
This nutrition label was created by calculating almond butter.  Feel free to calculate your own nutrition label based on the nut butter you plan to use.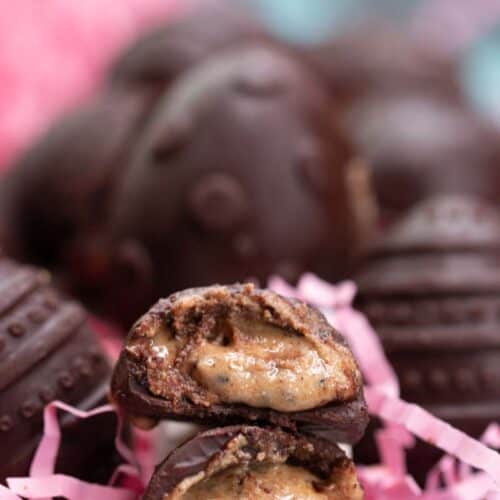 Keto Chocolate Peanut Butter Eggs Recipe
Pefect for Easter or all year, these Keto Chocolate Peanut Butter Eggs has extra protein too! TOTAL WINNER!
Instructions
In a small microwave-safe bowl, add 1 cup sugar free chocolate chips with one teaspoon of coconut oil.  Heat this for 30 seconds and then stir immediately. If the chips have not fully melted place the bowl back in the microwave for another 30 seconds and then stir again.

After the chips have fully melted add about 1/2 teaspoon of melted chocolate into each egg of the silicone mold.  Use the spoon to spread the melted chocolate around the edges of the egg mold to completely cover the inside of each egg.  Make sure you don't spread it too thin.  Add a bit more chocolate if needed.

Place the prepared silicone molds in the freezer to harden for about 15 minutes.

While the chocolate is setting, make the nut butter creamy egg center mixture.

In a separate small microwavable bowl, add the nut butter and coconut oil.  Heat these ingredients for about 30 seconds until slightly melted.

Add the whey protein isolate and mix it well.

Remove the chocolate egg silicone molds from the freezer and place a small amount of nut butter into each egg without filling it all the way to the top.  You will need to leave a small amount of room to place another layer of chocolate over the top of the egg to seal the creamy nut butter center.

The nut butter texture will be thicker than the chocolate so it will make it easy to spread the melted chocolate over the top of the nut butter mixture without the two combining.  If your nut butter is made without the protein powder these two ingredients will just melt together.

The melted chocolate that you have set aside earlier will still be melted and slightly cooled.  It's still spreadable at this point.  Take about 1/4 teaspoon of melted chocolate and place it over the nut butter mixture.  Use the bottom of the spoon to spread the chocolate to fully cover the nut butter.

Place the silicone tray back in the freezer for about 15 minutes or until the chocolate has fully set.

Enjoy!
Notes
This nutrition label was created by calculating almond butter. 
Makes 16 Keto Chocolate Peanut Butter Eggs
Nutrition
Serving:
1
egg
Calories:
55
kcal
Carbohydrates:
1.7
g
Protein:
-3
g
Fat:
4.9
g
Saturated Fat:
3
g
Sodium:
1
mg
Potassium:
58
mg
Fiber:
1
g
Sugar:
0.4
g
Calcium:
27
mg
Iron:
1
mg