Easy Air Fryer Fish Recipe
I love this easy air fryer fish recipe that's made with spinach and tomatoes!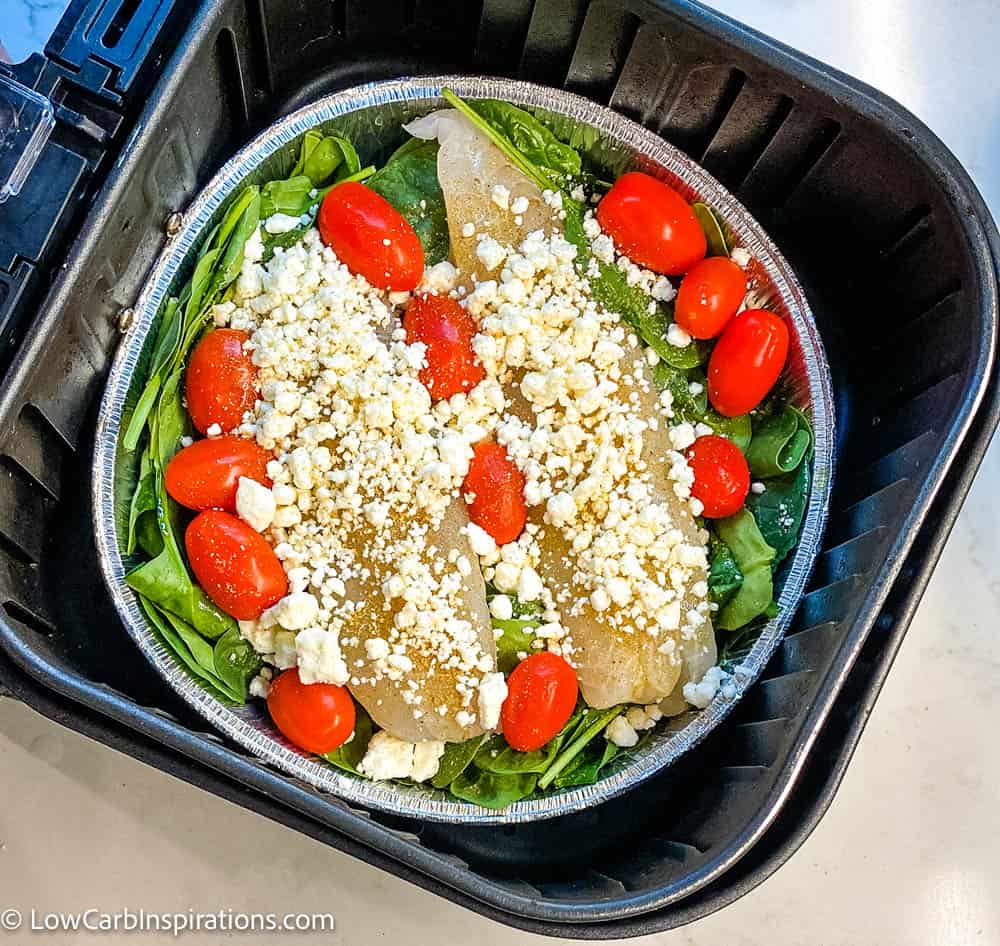 If you are looking for a really quick and easy healthy meal idea that can be made from start to finish in just 10 minutes, this is the recipe for you.
We've added fresh spinach and tomatoes to this dish but you can add any vegetable you want. You can even use frozen vegetables too. They may need to cook longer if they are frozen though.
I've made this recipe for one person or two people. This is the person single serving meal idea that can be made in the air fryer fast and easy.

Why We Love Easy Air Fryer Recipes like this (and you will too!)
This is a very healthy recipe!
You can cook the vegetables and fish together at once!
The whole family loves this recipe!
It's the perfect low carb – high protein meal that fits your macros!
Frequently Asked Questions
What is the air fryer cooking time for fish?
You can cook fish at 350 degrees in a hot air fryer for anywhere between 6 to 10 minutes depending on the size and thickness of the fish.
This easy air fryer fish recipe only takes 8 minutes to fully cook the fish, spinach and tomatoes! This gives you a complete healthy meal in under 10 minutes!
What type of fish can you cook in the air fryer?
You can cook almost any fish you choose! We've cooked tilapia, cod, pollock, haddock, salmon and shrimp too! The cook time will need to be adjusted based on the size of the fish.
At what temp is fish done?
Any fish with fins is usually cooked to an internal temperature of 145 degrees.
Or you cook the fish until flesh is opaque and separates easily with a fork is another way to test it if you don't have a thermometer.
Can you cook the fish in the air fryer without a container?
Yes, you can. The only reason why we use a container in this recipe is to be able to drizzle olive oil over the spinach and tomatoes while it's cooking. If not, the vegetables would dry out.
Can you use a regular pan in the air fryer instead of a disposable aluminum pan?
Yes! You can! I found a small cake pan that fits in the air fryer works just as well.
Quick Recipe Overview
Why this is the best Air Fryer Fish Recipe: This is a top rated recipe that's easy to make and packed with healthy ingredients!
Number of servings: 1 to 2 servings
How Long It Takes: under 10 minutes!
Equipment You'll Need: Air Fryer!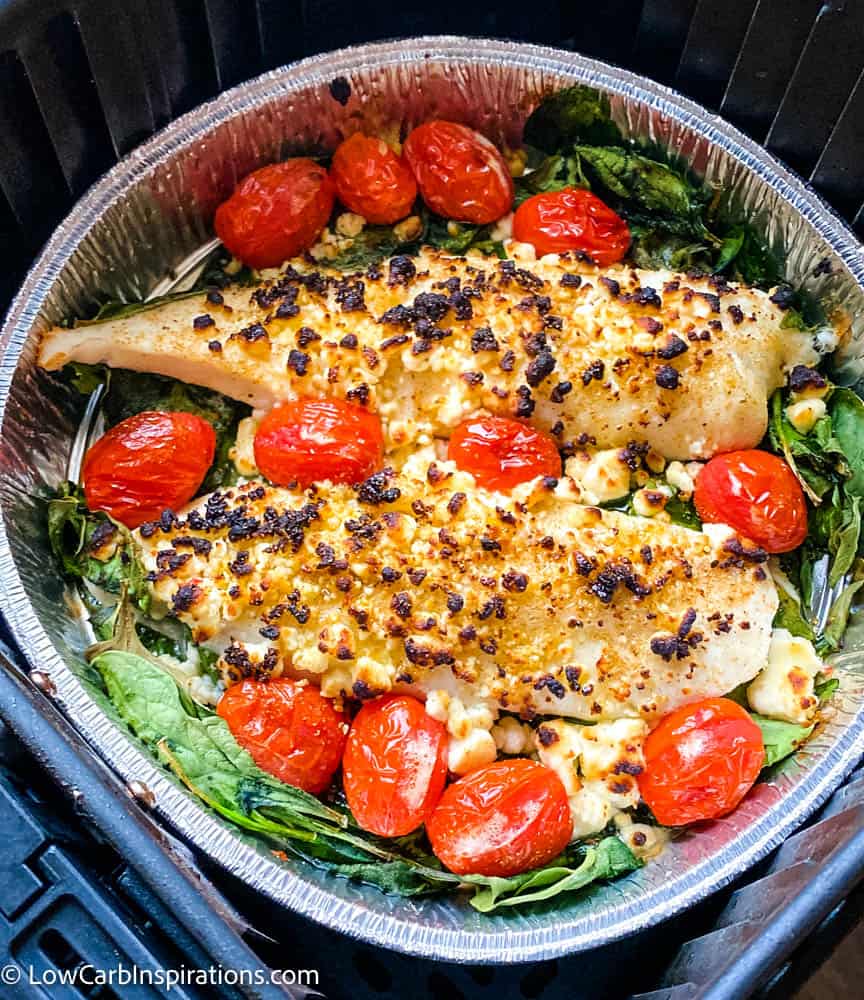 Ingredients You'll Need
Fish (choose your favorite!)
Spinach
Tomatoes
Old Bay Seasoning
Feta Cheese crumbles (or Bleu Cheese crumbles if you prefer)
We use fresh ingredients in this recipe. Fresh spinach and fresh tomatoes!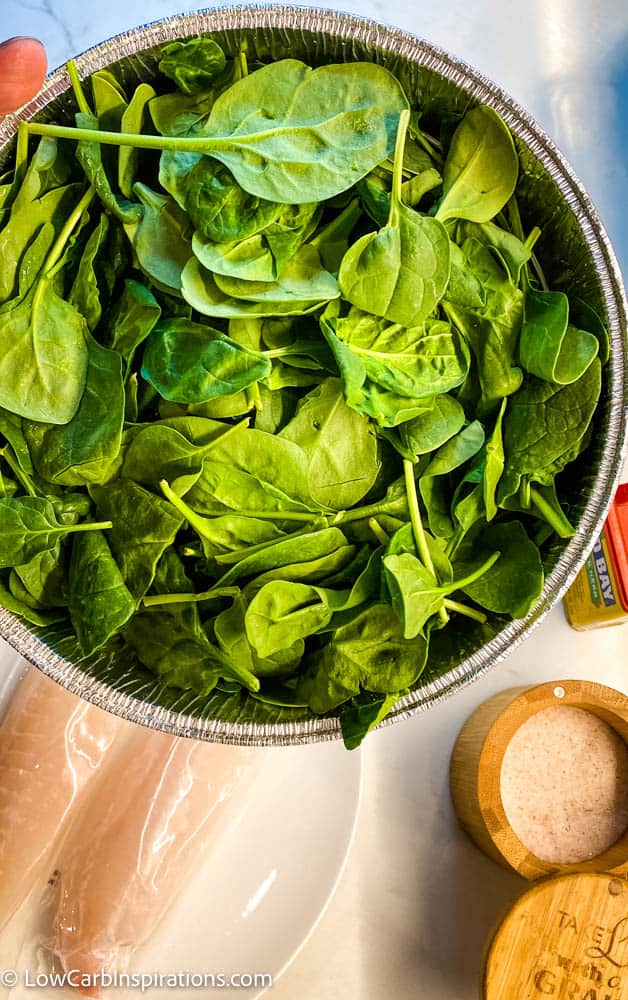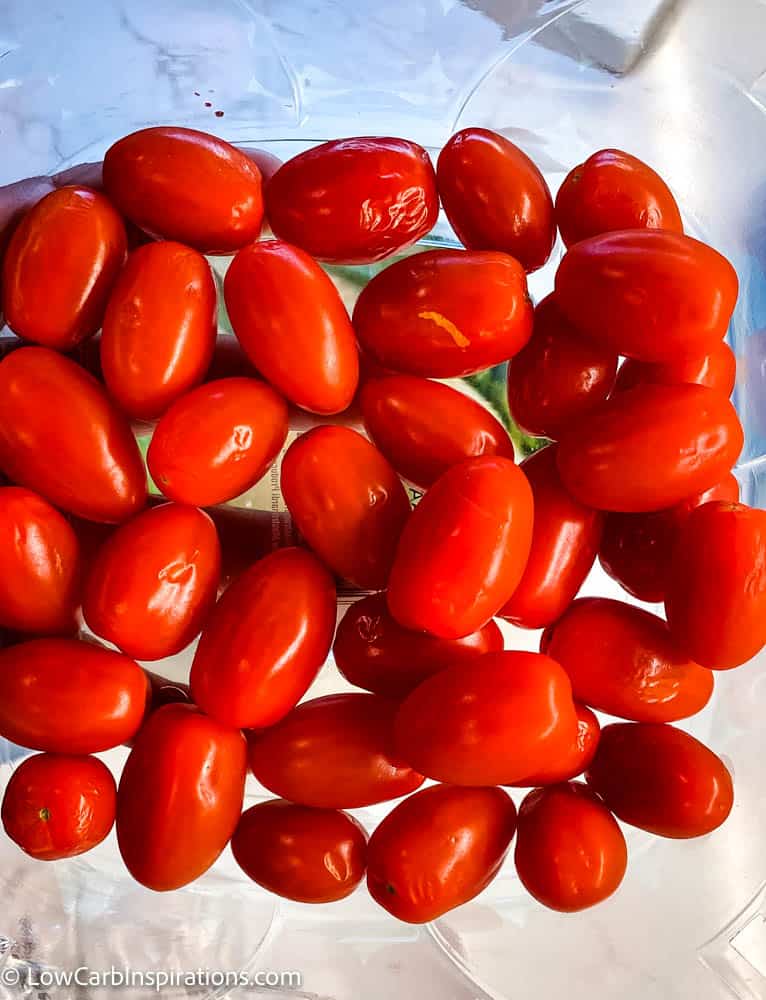 Layer the spinach first by filling it all the way up and really packing it in. The spinach will shrink so add more than you think you will need. Then layer the fresh fish and tomatoes next just like this: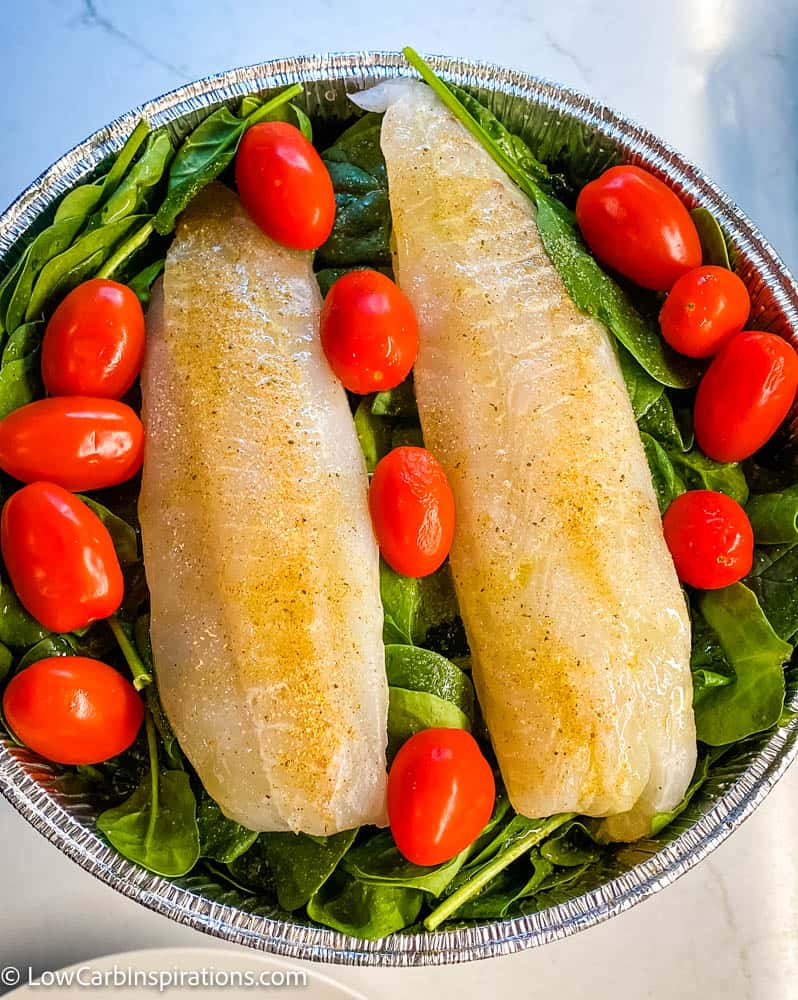 Next, drizzle the fish and veggies with olive oil or avocado oil if you prefer.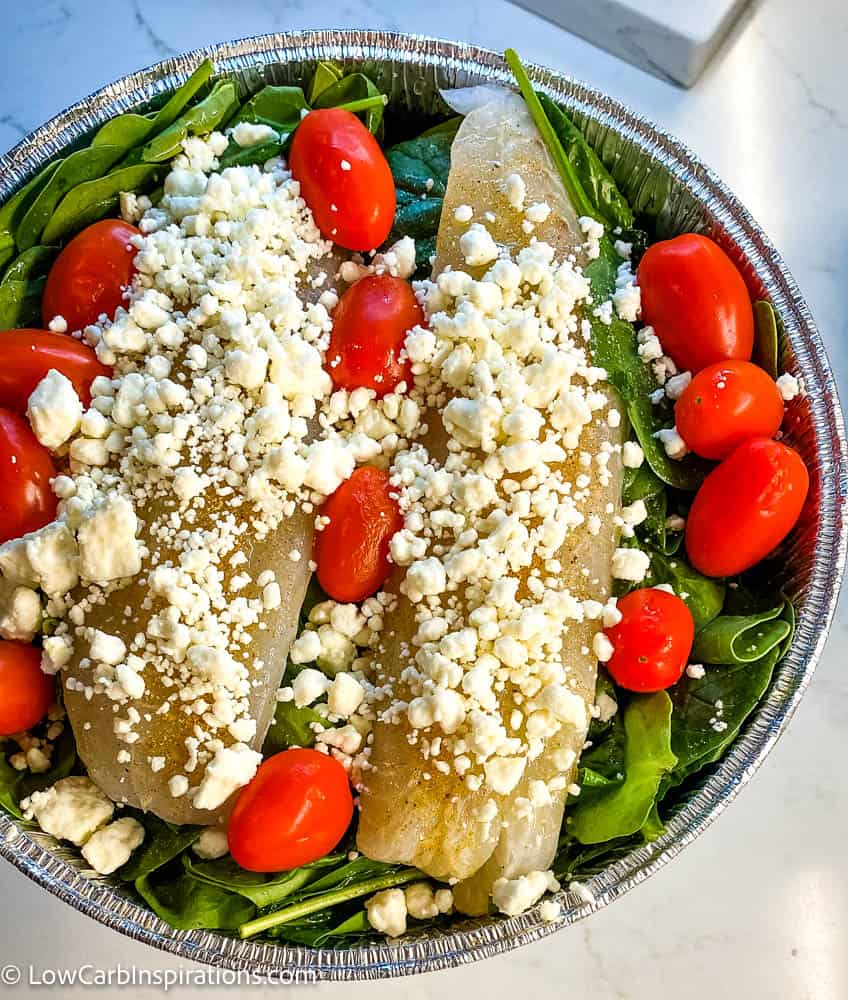 Lastly, you will sprinkle salt and Old Bay seasoning on the fish before adding the cheese crumbles on top. Season it as little or as much as you want.
How to Make/Prepare Fish in the Air Fryer
Step 1 – Defrost the fish if needed before you start.
Make sure your fish is defrosted before you start.
You can defrost it quickly over cool water or place the frozen fillet in the refrigerator a few hours before you plan to make it so it's fully defrosted before you start.
Step 2 – Assemble the ingredients
Layer a large amount of spinach first. Next, layer the fish fillet or multiple fillets if you are making two servings.
Then add the defrosted fish on top of the spinach.
Layer tomatoes around the fish fillets.
Drizzle olive oil over the spinach, tomatoes and the fish.
Sprinkle Old Bay seasoning and salt directly on the fish.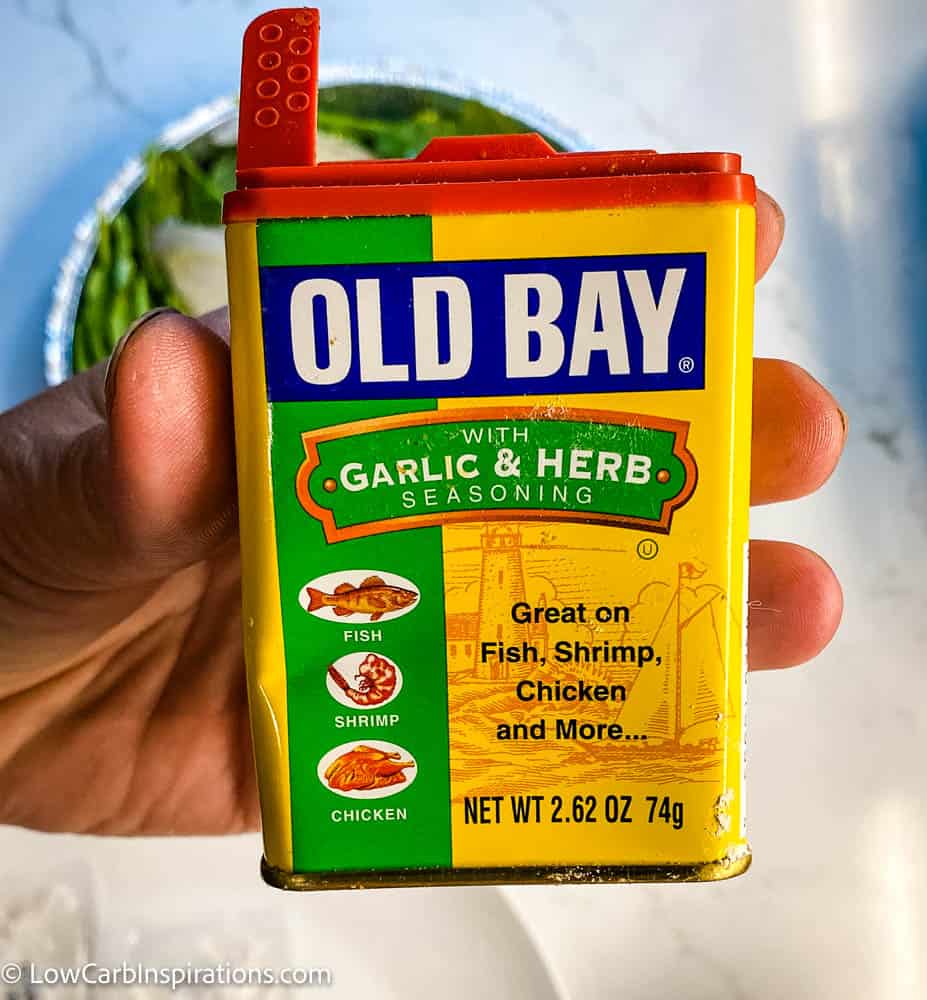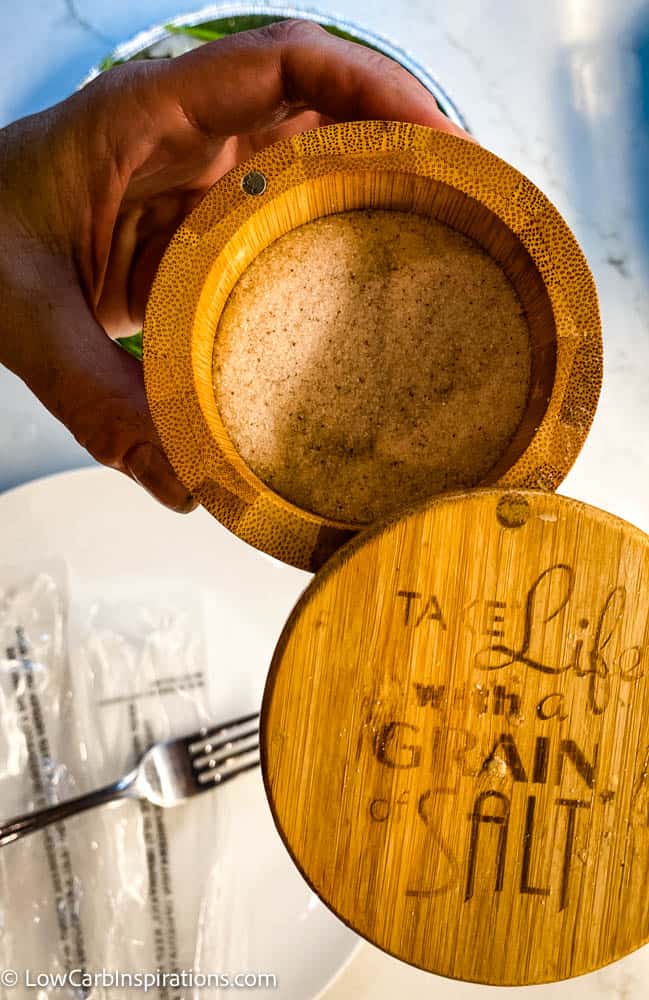 Top the fish with feta cheese crumbles or Bleu cheese crumbles if you prefer.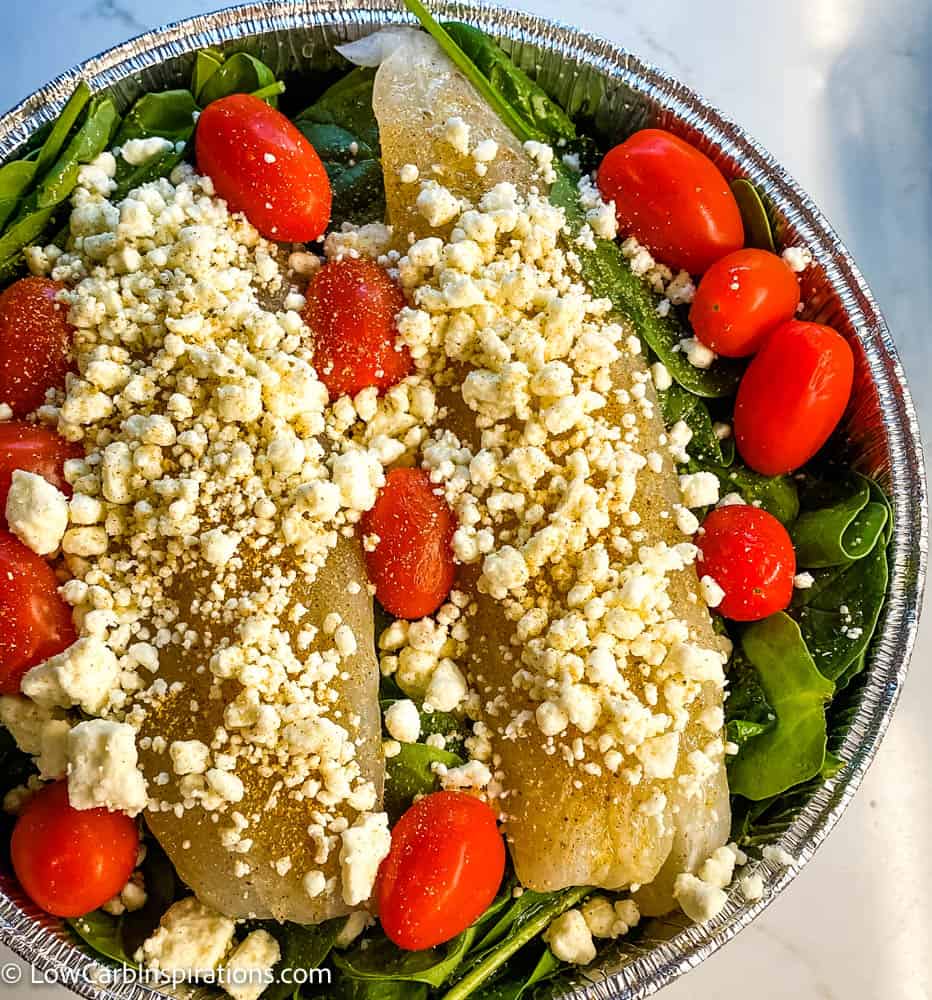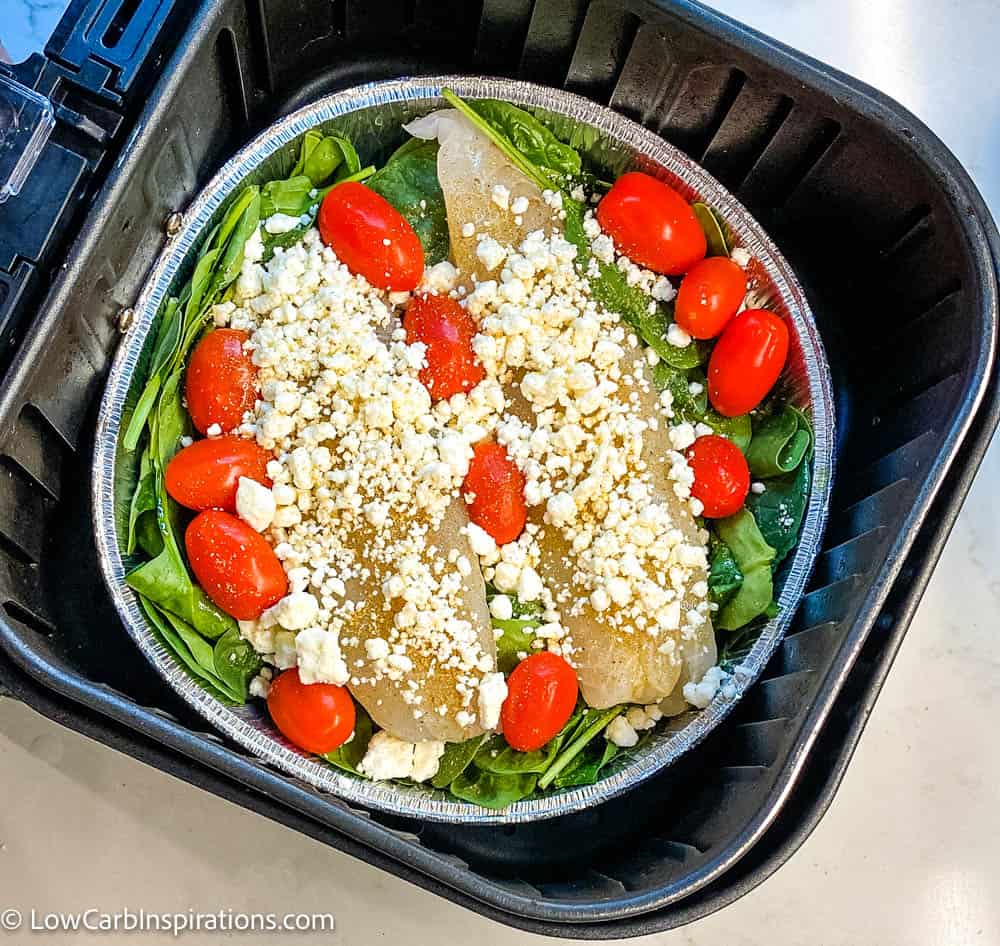 Step 3 –Cook the fish for about 8 to 9 minutes in the air fryer
Cook the fish in the air fryer for about 8 to 9 minutes or until the fish is flaky (testing it with a fork) or reading an internal temperature of 145 degrees.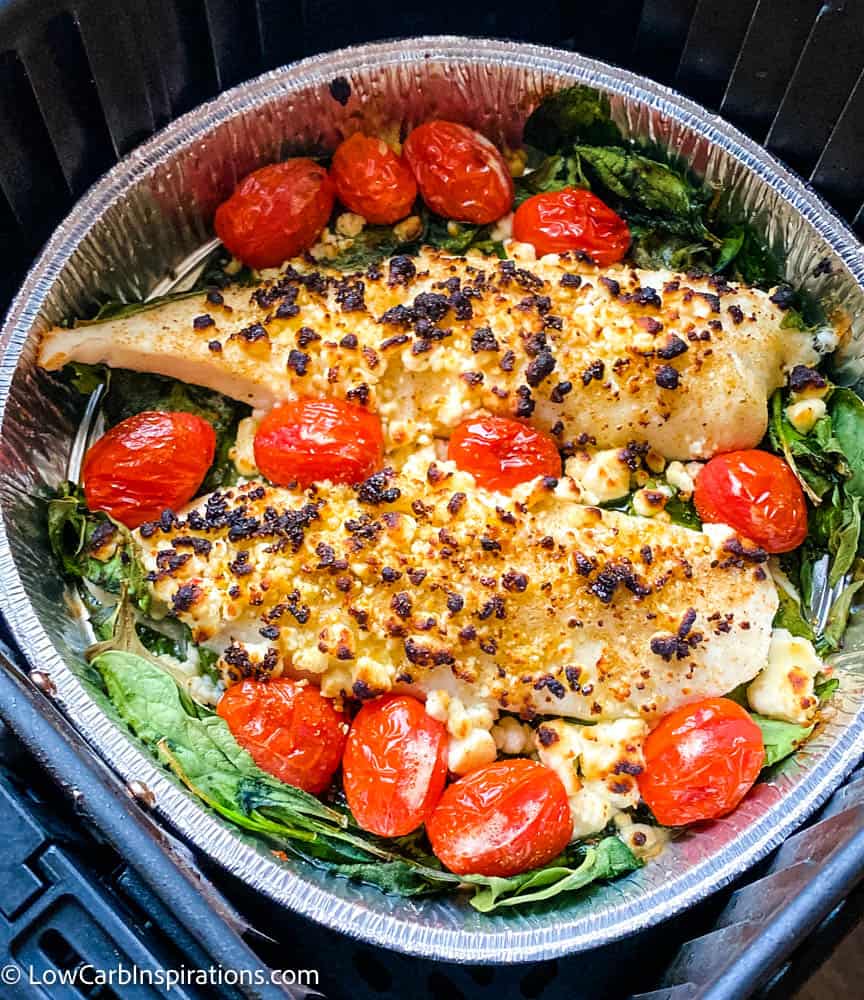 KEYWORD Nutrition

Serving: 1serving | Calories: 444 | Carbohydrates: 6g | Protein: 43g | Fat: 28g | Fiber: 1g | Sugar: 2g | Net Carbs: 5g
Serves 1
Calories 444 with only 5 net carbs!
New to Keto? Check out the Keto Starter Guide!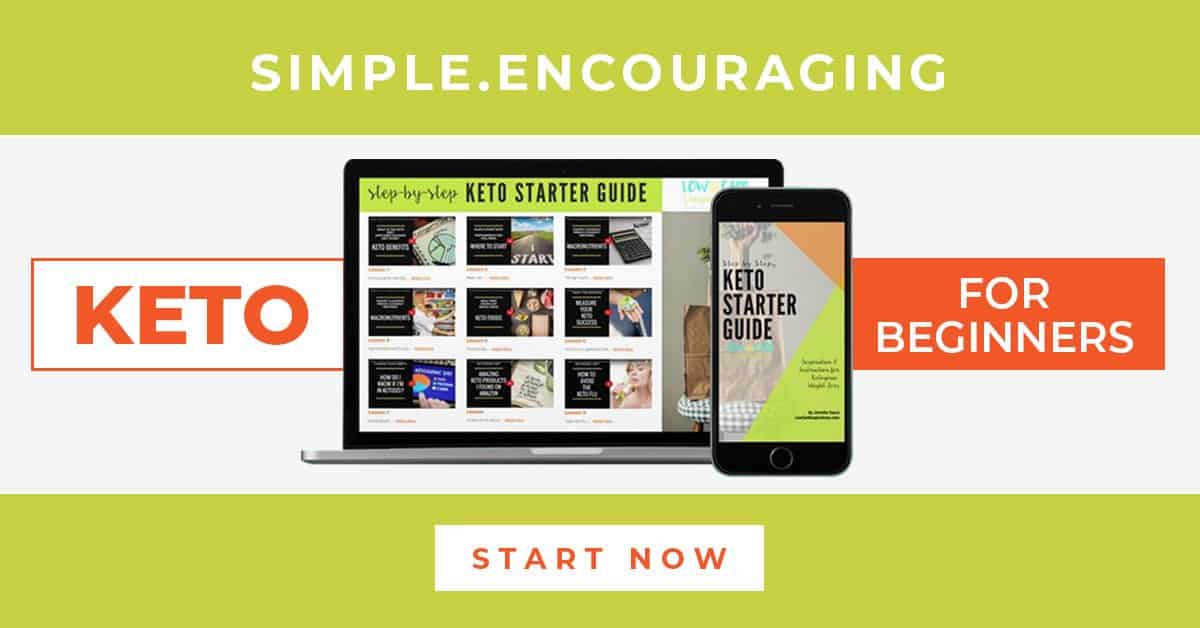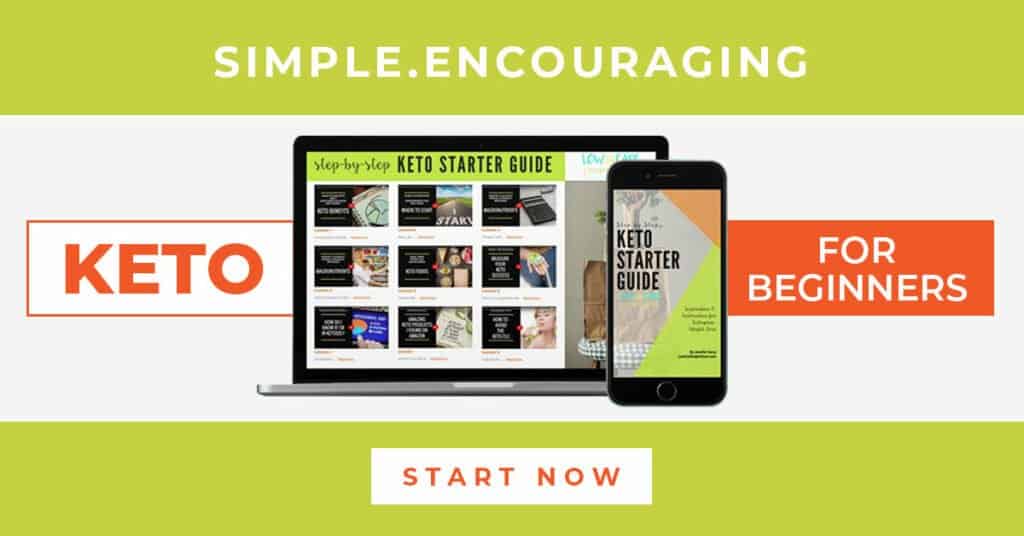 The Keto Starter Guide is an amazing resource as you get started on your keto/low carb journey. This guide has everything you need to get started in 9 simple video lessons and also includes workbooks with step by step instructions for beginners.
What's a macro and why do I count them?
How do I find the best recipes?
What is ketosis and how do I get my body there?
What fruits are allowed on a ketogenic diet?
Will I get "Keto Flu" and what do I do about it?
Get the Keto Starter Guide today!
Don't forget to pin this amazing fish recipe for later!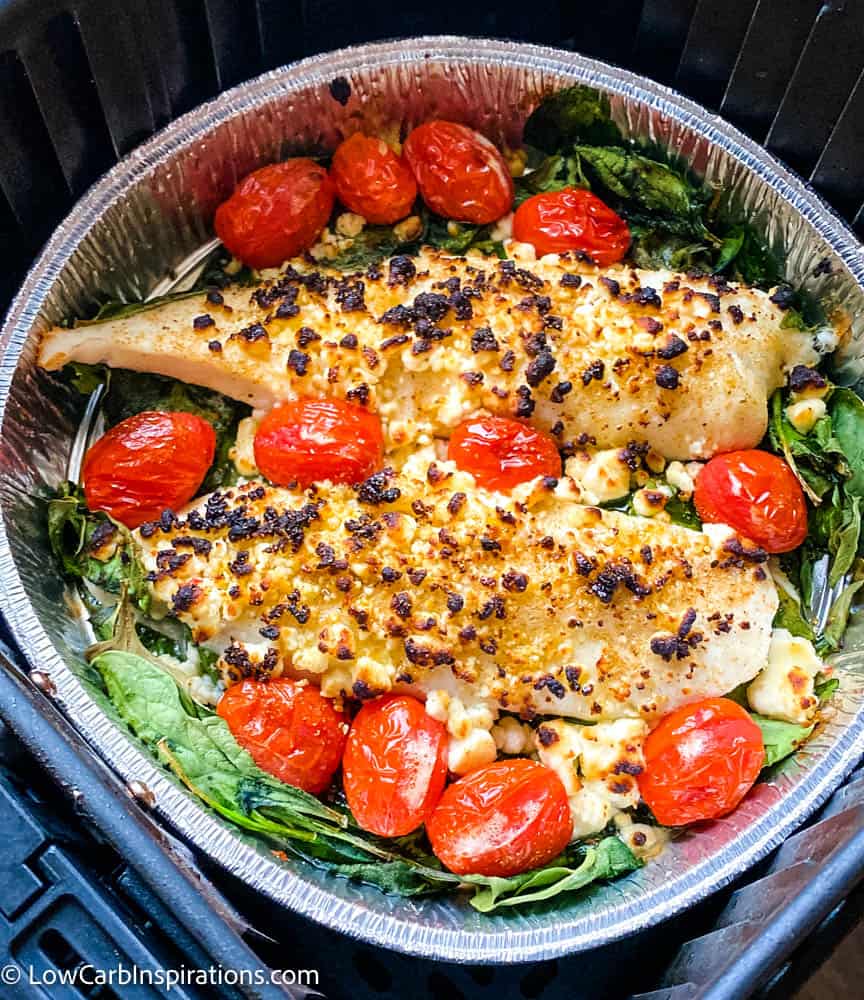 Love this Easy Fish recipe? Make sure you leave a 5-star rating and a review below! I can't wait to hear how much you loved it!

Also – if you loved this easy lunch or dinner recipe idea, be sure to try our amazing Salmon recipe below! If you have any questions, I'm here to help!

Keto Crusted Salmon made in the Air Fryer recipe
Here's a printable version of this Air Fryer fish recipe: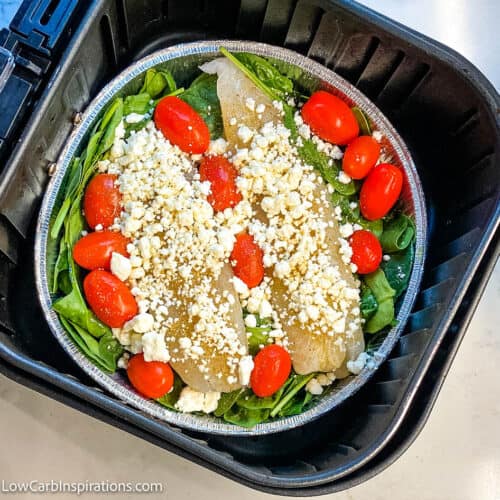 Easy Air Fryer Fish Recipe
Equipment
1 air fryer pan or aluminum disposable cake pan
Ingredients
Instructions
Layer the spinach in the baking pan.

Add the fish fillet on top of the spinach

Add the tomatoes around the fish fillet.

Drizzle the fish and vegetables with olive oil.

Sprinkle the fish with salt and seasoining.

Sprinkle the feta cheese crumbles on top of the fish.

Bake at 350 degrees for about 8 to 9 minutes or until the fish is flaky when testing it with a fork or has reached an internal temperature of 145 degrees.
Nutrition
Serving:
1
serving
|
Calories:
444
|
Carbohydrates:
6
g
|
Protein:
43
g
|
Fat:
28
g
|
Fiber:
1
g
|
Sugar:
2
g
|
Net Carbs:
5
g
Nutrition facts are provided as a courtesy. Have a question about our calculations or why you got a different result? Please read our
nutrition policy.