Keto Strawberry Cheesecake Strudel Recipe
I just made a Keto Strawberry Cheesecake Strudel Recipe by accident! Total accident!
Let me explain. Here in Texas we are having some crazy weather. This weather has caused us to have no electricity and no running water for three days so far. Today was the first day we had a good amount of electricity so I got into the refrigerator to see what was good and what wasn't.
I saw we had strawberries but they were on their last leg. They needed to be eaten today or they would be trash tomorrow (or for the compose pile if it was gardening season for me). I am not about to waste food.
Normally, I would just make some strawberry compote just like we did with this Keto Blueberry sauce recipe. It's a great way to extend the life of your keto friendly fruit without letting it go to waste.
But, I decided to just whip us up a sweet treat so we could eat the strawberries today.
I also had in my fridge some of those Crepini Egg wraps I buy from Costco. I'm not even sure if other stores carry them yet but they are fantastic.
The egg wraps are big and light but they are also very delicate too. If I go to grab on too quickly, I can tear it very easily. This is why I wasn't for sure if this would work in this recipe or not but, it was worth a try.
I decided to whip up a creamy cheesecake filling so that I can use these strawberries and possibly deep fry these egg wraps.
Guess what?!
It worked! Like, it really worked great!
It held up nicely and it tastes amazing!
My youngest, who also eats low carb and keto and is the pickiest eater of all, told me it tastes just like a strudel that she used to eat before eating low carb or keto!
You remember those toaster strudels that you pop in the toaster? She said it tastes like that but better!
Y'all… If I can impress her with this dessert then I just know you all will love it too! Yes, it's that good! It's totally worth the effort. You've gotta try it!
Besides, it's easy! And keto.
You can read the Amazon review for the Crepini Egg Thins here: https://amzn.to/3k3WNOD
You can go straight to the Crepini website here and see exactly who carries them in your area too. Here in Austin, Texas it looks as though you can only get them at Sprouts and Costco.
We added a super quick TikTok video to show you exactly how we put this strudel together. It was super easy! Take a look:
Keto Strawberry Cheesecake Strudel Recipe Ingredients
Keto Strawberry Cheesecake Strudel Recipe Instructions: get the full recipe instructions in the printable recipe card below.
Can be consume hot or cold!
Makes 8 sweet keto strawberry cheesecake strudels
Here are a few photos we took while making these wonderful keto dessert treats!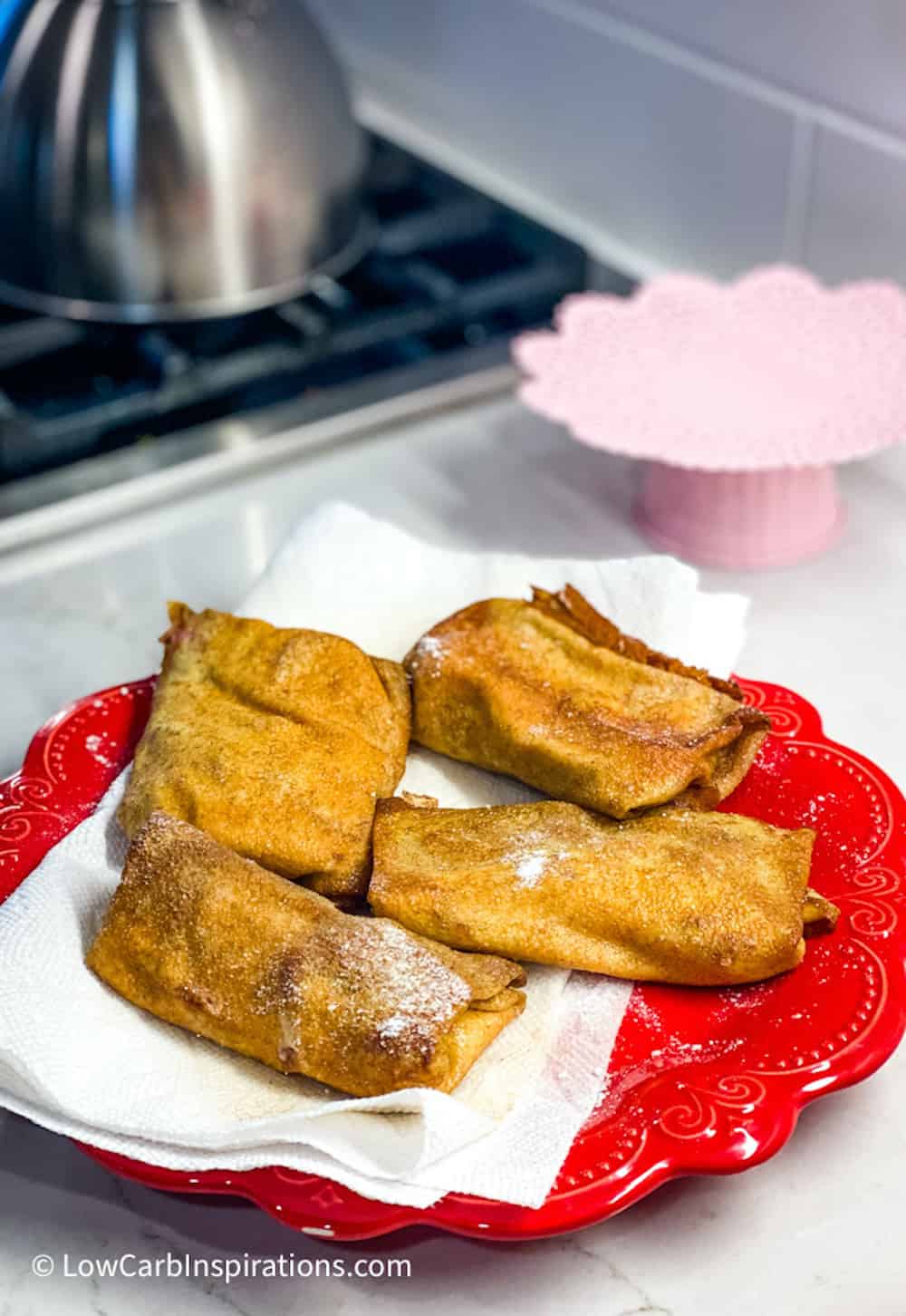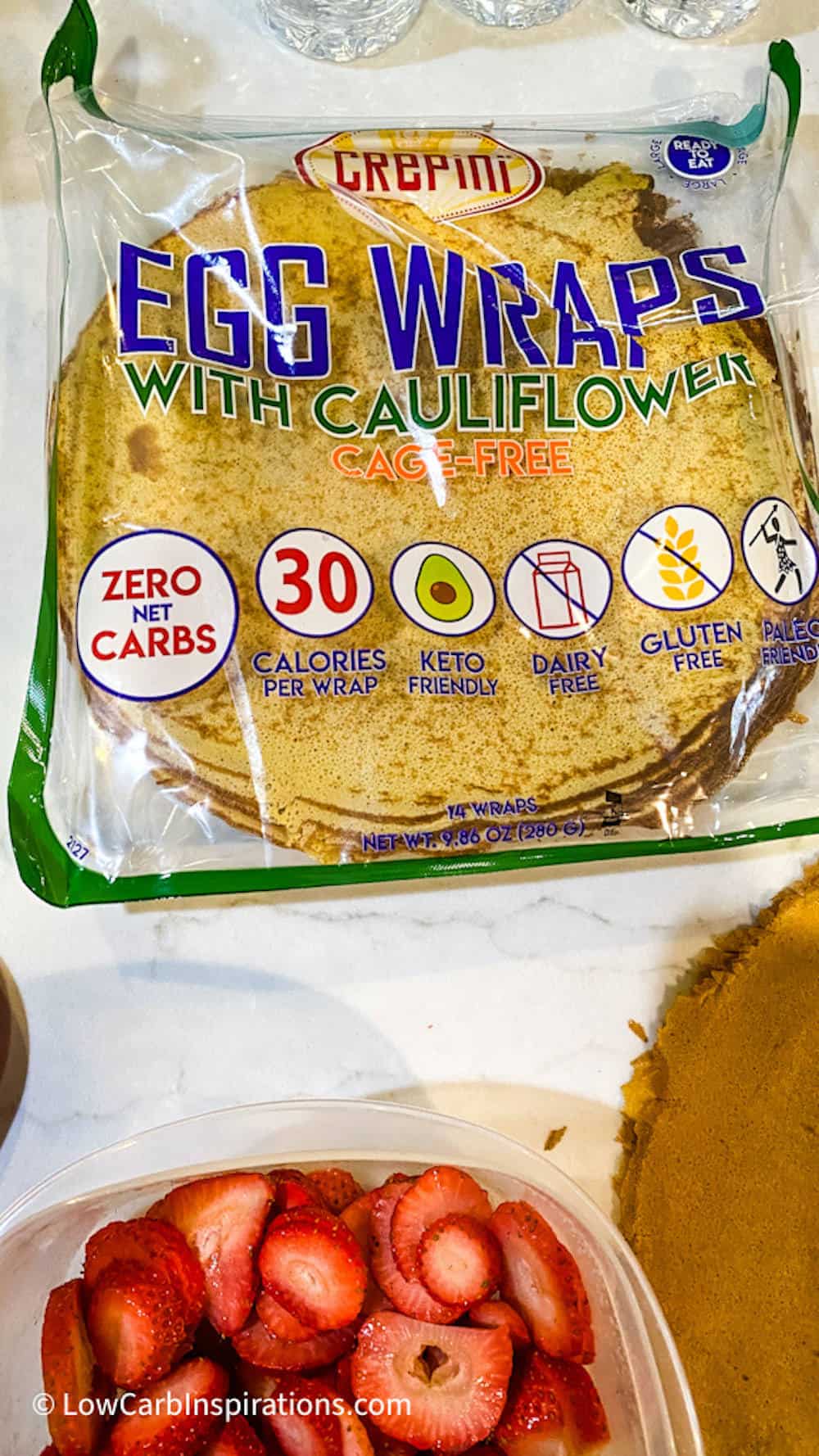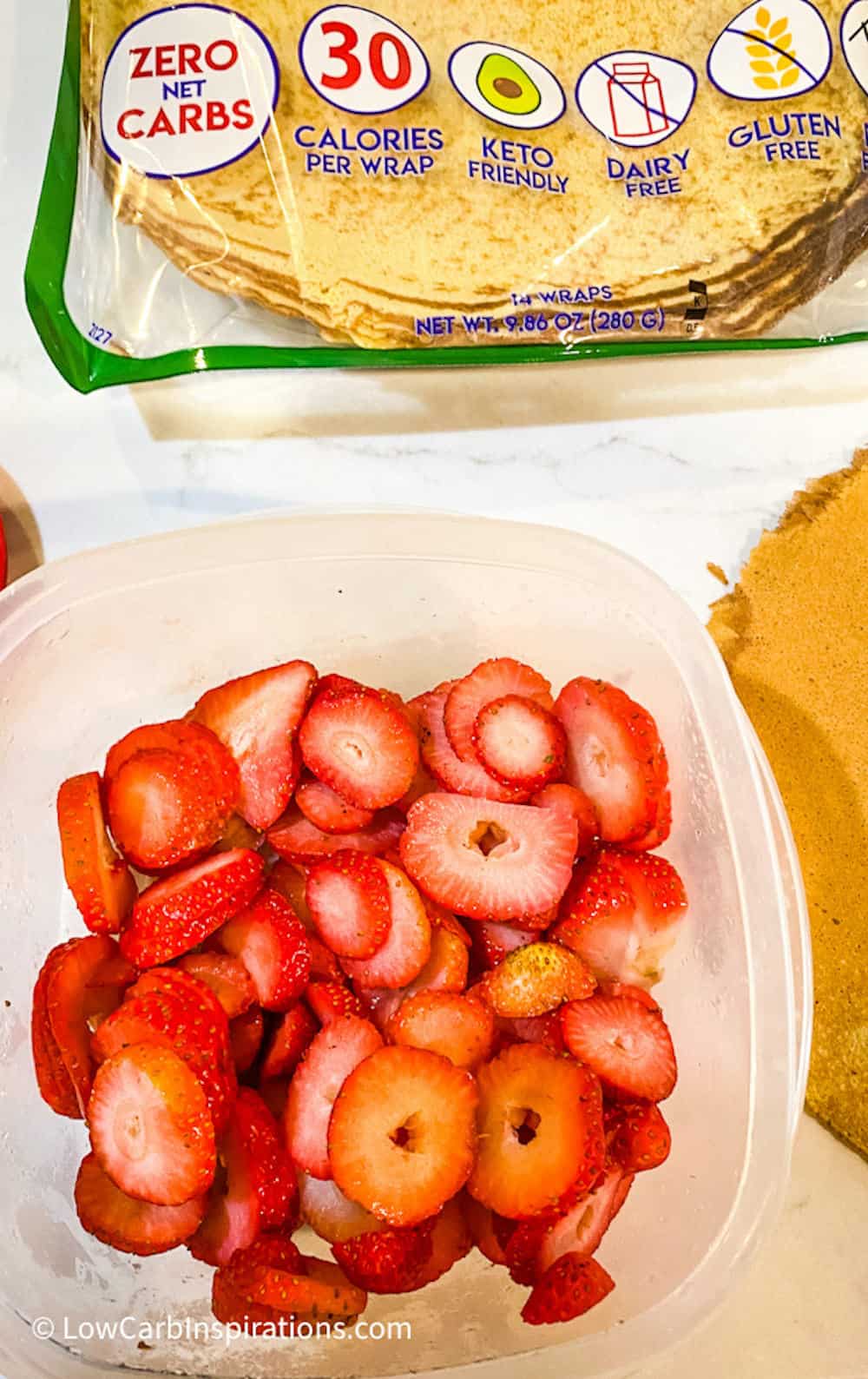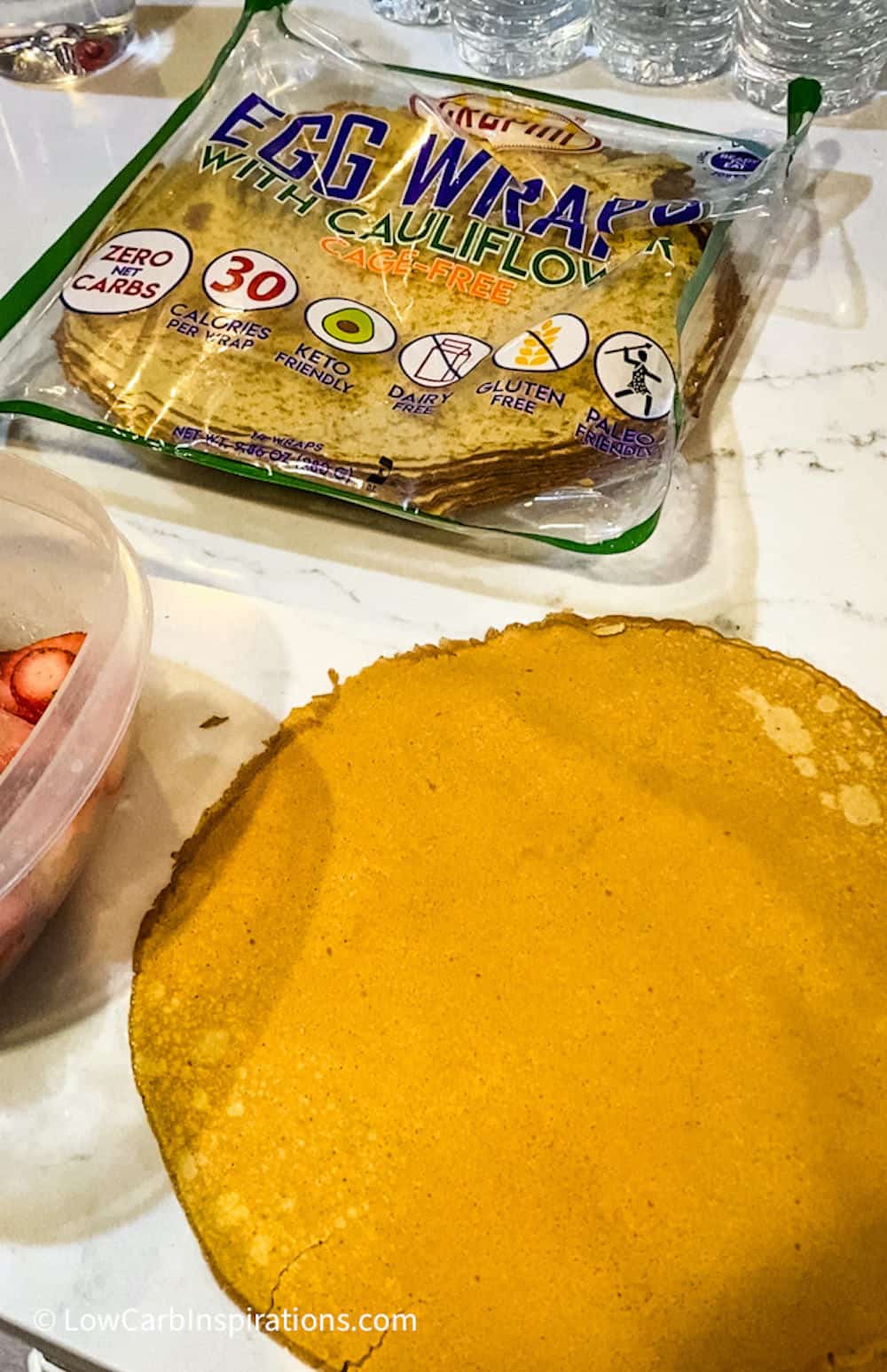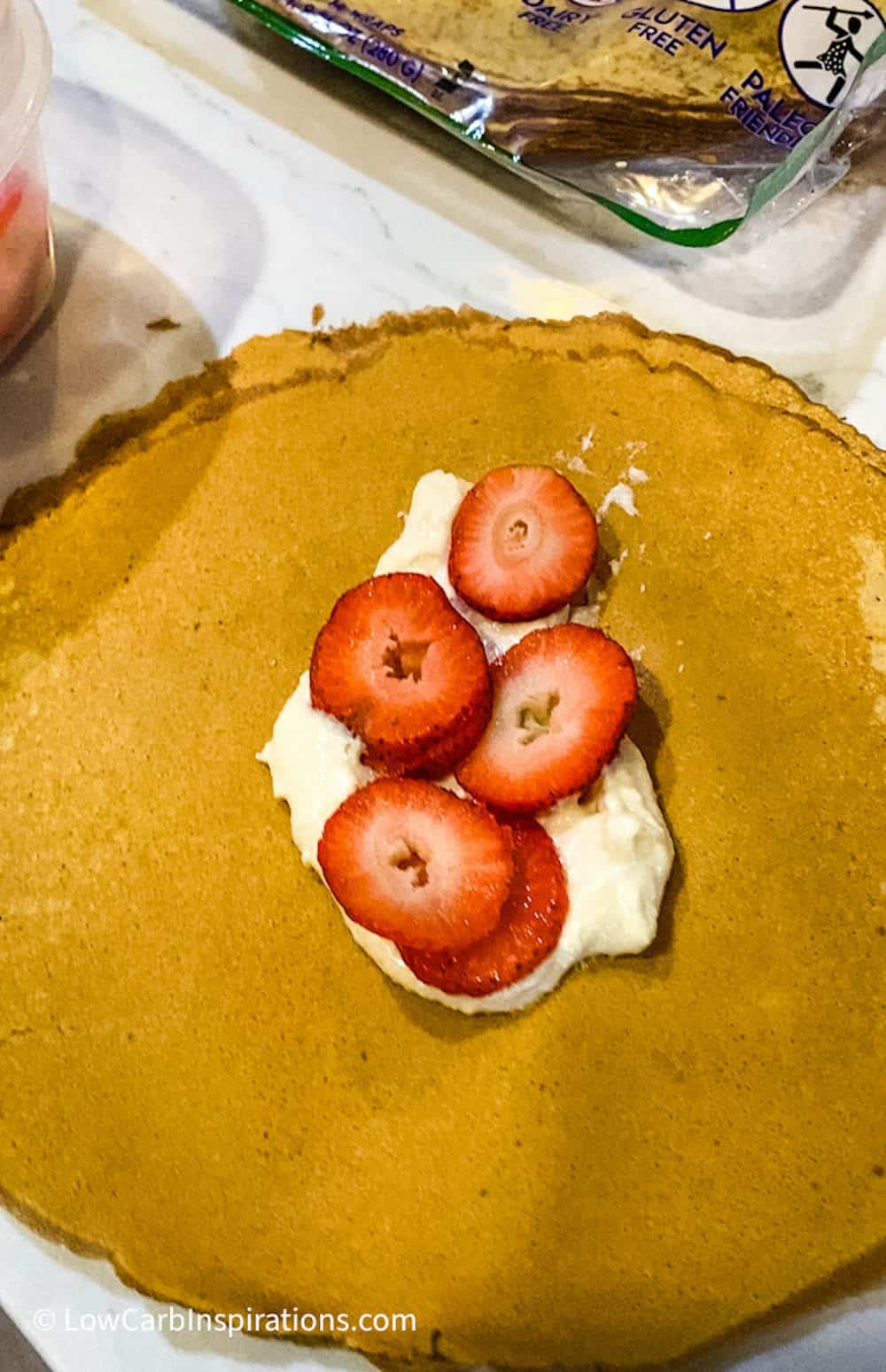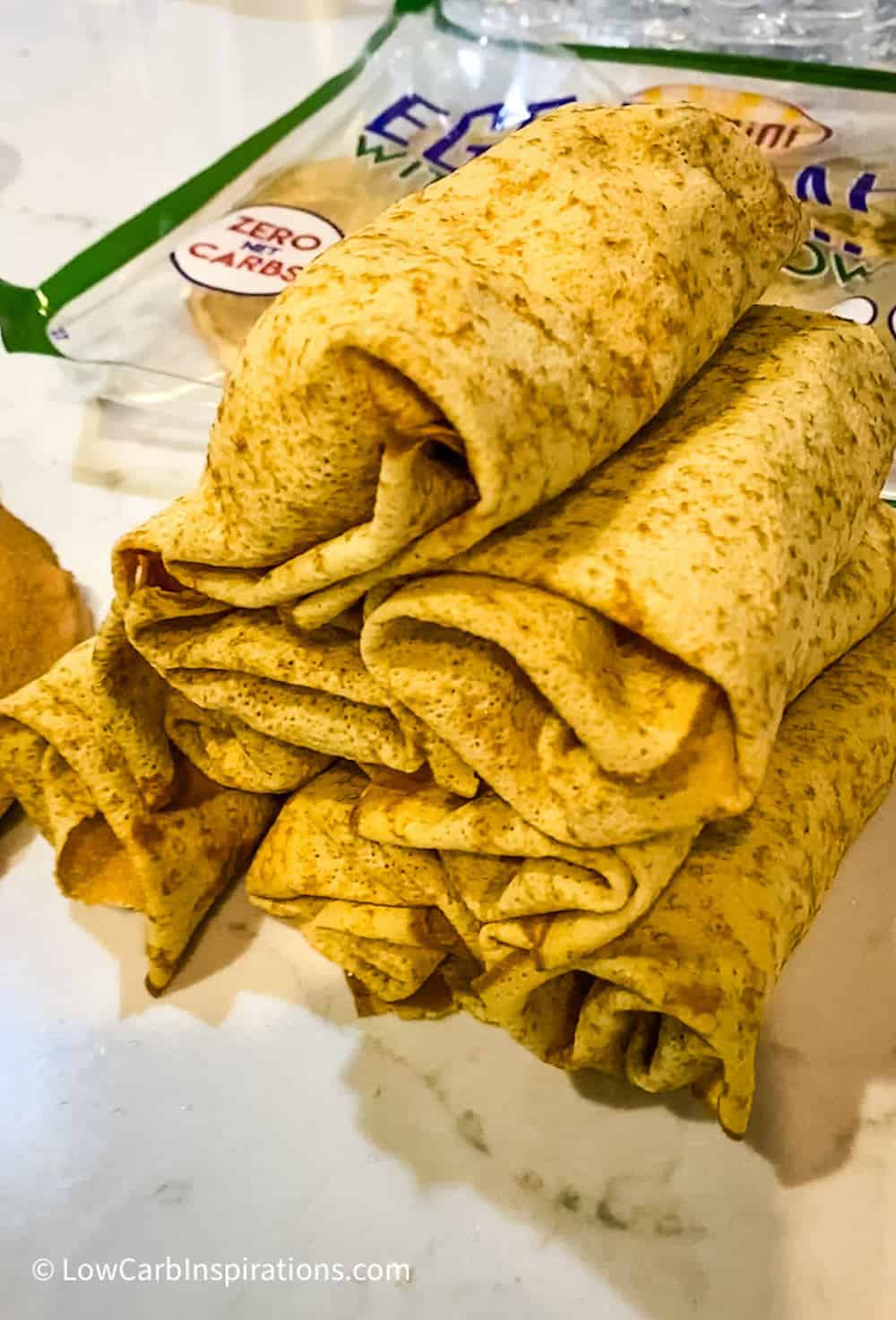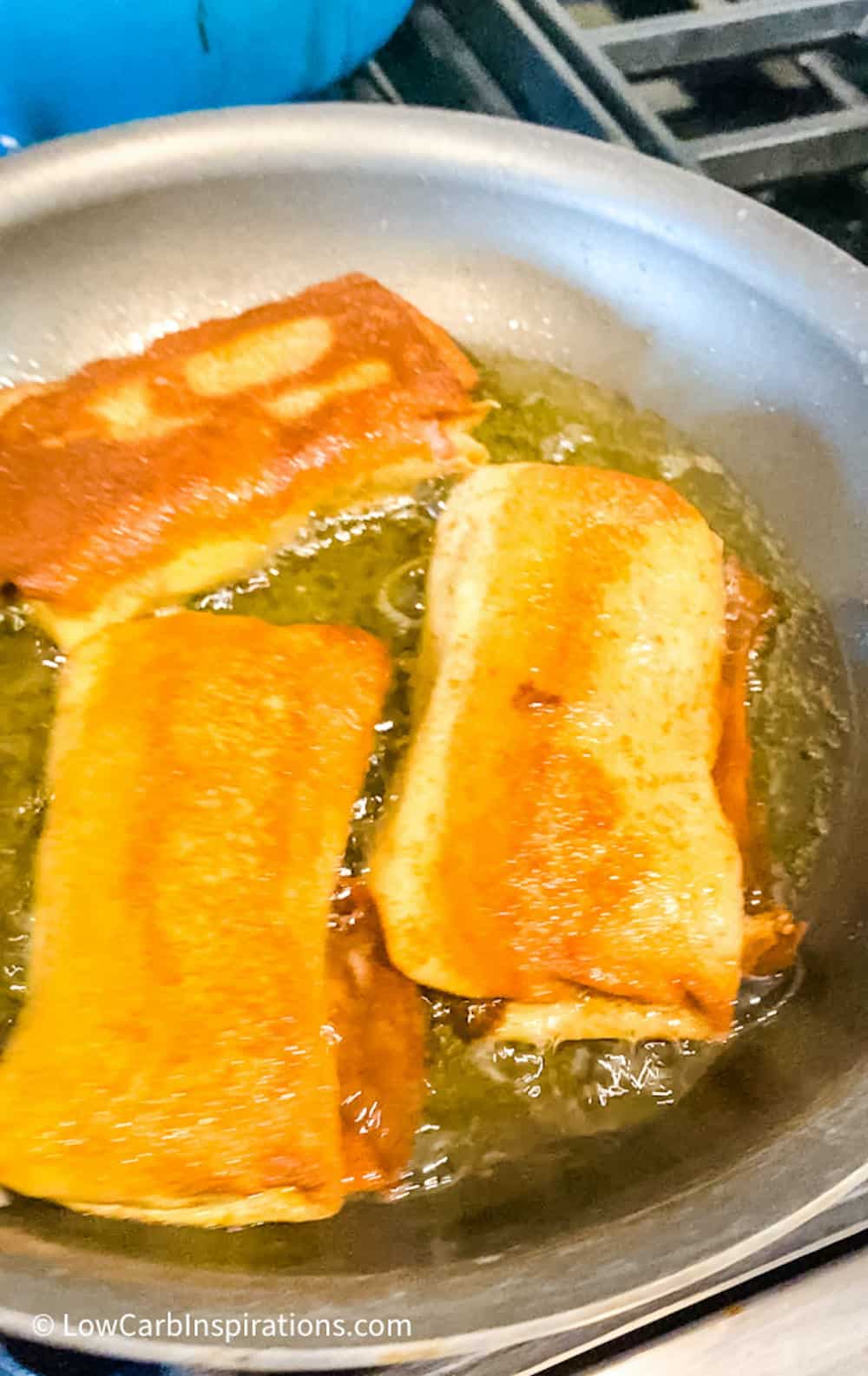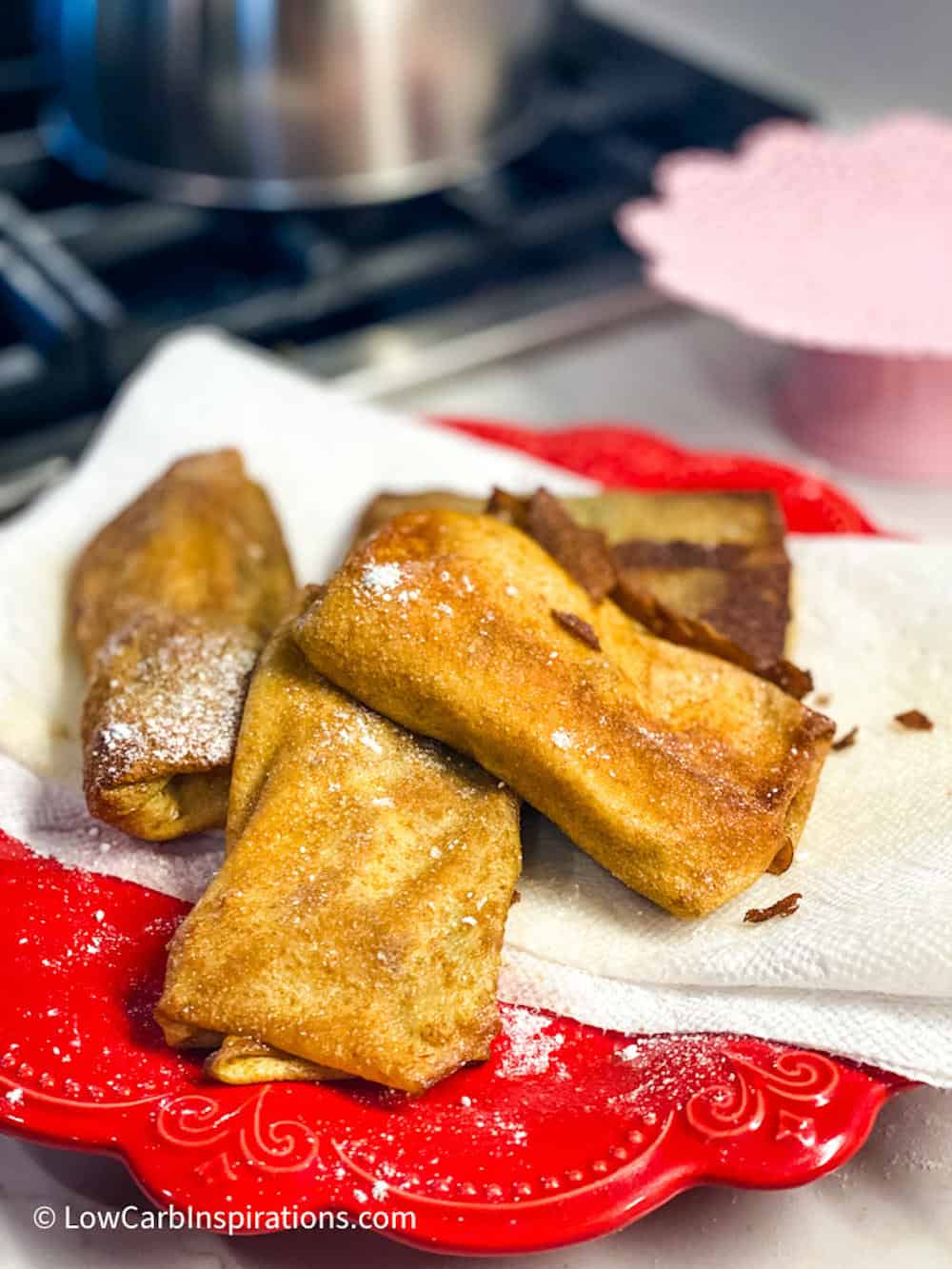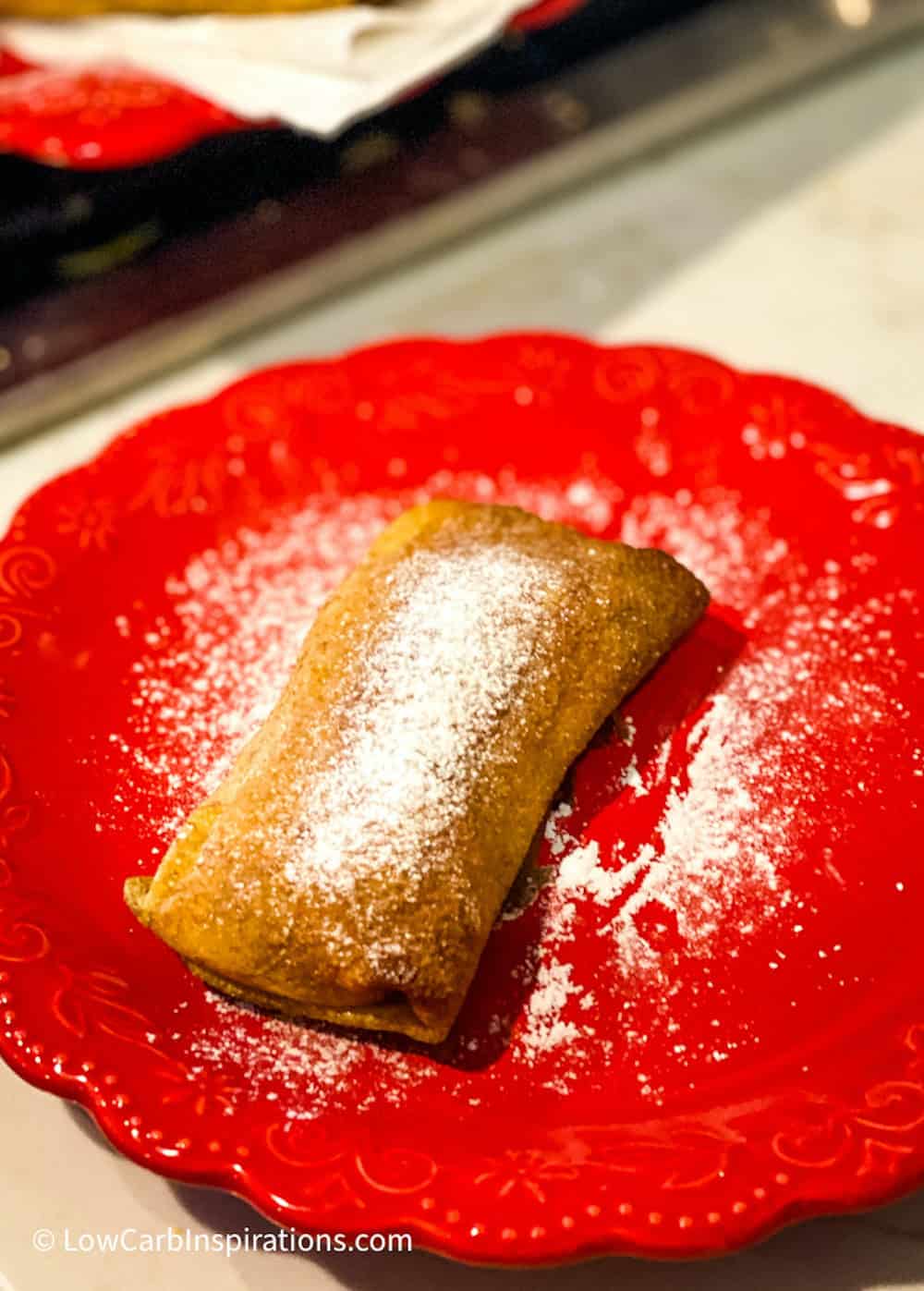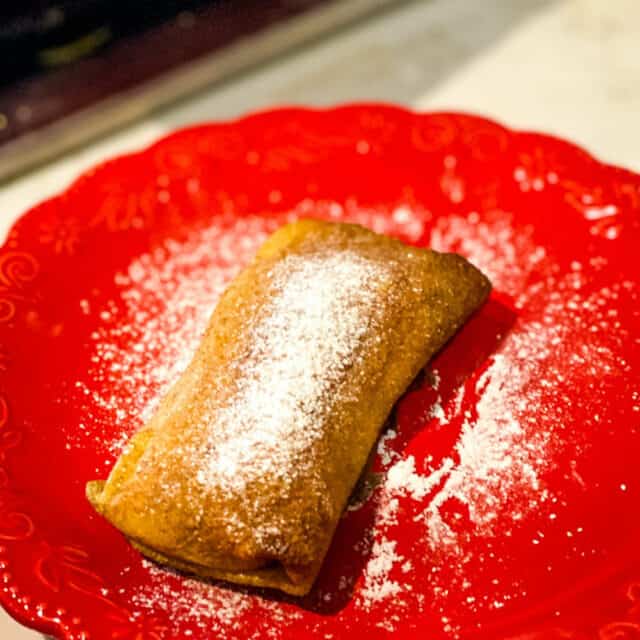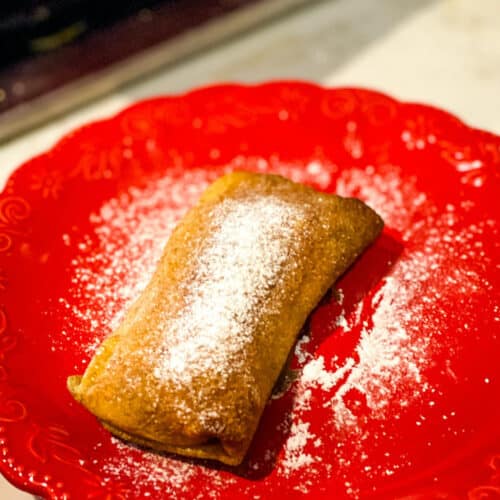 Keto Strawberry Cheesecake Strudel Recipe
Delicious keto dessert idea that tastes just like a strudel!
Equipment
Medium frying pan

Paper Towels

Plate
Ingredients
8

Crepini Egg Thin Wraps

8

oz

cream cheese

room temperature

3 to 4

tbs

keto sweetener

I used Lakanto Monkfruit confectioners blend

1

tsp

vanilla extract

2

cups

strawberries

diced

1/4

cup

avocado oil
Instructions
In a small bowl combine the room temperature cream cheese (must be soft enough to mix), vanilla and keto sweetener.

Mix it until it's smooth and creamy.

Wash, rinse, and dice the strawberries.

Heat the cream cheese in the microwave for about 30 seconds if it's not soft enough to mix.

Lay out the egg wrap and gently spread 1 tbs of the sweet cream cheese mixture in the center.

Place 1/4 cup of strawberries over the top of the cream cheese mixture.

Roll the strudel up by folding in the sides first, then folding over one flap over the folded middle then finish it by rolling the remaining part of the wrap.

Place it seem side down so that strudel doesn't unwrap when you move it from the plate to the hot pan.

Place the avocado oil into the frying pan.

Turn the heat on medium and allow the oil to heat before you start frying this keto dessert.

Place the strudel seam side down in the hot oil and fry it for about a minute to a minute and a half.

The egg wrap is light and delicate so it doesn't take long for it to tie a golden brown and heat the cream cheese mixture in the center.

Flip the strudel and cook it on the opposite side for the same time.

Place a paper towel on a plate and place the cooked strudel on the paper towel when you remove it from the frying pan.

This will soak up any excess oil.

Dust with more confectionery keto sweetener or sugar free whipped cream.

Enjoy!
Notes
Can be consume hot or cold!
Makes 8 sweet keto strawberry cheesecake strudels
Nutrition
Nutrition facts are provided as a courtesy. Have a question about our calculations or why you got a different result? Please read our
nutrition policy.