Edible Spheres Experiment for Kids – Keto Friendly Recipe!
Summer is here and keeping the kids busy is always a task. This week we did an edible spheres experiment for the kids but we made sure it was keto friendly! Guys, this experiment was super fun! They kids were really impressed!
Basically these spheres are just gummies but shaped into circles that are created using the method below. Hello edible jellies!!
The lesson was about Molecular gastronomy is a subdiscipline of food science that seeks to investigate the physical and chemical transformations of ingredients that occur in cooking. (per Wiki)
We made all different colors including transparent colors and solid colors!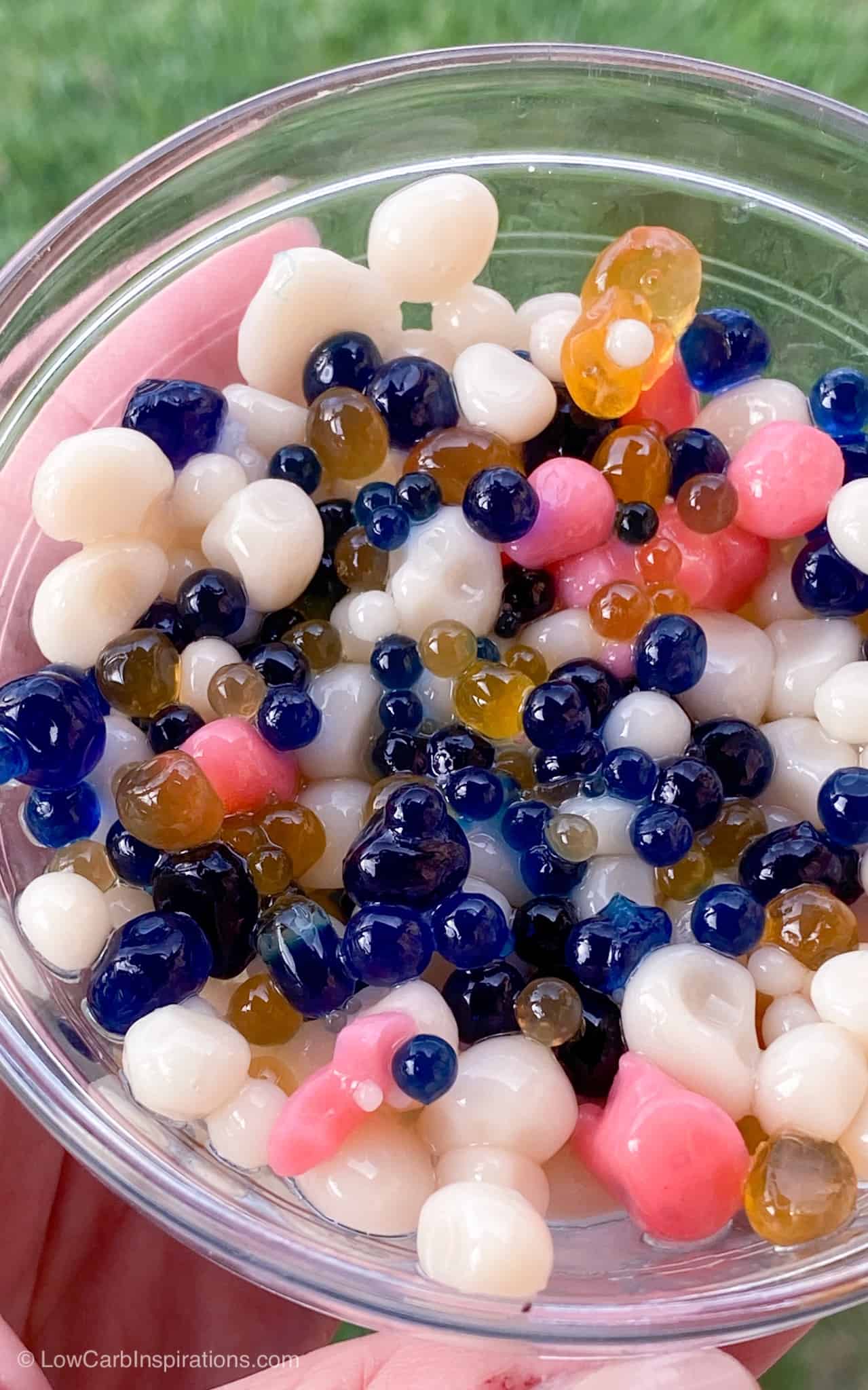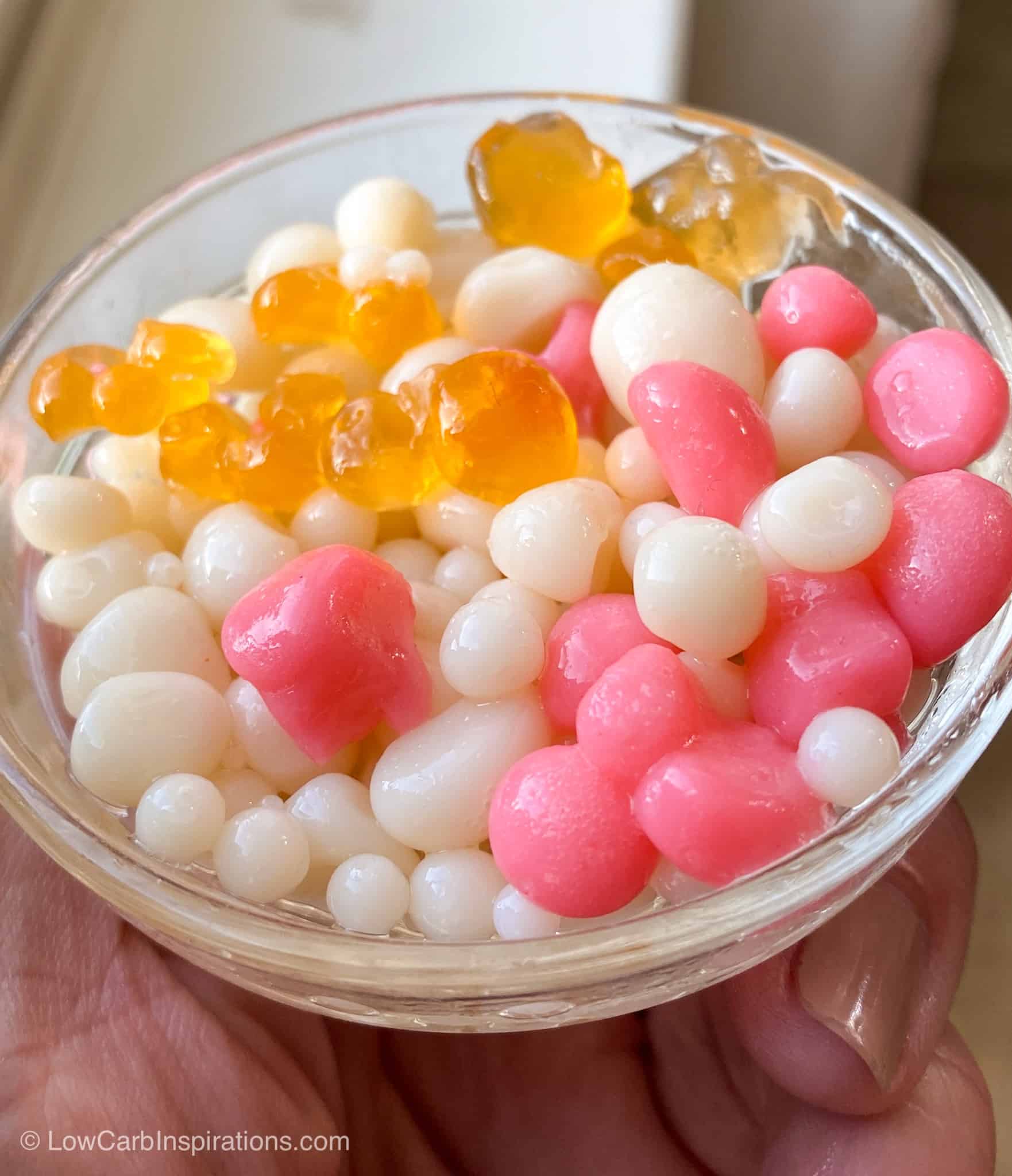 This experiment does take a little bit of preparation though. It's simple once you have all the ingredients and know exactly what order to do it in. I will tell you all the tips and tricks for the recipe step by step. I will even share some failures so that you don't make the same mistakes I did.
Edible Spheres Supplies:
Eye Droppers or Plastic Squeeze bottles
1/2 cup Liquid (use your favorite drink or milk that's keto friendly)
1 1/2 tablespoons of Gelatin (I use my favorite brand of gelatin)
2 cups avocado or olive oil
Sauce pan
Measuring Spoon
Strainer
2 Large bowls
Small bowl
Tall glass
Liquid You Can Use:
Gatorade Zero (no sugar added)
Water with any kind of food coloring of your choice
Bai Drinks that are Keto friendly
Zevia drinks
Almond Milk
Coconut Milk
Cashew Milk
Tea
Matcha Tea
Sugar Free Kool-Aid drink mix
Hint water
Lemon water
Lime water
Or add flavors or extracts to flavor your water any way you want! We love this (brand of flavors)
Here are some liquid drink options that are keto friendly:
Here are some flavorings we love:
Edible Spheres Instructions:
Fill a tall glass or mason jar with 2 cups of oil and place it in the freezer for 3o minutes or in the refrigerator overnight. This step is extremely important because if you oil is not cold enough it would form the spheres. You cannot skip this step. If you plan on doing multiple colors or you have a few kids, I suggest one glass per kid. This will ensure the oil is cold enough for the project.
Keep the oil in the refrigerator until you are ready to use it.
In a small sauce pan, add the liquid you are using. It will always be a half cup of liquid. You can use water and food coloring if you want to! Just make sure you sweeten your liquid. If your liquid tastes good, your spheres will also taste good. I used a few drops of liquid Monkfruit or Stevia to sweeten our water spheres. Taste the liquid before you use it in the recipe to make sure it's the level of sweetness you want.
Sprinkle the gelatin in the sauce pan while the liquid is still cold. Sprinkle a little bit at a time and use a whisk to mix it in.
Turn the heat on to low heat and heat the liquid just enough to make it warm. Make sure all the gelatin has dissolved at this point. If it hasn't, keep whisking it until it all dissolves.
Remove the sauce pan from the heat and pour the mixture into a small bowl and let it cool for about 5 minutes. This way it's not too hot before adding the liquid to the oil to create the spheres.
Set up a large bowl and place the strainer on top of it. You will use this strainer to strain the spheres out from the oil.
In the large bowl add ice about half way. Just enough to cover most of the oil in your glass.
Place the oil in the center of the bowl with the ice to keep it cold.
Use an eye dropper and suction up some of the gelatin liquid.
Place drops of the gelatin liquid into the cold oil. You will notice the drops will stay at the top until they cool down and sink to the bottom. Keep dropping liquid in the same spot for larger spheres!
Once you have dropped all the liquid into the oil using the eye dropper, pour the oil into the strainer to remove the oil from the spheres. If your oil was cold enough, you will see perfect circles of delicious gelatin!
You can rinse off the oil with cold water and the spheres are ready to eat!
Feel free to experiment with colors, flavors, and milk! Milk makes a solid color while the drinks or water usually make transparent spheres.
Edible Spheres Recipe Notes:
You can use a solid ingredient such as ketchup or sugar free caramel sauce. If you use this ingredient use 1/4 cup solid ingredient mixed with 1/4 cup of water to water it down. The gelatin amount will be the same.
The nutrition will depend on the ingredients you use. You can figure that in card manager or any other keto food tracking app if needed.
What do you use these Edible Spheres for?
The kids love to eat them all by themselves!
You can add them to your favorite drink. It looks like boba but without the carbs and sugar!
You can sprinkle it over ice cream, yogurt, chaffles, or any other keto food you desire!
Here are a few photos we took of this process:
These are a few of the ingredients we used. We like using a nut milk because it gives a solid color sphere!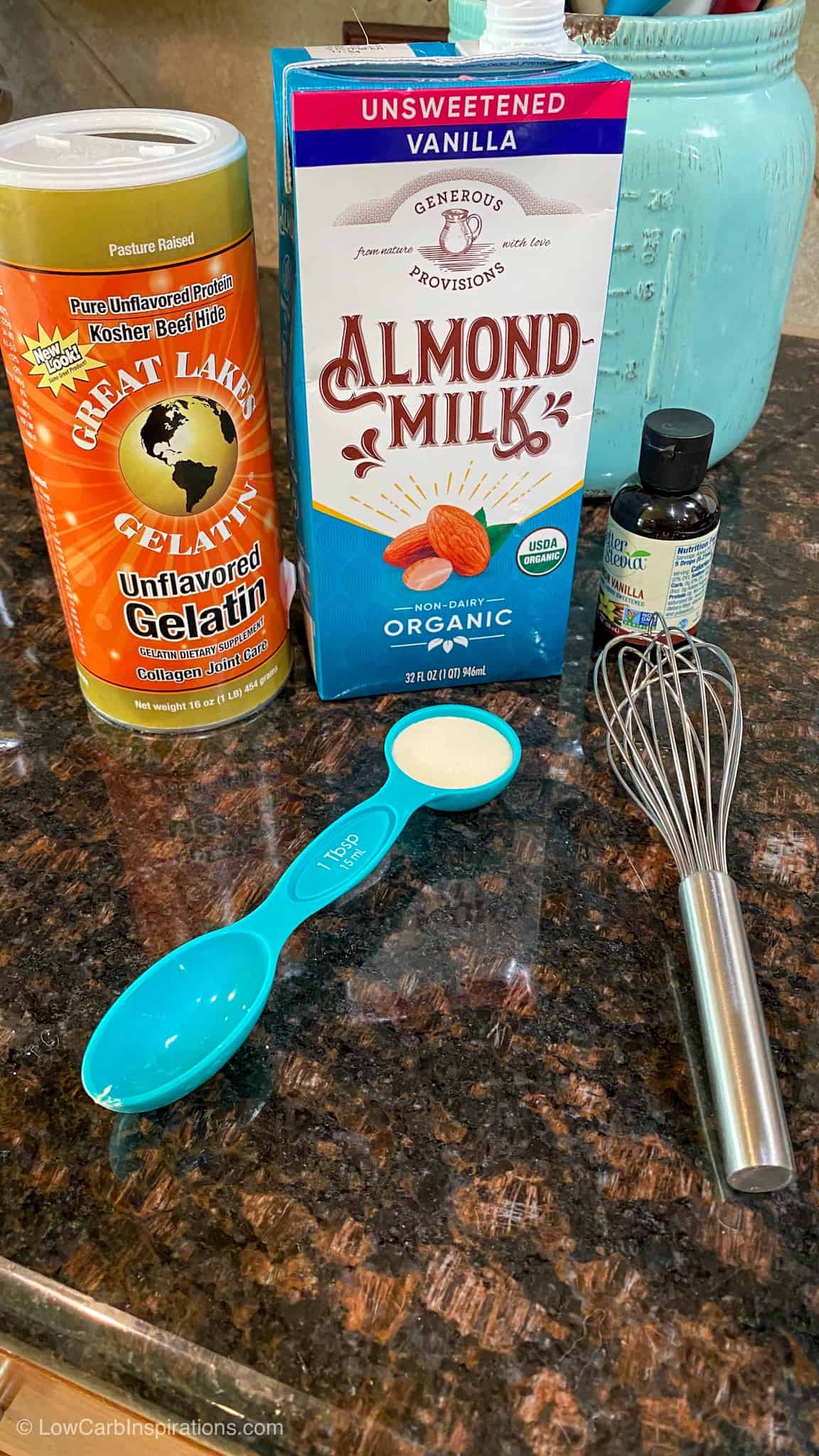 Here are a few sweetener options you can use:
These handy disposable droppers were purchased on Amazon. You can use any dropper or squeeze bottle you have.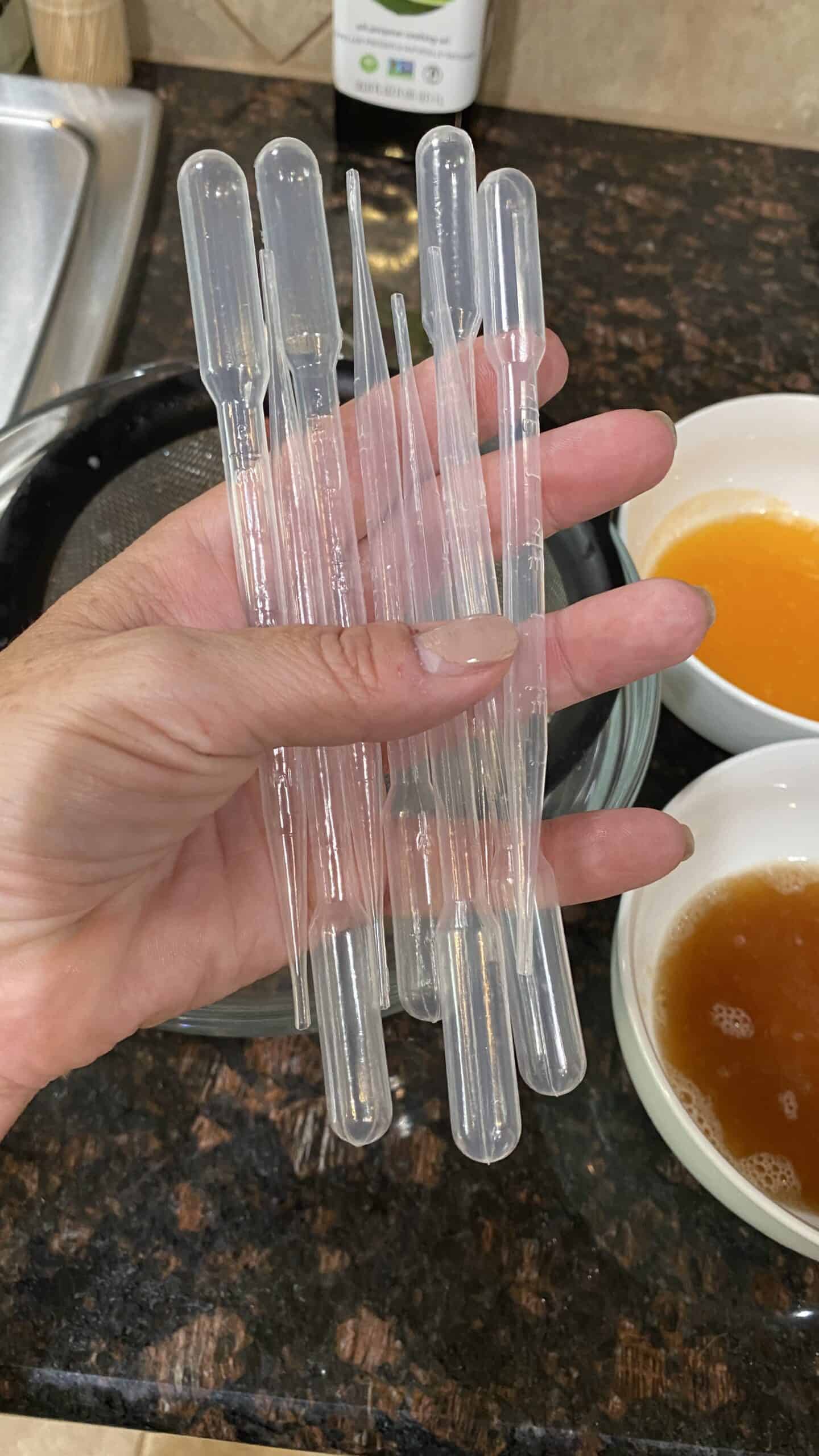 This beautiful color blue was just 1/2 cup of water with 4 drops of blue food coloring with about 5 drops of liquid monkfruit! If I remember right, I think we flavored this with blueberry flavoring too!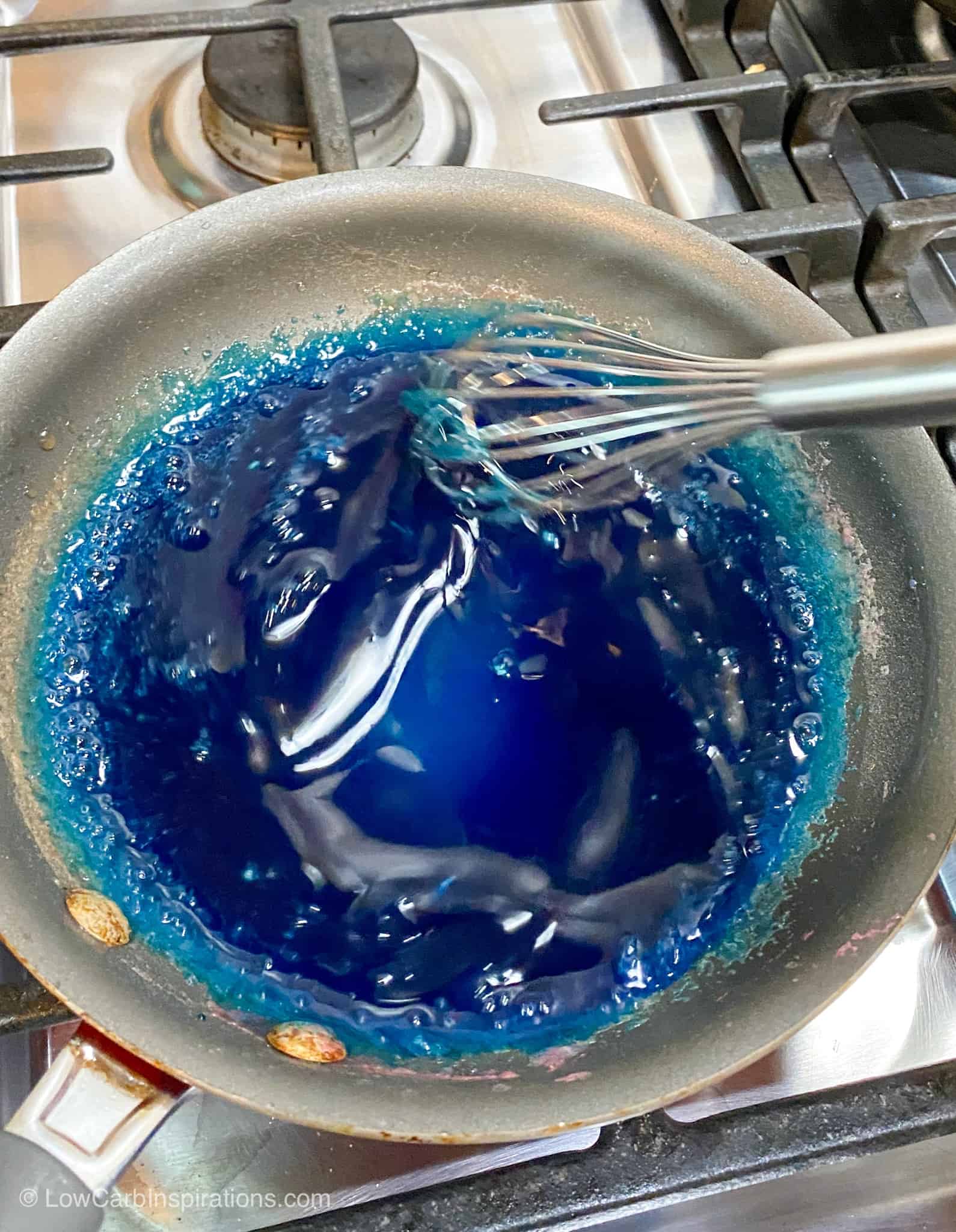 Below you can see we made a few different concoctions. We used Orange Gatorade Zero, Blue water, sugar free caramel, and watered down sugar free ketchup!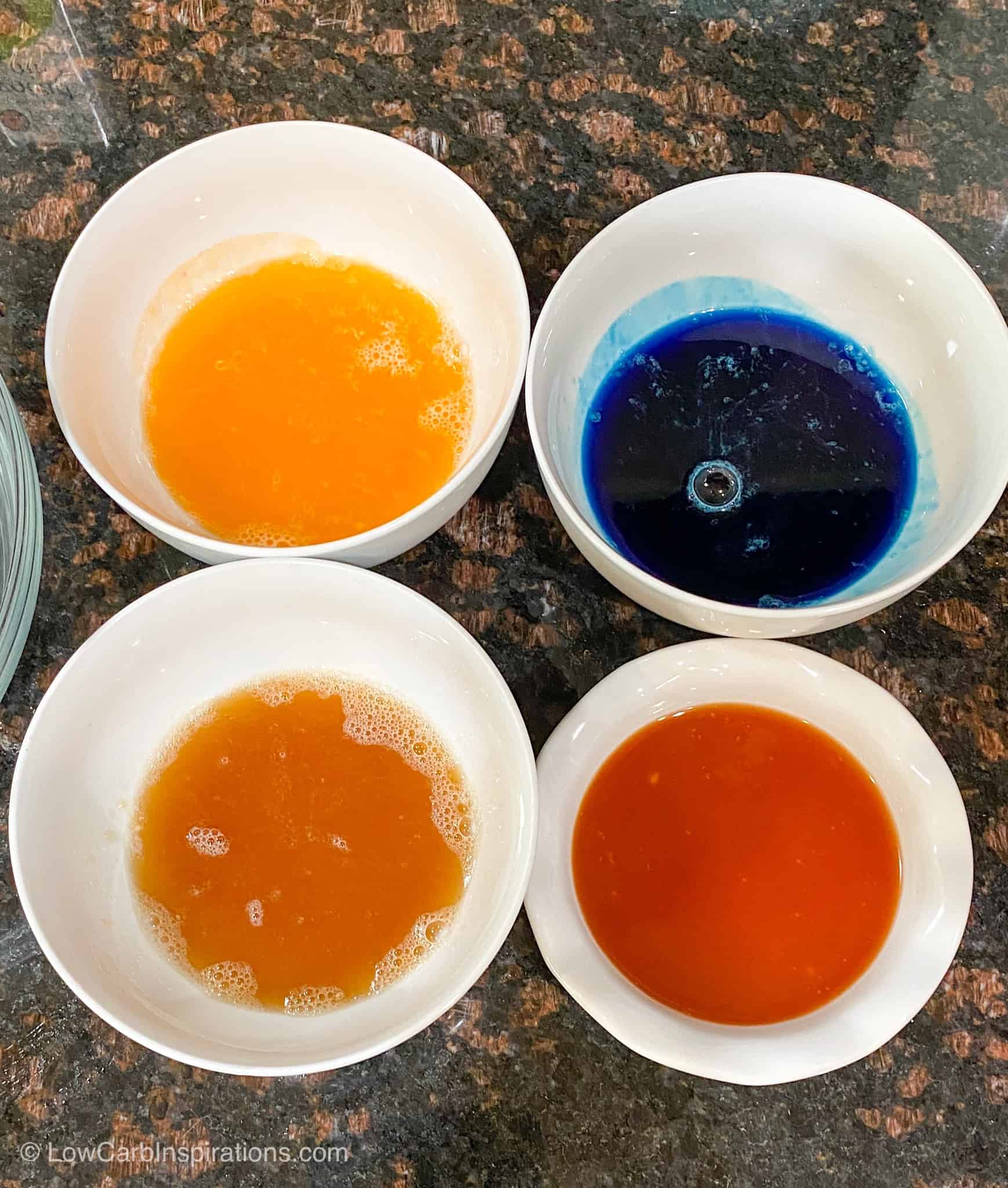 This shows you a very cold mason jar filled with chilled avocado oil. Once the spheres form, they will drop to the bottom as they cool.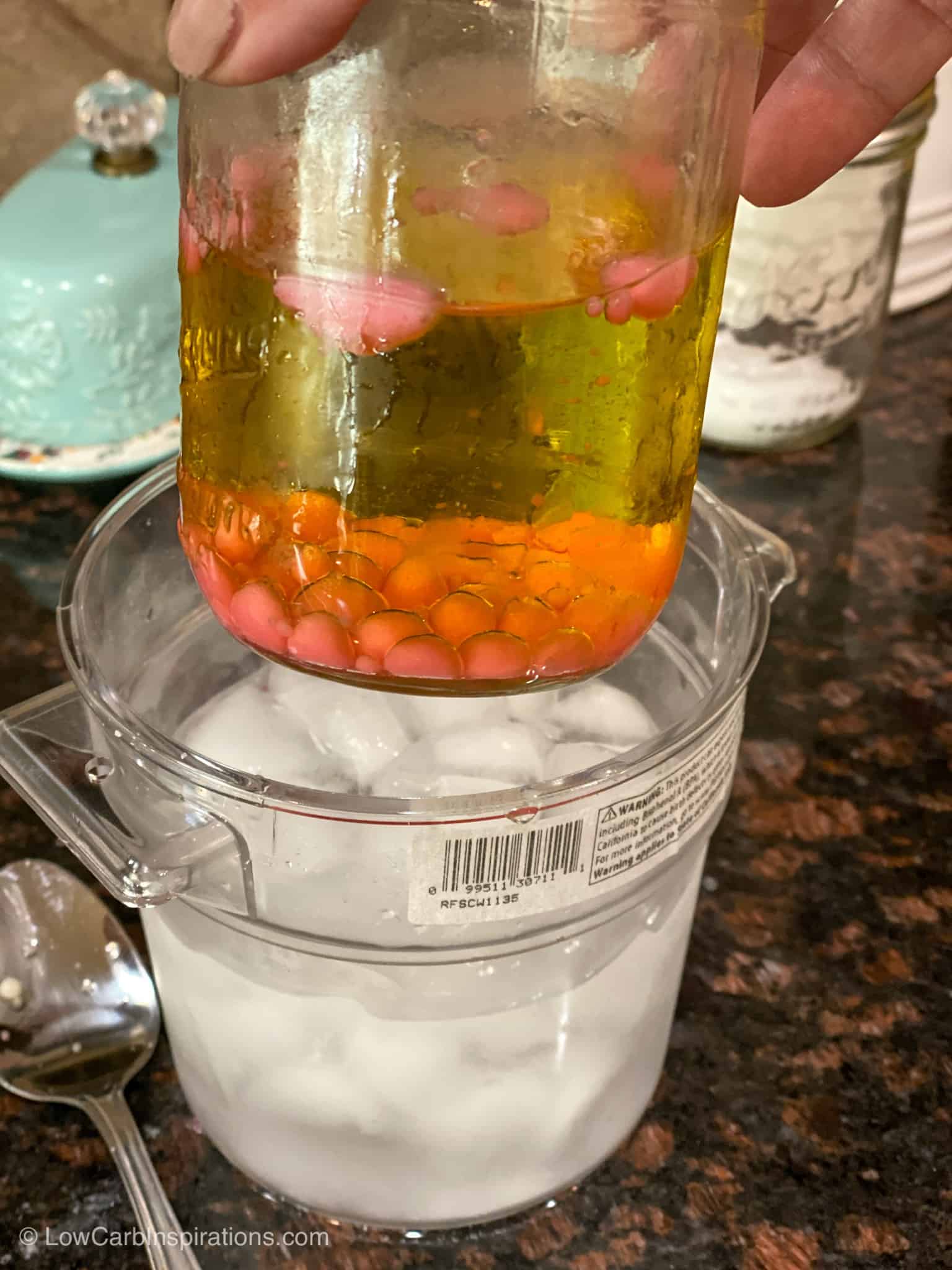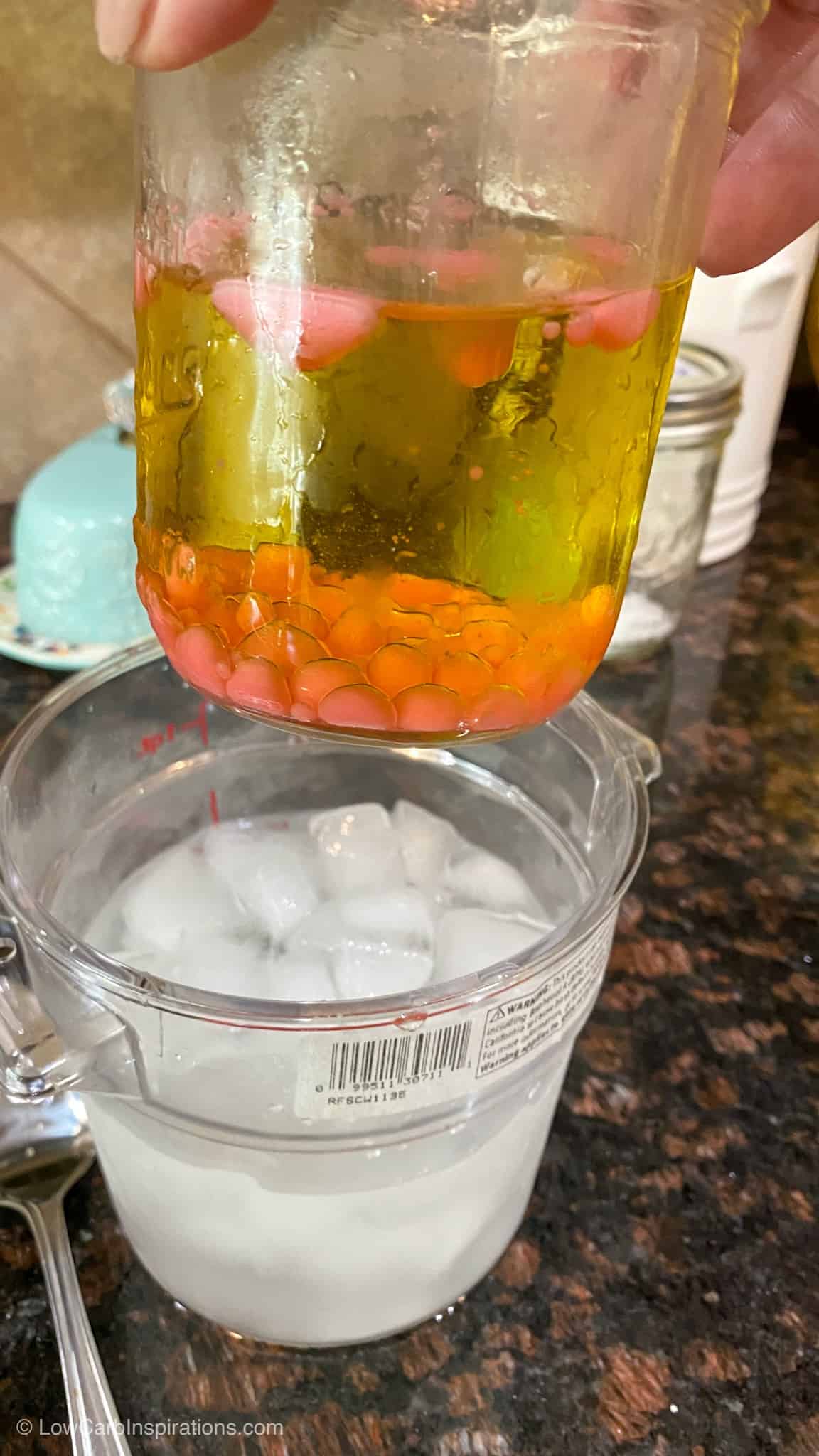 We used a stainer to remove the spheres and rinse them off with cold water. Don't throw away the oil because it's still good!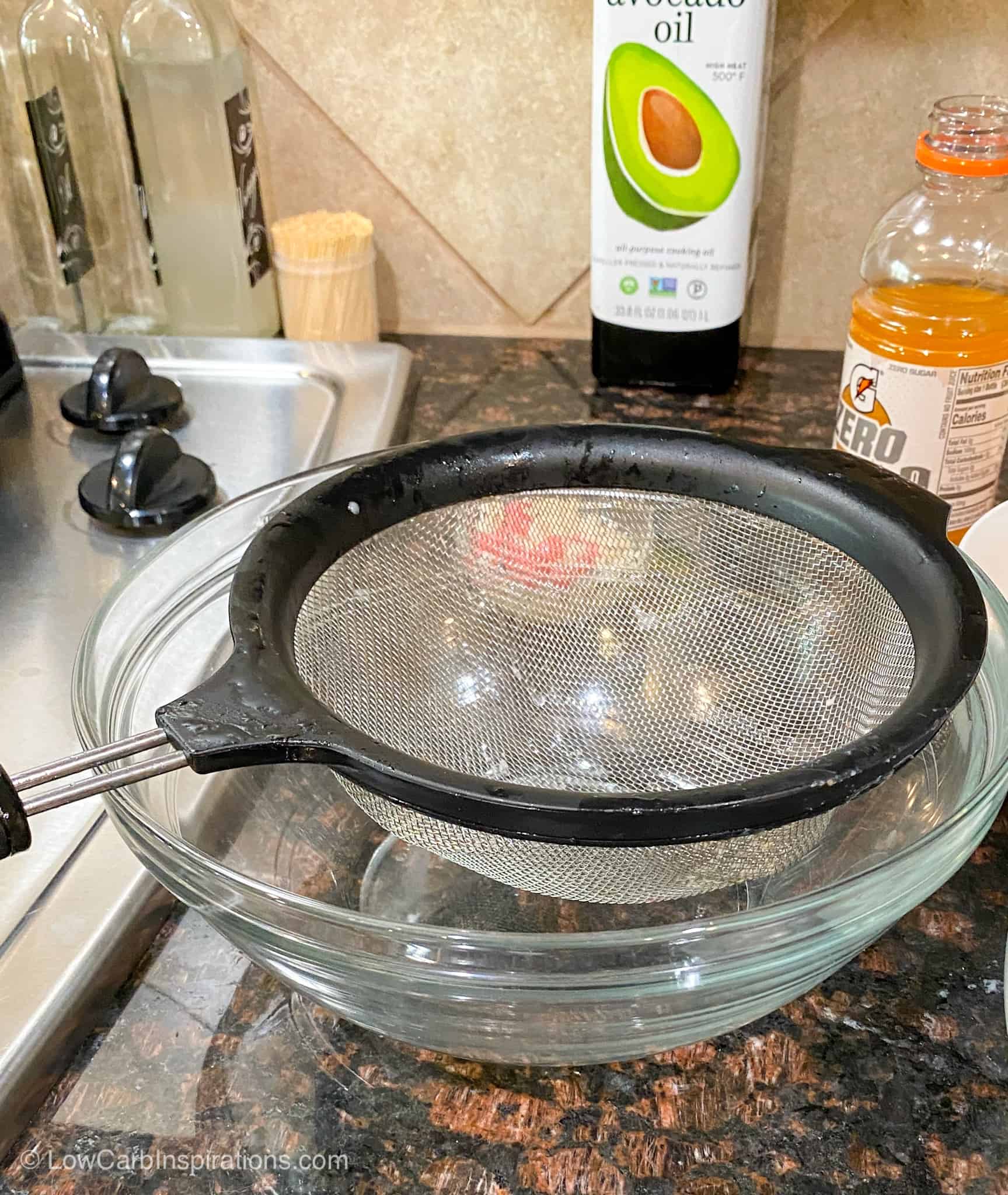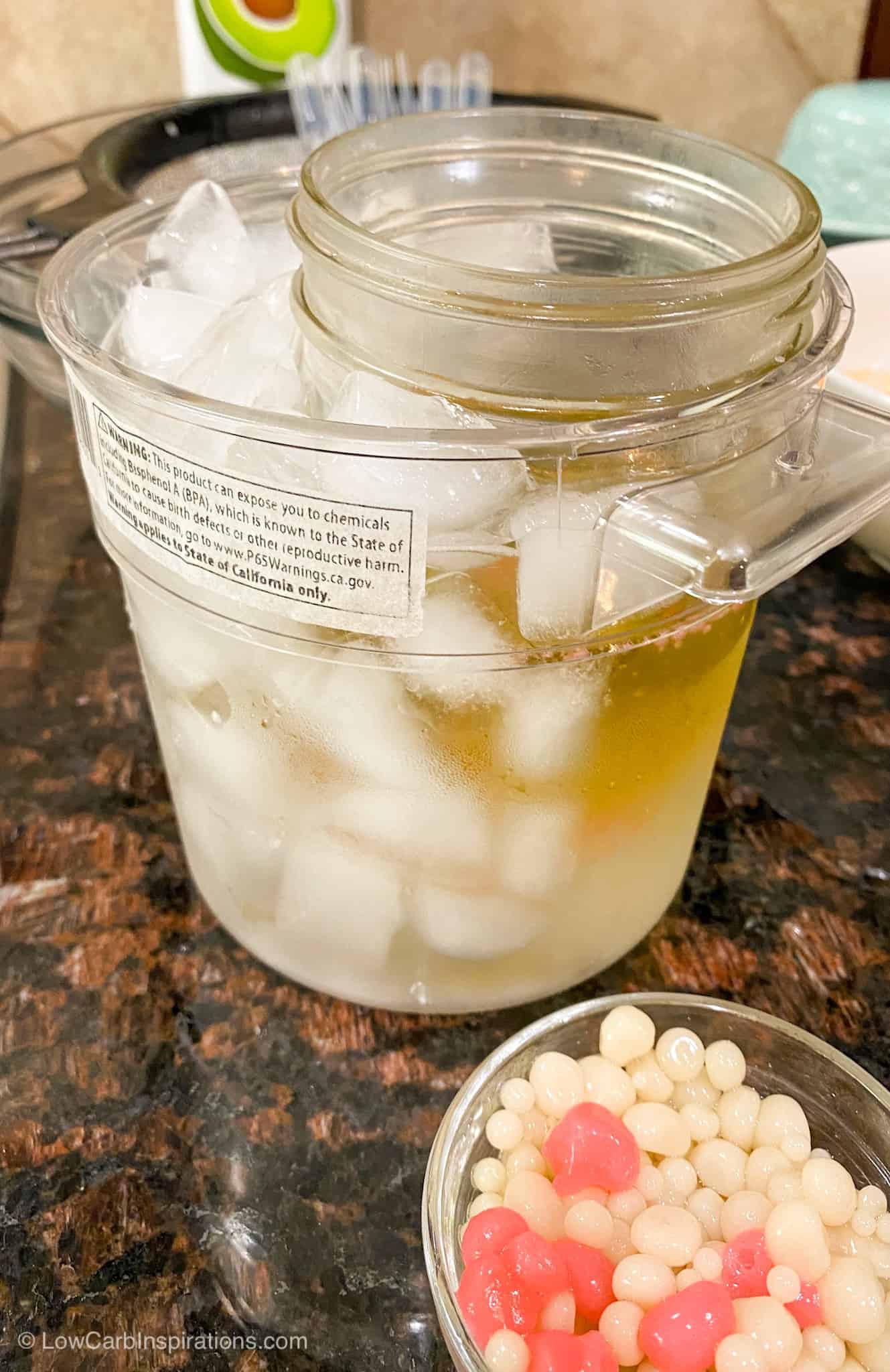 Here's a photo of the bowl of spheres we finished!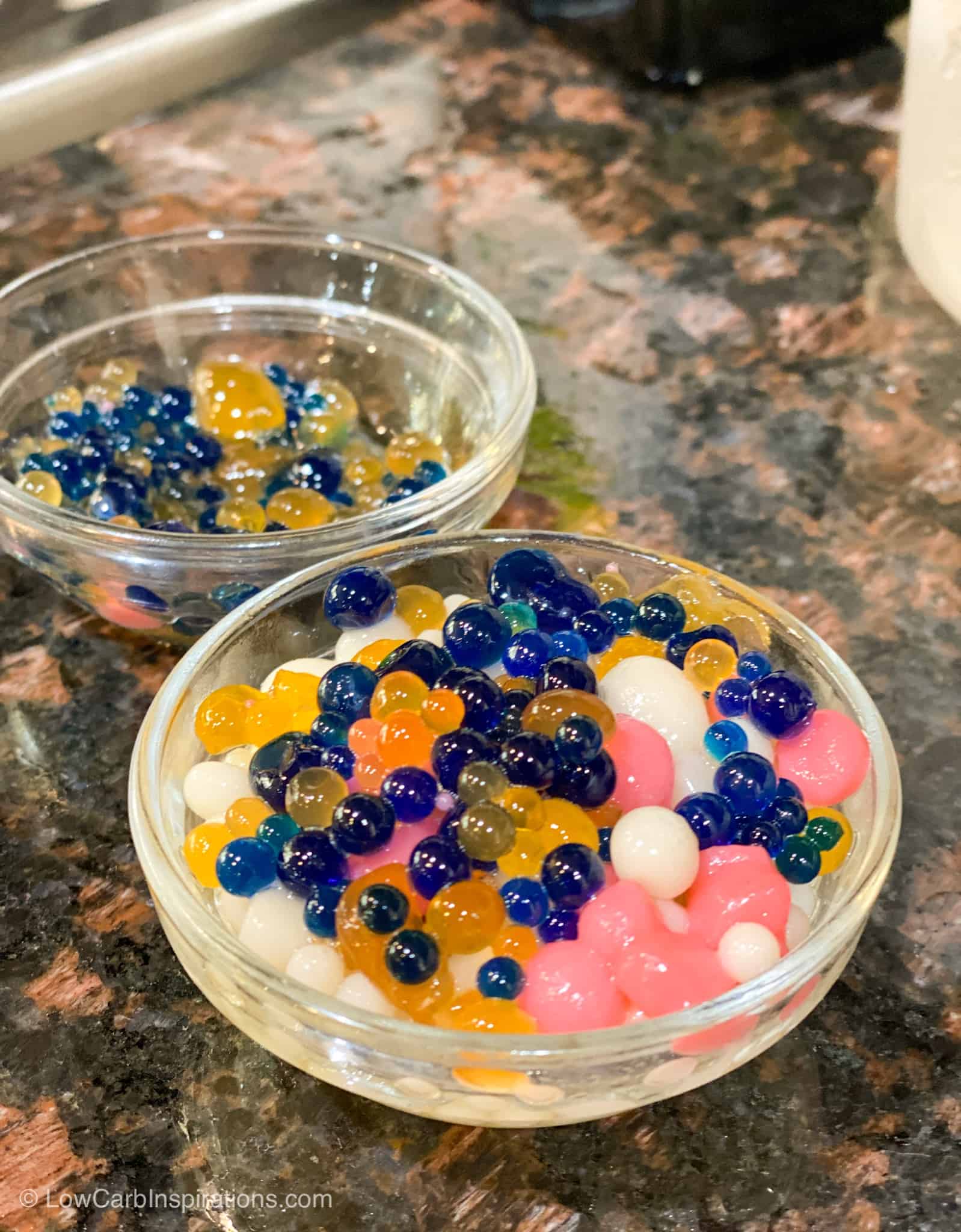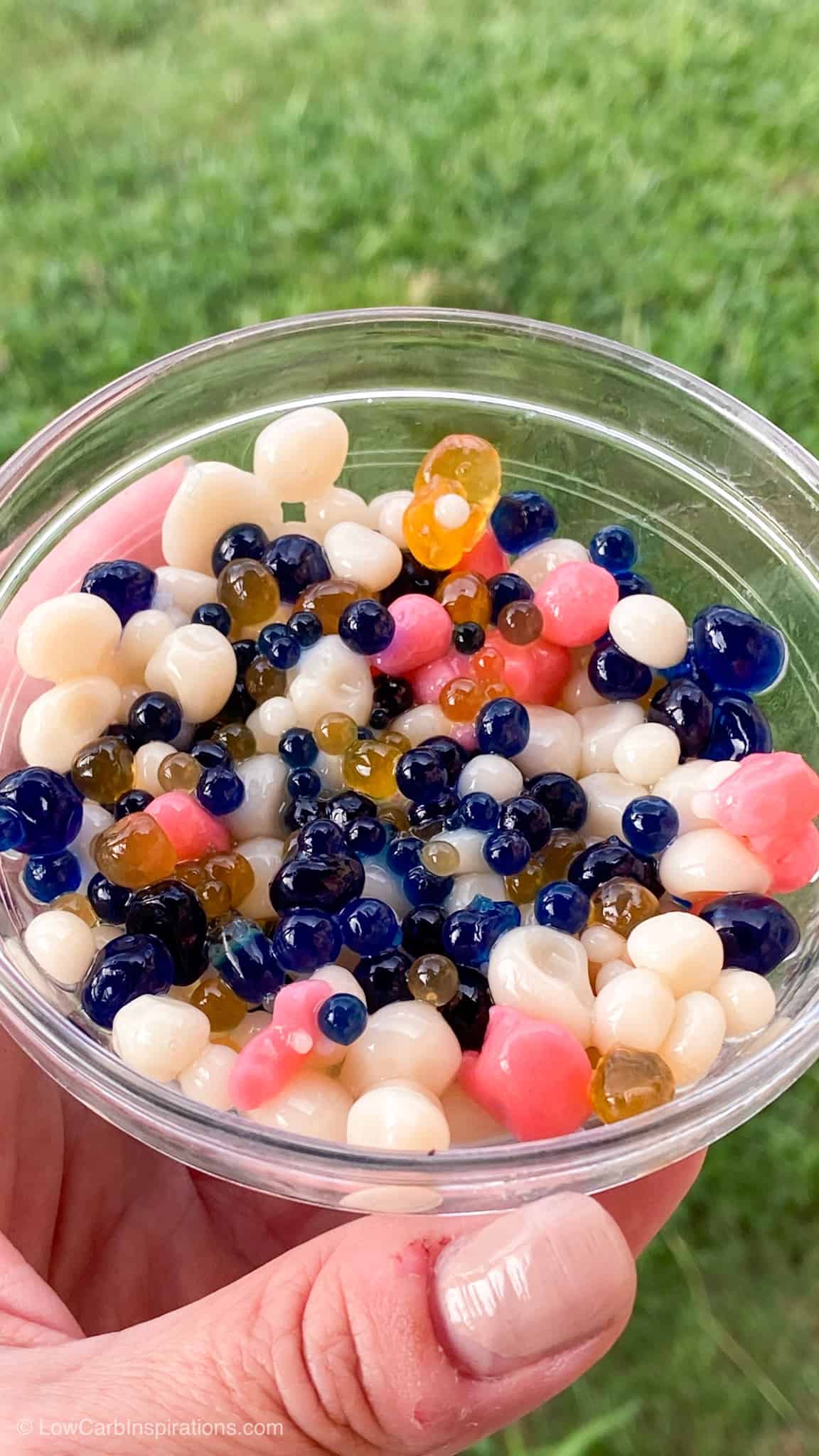 We have tons of flavorings. Here's a quick photo of just a few that we use in lots of recipes.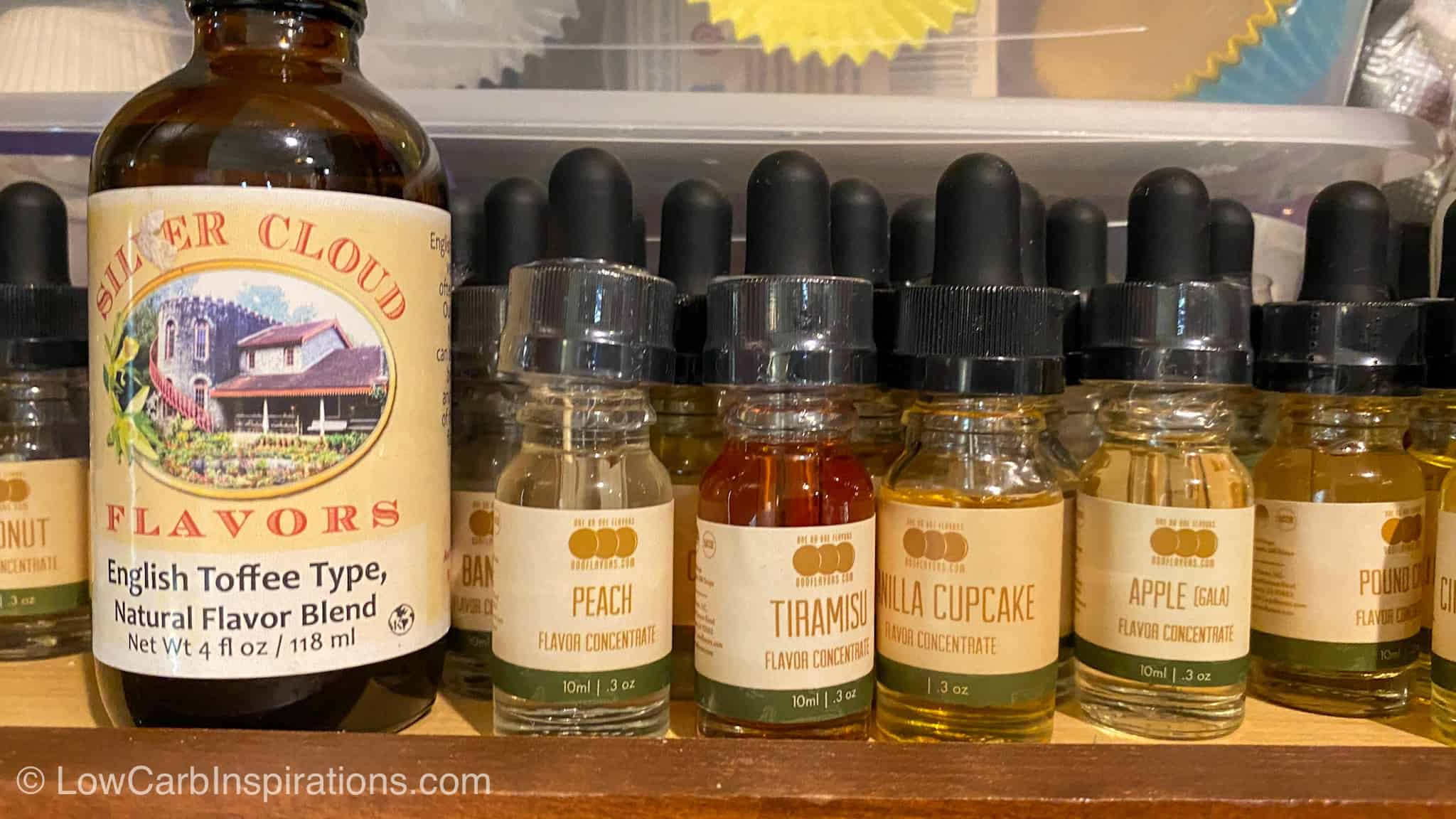 This might have been the kids favorite way to consume the edible spheres. They mixed it in milk! You can make strawberry spheres to make strawberry milk or like we did below by using blueberry spheres for a blueberry flavored milk. Hey, the kids enjoyed it!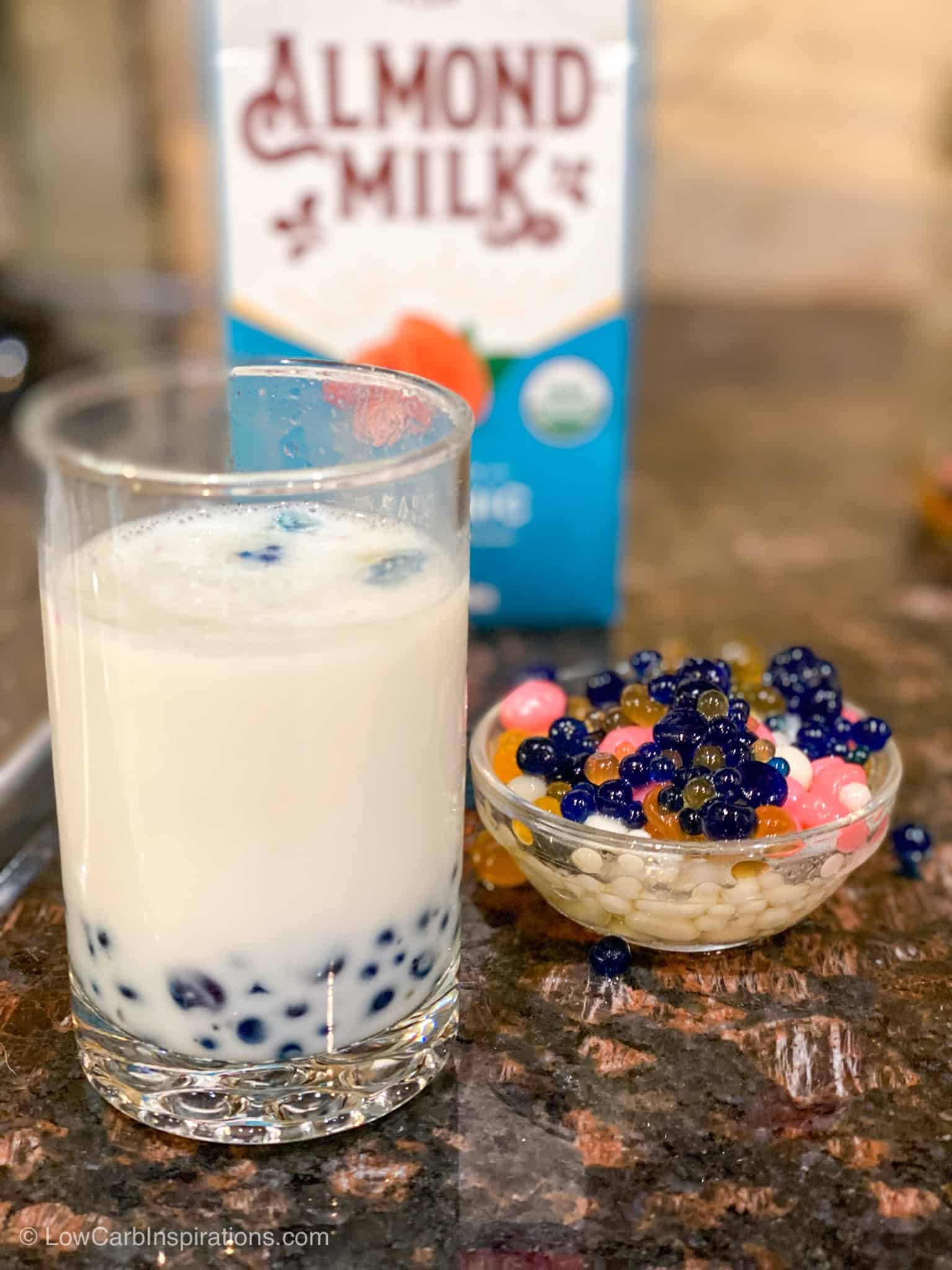 We hope you enjoy this experiment as much as we did!