We just made Easy Barbacoa Tacos today and they were absolutely delightful!  Making a roast doesn't have to be hard but you do need to know a few things to do to get the most perfect and tender roast ever!  It's fairly simple once you do a couple short steps.
We used this homemade Low Carb Tortilla Recipe  that's keto friendly and this Keto Shredded beef recipe.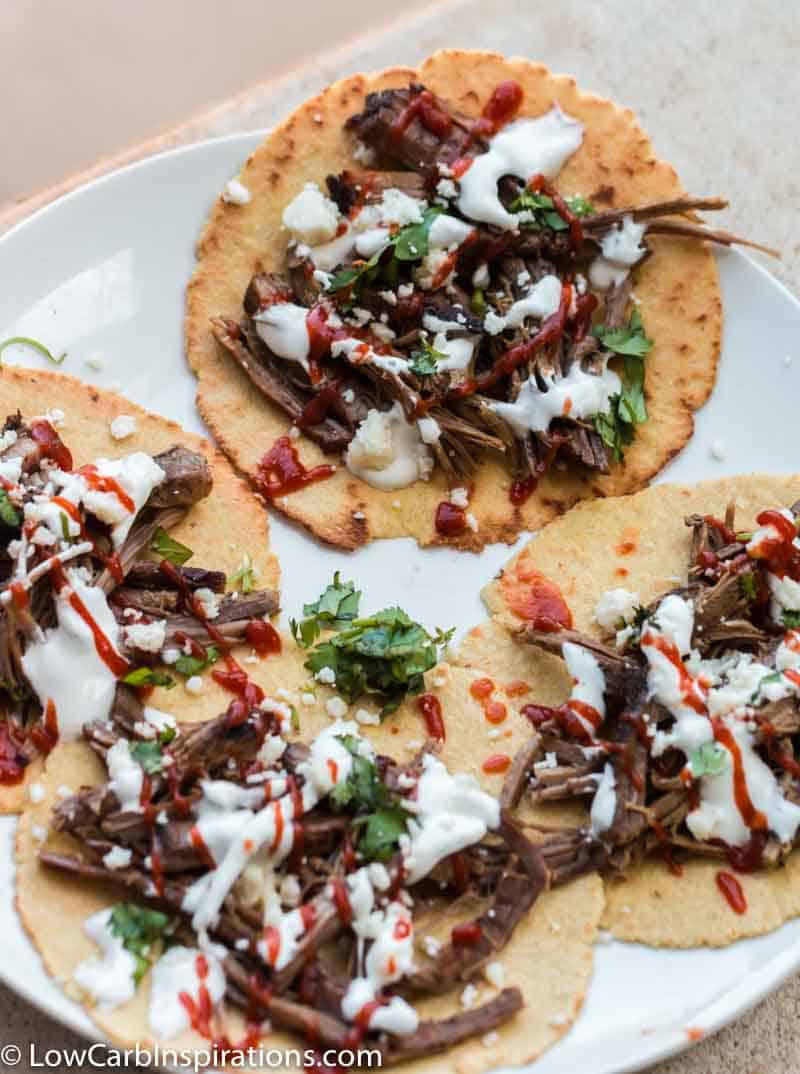 Easy Barbacoa Tacos Ingredients
Premade Keto Shredded beef recipe ( use about 2 to 3 oz of meat per taco)
Premade Simple Low Carb Tortilla Recipe (makes 5 tortillas)
1/3 cup sour cream
2 tbs jalapeno juice. (extra juice you find in the bottle of pickled jalapenos)
Sriarcha sauce
Cilantro
Onion, diced
Queso Fresco cheese, crumbled
Easy Barbacoa Tacos Instructions
Warm the precooked barbacoa beef.
In a small bowl, combine the jalapeno juice and the sour cream. Mix it until it's smooth. Set aside.
Place a keto tortilla on a plate.
Place about 2 to 3 oz of barbacoa on the warm tortilla.
Drizzle the sour cream mixture over the warm beef.
Drizzle about 1 teaspoon of Sriracha sauce over the beef.
Sprinkle the tacos with cilantro and chopped onion.
Serve warm.
Did you know that Queso fresco (which refers to "fresh cheese") is a Mexican cheese, traditionally made from raw cow milk or a combination of cow and goat milk. It crumbles nicely straight from the package.
What do you serve this barbacoa taco recipe with?
I love to serve it with our Homemade Keto Potato salad (which really doesn't use potatoes at all!)